Happy Start of Spring! I can't wait for the weather to warm up, longer sunny days, and for the flowers to start blooming.
Did you check out my last recipe? Farro and Spinach Salad with Dried Fruit and Nuts. It's a yummy, easy, and colourful salad that's full of flavour and perfect to have as we transition into the springtime.
Today's dish is more of a recipe that's great to have year-round: Easy Crispy Parmesan Crusted Potatoes!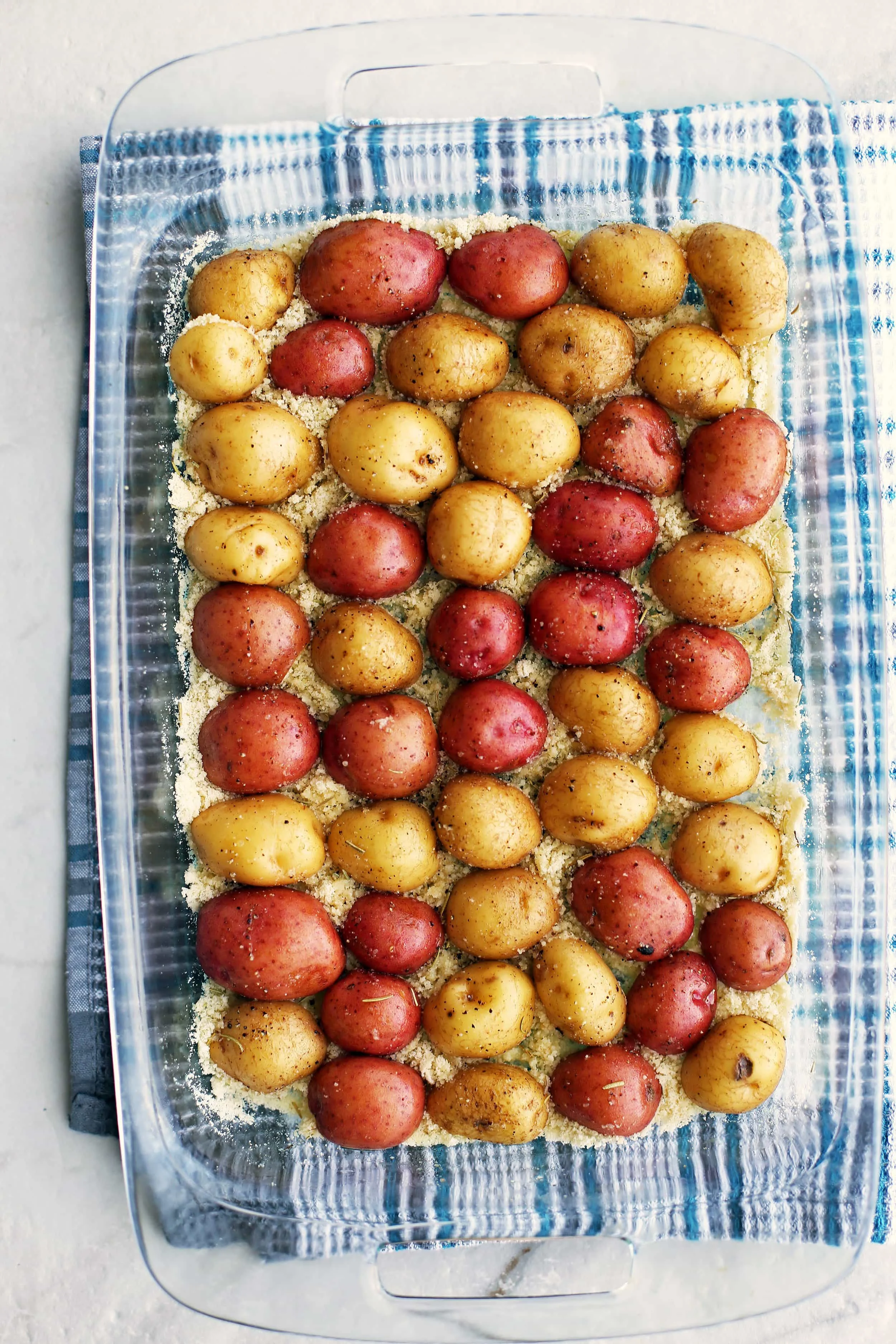 Before baking!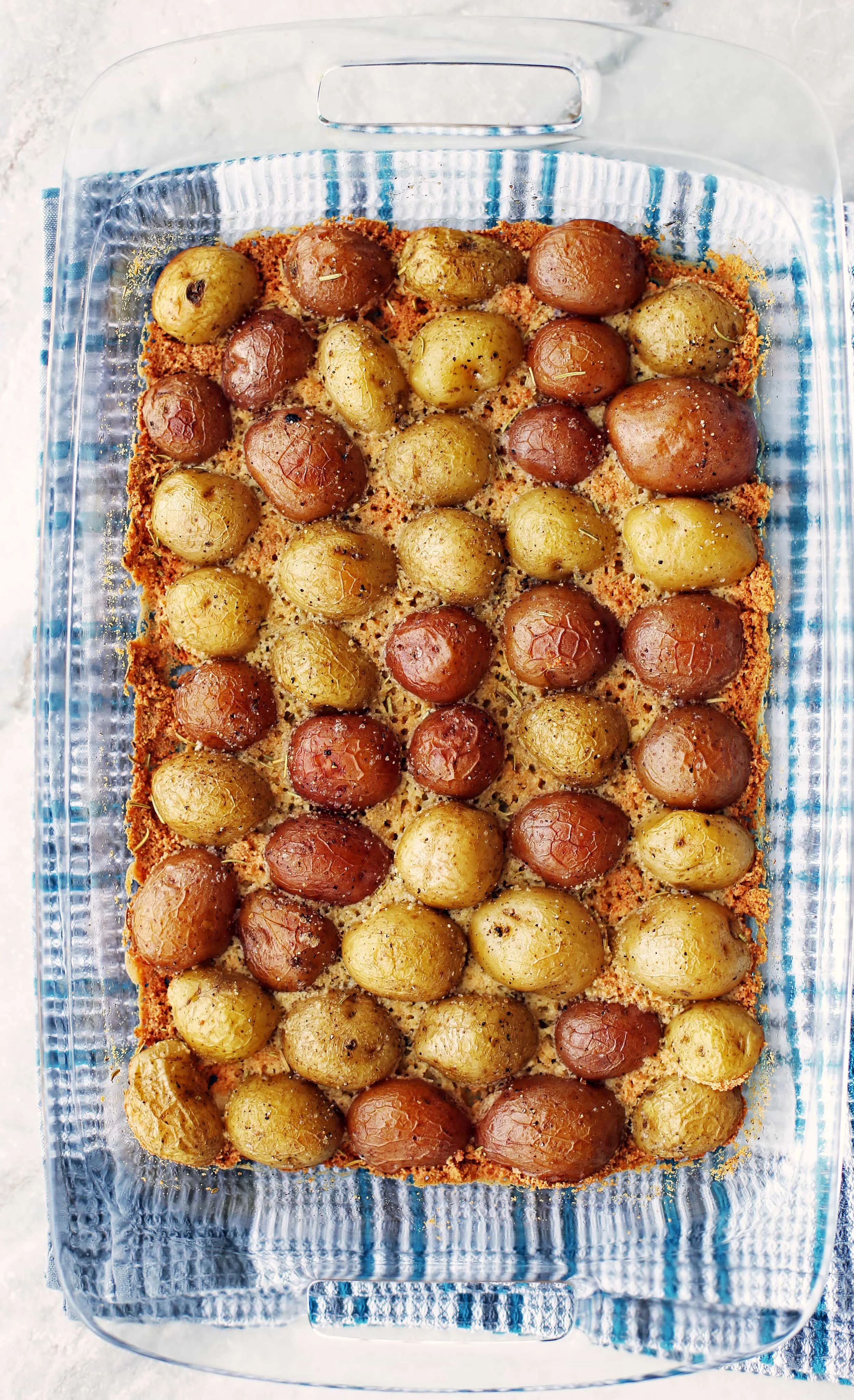 After baking!
What's in this recipe?
Baby Potatoes: I like using a combination of red and white baby potatoes and cutting them in half lengthwise to make perfect bite-size pieces. When roasted, the skin gets crispy and the insides are creamy and fluffy.
Parmesan Cheese: It has that pleasing cheesy, savoury flavour that goes so well with earthy, slightly sweet baby potatoes. The parmesan layer is thick, crunchy, and golden-brown.

Did you know that not all parmesan cheese is vegetarian? If you are on a vegetarian diet, look at the parmesan ingredients for vegetable rennet or microbial enzymes (and no animal rennet) to ensure that the parmesan is vegetarian.

Extra virgin olive oil: The glue that sticks cheese to the potatoes and helps the potatoes' skin get all crispy.
Dried rosemary: It has an aromatic scent and is bold in flavour; it's described as having a piney, earthy flavour. It's a common pairing with potatoes.

If you don't care for rosemary, substitute with less pungent dried oregano, dried parsley or leave it out all together.

Garlic powder: Flavourful and garlicky, but less assertive than fresh garlic.
Salt and pepper: These ingredients enhance all the other flavours in this recipe and makes food taste so much better.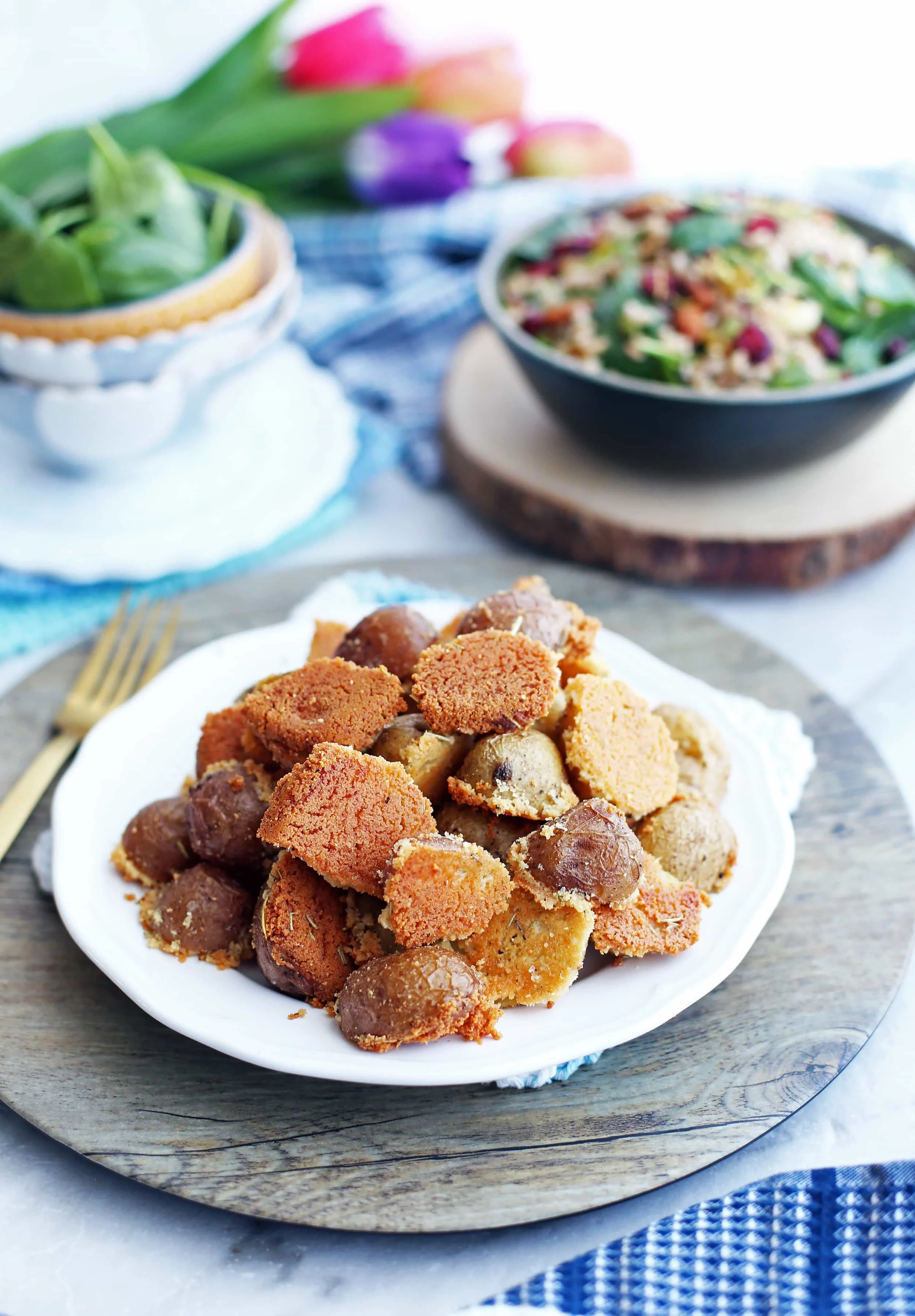 Here are some helpful tips to make these parmesan potatoes!
Bake the potatoes with the peel on. The thin skin will get nice and crispy when baked. Just make sure you give the potatoes a good clean to make sure dirt is scrubbed off.
Use a fine-grated (like sand or powder in texture) parmesan cheese. Pre-grated store-bought cheese works well in this recipe. It will be crispier that way and cover more of the potato. This cheese does not melt, but rather forms a cheesy crust on the cut side of the potato.
Use a glass (like Pyrex) casserole dish or even a large non-stick ceramic container. This will help prevent the cheese from burning and sticking to the baking vessel, which is more likely to happen if you use an aluminum baking sheet for this recipe.
Try to fit as many halved potatoes in the dish as possible into a single layer (potatoes can be touching).
After removing the potatoes from the oven, let them cool for a few minutes to let the cheese harden before removing from the pan.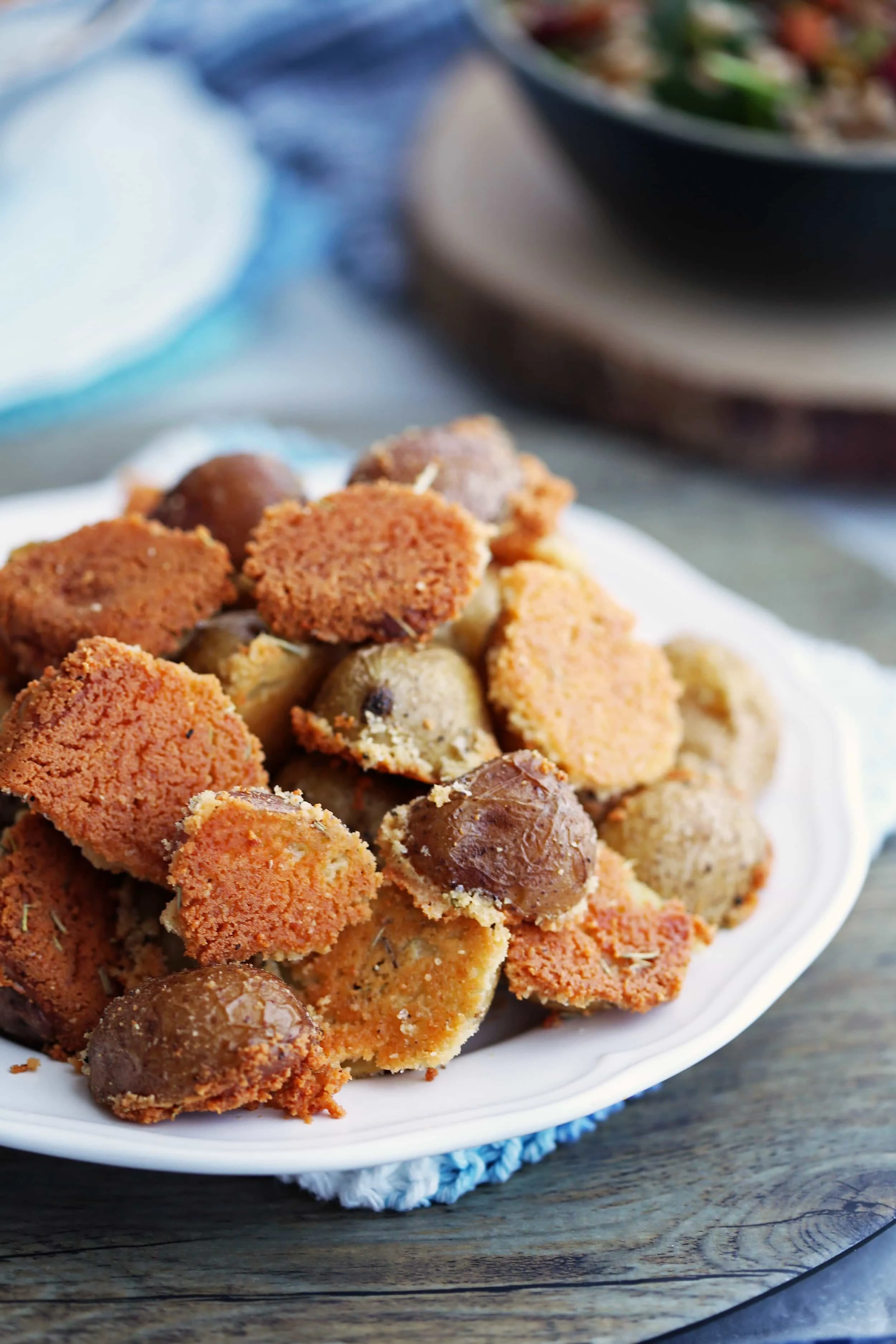 These Baked Parmesan Crusted Potatoes:
Are delicious: They are cheesy, savoury, and wonderfully crispy on the outside and fluffy and soft in the inside.Plus, it's gluten-free.
Are quick and easy to prepare:

You don't need to peel the potatoes. Once you place it in the oven, you can let it bake until it done. No need to flip the potatoes halfway through as you would in many baked or roasted vegetable recipes.

Are a great side dish: Serve it with your favourite protein.These potatoes could even be served as a tasty appetizer, finger food, or snack.
Uses few ingredients: This recipe uses seven ingredients in total and that includes pantry staples such as olive oil, salt, and pepper.

Although, you can always add more spices or herbs suited to your taste if you like. The other ingredients are (usually) readily available at a regular supermarket.

Uses few dishes so clean-up is a breeze.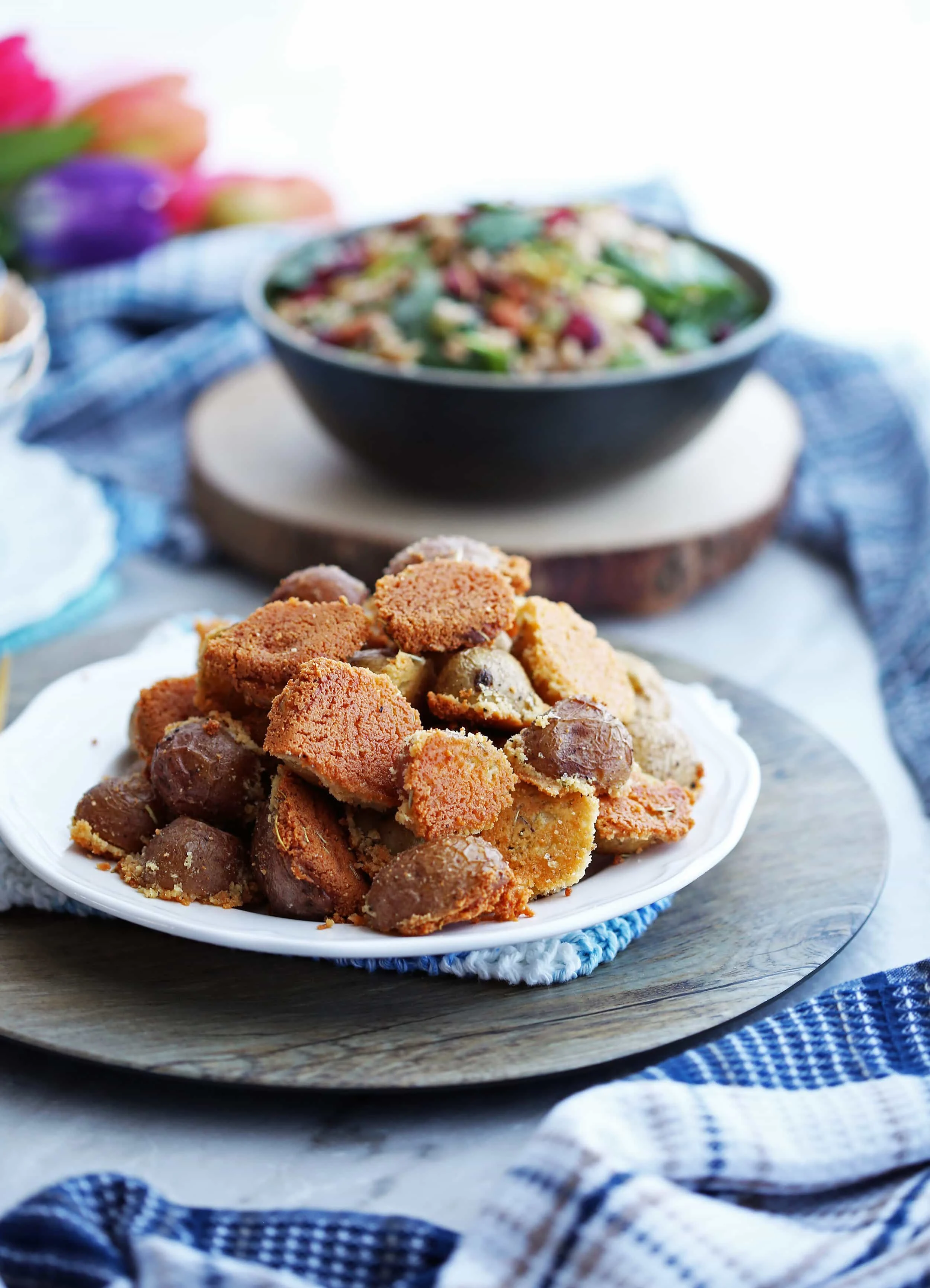 If you live with a fast eater, like I do, the one problem you might find with this dish is how quickly it disappears. I remember Scott sitting down to a plate of these potatoes and the next thing I knew he was done. That's the challenge when you have an item that so tasty and bite-sized.
Do you love potatoes too? I like eating them fried, baked, mashed, boiled… any which way… except raw. My guilty pleasure snack is French fries and these are close behind!
Check out some of my other recipes using potatoes!
I hope you enjoy this parmesan crusted potatoes recipe! If you do, please comment and leave a rating down below. You can also connect with me on my social media by tagging me (I'm @yay_for_food on Instagram).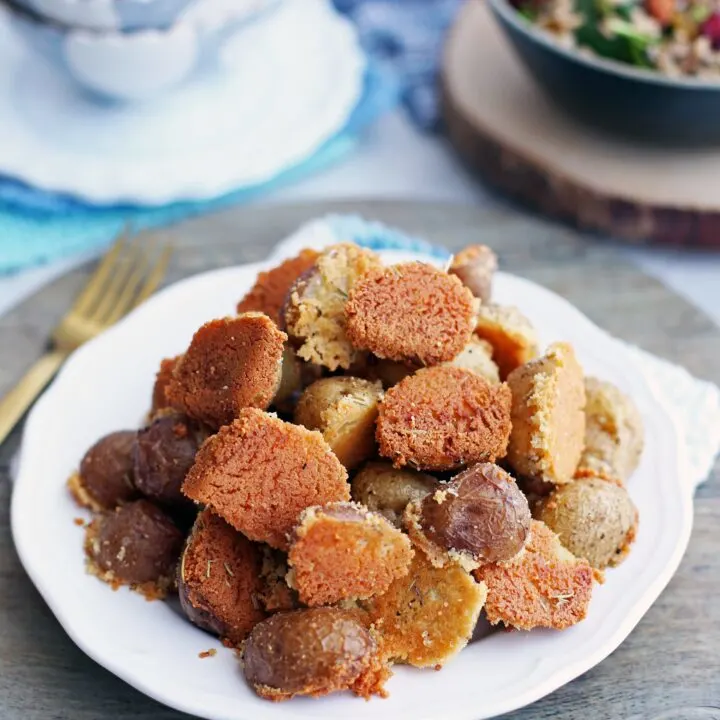 Crispy Parmesan Crusted Baby Potatoes
Yield:
4-6 as a side dish
Simple and delicious! These baked baby potatoes have a crispy skin, tender, fluffy insides, and a scrumptious crunchy parmesan cheese crust!
Ingredients
1½ lb. baby potatoes, halved
¾ cup parmesan cheese, finely grated *(see first note)
3 tbsp extra virgin olive oil
2 tsp garlic powder
1 tsp dried rosemary
Salt and pepper, to taste
Instructions
Preheat the oven to 400 degrees F.
In a 9x13 glass casserole dish, add the parmesan, garlic powder, and dried rosemary. Stir to combine and then spread the mixture into an even layer to cover the entire the dish. Set aside.
In a large bowl, combine together the potatoes, olive oil, salt and pepper.
Place each halved potato cut side down in a single layer (touching one another), until the potatoes cover the entire dish. Drizzle the remaining olive oil from the bowl over the potatoes.
Bake for 30-35 minutes until the potatoes are tender. Remove from the oven and let it sit for 5-10 minutes to allow the cheese to cool slightly and harden.
Remove potatoes carefully using a flat spatula. Best served immediately.
Notes
Use a fine-grated, powdered (sand-like texture) parmesan cheese. Store-bought grated cheese works well in this recipe. Fine-grated cheese will be crispier and cover more of the potato.
Recipe adapted from Kraft's Crispy Parmesan Baked Potatoes.
Nutritional calories represents one serving for a total of six servings.
Recommended Products
As a participant in the Amazon Services LLC Associates Program, I only link to products that I use and/or highly recommend. As an Amazon Associate, I earn from qualifying purchases if you purchase through these links at no additional cost to you.
Nutrition Information:
Yield:

6
Serving Size:

1
Amount Per Serving:
Calories:

166
Total Fat:

8g
Saturated Fat:

2g
Trans Fat:

0g
Unsaturated Fat:

5g
Cholesterol:

8mg
Sodium:

215mg
Carbohydrates:

20g
Fiber:

2g
Sugar:

1g
Protein:

5g