A month ago, my husband, Scott, was on a business trip and he texted me a picture of a salad that he created from the company's "fancy" cafeteria. Does your spouse/family/friends send you pictures of food too?
I say "fancy" because he remarked about how they offered scratch-made omelets and other breakfast meals, had a comprehensive salad bar, and cold-pressed fresh juice!
My former workplace had a small kitchen/eating area where we would bring lunch to store in the refrigerator if there was room… so not fancy, but functional.
Anyway, his salad had farro in it. I don't remember what other ingredients were in the salad, but I'm 100% sure that it didn't have corn, peas, or whole tomatoes in it. All the things I like, but he doesn't. Sigh.
Since I was on a grains and greens kick (Check out my recipe for Baby Kale and Brown Rice Salad with Feta and Clementines), I decided to make a very simple vegan salad showcasing farro.
I hope you enjoy this recipe for Farro and Spinach Salad with Dried Fruit and Nuts!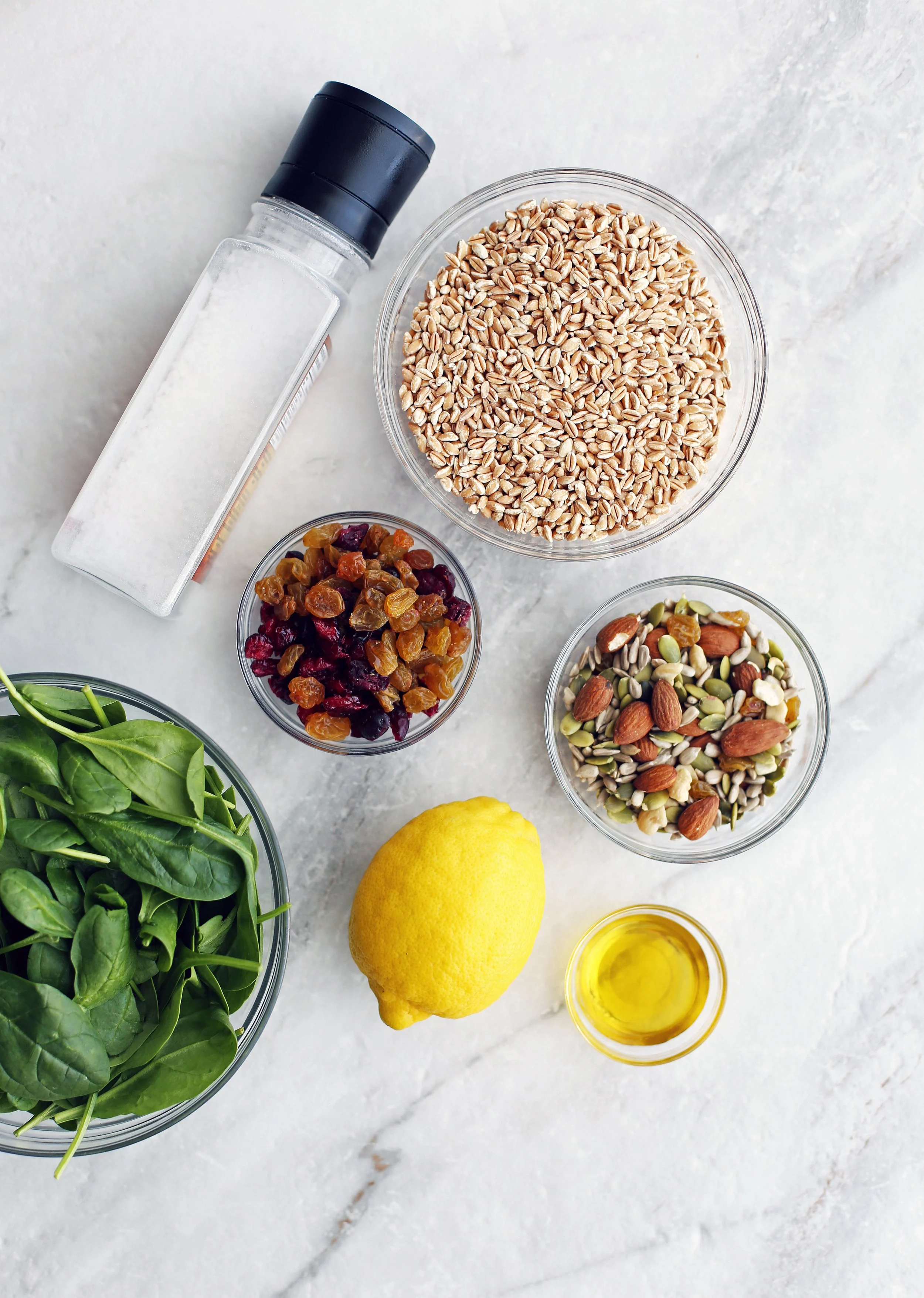 What's in this healthy salad?
Farro: This grain is nutty, a little sweet, and wonderfully chewy,yet soft when cooked. Also, toasting farro for a short time brings out it's nutty flavours even more. Plus, it's good for you as it's high in fiber and a good source of protein and iron. You can find farro in three forms:

Whole grain (farro integrale): it has all the bran intact and therefore the most nutrients, but also usually requires an overnight soak and is the longest to cook.
Semi-pearled (farro semiperlato): It has some of the outer bran layer polished off through a pearling process, but is the second fastest to cook.

I recommend using this type since it is still relatively fast to cook to al dente (20-25 minutes) and retains a good amount of nutrients.

Pearled (farro perlato): This contains no bran and is the fastest to cook.
Look for farro in the bulk food section or packaged in grocery stores, especially natural food or health stores.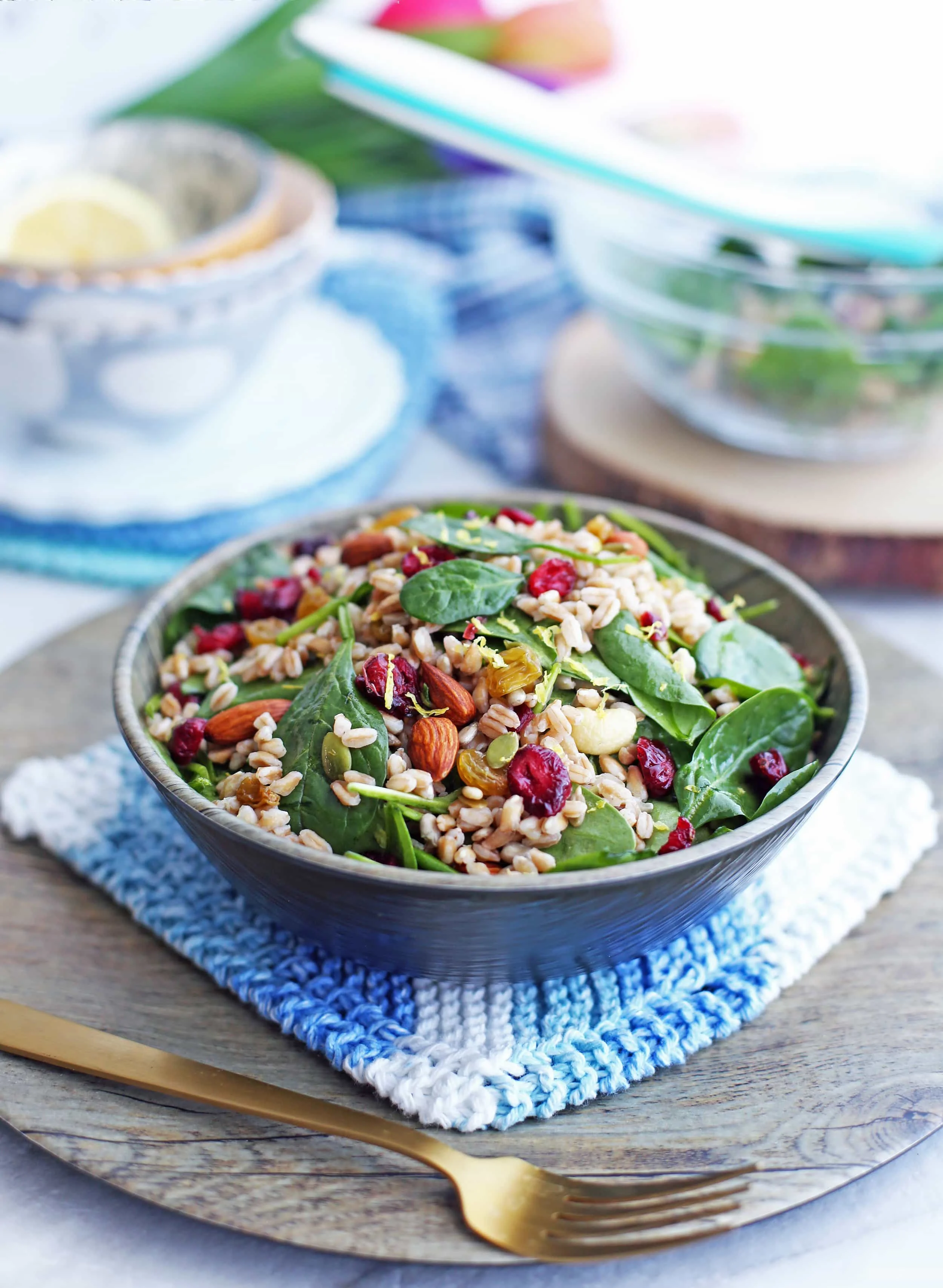 Baby spinach: It has a mild flavour and tender texture making it easy to eat. This leafy green is super healthy. For example, it's an excellent source of vitamins A, K, plus folate and iron.
Dried fruit: Tart and sweet. Look for dried fruit with no added sugar. I used dried cranberries and golden raisins. Other dried fruits that would be delicious in this salad are dried chopped apricots, cherries, or blueberries.
Mixed nuts and/or seeds: Nutty and crunchy. I used a "trail-mix" variety of sunflower seeds, pumpkin seeds (pepitas), almonds, and cashews.

Walnuts, pecans, and pistachios would also make wonderful substitutes or additions to this salad.
In general, most nuts and seeds are a good source of protein, omega-3 fatty acids, unsaturated fats ("good fats" that help lower bad cholesterol levels), fiber, and vitamin E.

Dressing: Lemon zest and juice, olive oil, and sea salt is so simple, but packs a citrusy note that ties together the salad.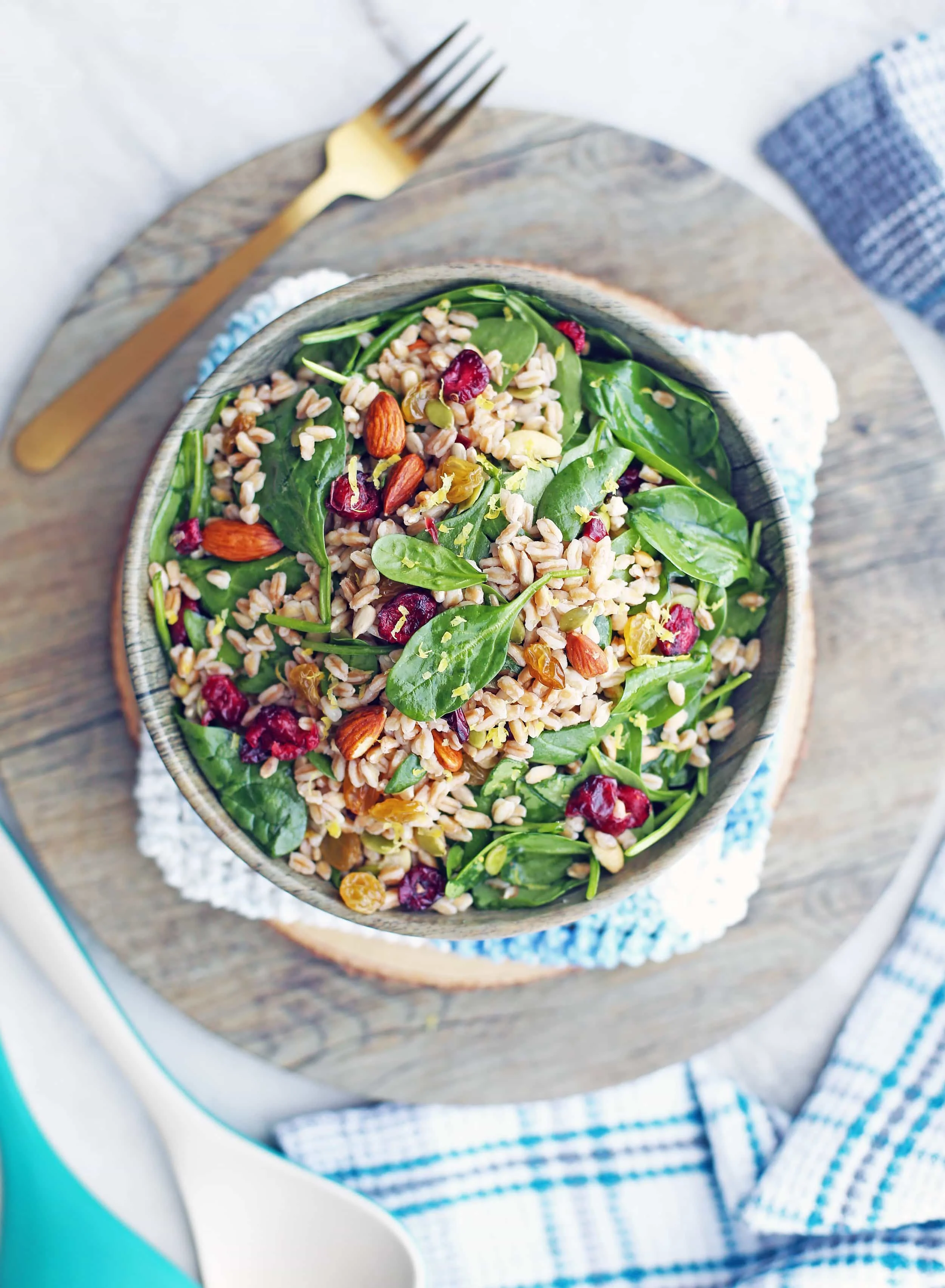 Overall, this farro and spinach salad is:
Light and delicious
Sweet and savoury
Full of texture
Quick and easy
Great to serve warm or chilled
Vegan too!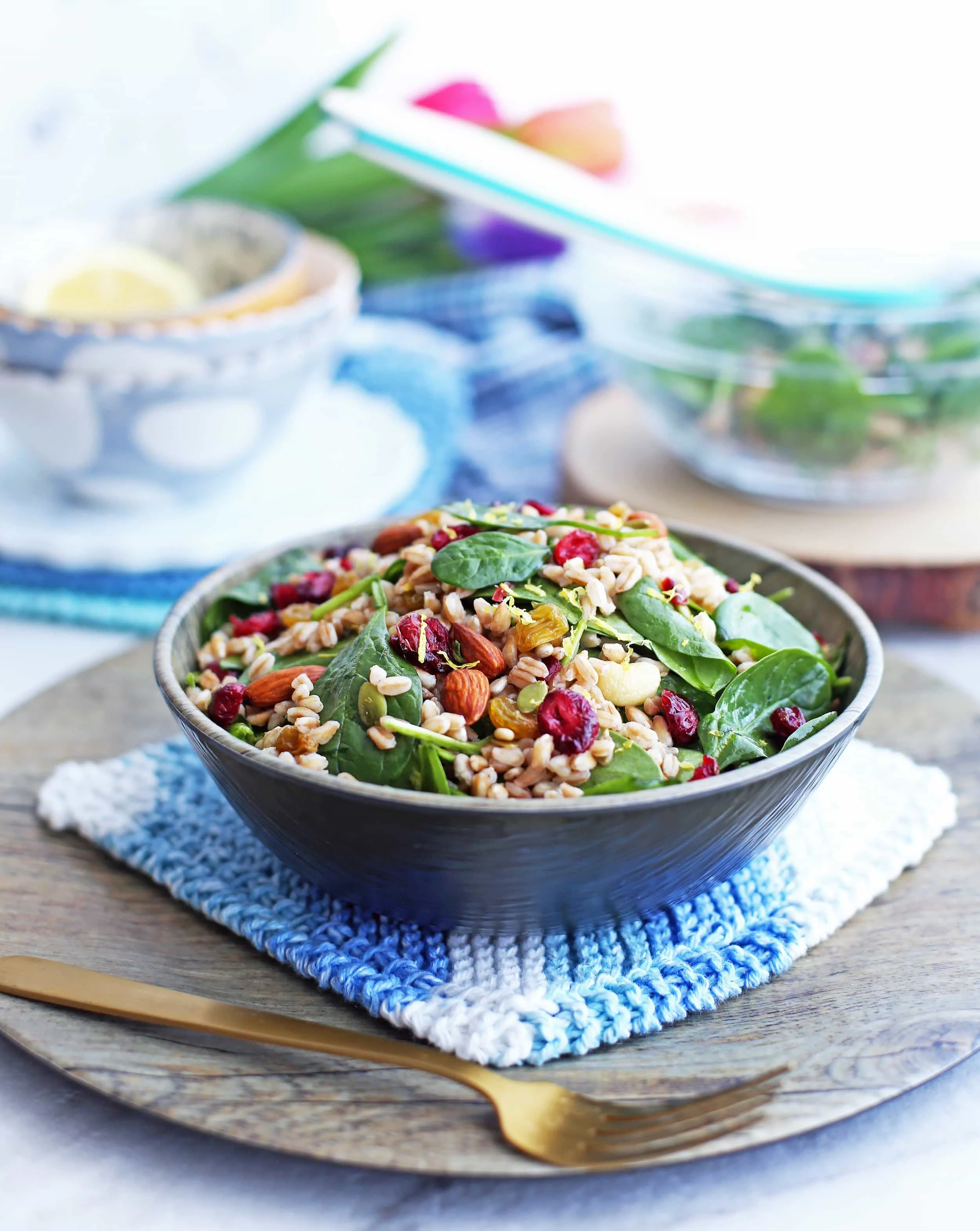 I hope you try this recipe! If you do, please comment and leave a rating down below. You can also connect with me on my social media by tagging me (I'm @yay_for_food on Instagram). I love pictures of food!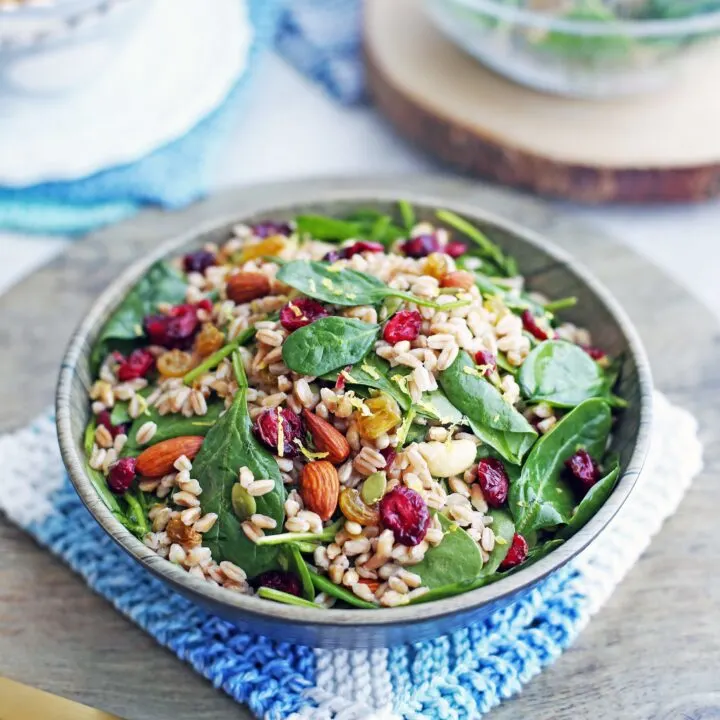 Farro and Spinach Salad with Dried Fruit and Nuts
Simple and delicious! Check out this easy sweet and savoury vegan salad featuring the healthy whole grain: farro!
Ingredients
1 cup dry uncooked semi-pearled or pearled farro, rinsed *(see first note)
3 cups (packed) baby spinach
½ cup dried fruit, no added sugar (I used golden raisins and cranberries)
½ cup mixed nuts and/or seeds (I used sunflower seeds, pumpkin seeds, almonds, and cashews)
½ lemon, juice and zest
2 tbsp extra virgin olive oil
Sea salt, to taste
Lemon wedges
Instructions
In a wide bottom saucepan or skillet over medium heat, add the farro and shake and stir the pan until the farro is lightly toasted and fragrant (nutty aroma), about 2-3 minutes.
Then, cook farro according to package directions, until al dente **(see second note).
Place the cooked farro in a large bowl with the the rest of the ingredients. Toss to combine. Taste and adjust to your preferences such as adding more spinach, nuts and/or dried fruit.
Serve warm or chilled with lemon wedges.
Notes
*1 cup of dry uncooked farro yields about 2 cups cooked. Using semi-pearled or pearled farro does not require overnight soaking before cooking like whole grain farro.
**If you buy bulk or want general directions for cooking farro: Bring 3 cups of salted water to a boil, add 1 cup of farro, decrease to a simmer, covered, for 15-30 minutes (depending on farro type) until al dente. Taste for doneness before draining the excess water (if any).
Recommended Products
As a participant in the Amazon Services LLC Associates Program, I only link to products that I use and/or highly recommend. As an Amazon Associate, I earn from qualifying purchases if you purchase through these links at no additional cost to you.
Nutrition Information:
Yield:

4
Serving Size:

1
Amount Per Serving:
Calories:

342
Total Fat:

17g
Saturated Fat:

2g
Trans Fat:

0g
Unsaturated Fat:

13g
Cholesterol:

0mg
Sodium:

306mg
Carbohydrates:

45g
Fiber:

10g
Sugar:

16g
Protein:

11g