This is one tasty and beautiful salad that just screams summer to me! Peaches are a quintessential summer fruit and summertime is definitely peak grilling season. So why not grill some peaches before mixing them into this quick and easy salad?
Grilling peaches brings out the juices and natural sweetness of the fruit; plus those grill marks are always a welcome sight! The peaches slightly soften with the heat as well, so make sure that the peach sections are large enough to easily flip and not fall through the grill grates. We recommend using tongs to make flipping easier.
For this recipe, we used white peaches, which are more delicate, sweeter, and have lower acidic levels compared to yellow peaches; however, feel free to use any type of peach you like! It will taste delicious no matter what type of peach you choose.
Combine the sweet peaches with fresh, sweet and tart blueberries, salty and creamy feta cheese, toasted pecans, and a sweet-acidic honey balsamic dressing and you've got an absolutely delectable summer salad that's perfect as a quick, light lunch or as a side dish that goes wonderfully with your other tasty grilled foods!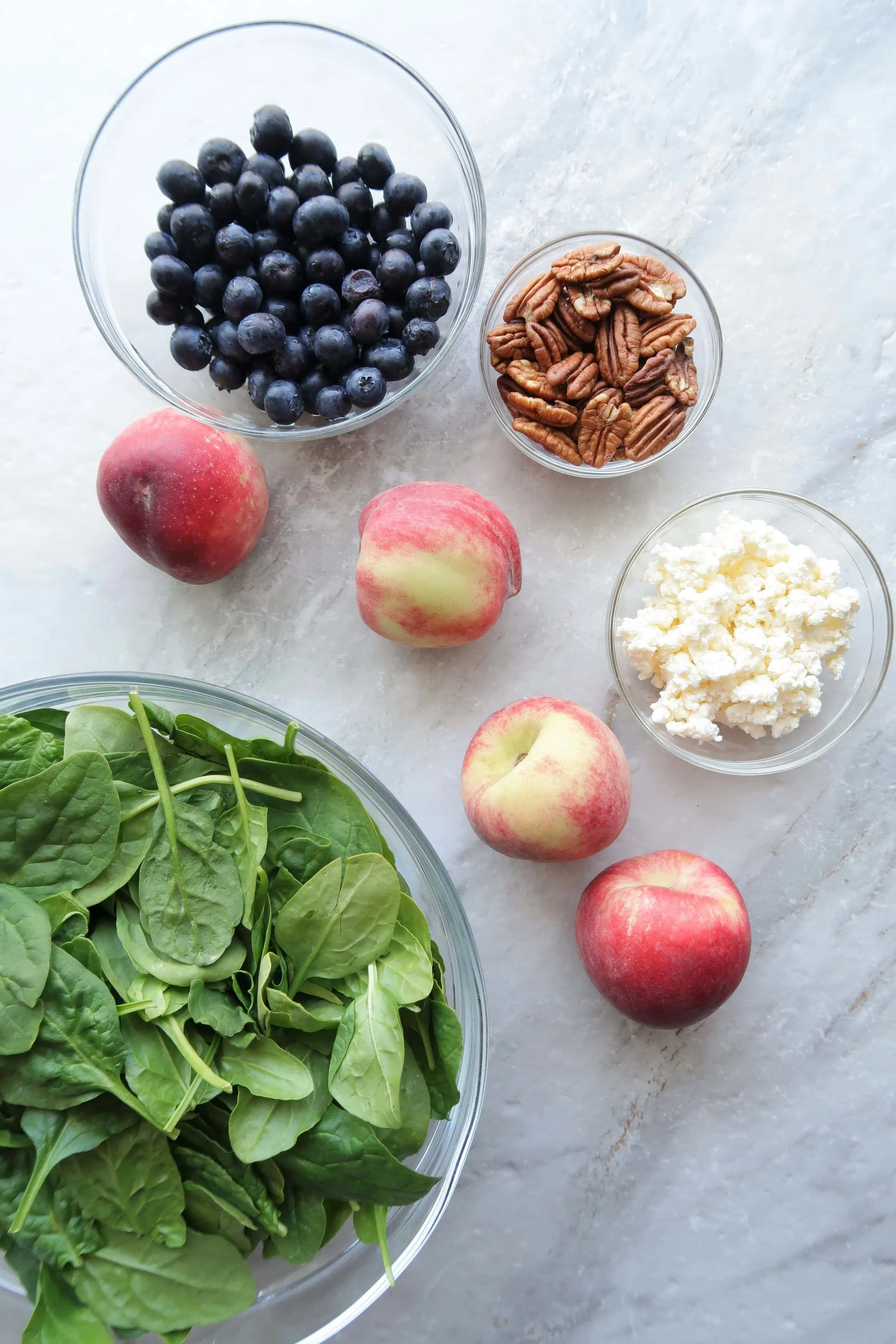 The Salad Ingredients: baby spinach, white peaches, fresh blueberries, toasted pecans, and crumbled feta cheese.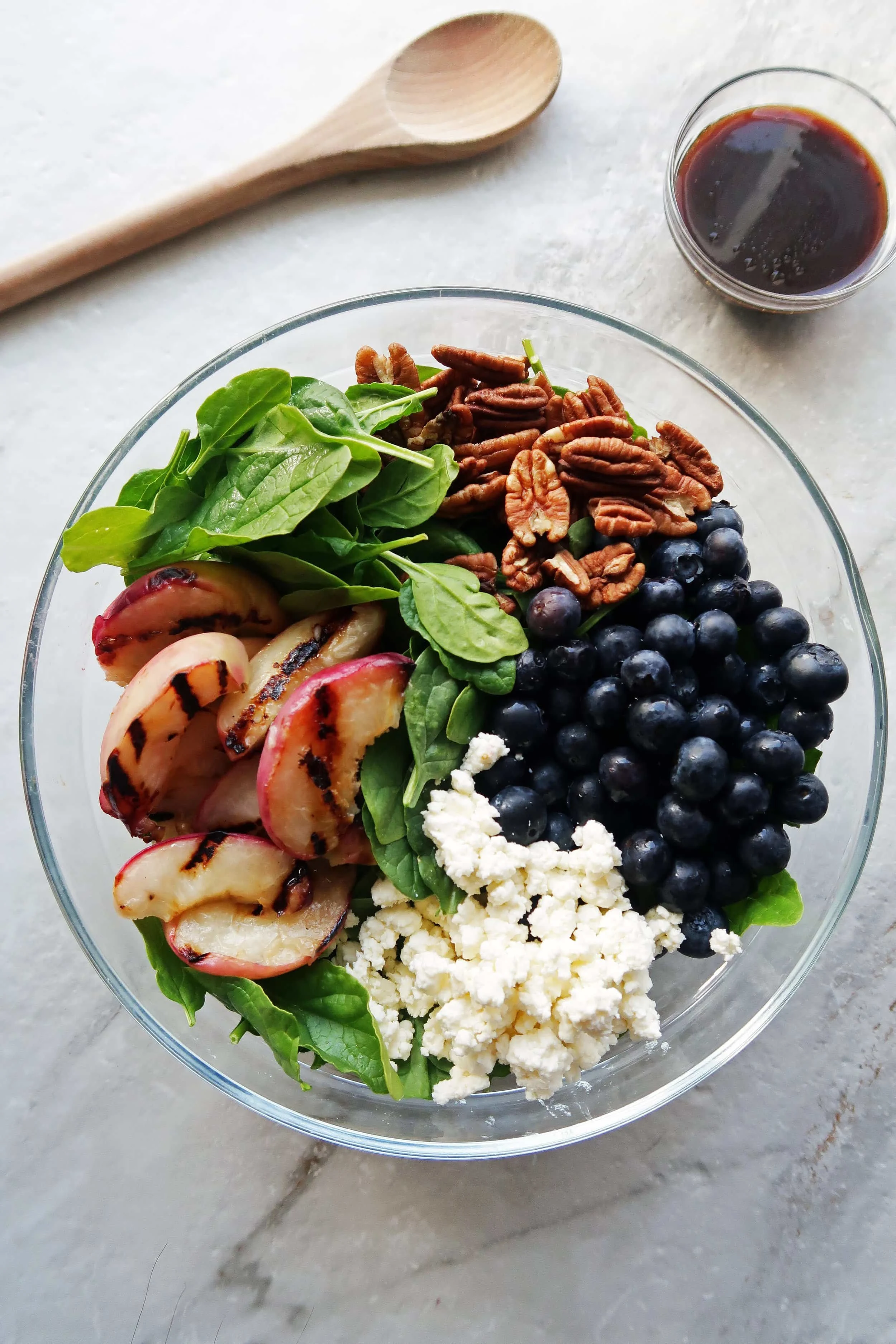 The peaches are brushed with butter, grilled, and then added to the salad! The dressing only has 5 ingredients and can be quickly whisked together in a couple minutes.
So many different flavours and textures in this filling salad!Drizzle with the honey balsamic vinaigrette and enjoy!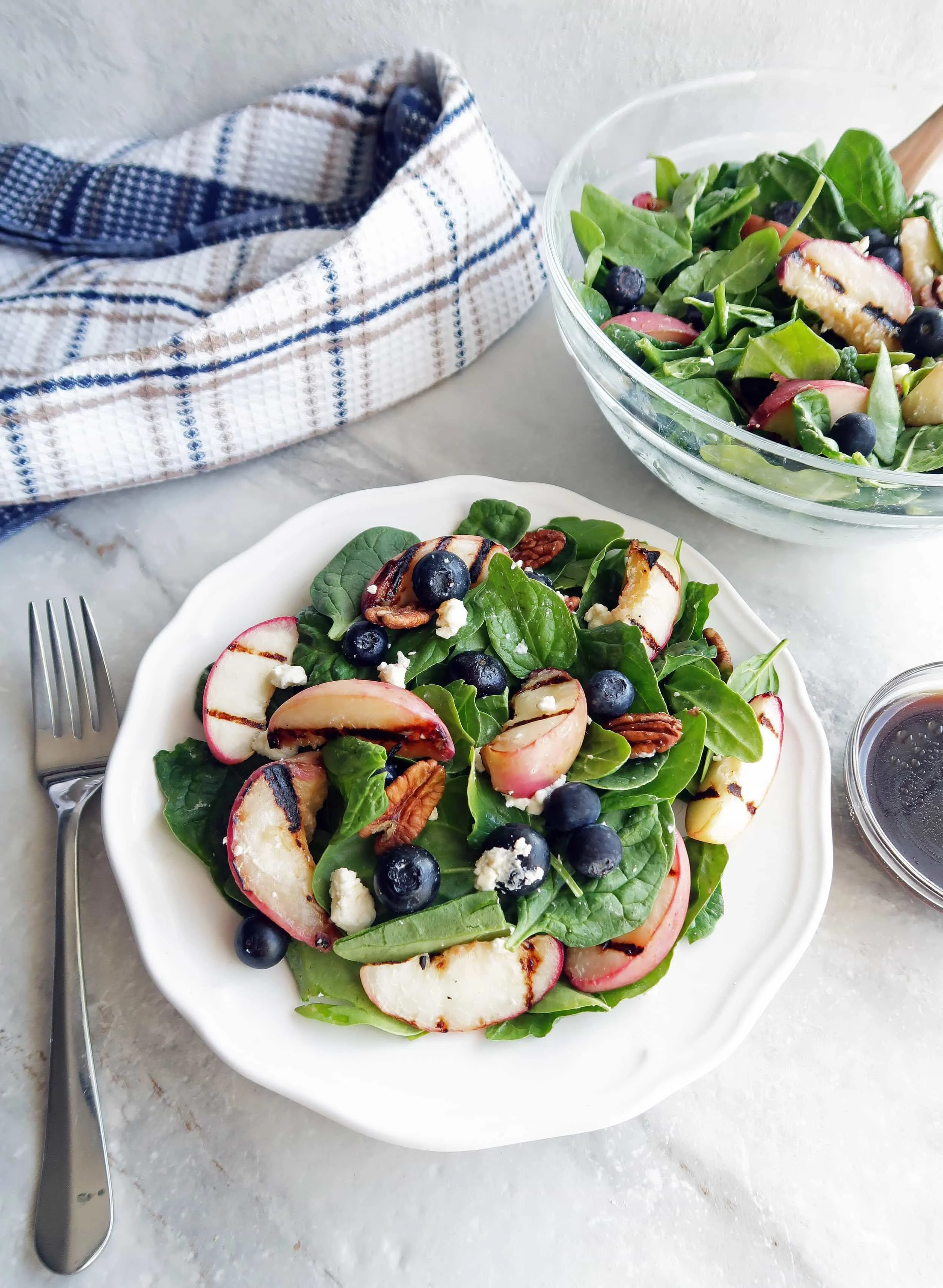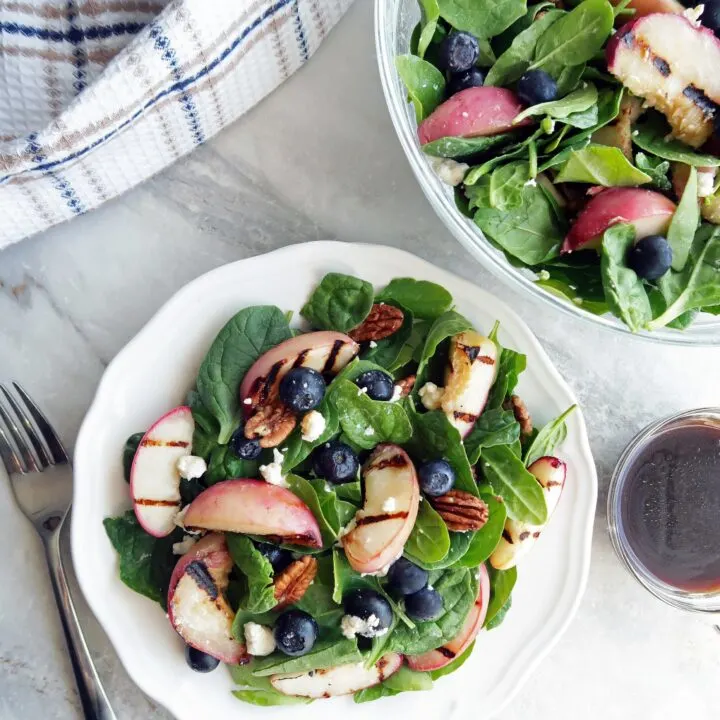 Grilled Peach Blueberry Spinach Salad with Honey Balsamic Vinaigrette
Yield:
2 as a meal, 4 as a side dish
A fresh summer salad with grilled peaches, blueberries, feta, and pecans! A simple honey balsamic vinaigrette complements the sweet, salty, and nutty flavours!
Ingredients
For the salad:
6 packed cups baby spinach
4 peaches (I used white peaches), pit removed and cut into eight sections
1 cup (4 oz) fresh blueberries
½ cup (2 oz) toasted pecans
½ cup (2.5 oz) feta cheese, crumbled
For the dressing:
¼ cup extra virgin olive oil
2 tbsp balsamic vinegar
1 tbsp pure honey
Salt and pepper, to taste
Other ingredients:
2 tbsp butter, melted
Oil for oiling the grill grates
Instructions
Heat up the grill to medium-high. Brush the peach sections with a thin coat of melted butter. Lightly oil the grill grates before placing the peaches about an inch apart. Grill the peach sections for about 3-4 minutes on each side, flipping once using tongs. Remove from the grill, place onto a plate and set aside.
In a small bowl, whisk together the vinaigrette ingredients until well combined. Taste and adjust the dressing to your preference. Set aside.
In a large bowl, assemble the salad by combining the salad ingredients together. Drizzle the desired amount of vinaigrette on top and toss to combine. Serve immediately.
Notes
If you are planning to have leftovers, keep the salad separate from the vinaigrette and cover both in the refrigerator for up to 2 days. Re-whisk the vinaigrette and drizzle just before serving.
Recommended Products
As a participant in the Amazon Services LLC Associates Program, I only link to products that I use and/or highly recommend. As an Amazon Associate, I earn from qualifying purchases if you purchase through these links at no additional cost to you.
Nutrition Information:
Yield:

4
Serving Size:

1
Amount Per Serving:
Calories:

310
Total Fat:

25g
Saturated Fat:

6g
Trans Fat:

0g
Unsaturated Fat:

17g
Cholesterol:

19mg
Sodium:

151mg
Carbohydrates:

23g
Fiber:

3g
Sugar:

20g
Protein:

3g