This recipe is a keeper!
A wonderful mid-week (or any lazy day) meal that is super easy to put together, but is so flavourful and filling. It's full of delicious orzo pasta, spicy Italian sausage, healthy green kale, and rich, melty cheese!
The Italian sausage (we used hot sausages… cause some like it hot, hot, hot) adds amazing savoury flavours and texture to the dish. Of course, you can replace hot sausages with sweet or mild flavours according to your preferences.
Leafy kale is super nutritious; it's high in vitamin K and A, high in iron, and a good source of fibre. I love the texture of kale too; it gives this meal more body and a nice dark green colour; otherwise, the dish would be shades of brown, which looks a little boring.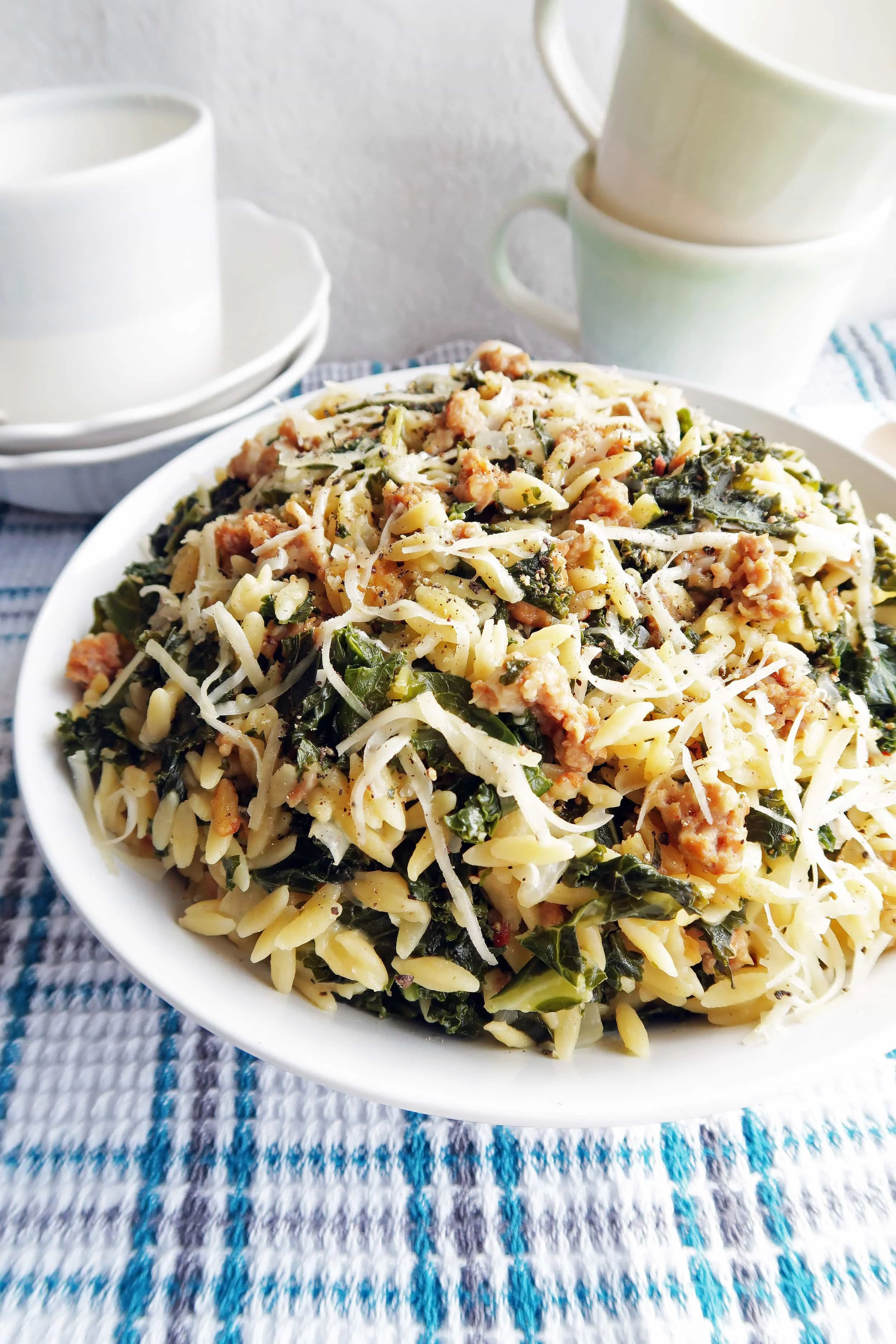 This recipe uses one of my most favourite cheeses (and I love cheese!): cheddar. It has a great tangy, rich flavour. So good. I wish I had a wheel of cheddar cheese to snack on right now… It's found in most supermarkets too and usually less pricey than other cheeses, which is great for the food budget.
In this recipe, the cheese melts beautifully, combining and marrying all the other ingredients together.
Another cheese that works well in this dish if cheddar is not available is Gruyère, which has a slightly salty, creamy, and nutty taste, but as it ages, it becomes more tangy and earthy.
Alternatively,Emmental (sometimes called Emmenthaler) melts great and tastes similar to Gruyère. Any melty cheese will do, so pick the one that has the flavour profile you prefer.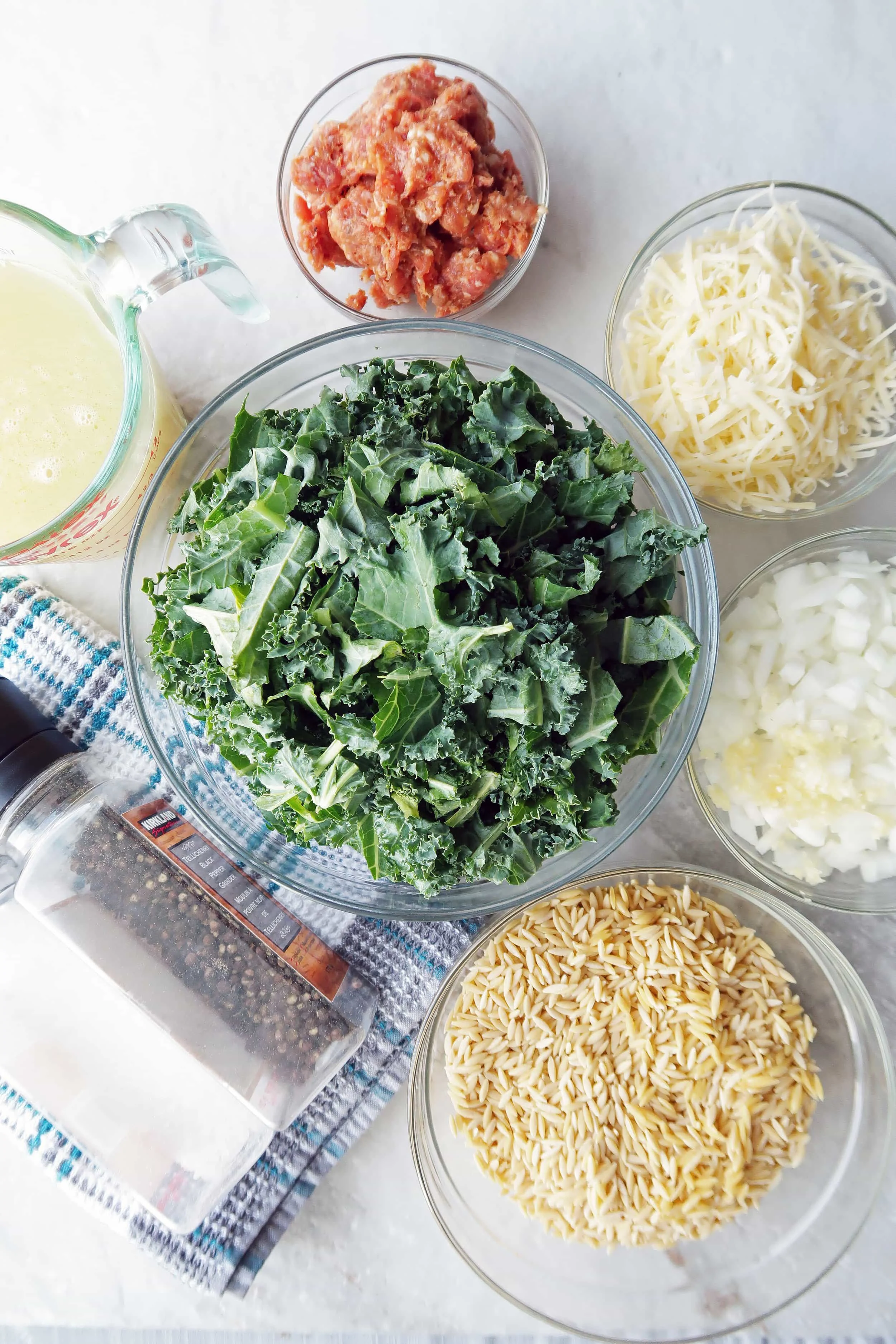 Gather and prepare the ingredients.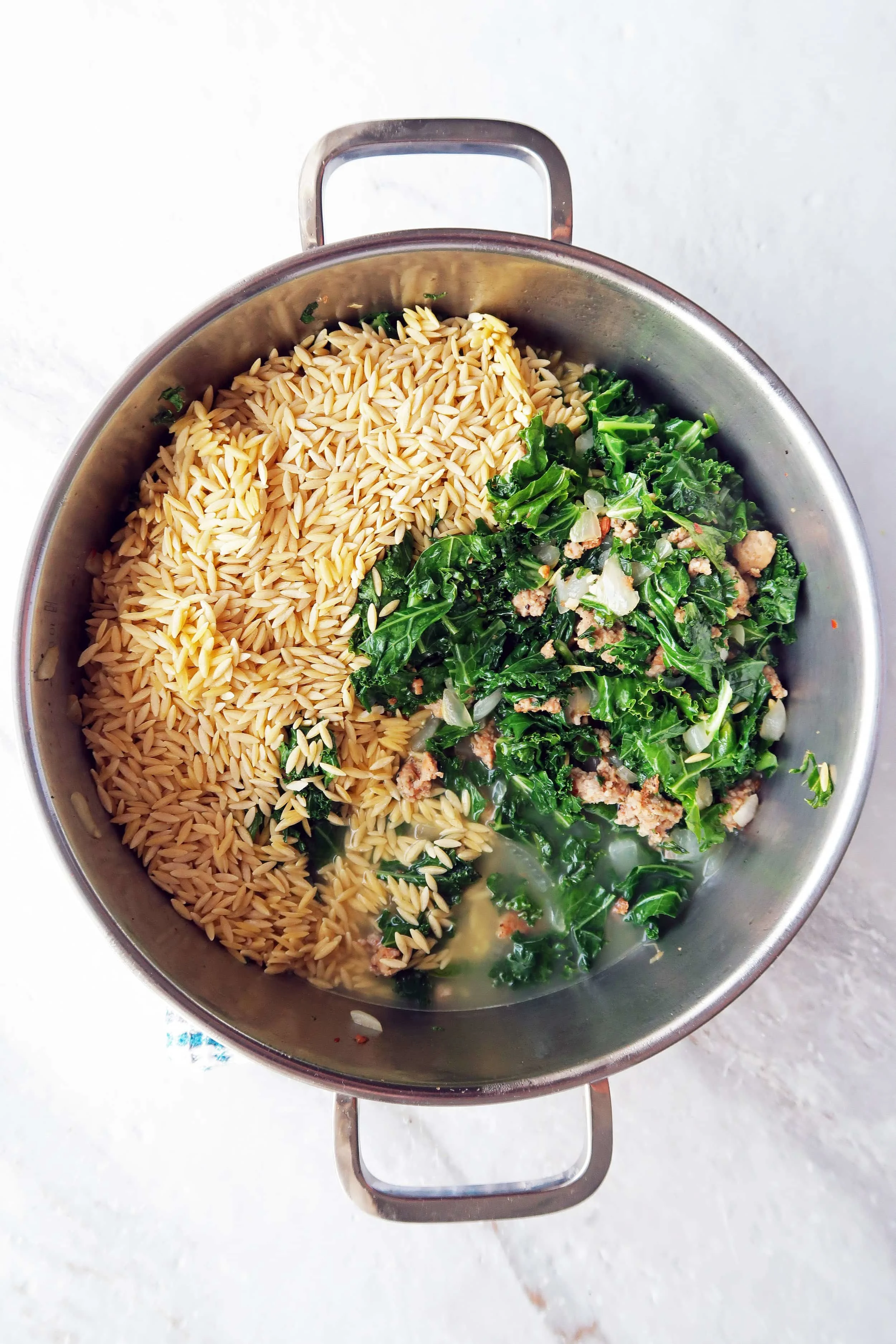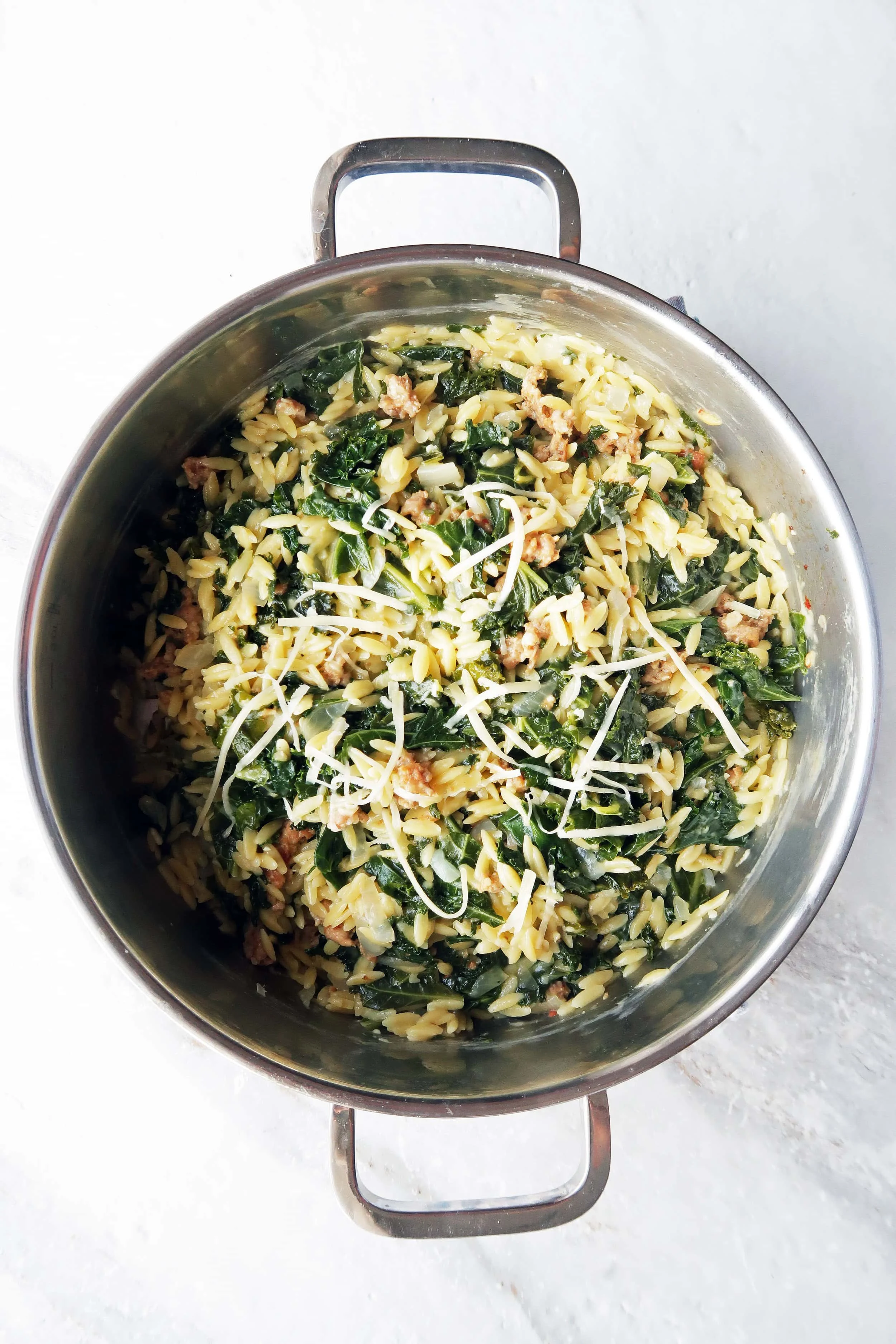 In a large pot, cook sausages first, then add onions, garlic, salt, and pepper. Add the kale and cook until wilted and then add the chicken broth and orzo.
Bring the broth to a boil then reduce to a simmer. Let the orzo absorb the chicken broth until tender. Add the cheeses and mix ingredients together. Enjoy!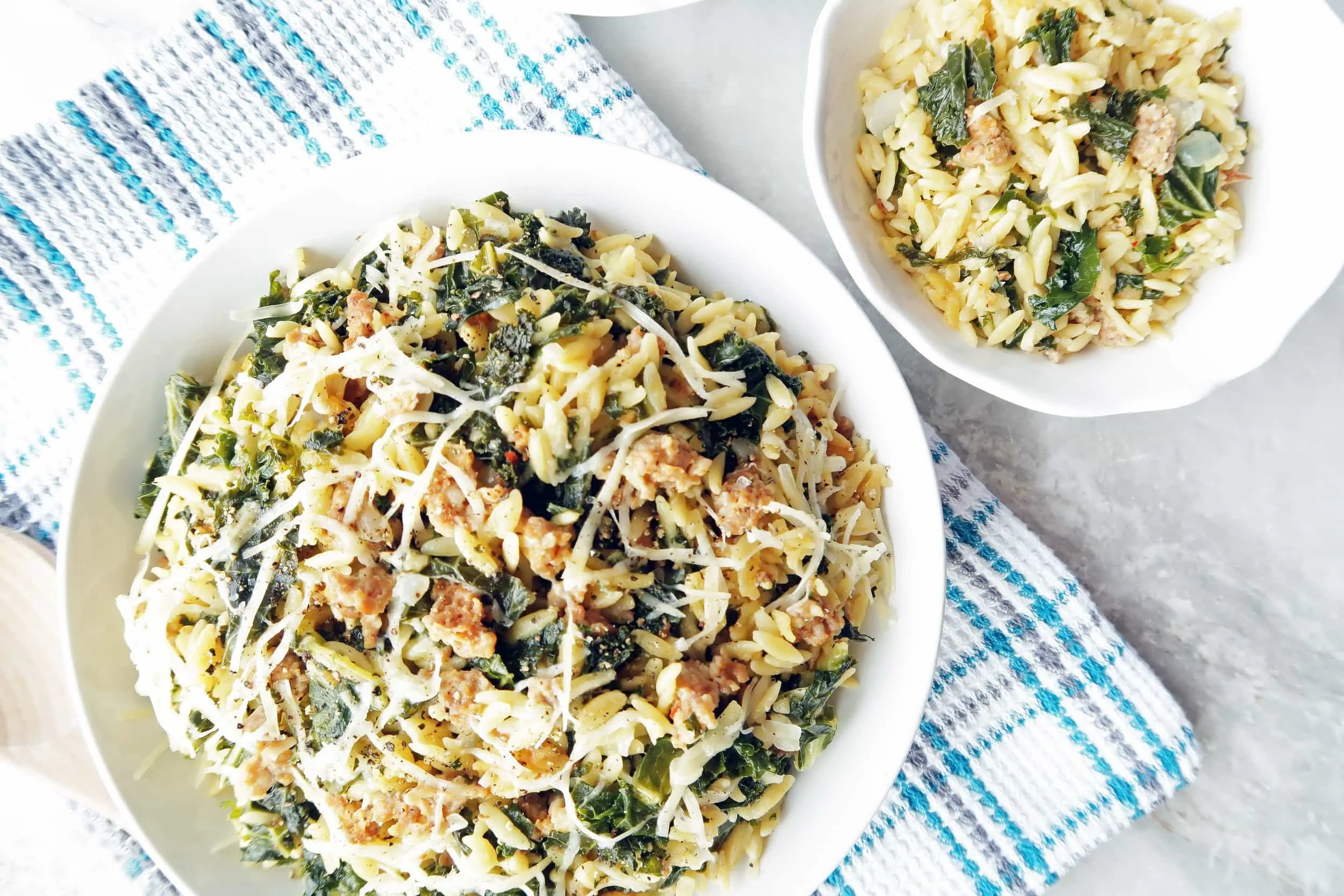 Bowl it up and enjoy this hearty meal!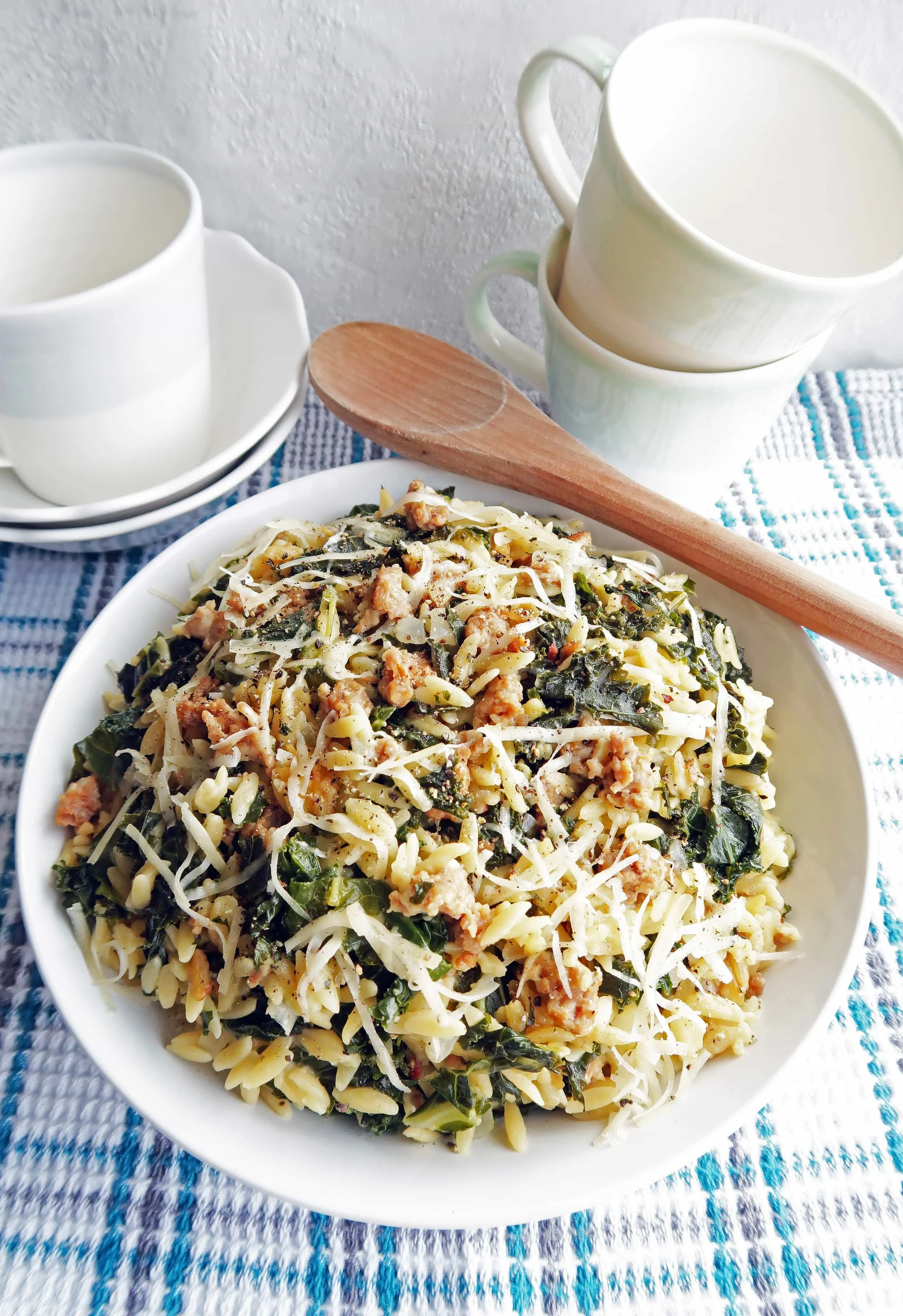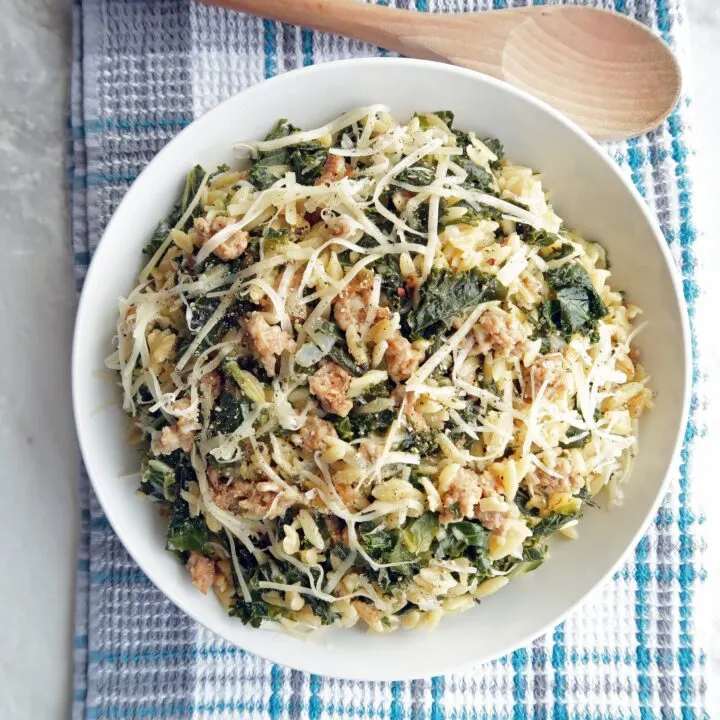 One-Pot Orzo Pasta with Italian Sausage and Kale
Creamy and Cheesy Orzo Pasta with Italian Sausage and Kale. A delicious, easy, and filling meal that's made in one pot and ready in 30 minutes or less!
Ingredients
1 tbsp olive oil
3 hot Italian sausages, casings removed
1 medium onion, chopped
3 garlic cloves, minced
1 bunch (5-6 leaves) of kale, stems removed and chopped
2 cups uncooked orzo pasta
3 cups chicken broth (no salt added preferred)
1½ cup sharp cheddar cheese, shredded
Salt and pepper, to taste
Instructions
In a large saucepan, on medium-high heat, add the olive oil and sausages. Crumble the sausages using a wooden spoon, letting the meat brown slightly. Then add in the onions, garlic, salt, and pepper. Stir occasionally until the onions begin to soften, 4-5 minutes.
Add the kale and sauté until it begins to wilt, about 3 minutes. Pour in the chicken broth and add the orzo; mix the ingredients together*. Bring the broth to a boil and then reduce the heat down to a simmer. Cook with a lid on for 12-15 minutes until the broth is absorbed into the orzo and the orzo is tender.
Add the cheese and stir to coat the orzo and vegetables. Taste for additional salt and pepper. Serve immediately.
Notes
*You may need to add more chicken broth so that it just covers the top of the ingredients in the pot.
We used hot Italian sausages, which had red pepper flakes and other seasonings in it. If you use mild Italian sausages, add red pepper flakes if you like a little more heat!
Substitute any melty cheese that you have on hand. We love substituting with Gruyère or Emmental.
Recommended Products
As a participant in the Amazon Services LLC Associates Program, I only link to products that I use and/or highly recommend. As an Amazon Associate, I earn from qualifying purchases if you purchase through these links at no additional cost to you.
Nutrition Information:
Yield:

6
Serving Size:

1
Amount Per Serving:
Calories:

509
Total Fat:

21.7g
Carbohydrates:

49.6g
Protein:

25.7g