Baked Crispy Coconut Chicken Nuggets
Crispy bites of deliciousness. These baked coconut chicken nuggets are the perfect dippable snack that's quick and easy to make!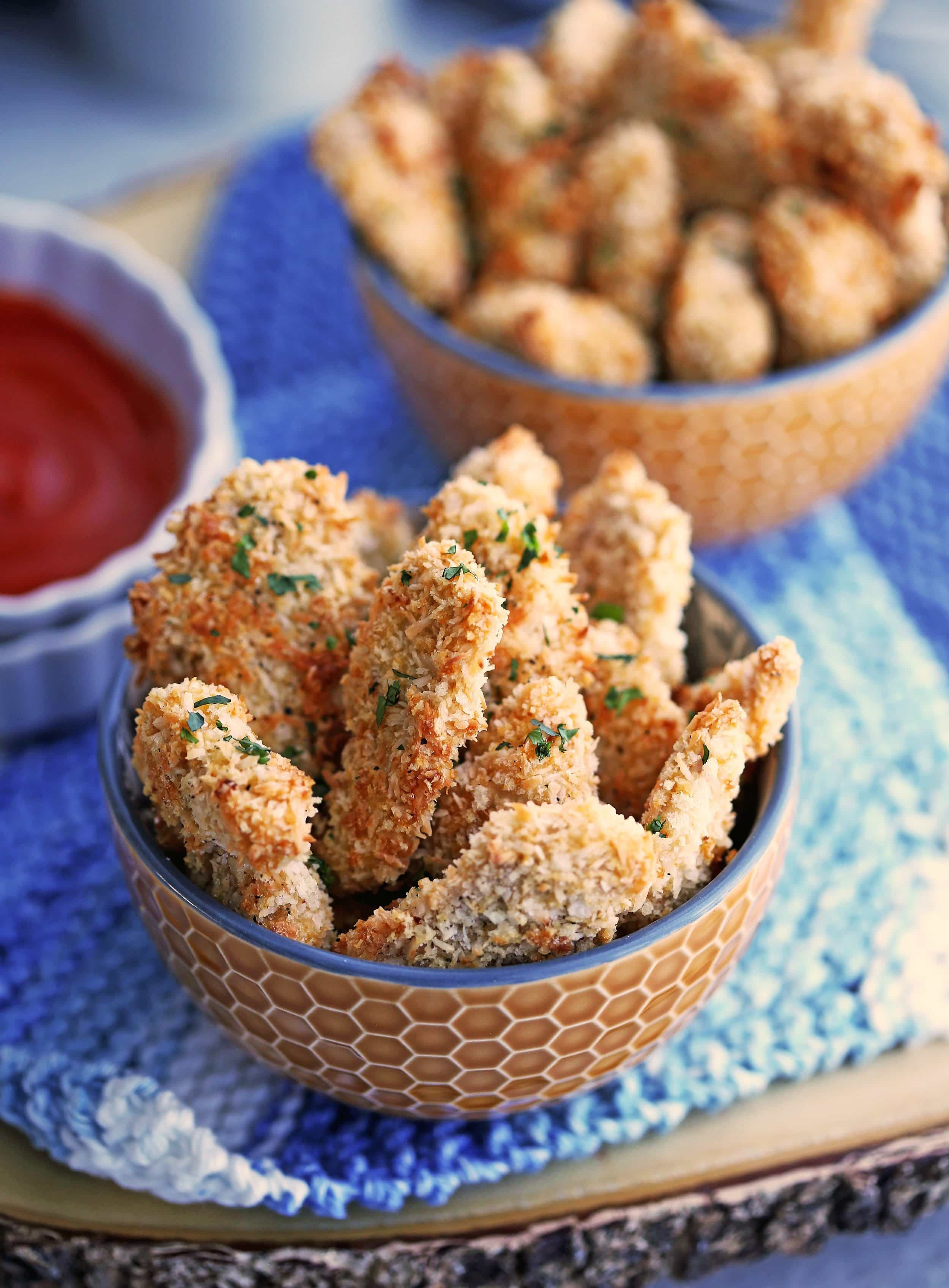 Originally posted August 7, 2017: Updated with new photos and additional text.
I have been making coconut chicken off and on for years.It is one of those snacks (okay, sometimes I make extra and eat it as a meal) that I crave randomly. It might be because I loved chicken nuggets as a child or it might be because coconut is one of my favourite foods and flavours.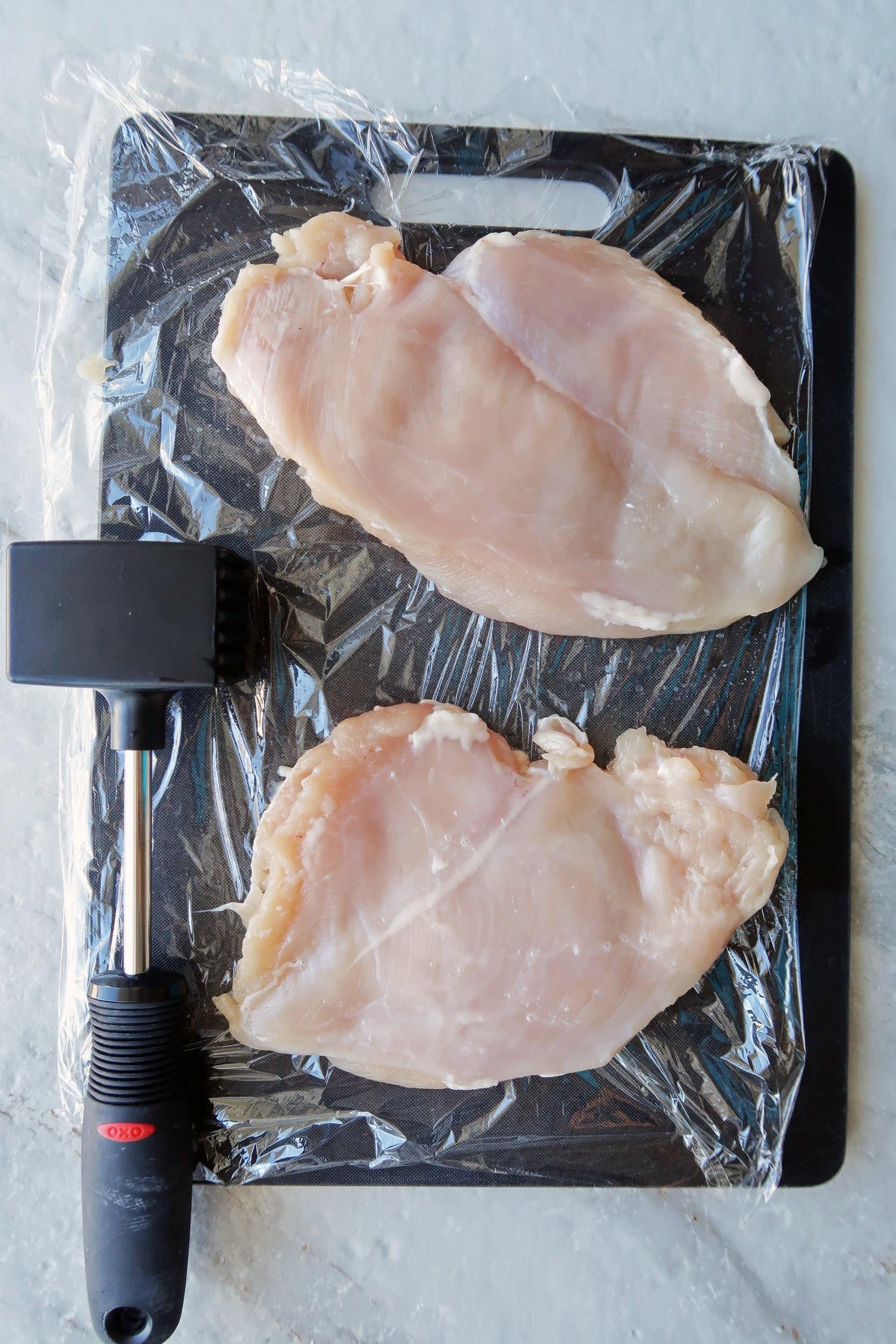 Pound the chicken until it has even thickness. I like 1/2 inch thickness. Then, slice the chicken into bite size pieces.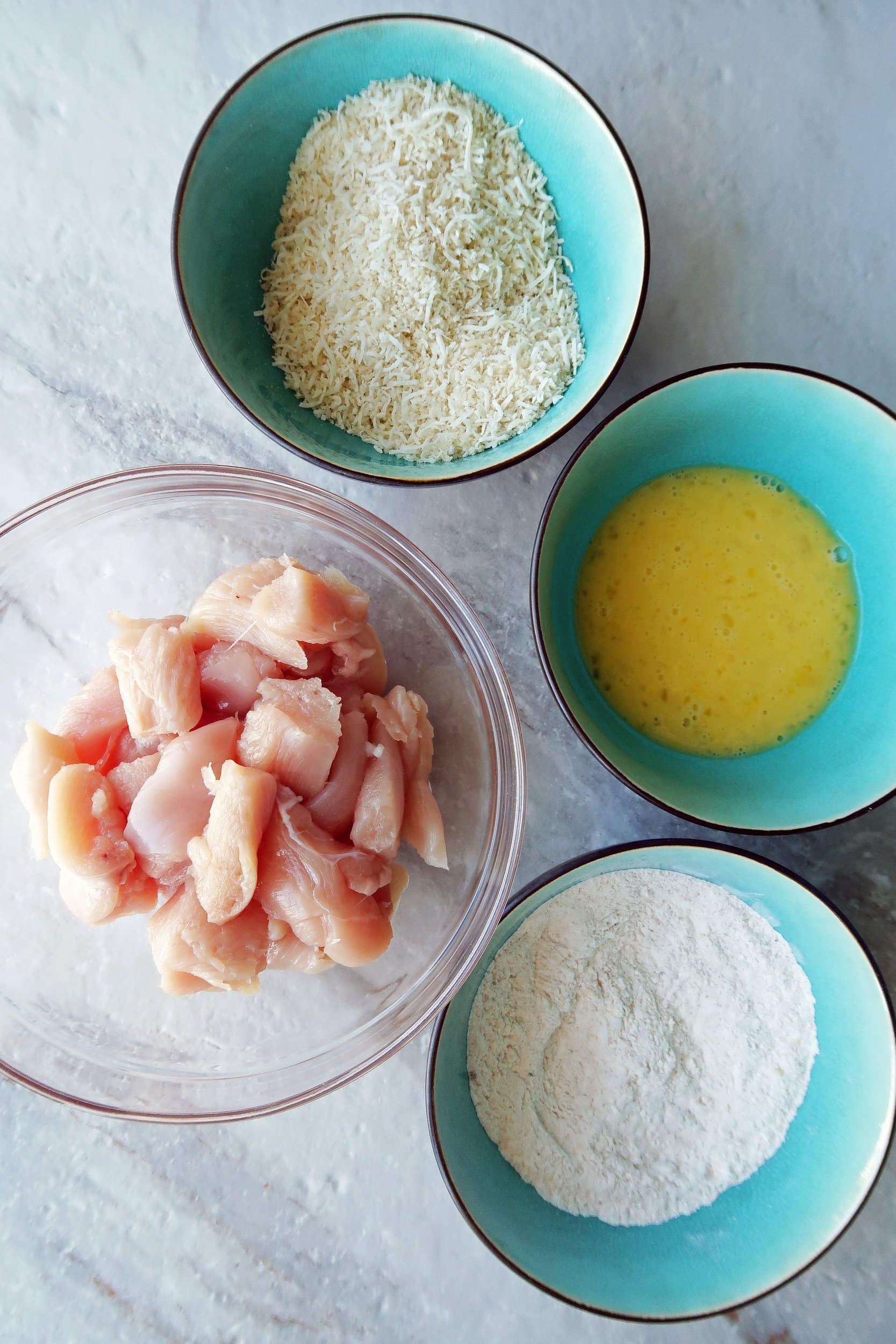 Prepare the dredge in three separate bowls. See the recipe card below for ingredient amounts and full instructions.
I like to pound the chicken breasts so that the chicken is uniform and bakes evenly using a kitchen mallet. If you don't have a mallet, you can use a heavy pan or the flat bottom of a large whisk or spoon. Technically, it is not a required step, but I find that the extra couple minutes spent tenderizing the chicken helps with the overall soft and juicy texture of the chicken.
For the breading, I prefer mixing shredded coconut with Panko breadcrumbs because Panko is flakier (it has a coarser texture)than regular breadcrumbs, which results in a bigger crunch. I also use these breadcrumbs in another baked snack:CRISPY OVEN-FRIED PICKLES WITH CHEDDAR CHEESE DIP.
These chicken bites are lightly spiced with paprika, onion powder, garlic powder, and salt and pepper for additional tasty flavour. Feel free to change up the quantity or type of spices to suit your preferences.
In addition, I like baking the chicken because it's healthier than frying and you don't have to worry about getting the oil to the right temperature or risk hot oil splattering on you.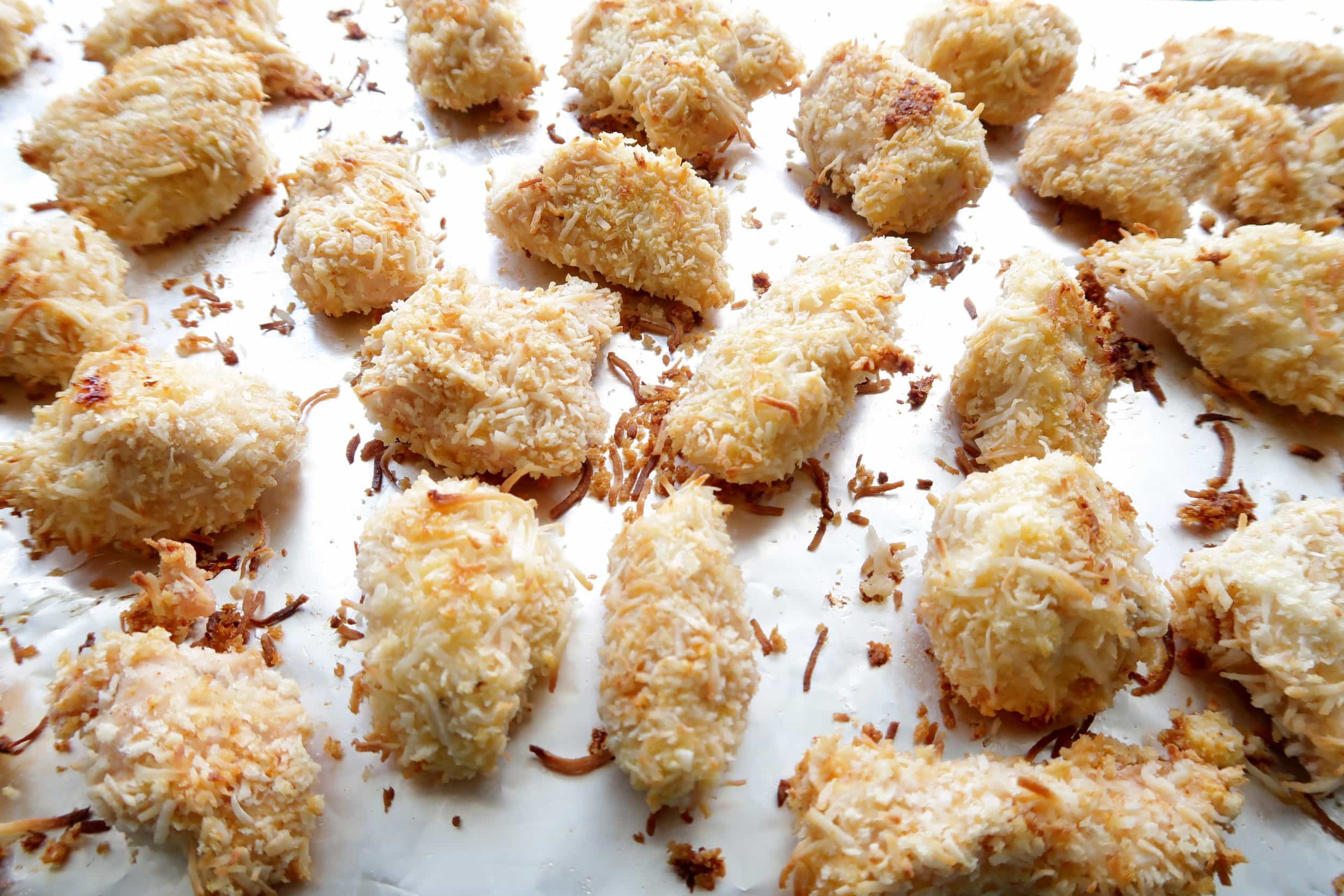 After the chicken is dredged, bake at 375 degrees F for 20-25 minutes, flipping halfway,until cooked through.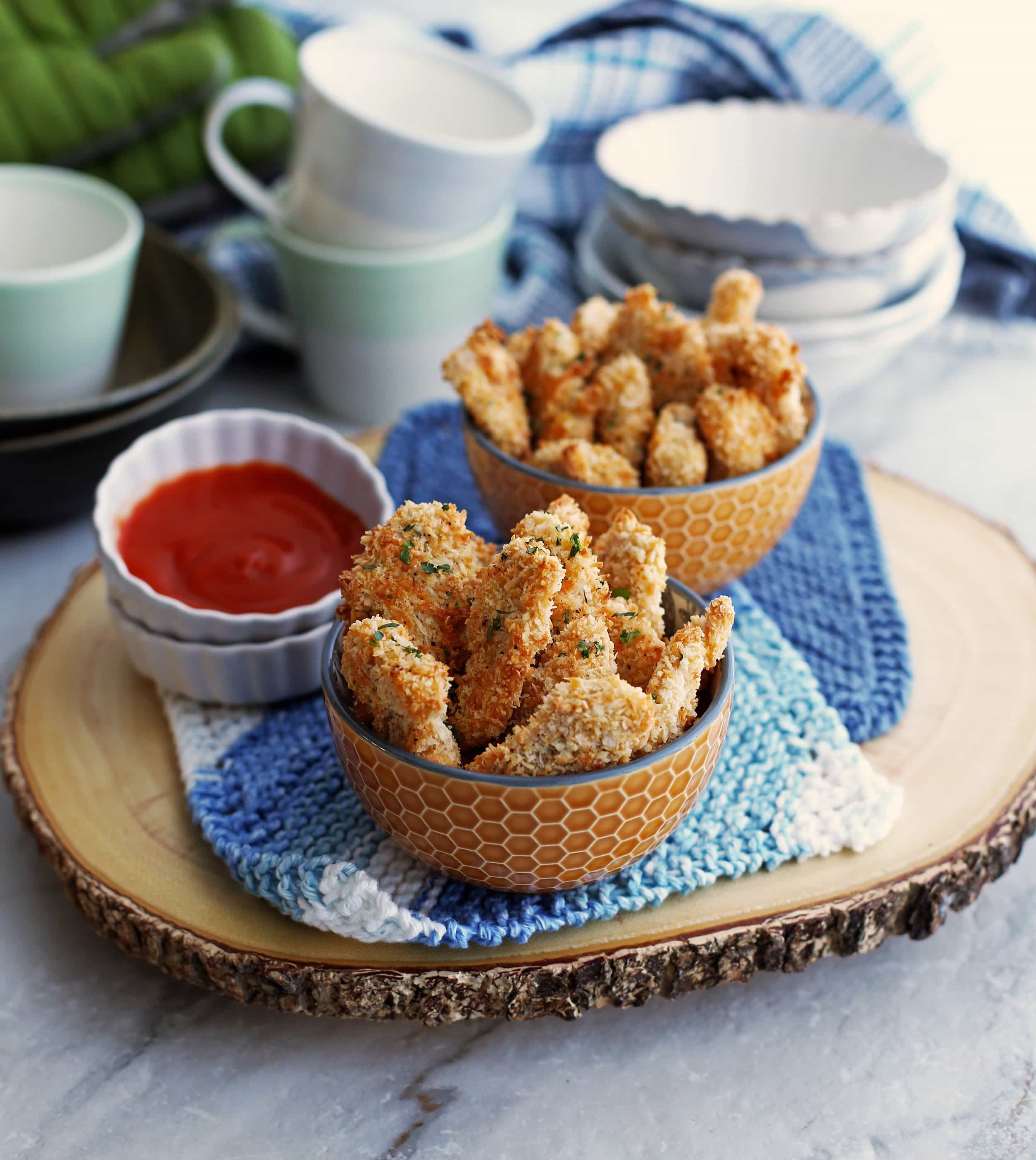 Overall, you get wonderfully crispy, lightly spiced, coconut-flavoured tender chicken bites!
Serve it with a dipping sauce of your choice!I like to serve them with a spicy and sweet sauce.Usually, something sweet like chopped pineapple or honey mixed with Sriracha sauce (hot chilli sauce). My husband likes dipping these chicken bites in jalapeño mustard too.
What would you dip this chicken in?
I hope you enjoy this recipe!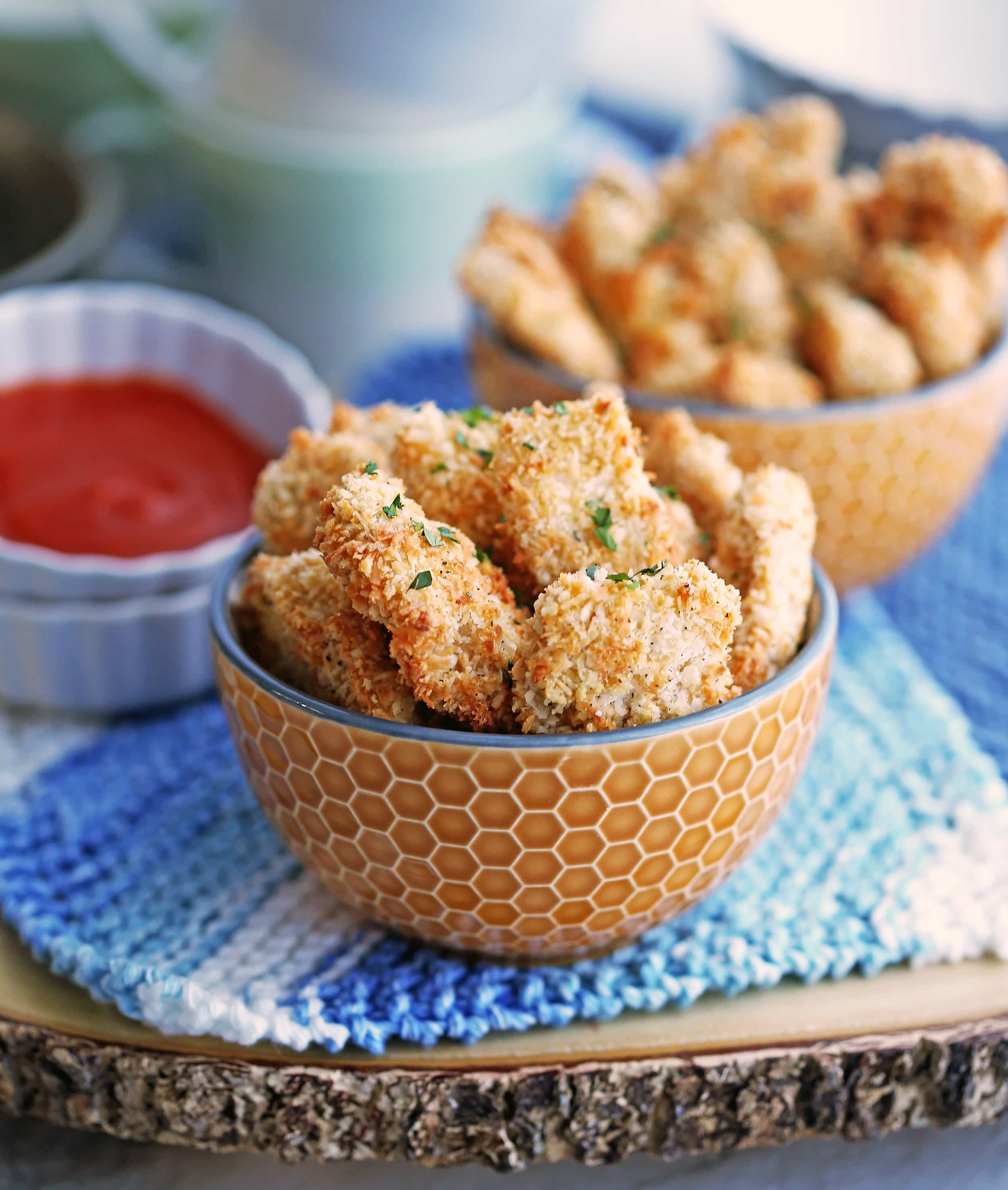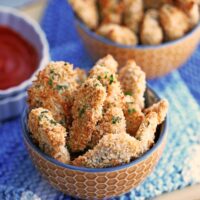 Baked Crispy Coconut Chicken Nuggets
Crispy bites of deliciousness. These baked coconut chicken nuggets are the perfect dippable snack that's quick and easy to make!
Ingredients
2 large boneless skinless chicken breasts (about 8-10 oz each)
½ cup all-purpose flour
¾ cup shredded coconut, unsweetened
¾ cup panko breadcrumbs
2 large eggs, beaten
1½ tsp smoked paprika (or regular paprika)
1 tsp onion powder
1 tsp garlic powder
Salt and pepper
Instructions
Preheat the oven to 375 degrees F. Line a baking sheet with aluminum foil.
Line a cutting board with plastic wrap, place the chicken breasts on top, and then cover the chicken with plastic wrap. Using a mallet (meat tenderizer), gently pound the chicken breasts until uniform in thickness* (see first note). Then, slice the chicken into bite-size pieces. Set aside.
In three wide rim bowls (or plates), place flour, paprika, onion powder, garlic powder, salt, and pepper in one bowl, eggs in the second bowl, and shredded coconut with Panko breadcrumbs in the third bowl.
Take a chicken piece, coat first with flour mixture, then egg, and finish with the coconut and breadcrumb mixture before transferring to your baking sheet. Repeat for the rest of the chicken pieces.
Bake for 20-25 minutes, flipping the chicken halfway, until done**(see second note). Season with additional salt and pepper over the warm chicken nuggets. Serve immediately or warm with a dipping sauce of your choice.
Notes
*The exact thickness of the chicken is not as important as achieving a uniform thickness so they bake evenly. The nuggets I made in this recipe are about ½ inch thick.
**Using a meat thermometer, the internal temperature should be at least 165 degrees F.
Dipping sauce option: 3 tablespoons of sriracha sauce and a half cup of diced pineapple. Sriracha sauce and honey is also a great quick dip option.
Recommended Products
As a participant in the Amazon Services LLC Associates Program, I only link to products that I use and/or highly recommend. I earn a small commission if you purchase through these links at no additional cost to you.
Nutrition Information:
Yield:

4
Serving Size:

1
Amount Per Serving:
Calories:

384
Total Fat:

16g
Saturated Fat:

11g
Trans Fat:

0g
Unsaturated Fat:

4g
Cholesterol:

144mg
Sodium:

310mg
Carbohydrates:

32g
Fiber:

4g
Sugar:

3g
Protein:

27g
Nutritional values are estimated based on the ingredients used by the author; your ingredients may differ. These values are calculated using Nutritionix.
---
---