Mid-week often means simple and easy pasta for dinnertime! This one is a goody! My husband, Scott, proclaimed that this meal was "really good."
I told him my hierarchy of what his food descriptions mean to me. It goes as follows:
Bad = Bad
Fine = Bad
Okay = Bad
Good = Okay (this is where I would put "really good")
Great = Good
Wonderful (or similar words) = Great
And then it gets better from there especially if you can describe what he likes (or not so likes) about it.
I can't be the only one that thinks like this, right?
As you can see, I thoroughly dislike it when he calls it just "good" even though I know that he actually enjoys it a lot.
Believe me, he is a picky eater especially when it comes to certain ingredients (e.g. peas and corn) and textures so when he goes for seconds, I know that this recipe is a keeper.
I'm happy to say that my persistent, yet loving, reminders to him to actually describe the food instead of just saying it tastes "fine" and then proceeding to wolf it down in 10.8 seconds is working!
He promptly, changed his adjective to "fabulous" and said he liked the shape of the pasta and how it sucked up all the creamy cheese sauce.
He also raved about the toasted panko and added more of the bread crumbs from a bowl I had on the side. Finally, he enjoyed the use of Swiss Chard as it was a fun departure from the spinach he brings in his lunch each day.
Thanks Honey. I appreciate it. That way, it easier for me to write up blog posts too.
Let's get to the recipe! I hope you enjoy this recipe for Creamy Gruyere and Swiss Chard Pasta with Toasted Panko Breadcrumbs!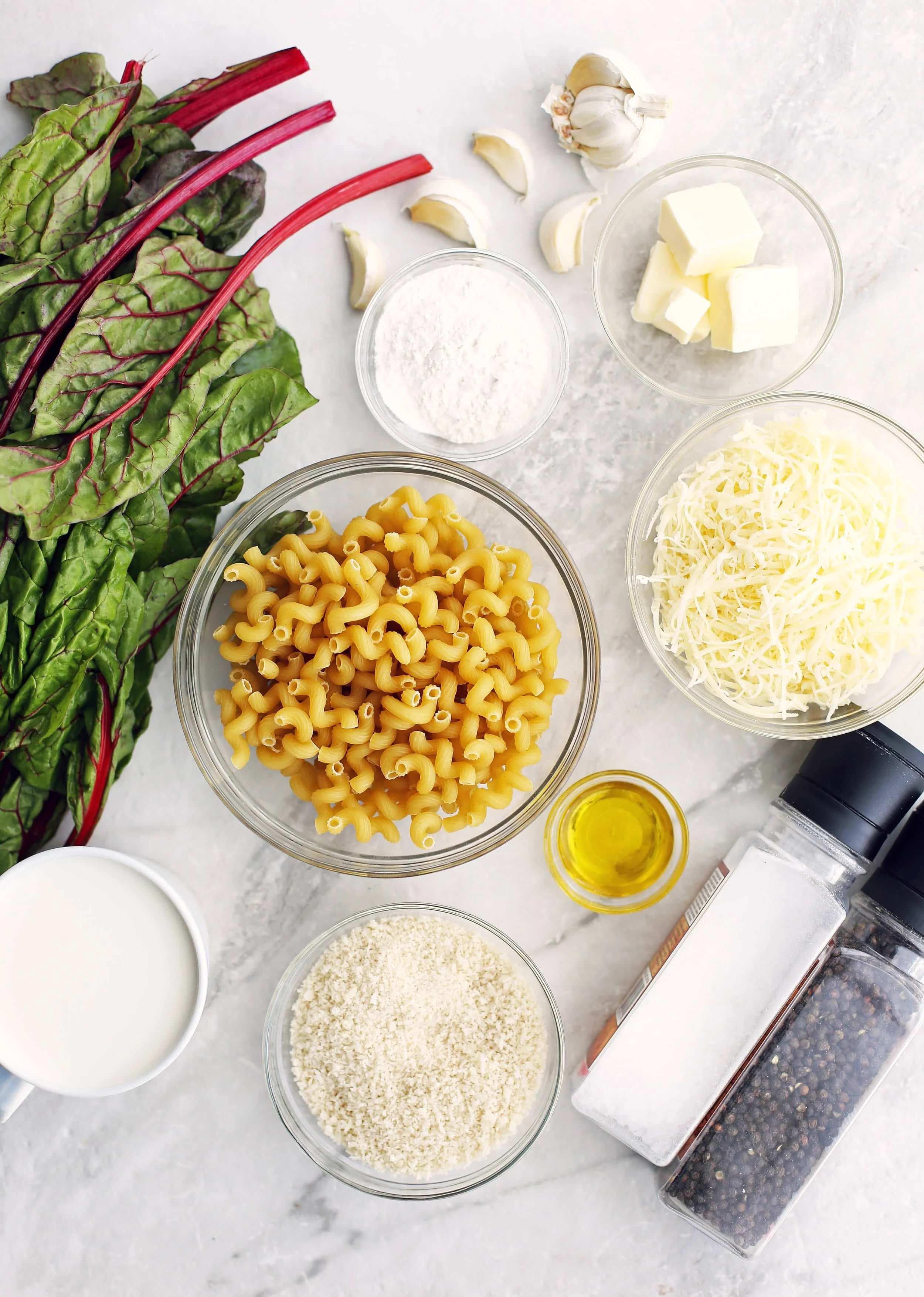 All the ingredients to make this delectable pasta dish!
(Ingredient amounts and complete instructions listed in the recipe card below)
Helpful Tip: Measure out ingredients prior to cooking, especially the cheese sauce. Time goes quickly once you start cooking so it is highly recommended to prepare (measure and chop) all the ingredients first.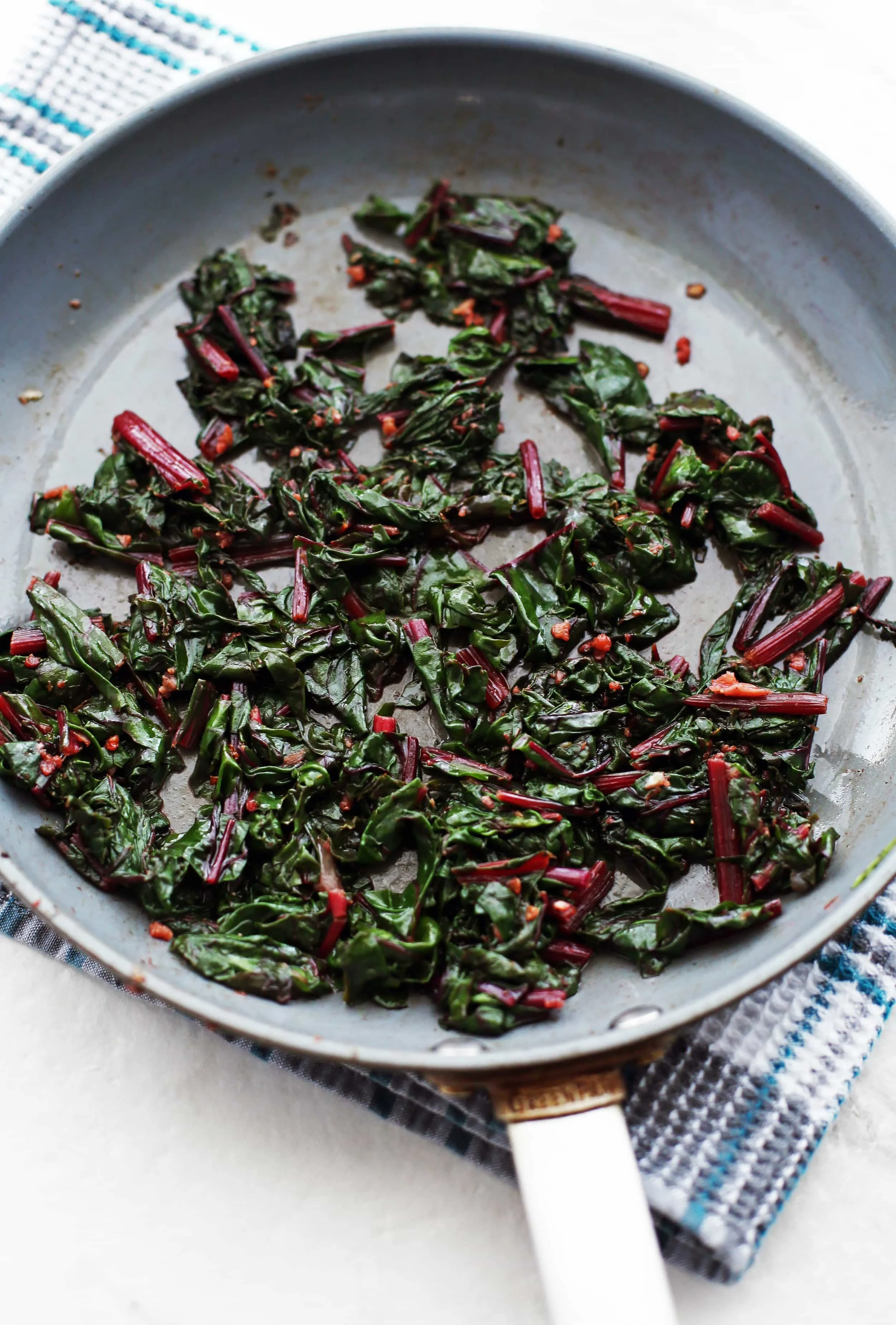 It takes a couple of minutes for the Swiss chard to sauté in a pan with a little olive oil and minced garlic.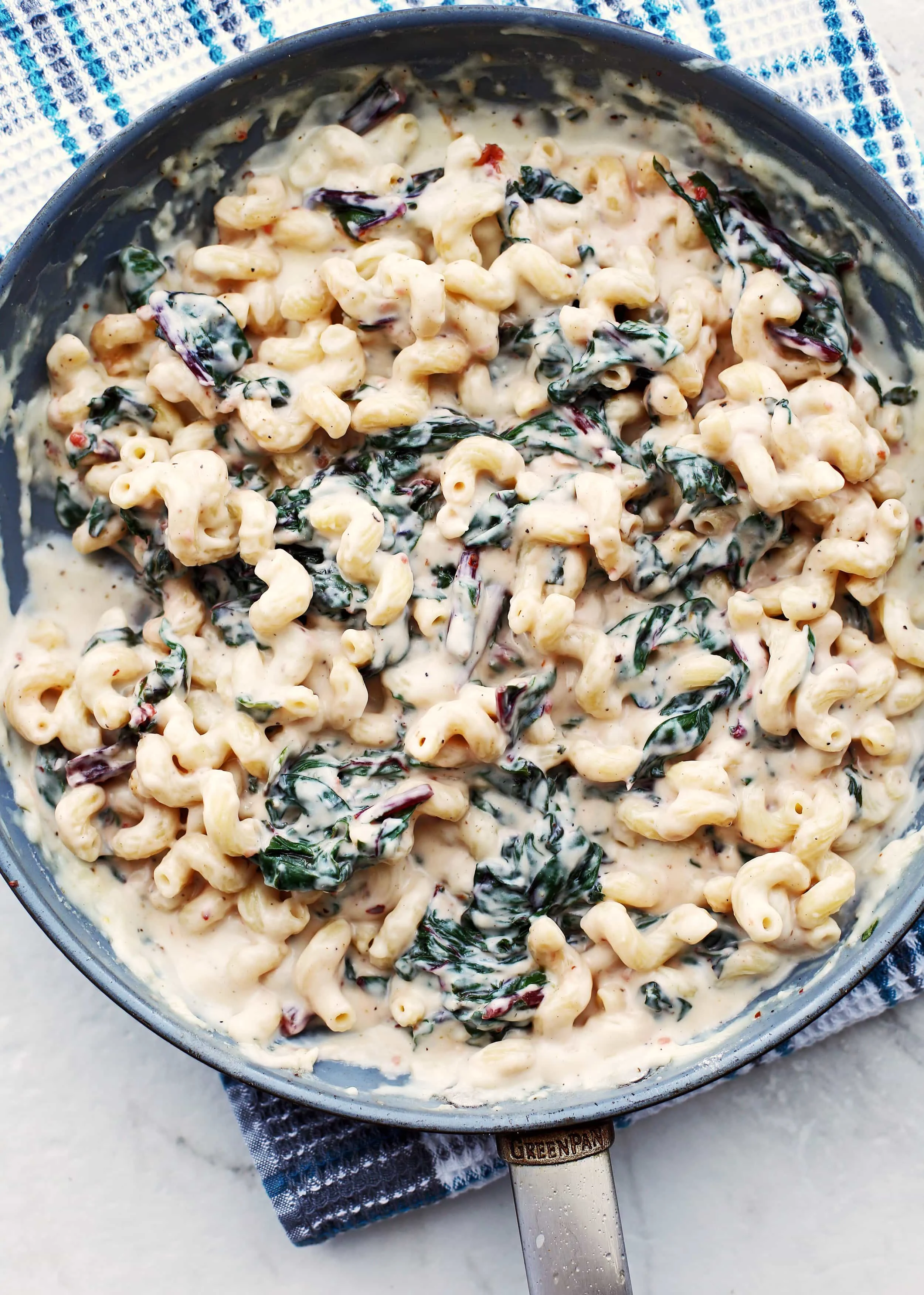 The pasta and Swiss chard is added into the pan full of scratch-made creamy white sauce with Gruyere cheese.
In all, this Scrumptious Gruyere and Swiss Chard Pasta:
Is delicious, filling, and so savoury: Pasta is just so tasty! It's mild flavour is well suited to take on whatever flavours you add to it.

Creamy and smooth white cheese sauce featuring gruyere cheese. This cheese is lightly sweet (a hint of fruity tangy), nutty and salty when young and becomes more stronger in cheesiness, earthier, and complex flavour as the cheese ages.

I used an younger cheese that was sharp, but also nutty, sweet, and had a nice level of salinity.

Full of Swiss chard (also known as chard or silverbeet). The leaf stalks can be red, green, or yellow. I used the red (ruby) variety.

The leaves are tender and are said to have a taste close to spinach or beet greens. It can be bitter, especially raw, but cooking it diminishes its bitterness to reveal a more pronounced sweet and earthy flavour.

Toasted Panko breadcrumbs tastes wonderfully salty and buttery and adds a lovely crunch. I like to mix the breadcrumbs into the pasta so each bite is crunchy and tender.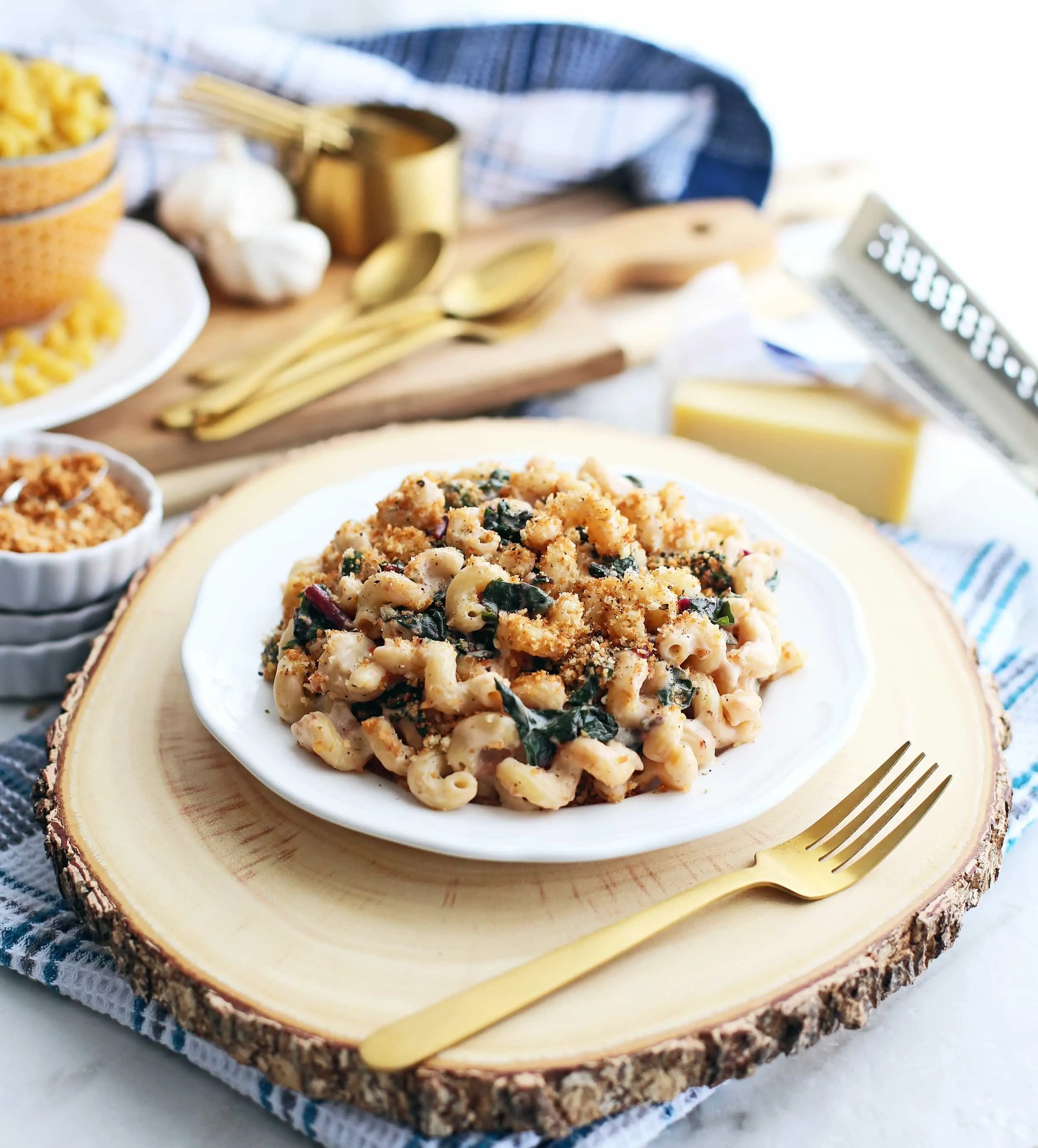 Has different textures: Crunchy Panko, creamy gruyere cheese sauce, tender Swiss chard, and al dente pasta (it will get a little more tender with the heat of the sauce as it sits) gives this meal a delightful mix of textures.
Is quick and easy to make: This entree takes about 25 minutes to make and uses a lot of ingredients that I bet you have handy in your kitchen pantry and refrigerator right now.

Perfect for a quick weeknight dinner or to make on a lazy day.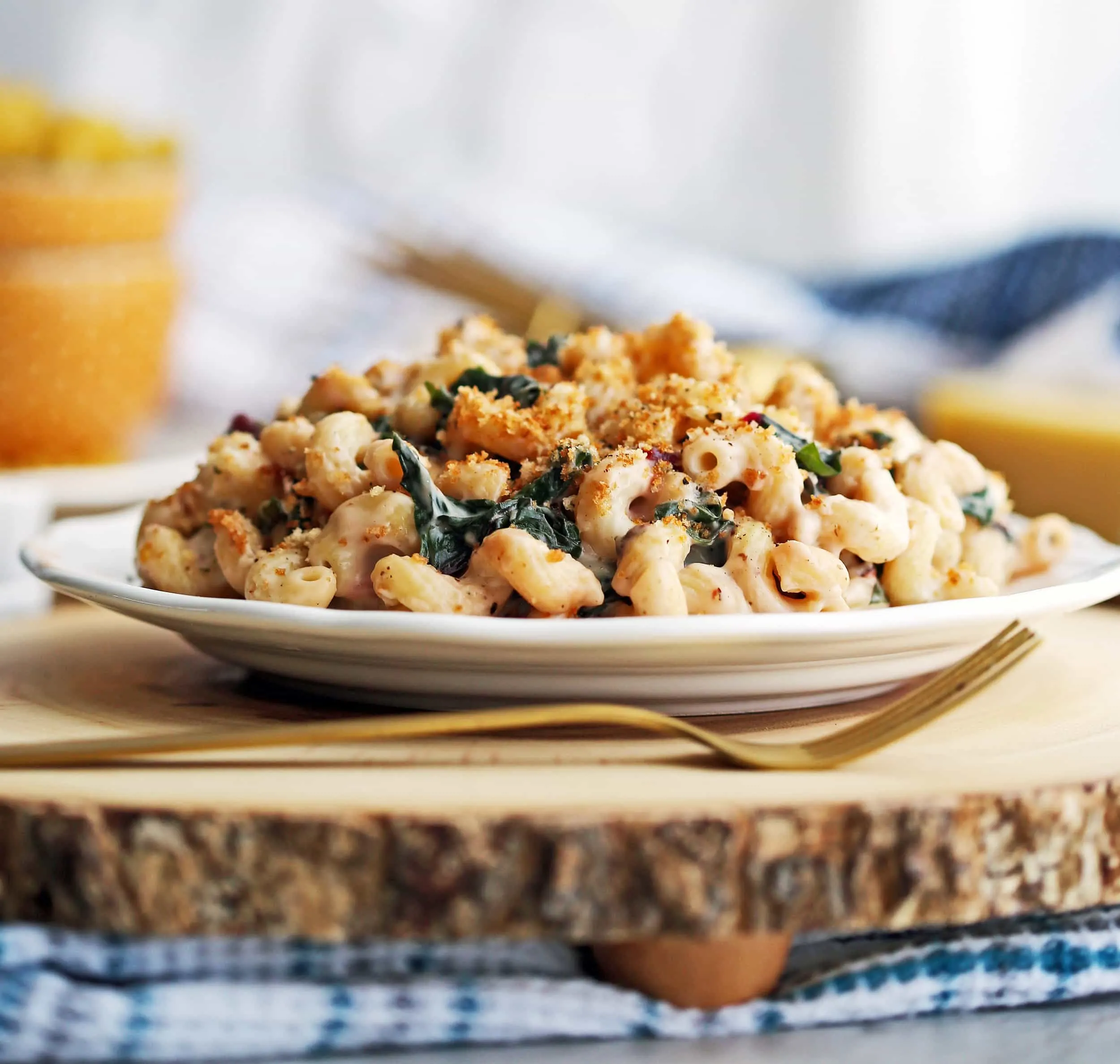 Is easy to adapt:
Use a melty cheese or two that you have on hand such as sharp white cheddar, fortina, emmentaler, or monterey jack cheese or a mixture of cheeses to make the cheese sauce. Can you tell that I love cheese?

If you are vegetarian, make sure that the gruyere or other cheese is made without animal rennet; look at the cheeses' ingredient list for vegetable rennet or microbial enzymes instead to ensure that it is vegetarian.

Switch out Swiss chard with spinach, arugula (rocket), or kale. They have an earthy and slight bitter flavour profile that will mellow out with the stronger cheesy and savoury flavours in this dish.
Experiment with different pastas. I loved using cavatappi for it's double spiral tube shape.

Did you know that cavatappi pasta is also called "scoobi doo" pasta? That name is so cute to me and of course, it reminds me of the cartoon dog of a very similar name.

I recommend macaroni (elbows), rigatoni, or a pasta that has crevices or ridges for the sauce and panko to cling too.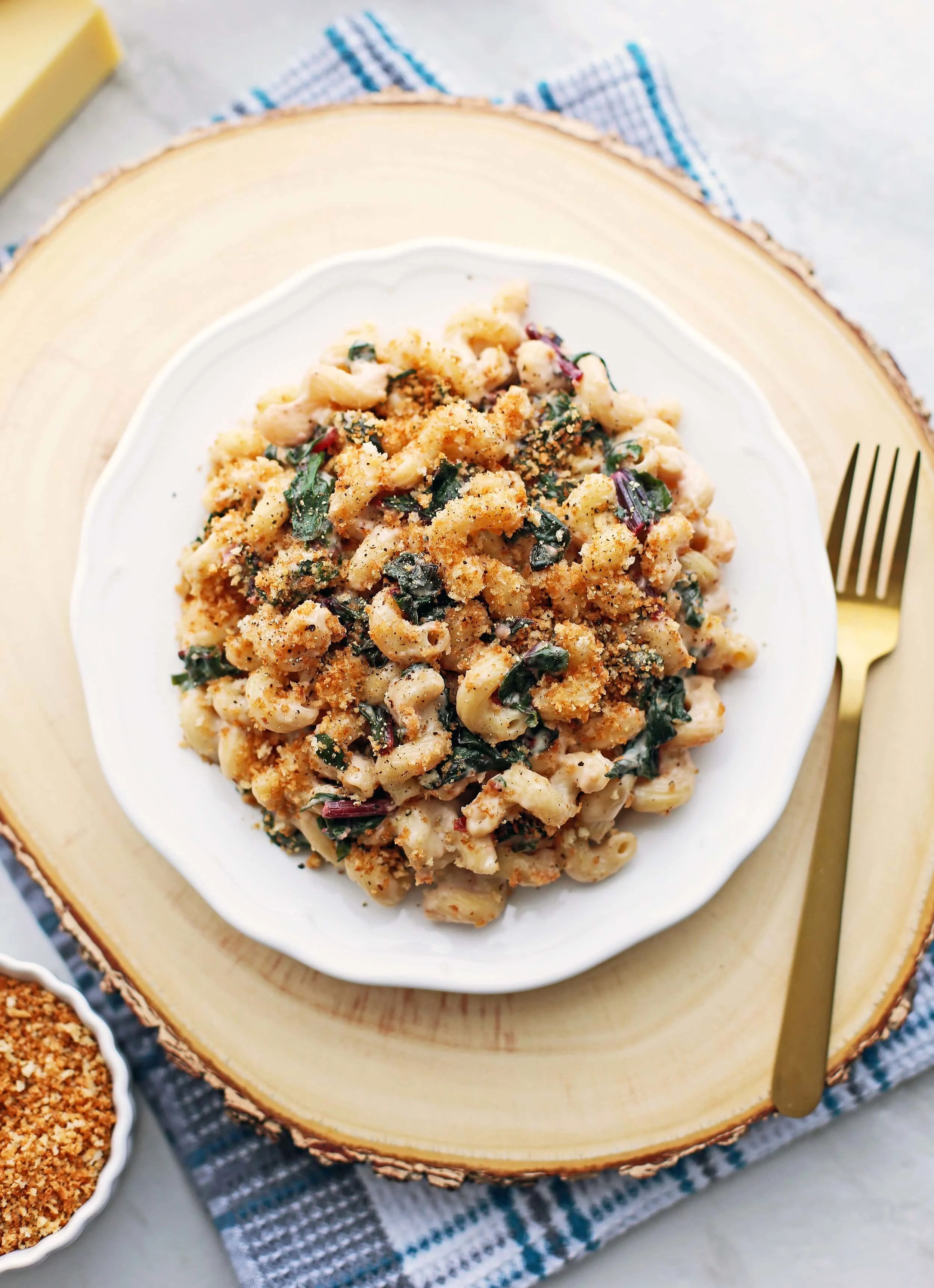 If you make this recipe, please let me know by commenting and rating this post below or by tagging me on any of my social media! I'm @yay_for_food on Instagram. Please share a photo!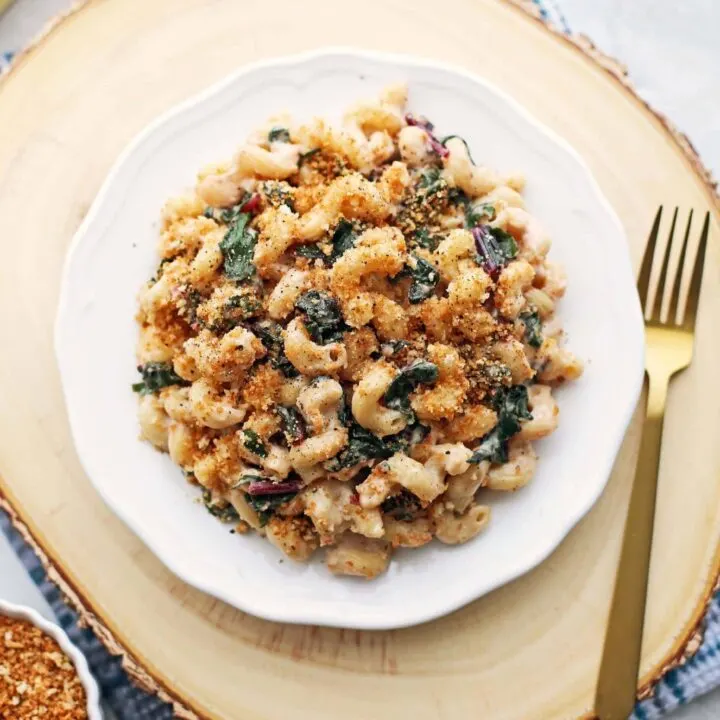 Creamy Gruyere and Swiss Chard Pasta with Toasted Panko Breadcrumbs
Comfort food alert! Check out this delicious savoury pasta dish featuring quick sautéed Swiss chard, homemade cheese sauce, and crunchy Panko breadcrumbs.
Ingredients
8 oz (2½ cup) dry pasta (l used cavatappi)
For the toasted breadcrumbs:
1 tbsp extra virgin olive oil
1 cup Panko breadcrumbs
Salt and pepper, to taste
For the sautéed Swiss chard:
1 tbsp extra virgin olive oil
8 cups (10 oz) Swiss chard, stems trimmed and chopped
2-4 garlic cloves, minced
For the cheese sauce:
¼ cup (2 oz) unsalted butter
¼ cup all purpose flour
2 cups milk, room temperature (I used 1%)
2 cups gruyere cheese, freshly grated
Salt and pepper, to taste
½ tsp ground cumin (optional)
¼ tsp red pepper flakes (optional)
Instructions
For the pasta: Boil salted water and cook pasta to al dente according to package directions. Drain the pasta, reserving 1 cup of pasta water.
For the toasted breadcrumbs: In a large non-stick skillet at medium heat, swirl olive oil into the pan and pour in the Panko breadcrumbs with a sprinkle of salt and pepper.
Stir and shake the pan until the panko is golden-brown in colour, about 2-3 minutes. Remove from the skillet into a bowl and set aside.
For the Swiss chard: Carefully wipe the same skillet clean with a wet and dry paper towel. At medium-high heat, add in olive oil and garlic and stir until the garlic just starts to brown, then stir in the swiss chard.
Sauté the Swiss chard until it is just wilted, about 1-2 minutes. Remove the ingredients from the skillet into another bowl. Set aside.
For the cheese sauce: Carefully wipe the same skillet clean with a wet and dry paper towel. At medium-low heat, melt the butter and then stir in the flour with a whisk until fully combined. Slowly whisk in the milk until completely smooth.
Reduce the heat to low and then whisk in the cheese, stirring until completely smooth. Finish with a pinch of salt and pepper, along with the optional cumin and red pepper flakes. If the sauce is too thick, stir in the reserved pasta water, 1 tablespoon at a time, until you get your desired consistency. Remove from heat.
Put it together: Add the pasta and Swiss chard into the cheese sauce, gently folding the ingredients until they are evenly coated with sauce.
Place into bowls or plates and top generously with breadcrumbs. Serve immediately.
Notes
Substitution options: Swiss chard with spinach or kale. Gruyere cheese with another melty cheese of your choice such as a sharp white cheddar or fontina.
To keep this recipe vegetarian, make sure that the gruyere you choose is made without animal rennet; look at the cheeses' ingredient list for vegetable rennet or microbial enzymes.
Recommended Products
As a participant in the Amazon Services LLC Associates Program, I only link to products that I use and/or highly recommend. As an Amazon Associate, I earn from qualifying purchases if you purchase through these links at no additional cost to you.
Nutrition Information:
Yield:

4
Serving Size:

1
Amount Per Serving:
Calories:

538
Total Fat:

37.6g
Carbohydrates:

26.3g
Protein:

23.4g