Hello! Today's recipe is a simple and delicious iced tea featuring the unique and tasty flavours of matcha (green tea powder) and pomegranate juice. You'll be sipping this refreshing drink out on the patio in no time!
I hope you enjoy this recipe for Pomegranate Matcha Iced Tea!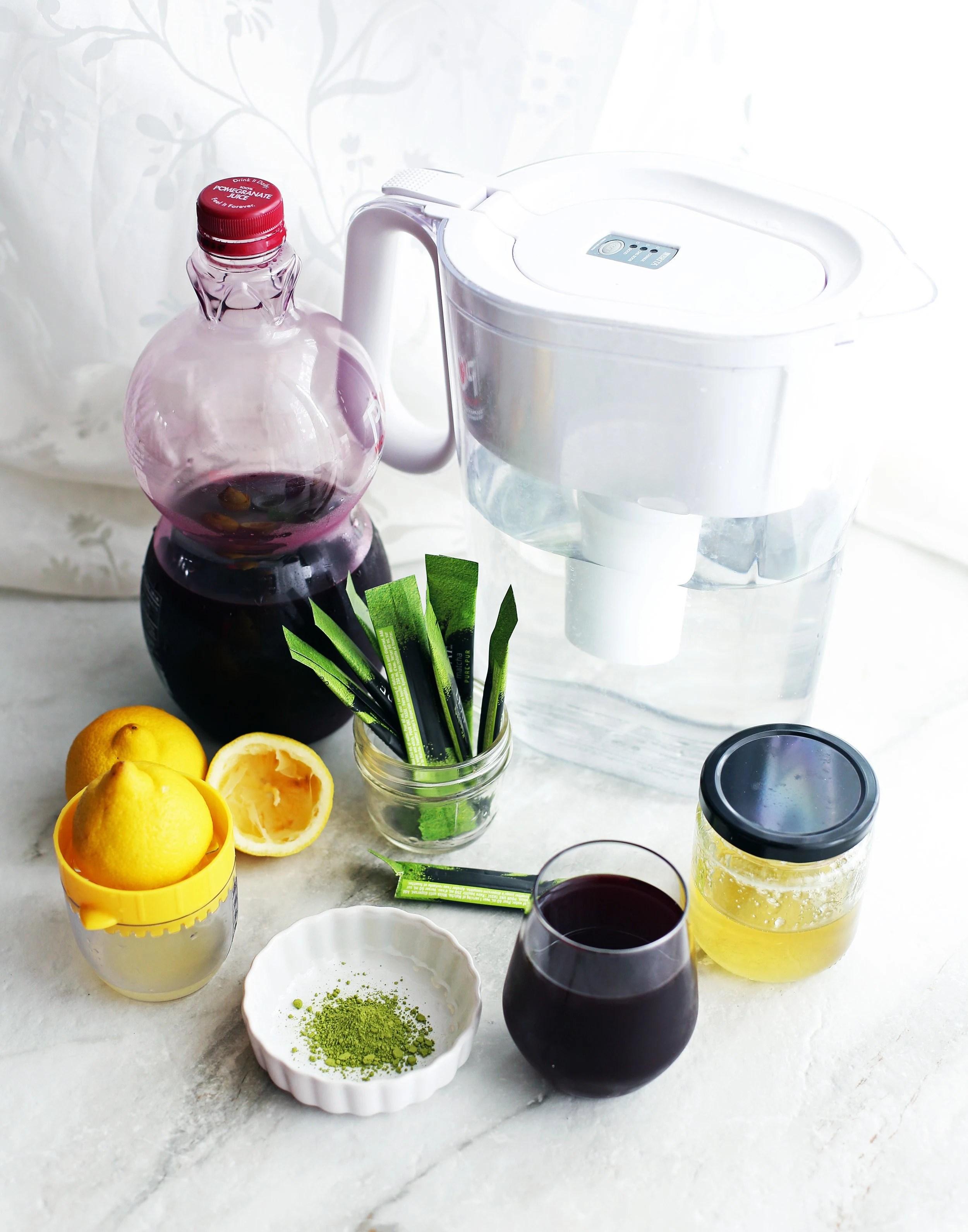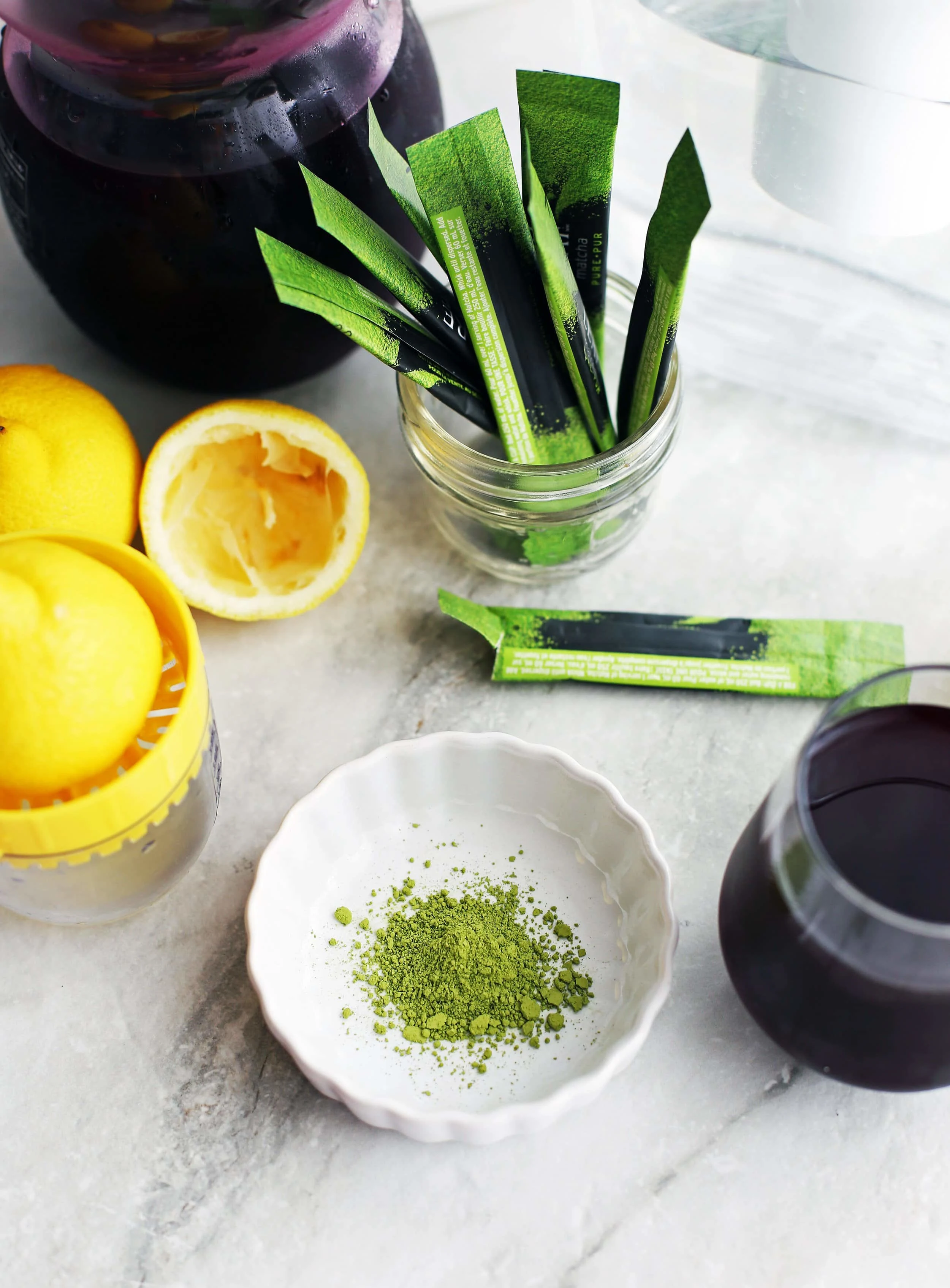 What in this refreshing drink?
Let's start with matcha! What is Matcha? It consists of specially grown green tea leaves that are processed into a finely ground powder.
Matcha has a vibrant green colour, is aromatic, and its taste is complex, astringent and vegetal with a sweet aftertaste.
Is it good for you? Although not heavy in vitamins or nutrients, it's rich in antioxidants (compounds found in food that help delay damage to cells) and also contains caffeine, which is a plus for me because I always can use a pick-me-up in the morning or mid-day.
Note: Matcha doesn't fully dissolve as it is a fine powder. It will settle if left to sit after a while so remember to whisk the drink prior to serving.
Pomegranate juice has a delicious fruity, tart flavour and beautiful deep red hue. It's also full of healthy antioxidants.
I personally buy pomegranate juice in a bottle rather than extracting it from a pomegranate to save time, but if you want to, check out this (external) link on how to make pomegranate juice.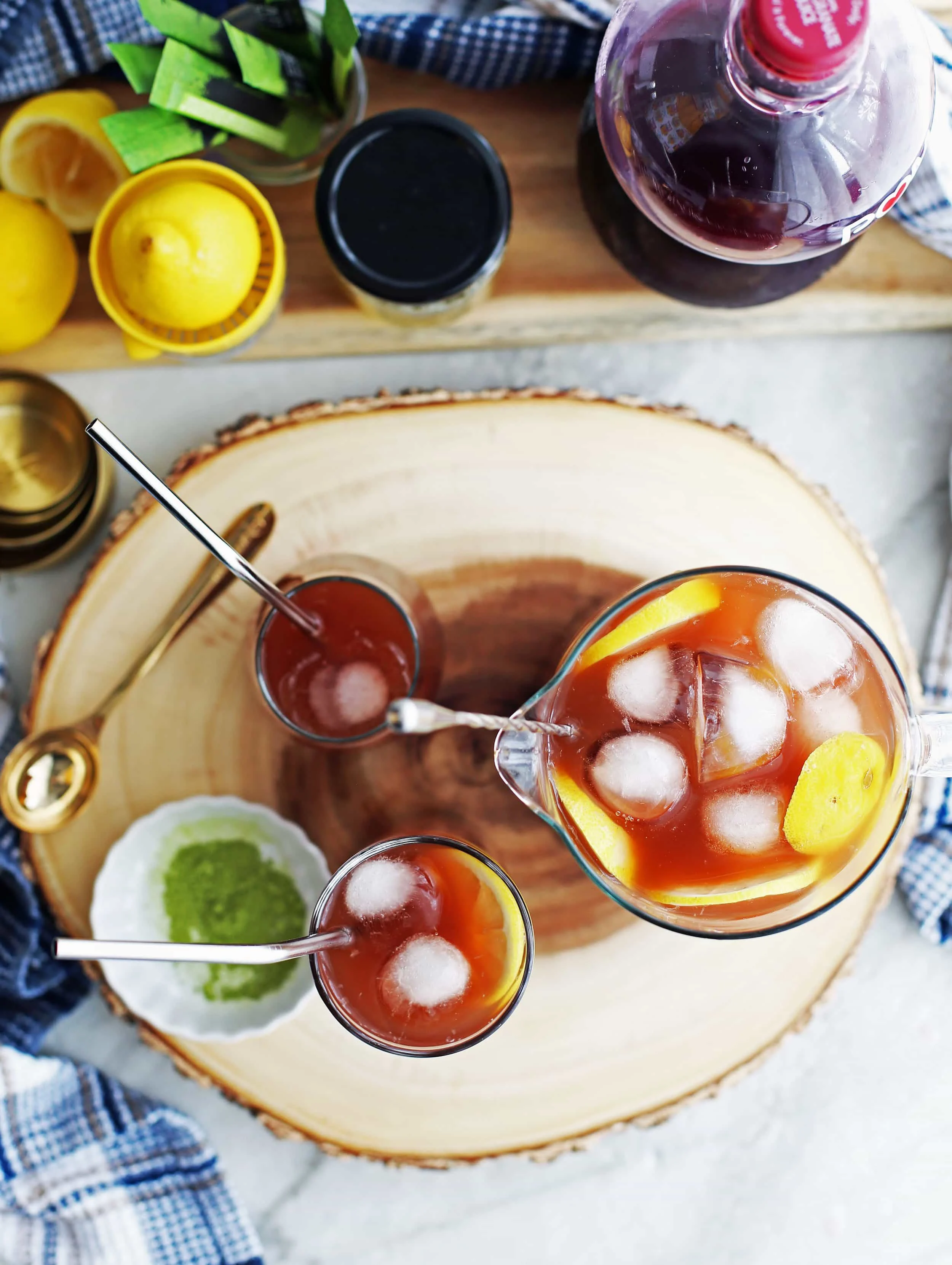 Then there's the lemon juice (and extra lemon slices). The fresh, zesty, and bright flavours of lemon juice is a wonderful compliment to the other ingredients in this easy to make iced tea.
The addition of pure honey gives the drink a little rich and sweet flavour among the otherwise mostly tart ingredients, but it doesn't make the drink overly sweet. If you want to keep it vegan, use agave syrup or maple syrup instead.
Finally, the water and ice. It dilutes the mixture to a refreshing flavour and keeps it cool.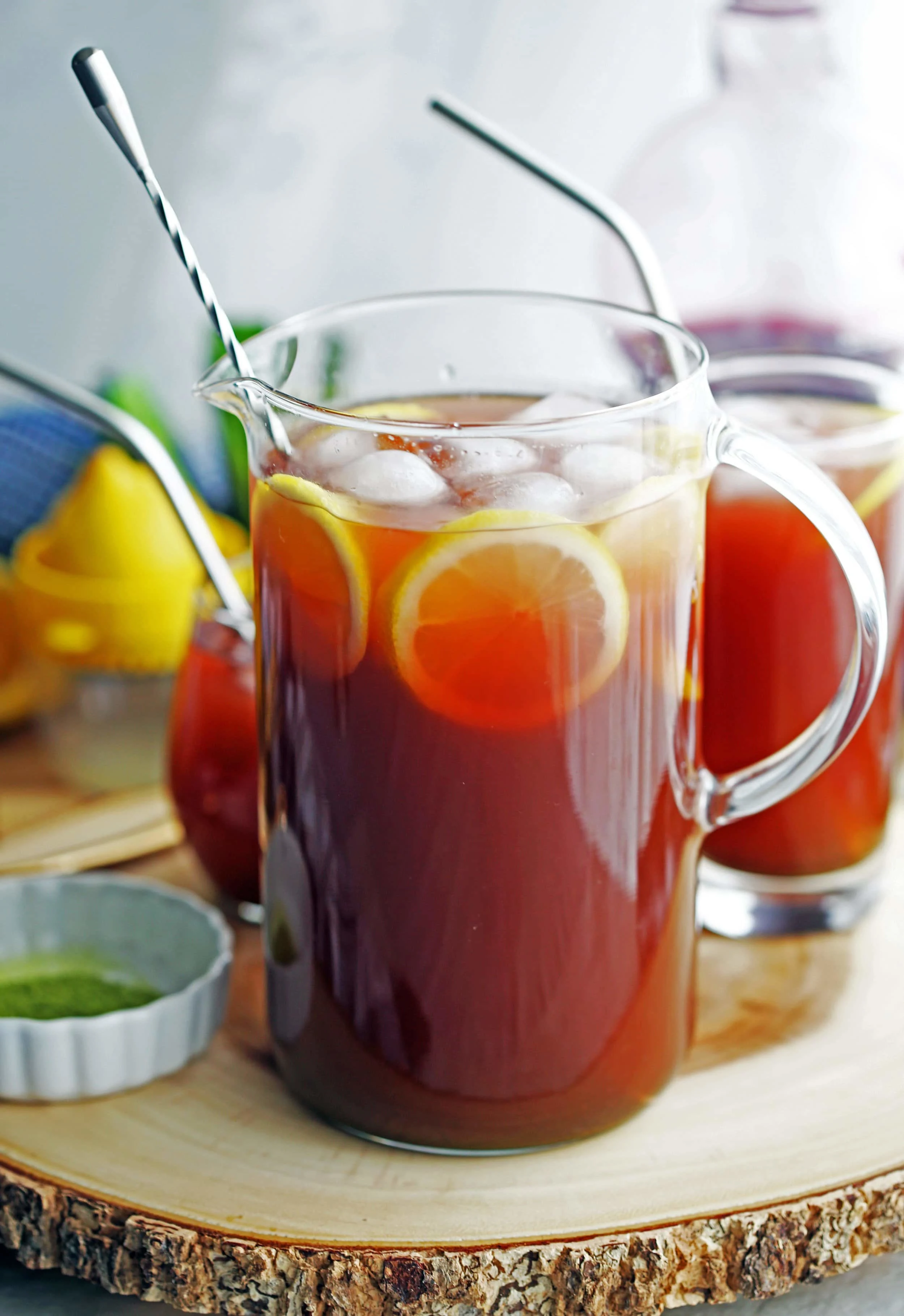 Looking for another complimentary non-alcoholic drink? Check out these recipes: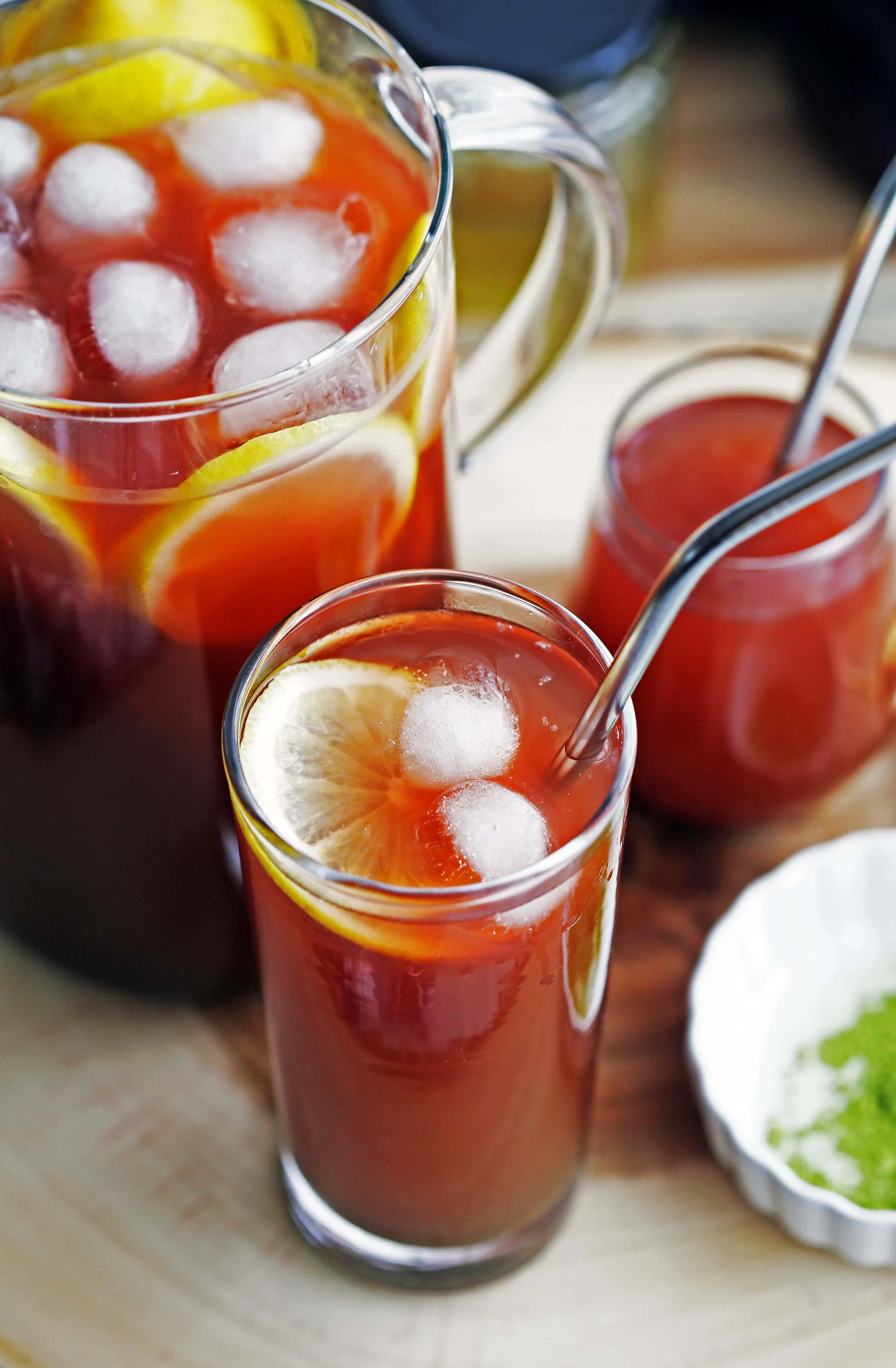 This tasty iced tea recipe is:
Quick and easy to prepare: It takes 15 minutes or less or make.
Delicious and satisfying: This non-alcoholic drink is not too sweet, slightly tart and bright, and has a great green tea flavour!
Refreshing: It will keep you hydrated on those hot days and nights.
Full of nutritious benefits,especially antioxidants from the matcha powder and pomegranate juice.
Makes just over 6 cups (more with ice): Perfect for a small crowd, but it's simple to scale up. You can easily double or triple the recipe to make more if needed.
Perfect to make ahead of time: Make it a day ahead if you like. Just give it a stir to redistribute the matcha powder before serving.
I hope you try this recipe! If you do, please leave me a rating and comment down below or tag me on any of my social media. I'm @yay_for_food on Instagram. I'll love a picture!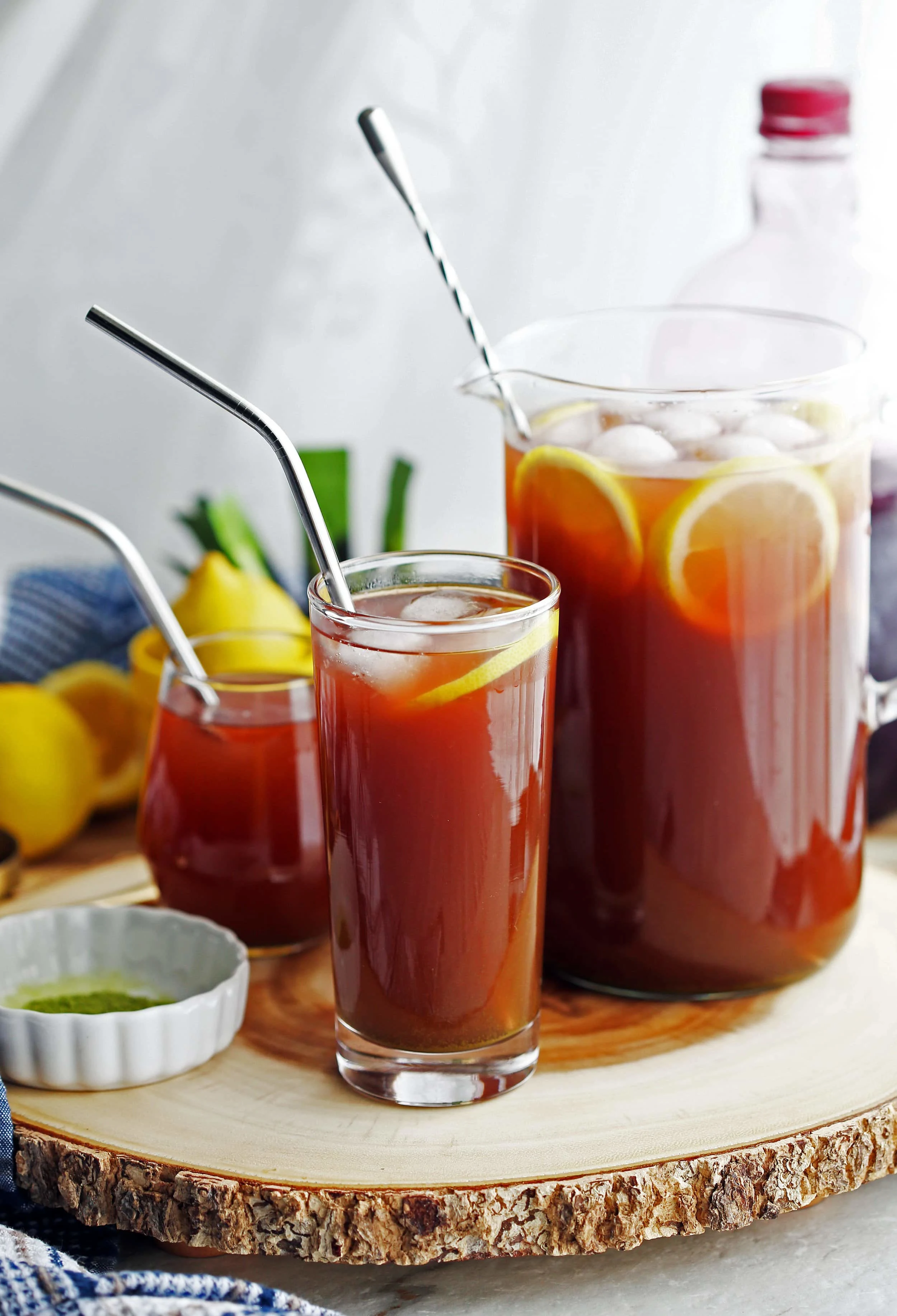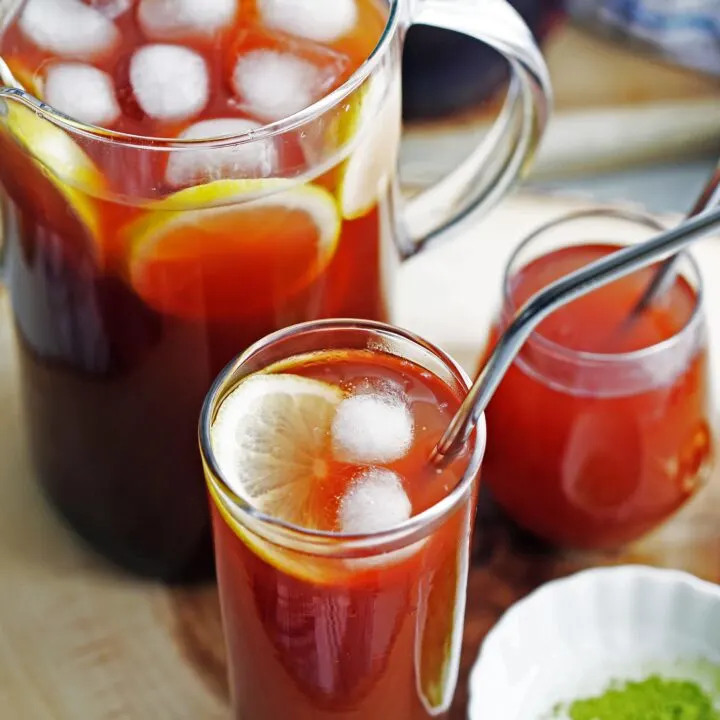 Pomegranate Matcha Iced Tea
Additional Time:
10 minutes
Antioxidant-rich pomegranate juice and matcha green tea give a unique flavour to this healthier iced tea recipe. Easy to make and ready in 15 minutes, stay cool with this refreshing non-alcoholic drink.
Ingredients
2 cups hot water (boiled and cooled for a couple minutes)
3 tsp pure Matcha (green tea) powder
¼ cup pure honey
½ lemon, juice
1 cup pomegranate juice
4 cups cold water
Lemon slices
Lots of ice cubes
Instructions
In a large heat proof pitcher, briskly whisk the matcha powder with hot water for one minute. Then mix in the honey and lemon juice until the honey is dissolved and well combined. Let it cool for 10 minutes.
After the mixture is cooled, add the pomegranate juice, cold water, lemon slices, and ice cubes, and give the iced tea a good stir to combine everything together.
Serve immediately or chill in the refrigerator until ready to serve (store up to 3 days).
Notes
Just prior to serving, give the mixture another stir to re-incorporate the Matcha powder into the iced tea.
Recommended Products
As a participant in the Amazon Services LLC Associates Program, I only link to products that I use and/or highly recommend. As an Amazon Associate, I earn from qualifying purchases if you purchase through these links at no additional cost to you.
Nutrition Information:
Yield:

6
Serving Size:

1
Amount Per Serving:
Calories:

66
Total Fat:

0g
Saturated Fat:

0g
Trans Fat:

0g
Unsaturated Fat:

0g
Cholesterol:

0mg
Sodium:

14mg
Carbohydrates:

17g
Fiber:

0g
Sugar:

17g
Protein:

0g