So many holidays coming up, so many desserts to bake and (happily) eat! I've been busy making a bunch of different desserts lately and magic bars are one of my favourites.
What's so magical about Magic Bars?
Magic bars aka Hello Dolly Bars aka Seven Layer Bars are magical because it makes delicious layered bars with such ease and preparing them is quick too – 15 minutes or less! The hardest part is waiting for them to cool down to eat.
It's almost foolproof as you basically layer (carefully-ish) a bunch of ingredients in a pan with condensed milk, bake it, let it cool, and then you've got a wonderful sweet treat.
It's a great dessert to make with the kids or for a beginner baker to try out.
It's also great because the recipe doesn't create a whole lot of dishes to clean either since you don't need to use certain kitchen equipment like an electric mixer or use a bunch of pots or pans.
Plus, it's versatile, you can change it up by adding more layers of ingredients or changing up the ingredients such as adding dried fruit, chopped up candy, butterscotch chips (classic ingredient), caramel, or peanut butter chips.
This version is a take on Rocky Road (ice cream) as it has chocolate, marshmallows, and nuts in it!
This recipe also uses a two ingredient graham cracker crust. Other magic bar recipes sometimes use a shortbread crust.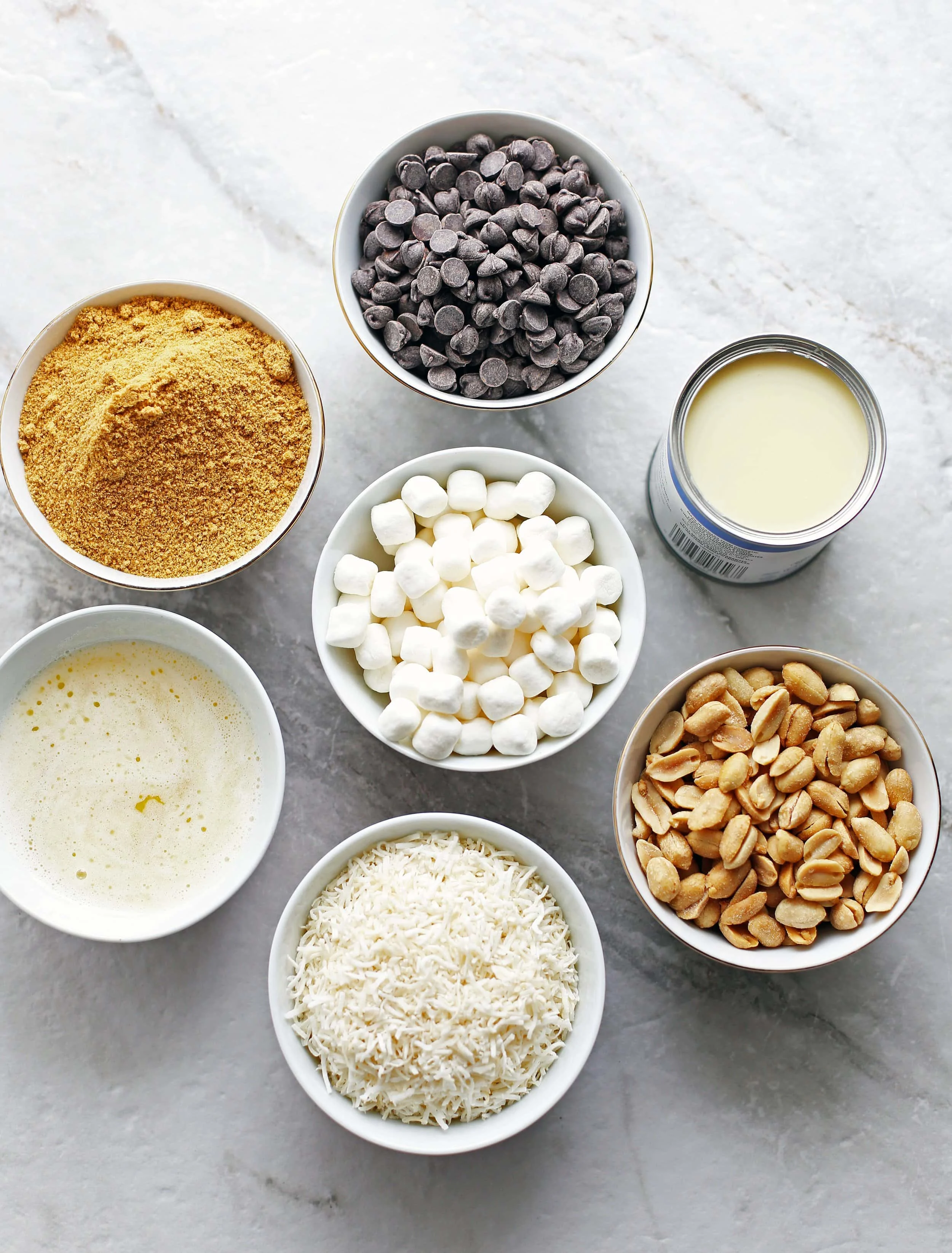 What are the "seven" layers in these bars?
Butter: Rich butter is the glue to hold the crust together. Salted or unsalted butter can be used in this recipe. You can also substitute melted coconut oil if you want too.
Graham cracker crumbs: Mixed with the butter to form a simple sweet crunchy crust.
Chocolate chips: I like to use semi-sweet or dark chocolate since it has a deeper and richer flavour than milk chocolate, which is lighter and sweeter. The slight bitterness of the semi-sweet or dark chocolate is a nice contrast to the sweetness of the other ingredients. The chocolate is a layer in the bar and a finishing drizzle decoration on top of the bars too.
Salted roasted peanuts: Crunchy and salted! With the other sweet flavours in this recipe, it's nice to add a little bit of saltiness. It's also inexpensive compared to other nuts,but substitute with other nuts if you like.
Unsweetened shredded coconut: A light coconut flavour and nice texture!
Marshmallows: Soft and toasted marshmallows that puff up as the bars bake. This ingredient along with the chocolate helps create the rocky road flavour in these bars.
Sweetened condensed milk: It's sweet and thick syrupy texture is what sticks all the ingredients together.
Technically, you'll see five distinct layers (or six if you count the chocolate drizzle on top) once the bars are baked and ready to eat. However, traditionally, the sweetened condensed milk counts as another layer. Sooo… let's look at it as layers of flavour or something like it. 🙂
How do you make these magic bars?
(Full ingredient amounts and instructions available in the recipe card down below)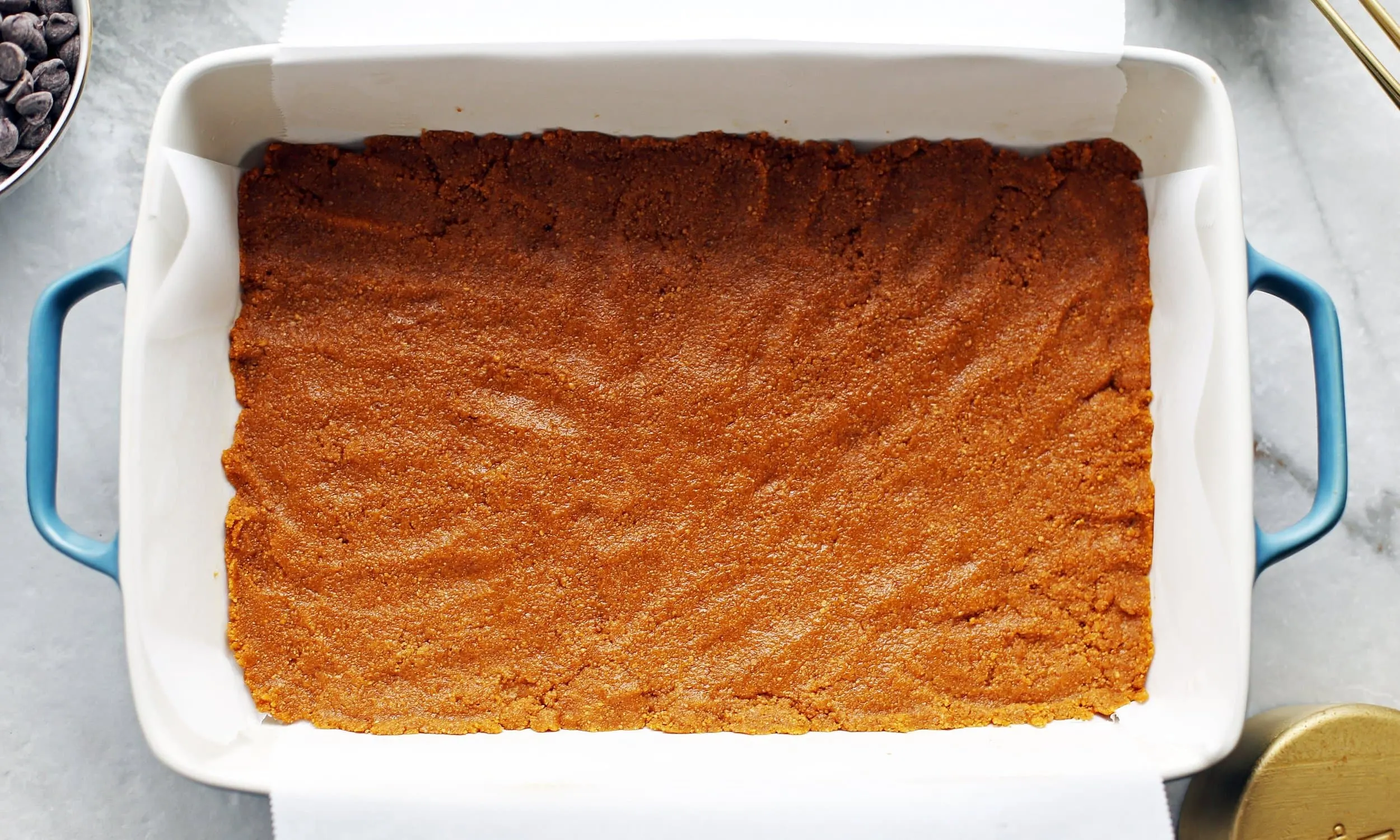 Combine the graham cracker (wafer) crumbs with melted butter in bowl before pressing into an even layer on the bottom of the prepared baking dish.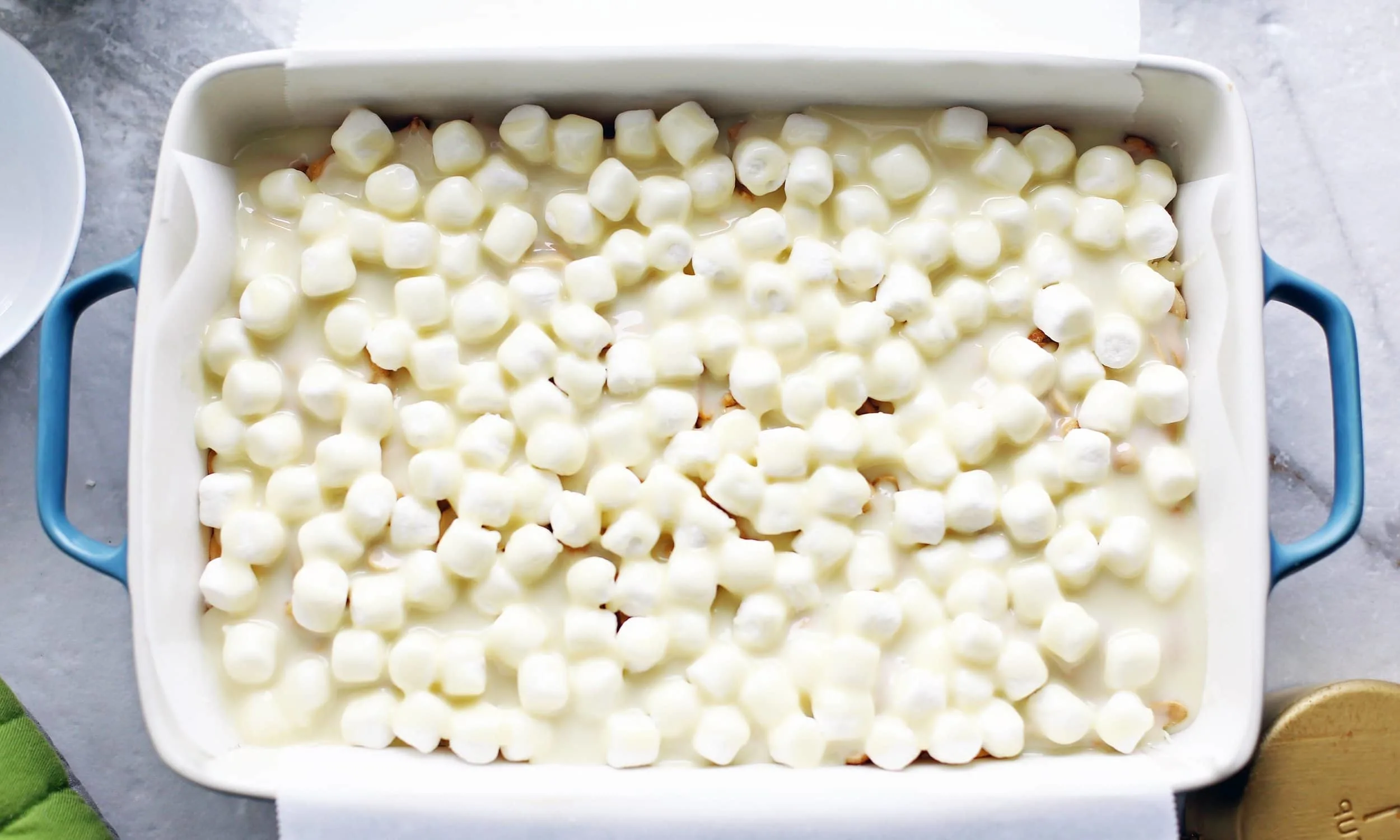 Layer the ingredients in the following order: chocolate chips, shredded coconut, peanuts, marshmallows, and condensed milk. Bake at 350 degrees for 18-22 minutes.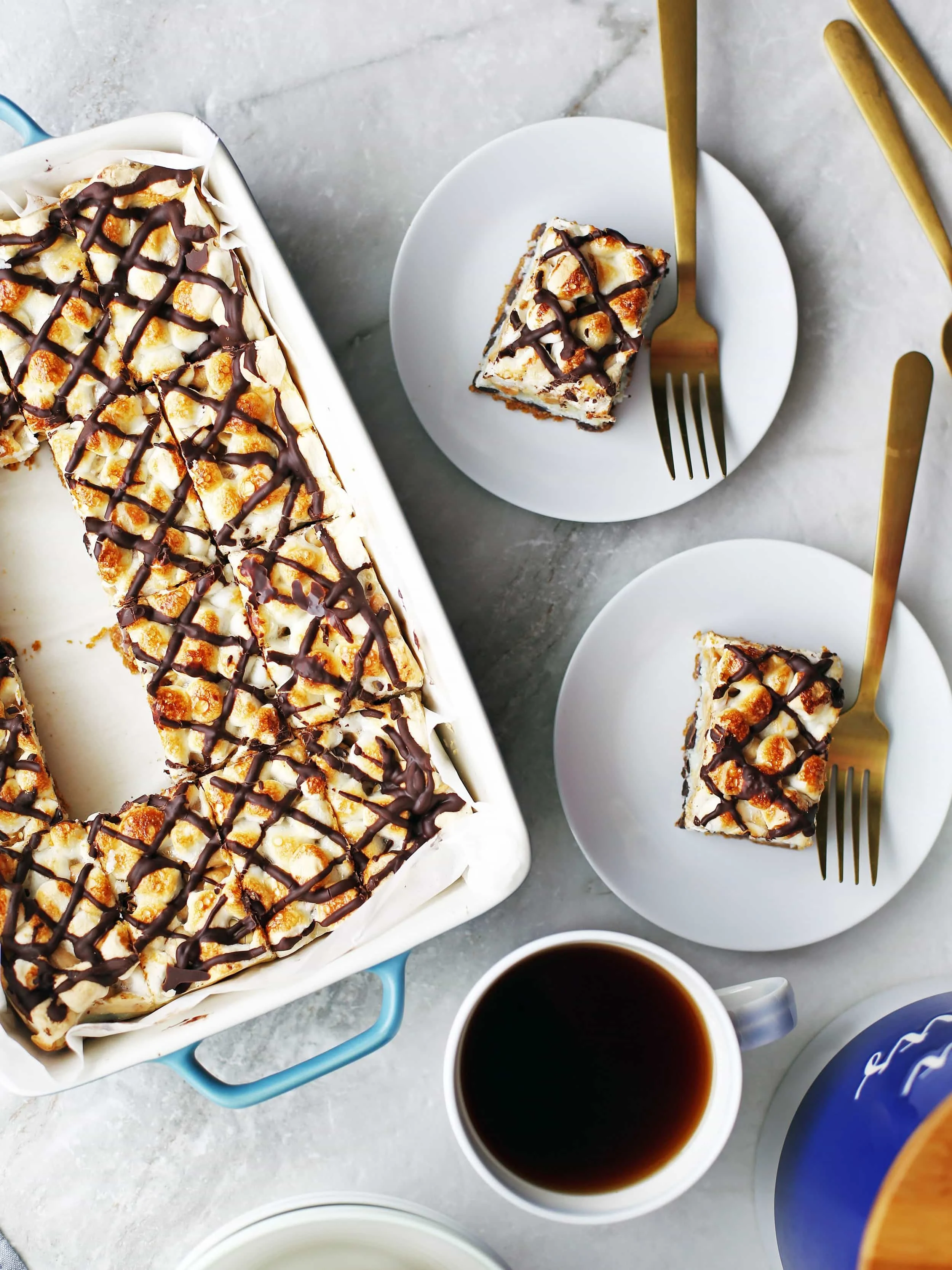 TIP: I like to make these bars the day before so it fully cools and I can put it in the refrigerator overnight so that the bars completely set and are easy to eat with your hands.
When set, you can remove the dessert from the baking dish using the parchment paper as handles to lift it. Once out of the baking dish, it makes it really easy to slice into as many pieces as you like and easy to pack up to take to a potluck or party!
However, if you like it ooey, gooey, and warm, just let it cool on the cooling rack until the bottom of the pan is cool to the touch before slicing and serving.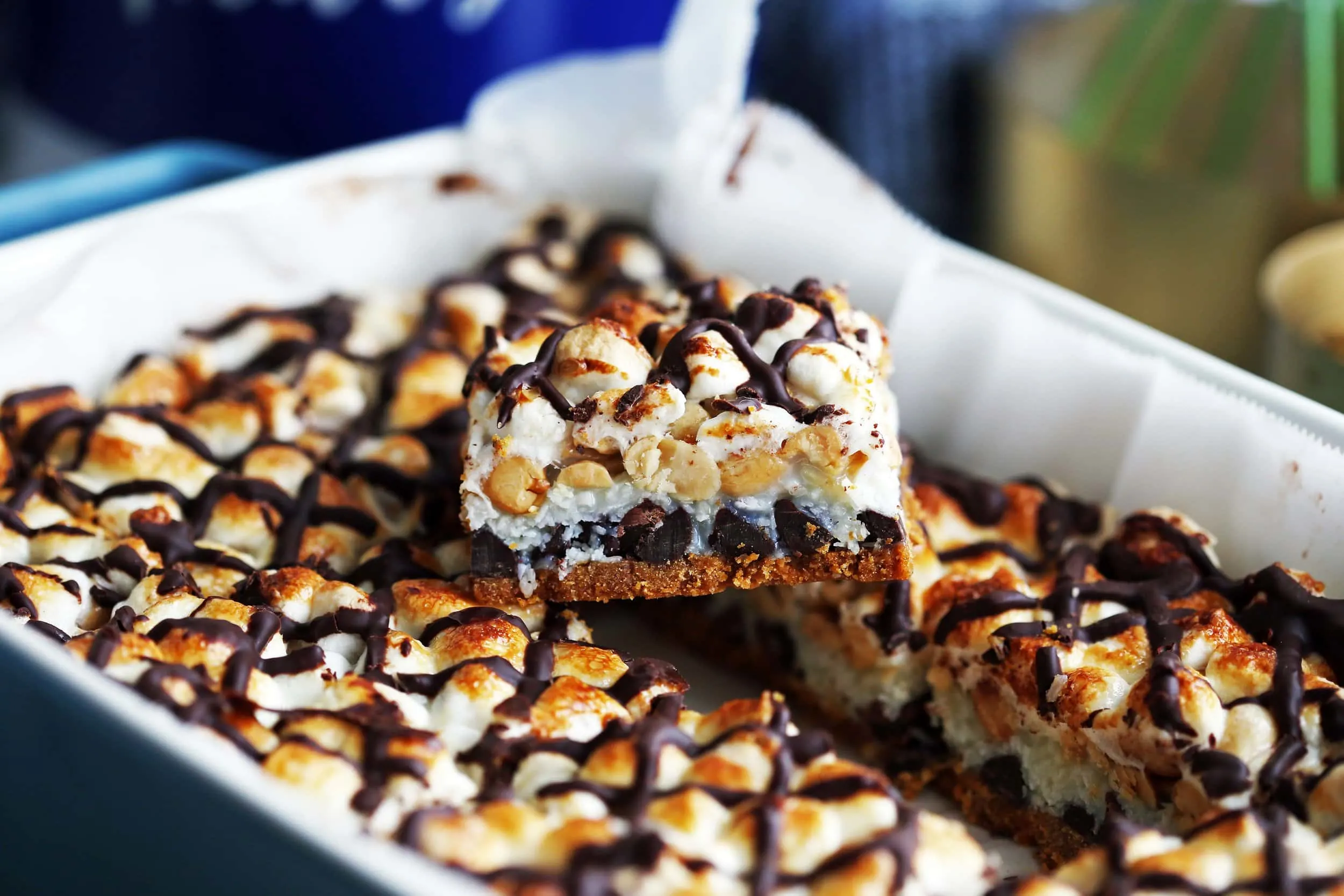 Eat a delicious bar with a cup of coffee or a big glass of milk.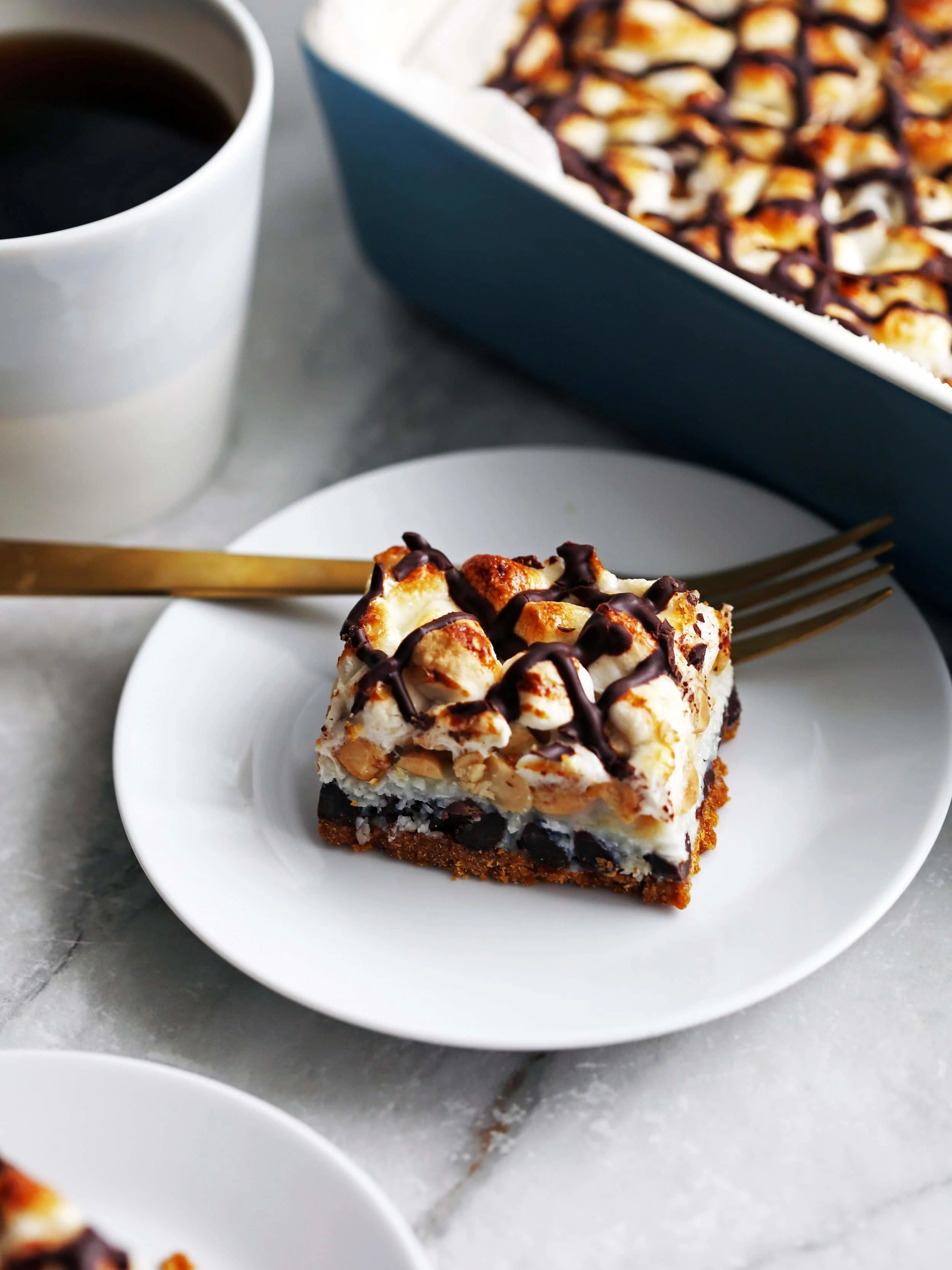 I hope you enjoy this recipe. Leave me a rating and comment down below or tag me on any of my social media. I'm @yay_for_food on Instagram. Please share your recipe pictures!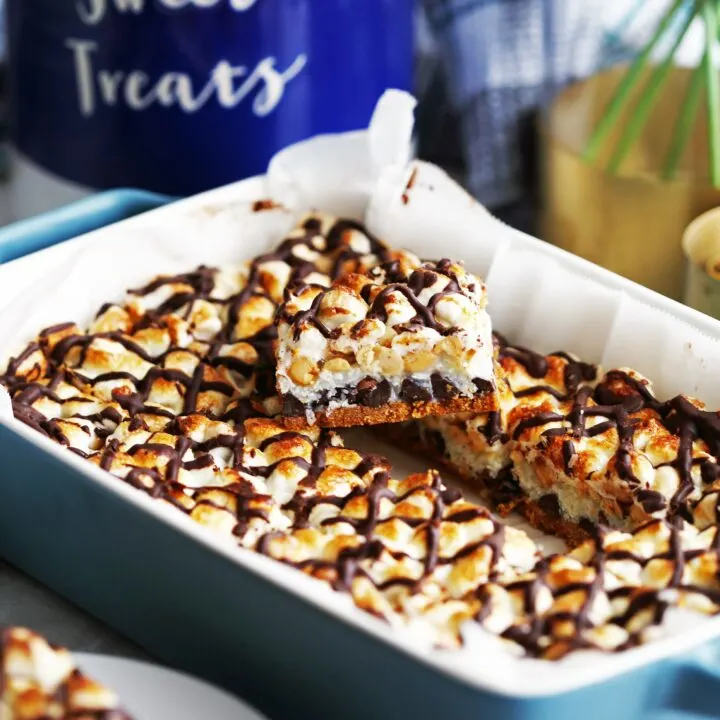 Seven-Layer Rocky Road Magic Bars
These are decadent sweet dessert bars that are extremely easy to put together. These classic magic bars have layers of chocolate chips, marshmallows, peanuts, and more!
Ingredients
½ cup (4 oz) butter, melted, plus extra for greasing pan
1½ cups graham cracker (wafer) crumbs
1½ cups semi-sweet (or dark) chocolate chips, divided
1½ cups unsweetened shredded (or flaked) coconut
1½ cups roasted salted peanuts
1½ cups small marshmallows
1 can (300 ml) sweetened condensed milk
Instructions
Arrange a rack in the middle of the oven and preheat the oven to 350 degrees F. Grease and line a 13x9 baking dish with parchment paper that hangs slightly over the pan (so you can lift the bars out after they're baked). Set aside.
In a bowl, mix the butter and graham cracker crumbs until well combined. Then pour into the baking dish and press into an even layer on the bottom of the dish.
Next, layer in the following order from bottom to top: 1 cup of chocolate chips, shredded coconut, peanuts, and marshmallows. Pour the condensed milk evenly over the marshmallows.
Bake for 18-22 minutes until the marshmallows are puffed and golden-brown on top.
Melt the remaining ½ cup of chocolate chips in the microwave (in 15 second intervals, stirring between each interval). Alternatively, use a double-boiler. Drizzle the melted chocolate on top of the toasted marshmallows**(see first note).
Let it cool completely and then refrigerate for at least 2 hours (ideally overnight) before slicing into bars and serving.* (see second note)
Notes
*If the melted chocolate is too thick to drizzle, you can thin it out with a small amount (1-3 tsp) of vegetable oil or another neutral oil.
**I like to let it cool completely in the pan on a cooling rack before refrigerating overnight to allow the bars to fully set. The bars will cut cleanly at this point. If you don't cool the bars completely (the bottom of the pan should be cold), it will still be gooey on the inside and fall apart more easily, although very tasty to eat warm with a fork too.
Store the bars in a covered container at room temperature or in the refrigerator for up to 3 days. Note that the marshmallows will harden the longer that they are kept.
Nutritional calories represent one serving with 24 servings total.
Recommended Products
As a participant in the Amazon Services LLC Associates Program, I only link to products that I use and/or highly recommend. As an Amazon Associate, I earn from qualifying purchases if you purchase through these links at no additional cost to you.
Nutrition Information:
Yield:

24
Serving Size:

1
Amount Per Serving:
Calories:

291
Total Fat:

18.5g
Carbohydrates:

29.2g
Protein:

5.9g