Hi There! This winter squash recipe is delicious comfort food. Perfect as a hearty side dish for the fall and winter months.
The star ingredient is butternut squash, which has a wonderful sweet, rich, nutty flavour.
In addition to its great flavour, it also has health benefits as being a good source of potassium, fiber, and vitamins A and C.
Did I mention that it also has bacon and two types of melty cheese on top?
So scrumptious with the tasty pairing of cheddar and parmesan cheeses. Of course, you can substitute with any melty cheese of your choice such as mozzarella or gruyere.
Plus, you make it all in one baking (casserole) dish! Can't really get much easier than that! I hope you enjoy this recipe for Baked Bacon Cheese Butternut Squash.
How do you make this recipe?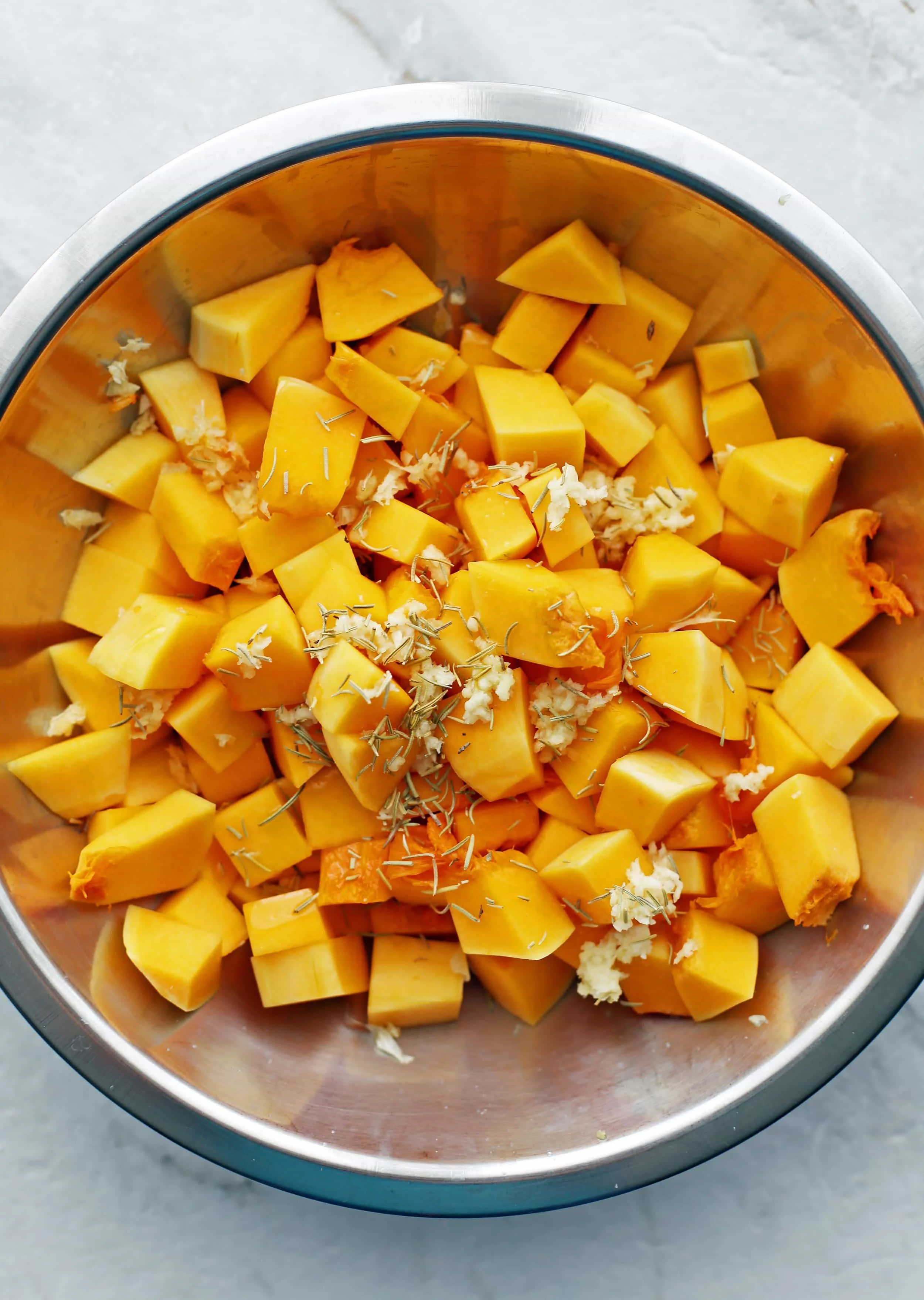 It's so easy to prepare! You simply toss together the peeled and chopped butternut squash with a few seasonings, garlic, and a little olive oil.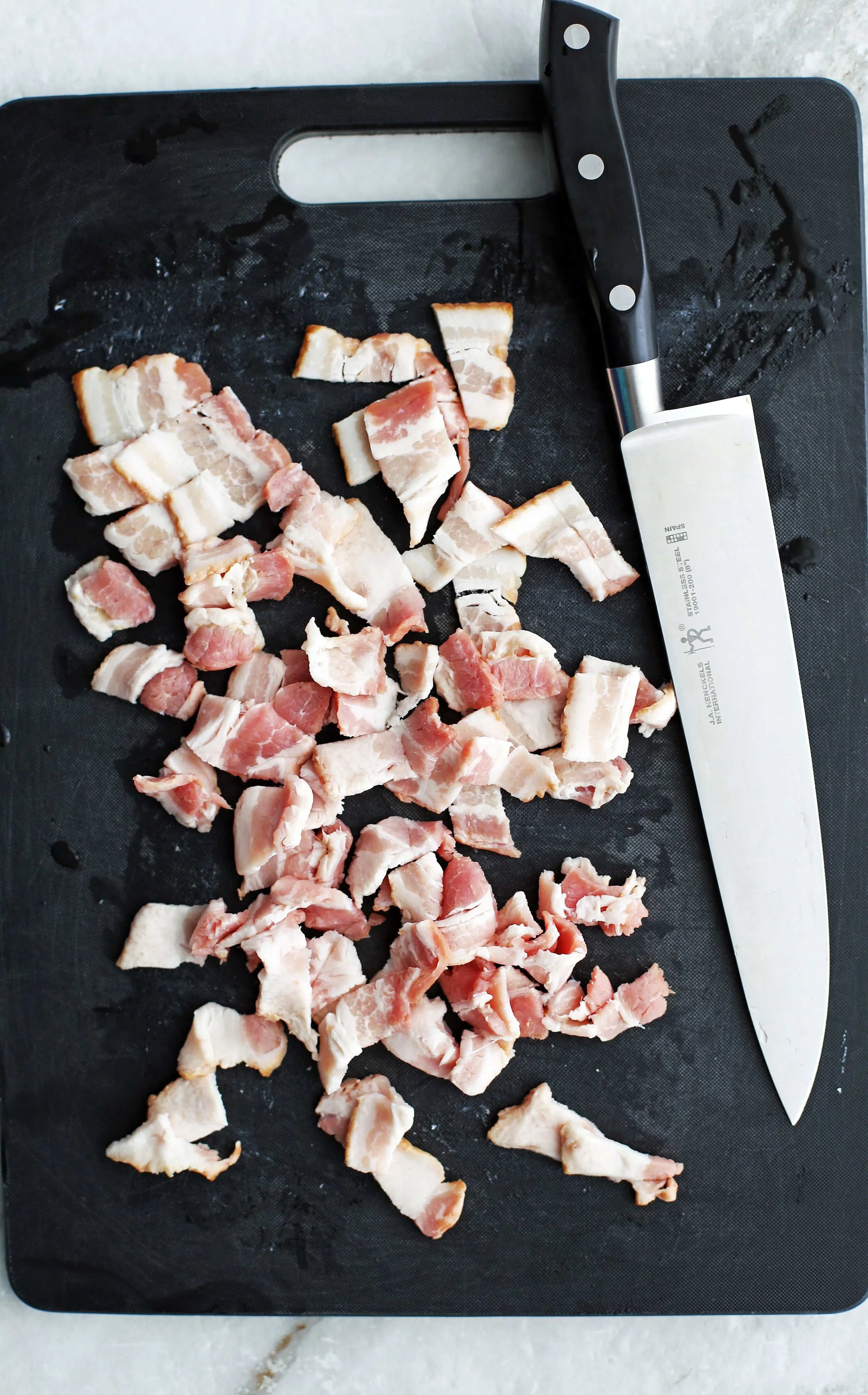 Chop four bacon strips into bite-size pieces. I used naturally-smoked regular cut pork bacon.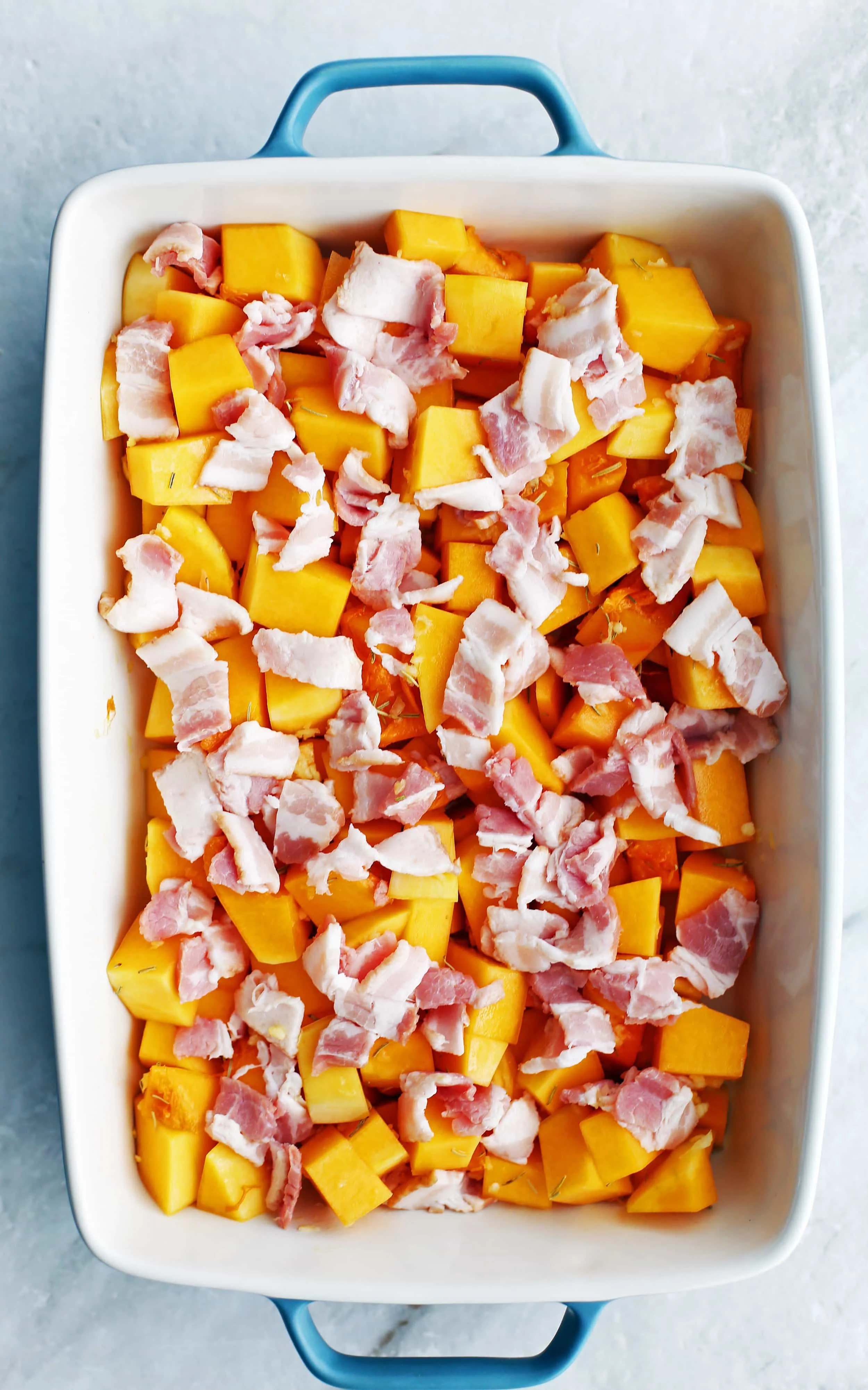 Place the seasoned butternut squash into a casserole dish and evenly top with chopped uncooked bacon.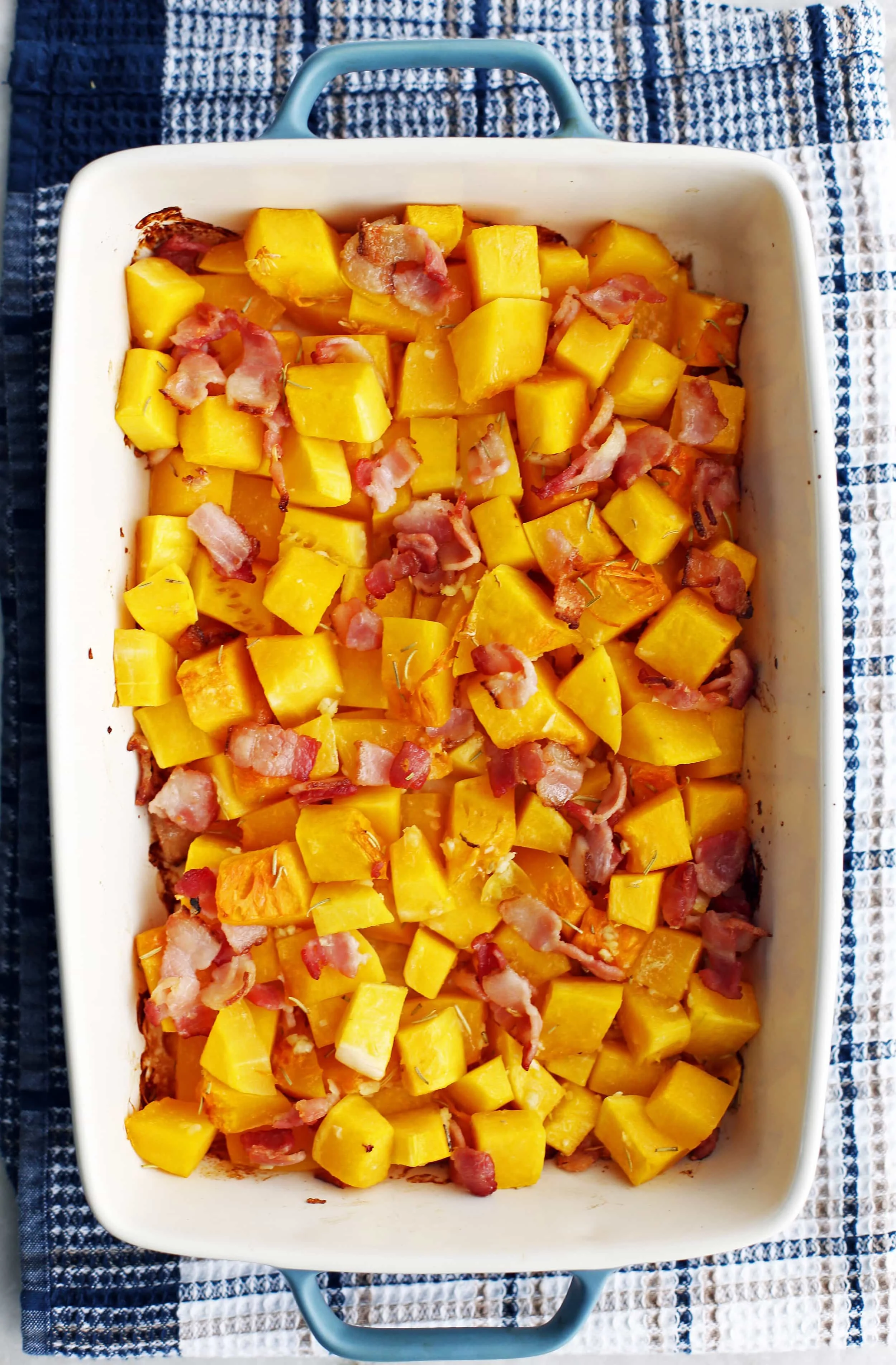 Now let the oven do the work (at 425 degrees F) until the butternut squash is tender-crisp (a fork can easily go through the squash, but if you eat it, it's a still a little firm) and the bacon fat gets rendered and slightly crisp.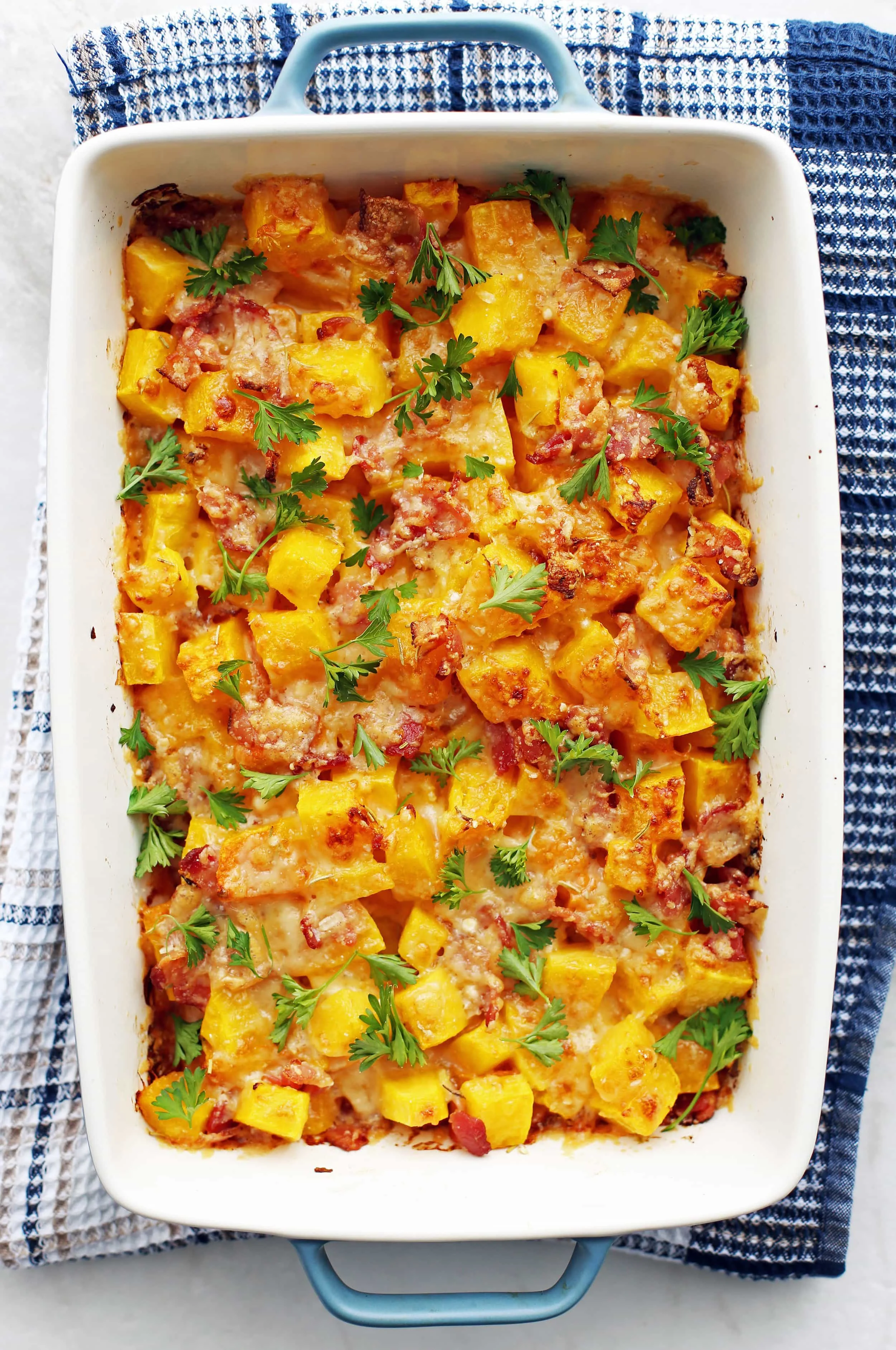 Then, you're ready to add the two cheeses! My favourite part! Freshly shredded sharp cheddar and parmesan cheese (Parmigiano-Reggiano) add a lot of wonderful flavour to this dish.
Stick it back into the oven for another 10 minutes and let the cheese melt into cheesy perfection. As the cheese melts, the butternut squash will further cook and get tender.
Once this baked dish is done, I like to add a generous topping of chopped fresh parsley, which gives it a great finishing touch – more colour, texture, and enhances the overall flavour.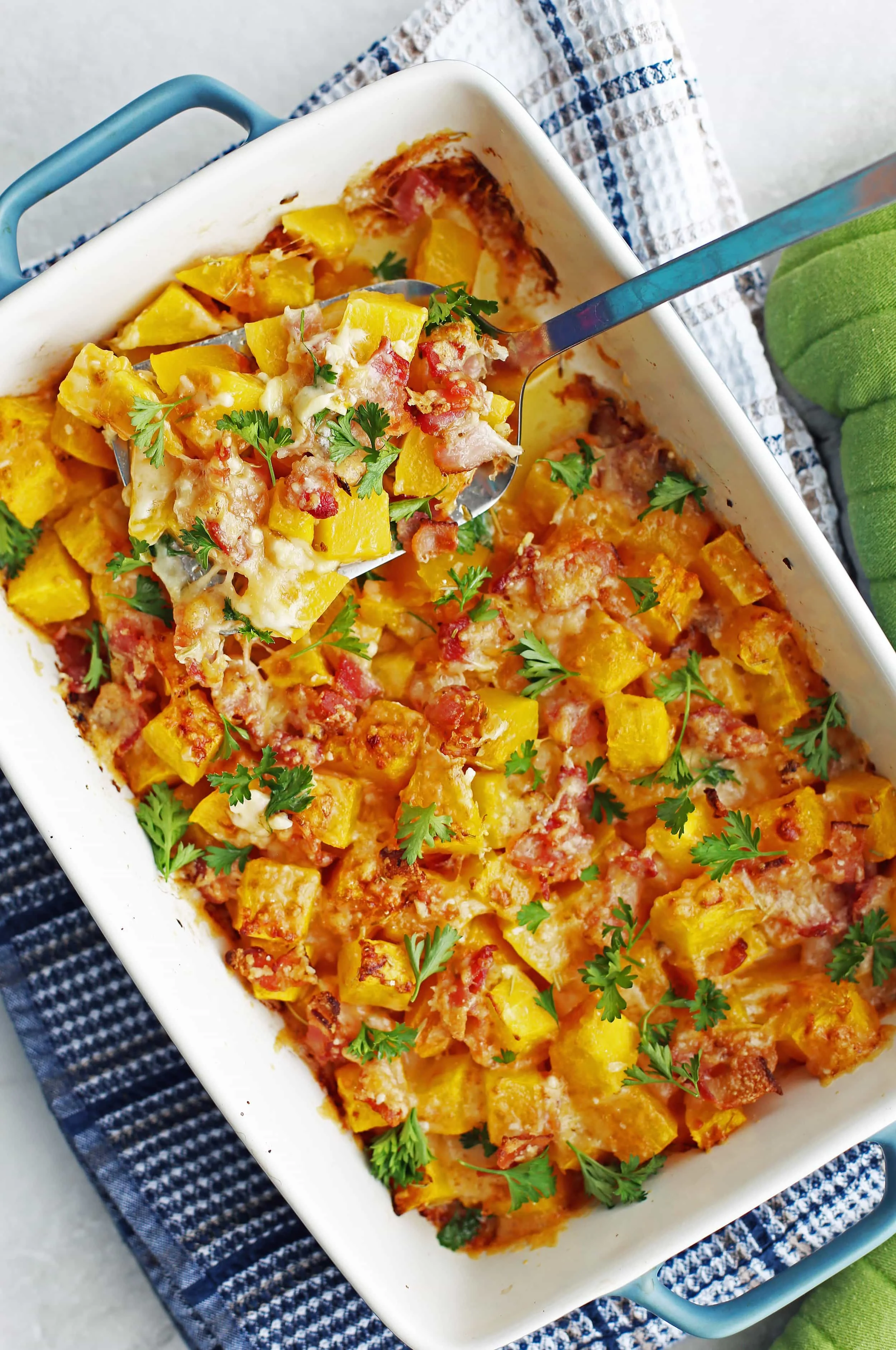 Looking for More Butternut Squash Recipes?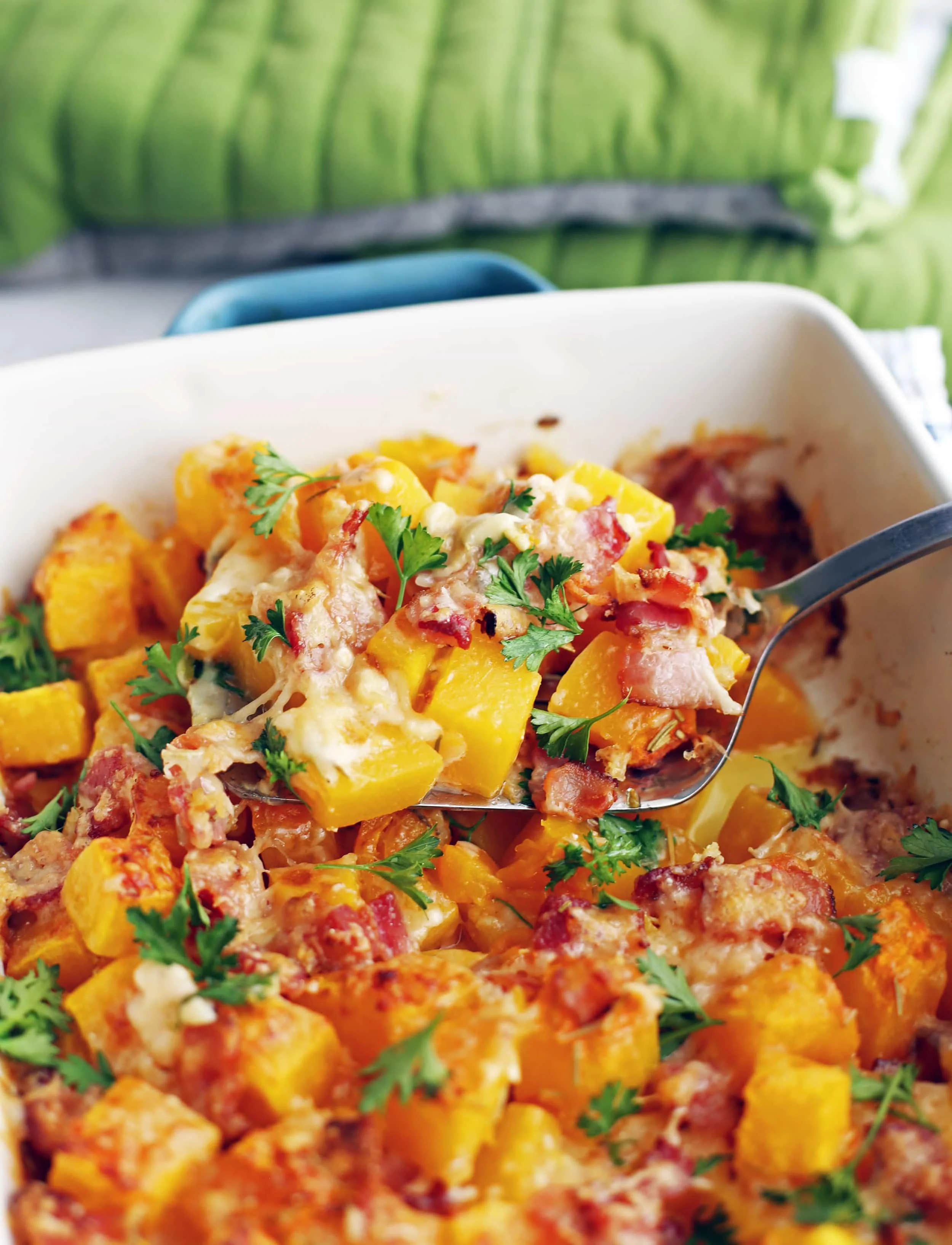 In summary, this Bacon Cheese Butternut Squash Recipe is:
Tasty: Tender butternut squash, savoury crisp bacon, and melted salty, nutty cheeses are a delicious combination!
Easy to put together: It's all baked in one dish and uses few ingredients.
Comfort food: A lovely warm side dish perfect to serve during the holidays.
Gluten-free.
I hope you try this recipe! If you do, please leave me a rating and comment down below or tag me on any of my social media. I'm @yay_for_food on Instagram. I'll love a picture!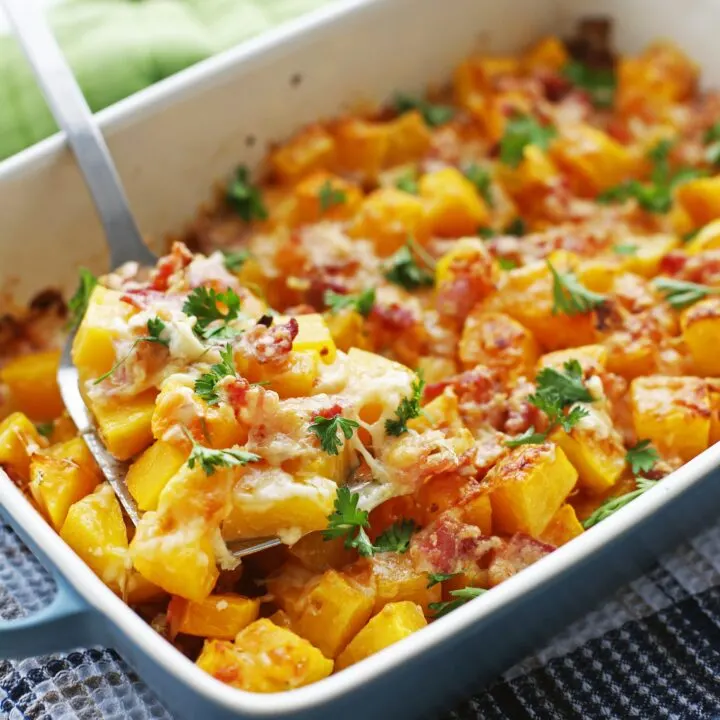 Baked Bacon Cheese Butternut Squash
Crispy bacon teams up with cheddar and parmesan to bring a whole new level of flavour to this hearty butternut squash side dish recipe.
Ingredients
2 lb. butternut squash, peeled and chopped into ½ inch chunks
4 raw bacon strips, chopped (I used pork)
3 garlic cloves, minced
1 tbsp olive oil
1 tsp dried rosemary
Salt and pepper, to taste
½ cup (2 oz) parmesan cheese (Parmigiano-Reggiano), freshly grated
½ cup (1.5 oz) sharp cheddar cheese, shredded
¼ cup parsley, chopped
Instructions
Preheat the oven to 425 degrees F.
In a large bowl, combine together the butternut squash, garlic, olive oil, rosemary, salt and pepper. Place into a 9x13 casserole dish and evenly top it with chopped bacon.
Bake for 30-35 minutes, until the butternut squash is tender-crisp (fork goes through, but not completely tender).
Sprinkle the parmesan and cheddar cheese evenly over the top of the butternut squash and bacon. Bake for an additional 10 minutes, until the cheese is completely melted, the butternut squash is tender, and bacon is crisped and cooked through.
Garnish with parsley on top. Best served immediately.
Recommended Products
As a participant in the Amazon Services LLC Associates Program, I only link to products that I use and/or highly recommend. As an Amazon Associate, I earn from qualifying purchases if you purchase through these links at no additional cost to you.
Nutrition Information:
Yield:

6
Serving Size:

1
Amount Per Serving:
Calories:

272
Total Fat:

17g
Saturated Fat:

6g
Trans Fat:

0g
Unsaturated Fat:

10g
Cholesterol:

25mg
Sodium:

317mg
Carbohydrates:

26g
Fiber:

8g
Sugar:

5g
Protein:

7g