Hey there! This Quinoa Edamame Salad with Sriracha Dressing is crunchy, colourful, and healthy too.
Loaded with fresh bell pepper, carrots, and cabbage along with edamame and quinoa, this delicious salad is an excellent meal option for home or to take on-the-go. It's wonderful to make the day before, let chill in the refrigerator, and eat it over the next day or two.
The addition of quinoa is the base of this salad. It has a slightly nutty flavour with a fluffy and slightly chewy texture. This easy-to-prepare seed (although nutritionally labeled as a whole grain) is good for you as it is high in protein, fiber, iron, and potassium.
Why edamame? Edamame, which are immature soybeans, are high in plant-based protein and fiber, and rich in vitamins and nutrients such as folate and vitamin K. These green beans make a great snack on their own, but also as an addition to other dishes.
In Canada and the United States, edamame is usually found in the frozen vegetable section of the grocery store either in pods (shells) or de-shelled.
The sriracha vinaigrette gives the salad a tangy and spicy hit. What's sriracha? Sriracha, pronounced see-ROTCH-ah, is a hot sauce that's primarily made from chili peppers, distilled vinegar, garlic, sugar, and salt. It's not the spiciest hot sauce, but when making the dressing, start with less and add more sriracha if you like heat.
I hope you enjoy this recipe!
How do you make this tasty and healthy Quinoa Edamame Salad?
(Complete ingredient amounts and instructions available in the recipe card down below).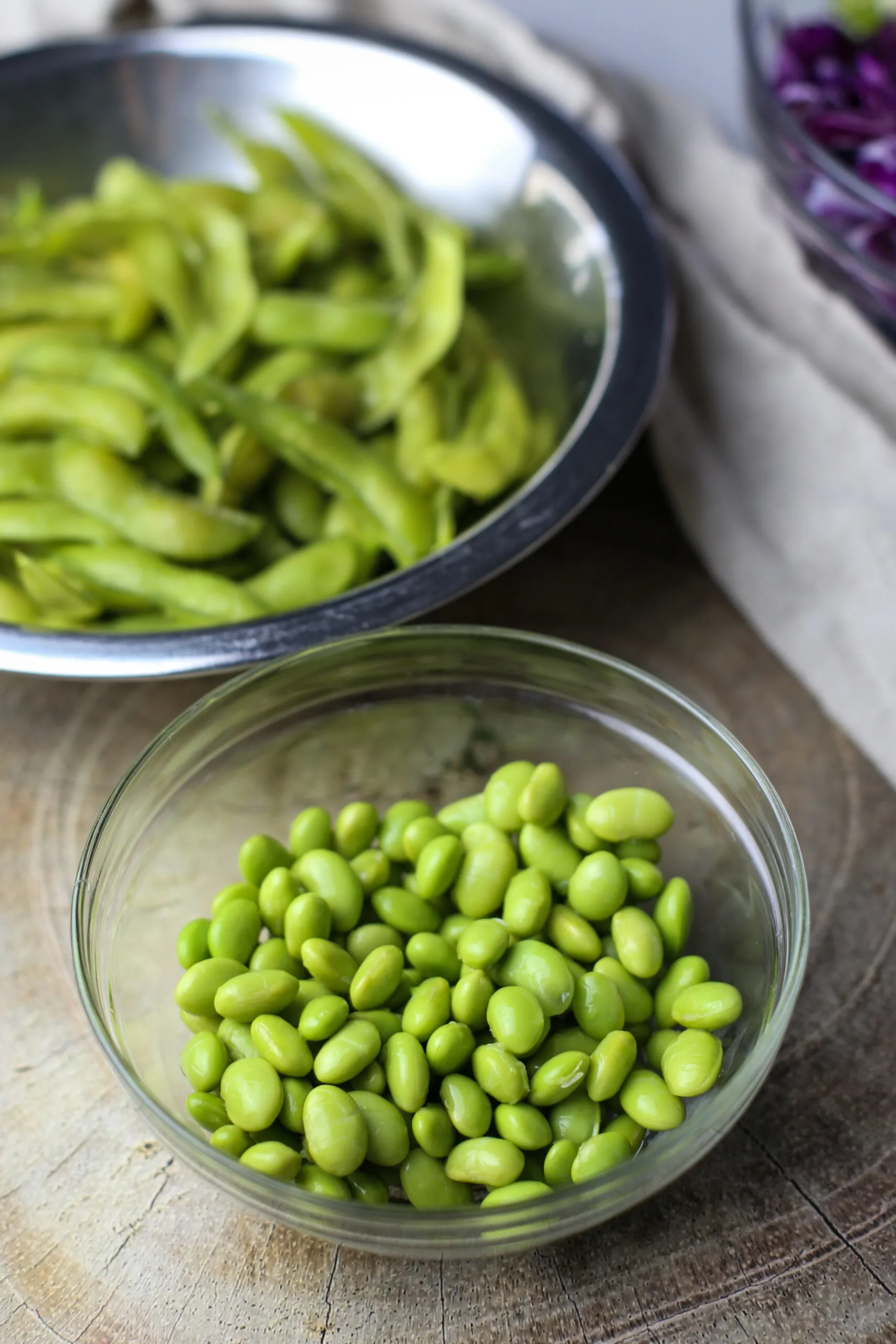 Cook edamame according to package directions. Remove the edamame beans from its pods (shells) (first photo).
Cook quinoa according to package directions (not shown). Tip: make sure to thoroughly rinse quinoa in a fine mesh sieve under cold water until the water runs clear. It will remove the outer layer, called saponin, which has a bitter flavour.
Prepare the fresh vegetables and place in a large bowl (second photo).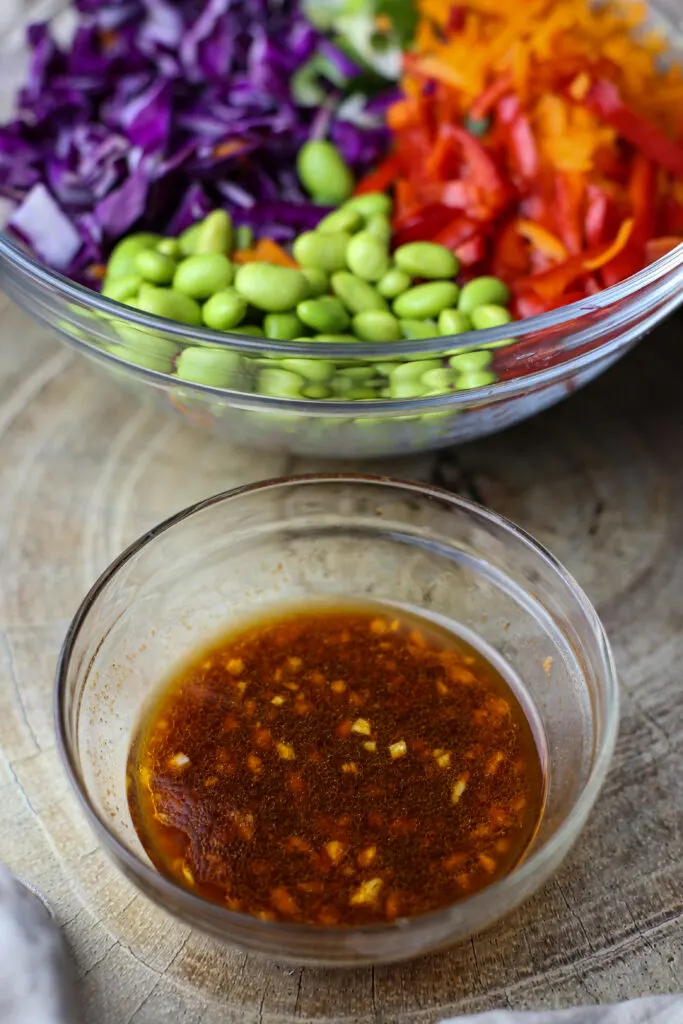 Combine the dressing ingredients together in a small bowl. Taste and adjust the dressing to your preference (first photo).
Add the cooked quinoa, edamame, and dressing to the salad bowl. Toss well to combine the ingredients (second photo). Serve right away or chilled.
Love delicious and filling salads? Check out these four recipes!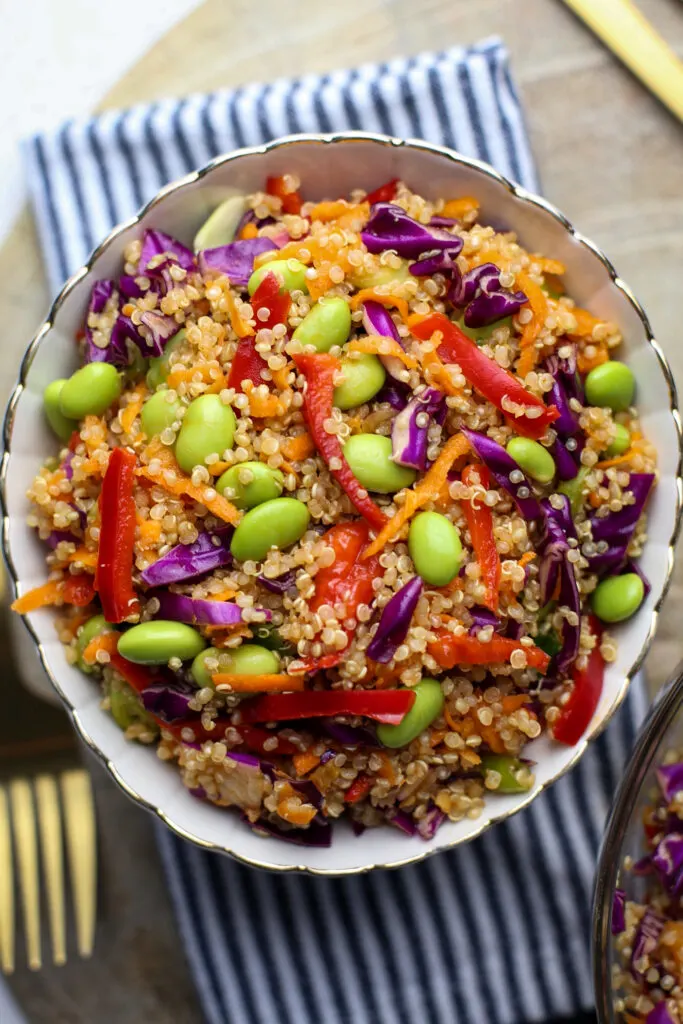 In summary, this quinoa salad is:
Full of delicious ingredients
Colourful
Nutritious
Filling
Great to make ahead
Vegan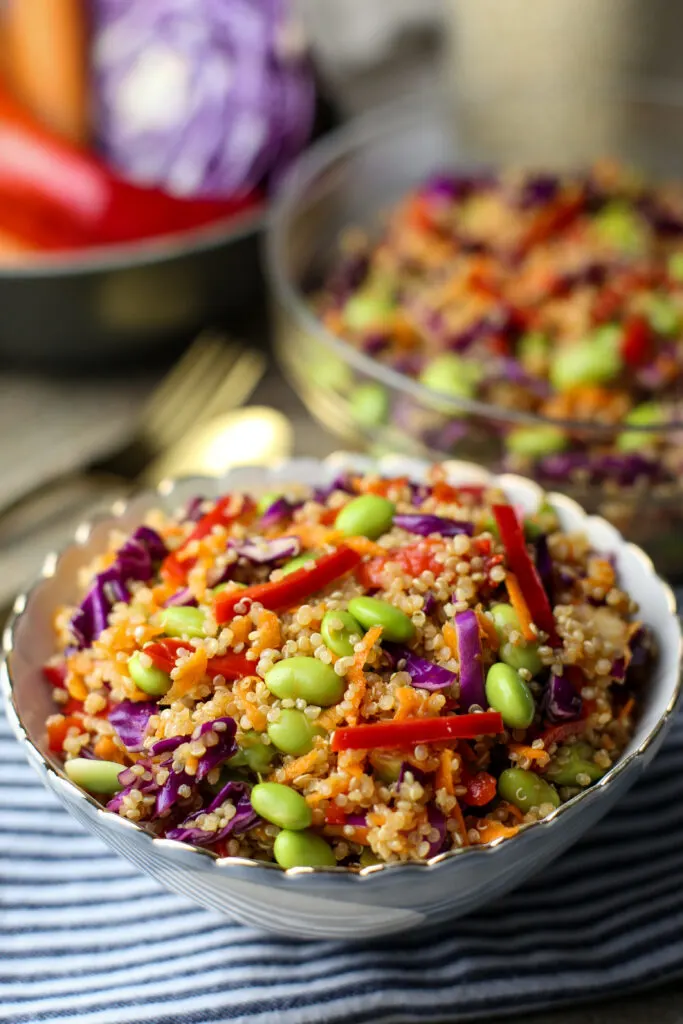 I hope you try this Quinoa Edamame Salad recipe! If you do, please leave me a rating and comment down below or tag me on any of my social media. I'm @yay_for_food on Instagram. I'd love a picture!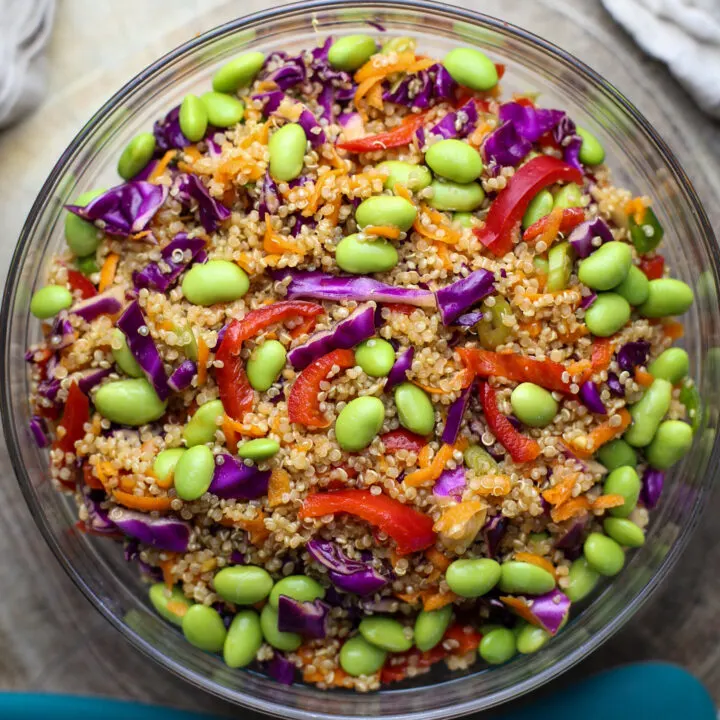 Quinoa Edamame Salad with Sriracha Dressing
Yield:
4 servings (makes 6-7 cups)
A healthy, make-ahead quinoa and edamame salad with the delightful crunch of colourful vegetables, finished with a sriracha vinaigrette.
Ingredients
For the salad:
1 cup uncooked quinoa, rinsed and drained (makes 3 cups of cooked quinoa)
150 g frozen shelled edamame (or frozen in pod)
2 medium carrots, peeled and shredded
2 cups purple cabbage, shredded
1 large bell pepper, shredded
1 cup green onion, chopped
For the dressing:
2 tbsp soy sauce
1 tbsp sriracha sauce (see note one)
1 tbsp rice vinegar (or mirin)
1 tbsp vegetable oil (or neutral oil)
2 tsp ginger, minced
1 small garlic clove, minced
½ tsp sesame oil
Instructions
For the salad. Cook quinoa according to package directions.
Prepare edamame according to package directions. Drain and rinse with cold water. De-shell if needed.
Prepare the remaining salad ingredients and place them in a large bowl.
When quinoa and edamame are ready, add them with the other salad ingredients.
For the dressing. Whisk the dressing ingredients together in a small bowl or place the ingredients in a mason jar, tightly close the jar with a lid, and shake to combine. Taste and adjust the dressing to your preference (e.g. more sriracha sauce for more heat).
Put it together. Top the salad with the dressing and toss well to combine. Can be served immediately at room temperature or chilled. Enjoy!
Notes
Start with one tablespoon of sriracha sauce (for mild heat) and then add a teaspoon at a time for more heat if necessary.
Leftovers should be placed in an airtight container and refrigerated for up to 4 days.
Nutritional information represents one serving with four servings total.
Recommended Products
As a participant in the Amazon Services LLC Associates Program, I only link to products that I use and/or highly recommend. As an Amazon Associate, I earn from qualifying purchases if you purchase through these links at no additional cost to you.
Nutrition Information:
Yield:

4
Serving Size:

1
Amount Per Serving:
Calories:

270
Total Fat:

8g
Saturated Fat:

1g
Trans Fat:

0g
Unsaturated Fat:

6g
Cholesterol:

0mg
Sodium:

790mg
Carbohydrates:

41g
Fiber:

7g
Sugar:

5g
Protein:

11g
Nutritional values are estimated based on the ingredients used by the author; your ingredients may differ. These values are calculated using Nutritionix.