Yesterday was Thanksgiving in Canada.
As usual, my dad went all out for dinner. This year, we enjoyed a massive beef prime rib, homemade gravy, roasted mixed vegetables, sweet potato, steamed broccoli, vegetable soup, white rice (I'm Chinese, so it's a must), and I brought my Roasted Brussels Sprouts with Balsamic-Maple Glaze. Dessert was provided by my sister, a massive pumpkin pie.
Admittedly, I ate way too much (so full, so sleepy) because everything was just so delicious. I'm a sucker for my dad's home cooking. Then there's the leftovers. My parents insist that Scott and I bring home a little bit of everything. If we don't, it's simply an injustice.
Despite being a food blogger, my mom seems to think that we must be starving at home since she tries to sneak cookies and juice into my bag too.
So leftovers will be eaten today. The rest of the week is for eating a little bit more healthy and in way, way smaller quantities.
My go-to is making a massive kale salad and eating it over a few of days.
This rainbow fall-time salad is wonderful to eat warm (from the just roasted butternut squash and toasted pumpkin seeds) or chilled (the ingredients are allowed to marry together).
It's also vegetarian and gluten-free too.
How do you make this Butternut Squash and Apple Kale Salad?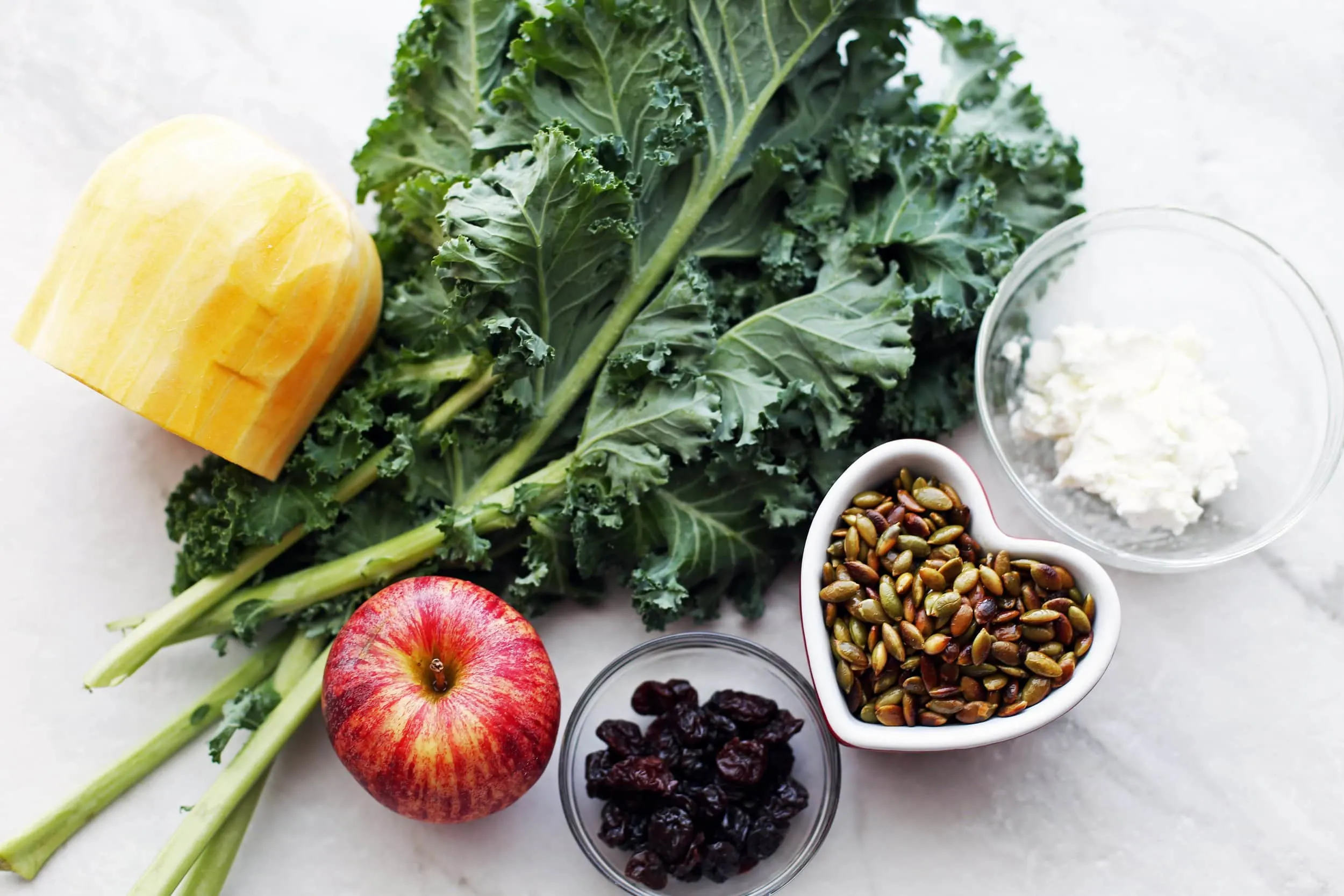 All the salad ingredients (minus the vinaigrette). Check out the recipe card down below for full amounts and instructions.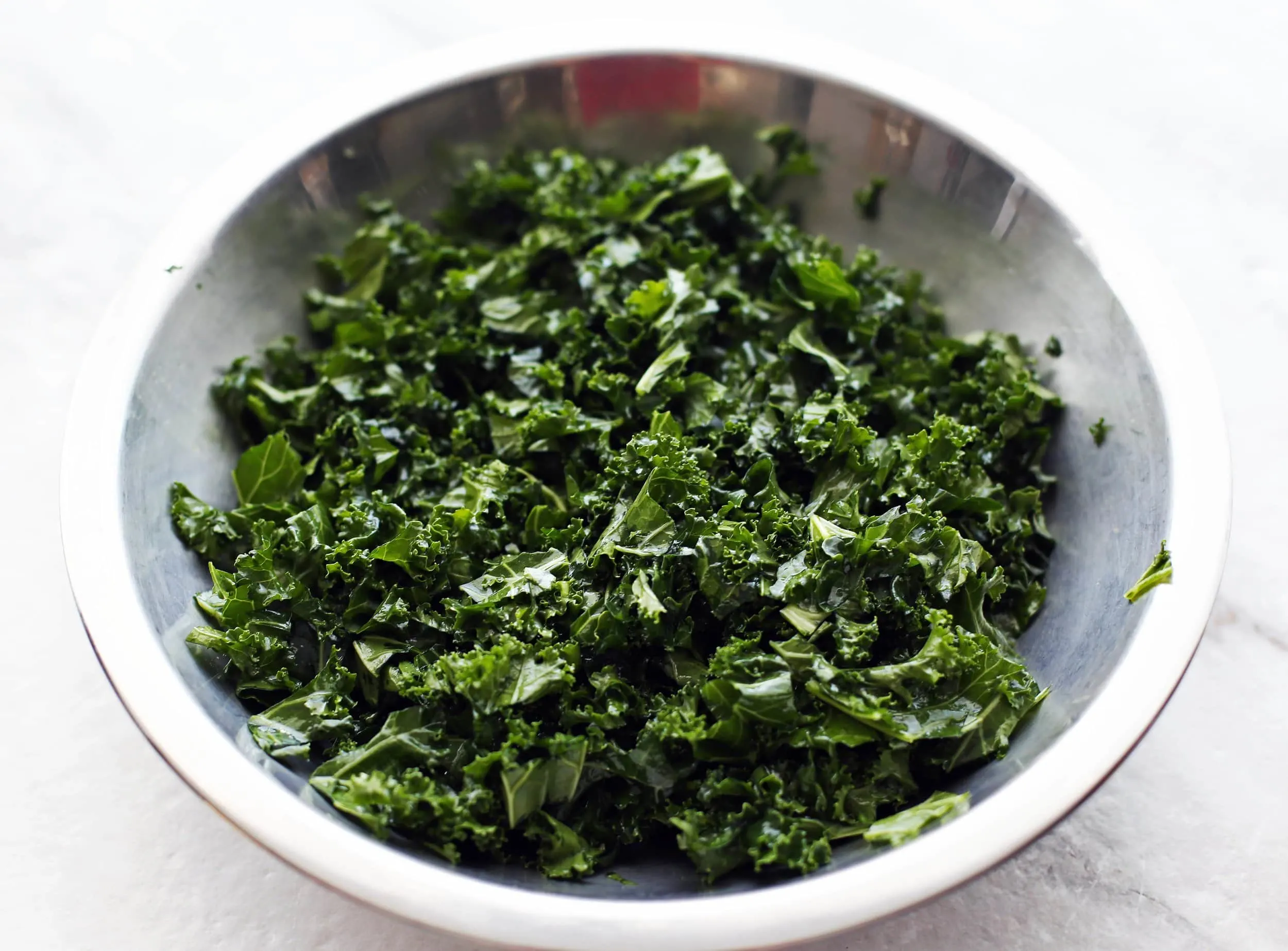 Chop the kale into small pieces and massage each leaf by hand with a little olive oil and salt. It will make the leaves nice and tender.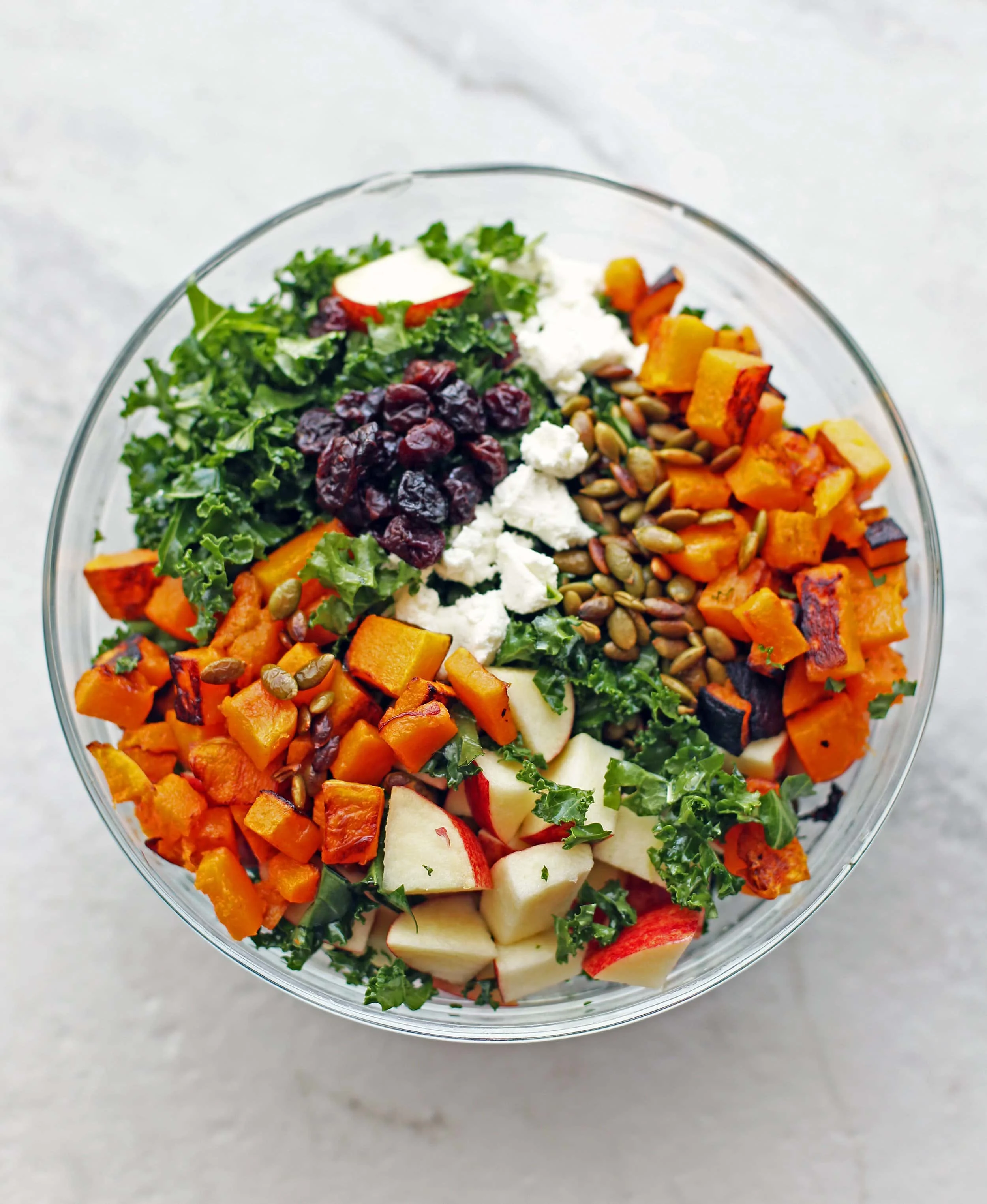 Roast the butternut squash for 20-25 minutes on a large baking sheet, tossing once halfway. Toast the pumpkins in a skillet for a couple minutes. (Not shown).
Combine all the ingredients into a large bowl and toss to combine.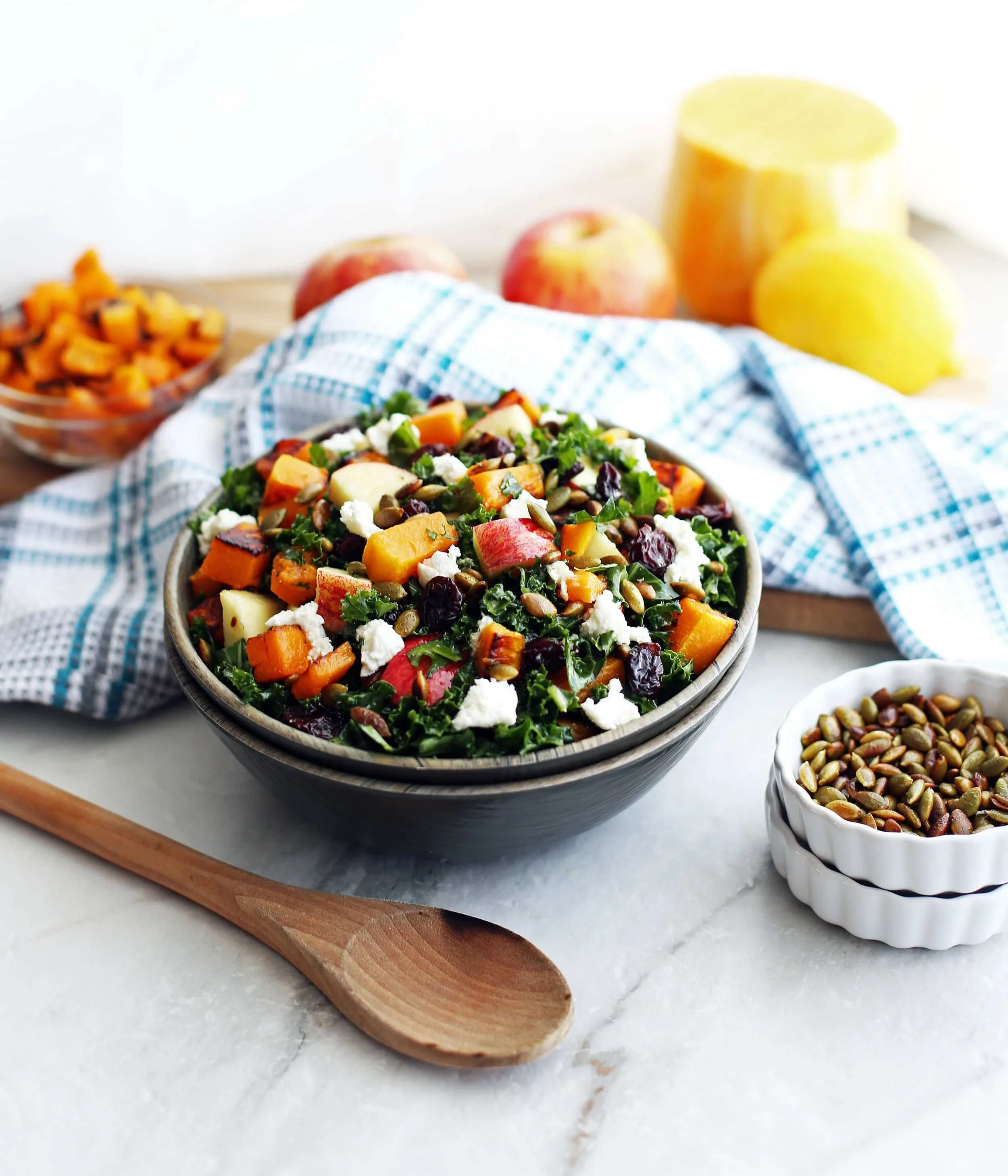 So many beautiful colours, textures (from crunchy to smooth), and flavours!
Let's breakdown what's in this colourful salad:
Butternut squash: Roasting brings out the sweetness and nutty flavours of the butternut squash. The tender squash bites with crispy brown edges is a favourite fall ingredient. Plus, it's a great source of vitamins A, C, and E as well as fibre!
Leafy green kale: It's healthy and nutrient dense with a good amount of vitamin A, K, and C along with other vitamins and minerals.
I used the most popular kale available in the grocery store (that I've found), curly kale, which is said to be have a peppery, bitter, but pleasant flavour. Using dinosaur (aka lacinato) kale is also a good option; it's a little less bitter with a nutty sweetness.
Massaging the kale with a little olive oil and salt with your hands will help tenderize the tough kale leaves and make it easier to chew.
Fresh Apple: I used Gala (one of my favourites). Crispy, sweet with balanced tart flavours, and easy to throw into a salad, the fresh apple goes so well with the tender, warm butternut squash. It's also fat free, cholesterol free, and rich in dietary fibre.
Pumpkin Seeds: Prepared on the stove-top in just minutes, these pumpkin seeds have a great crunch and toasty-flavour.
Why hulled (seeded) raw pumpkin seeds? They were way more inexpensive at the store than the roasted equivalent. So I thought, why not quickly toast them in a skillet.

They make a great snack on their own too, especially if you experiment with different spices like paprika or cumin.
Of course, it will save a little bit of kitchen time if you get the roasted pumpkin seeds. Both will be great for this salad.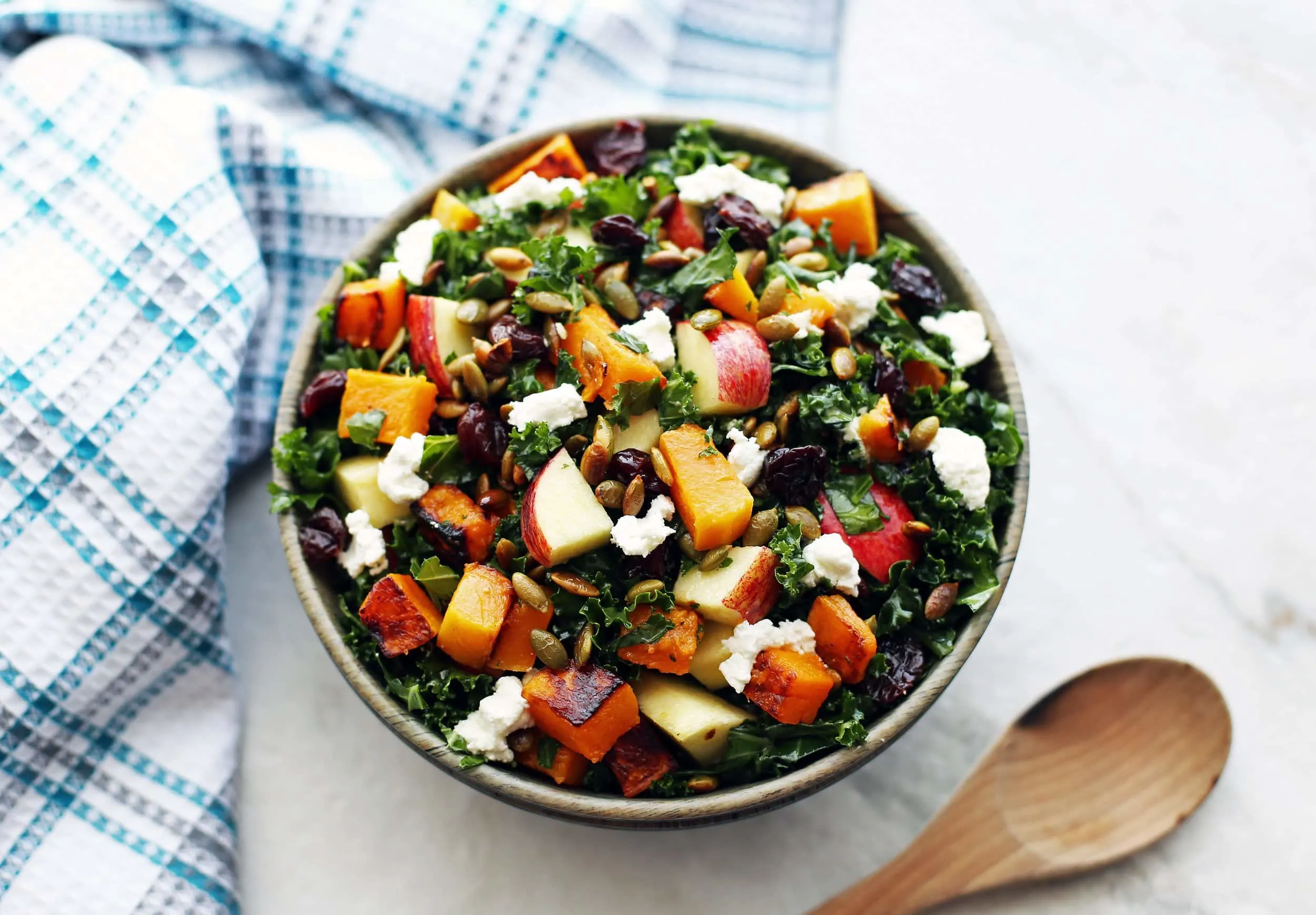 Flavourful Goat Cheese: I put cheese in everything. Goat cheese is creamy, tangy, and I think, a little grassy in flavour. It has a distinct flavour that contrasts well with the other ingredients.
Feta is a great alternative to goat cheese.
Dried cherries: I used dried Montmorency cherries. They're chewy, sweet, and tart in flavour and noted to have antioxidants and anti-inflammatory properties. A great foil to the flavour of kale. Dried cranberries work well too.
The simple vinaigrette: Freshly squeezed lemon adds a fantastic brightness and zestiness to the salad. It tones down the slight bitter flavour of kale while enhancing the sweetness of the squash and apple.
There is also a slight bite from the dijon mustard in the dressing which contrasts well with the sourness of the lemon and the sweet ingredients.
Overall, the scrumptious flavours and varied textures of this salad come together in just 30 minutes and makes for a fantastic seasonal light meal, a lovely side dish, or an appetizer.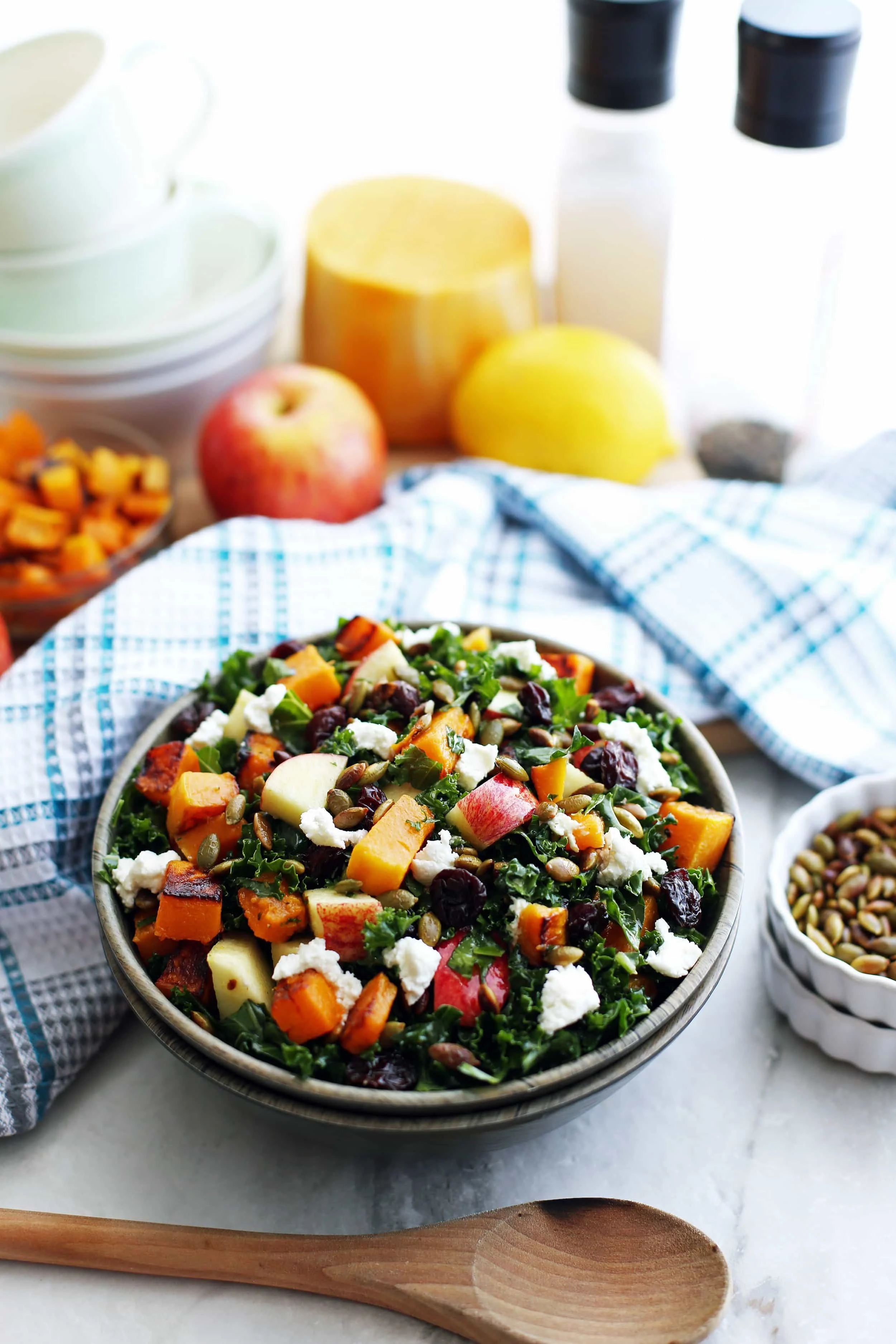 Did you make this Butternut Squash and Apple Kale Salad recipe? Leave me a rating and comment down below or tag me on any of my social media. I'm @yay_for_food on Instagram. Please share your recipe pictures!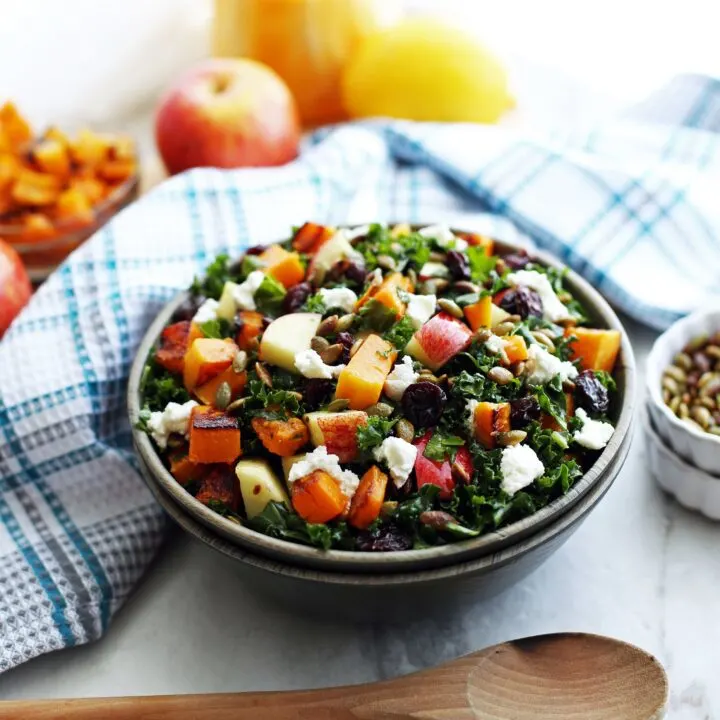 Roasted Butternut Squash and Apple Kale Salad with Lemon Vinaigrette
Yield:
4 as a meal, 6 as a side dish
A delicious and healthy fall harvest salad! This colourful vegetarian salad is filling enough to be a meal and features roasted butternut squash, toasted pumpkin seeds, massaged kale, and a quick homemade lemon dressing!
Ingredients
For the salad:
4 cups raw butternut squash, 1-inch cubes*
4 packed cups curly kale, stems removed and chopped
1 apple, chopped
¾ cup raw (hulled) green pumpkin seeds**
½ cup (3 oz.) goat cheese, crumbled
¼ cup dried cherries
2 tbsp + 2 tsp extra virgin olive oil, divided
Salt, to taste
For the vinaigrette:
2 tbsp lemon juice
2 tbsp extra virgin olive oil
1 small garlic clove, finely minced
1 tsp dijon mustard
Salt and pepper, to taste
Instructions
Preheat the oven to 450 degrees F. On a large baking sheet, mix together the butternut squash and one tablespoon of olive oil.
Spread the butternut squash into a single layer and roast for 20-25 minutes; stirring and rotating the baking sheet halfway through, until the squash is tender and lightly browned.
As the butternut squash roasts, place the chopped kale in a large bowl with one tablespoon of olive oil and a pinch of salt. Using your hands, massage the kale, until soften, making sure to coat each piece of kale with oil, about 2-3 minutes. Set aside.
Using a large skillet at medium-high heat, add 2 teaspoons of olive oil, salt, and the pumpkin seeds. Stir frequently, allowing the pumpkin seeds to turn golden in colour, about 4-5 minutes. Remove from heat and set aside.
Add the salad ingredients into the large bowl (with the kale). In a small bowl, combine the vinaigrette ingredients well, before tossing with the salad. Best served immediately.
Notes
*The butternut squash will shrink to around 2½ cups of roasted butternut squash.
**To save active prep time, purchase pumpkin seeds that are already roasted or toasted and skip step four above.
Leftovers should be placed in an airtight container and refrigerated for up to 3 days.
Nutritional calories represent one serving with four servings total.
Recommended Products
As a participant in the Amazon Services LLC Associates Program, I only link to products that I use and/or highly recommend. As an Amazon Associate, I earn from qualifying purchases if you purchase through these links at no additional cost to you.
Nutrition Information:
Yield:

4
Serving Size:

1
Amount Per Serving:
Calories:

470
Total Fat:

33.1g
Carbohydrates:

35.1g
Protein:

13.6g