Hey there! With fall coming up soon (my most favourite season), I've decided to put together a delicious and seasonal Sweet Potato Orange Spinach Salad that's perfect to enjoy during the cooler months.
Although, you'll probably be able to find these ingredients year-round at your grocery store so you can likely make it anytime if you choose.
There is plenty of tender, bite-sized sweet potato in this salad. I prefer the red or orange flesh varieties over the tan or purple kinds because they are sweeter and creamier.
The sweet potato matches perfectly with the clementine oranges (you can substitute with mandarins if you want), which gives the salad more sweetness and citrusy flavours.
The salty and creamy texture of feta cheese is a tasty addition, the cashews add crunch and nutty flavours, and the green onions give the salad a light bite and onion-y taste.
I love adding in baby spinach to fill out the salad. Not only is it mild in flavour and easy to eat, the leafy green is nutritious too! It's full of vitamins A, C, K as well as folate.
This salad is tossed in simple homemade maple cinnamon orange vinaigrette, which ties together the sweet and savoury notes.
It's a simple and filling lunch for two or as a side dish for four that's vegetarian and gluten-free too. I hope you enjoy this recipe!
How do you make this sweet potato salad recipe?
(Complete ingredient amounts and instructions available in the recipe card down below).
Preheat the oven to 400 degrees F. Line a large baking sheet with parchment paper. Spread the sweet potato in a single layer (first photo).
Bake the sweet potato pieces (tossed in olive oil and salt) for 25 minutes, flipping at the 15 minute mark (second photo). When ready, the sweet potato should be tender and lightly browned.
As the sweet potato pieces cook in the oven, prepare the rest of the salad ingredients and place them in a big bowl. Add the baked, warm, tender sweet potato to the same bowl (first photo).
Whisk together (use a small wired whisk or a fork) or shake in a closed jar to combine all the dressing ingredients together (second photo).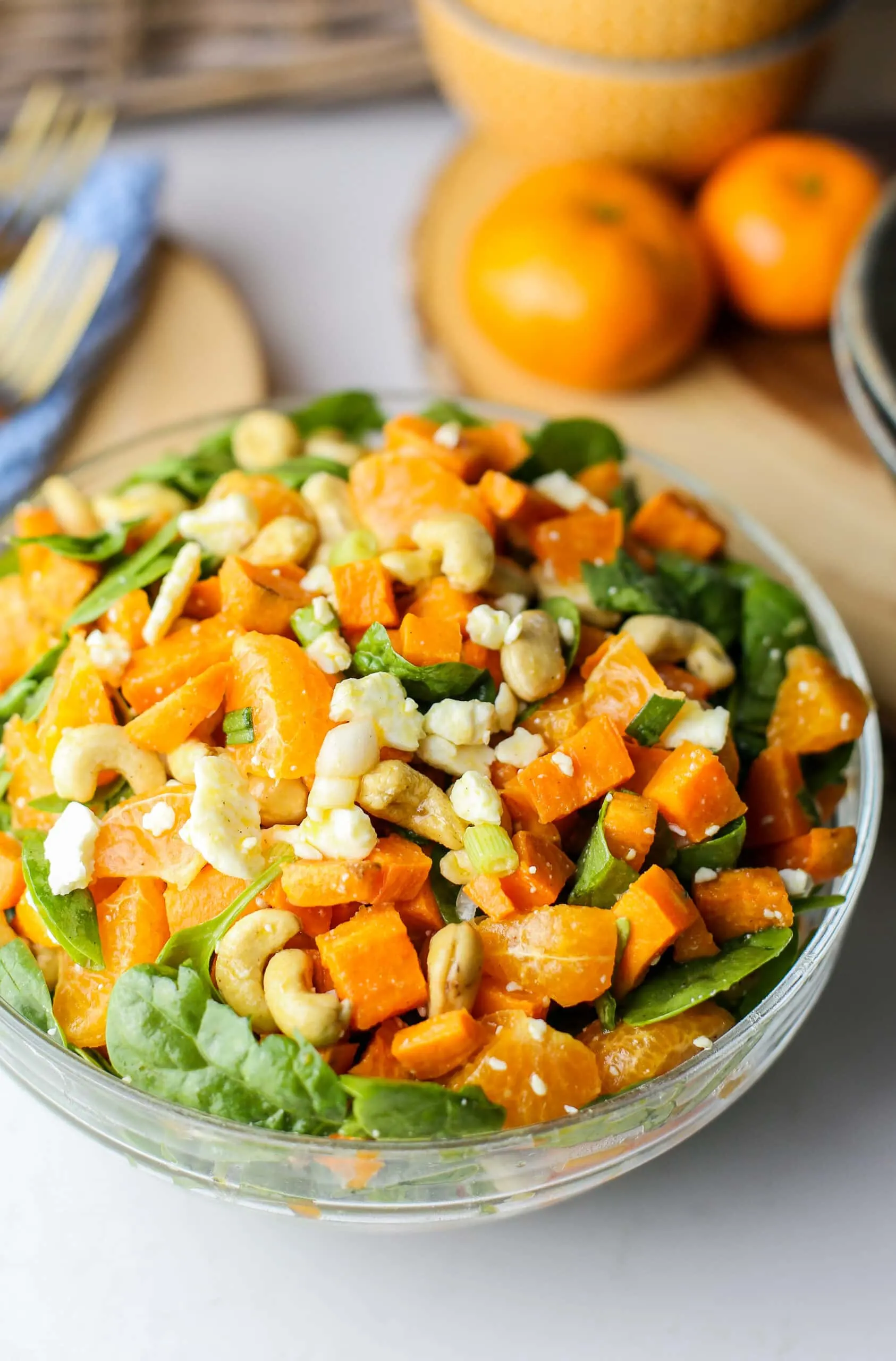 Pour the vinaigrette over the salad and give it a good toss. Enjoy warm or chilled!
Looking for more easy salad recipes perfect to serve in the fall and winter? Here are four more!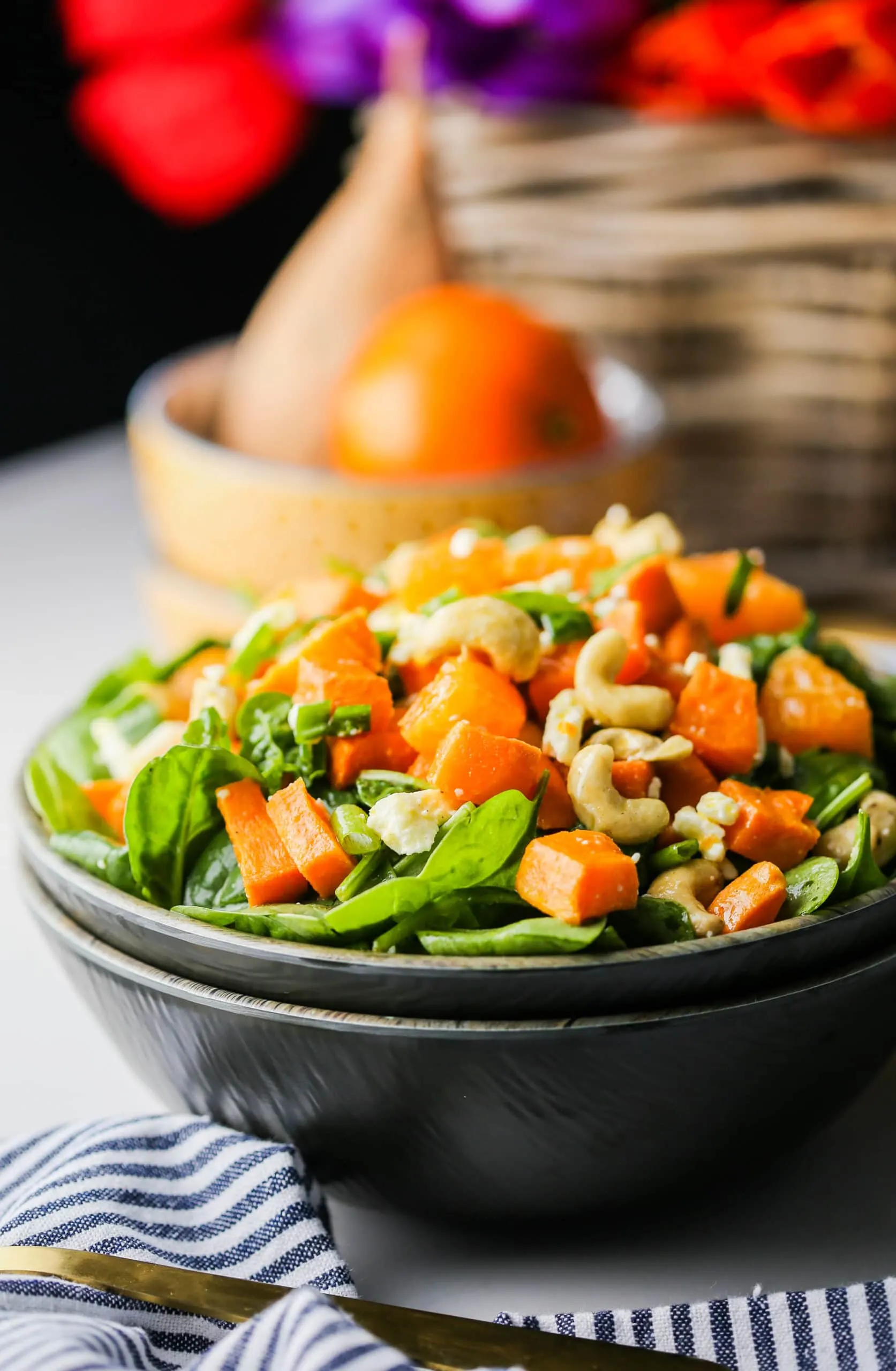 Overall, this sweet potato salad recipe is:
Full of delicious ingredients: It has a tasty assortment of vegetables, fruit, nuts, and cheese.
Filling and nutritious: It can be served as a lighter fall-time meal or as a side dish.
Simple to make and comes together in 30 minutes: Most of the time is waiting for the sweet potatoes to bake in the oven.
Great to serve as warm salad or chilled: it tastes great as leftovers the next day.
A delicious vegetarian and gluten-free dish.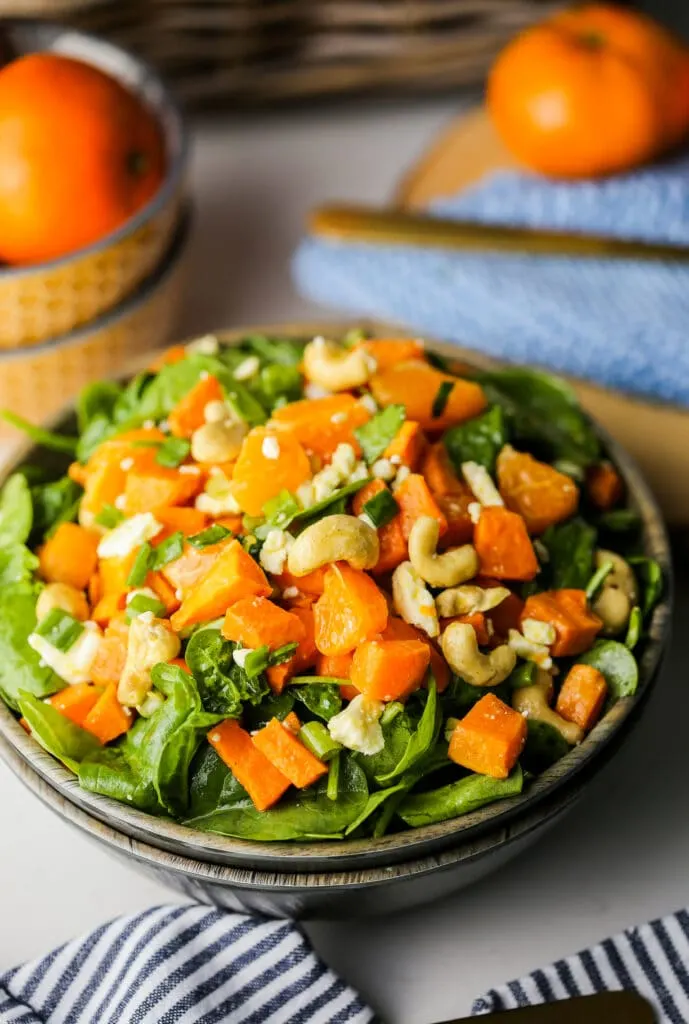 I hope you try this Sweet Potato Orange Spinach Salad recipe! If you do, please leave me a rating and comment down below or tag me on any of my social media. I'm @yay_for_food on Instagram. I'd love a picture!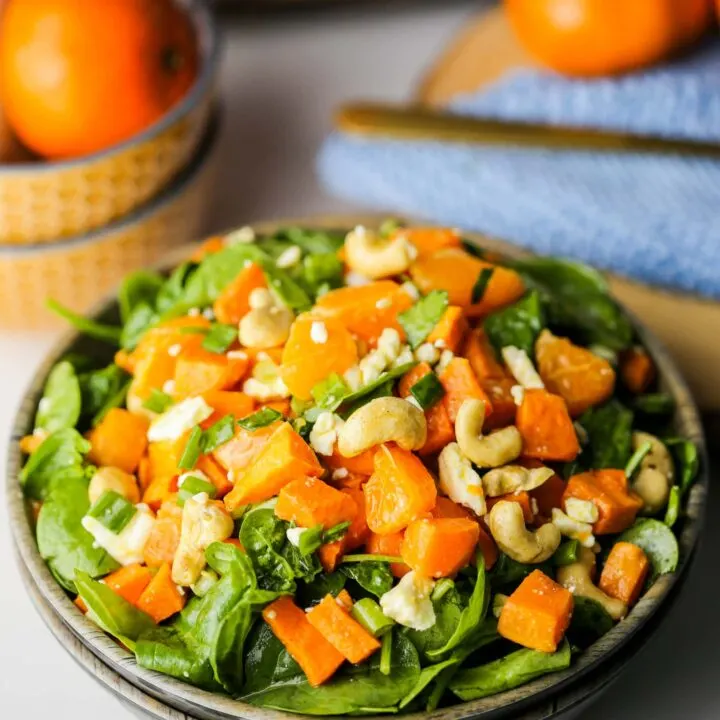 Sweet Potato Orange Spinach Salad
A colourful and delicious combination of tender roasted sweet potato, oranges, and nutritious spinach. This salad recipe is fall in a bowl.
Ingredients
For the salad:
1 tbsp extra virgin olive oil
1½ lb. sweet potatoes, peeled and chopped into ¼-½ inch chunks
2 clementine oranges, peeled, segmented and cut in half
2 cups (packed) baby spinach
¾ cup feta cheese, crumbled
½ cup cashews (raw or roasted)
3 tbsp green onions, chopped
Sea salt, to taste
For the vinaigrette:
2 tbsp extra virgin olive oil
2 tbsp fresh clementine juice
3 tsp pure maple syrup
¼ tsp ground cinnamon
⅛ tsp sea salt
Instructions
For the salad. Preheat the oven to 400 degrees F. On a large baking sheet lined with parchment paper, toss together the sweet potatoes with olive oil and salt to taste.
Spread the sweet potatoes into a single layer and bake for 15 minutes. Give them a stir and flip, then bake for another 10 minutes or until tender and lightly browned.
As the sweet potatoes bake, prepare the remaining salad ingredients and place them in a large bowl.
After the sweet potatoes are ready, place them in the salad bowl with the other ingredients.
For the vinaigrette. Whisk the vinaigrette ingredients together in a small bowl or place the ingredients in a mason jar, tightly close the jar with a lid, and shake to combine.
Put it together. Top the salad with the vinaigrette and toss well to combine. Enjoy!
Notes
Leftovers should be placed in an airtight container and refrigerated for up to 2 days.
Nutritional information represent one serving with four servings total.
Nutrition Information:
Yield:

4
Serving Size:

1
Amount Per Serving:
Calories:

503
Total Fat:

25g
Saturated Fat:

7g
Trans Fat:

0g
Unsaturated Fat:

16g
Cholesterol:

25mg
Sodium:

745mg
Carbohydrates:

62g
Fiber:

9g
Sugar:

28g
Protein:

13g
Nutritional values are estimated based on the ingredients used by the author; your ingredients may differ. These values are calculated using Nutritionix.