Happy Friday! I'm hot (temperature wise) and half asleep during this heat wave and my dog is whining for his 5th treat of the day (he's the whiniest), so I'm going to cut straight to the recipe.
I hope you enjoy this recipe for Roasted Eggplant Pomegranate Feta Salad with Smoked Paprika Dressing!
How do you make this roasted eggplant salad recipe?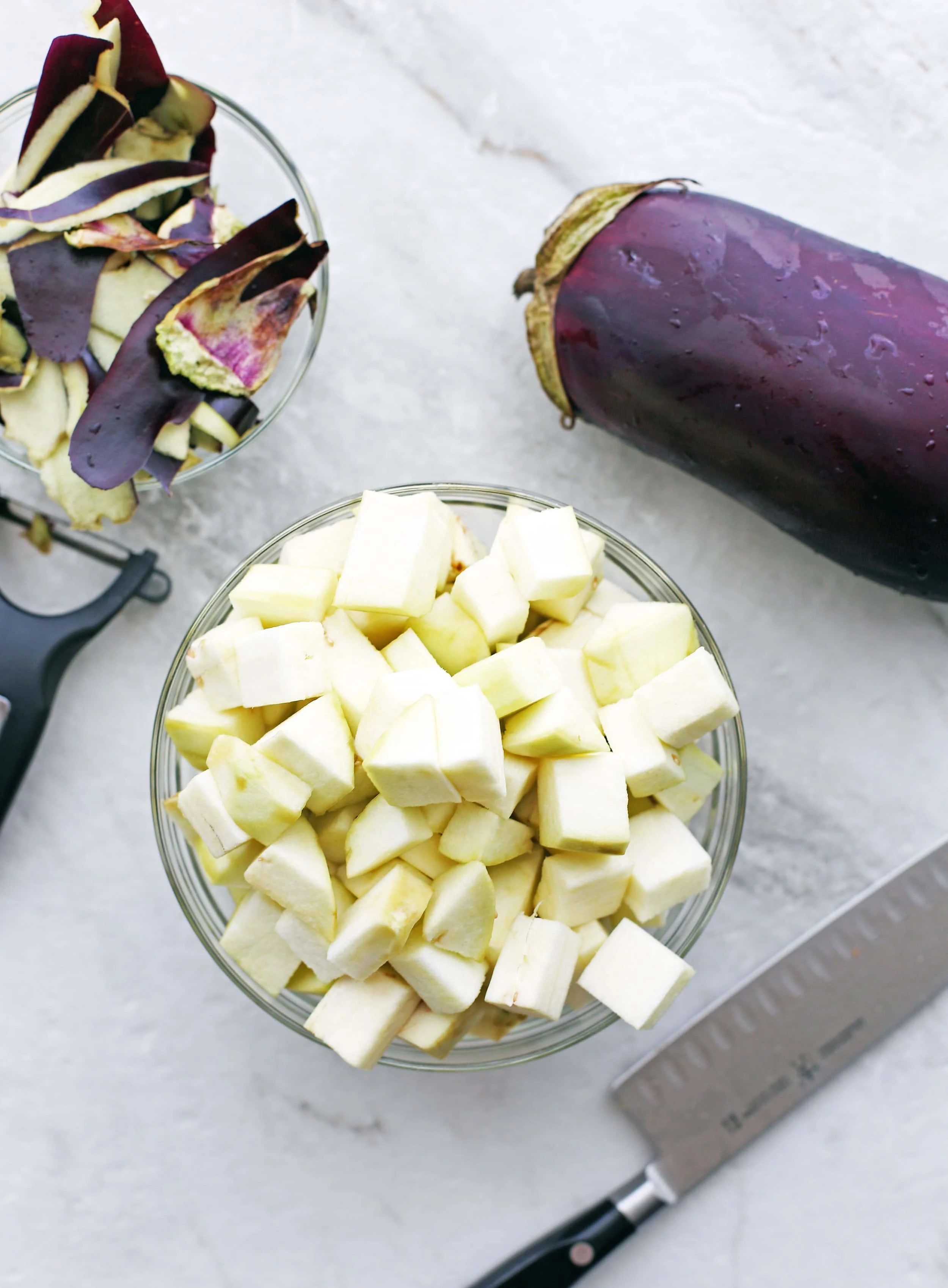 Peel and chop the eggplant into one-inch chunks. Full ingredients and amounts down in the recipe card below.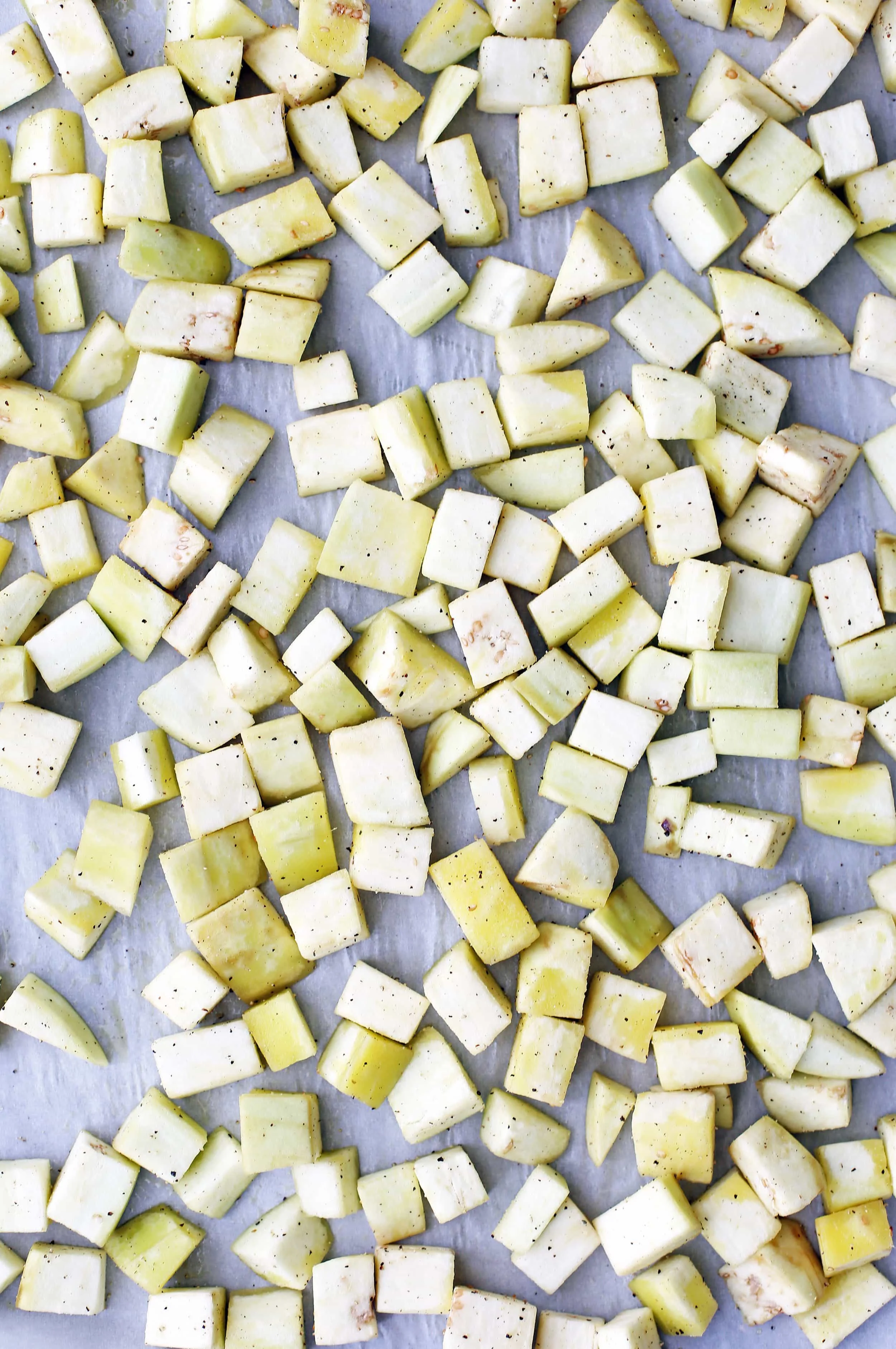 Toss eggplant with olive oil, salt, and pepper and then spread the pieces into a single layer on a baking sheet.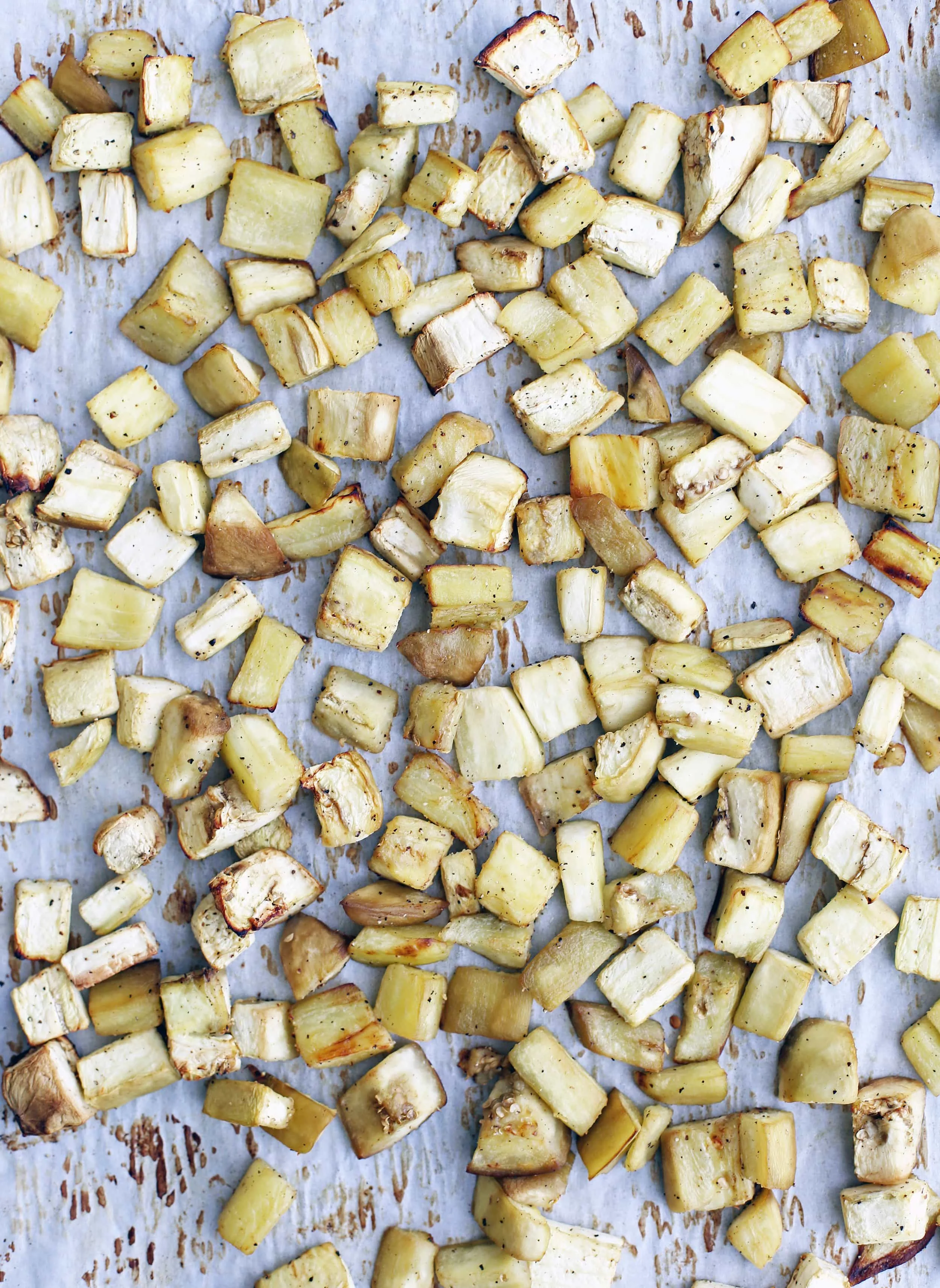 Roast the eggplant at 425 degrees F for 20 minutes, flipping once.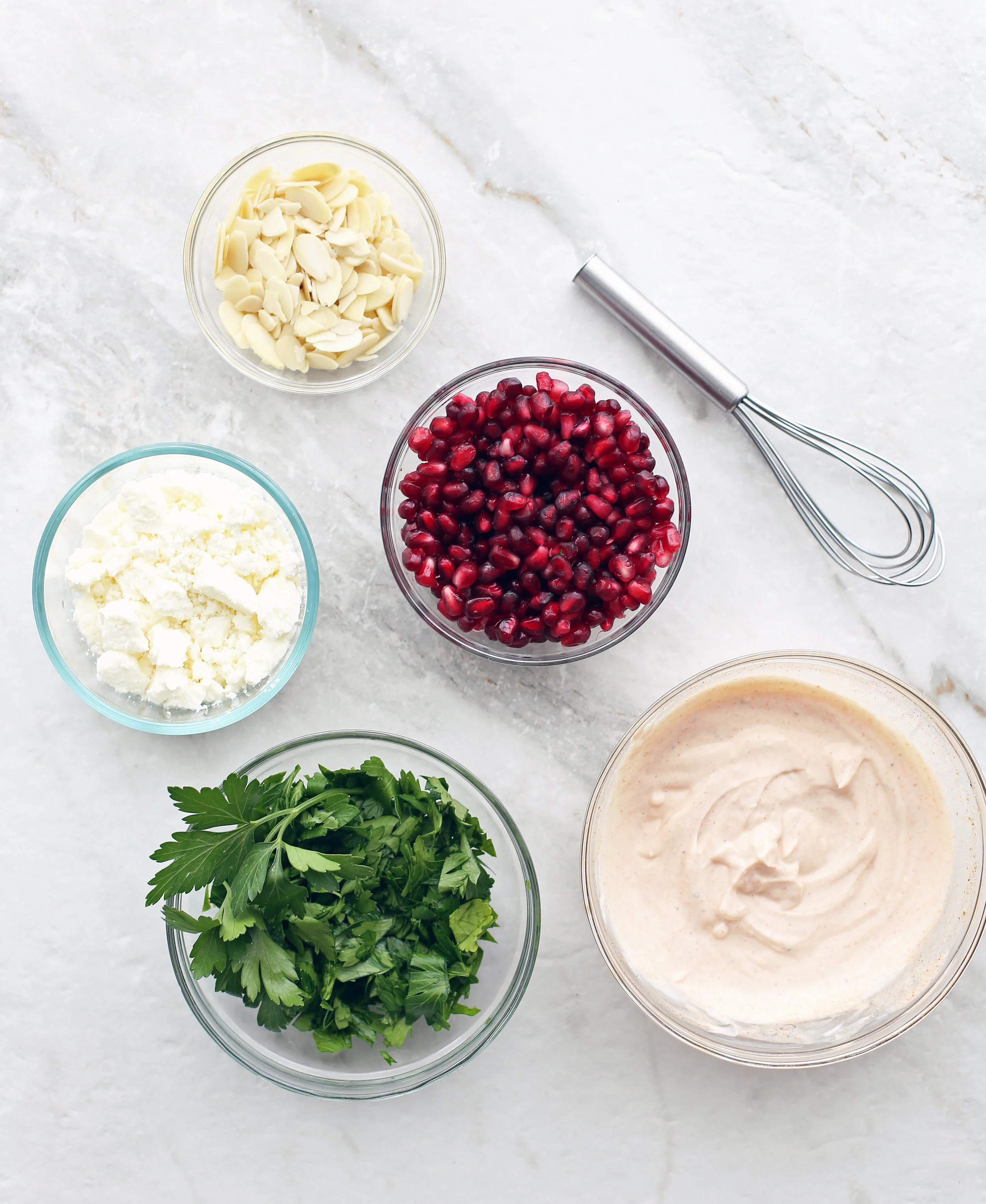 Prepare the other ingredients, including making the extremely easy smoked paprika yogurt dressing. After the eggplant is ready, put everything together.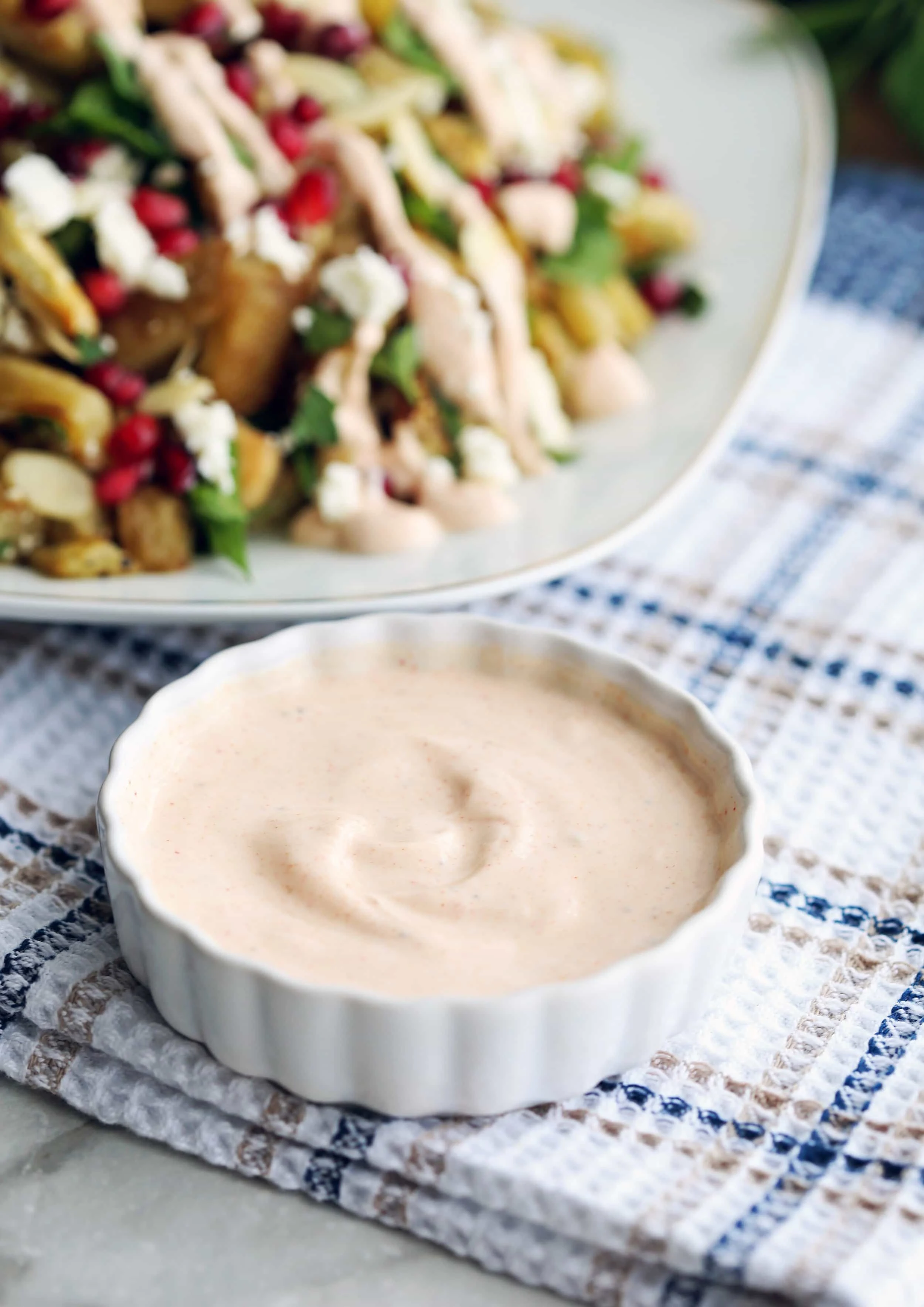 What's in this easy-to-make side dish?
The main ingredient in this salad is eggplant (aka aubergine). Did you know that eggplants are technically fruit? Did you also know that they are many varieties of eggplant?
Eggplants come in varying sizes and shapes. They can be plump and long, small and round, or large and pear-shaped and are available in an assortment of colours too such as purple, white, and green. They have a firm, almost meaty texture and a unique flavour.
This recipe uses the popular Italian eggplant. It's has a smooth, glossy, deep purple skin and ivory white insides with tiny edible seeds and a medium-sized oblong shaped body.
Check out my recipe for Vegetarian Pad See Ew, which uses Chinese eggplant if you like.
How to pick an eggplant? Pick one that feels heavy for its weight and is smooth, shiny, firm, and free of blemishes and wrinkles. The stem and cap (called the calyx) of the eggplant should be bright-green; avoid ones that are dry and brown.
Roasting eggplant that's been cut into cubes and seasoned with olive, salt, and pepper helps bring out its squash-like sweetness and allows the eggplant to get deliciously tender and lightly charred.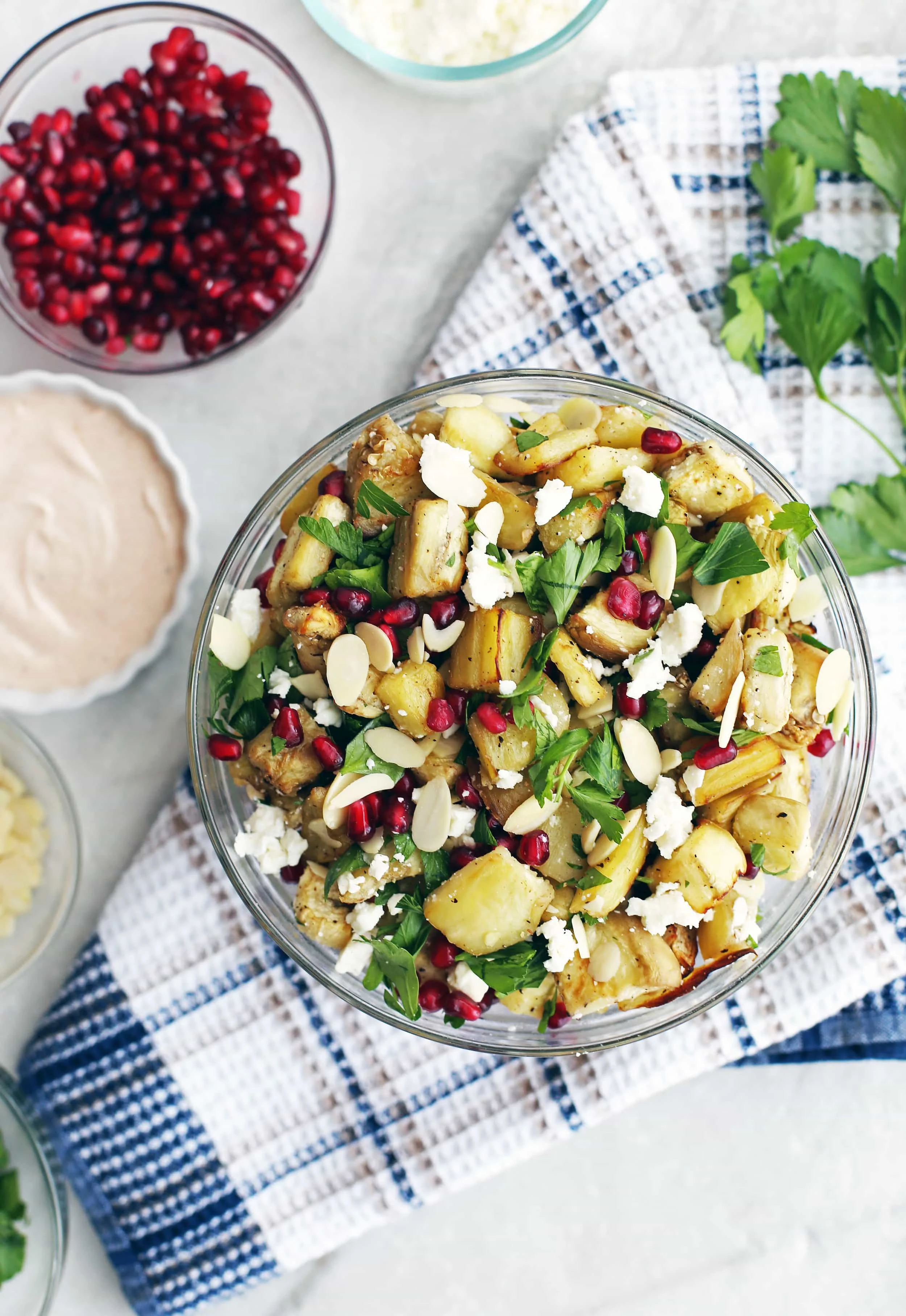 Once the eggplant is ready, sweet, savoury, colourful and texture-rich ingredients are added to enhance this salad.
Crumbled feta cheese gives this dish a wonderful salty, tangy flavour and creamy texture. Red pomegranate arils are small, juicy, crunchy, and tart in taste. Slivered almonds give it a nutty crunch. Fresh green flat-leaf (or Italian) parsley has bright, mildly bitter notes and delicate leaves.
Last, but not least, a simple and delicious creamy yogurt dressing tops this satisfying salad.
A mixture of Greek yogurt, lemon juice, smoked paprika, and little more salt and pepper is all that makes up this easy dressing that can also be used as a dip. It is an awesome combination of tangy, tart, smoky, and salty flavours.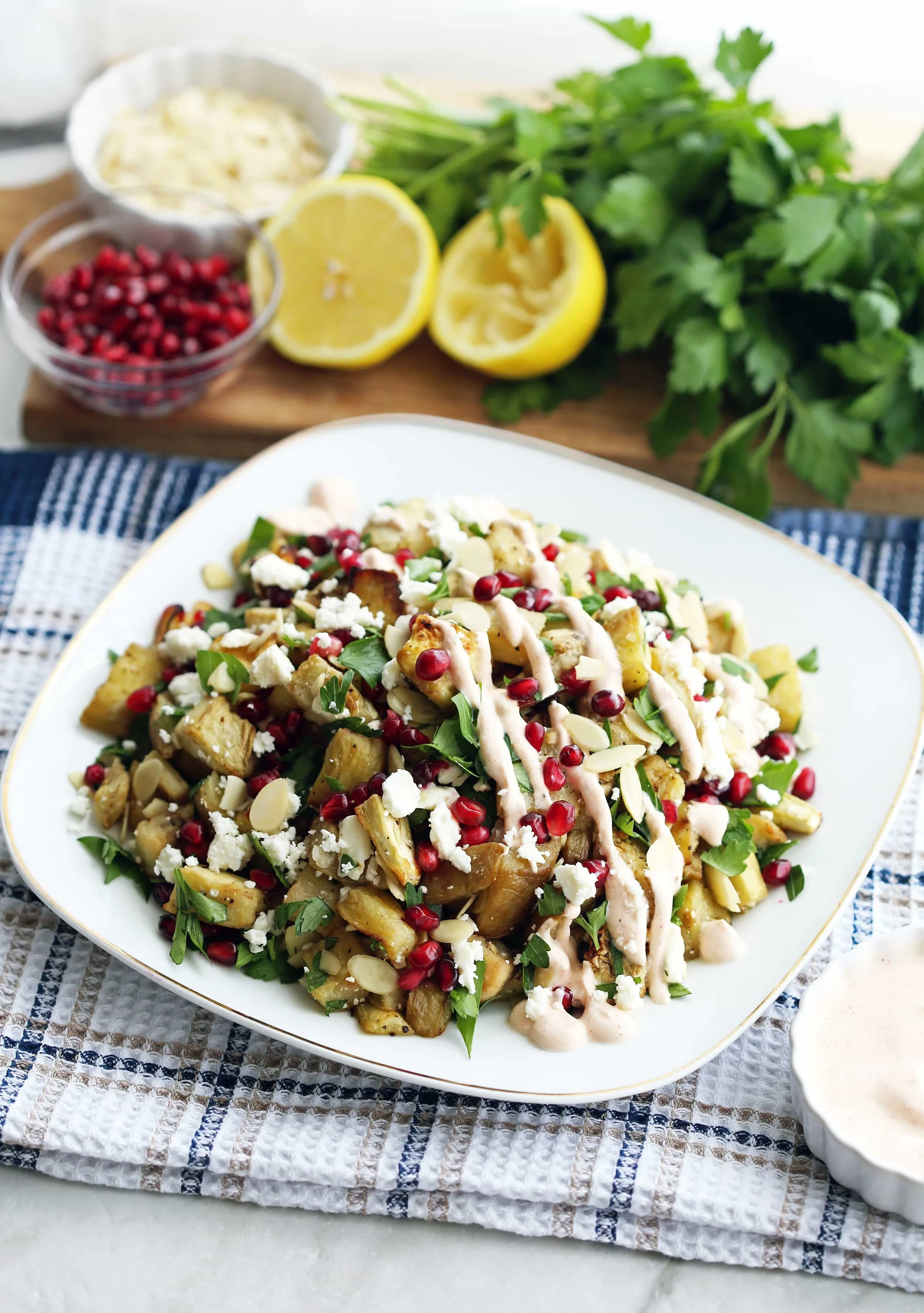 Here are some tips for making this eggplant salad.
I chose to peel the eggplant using a vegetable peel. The skin is entirely edible, but can be tough to eat even after it is roasted, especially if the eggplant is on the larger side.
Slice and chop the eggplant into similar shapes and sizes so they roast evenly.
Prepare the other ingredients while the eggplant roasts, which can include measuring, chopping, and mixing together the dressing.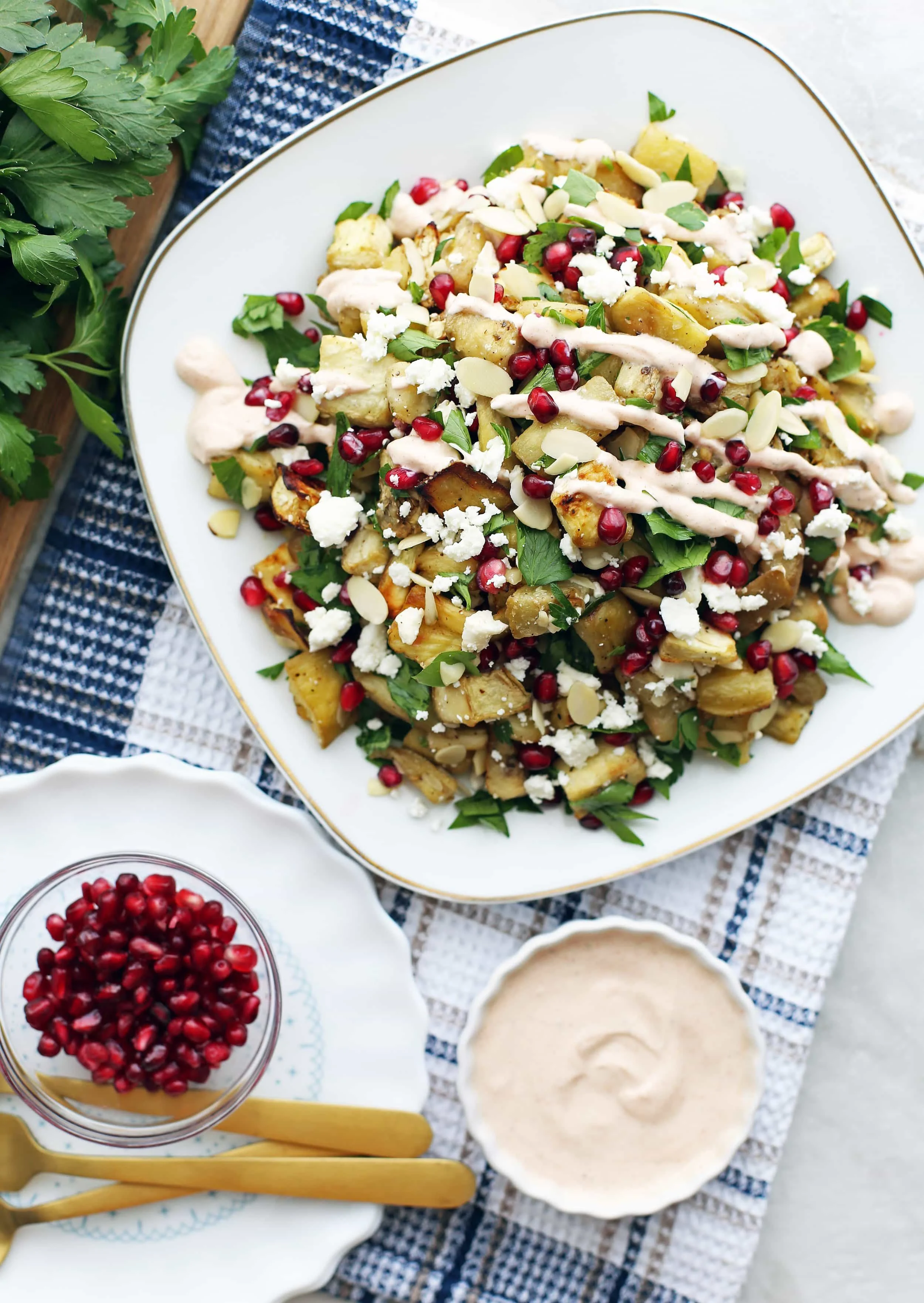 In all, this roasted eggplant salad is:
Full of delectable tastes and textures
Colourful and pretty
Quick and easy to prepare
Lovely to serve as a side dish for four or as a light meal for two
A wonderful vegetarian and gluten-free option
I hope you try this recipe! If you do, please leave me a rating and comment down below or tag me on any of my social media. I'm @yay_for_food on Instagram. I'll love a picture!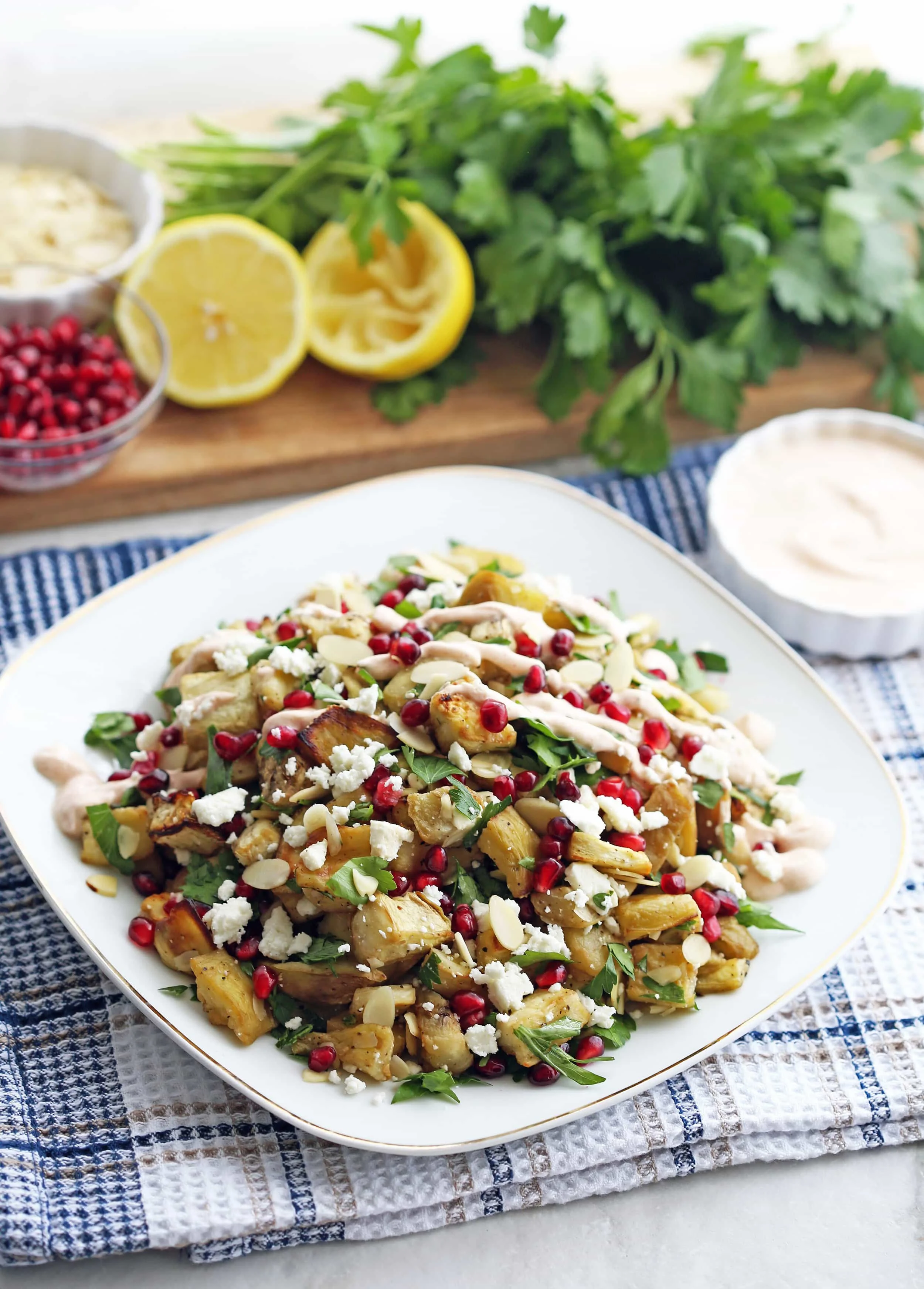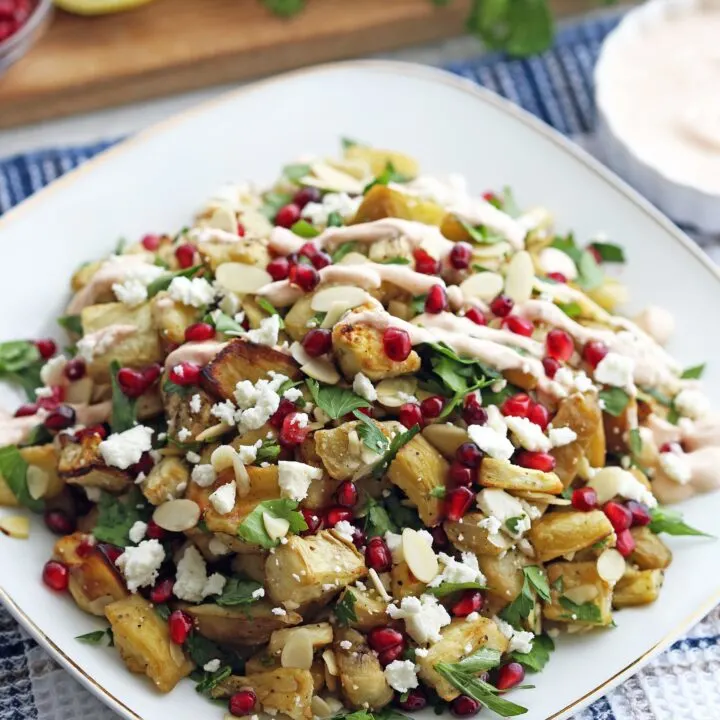 Roasted Eggplant Pomegranate Feta Salad with Smoked Paprika Dressing
A wonderful mix of colours, flavours, and textures can be found in this roasted eggplant salad recipe, featuring crunchy pomegranate seeds, creamy feta, and a smoky yogurt dressing.
Ingredients
For the salad:
2 lb. Italian eggplant, peeled and chopped into 1-inch pieces
1½ tbsp extra virgin olive oil
½ cup feta cheese, crumbled
½ cup flat leaf parsley, roughly chopped
1/3 cup pomegranate arils (seeds)
1/3 cup slivered almonds
Salt and pepper, to taste
For the dressing:
½ plain Greek yogurt (fat-free)
1 tbsp lemon juice
¼ tsp smoked paprika
Salt and pepper, to taste
Instructions
For the salad. Preheat the oven to 425 degrees F. On a large baking sheet lined with parchment paper, toss together the chopped eggplant with olive oil, salt, and pepper.
Spread the eggplant into a single layer and roast for 20 minutes, stirring and flipping the eggplant halfway through.
After the eggplant is ready, place the eggplant in a serving bowl along with the remaining salad ingredients and toss to combine.
For the dressing. In a small bowl, whisk together the dressing ingredients until well-incorporated.
Put it together. Drizzle the desired amount of dressing onto the salad. Serve as is or toss to combine. Serve the remaining dressing on the side if desired. Best enjoyed immediately.
Recommended Products
As a participant in the Amazon Services LLC Associates Program, I only link to products that I use and/or highly recommend. As an Amazon Associate, I earn from qualifying purchases if you purchase through these links at no additional cost to you.
Nutrition Information:
Yield:

4
Serving Size:

1
Amount Per Serving:
Calories:

249
Total Fat:

14g
Saturated Fat:

4g
Trans Fat:

0g
Unsaturated Fat:

9g
Cholesterol:

18mg
Sodium:

335mg
Carbohydrates:

27g
Fiber:

8g
Sugar:

11g
Protein:

9g