Happy Wednesday! I'm back with another refreshing drink that's perfect for helping you keep cool on these hot summer days and evenings.
It's been hot! Here in Alberta, Canada, we've been consistency in the high 20s – low 30s degrees C (about 80 – 90 F), which is way too hot for me. I'm the biggest whiner when it comes to heat too. Sorry Scott (that's my husband btw).
I'm a person that enjoys the weather being 20 degrees cooler, grey clouds, and a nice breeze. How's the weather in your part of the world?
So, I've been all about keeping cool with refreshing cold drinks. Other than good ol' ice water, I've been sipping on the following:
How do you keep cool when it's hot out? This recipe is a delicious non-alcoholic drink that uses fresh, delicious, colourful fruit. I hope you enjoy this recipe for: Maple Peach Citrus Juice!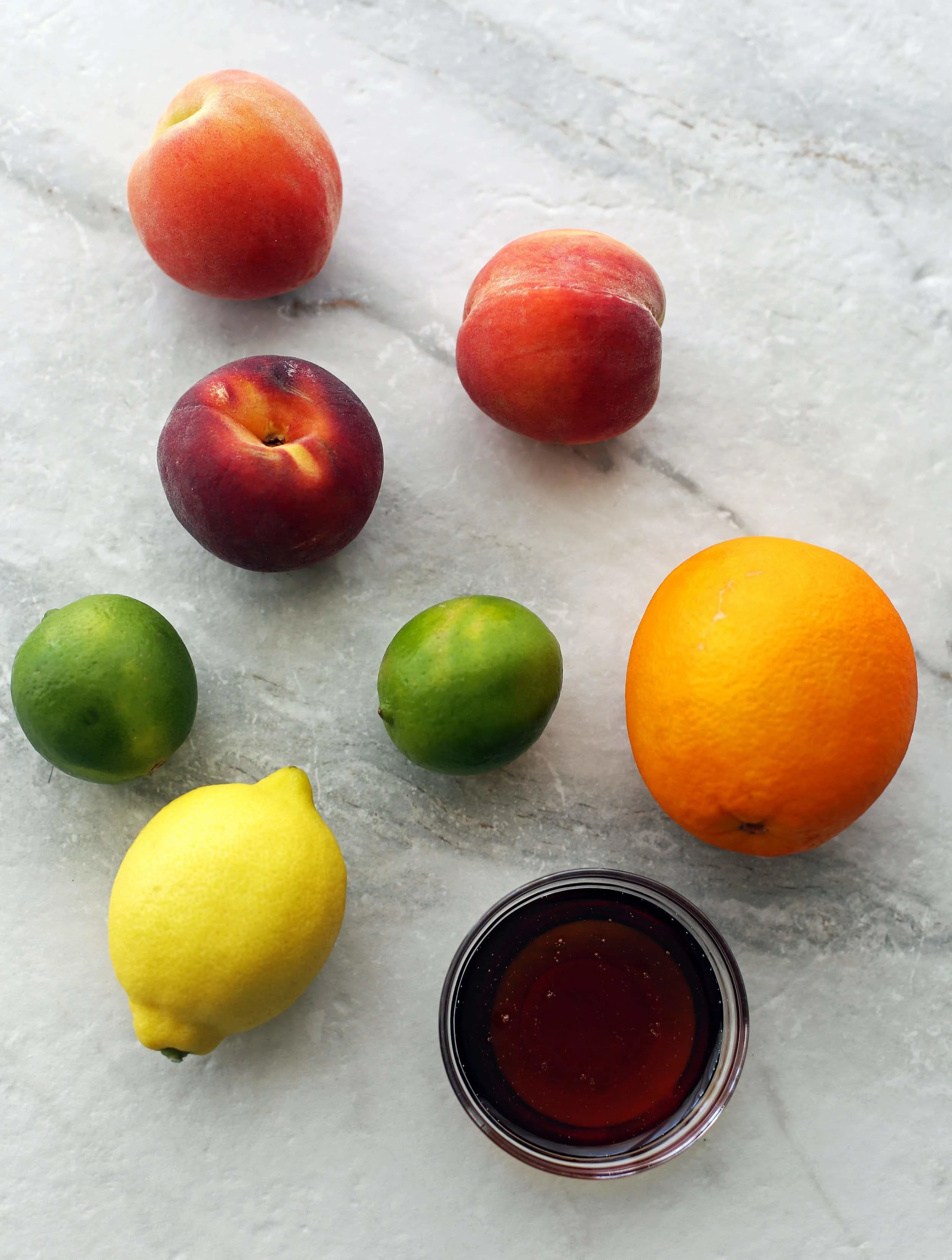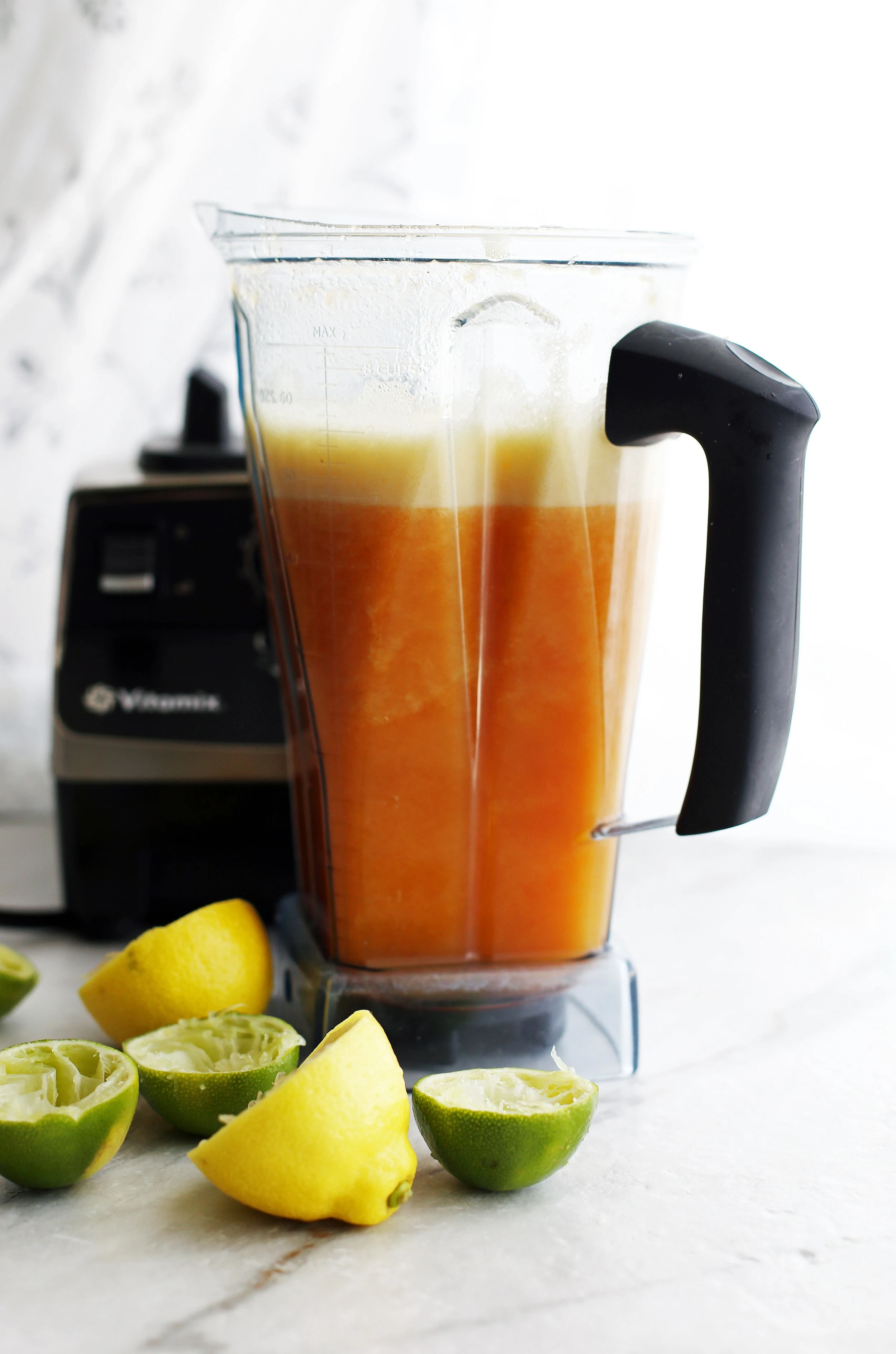 What's in this refreshing drink?
This thirst-quenching beverage contains delicious ripe yellow peaches, three types of citrus fruit, maple syrup, water, and plenty of ice.
For this recipe, I opted to use yellow-fleshed peaches over white ones for that classic peachy flavour that most people associate a peach with. Yellow peaches are a little more acidic and tart than its white-fleshed counterpart, which tend to be more sweet.
I used white-fleshed peaches in my recipe for Grilled Peach and Blueberry Spinach Salad with Honey Balsamic Vinaigrette.
Tip: When looking for ripe peaches, choose ones that smell fragrant (like peaches), feel heavy for its size, and have a slight give to them when pressed lightly with the palm of your hand.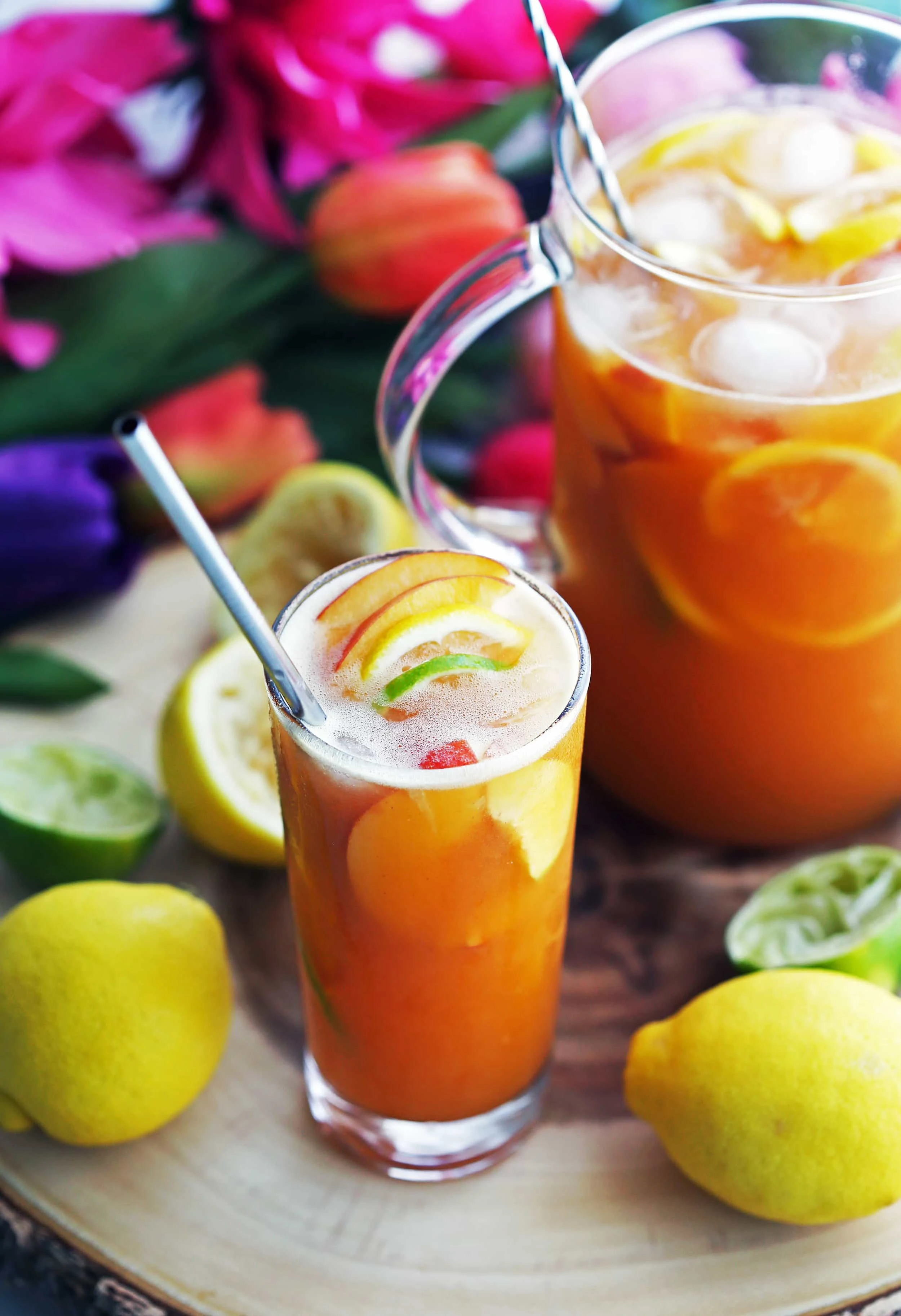 Then there's the citrus fruits. I went for the more common and easier to find trio of lemon, lime, and navel orange. These fruits together are sweet, tart, and bright. A lovely compliment to the summery flavour of peaches.
Another tip: To get more juice out of the fruit, roll the citrus fruit on a flat surface using the palm of your hand. This helps break open the juice capsules, allowing more juice to be extracted.
Also, use a citrus juicer or reamer instead of squeezing with your hands, you'll get more juice and less chance of getting a bitter seed in your drink.
A hit of delicious sweetness is added with one of my favourite ingredients: pure maple syrup. Use the real stuff, it makes all the difference.
Maple syrup can vary in flavour depending on grade, but for the most part it has a rich, caramelly, somewhat woody notes that helps cut down the astringency of the fruit, but it does not overpower this beverage with too much sweetness.
Finally, cold water and ice thins out this drink and helps keep everything cool.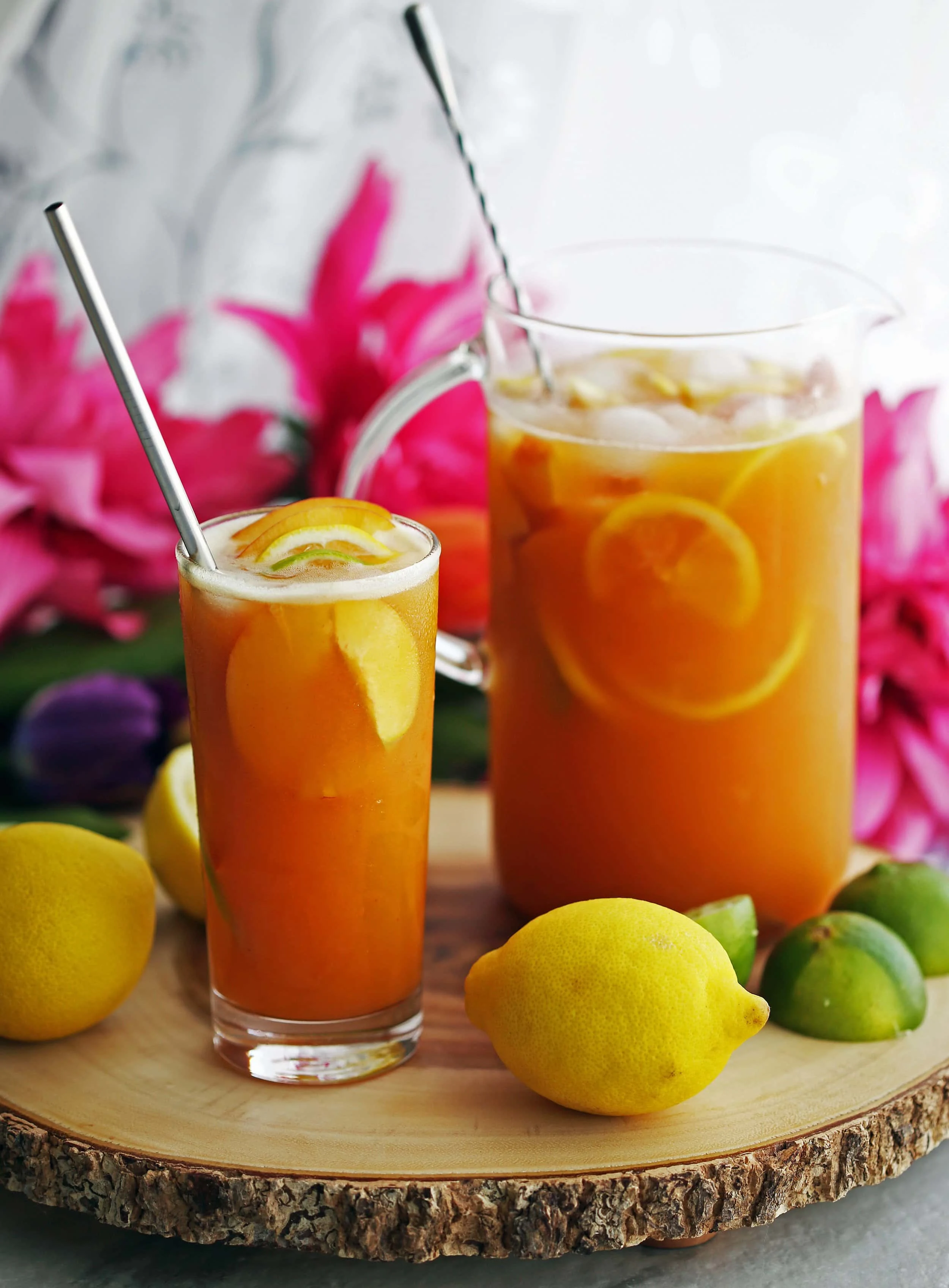 In all, this tasty Maple Peach Citrus Juice recipe is:
Refreshing and satisfying on a hot day!
Fresh and delicious: a delectable combination of flavours that are sweet, tart, and bright.
Easy and fast to make: It takes about 15 minutes to put it all together and can be made ahead of time, then served when you are ready.
Great for serving the whole family: This alcohol-free beverage makes a good amount of juice (around 8 cups), but is easily scalable to make more if necessary.
Easily made into a cocktail. Just add a little vodka or your choice of spirit or liqueur to make this an alcoholic adult cocktail.
Vegan, gluten-free, and refined sugar-free: Great for those on these dietary paths.
I hope you try this recipe! If you do, please leave me a rating and comment down below or tag me on any of my social media. I'm @yay_for_food on Instagram. I'll love a picture!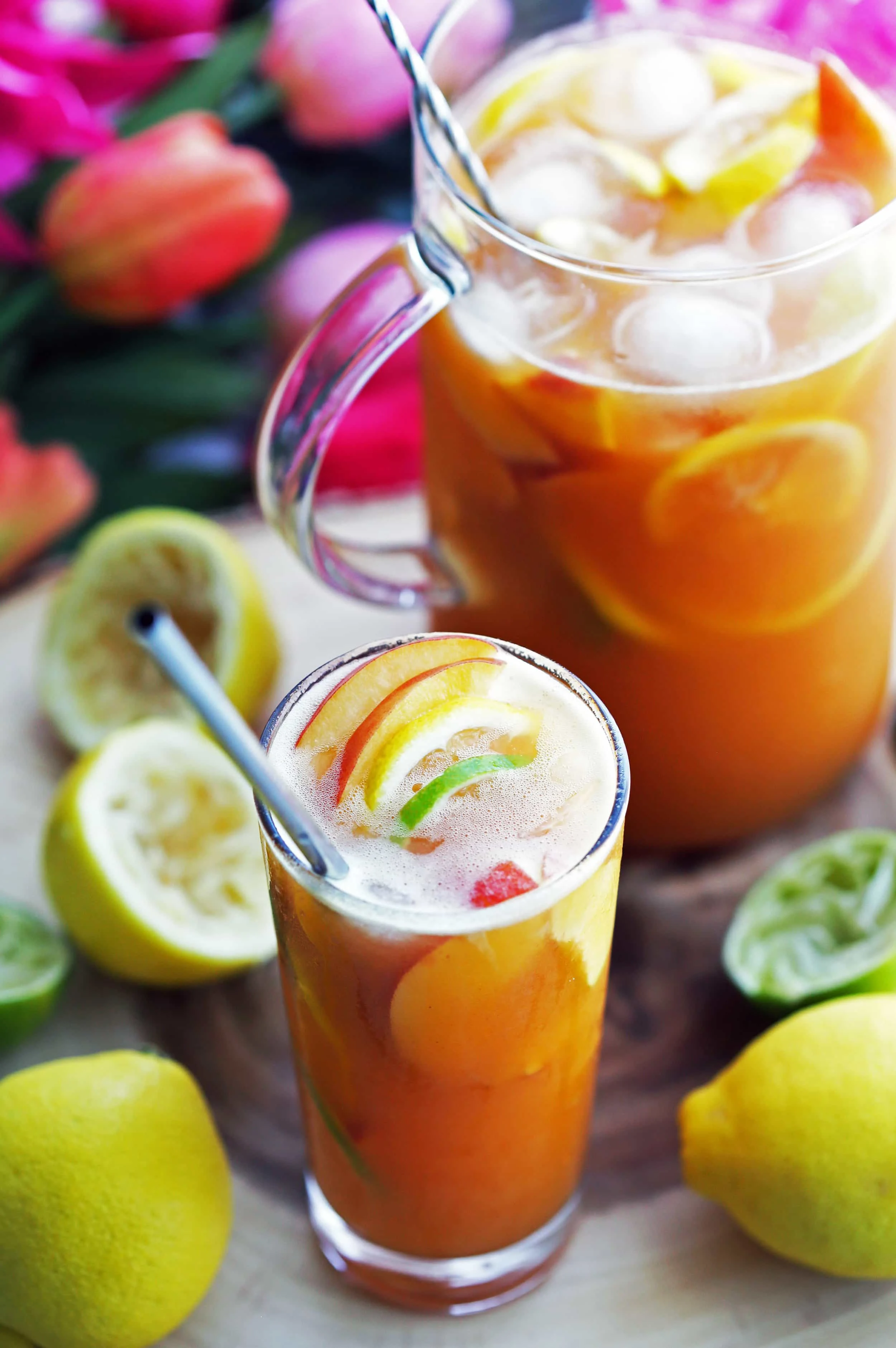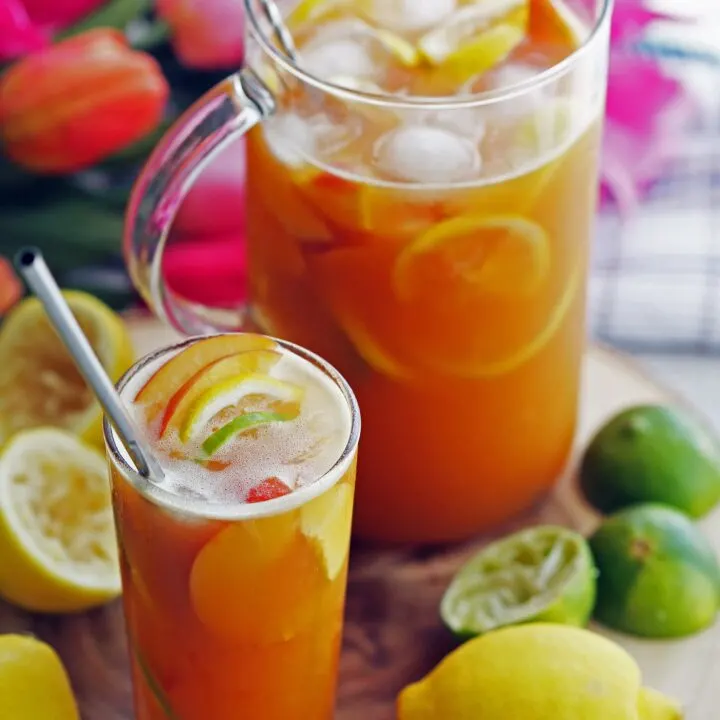 Maple Peach Citrus Juice
Cool down with this easy citrus drink recipe. Starring fresh peaches and sweetened with pure maple syrup, this drink is vegan, refined-sugar free, and ready in 15 minutes.
Ingredients
3 ripe yellow peaches, pitted and sliced
2 limes, juice
1 large navel orange, juice
1 lemon, juice
½ cup pure maple syrup
6 cups cold water, divided
Lots of ice cubes
More peach and citrus fruit slices, to stir into the drink *(see first note)
Instructions
In a high-powered blender, blend together the peaches, citrus (lime, orange, and lemon) juice, maple syrup, and 2 cups of water until smooth.
Pour into a large pitcher. Top with the remaining 4 cups of water, peach and citrus fruit slices, and ice cubes.
Using a long stirring spoon, give the drink a good stir to incorporate the ingredients. Taste and adjust flavour as needed.
Serve immediately or cover and refrigerate for up to three days. The overall flavour will intensify as it sits in the fridge, so you may need to add more water or ice to dilute the flavour.
Notes
*I added in peach, lime, and lemon slices.
Makes about 8 cups. Nutritional information represents one serving for a total of eight servings.
Recommended Products
As a participant in the Amazon Services LLC Associates Program, I only link to products that I use and/or highly recommend. As an Amazon Associate, I earn from qualifying purchases if you purchase through these links at no additional cost to you.
Nutrition Information:
Yield:

8
Serving Size:

1
Amount Per Serving:
Calories:

196
Total Fat:

0g
Saturated Fat:

0g
Trans Fat:

0g
Unsaturated Fat:

0g
Cholesterol:

0mg
Sodium:

62mg
Carbohydrates:

50g
Fiber:

4g
Sugar:

41g
Protein:

2g