HAPPY FRIDAY! I hope that you had a fantastic week! If not, I'm glad you made it through!
I've been recipe testing a bunch of chicken recipes in my Instant Pot lately. Some of which have made it to this blog such as:
Anyway, making homemade Chicken and Rice Burrito Bowls is crazy flavourful, delicious, and so easy to prepare in the Instant Pot!
It's easy to make!
You simply sauté vegetables, sprinkle in the spices, add in the chicken, beans, rice, and broth, then let the Instant Pot do its magic.
Yay for one-pot meals! Next, you shred the chicken and build your burrito bowls with toppings of your choice!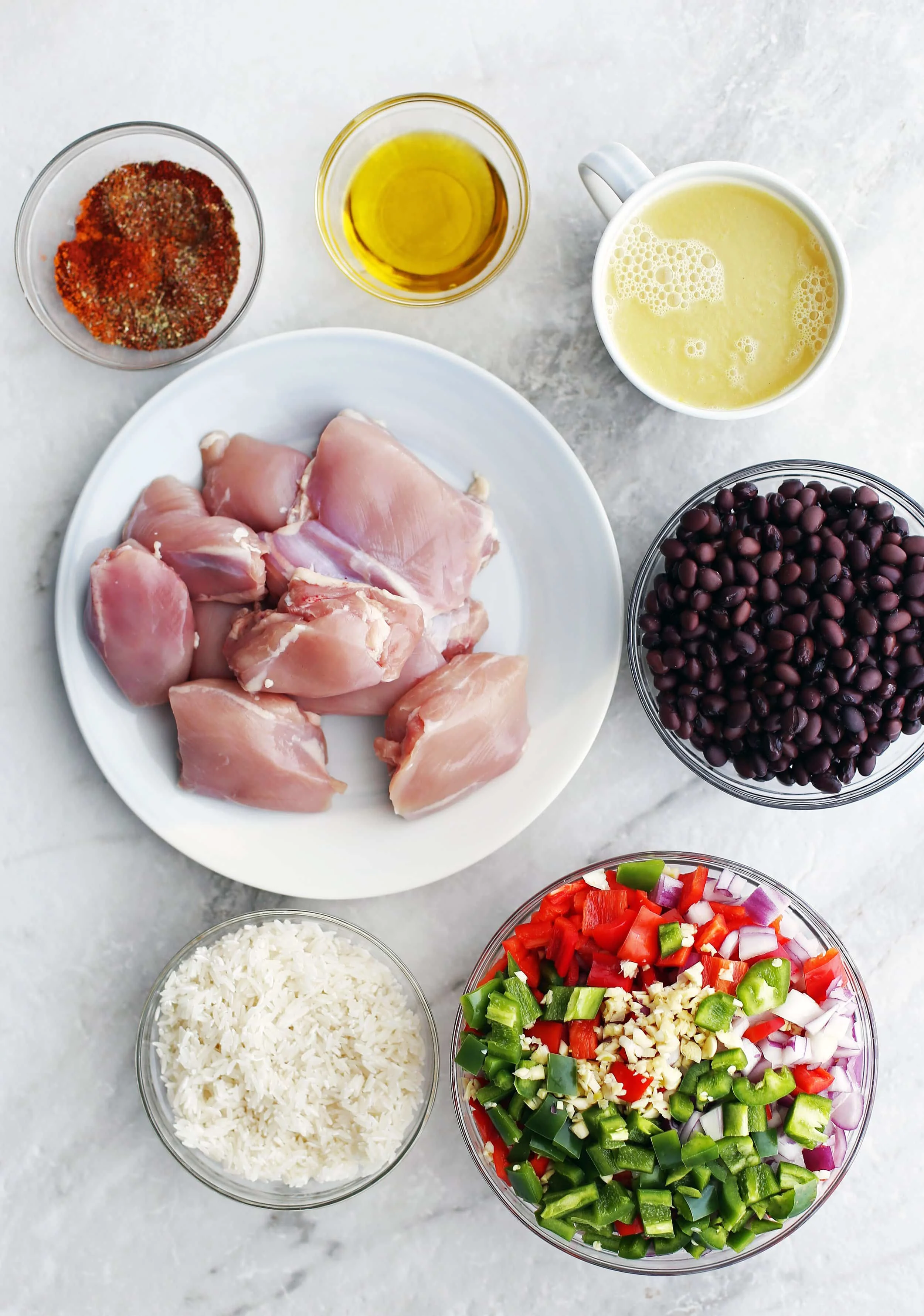 All the ingredients for the burrito bowls (minus the toppings). Full ingredient amounts and instructions listed in the recipe card below.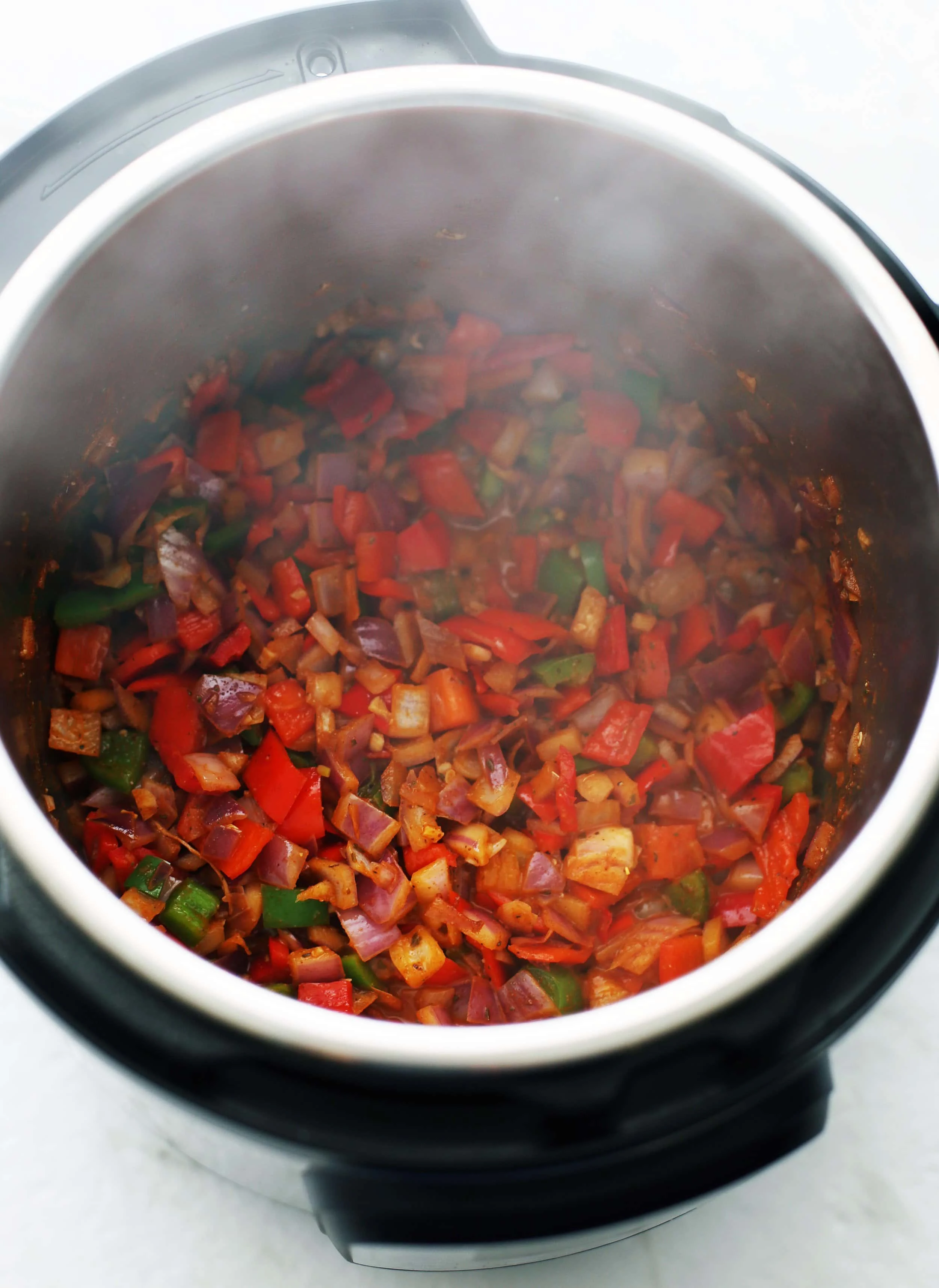 Sauté the vegetables in olive oil until softened and then stir in the seasoning, until fragrant.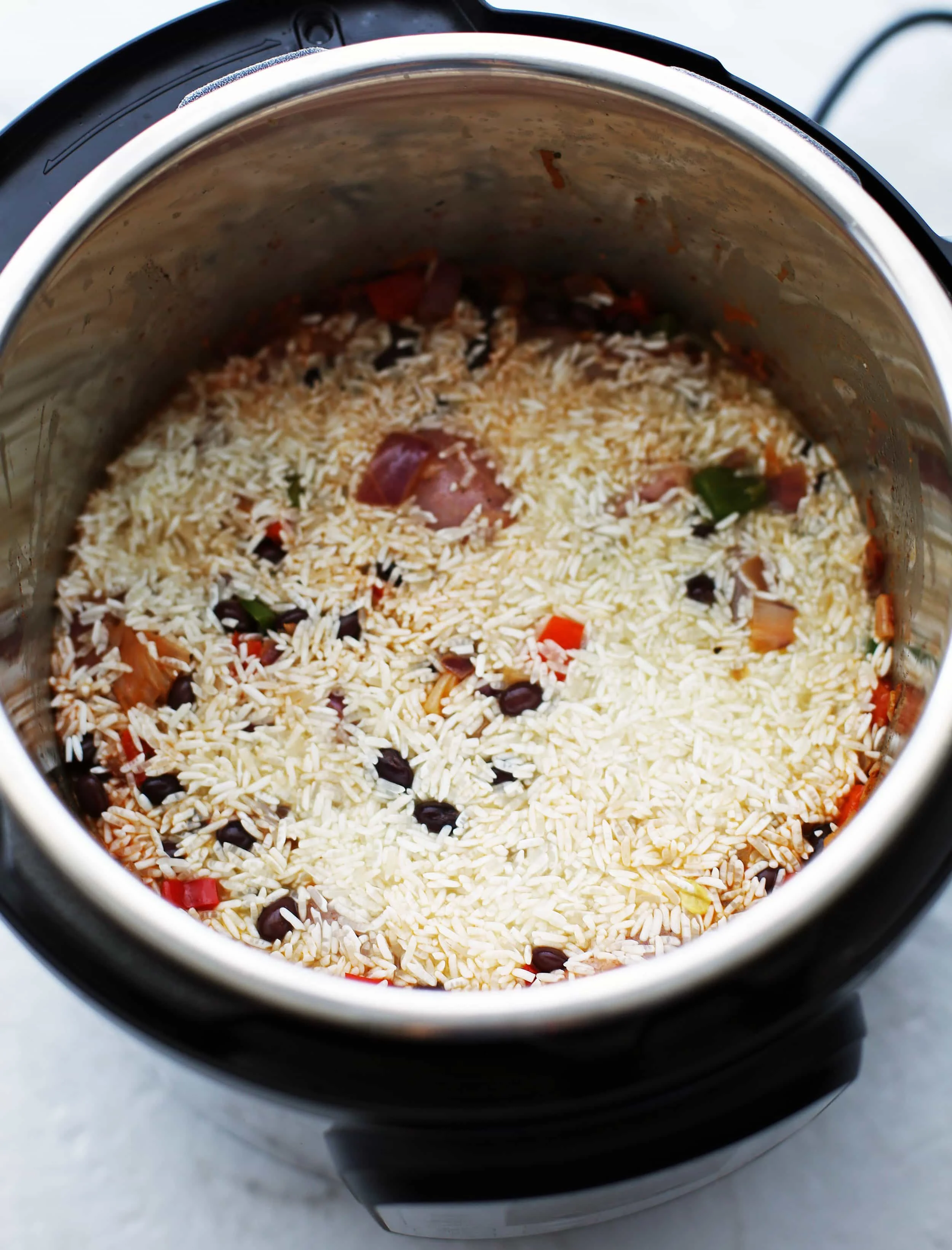 All the ingredients in the Instant Pot ready to be cooked including the black beans, chicken thighs, broth, and rice.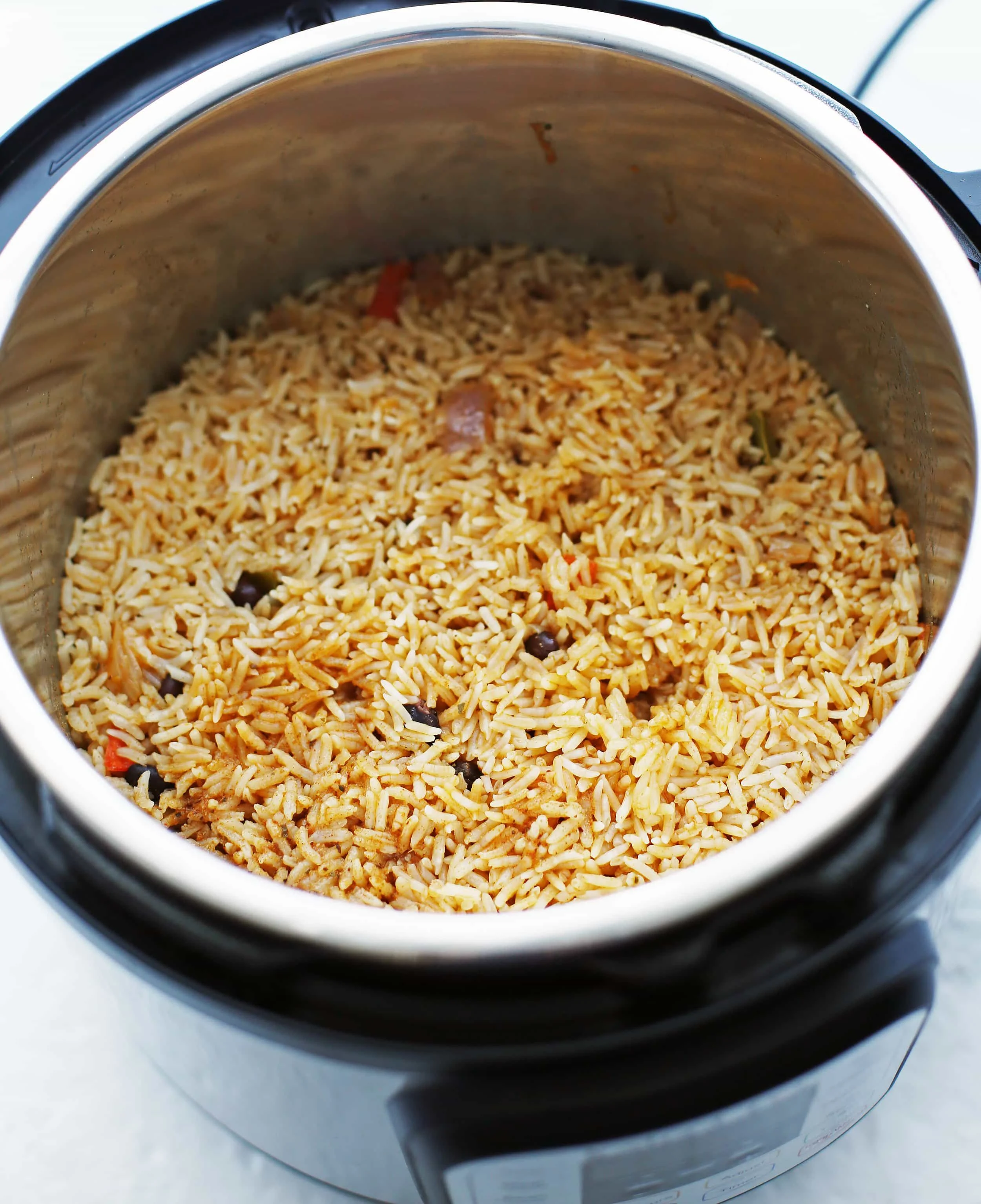 All cooked! The rice is perfectly cooked on top. Dig out the tender chicken thighs to shred before mixing it back in with fresh lime zest and juice to finish it off!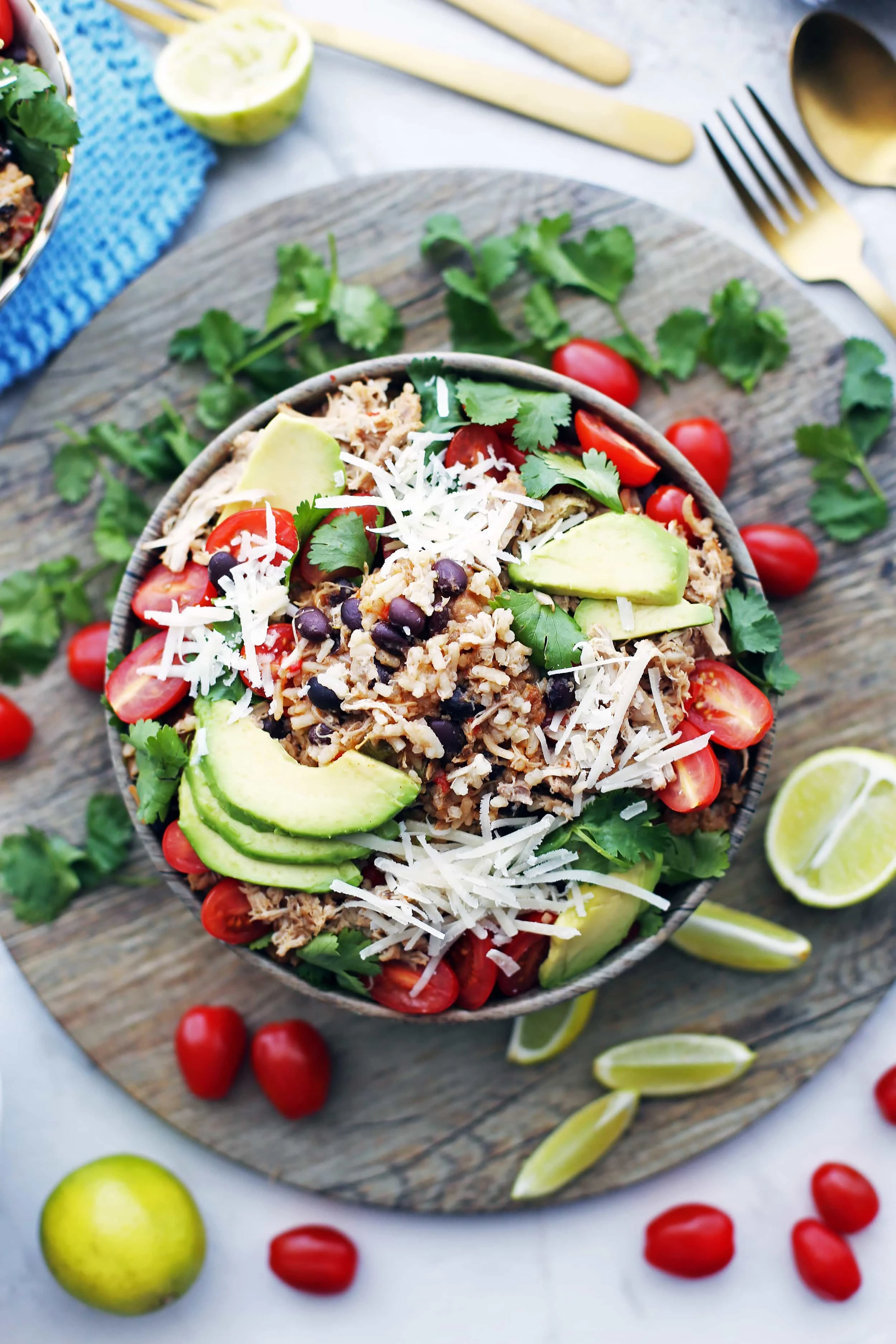 Chicken Burrito Bowl Tips:
Get everything ready before you start cooking. Chop up all the vegetables and measure out the spices beforehand because, once you start cooking, the process goes pretty quickly.
Speaking of spices, my spice blend results in a mild, yet noticeable spiciness in the burrito bowls. Make it as hot or mild as you like. If you like, you can substitute with pre-made taco seasoning instead.
Use skinless, boneless chicken thighs or chicken breasts depending on whether you prefer dark (thighs) or white (breasts) meat or use a combination of both.

I prefer to use chicken thighs as they are generally less expensive than breasts. When placing in the Instant Pot, make sure that you unroll the thighs so they lay flat and snug it into the veggie and bean mixture.
If you use chicken breasts, you will need to slice the breast into thin pieces or cut into 1-inch cubes to make sure that the chicken will be cooked through during the cooking time listed in this recipe.

Place the rice on top of the other ingredients into an even layer and cover with broth. It will result in a tender, fluffy rice that's absorbed the flavours of the chicken broth and spices.

If you put the rice on bottom of the pot, you may get the dreaded "Burn" message from your Instant Pot.
If you mix the rice in with the rest of the ingredients before cooking it, it will result in a cooked rice that's super tender (almost mushy), but still really tasty.

Toppings are important! I love adding fresh ingredients at the end such as creamy avocados, fresh tomatoes, a big squeeze of lime juice, and cilantro. Also cheese, lots of cheese.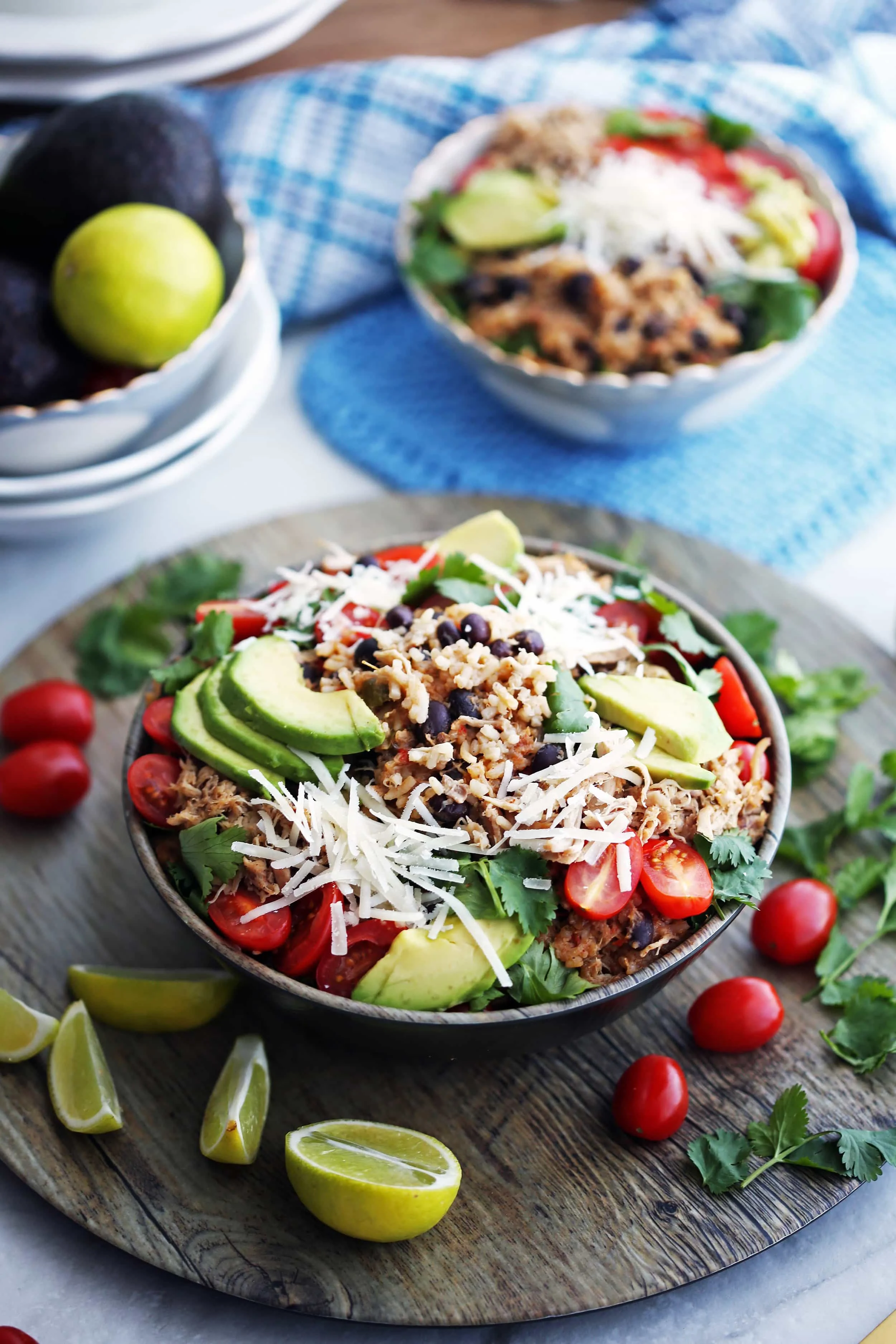 Where's the corn?
However, since my husband has strong (negative) feelings about corn, I left it out of this one because I wanted him to eat this meal too. Haha.
He claims it's something about the texture and that he finds it cools down really fast on your plate. He'll eat it off the cob, but not as standalone kernels. I've never understood this behaviour, but we all have our preferences.
For a lot of people, corn is an key ingredient in burritos. Adding whole corn kernels would be an excellent addition to these burrito bowls as it gives a nice light sweetness. Plus, it's relatively easy to find the canned stuff at the supermarket.
In this recipe, I find that that the sweet onion and bell pepper adds a lovely and healthy mild sweet flavour, making it flavourful without the corn.If you want to add corn, just add it the same time you stir in the black beans.
Are you Team Corn (like me) or Team No Corn (like Scott)?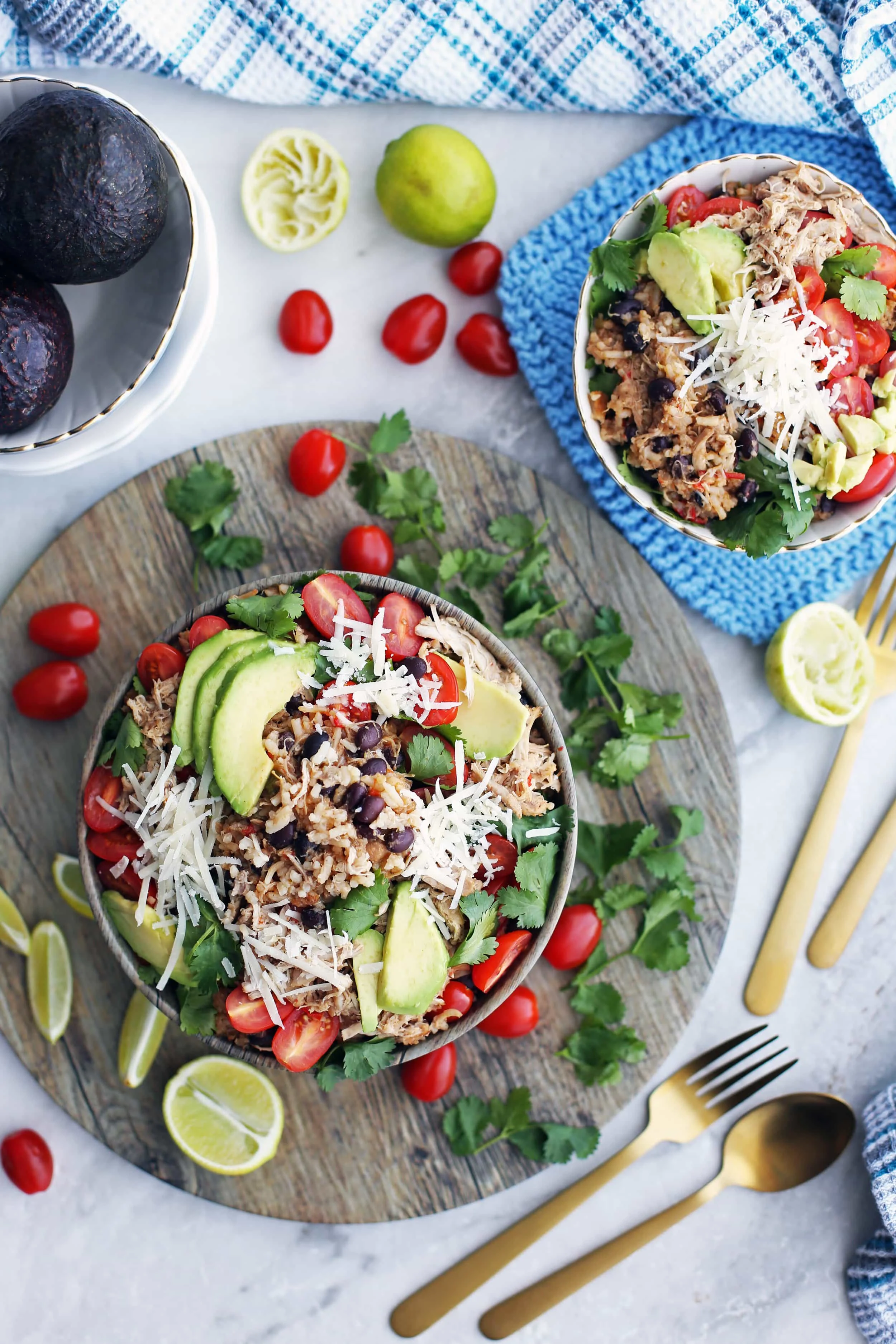 These Instant Pot Chicken and Rice Burrito Bowls are:
Delicious and flavourful: A little spicy, a little sweet, filling and easy to eat. I like to shred and mix the the tender and moist chicken into the spiced rice and vegetable mixture so there is a little chicken (and everything else) in each bite.
Quick and easy to prepare: Perfect for a weekday dinner or lazy weekend meal.
Made completely in the Instant Pot: Who doesn't like an easy clean-up?
Great to serve a small crowd or for meal prepping or leftovers: Overall, this is a great family and friends meal. Set up a burrito bowl bar with all the toppings in different bowls or plates. Or use tortillas to make wraps.
Adaptable: For example, make it as spicy or mild as you like, or add / switch out the type of canned beans used such as pinto or kidney beans.
A great gluten-free meal too!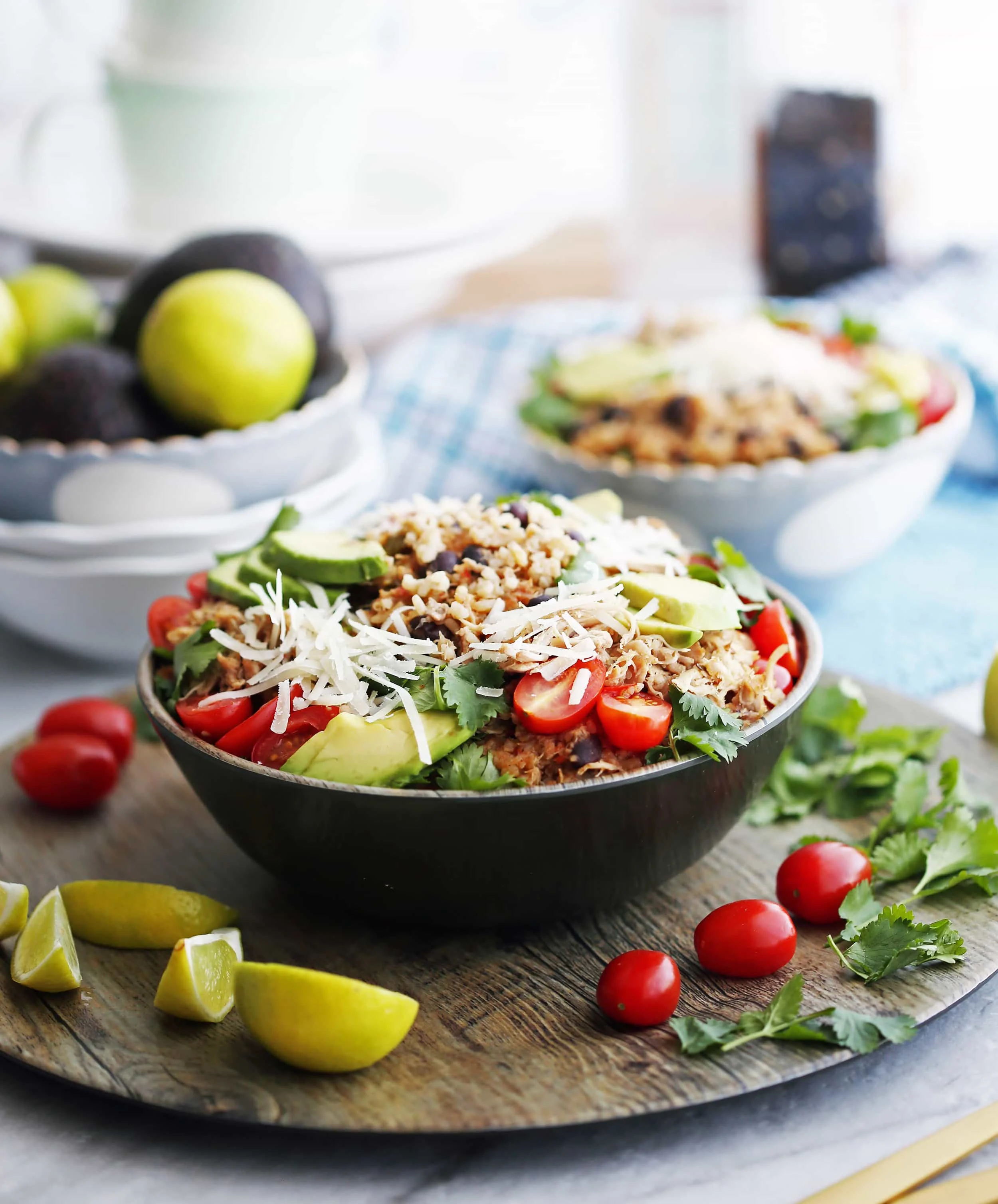 I hope you try this recipe! If you make this recipe, please leave me a comment and rating below. Or you can tag me on any of my social media. I'm @yay_for_food on Instagram!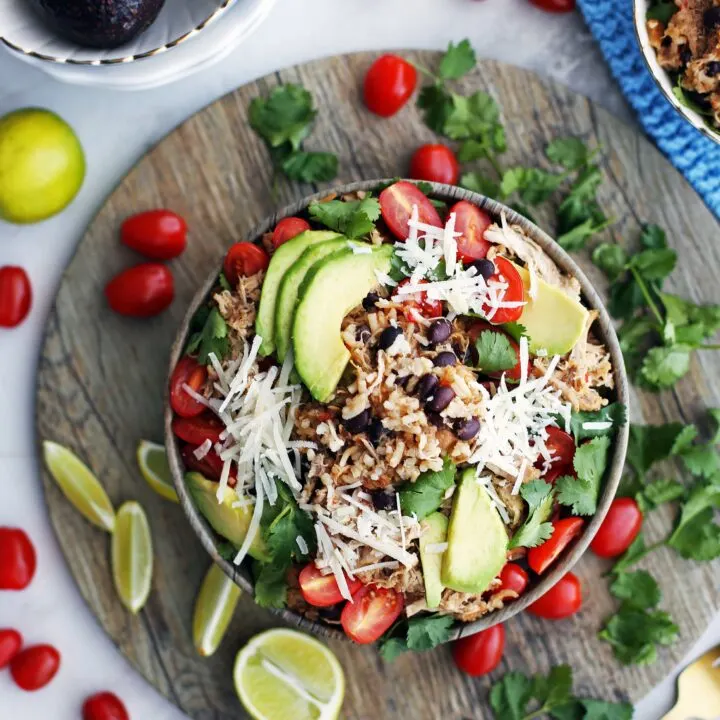 Instant Pot Chicken and Rice Burrito Bowls
A delicious and flavourful gluten-free meal, Instant Pot Chicken and Rice Burrito Bowls are so quick to prepare! Perfect to serve the whole family or for meal prep!
Ingredients
1 tbsp extra virgin olive oil
1 sweet onion, chopped
4 garlic cloves, minced
1 bell pepper, seeded and chopped
2 jalapeño peppers, seeded and chopped
1¼ cup chicken broth (low sodium), divided
2 tsp ground cumin
2 tsp ground paprika
1 tsp dried oregano
1 tsp sea salt
½ tsp black pepper
¼ tsp cayenne pepper
540 ml (19 fl oz) canned black beans, drained and rinsed
1½ lb. chicken thighs, boneless and skinless *(see first note)
1 cup uncooked long grain white rice, rinsed
1 lime, zest and juice *(see second note)
Topping Suggestions:
Fresh produce: avocado, tomatoes, cilantro, lettuce, extra lime wedges
Condiments: sour cream, Greek yogurt, salsa, hot sauce
Shredded cheese
Tortilla chips
Instructions
Set the Instant Pot to "sauté". Pour the olive oil into the pot along with the onions, garlic, bell pepper, and jalapeños. Stir frequently until the vegetables begin to brown and soften, about 3-4 minutes.
Add all the seasonings into the pot and stir into the vegetables until fragrant, about 1-2 minutes.
Add ¼ cup of chicken broth to deglaze the pot, stirring and scraping the bottom of the pot to remove/dissolve any brown bits.
Press "cancel" to turn off the Instant Pot. Gently stir in the black beans and then nest the chicken thighs (spread out flat) within the ingredients in the pot.
Top the mixture with rice (spread into a thin even layer) and pour the remaining cup of chicken broth over the top of the rice, patting the rice gently to make sure it is lightly soaked with broth.
Seal the Instant Pot and cook at high pressure ("manual"/"pressure cook" function) for 10 minutes. After it is ready, carefully apply a quick pressure release to completely depressurize (until floating valve drops).
Open the Instant Pot and remove the chicken thighs. Using two forks, shred the chicken thighs before placing the chicken back into the pot. Top with fresh lime juice and zest before giving mixture a stir to distribute the ingredients.
Taste for additional seasoning. Place in bowls with toppings of your choice. Enjoy!
Notes
*I like to put the chicken thighs in whole to cook in the Instant Pot and then shred it after it is cooked. If you prefer, you can cut raw chicken (thighs or breast) into 1-inch pieces before cooking in the Instant Pot for more larger chicken bites in your bowls.
**One lime contains about ⅛ cup juice and 2 tsp zest.
Nutritional calories represents one serving for a total of eight servings and excludes toppings.
Recommended Products
As a participant in the Amazon Services LLC Associates Program, I only link to products that I use and/or highly recommend. As an Amazon Associate, I earn from qualifying purchases if you purchase through these links at no additional cost to you.
Nutrition Information:
Yield:

8
Serving Size:

1
Amount Per Serving:
Calories:

300
Total Fat:

6.8g
Carbohydrates:

36.5g
Protein:

23.8g