Hello! I'm back with a super easy and quick smoothie! It's like having your coffee and oatmeal all in one, but in a delicious creamy, drinkable form.
Plus, it's naturally sweetened! Check out this Creamy Date Coffee Breakfast Smoothie!
What's in this tasty smoothie?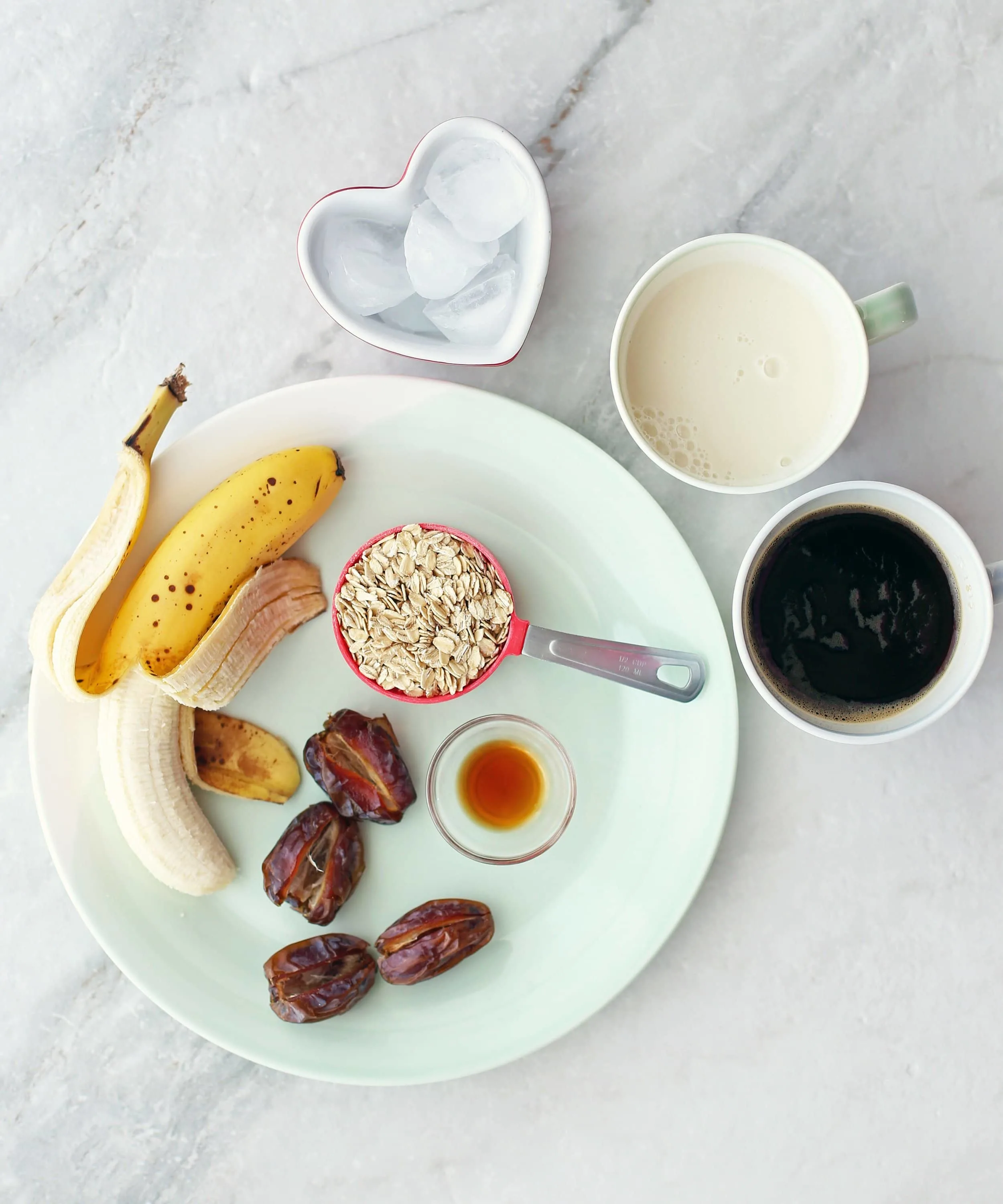 Coffee: You get a little caffeine boost from the strong coffee, which can help you feel less tired and more energized.

I like to brew a cup of strong coffee first thing in the morning and let it cool while I get ready for the day. Then I finish the smoothie after it's cool to the touch.
Another option is to use cold brew coffee.

What's cold brew coffee? Cold brew coffee is made by steeping ground coffee in cold water for 12 hours or more. Then the coffee grounds are filtered out using a coffee filter, metal sieve, cheesecloth, or French press. It tends to taste mellower and is less acidic than a regular cup of coffee.

Unsweetened almond milk: It's creamy, nutty, and dairy-free. You can replace almond milk with another milk of your choice.
Rolled oats: Oats are fibre-rich, which aids in digestion and helps lower cholesterol.
Banana: I always seem to have bananas at home. It's sweet and has a creamy, tender texture. It's also high in potassium, vitamin C, and fibre.

TIP: For smoothies, use a ripe banana (where the peel is bright yellow to having many brown spots) as it is sweeter in flavour than a green banana.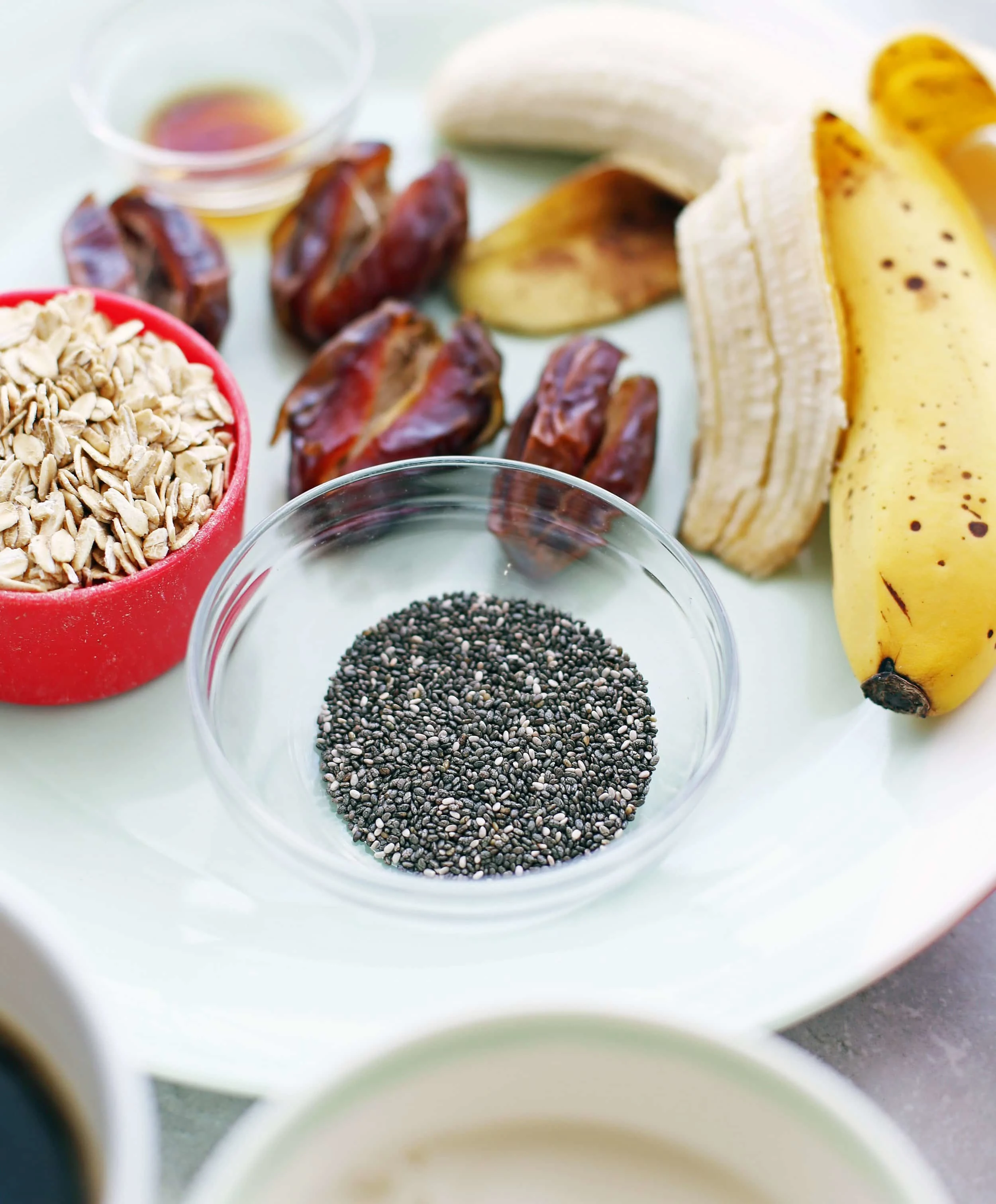 Medjool dates: This fruit is plump and soft in texture. It's also fibre-rich and contains nutrients such as potassium, calcium, and copper, which contribute to the health of your cardiovascular system.

TIP: Remember to remove the seeds. I just take a small paring knife, run a shallow cut down the length of the date and remove the seed with my fingers.

Chia seeds: I love throwing chia seeds into almost all my smoothies. Why?

They are tiny, yet they pack a healthy kick to any food you add it to. They are rich in omega-3 fatty acids, high in protein, and full of vitamins and minerals such as calcium, iron, and magnesium.

Vanilla extract: Adds a hint of that wonderful flavour.
Ice: Makes the drink nice and cold!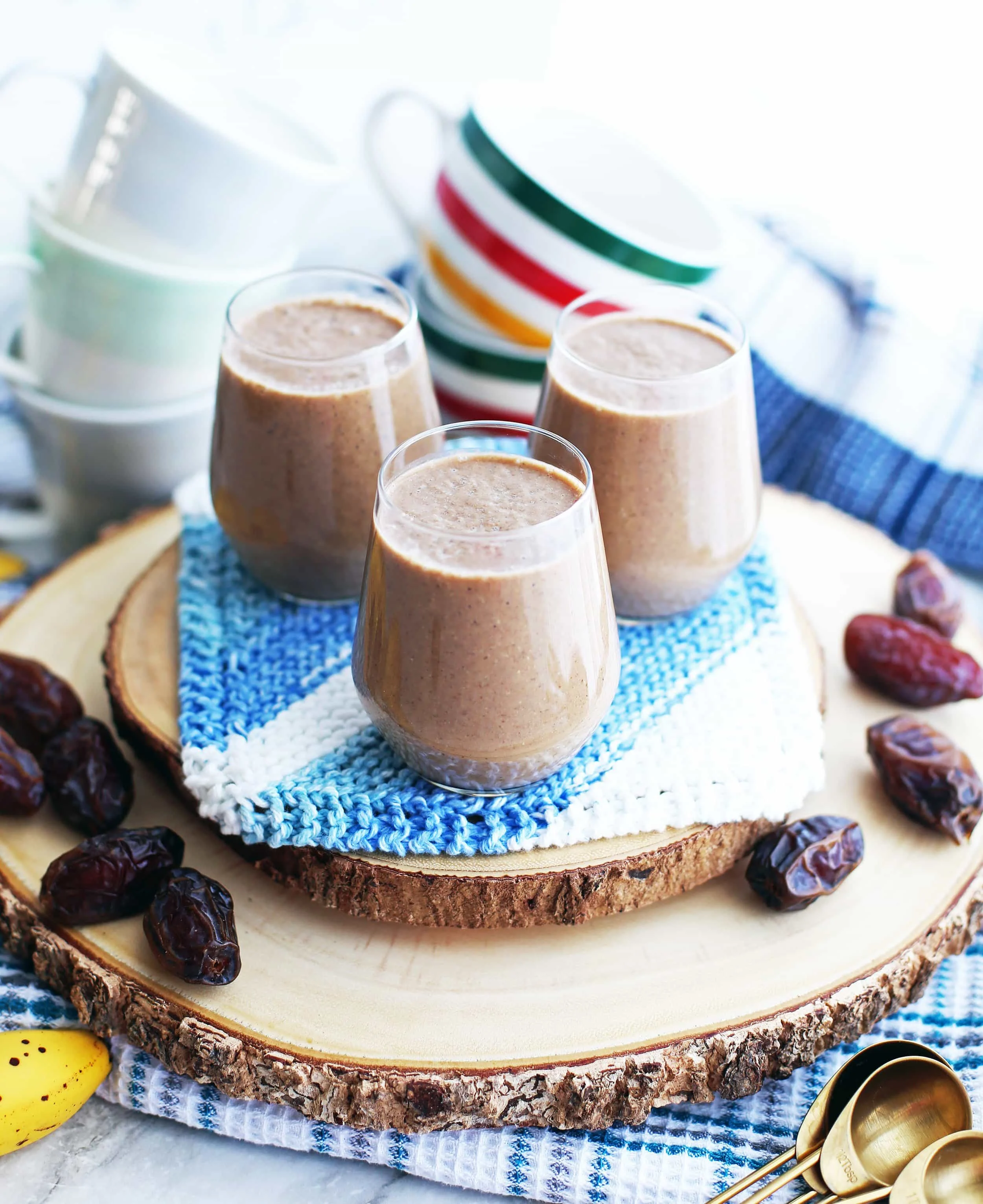 Overall this date coffee smoothie is:
Delicious and good-for-you: It's refreshing, naturally sweeten, creamy, and full of nutritional benefits!
Fast and easy to make: Place all the ingredients in a blender and blend until smooth.
Great for a quick breakfast or mid-day snack.
Take it on-the-go: Fill up your favourite portable tumbler for the road.
Vegan and gluten-free: Just make sure that the ingredients such as the oats are made in a gluten-free facility (it'll probably say it on the package label).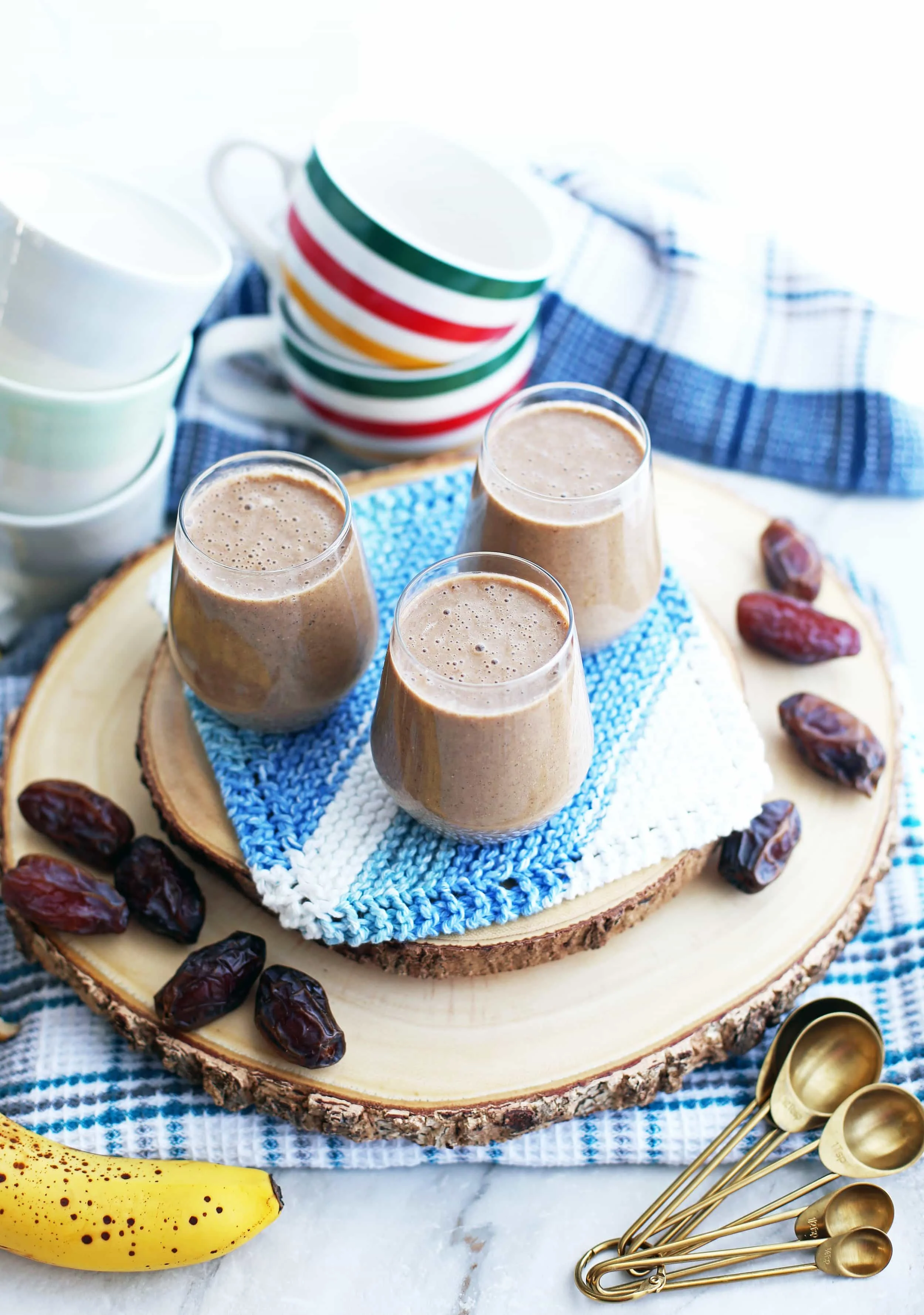 I hope you try this coffee breakfast smoothie recipe! If you do, please leave me a rating and comment down below or tag me on any of my social media. I'm @yay_for_food on Instagram. I'll love a picture!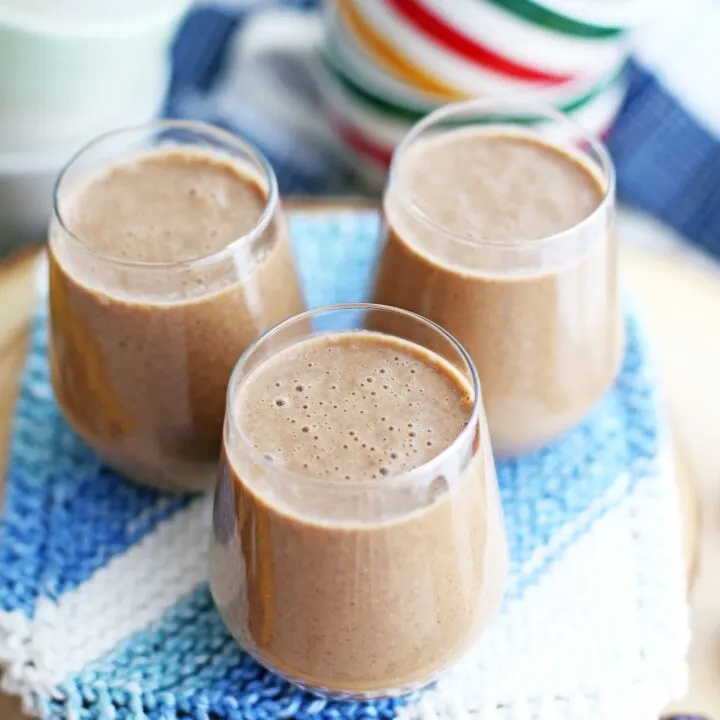 Creamy Date Coffee Breakfast Smoothies
Yield:
2-3 (makes 4 cups)
Creamy and delicious! Start your morning with this refreshing coffee and date smoothie that will give you a healthy energy boost for the day!
Ingredients
1 cup black coffee, cooled (or cold brewed)
1 cup unsweetened almond milk, chilled
½ cup rolled oats
1 banana, peeled (fresh or frozen)
3 Medjool dates, seeded
1 tbsp chia seeds (optional)
½ tsp pure vanilla extract
Large handful of ice cubes (5-6)
Instructions
Place all the ingredients in a high powered blender and blend until smooth.
Once blended, taste and adjust according to preferences such as adding more milk to thin out the smoothie or more dates for added sweetness.
Best served immediately.
Notes
Substitute the almond milk with a different milk of your choice if you prefer.
Nutritional calories represents one serving for a total of three servings.
Recommended Products
As a participant in the Amazon Services LLC Associates Program, I only link to products that I use and/or highly recommend. As an Amazon Associate, I earn from qualifying purchases if you purchase through these links at no additional cost to you.
Nutrition Information:
Yield:

3
Serving Size:

1
Amount Per Serving:
Calories:

278
Total Fat:

5g
Saturated Fat:

1g
Trans Fat:

0g
Unsaturated Fat:

4g
Cholesterol:

0mg
Sodium:

7mg
Carbohydrates:

57g
Fiber:

8g
Sugar:

32g
Protein:

6g