Hey there! Today's recipe is a simple comfort food classic with a little twist.
It's good ol' chicken noodle soup spruced up with the bright citrus flavour of fresh lemon and the distinct flavour and fragrance of fresh dill that tastes like a combination of anise, celery, and fennel.
This combo of ingredients along with inexpensive chicken thighs, fresh vegetables (you can't go wrong with the aromatic base of chopped carrots, onions, and celery) along with a few choice dried herbs, small pasta (I like the mini shells), and rich chicken broth (or stock) and you've got one tasty soup that the whole family will love.
Plus, it's made quickly in the Instant Pot. My favourite way to make soups. I know that it'll be summer time soon, but I love eating soups year-round. Do you?
I hope you enjoy this recipe for Instant Pot Lemon Dill Chicken Noodle Soup!
How do you make this soup?
(Full ingredient amounts and instructions in the recipe card down below).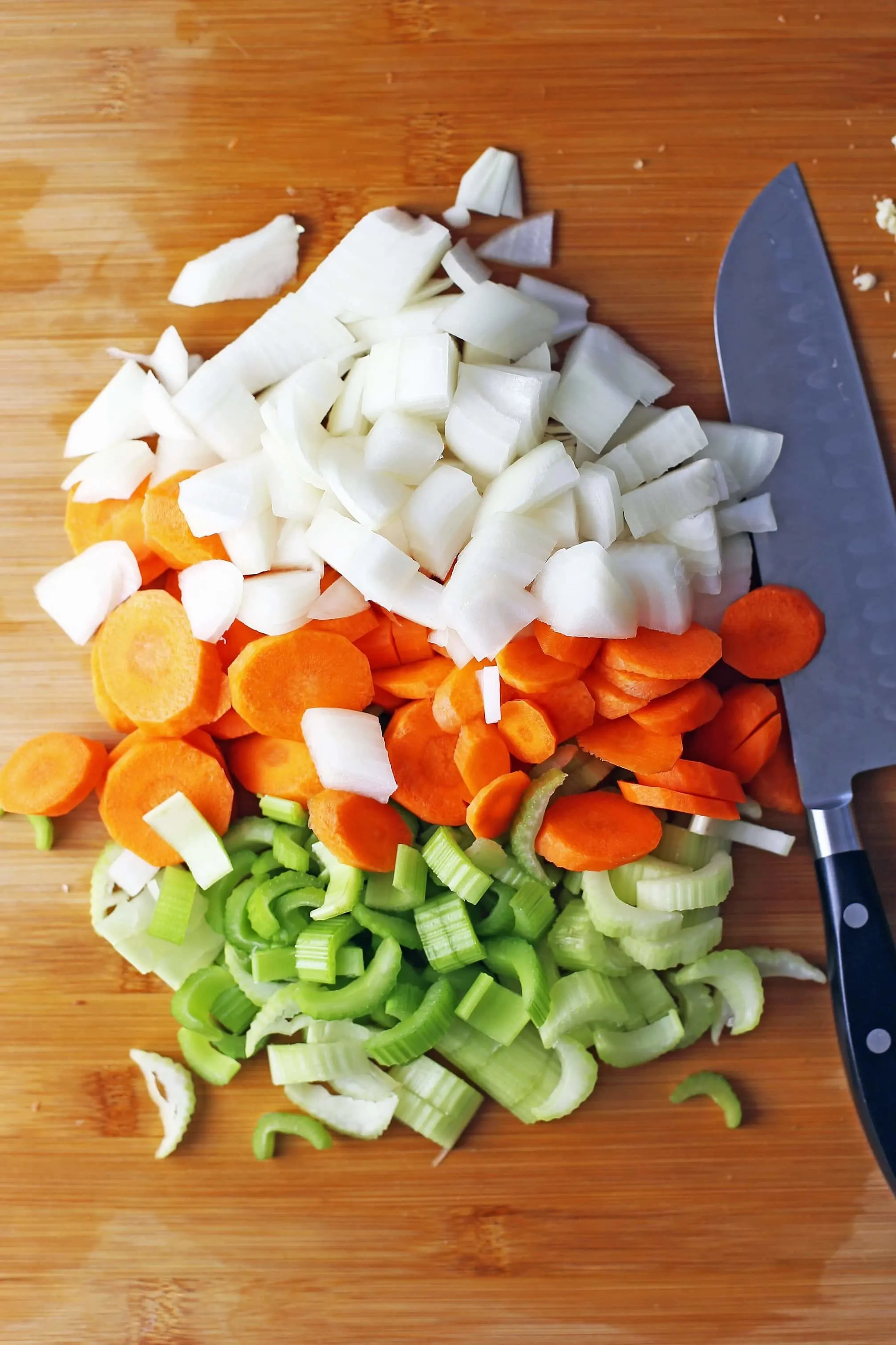 Prepare your vegetables. Peel and chop up the carrots, onion, and celery. Mince up the garlic (not shown).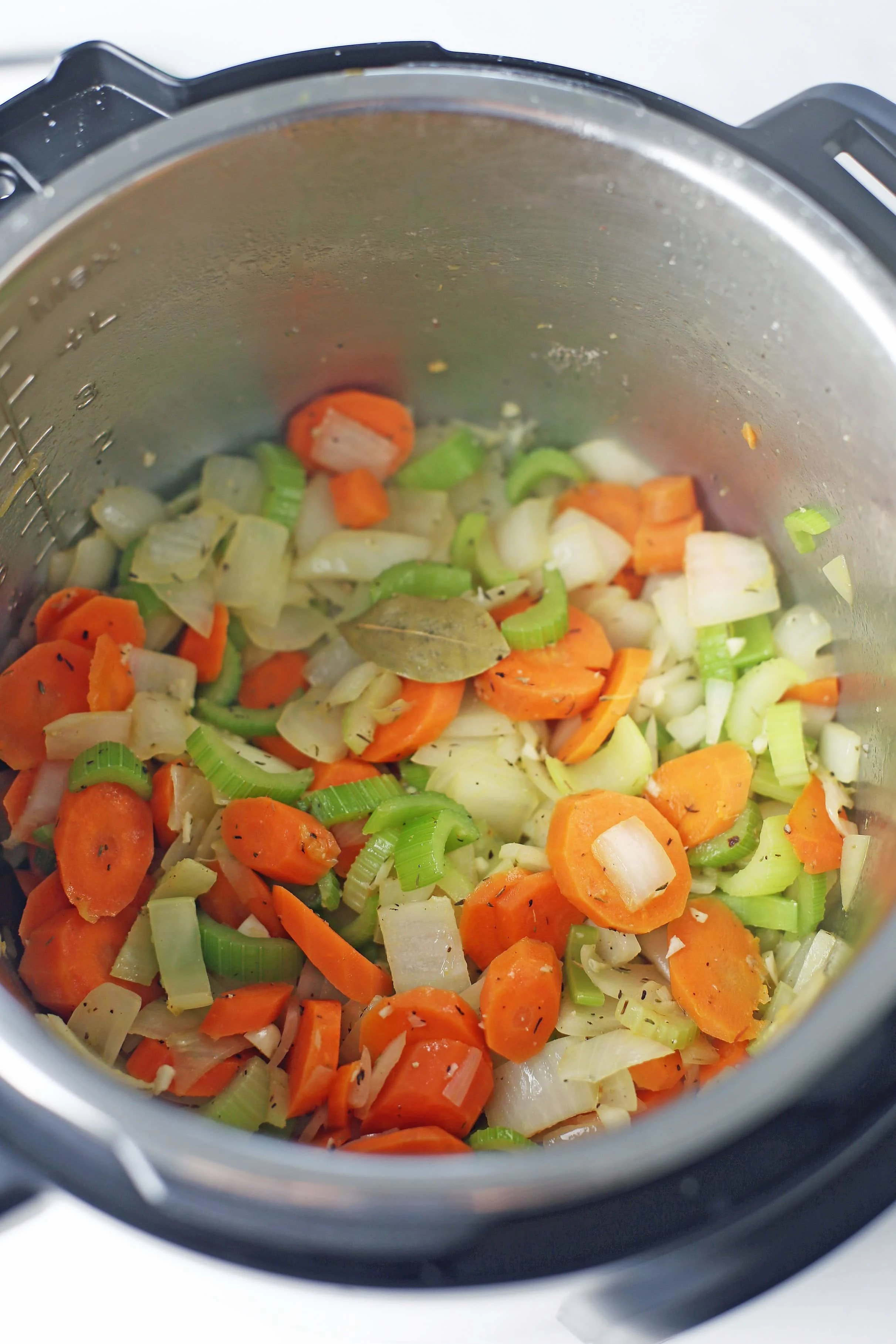 Sauté the carrots, onion, and celery along with salt and pepper for 4-5 minutes. Then stir in the minced garlic for another minute. Add in the thyme and bay leaves.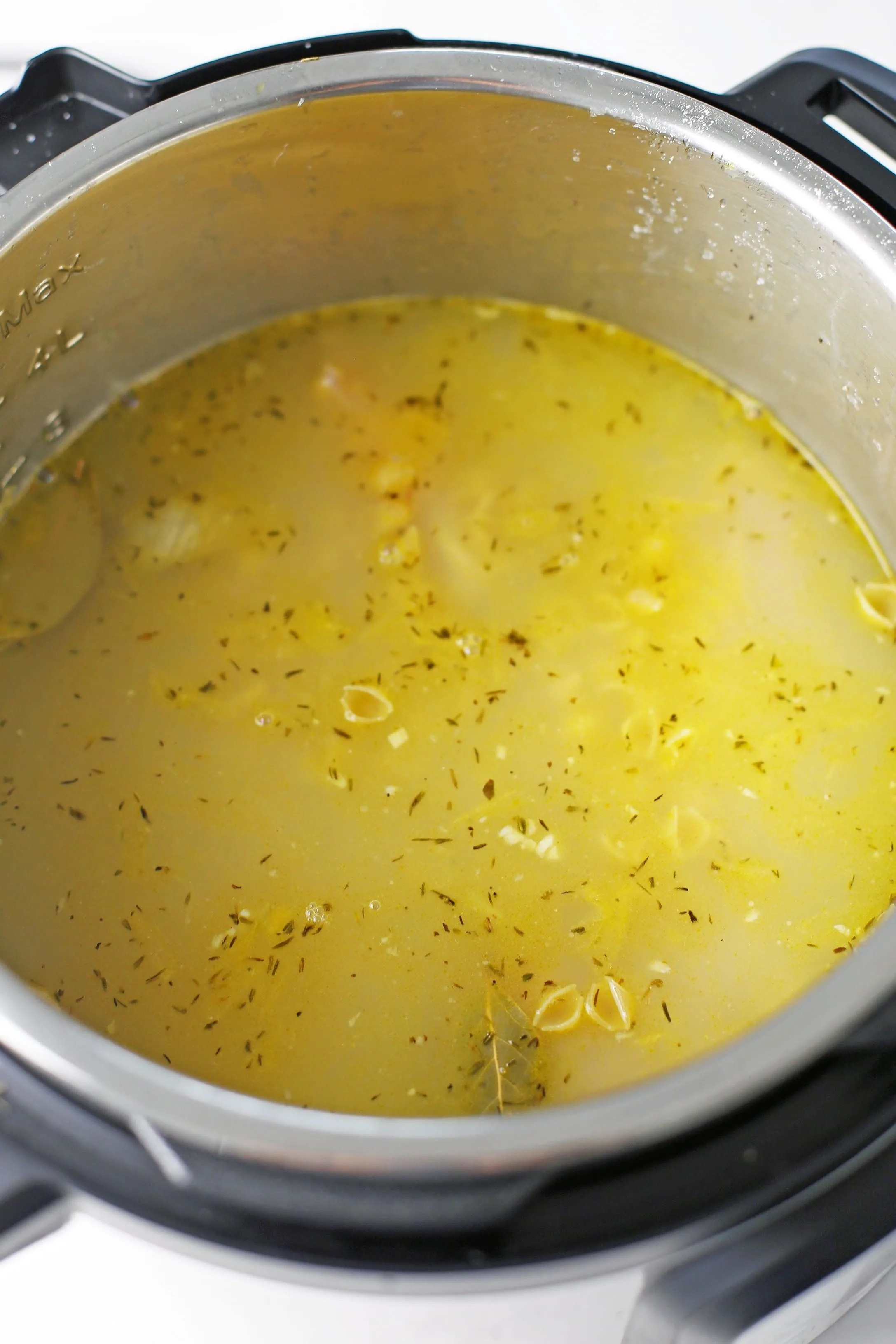 Pour in the chicken broth and water. Lay the chicken thighs flat and spread apart from one another in the pot. Spread the pasta on top in a single layer and submerged in the broth. Do not stir.
Seal and cook the soup at high pressure for 6 minutes. Let it natural release for another 5 minutes before applying a quick release.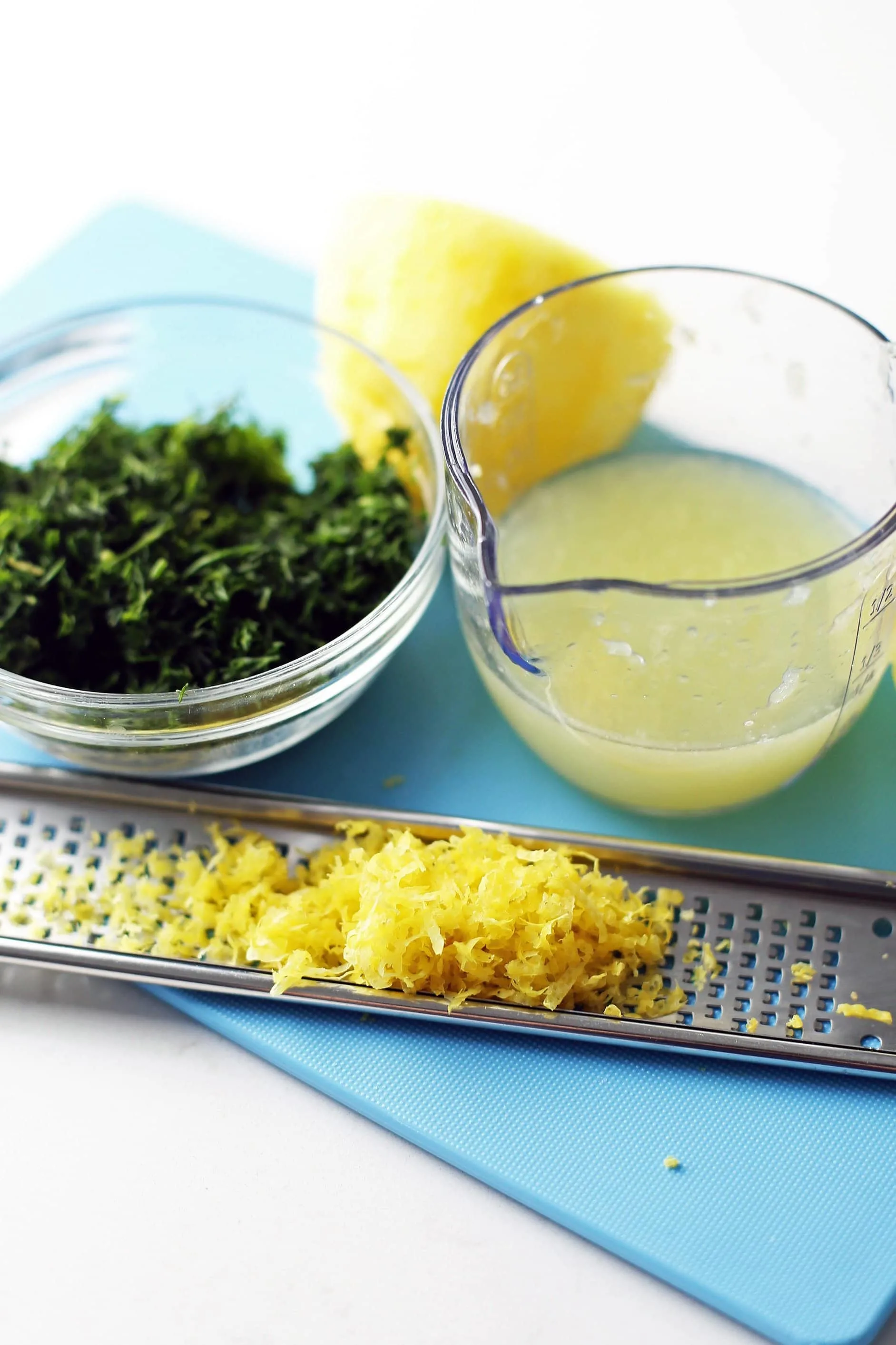 While the soup cooks, mince the fresh dill (discard the stems and chop up the feathery fronds (leaves) only) and zest and juice a lemon.
TIP ONE: Always zest the lemon first before juicing. It's just easier.
I like to use a microplane grater or citrus zester to remove the yellow skin (try not to zest the white pith (it's bitter). I also use a citrus juicer to get the most out of a lemon.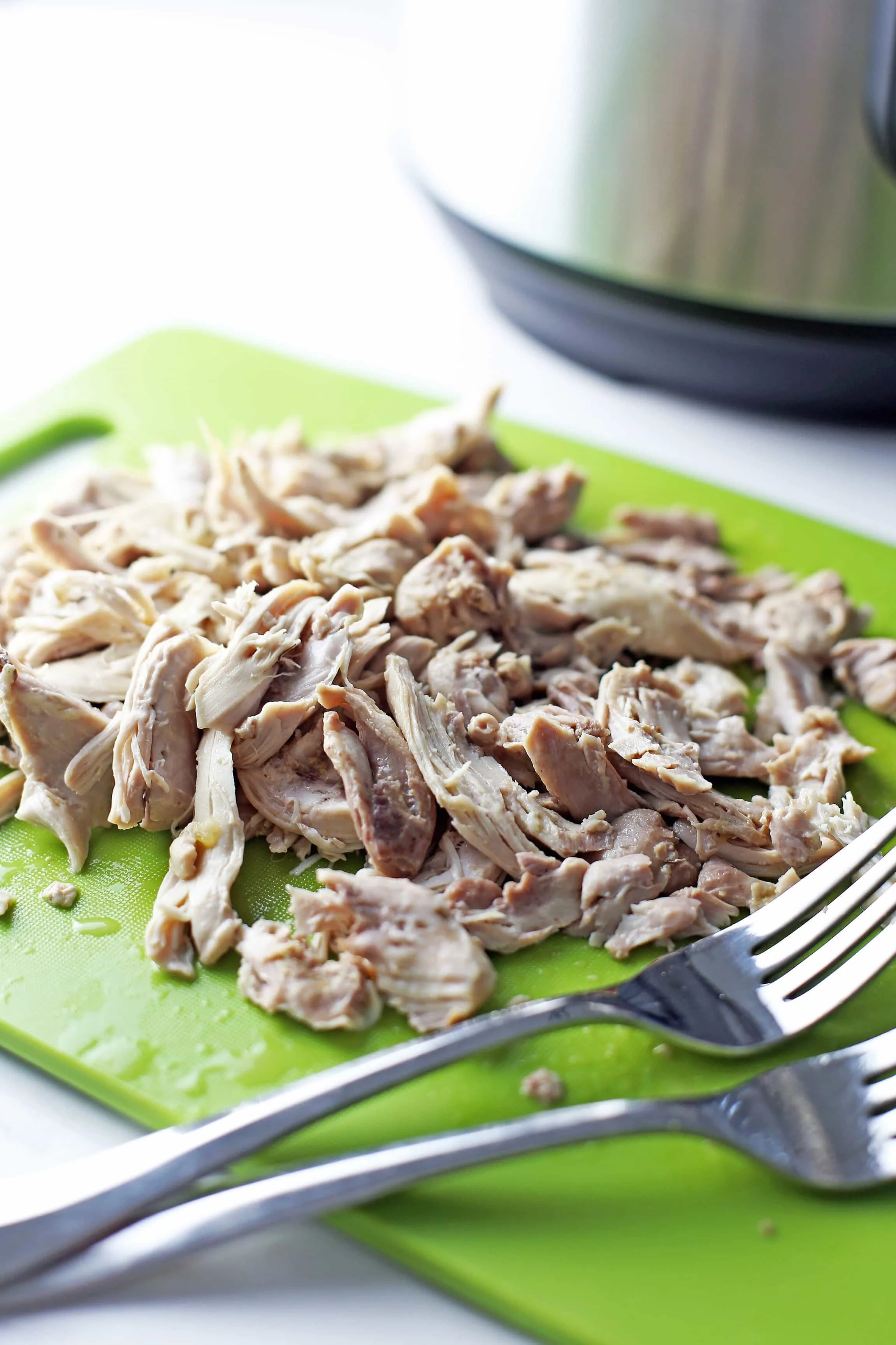 After the soup is ready, remove the chicken thighs and shred them into small pieces before returning the chicken to the soup.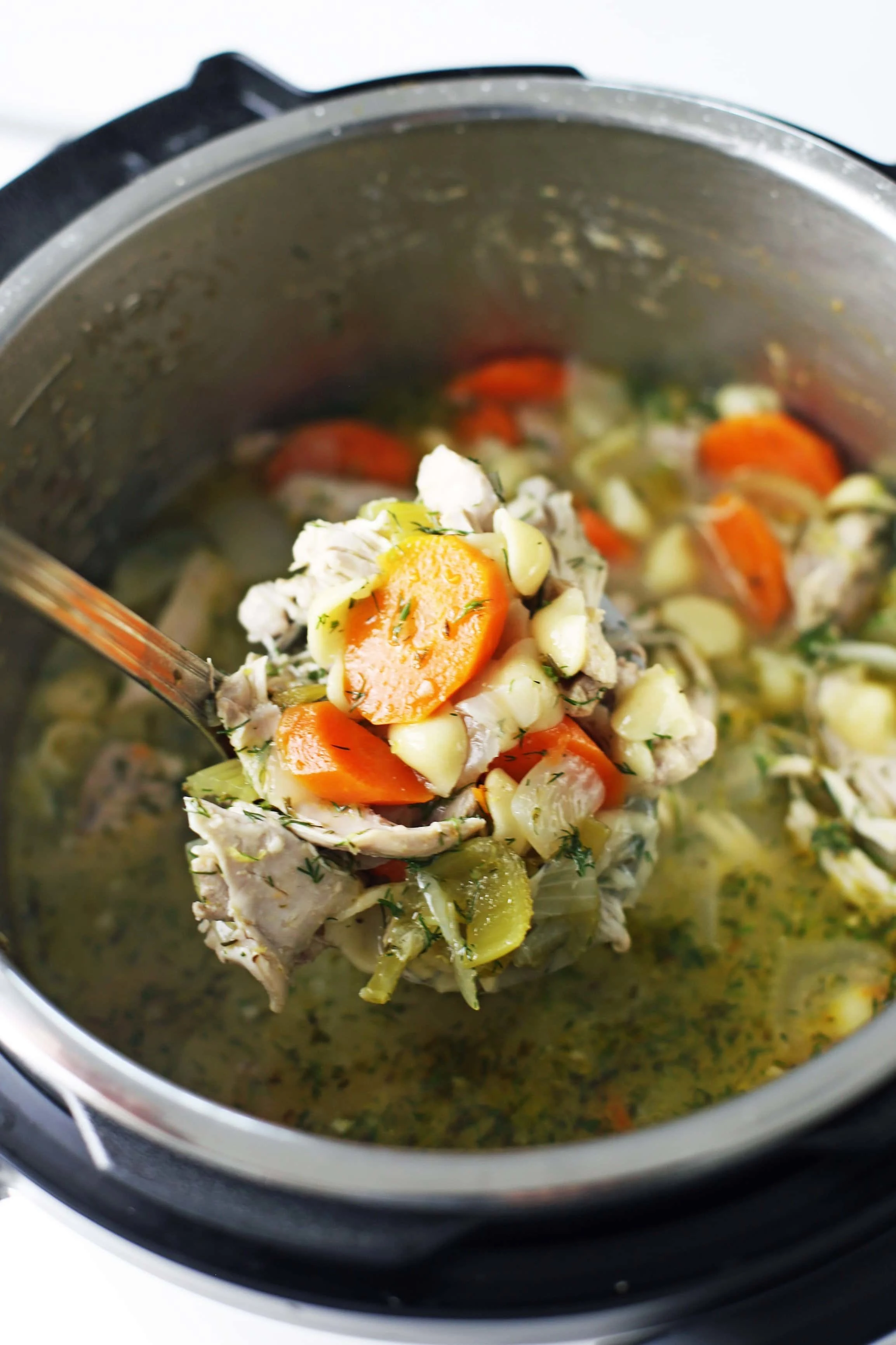 Stir in the lemon juice, zest, and fresh dill. Taste the soup for additional salt, pepper, lemon juice, and/or dill if needed. Enjoy!
TIP TWO: Adding the fresh lemon and dill at the end gives the soup a more intense citrus and dill flavour and aroma. In particular, fresh dill loses its potency when cooked.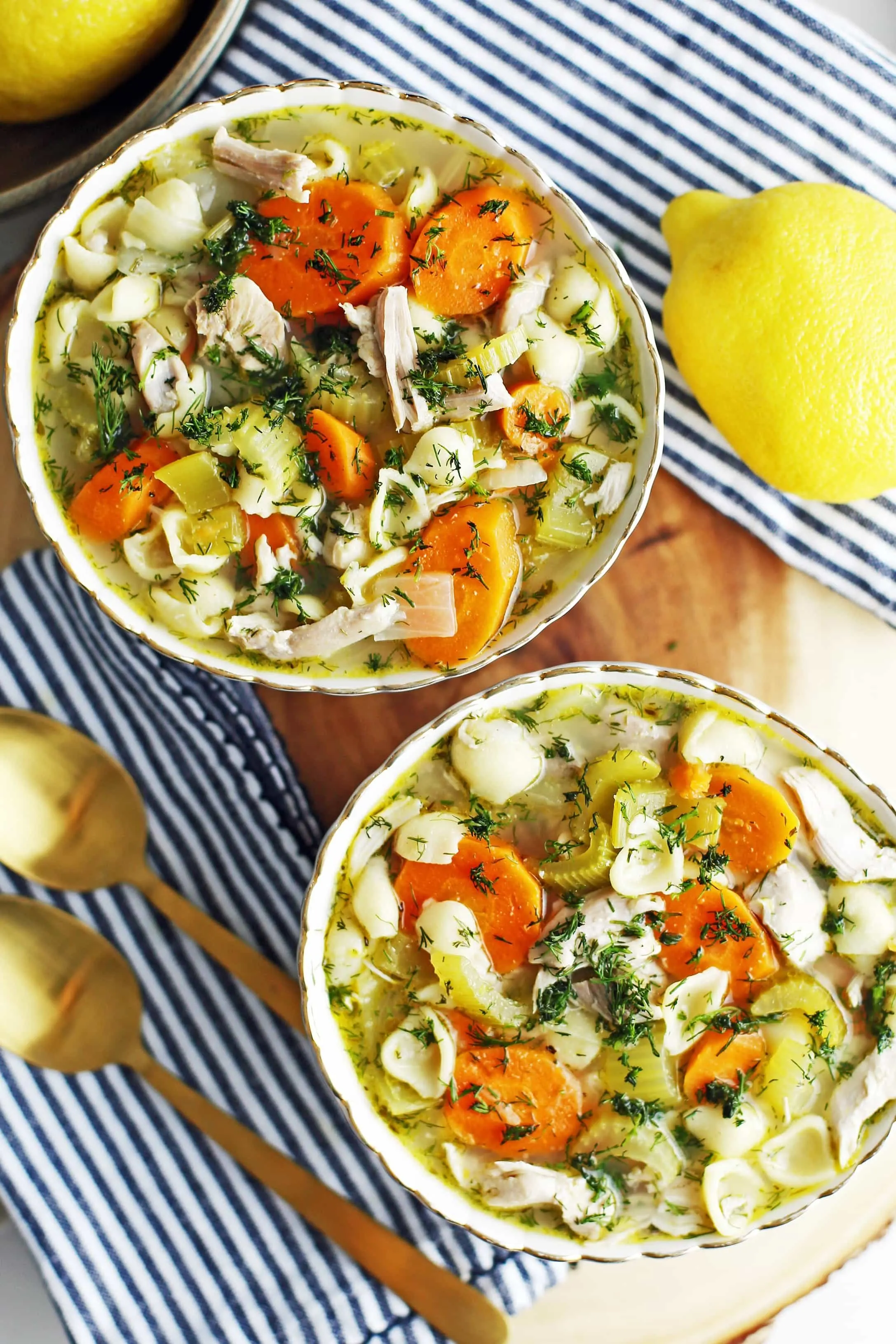 Love easy Instant Pot soup recipes? Take a look at these ones!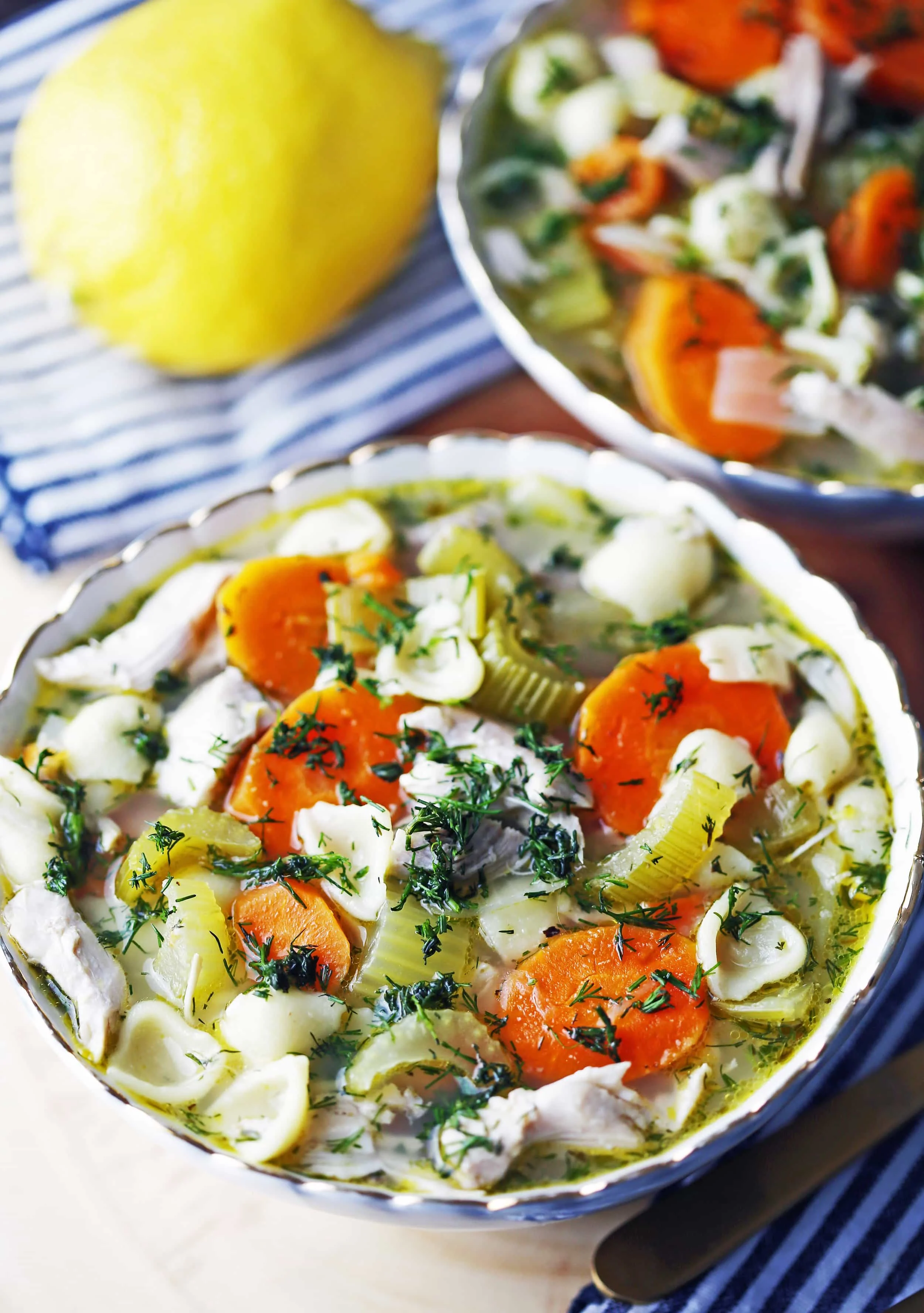 This Instant Pot chicken soup is:
Comforting and delicious: Tasty tender chicken, mini pasta shells, and veggies all in a bright and zingy lemon-dill chicken broth that's just so filling and satisfying.
Great to have as meal or as a starter: Serve the soup with a side of crusty bread for dipping.
Easy to make: The steps are uncomplicated. Simply prepare the ingredients and cook in the Instant Pot using two basic functions: "sauté" and "manual" (high) pressure.
Plentiful: It makes 8 cups of yumminess. Perfect to feed the whole family or have as leftovers for the next day.
Quick to clean-up: Most of cooking is done in the Instant Pot so clean-up is a breeze.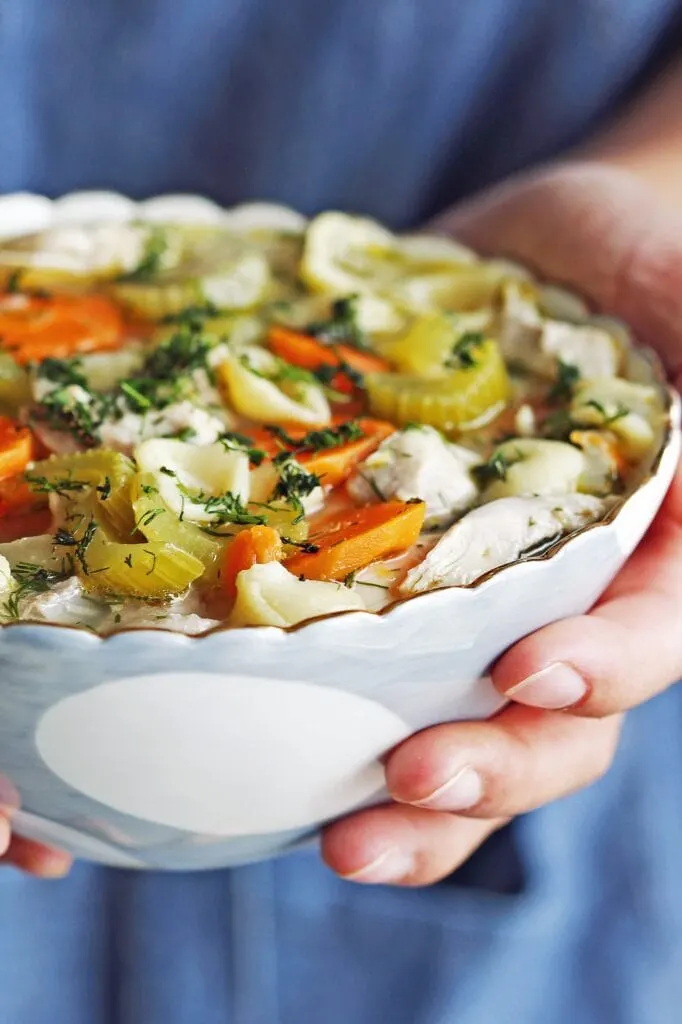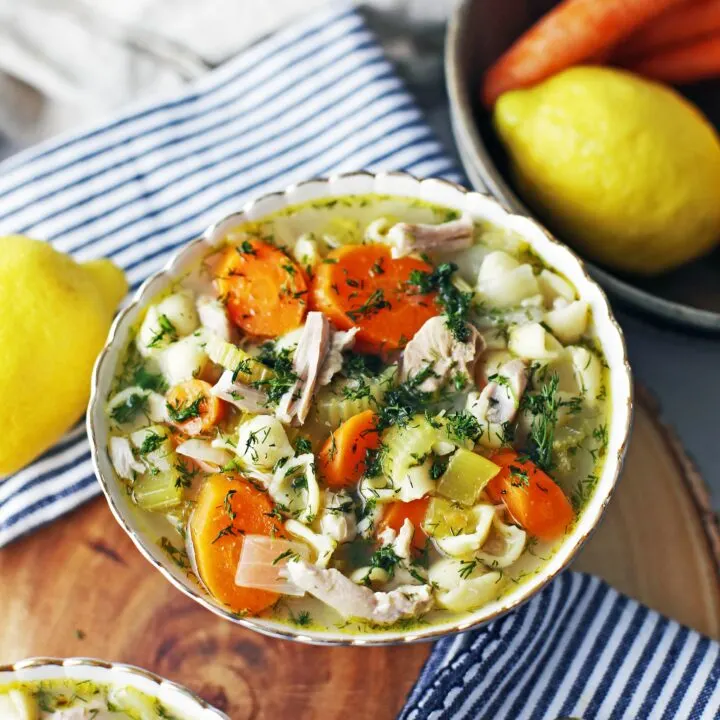 Instant Pot Lemon Dill Chicken Noodle Soup
Yield:
6-8 (makes 8 cups)
Enjoy a comforting bowl of classic chicken noodle soup featuring a lemon twist with this easy Instant Pot soup recipe. Fresh dill brings additional aroma and bright flavour that will have you making this soup all year round.
Ingredients
6 boneless skinless chicken thighs (around 1 lb. total)
4 oz. (1 cup) small pasta shells (or any small shaped pasta)
1 tbsp olive oil
2 medium carrots, chopped
4 celery ribs, chopped
1 large onion, chopped
2 garlic cloves, minced
2 dried bay leaves
½ tsp dried thyme
4 cups chicken broth
2 cups water
1 lemon, juice and zest (around ¼ cup of juice and 1 tbsp of zest)
¼ cup (packed) fresh dill, minced
Salt and pepper, to taste
Instructions
Set the Instant Pot to "sauté." Add the olive oil, carrots, celery, onion, salt and pepper to the pot, stirring until softened, about 4-5 minutes. Then add in the garlic and stir for another minute.
Press "cancel" to turn off the Instant Pot. Add in the thyme and bay leaves. Pour in the chicken broth and water.
Place the chicken thighs flat and spread apart from one another in the pot. Then scatter the pasta on top in a single layer (make sure it is completely covered in broth). Do not stir.
Seal the Instant Pot and cook at high pressure ("manual"/"pressure cook" function) for 6 minutes *(see first note). After the soup is ready, allow natural pressure release for 5 minutes before applying a quick pressure release to completely depressurize (until floating valve drops).
Open the Instant Pot and carefully remove (I use kitchen tongs) the chicken from the soup. Shred the chicken using the tongs (or forks) before returning the chicken back into the soup.
Stir in the lemon juice, zest, and fresh dill. Taste for additional salt and pepper (or more dill and/or lemon juice) if needed. Best served immediately.
Notes
*It takes 10-15 minutes for the Instant Pot to come to pressure.
Nutritional information represents one serving with eight servings in total.
Recommended Products
As a participant in the Amazon Services LLC Associates Program, I only link to products that I use and/or highly recommend. As an Amazon Associate, I earn from qualifying purchases if you purchase through these links at no additional cost to you.
Nutrition Information:
Yield:

8
Serving Size:

1
Amount Per Serving:
Calories:

211
Total Fat:

9g
Saturated Fat:

2g
Trans Fat:

0g
Unsaturated Fat:

6g
Cholesterol:

96mg
Sodium:

841mg
Carbohydrates:

13g
Fiber:

2g
Sugar:

4g
Protein:

21g