These biscuits are a favourite in our house and disappear in a hurry once they are out of the oven!
Fresh out of the oven, the savoury cheddar cheese and fragrant rosemary in these biscuits make this quick bread so addicting to eat. The crunchy crust and the soft, pillowy inside make it even better.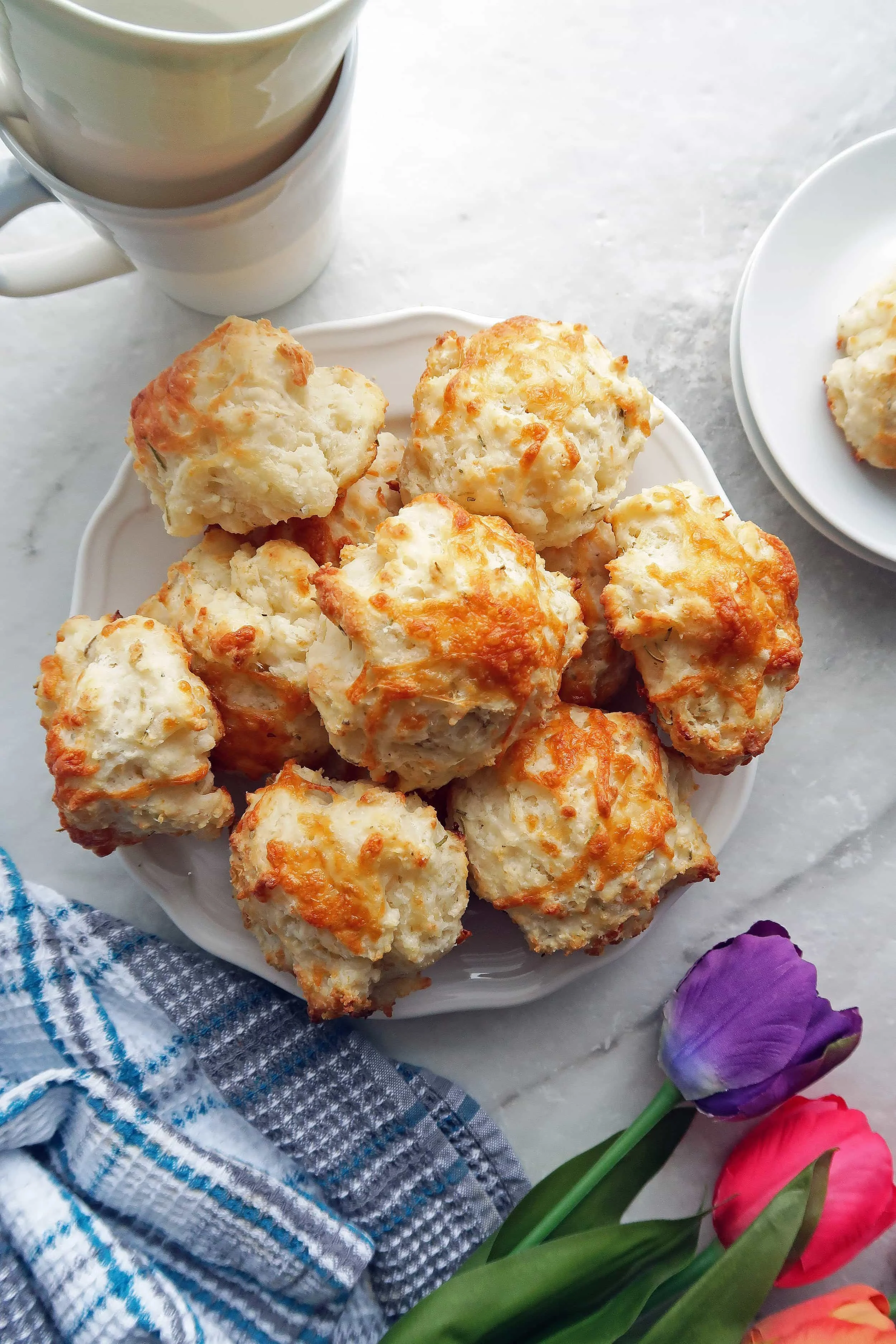 The key is to not overwork the dough; no need to use an electric mixer. If you do overwork the dough, the biscuits will come out flat, but from previous experience, it will be still tasty, so not all is lost!
To get fluffy biscuits that look amazing, it's best to manually combine the ingredients using select tools (I like using my fingers and a spatula or wooden spoon). That way, the dough just combines and the cold butter doesn't completely melt into the dry ingredients. If you do find that the heat of your hands is melting the butter too quickly, stick the bowl in the freezer for the a few minutes before continuing.
Once combined, you can roll out the dough on a floured surface and cut out the biscuits for a more uniform shape; however, it is much faster to scoop out some dough and place it on a baking sheet (drop biscuit-style!).
Plus you are not at risk at overworking the dough since you might have to re-roll the dough to cut out more biscuits.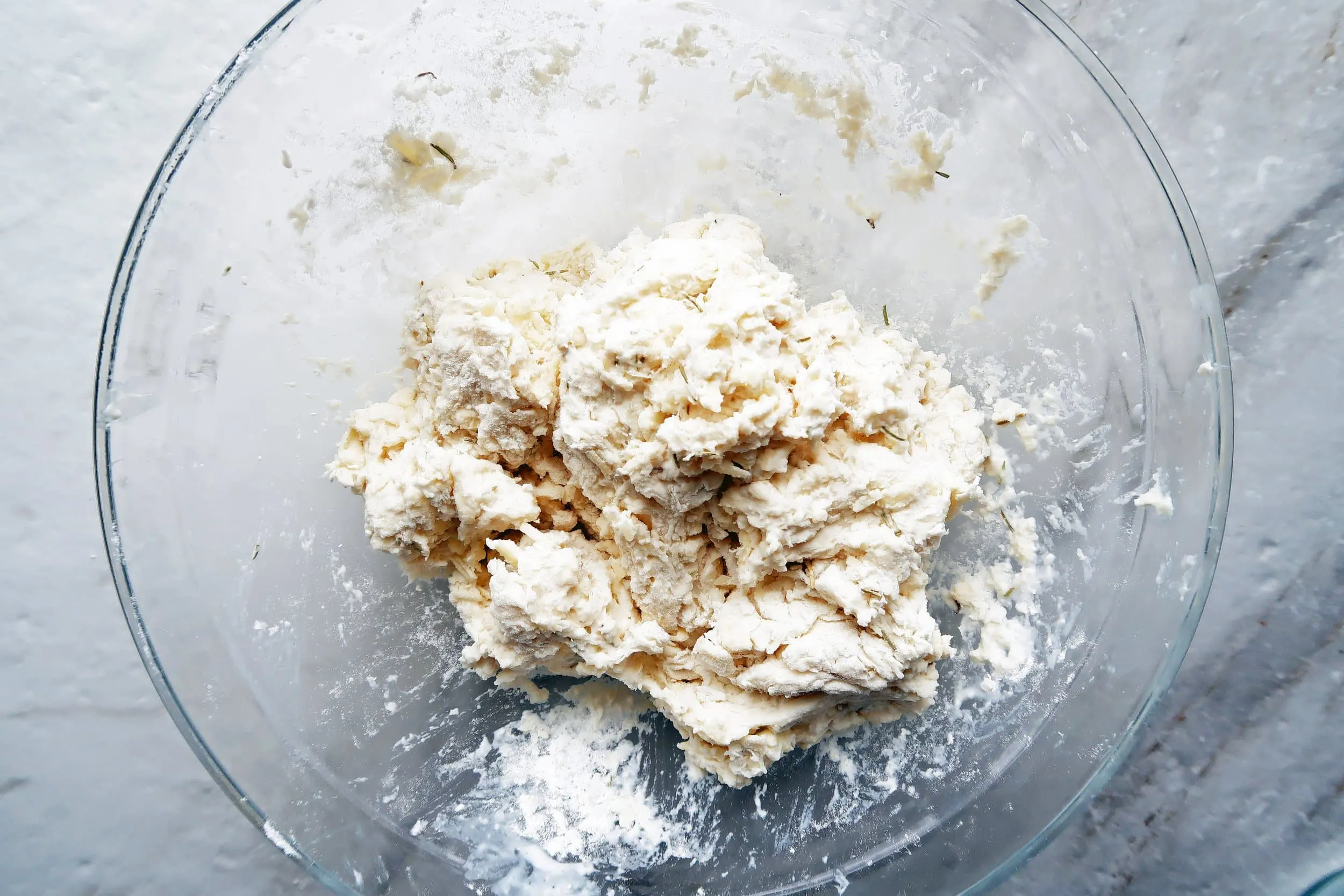 The just combined dough is ready to be scooped onto the baking sheet!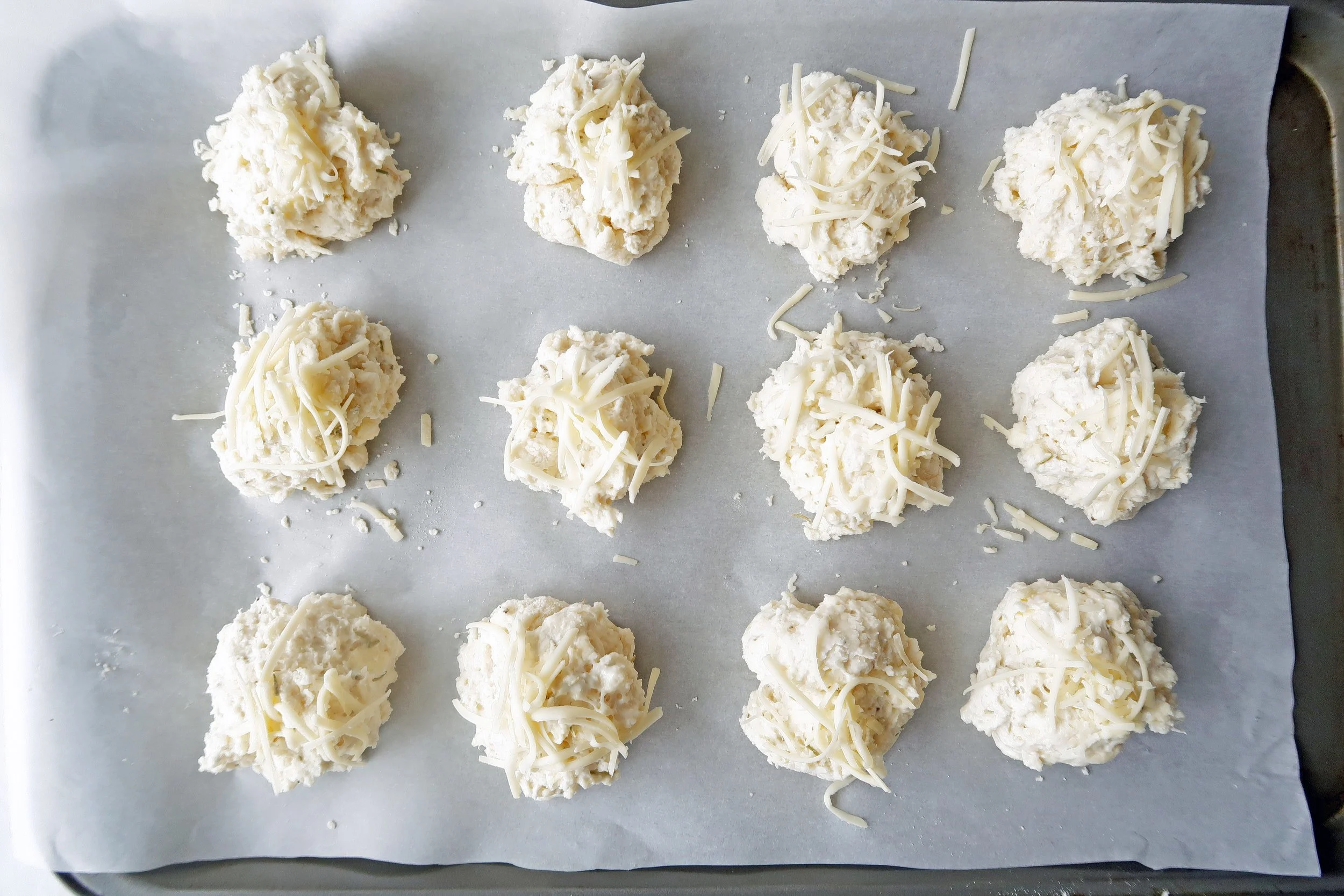 Top each biscuit with more shredded cheese before baking.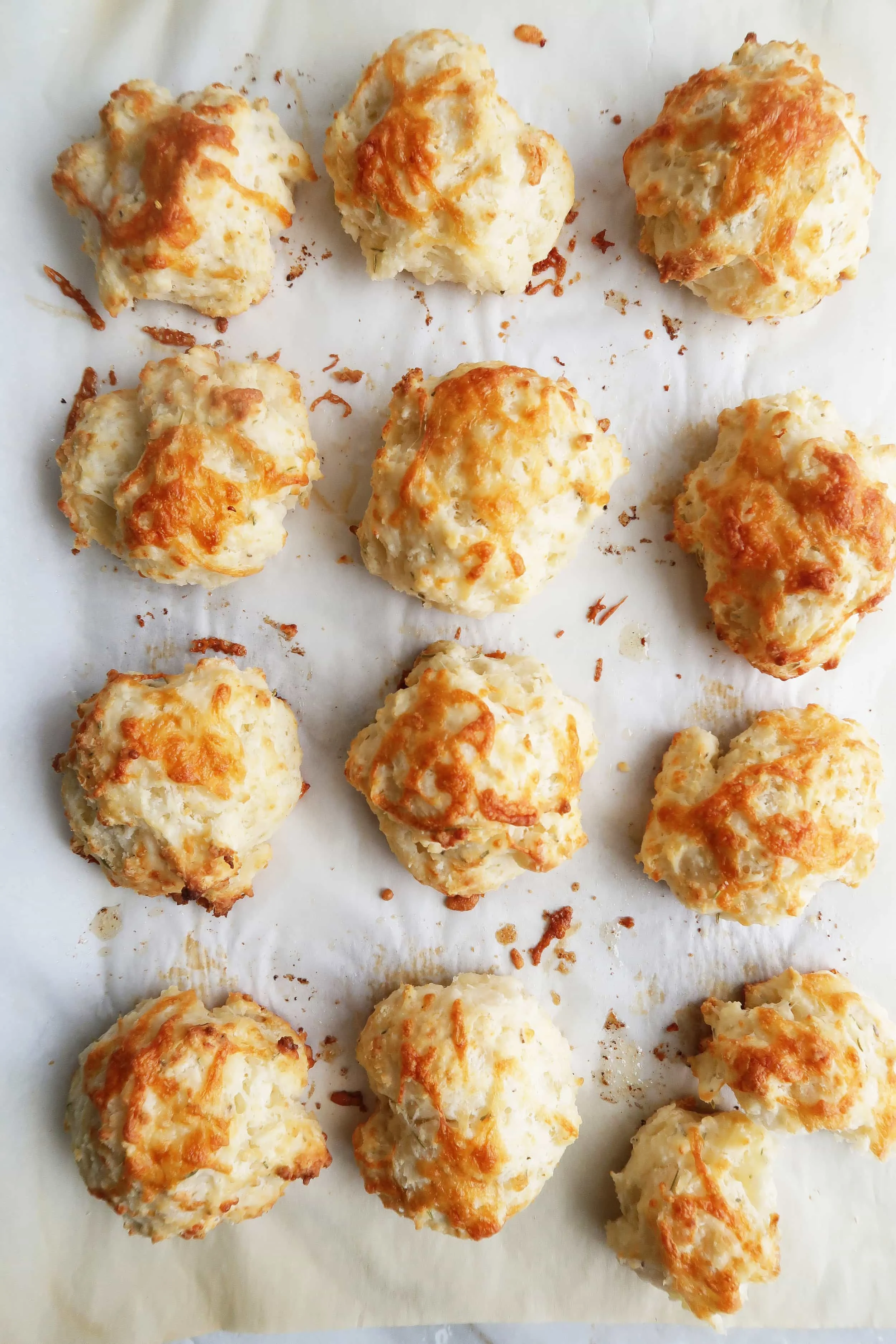 Freshly baked and ready to eat!
Eat these biscuits as a quick snack (with some butter if you like), or cut them in half and make a slider sandwich or serve them as a side dish for your soup or chili I hope you enjoy this recipe!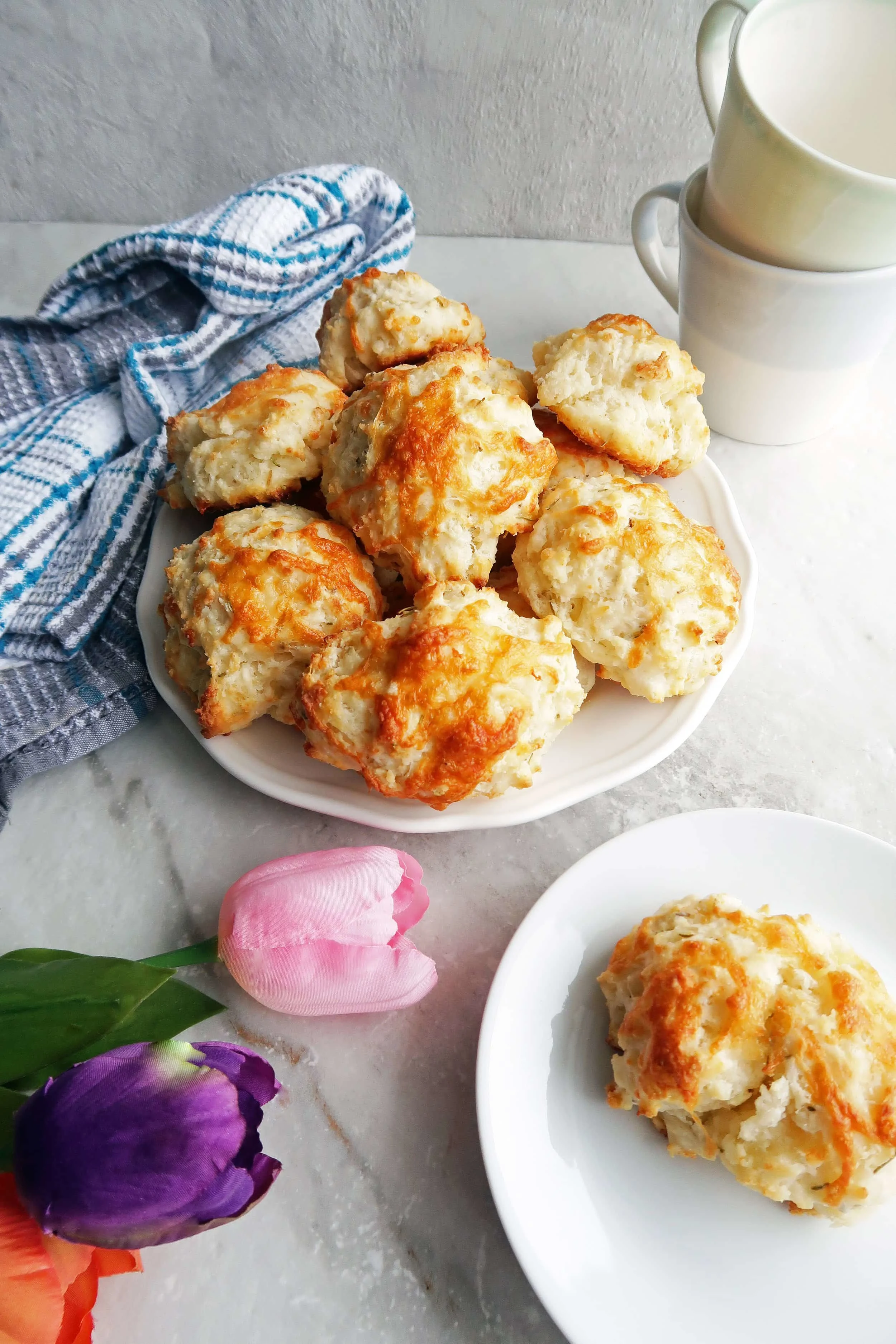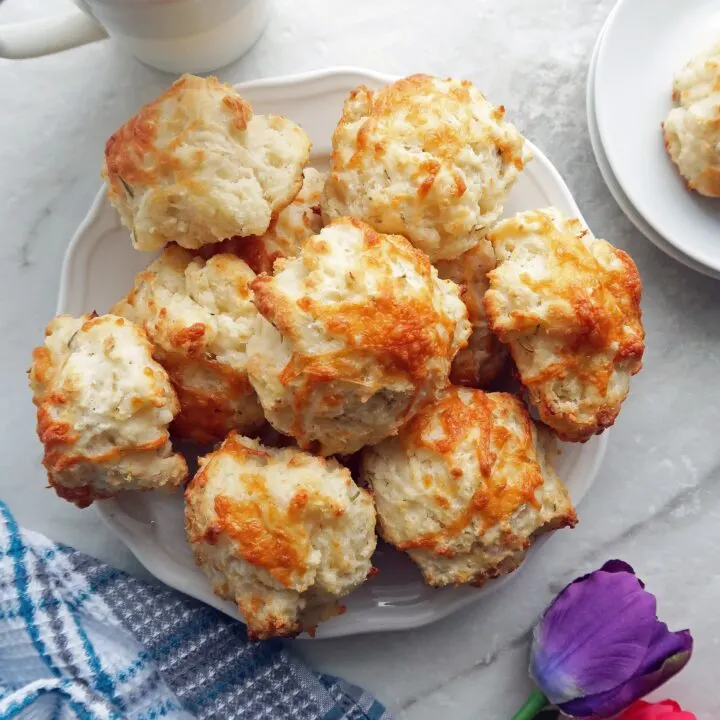 Quick Rosemary Cheddar Drop Biscuits
Make these quick and easy Rosemary Cheddar Drop Biscuits! Golden and crispy on the outside, fluffy and tender on the inside! Eat them as a snack or as a side dish for your soups and chili.
Ingredients
1 cup milk
1 tbsp white vinegar
2 cups all-purpose flour
1 cup sharp cheddar cheese, shredded, plus more for topping
1 tbsp dried rosemary
1 tbsp baking powder
1 tbsp sugar
1/2 teaspoon salt
1/2 cup (4 ounces) unsalted butter, cold and cubed
Instructions
Preheat oven to 450 degrees F. Line a baking sheet with parchment paper.
In a small bowl, combine the vinegar and milk together*. Set aside. In a large bowl, whisk together the flour, cheese, rosemary, baking powder, sugar, and salt.
Add the butter into the dry ingredients. Using your fingers or a pastry cutter, combine the butter with the other ingredients until it forms coarse crumbles. Using a spatula, gently stir in the milk mixture until just combined. Be careful not to over mix or melt the butter.
Scoop approximately ¼ cup of dough and place on a baking sheet, making 12 biscuits. Top each biscuit with extra cheese.
Bake for 12-15 minutes or until golden brown. Serve immediately or warm.
Notes
*You can substitute the milk and vinegar mixture with 1 cup of buttermilk.
Recommended Products
As a participant in the Amazon Services LLC Associates Program, I only link to products that I use and/or highly recommend. As an Amazon Associate, I earn from qualifying purchases if you purchase through these links at no additional cost to you.
Nutrition Information:
Yield:

12
Serving Size:

1
Amount Per Serving:
Calories:

174
Total Fat:

8g
Saturated Fat:

4g
Trans Fat:

0g
Unsaturated Fat:

2g
Cholesterol:

22mg
Sodium:

347mg
Carbohydrates:

19g
Fiber:

1g
Sugar:

1g
Protein:

7g