I love lemons. I say when you get a big bag of lemons, you make as many sweet and savoury lemon recipes as you can! This includes that best blueberry lemon loaf cake I've ever had.
I have made this recipe multiple times and have gotten the seal of approval each time! The original lemon loaf recipe is actually from a 30+ year old community cookbook from a small town in Manitoba where my mother-in-law grew up.
I need to thank her for lending me this (and other cookbooks) because they are full of gems (and oddities) that I've enjoyed reading and testing out. From jello salads with vegetables in it (I'm not sure if I would like it – have you tried a recipe like this?) to Greek Moussaka (so delicious), old cookbooks are a great source of inspiration.
Back to the delicious loaf cake – it is so tender, it just melts in your mouth and it's so full of bright, tart lemon and sweet blueberry flavour!
I love the look of the blueberry swirls that form as the loaf bakes so each slice is a little different.
The simple lemon glaze on top gives the loaf a thin crust with that extra lemon zing! Why not eat a slice or two with a cup of coffee or tea?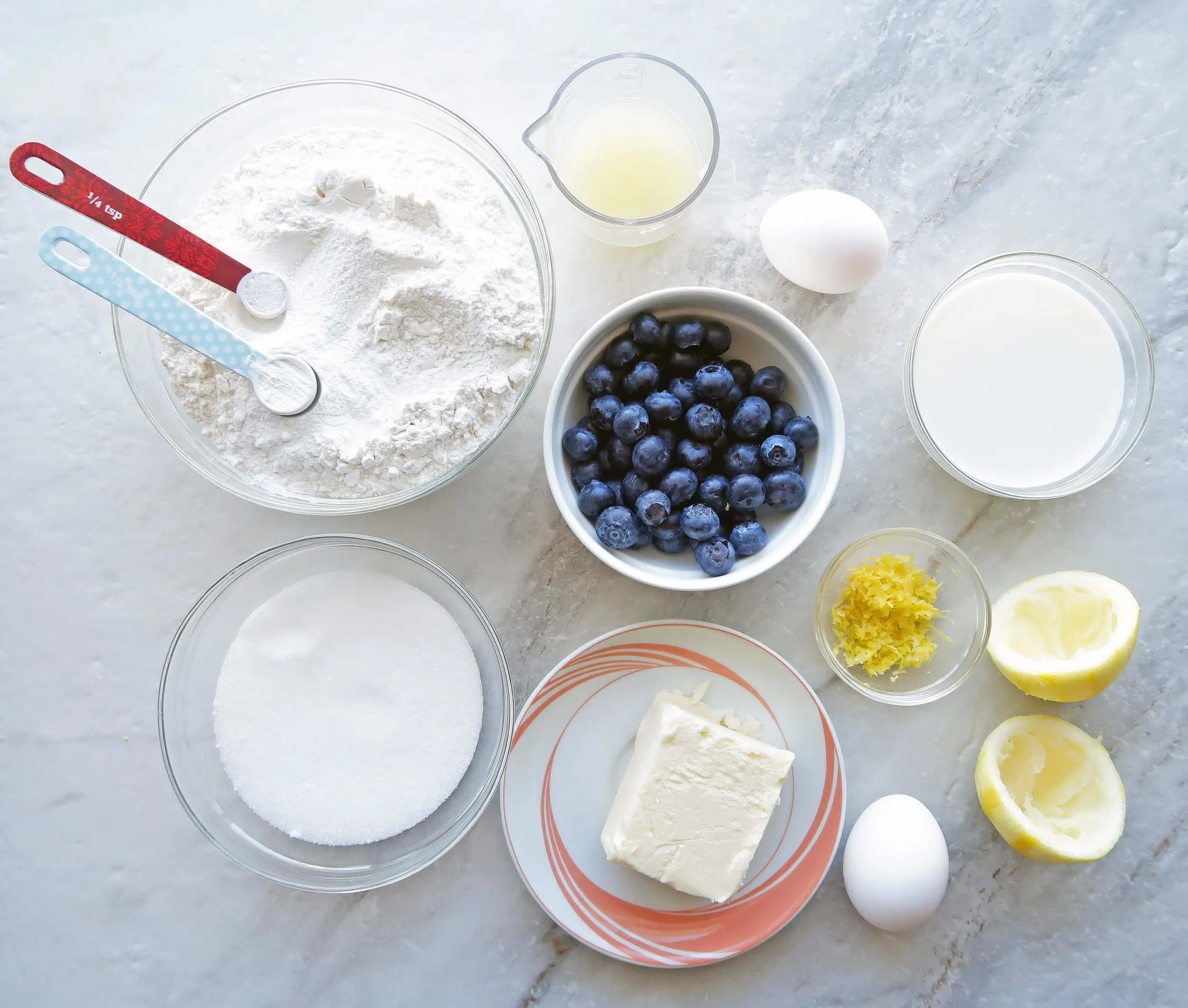 All the ingredients for this loaf cake! Full ingredient amounts and ingredients available in the recipe card down below.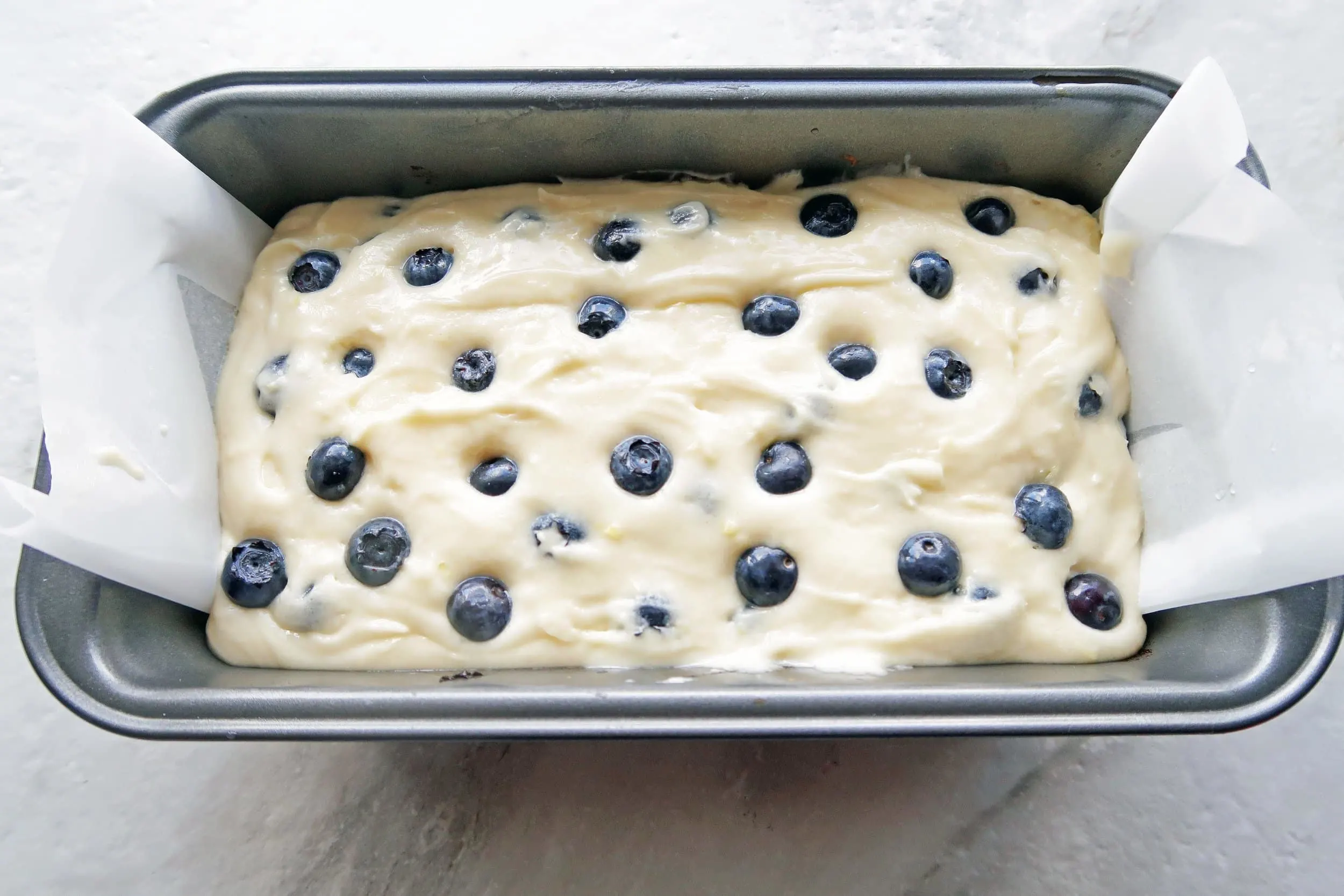 In the pan ready to be baked. Dot the top of the loaf with blueberries.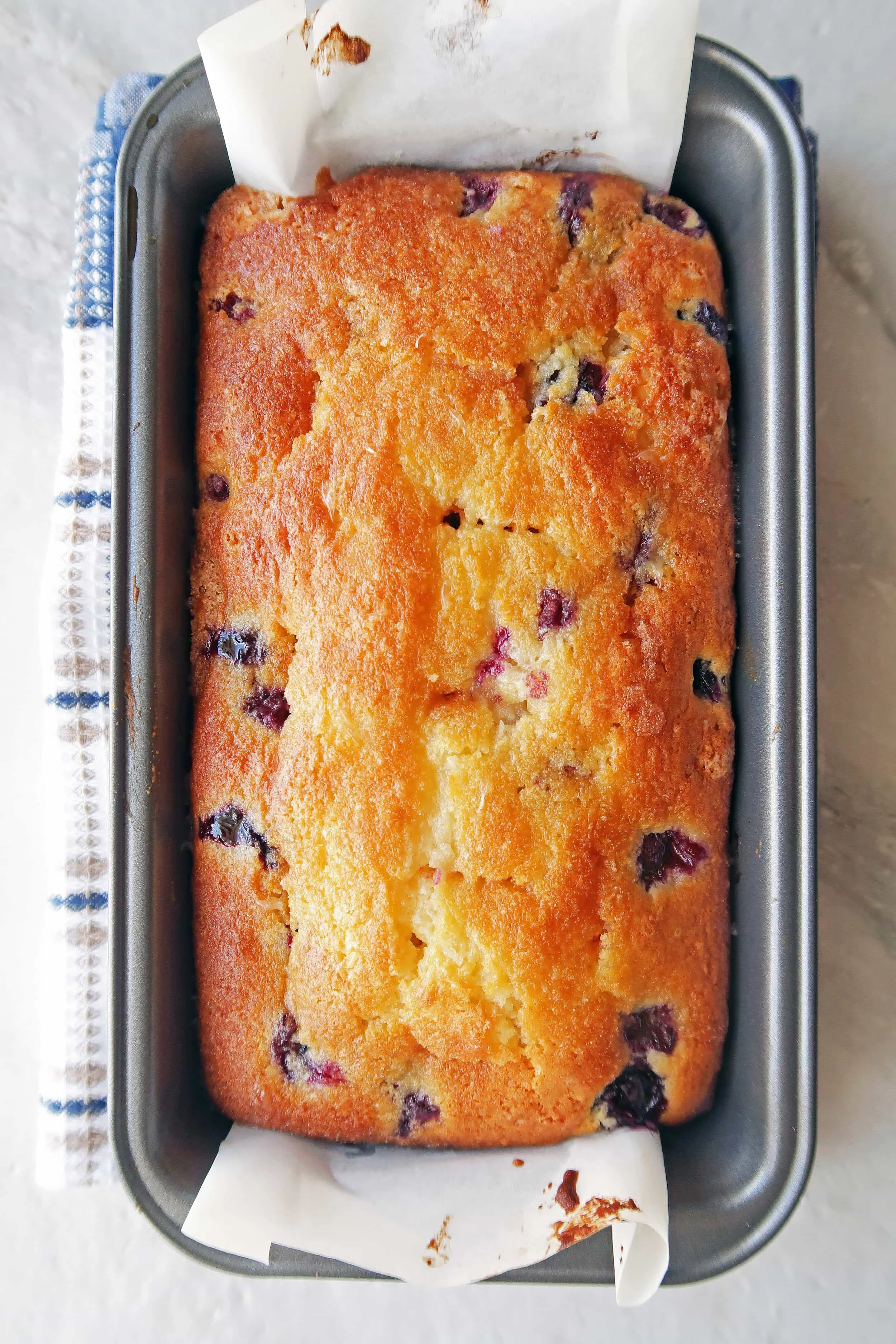 Baked! The outside is so golden-brown! I used a fork to poke holes on top before pouring on the simple lemon glaze.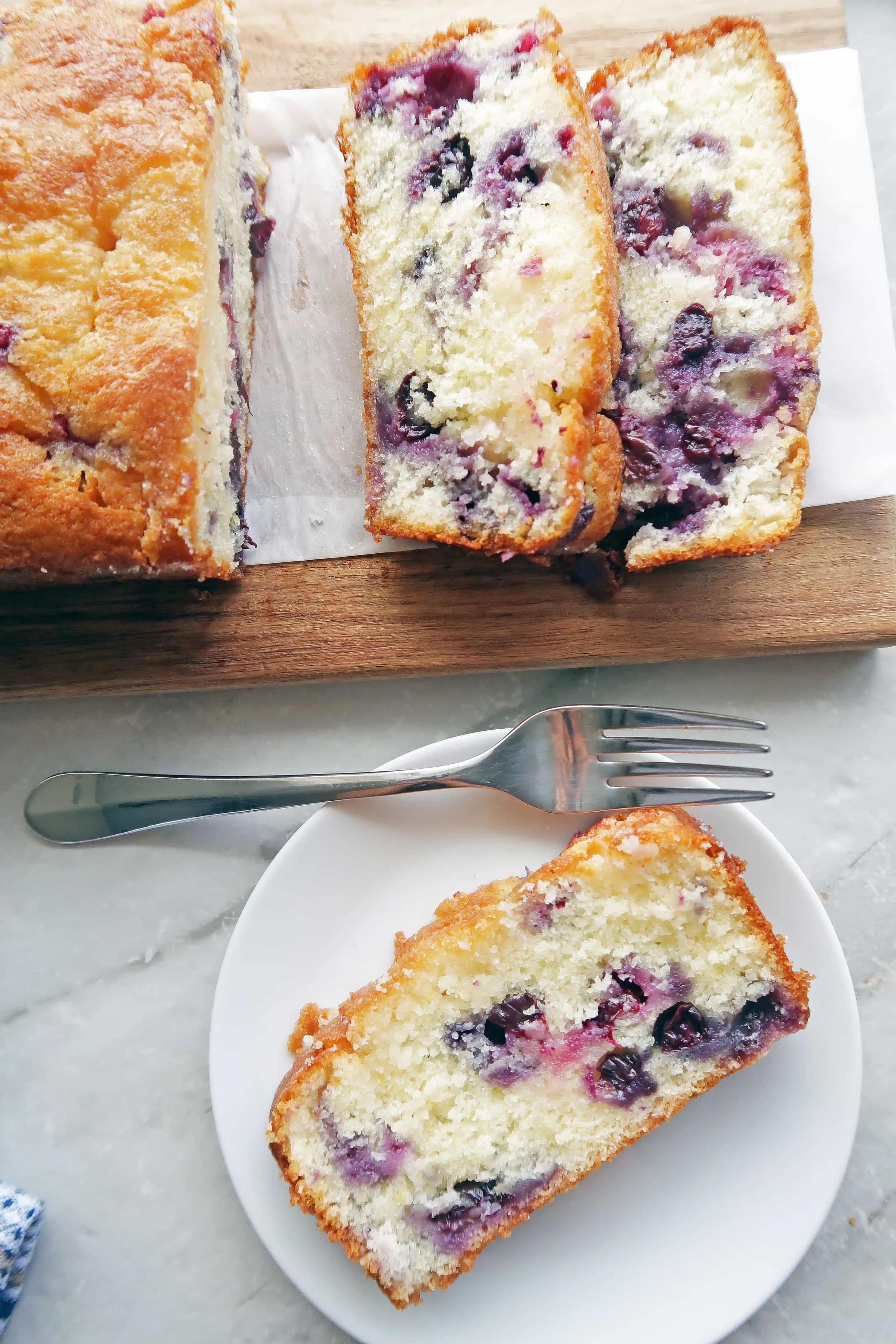 Updated Tips Based on Reader's Comments!
How do you zest the lemon?
I used a microplane zester/grater; it's my preferred kitchen tool to do this.
Alternately, you can use the finest side of a box grater or a vegetable peeler to remove the yellow skin (try not to peel the white pith underneath as it's bitter) and then finely mince the skin with a sharp knife into tiny pieces.
My blueberries sink to a mash at the bottom of cakes. How do I prevent the blueberries from sinking to the bottom of the pan?
Please note that I don't use this baker's trick for this recipe, but have had people try this method successfully.
A baker's trick is to toss the blueberries with a tablespoon of flour before folding it into the batter. The flour should be taken from the recipe so that the flour amount stays the same. Also, after filling the loaf pan, remember to top the loaf with more blueberries before baking.
The loaf cake looks golden-brown on top, but is still underdone in the centre.
When extra baking time is required, I typically will cover it with aluminum foil to seal in the heat and prevent the crust from becoming overdone. Check the loaf every couple minutes for doneness using a wooden skewer or cake tester.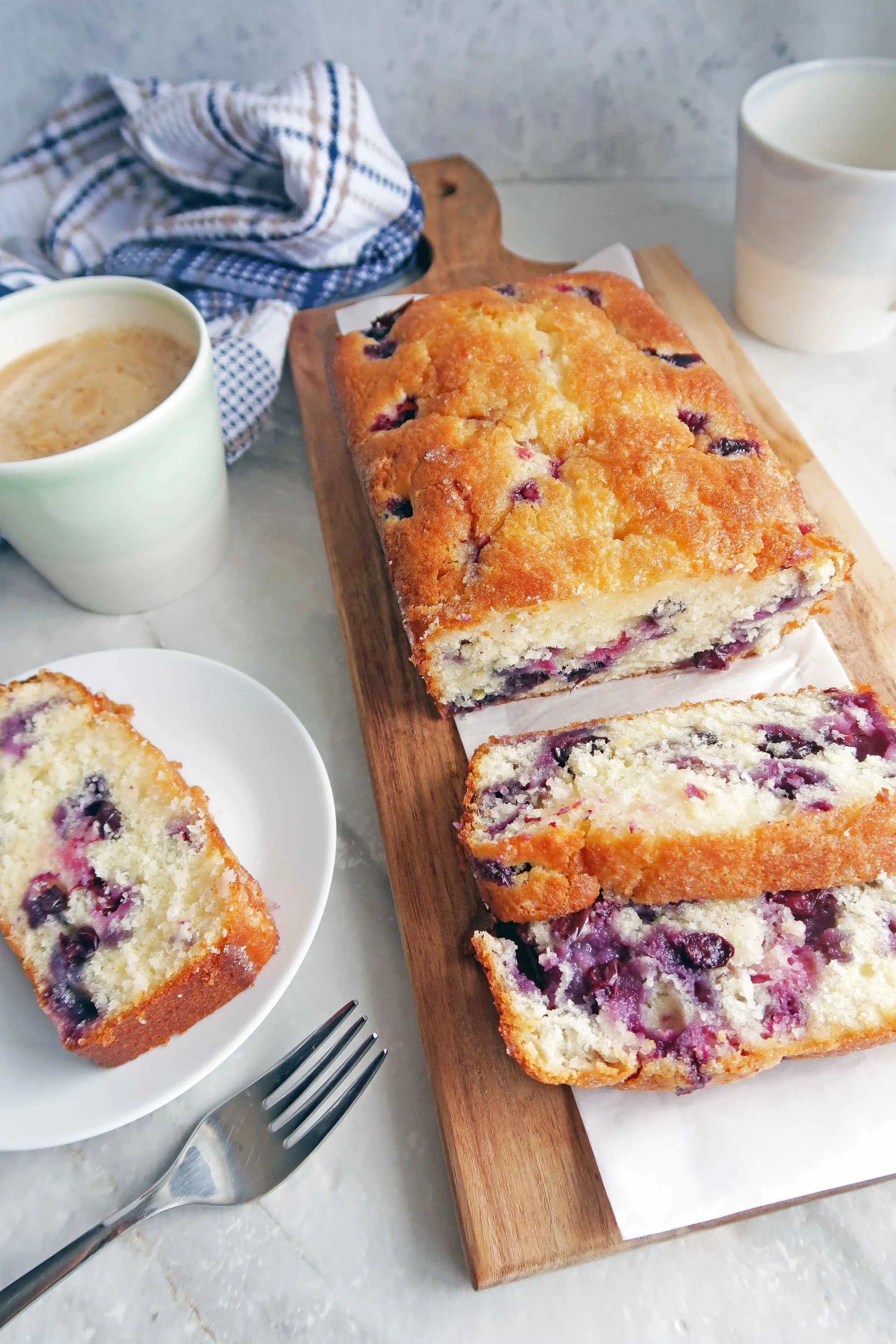 After the loaf cake is mostly cooled down, remove from the pan and cut into slices. Look how moist and fluffy it looks and the pretty blueberries throughout.
Serve it with some coffee (or tea or milk) for breakfast or dessert! Enjoy!
Got extra blueberries? Check out these recipes using blueberries!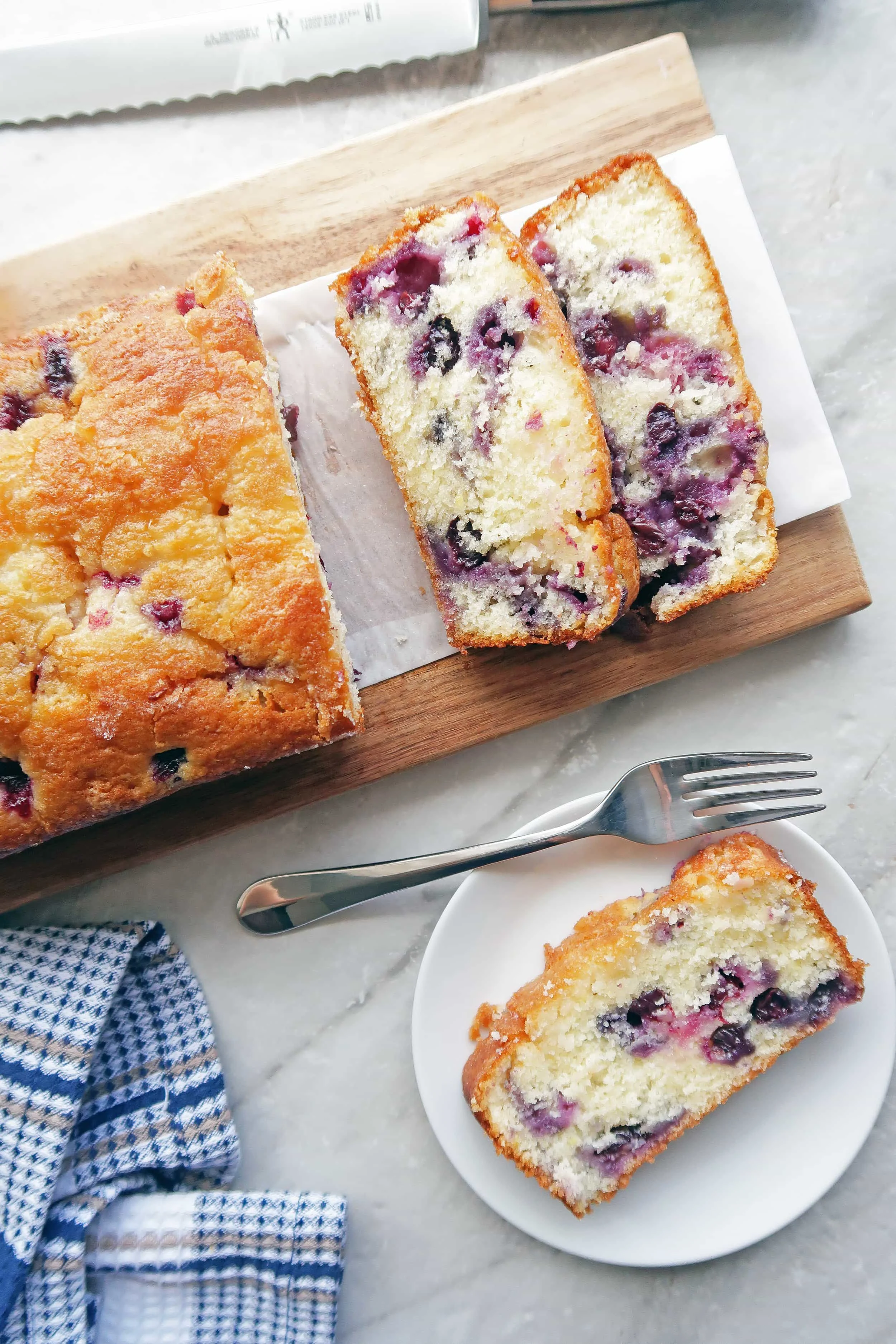 Did you make this lemon blueberry loaf cake recipe? Please leave me a rating and comment down below or tag me on any of my social media. I'm @yay_for_food on Instagram. I'll love a picture!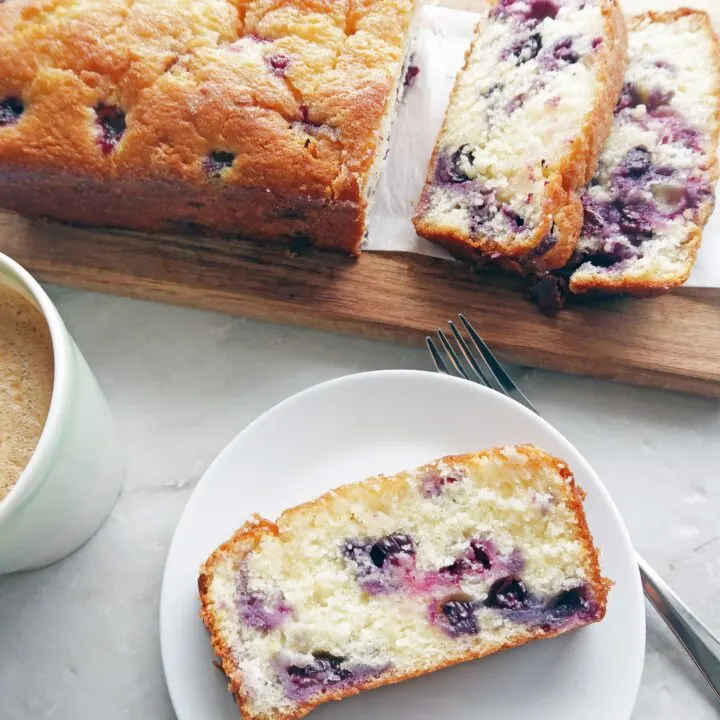 Classic Lemon Blueberry Loaf Cake
Yield:
12 slices (one loaf cake)
Total Time:
1 hour
10 minutes
A classic family favourite recipe! This delicious Blueberry Lemon Loaf Cake is sweet, tart, wonderfully moist and fluffy, and so easy to make!
Ingredients
For the loaf cake:
½ cup (4 oz.) unsalted butter, soften
1 cup sugar
1 lemon, zest
½ cup milk
2 large eggs
1 ½ cups all-purpose flour
1 ½ tsp baking powder
¼ tsp salt
1 ½ cup (8 oz.) fresh blueberries
For the glaze:
¼ cup sugar
1 lemon (¼ cup), juice
Instructions
Preheat the oven to 350 degrees F. Grease and line a 8x4 (or 9x5) loaf pan with parchment paper.
Using a whisk or electric mixer, cream together the butter, sugar, and lemon zest. Add the milk and eggs then mix until combined.
Mix together the flour, baking powder, and salt together and then slowly add to the batter in batches, whisking in between, until well incorporated and the batter is smooth. Using a spatula, gently fold in most of the blueberries, reserving a small handful of blueberries.
Pour the batter into the loaf pan and sprinkle the remaining blueberries on top. Bake for 45-60 minutes, until a wooden skewer comes out clean in the center.
In a small bowl, mix together the glaze ingredients until the sugar dissolves into the lemon juice. Take a fork or toothpick and poke holes over the top of the loaf before pouring the glaze over the top of the hot loaf. Let it cool before removing from the pan. Slice and serve.
Notes
Store cooled loaf cake tightly wrapped with plastic wrap at room temperature for up to 4 days.
For additional baking tips, refer to the section "Updated Tips...," which includes "How do I prevent the blueberries from sinking to the bottom of the pan?"
Recommended Products
As a participant in the Amazon Services LLC Associates Program, I only link to products that I use and/or highly recommend. As an Amazon Associate, I earn from qualifying purchases if you purchase through these links at no additional cost to you.
Nutrition Information:
Yield:

12
Serving Size:

1
Amount Per Serving:
Calories:

160
Total Fat:

2g
Saturated Fat:

1g
Trans Fat:

0g
Unsaturated Fat:

1g
Cholesterol:

33mg
Sodium:

131mg
Carbohydrates:

34g
Fiber:

0g
Sugar:

21g
Protein:

3g