Hello and Happy Friday (or whatever day you're reading this)!
Roasted chickpeas are a delicious snack that's easy to make. Not only are they simple to prepare, but they are good for you as these little chickpeas (aka garbanzo beans) are high in fiber and protein.
They taste amazing simply tossed in olive oil and a little salt and then roasted until satisfyingly crunchy, but they are even better seasoned with spices, herbs, and condiments!
A while back, I wrote a post showcasing four seasoning combinations that are some of my favourites. Check out my first post where I share simple two-ingredient seasoning mixes such as turmeric and ginger and cinnamon and sugar!
Here's Part 2! Today's recipe highlights four more delectable flavour combinations!
Salt and vinegar: Pleasantly acidic and salty.
Honey garlic: Sweet and lightly garlicky.
Taco (I used a prepared taco seasoning mix): A little spicy and savoury.
Brown sugar and lemon: Sweet and citrusy.
How do you make roasted chickpeas?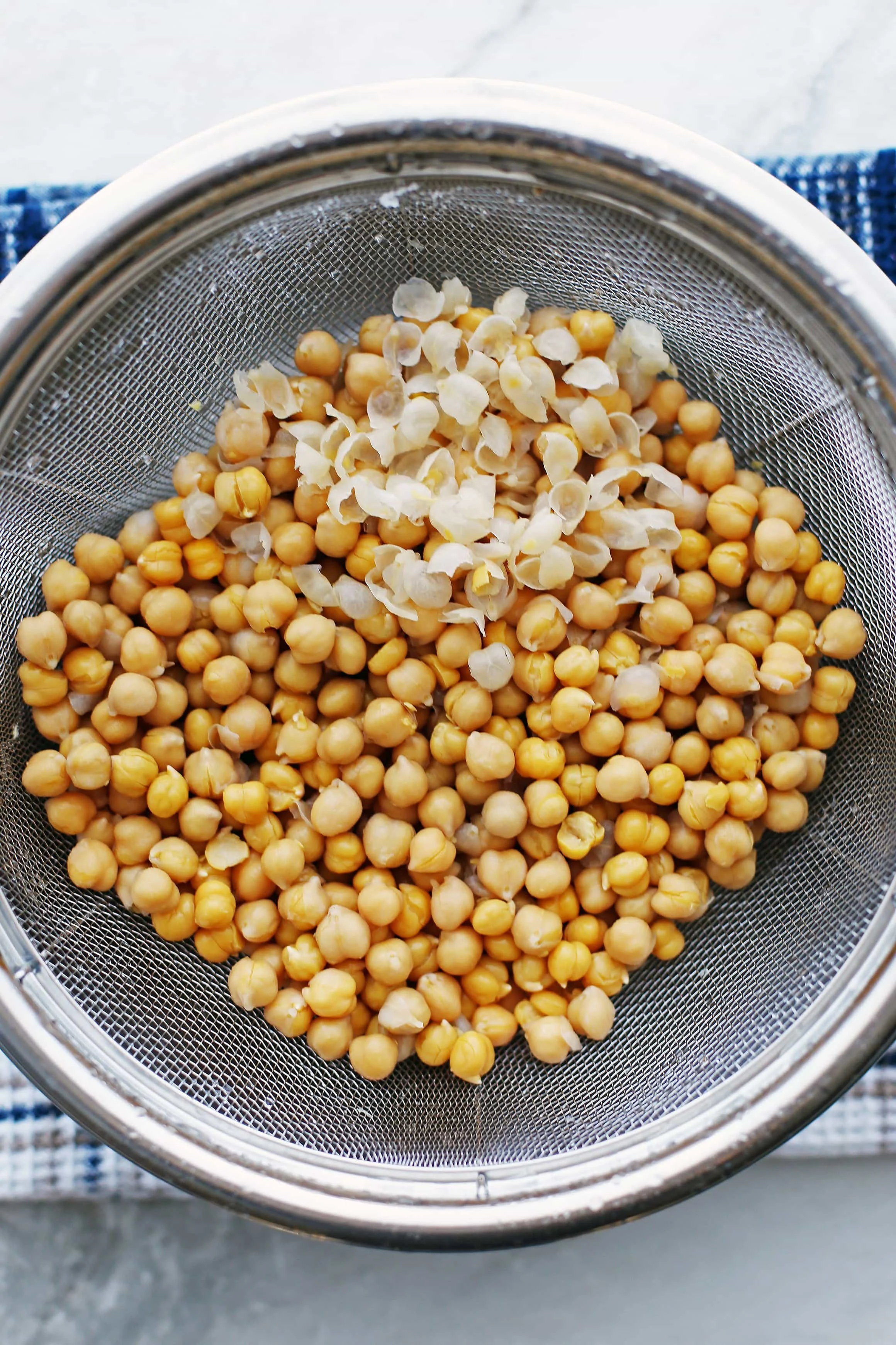 Drain, rinse, and dry canned cooked chickpeas. Complete ingredient list and instructions in the recipe card down below.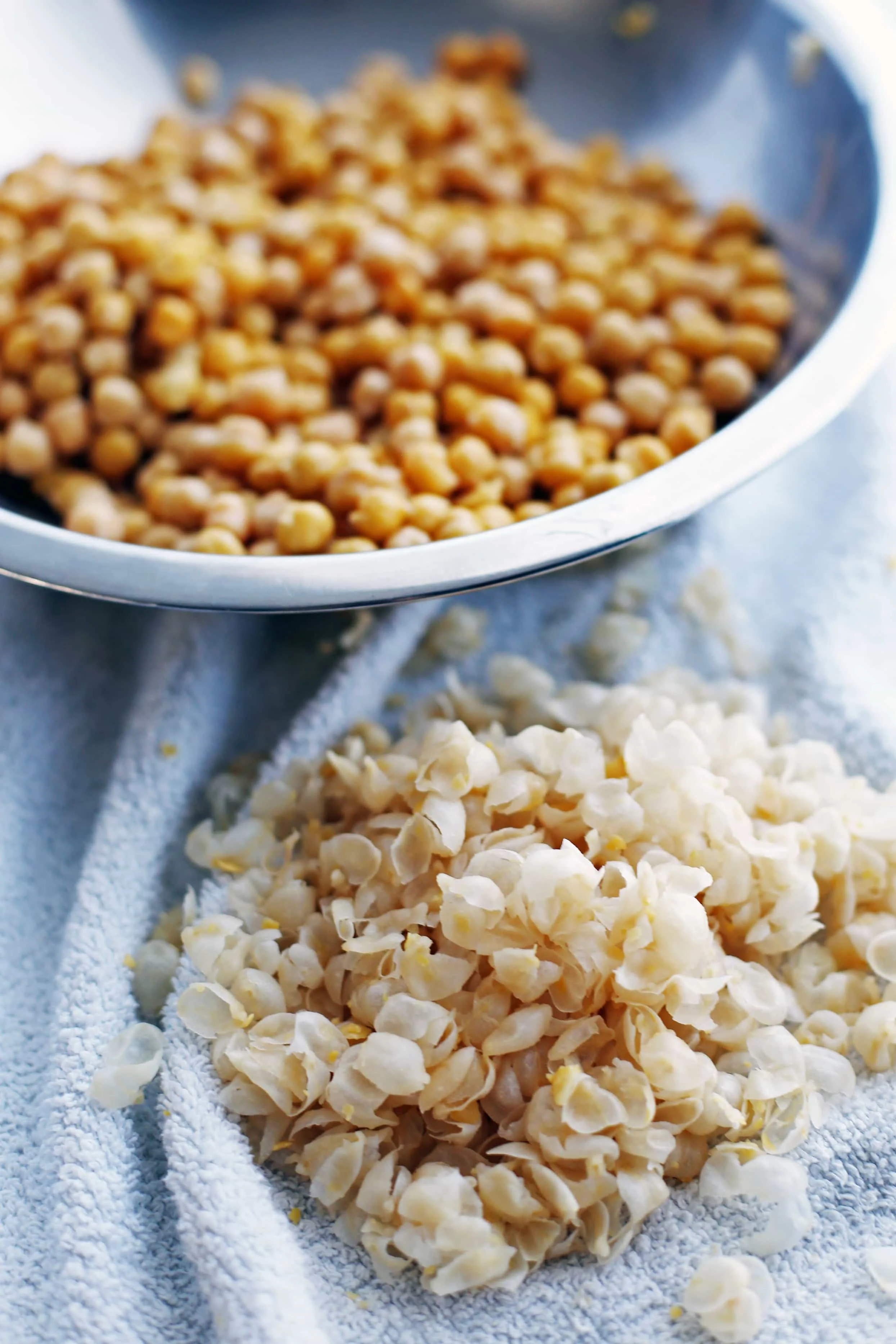 Remove the white skin (it should easily peel off when drying). It's fine if you don't remove all the white skin although removing it helps the chickpeas get crispy when roasted.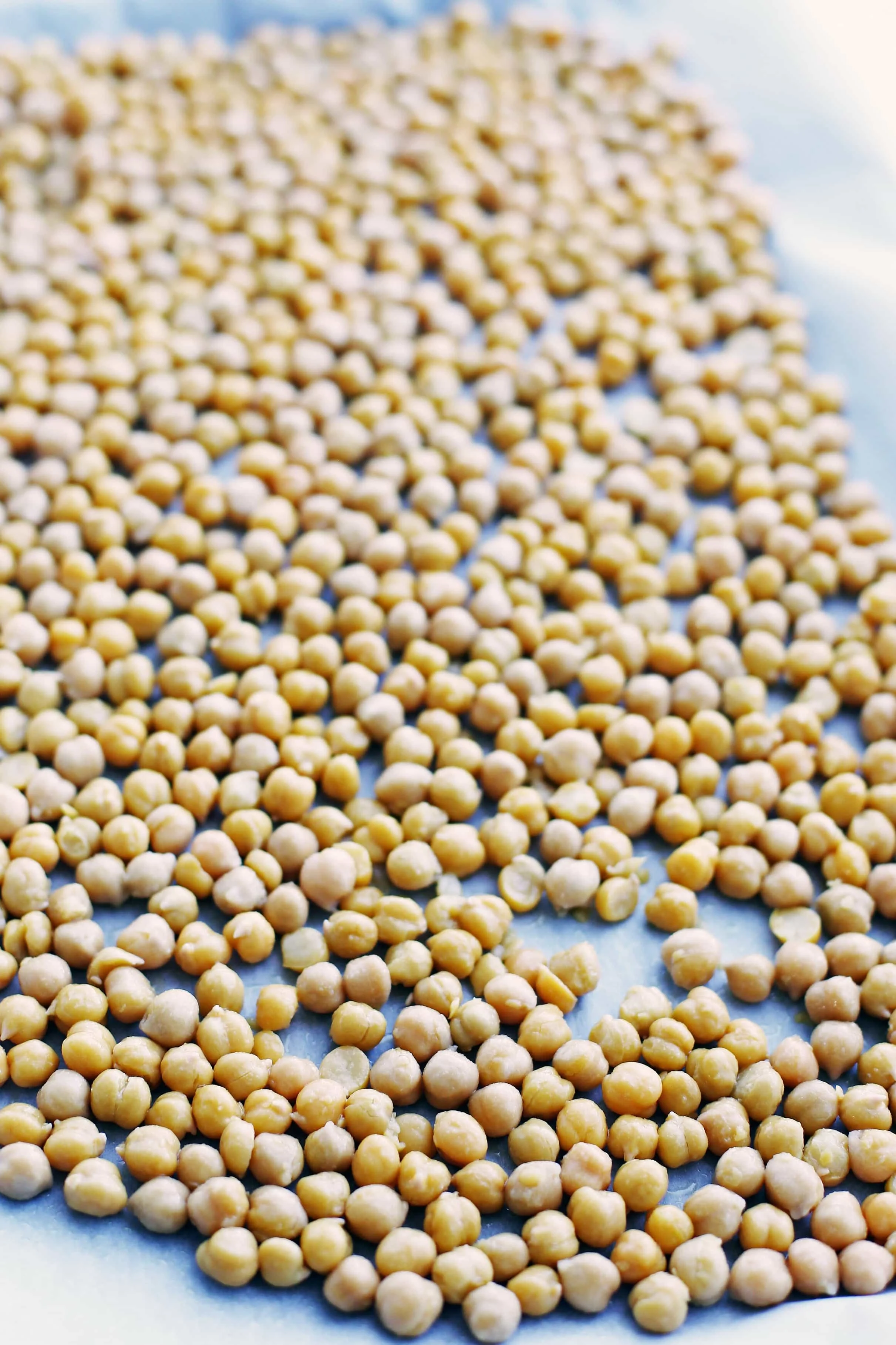 Line a large baking sheet with parchment paper (or aluminum foil) and place the chickpeas in a single layer on it.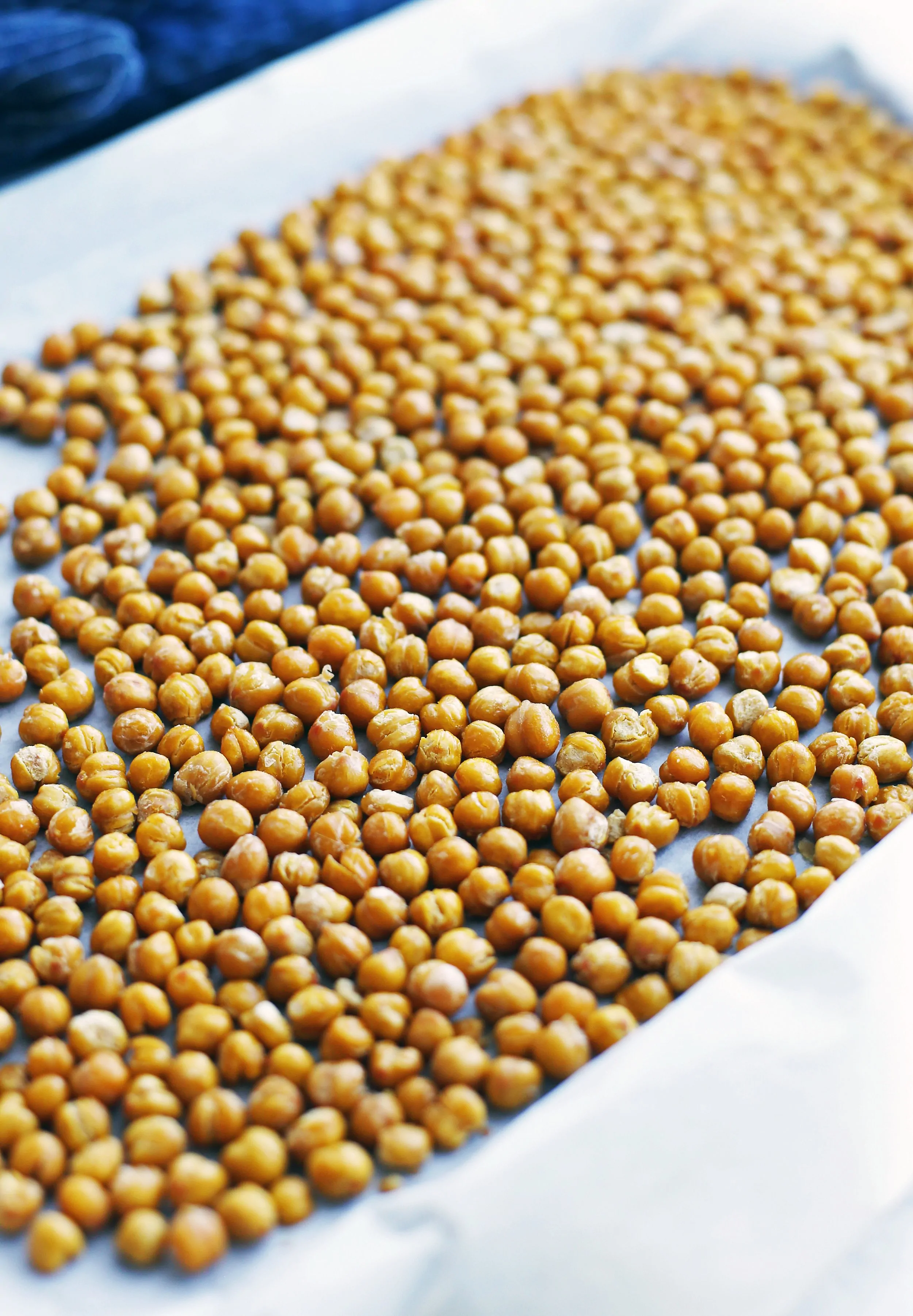 Roast at 400 degrees F for 30 minutes, gently shaking the baking sheet every 10 minutes.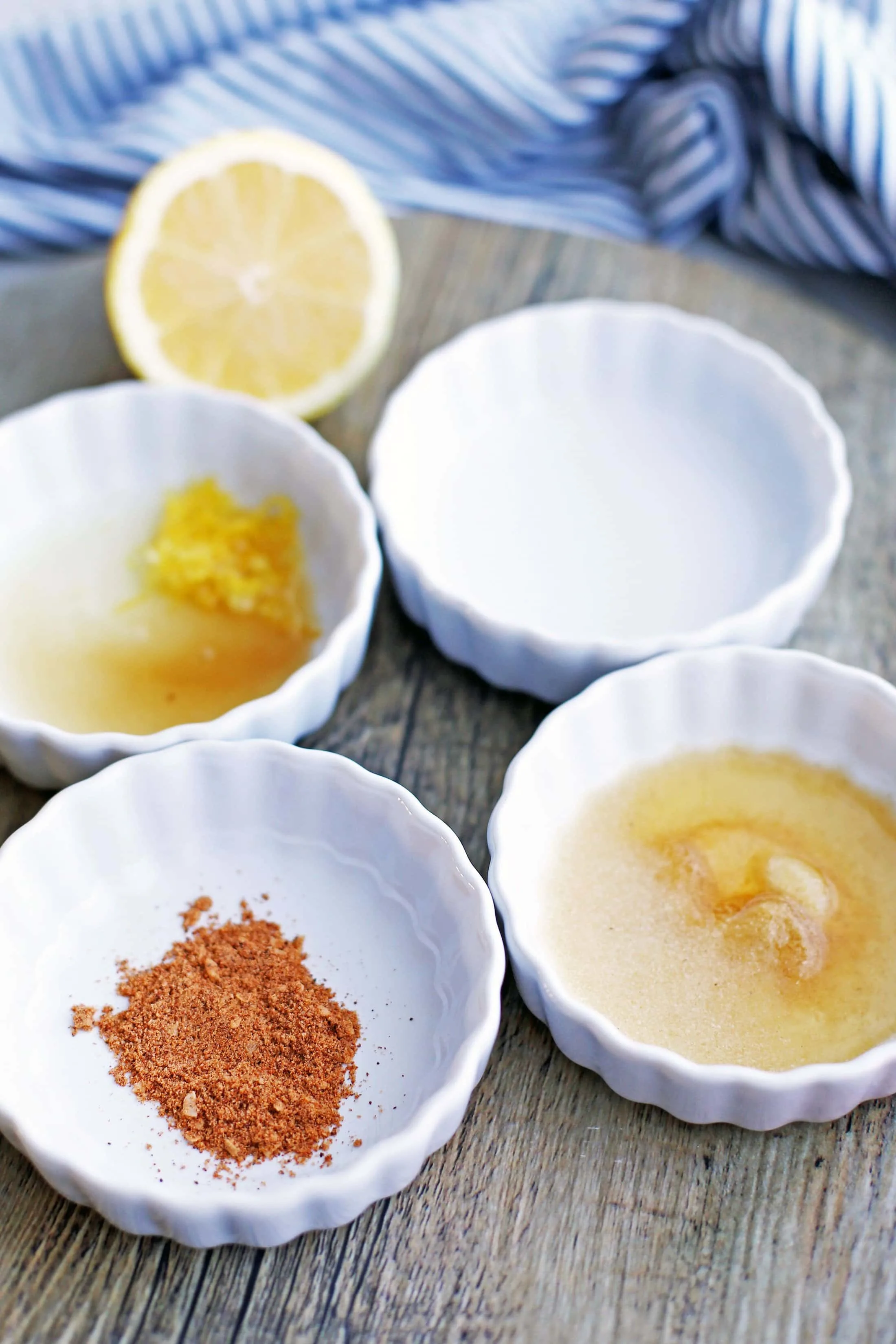 As the chickpeas roast, measure out your seasoning(s) of choice.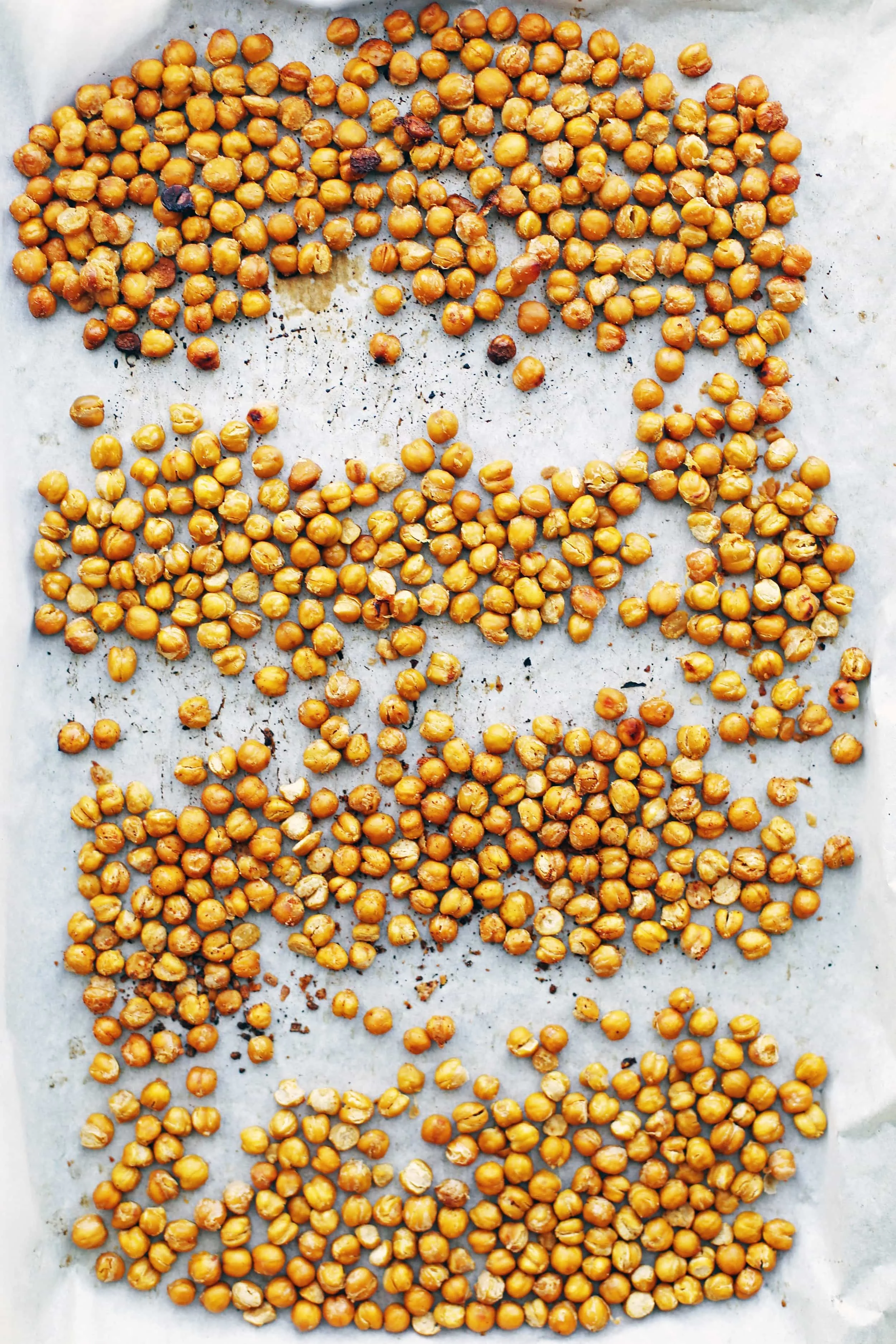 After roasting for 30 minutes, remove from the oven and toss with seasoning before roasting for another 10 minutes or until the chickpeas are crunchy.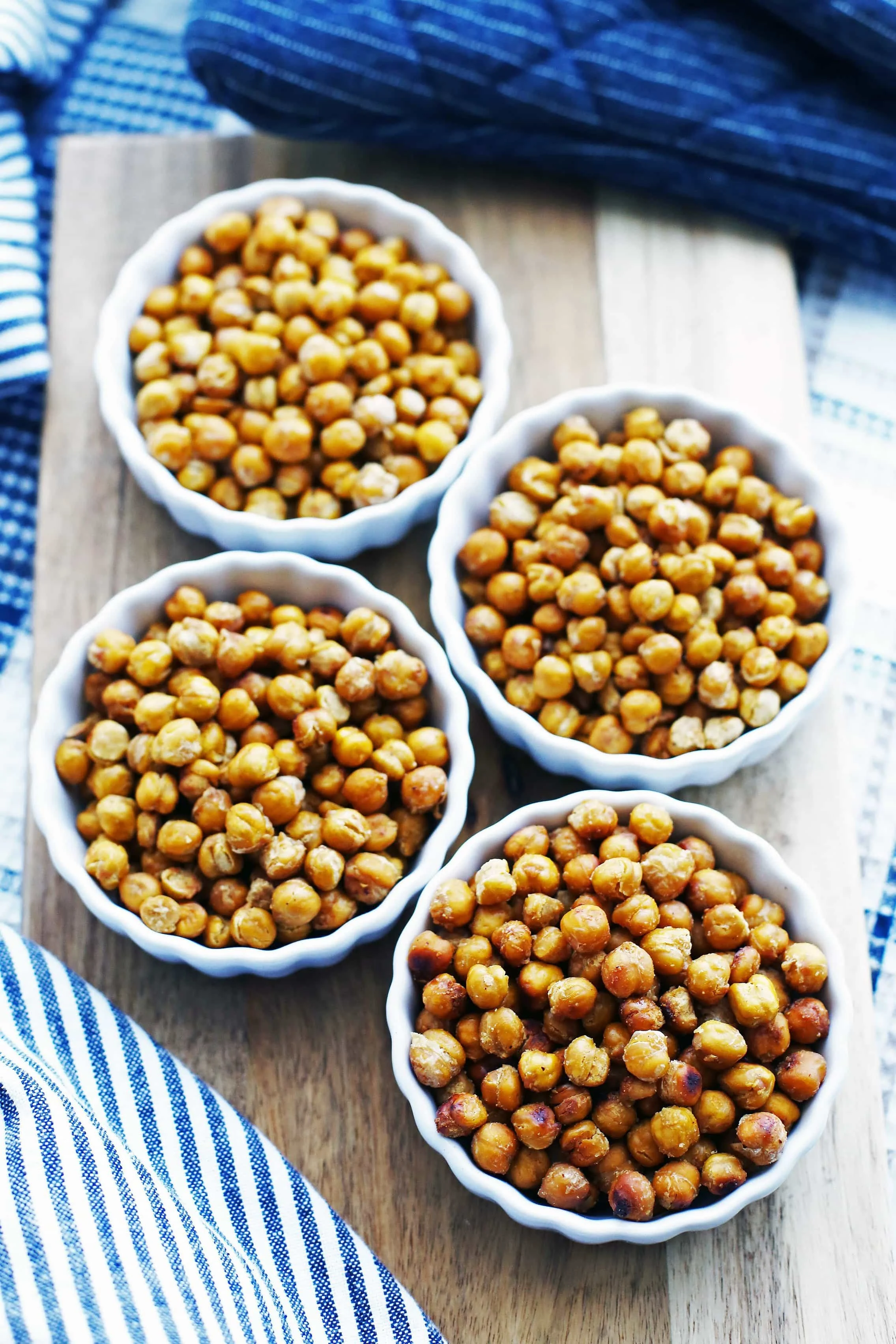 So good! From top to bottom (yep, they look quite similar!): salt and vinegar, taco, brown sugar and lemon, and honey garlic. Enjoy!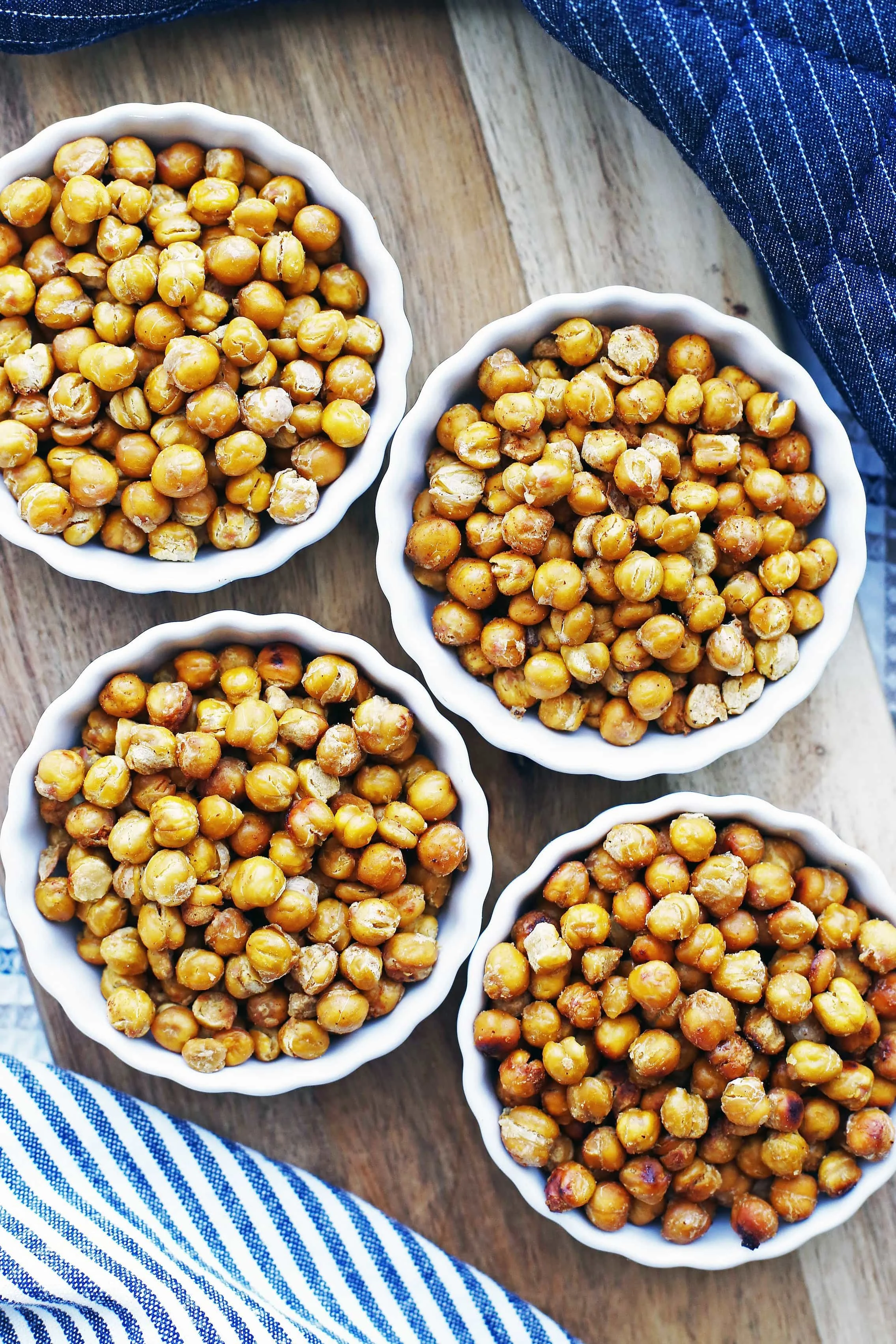 Overall, these oven-roasted chickpeas are:
Deliciously addictive! Crunchy, seasoned, and easy to eat by the handful.
A healthier alternative that's high in fiber and protein compared to other sweet and salty snacks.
Adaptable: There are endless combinations of seasoning that can be added to these roasted chickpeas. Plus, making your own means you can season to your own preferences.
A yummy snack that's easy to pack up and take on the go.
A great addition to other dishes: They are fabulous to add to salads, soups, and Buddha bowls.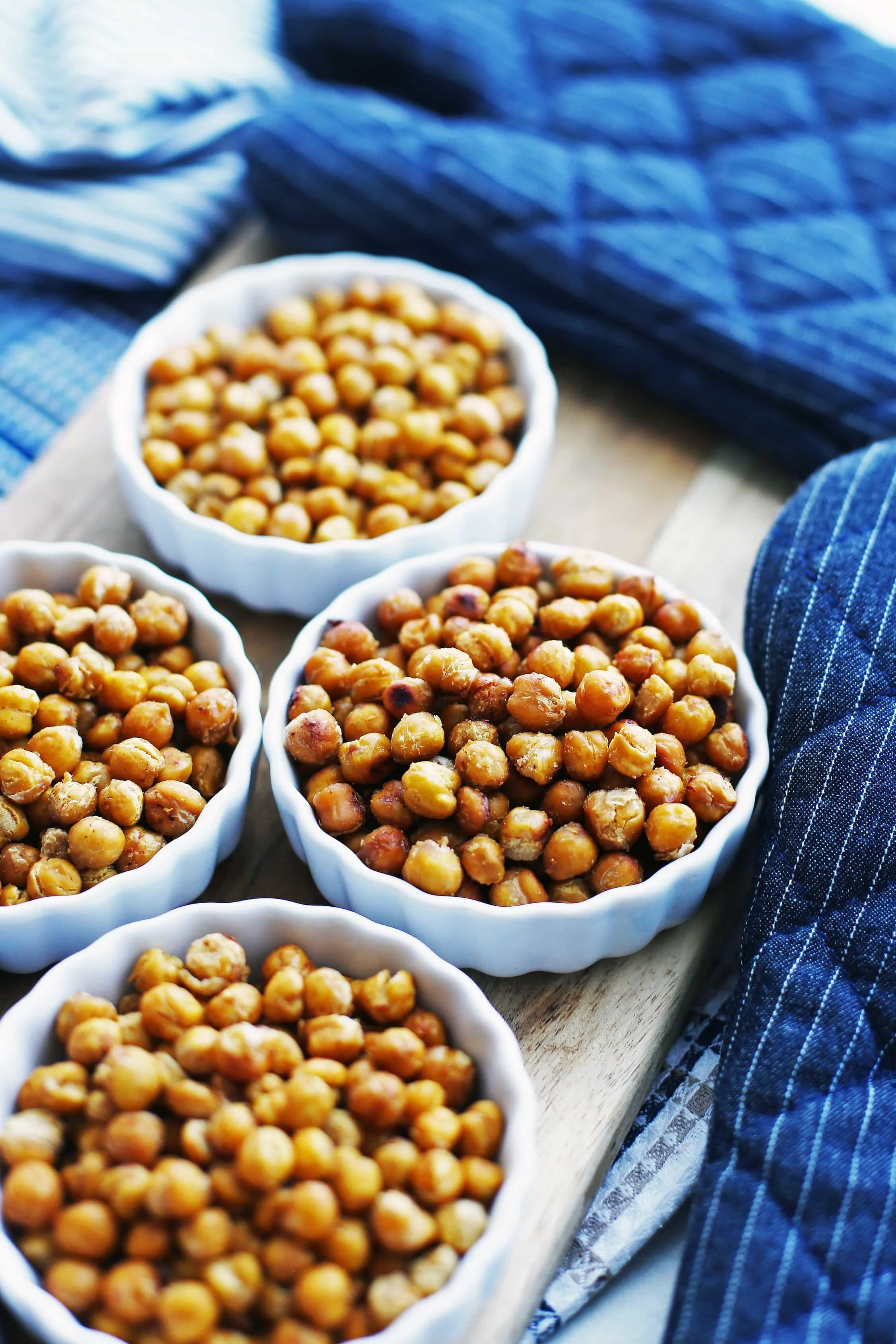 I hope you make these oven-roasted chickpeas! If you make this recipe, please leave me a rating and comment down below or tag me on any of my social media. I'm @yay_for_food on Instagram. Please share your recipe pictures!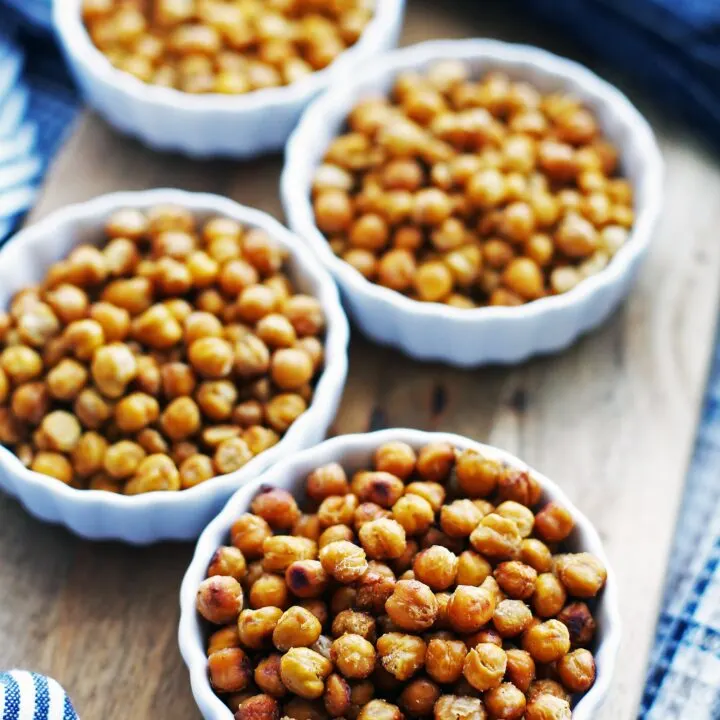 Crunchy Oven Roasted Chickpeas 4 More Ways
A delicious snack with endless flavour possibilities, roasted chickpeas provide a healthier option that you can customize. From salt and vinegar to honey garlic, this recipe showcases four more delicious combinations.
Ingredients
2 - 19 oz. cans of cooked chickpeas, drained, rinsed, and thoroughly dried
1-2 tbsp olive oil
½ tsp salt
Plus, one of the following combos*
2 tbsp white vinegar / ½ tsp salt (in addition to the salt previously added)
1½ tbsp honey + 1 tbsp water combined / 3 tsp garlic powder
1 tbsp taco seasoning (I used a prepared mix)
½ lemon (juice and zest) / 1 tbsp brown sugar
Instructions
Preheat the oven to 400 degrees F. Line a baking sheet (with sides) with parchment paper or aluminum foil.
Drain, rinse, and pat the chickpeas dry using paper towels or a clean dish towel. Remove chickpea skins that come off when drying (the drier the better).
Spread the chickpeas in a single layer on the large baking sheet and drizzle with olive oil and salt.
Toss gently so that the chickpeas are evenly coated. Roast in the oven for 30 minutes, gently shaking the baking sheet every 10 minutes to move around the chickpeas.
After 30 minutes, remove from the oven and evenly coat with the seasoning of your choice.
Place the seasoned chickpeas back in the oven for 5-10 more minutes, until crispy**. Best served immediately for warm crunchiness.
Notes
*Adjust quantities according to taste preferences.
**Chickpeas with liquid seasonings (i.e. vinegar and lemon) may require an additional 5-10 minutes.
Store at room temperature in a container without a sealed lid/with a loosely covered lid (it helps it stay crispier). Chickpeas lose a little bit of crispness and get a little chewier the next day. They still taste amazing though.
Nutritional information represents one serving for a total of four servings and excludes seasonings.
Recommended Products
As a participant in the Amazon Services LLC Associates Program, I only link to products that I use and/or highly recommend. As an Amazon Associate, I earn from qualifying purchases if you purchase through these links at no additional cost to you.
Nutrition Information:
Yield:

4
Serving Size:

1
Amount Per Serving:
Calories:

555
Total Fat:

14g
Saturated Fat:

2g
Trans Fat:

0g
Unsaturated Fat:

10g
Cholesterol:

0mg
Sodium:

757mg
Carbohydrates:

87g
Fiber:

21g
Sugar:

23g
Protein:

24g