It feels like forever since I posted a dessert recipe. Okay, it's been like a month since I posted my last sweet dessert, which was my take on the ever-so-classic fall-time pumpkin muffin, but with lots of chocolate chips (because chocolate is yum) and whole wheat flour (because it has more nutritional value than white flour and IMO it tastes just as good).
There was also my Butterscotch Pumpkin Spice Popcorn,which is also a sweet treat, but more of snack than a dessert.
Anyway… this is another one of those simple, easy-to-whip-up desserts that takes about 10 minutes of prep work and then you bake it and serve. No stand mixer required. Just a couple of bowls, a whisk, a cake pan, and a hot oven.
Yay! It's an Apple Cake! One of my fall-time favourites, which really can be made anytime of the year.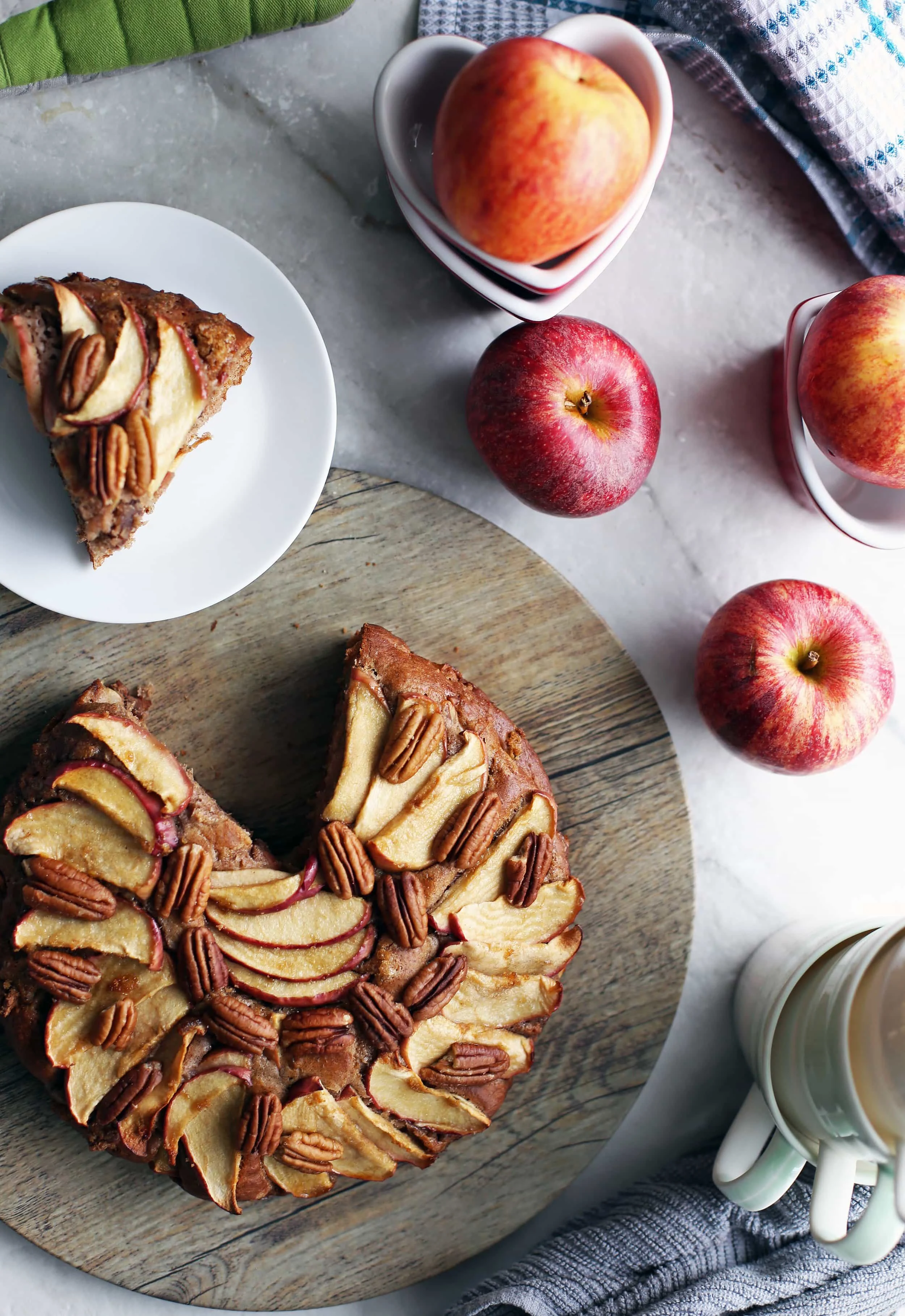 Why do I love this recipe? First, It's loaded with delicious apples. I used Gala apples, but any sweet apple such as Ambrosia or Red Delicious would be wonderful as well. Baking the apples brings out the sweet and tart flavours even more. They're almost melt-in-your mouth tender, especially the diced apples that are folded into the cake.
For this recipe, I used two large apples, but you can add another one for the apple topping. I made a single circular pattern using thinly sliced apple slices on top, but it would be awesome to make a more intricate pattern on top too.
The use of creamy and thick plain Greek yogurt works wonderfully in this recipe as it helps the cake maintain its tender texture. It also has a tangy flavour which contrasts nicely with the predominant sweet flavours of the cake.
In addition, the cake uses a good amount of ground cinnamon. The flavour of cinnamon is so distinct and pleasant; It warms you up when you eat it.
Then, there's the nuts. The pecans are folded in to add a nice crunchy texture throughout the moist cake. It has a rich, nutty, and sweet (almost caramel) flavour that compliments the apple and cinnamon amazingly.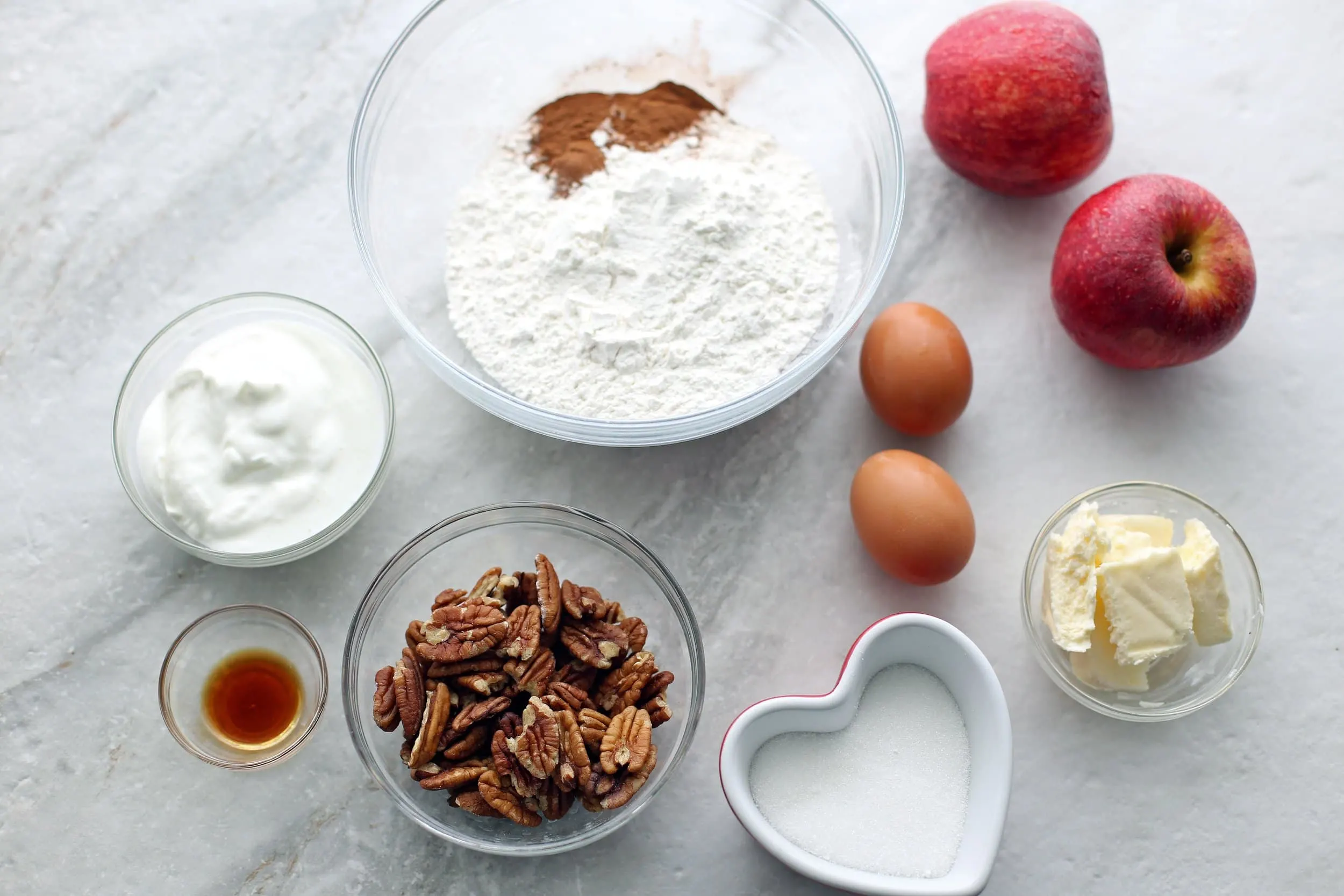 The apple cake ingredients! Full ingredient amounts and instructions listed in the recipe down below.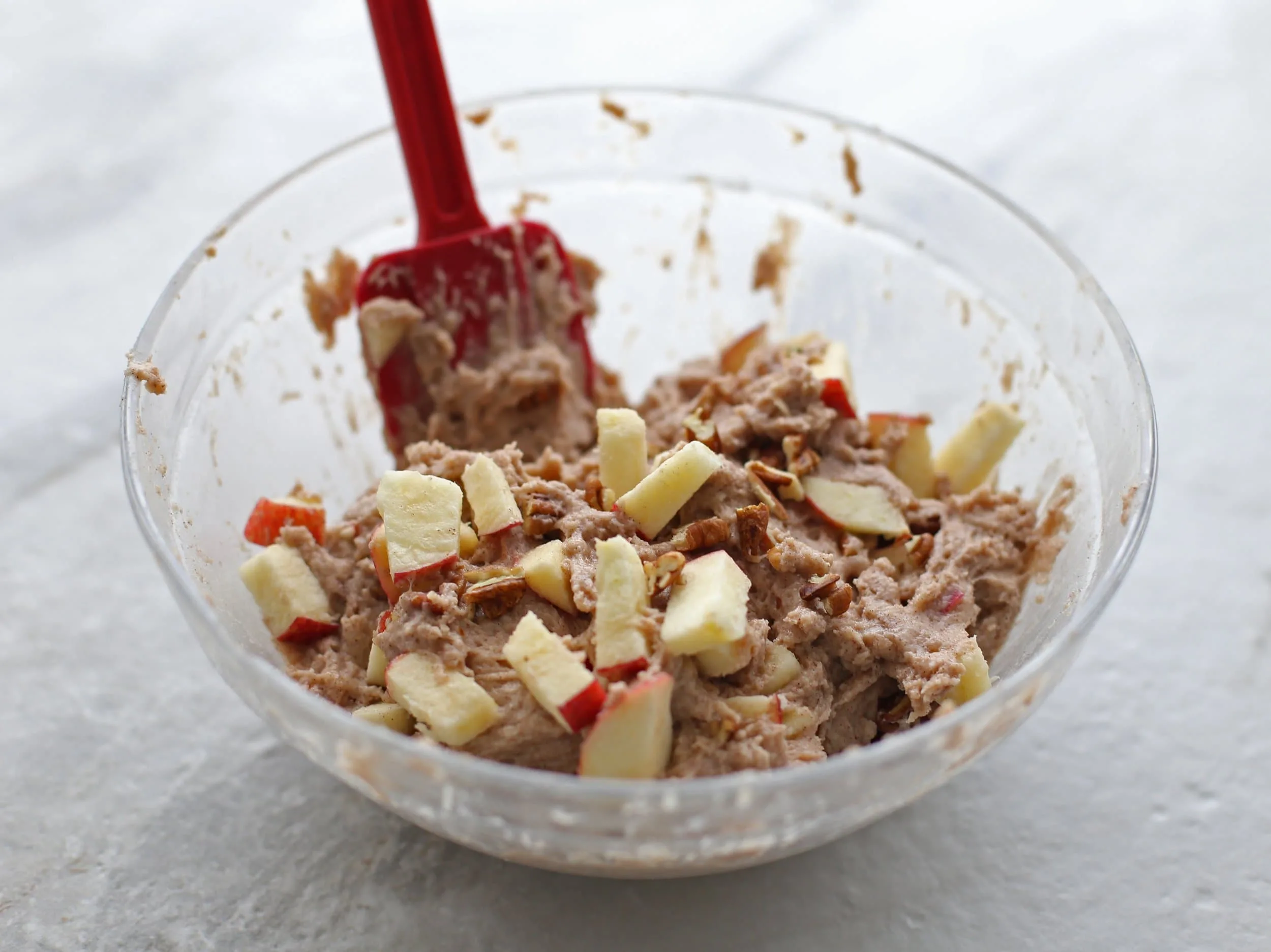 All the ingredients are mixed into a bowl (I combined the dry ingredients in separate bowl first).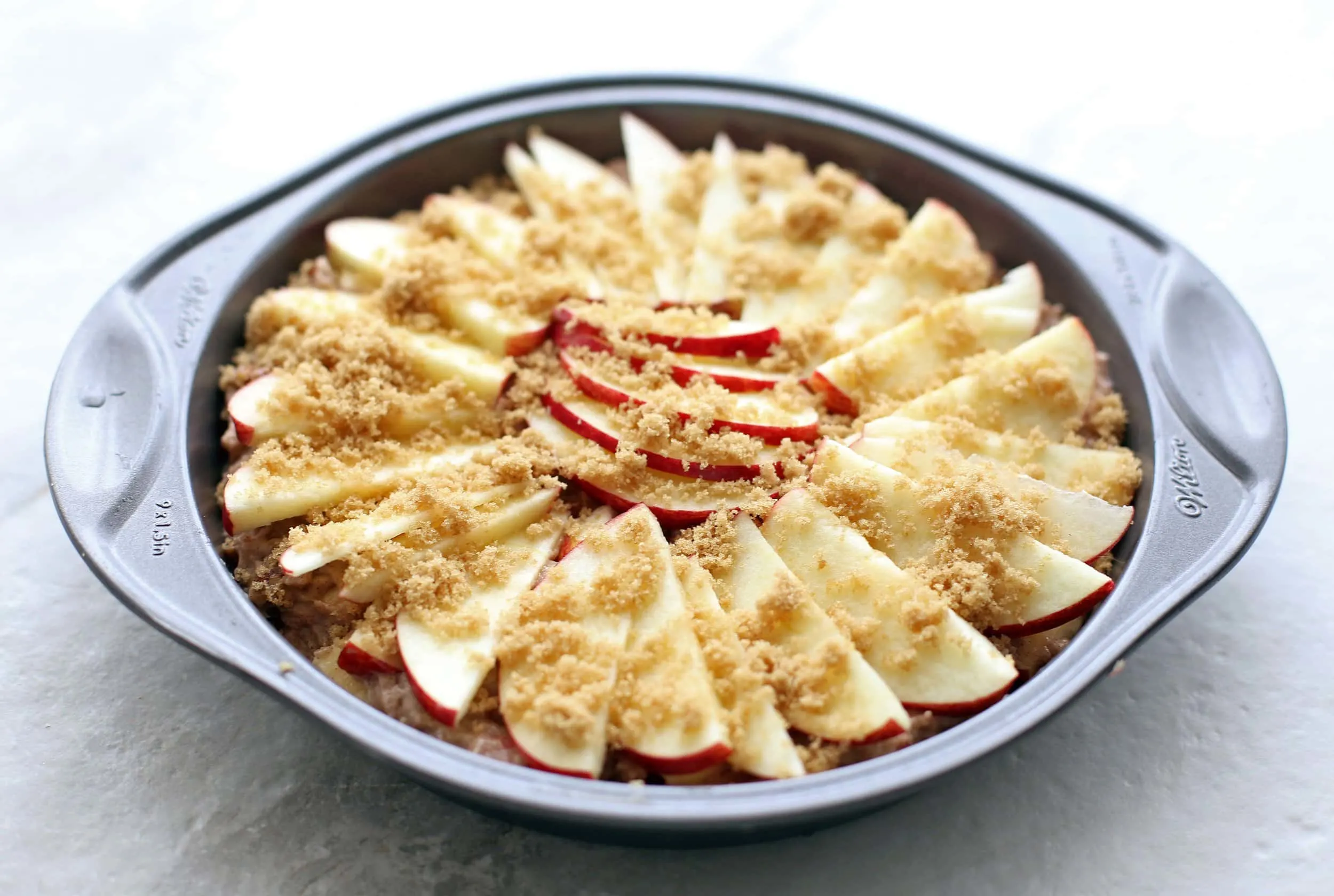 Scoop the thick batter into a greased cake pan, flatten it into an even layer, and top it with apple slices and a little brown sugar.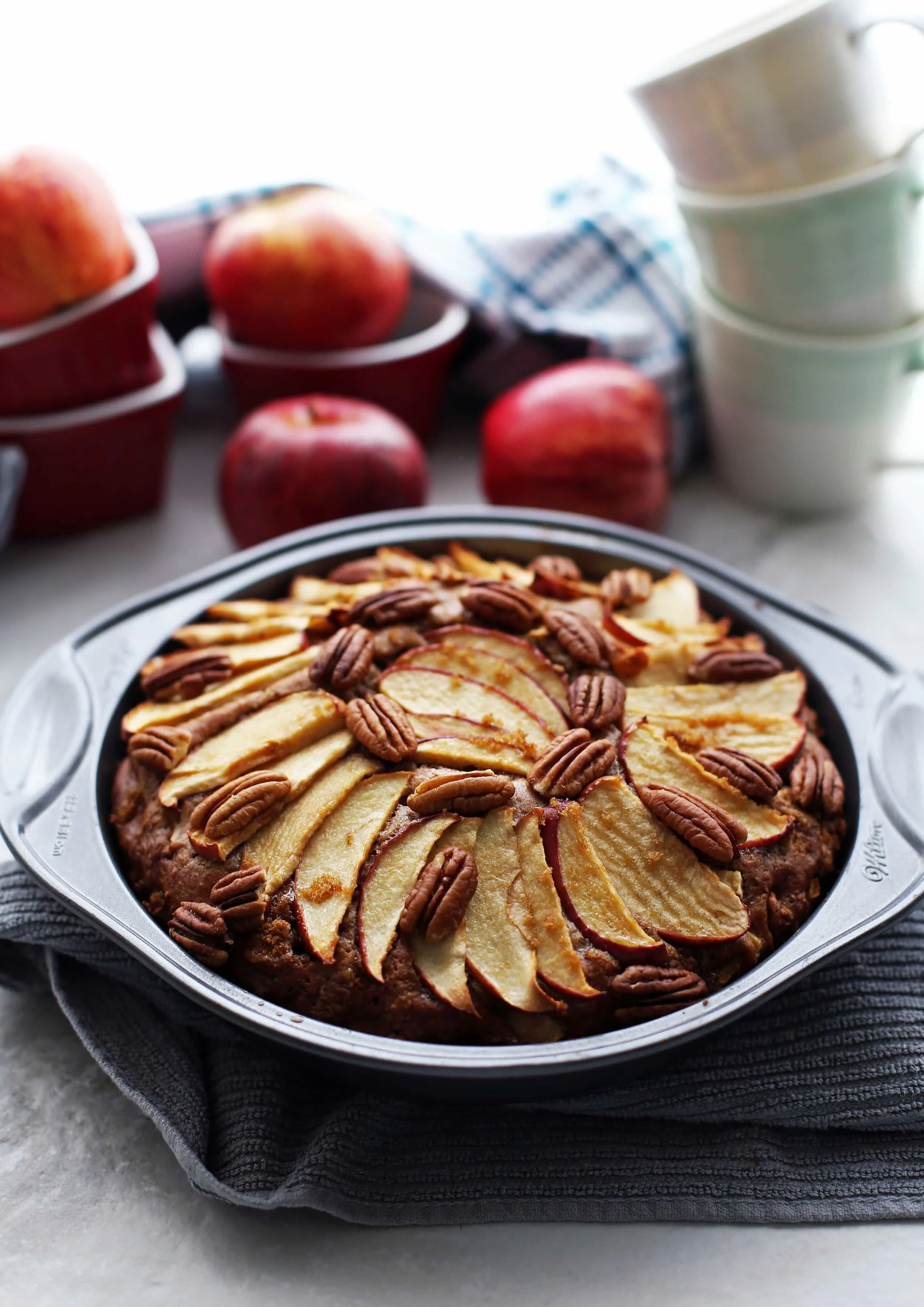 Bake for 35-45 minutes at 350 degrees. I like to top it with extra pecans for more crunch. it also hides the imperfections in the appearance of the apple pattern on top 🙂
I hope you enjoy this recipe! If you make it, please let me know by leaving a comment down below or by sending me a picture or message on my social media.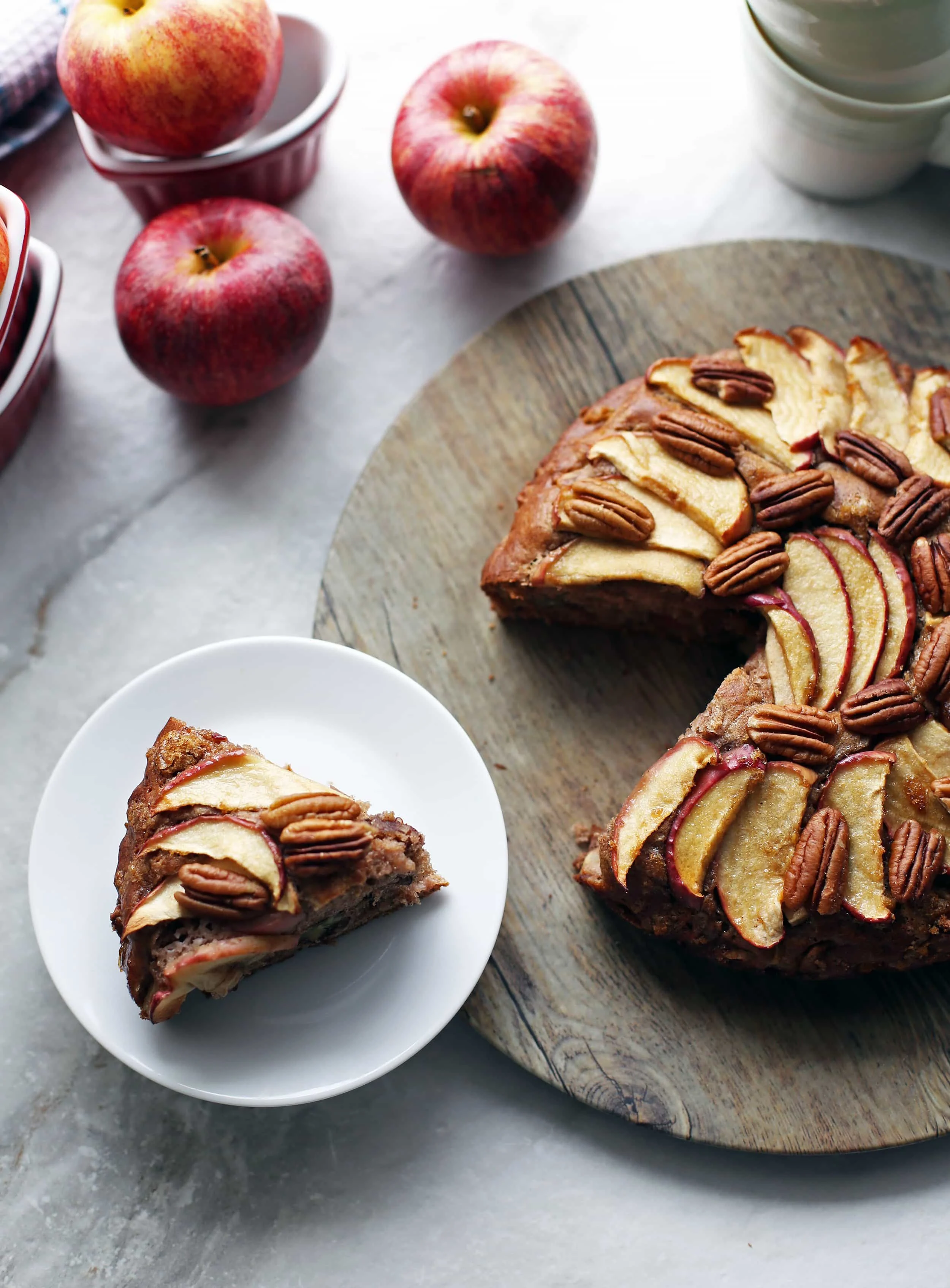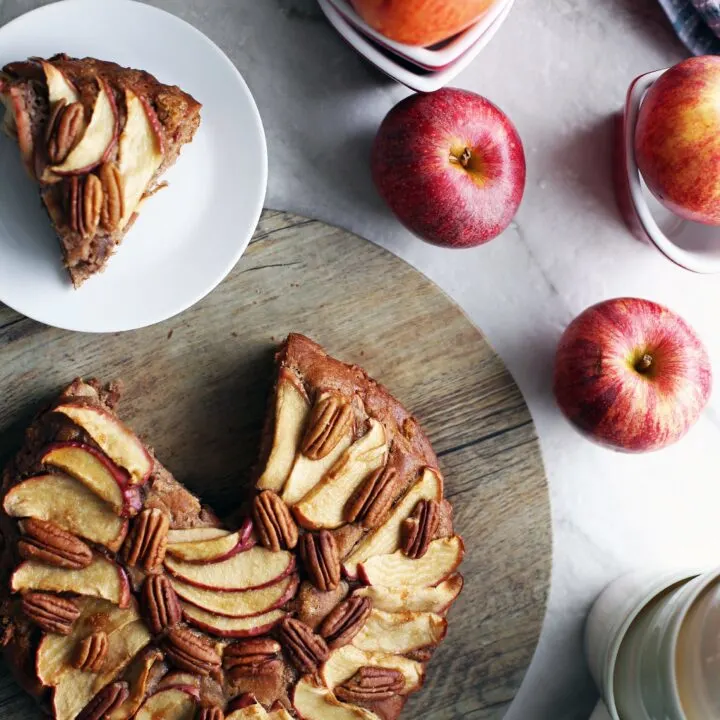 Rustic Apple Cinnamon Pecan Cake
Yield:
1 - 9-inch round cake (12 slices)
A lovely fall dessert! Check out this easy and delicious cake made with sweet apples, chopped pecans, and spiced with cinnamon. No stand mixer required.
Ingredients
½ cup sugar
¼ cup (2 oz.) unsalted butter, melted, plus more to grease pan
½ cup plain Greek yogurt
2 eggs
1/2 tsp vanilla extract
1½ cup all purpose flour
2 tsp ground cinnamon
1 tsp baking soda
¼ tsp salt
2 large apples, one diced and one thinly sliced
¾ cup pecans, chopped, plus more for topping
2 tbsp brown sugar
Instructions
Preheat oven to 350 degrees F. Grease a 9-inch round cake pan with butter (or cooking spray).
In a medium bowl, mix together the sugar and butter until combined. Then stir in the yogurt, vanilla, and eggs until smooth.
In a large bowl, whisk together the flour, cinnamon, baking soda, and salt. Using a spatula, stir and fold in the mixture from the medium bowl into the dry ingredients, until combined. The batter will be thick.
Gently fold in the diced apples and pecans. Then, scoop the batter into the cake pan and flatten the top of the batter. Layer the apple slices on top in a circular pattern and sprinkle the top with brown sugar.
Bake for 35-45 minutes, until a wooden skewer or toothpick comes out clean in the centre of the cake.
Once the cake is out of the oven, top with additional pecans. Let it cool slightly before removing from the cake pan. Best served warm or at room temperature.
Recommended Products
As a participant in the Amazon Services LLC Associates Program, I only link to products that I use and/or highly recommend. As an Amazon Associate, I earn from qualifying purchases if you purchase through these links at no additional cost to you.
Nutrition Information:
Yield:

12
Serving Size:

1
Amount Per Serving:
Calories:

182
Total Fat:

6g
Saturated Fat:

1g
Trans Fat:

0g
Unsaturated Fat:

5g
Cholesterol:

32mg
Sodium:

172mg
Carbohydrates:

29g
Fiber:

2g
Sugar:

15g
Protein:

4g