Yay! Two desserts in a week. This recipe was made to with the intent to combine three of my favourite flavours together: banana, peanut butter, and chocolate (cocoa).
Anyway you combine it, peanut butter and banana, chocolate and peanut butter, or banana and chocolate, I love them all. A lot.
So why not make a recipe where they are all together?
I mean, I could just spoon a dollop of peanut butter from the jar, down some chocolate chips, and then eat a banana, but where's the fun in that?
Plus, if I make a dessert, there's a little more creativity involved. That way, I can share too (the husband is pleased) and I have more for myself to snack on later.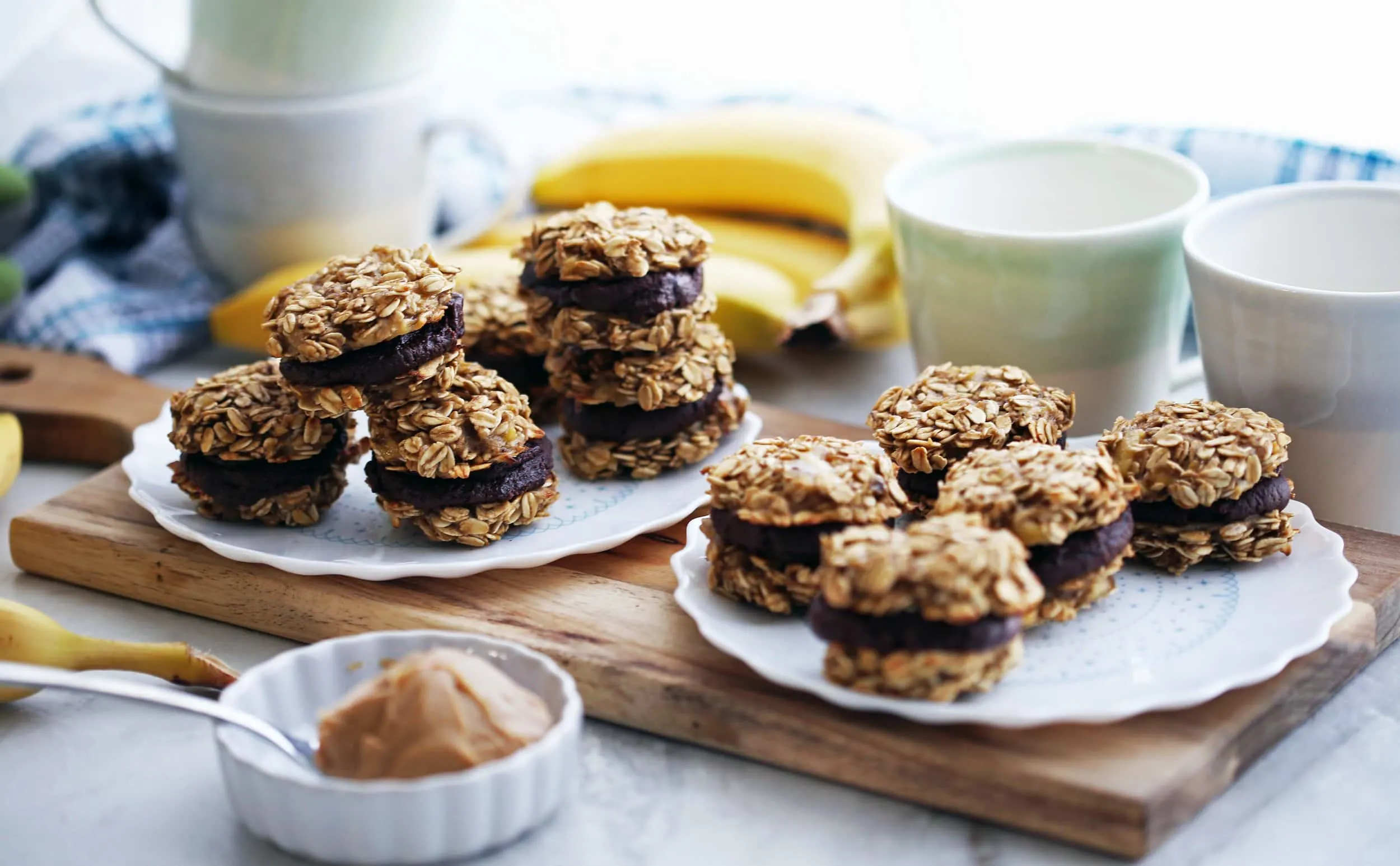 That's how these delicious sandwich cookies came about.
The cookies are super easy to make since they are made with only two ingredients: sweet ripe bananas and rolled oats. The bananas are mashed up, flattened into cookies, and baked for a short amount of time.
Bananas are rich in potassium, vitamin C, and fibre while oats are also fibre-rich and a good source of iron. These chewy cookies alone would be great to grab and go for a quick breakfast or snack.
TIP: If you don't have ripe bananas, a quick trick is to place the banana on a cooking sheet as the oven is preheating and let the skin brown and in the oven as it heats up. The bananas will soften and make it easier to mash up.
If you have more time, you can ripen the bananas by baking them at 300 degrees F. on a parchment-lined baking sheet for 30 minutes so the skin gets completely black and the bananas get really soft and sweet.
How do you make Banana Oatmeal Sandwich Cookies with Peanut Butter Cocoa Filling?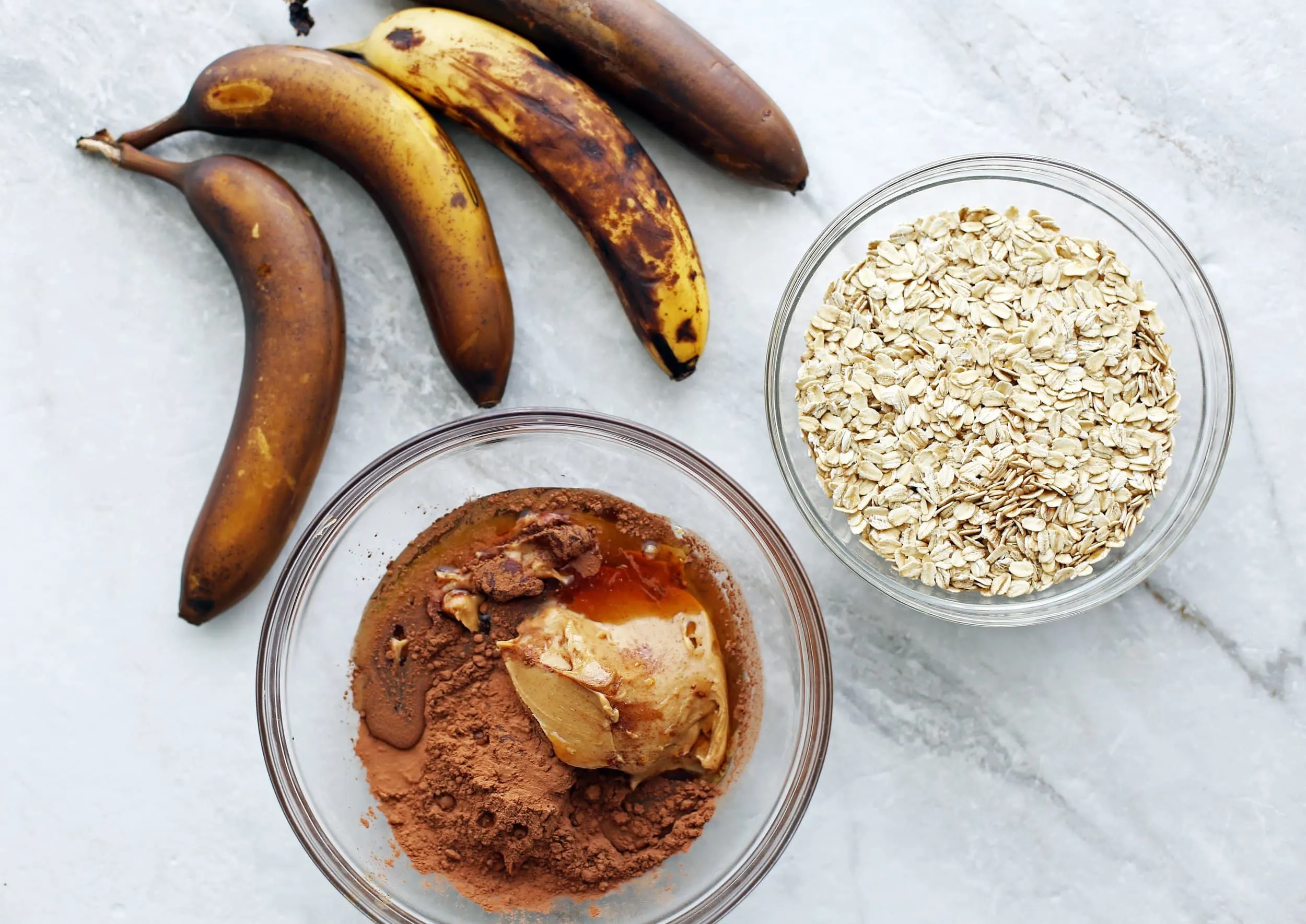 All the ingredients! Exact amounts are listed in the "Ingredients" list below.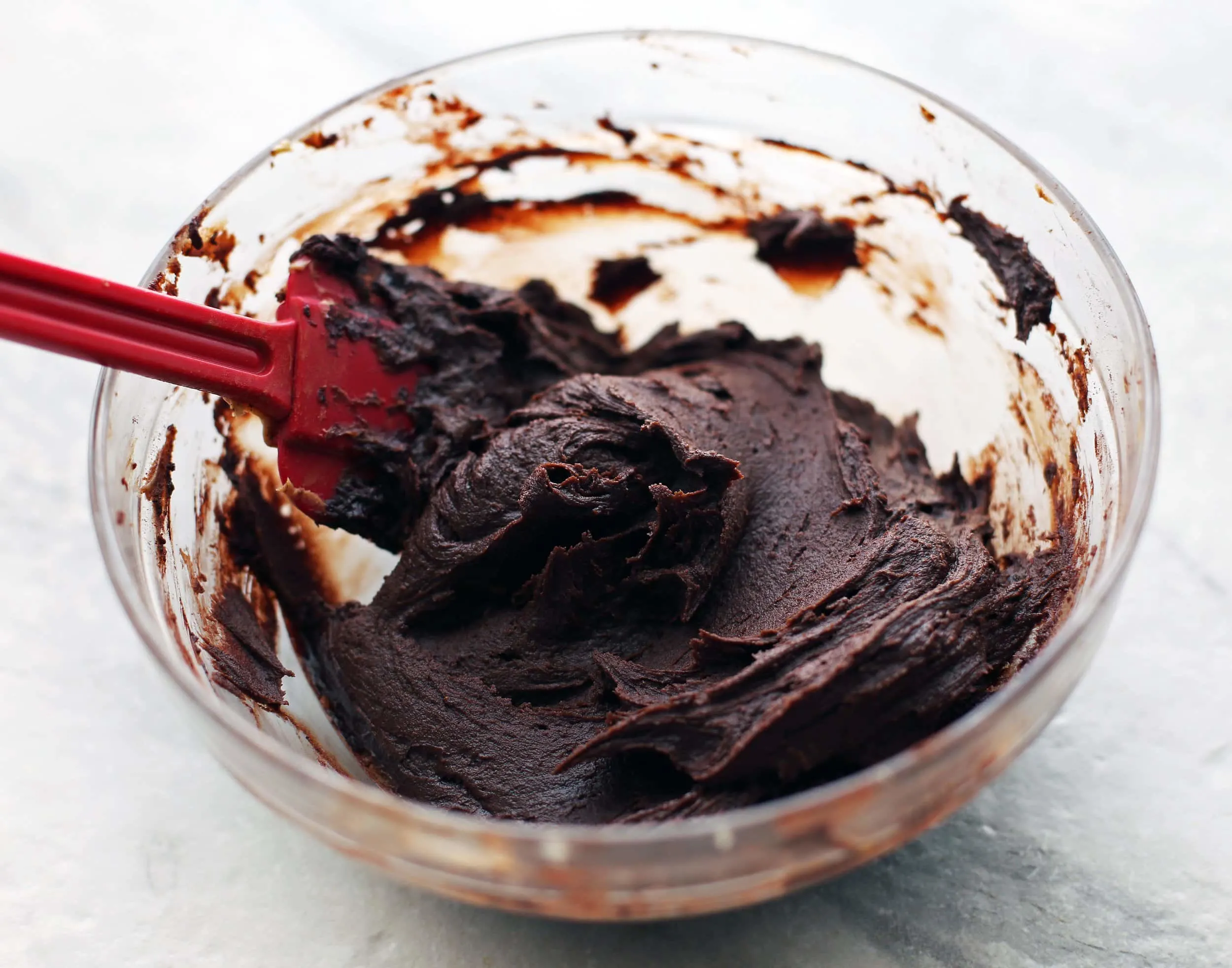 Make the filling. It is the best part! It's so simple, but so scrumptious.
A little nutty, sticky peanut butter (I like using creamy PB), cocoa powder for chocolatey goodness, pure maple syrup for its rich flavour and extra sweetness, and salt to enhance the flavours is all that is needed. Place it together in a bowl and stir until creamy and smooth.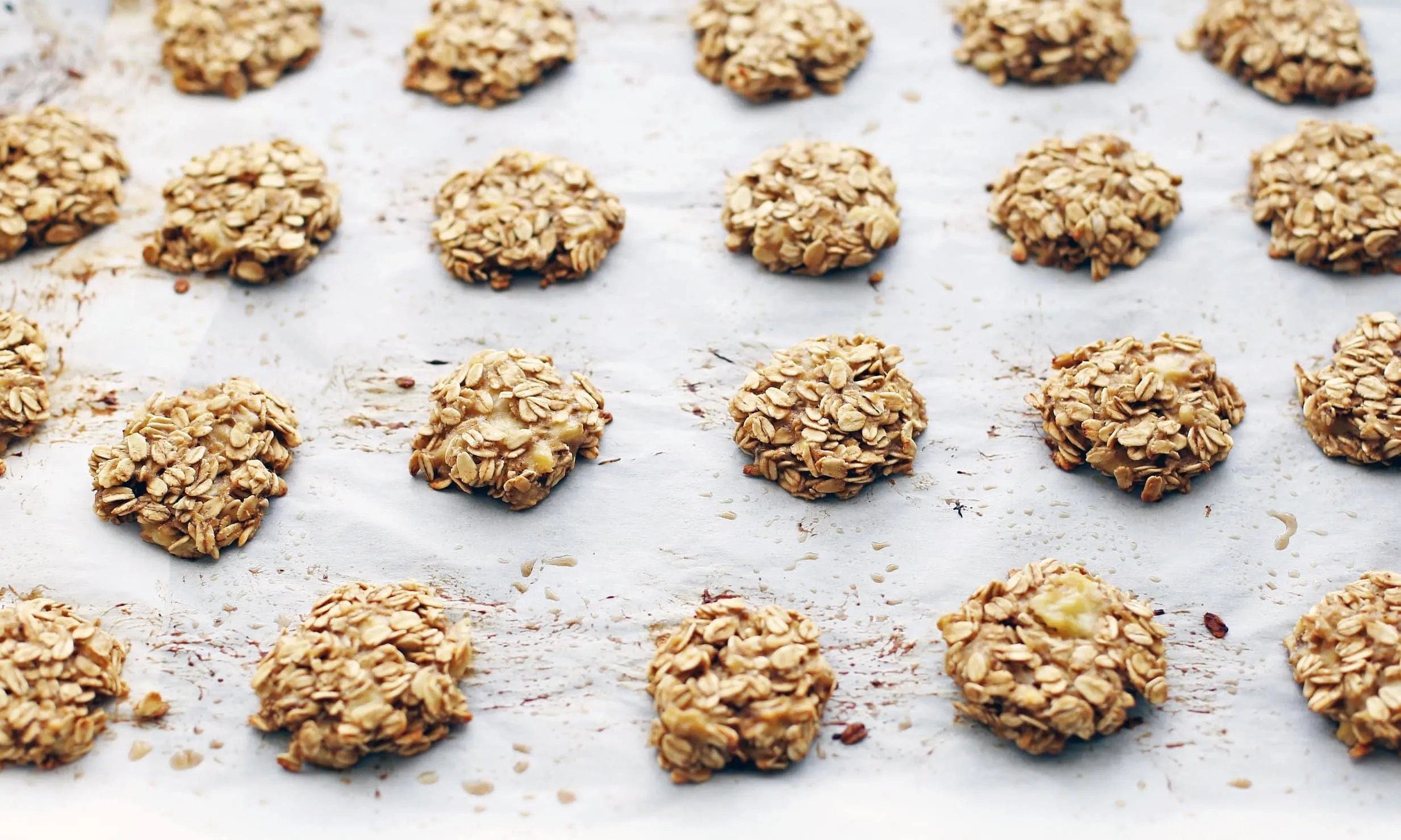 Combine together rolled oats and mashed ripe bananas to make the cookie "dough." Scoop out tablespoon amounts and place on a baking sheet. Flatten each cookie slightly. Bake at 350 degrees F for 12-15 minutes.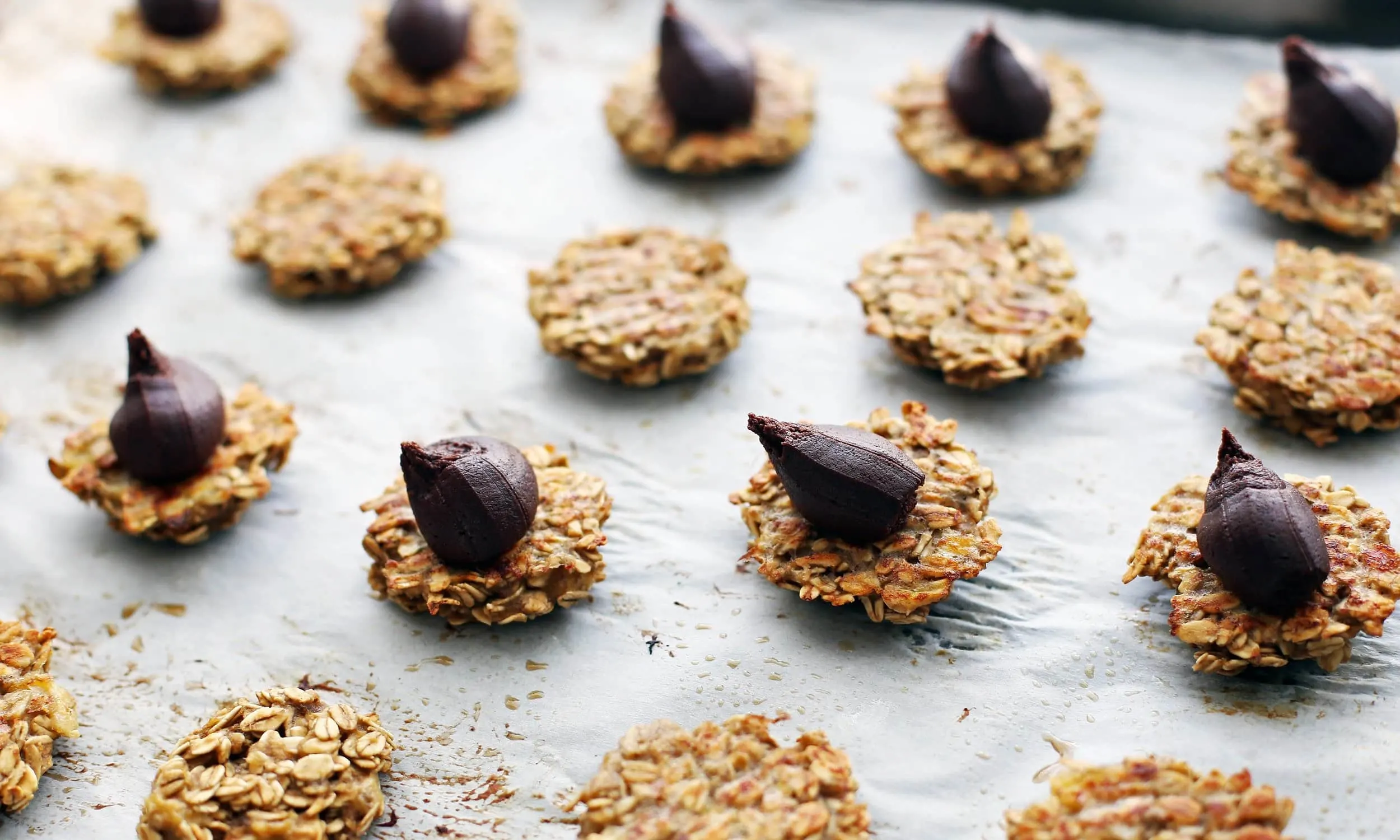 Then top the bottoms of half of the cookies with the yummy filling.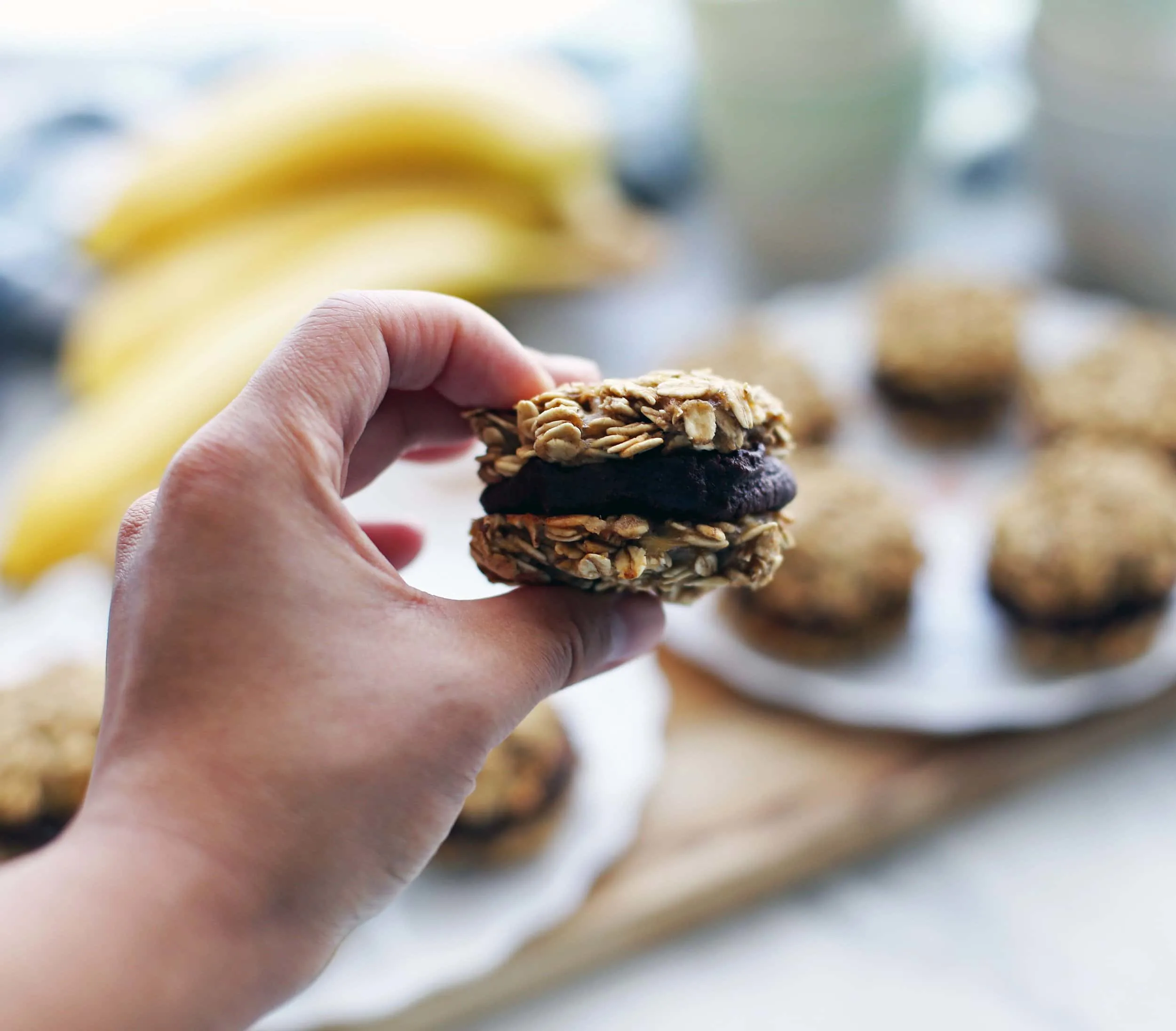 Assemble the cookie sandwiches and you've got a tasty snack, dessert, or quick sweet breakfast.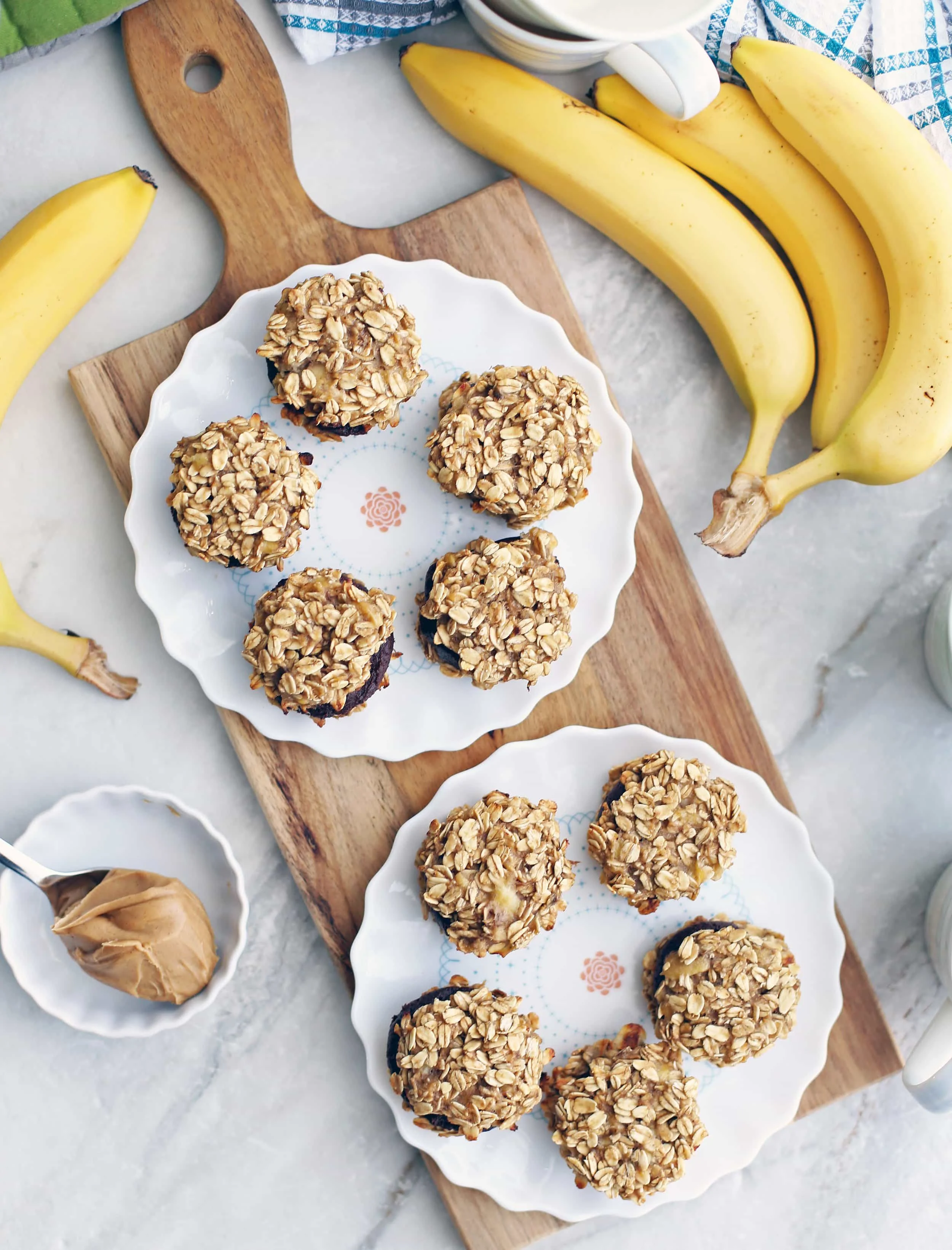 It's vegan and gluten-free too, which is great if you have dietary restrictions. Just make sure that the ingredients such as the oats are made in a gluten-free facility (it'll probably say it's gluten-free on the bag).
Overall, these sandwich cookies are so good and so easy.
All together there are six ingredients (plus a little cooking spray) and only takes 30 minutes or less from start to finish. I'll be making these cookies again and again!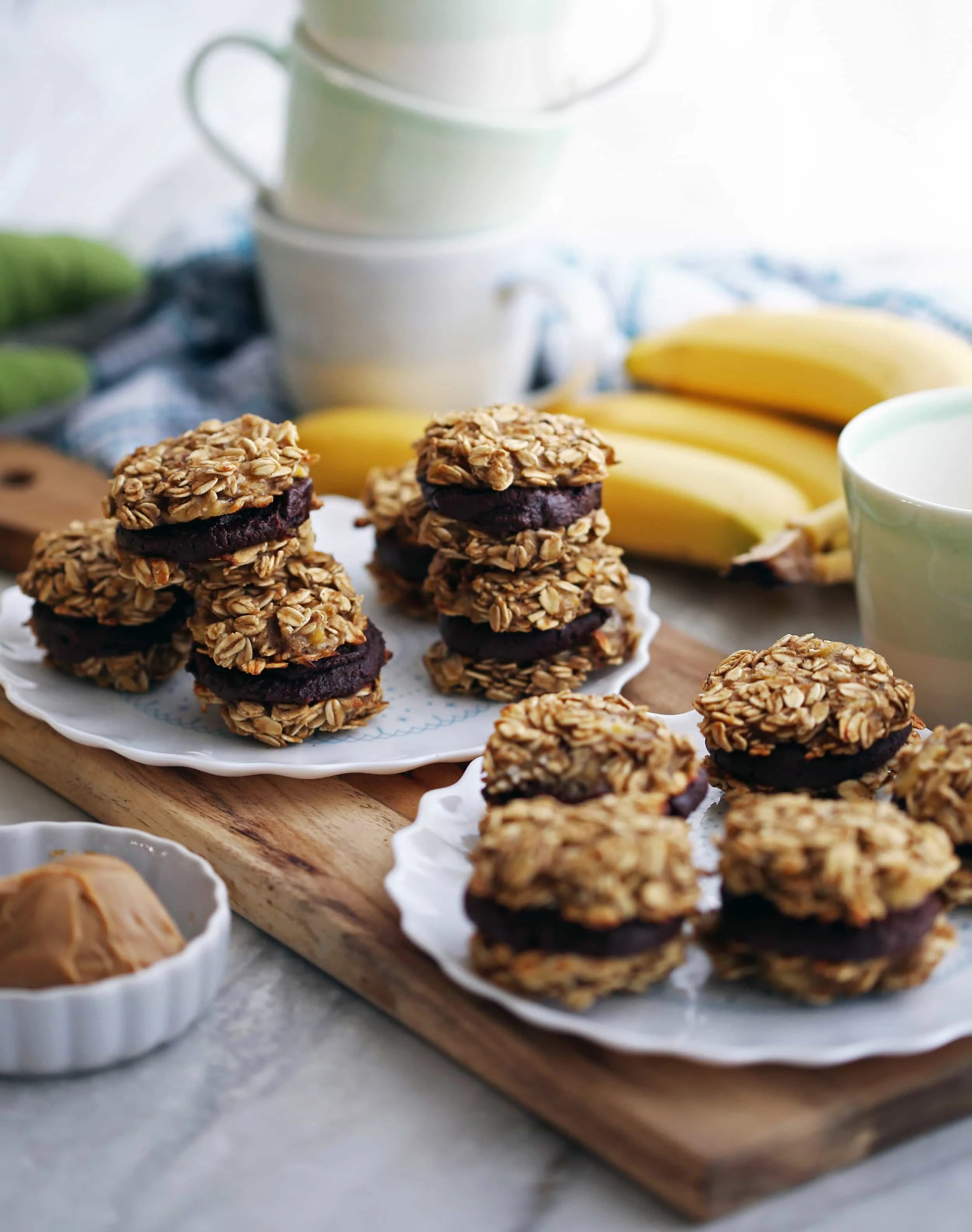 I hope you enjoy this recipe for Banana Oatmeal Sandwich Cookies! Leave me a rating and comment down below or tag me on any of my social media. I'm @yay_for_food on Instagram. Please share your recipe pictures!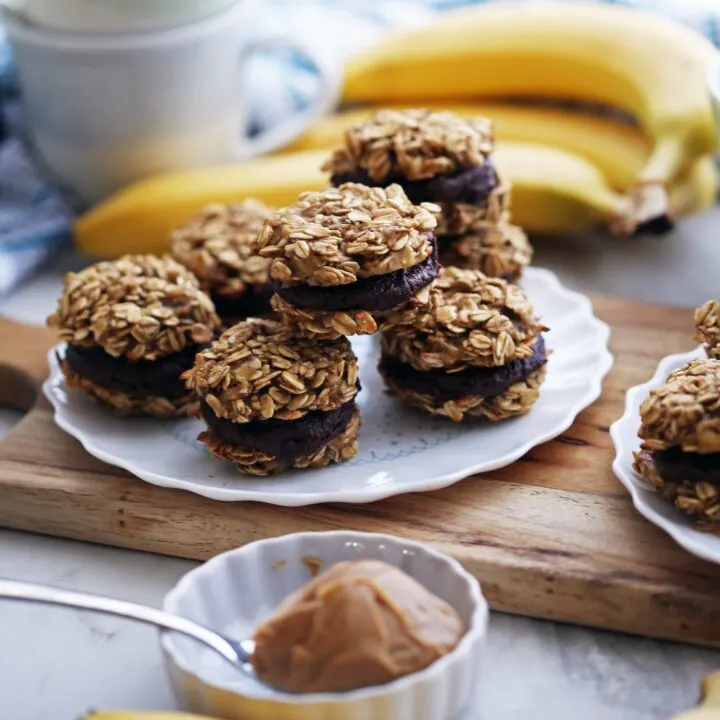 Banana Oatmeal Sandwich Cookies with Peanut Butter Cocoa Filling
Yield:
12 sandwich cookies
A tasty sweet treat with banana, peanut butter, and chocolate flavours! These sandwich cookies require only six ingredients and takes 30 minutes or less to make.
Ingredients
For the cookies:
2 cups uncooked rolled oats
4 ripe bananas (about 1¾ - 2 cups), mashed*
For the peanut butter cocoa filling:
½ cup creamy peanut butter
2-4 tbsp pure maple syrup (depending on sweetness preference)
¼ cup cocoa powder
½ tsp sea salt (optional)
Instructions
Preheat the oven to 350 degrees F. Line a large baking sheet with parchment paper and spray with vegetable cooking spray.
In a large bowl, thoroughly combine the oats and mashed bananas together.
Scoop out one tablespoon of the mixture and place it on the baking sheet. Repeat until done, making 24 balls. Using the palm of your hand, gently flatten each cookie.
Bake for 12-15 minutes until the bottoms of the cookies are lightly browned. Let cool on the baking sheet.
In the meantime, in a medium bowl, stir together the filling ingredients until the mixture is well combined and smooth in appearance.
Take one cookie and spoon or pipe** the filling onto the flat side of the cookie. Top with another cookie. Repeat the process until the sandwich cookies are made (12 sandwich cookies). Best served immediately.
Notes
*If the bananas are not quite ripe, place the bananas on a cooking sheet and place it in the oven as the oven preheats. The skin will turn dark brown to black in colour and the edible insides will get soft and warm making it easier to mash up.
**To keep it neat, I like to spoon the filling into a large resealable plastic bag and cut the corner of the bag to make a piping bag. Then, I squeeze the filling out of the bag onto the cookie.
Store leftover sandwich cookies in an airtight container at room temperature for up to five days.
Recommended Products
As a participant in the Amazon Services LLC Associates Program, I only link to products that I use and/or highly recommend. As an Amazon Associate, I earn from qualifying purchases if you purchase through these links at no additional cost to you.
Nutrition Information:
Yield:

12
Serving Size:

1
Amount Per Serving:
Calories:

195
Total Fat:

7g
Saturated Fat:

1g
Trans Fat:

0g
Unsaturated Fat:

4g
Cholesterol:

0mg
Sodium:

155mg
Carbohydrates:

31g
Fiber:

4g
Sugar:

14g
Protein:

5g