In June, my husband and I went on a trip to Prince Edward Island to celebrate our first wedding anniversary where we stayed in a mini cabin with a oceanfront view. The cabin had no electricity for two days, a terrible Internet connection (I need it to live), and the outside of the cabin was a haven for spiders. Spiders everywhere and tons of mosquitos at night. I am glad that I am not squeamish over spiders. Centipedes, however… arghhh.
Anyway, the electricity issue was sorted out eventually, the wifi remained bad, and the spiders stayed put. The highlight of the cabin was the fire pit in the backyard. We were determined to make food using the fire pit, so we made s'mores. We bought a s'more kit with the essential ingredients along with some bug repellent and we found a couple of lawn chairs, firewood, a lighter, and citronella candles that were, thankfully, available at the cabin.
We lit a fire for the three nights that we were there and we roasted marshmallows to make s'mores. We sat around, talked, and laughed… and ate a lot of s'mores.
These cookies remind me of that time.
Not only are the cookies full of chunks of semi-sweet chocolate and mini marshmallows, they are rolled in crushed graham crackers (there is also a little bit inside) before baking. Additional chocolate and marshmallows are placed on top of each cookie and toasted in the oven for extra melty, gooeyness when you eat it warm.
Now onto the recipe.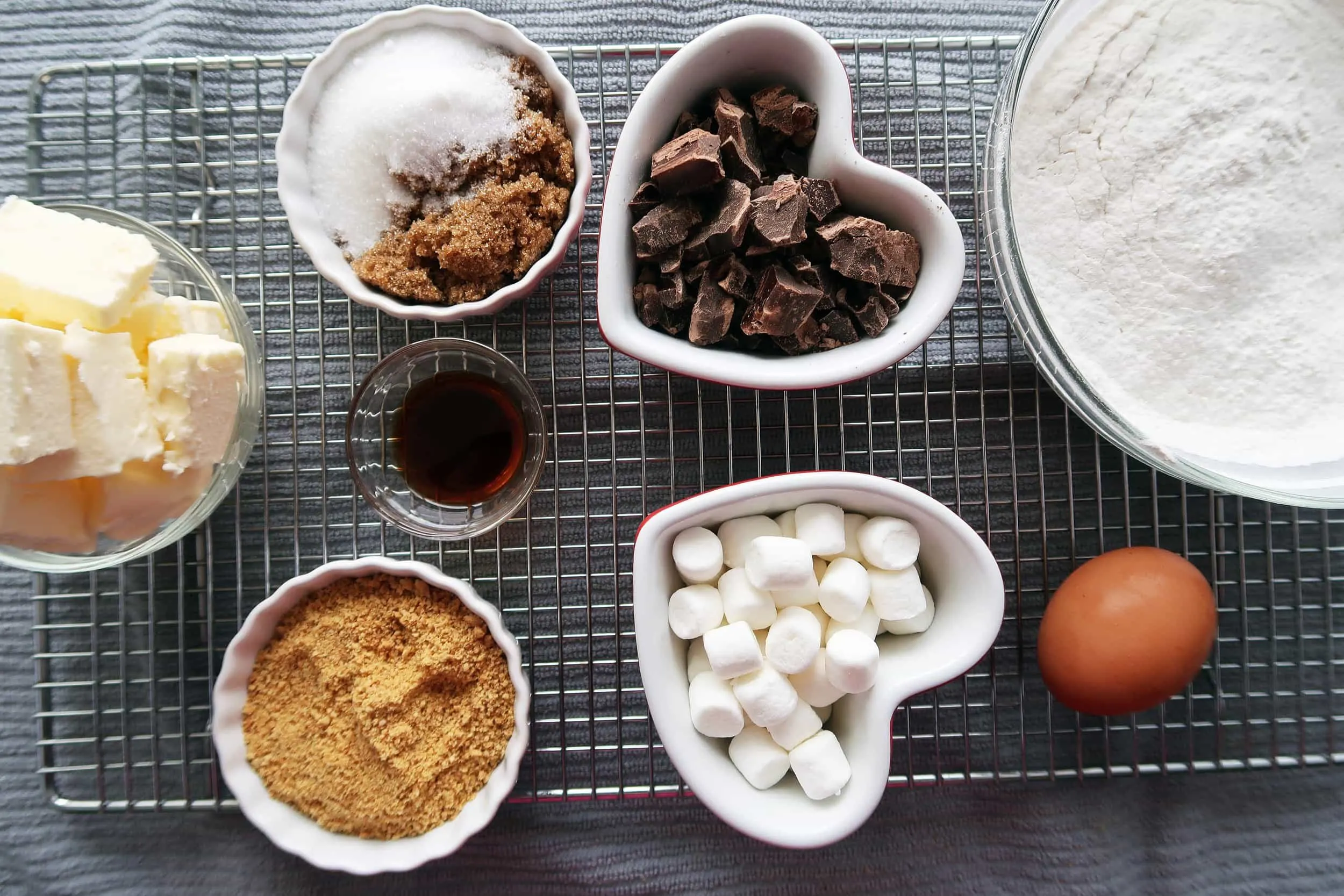 Gather and measure your ingredients. Preheat the oven to 350 degrees F.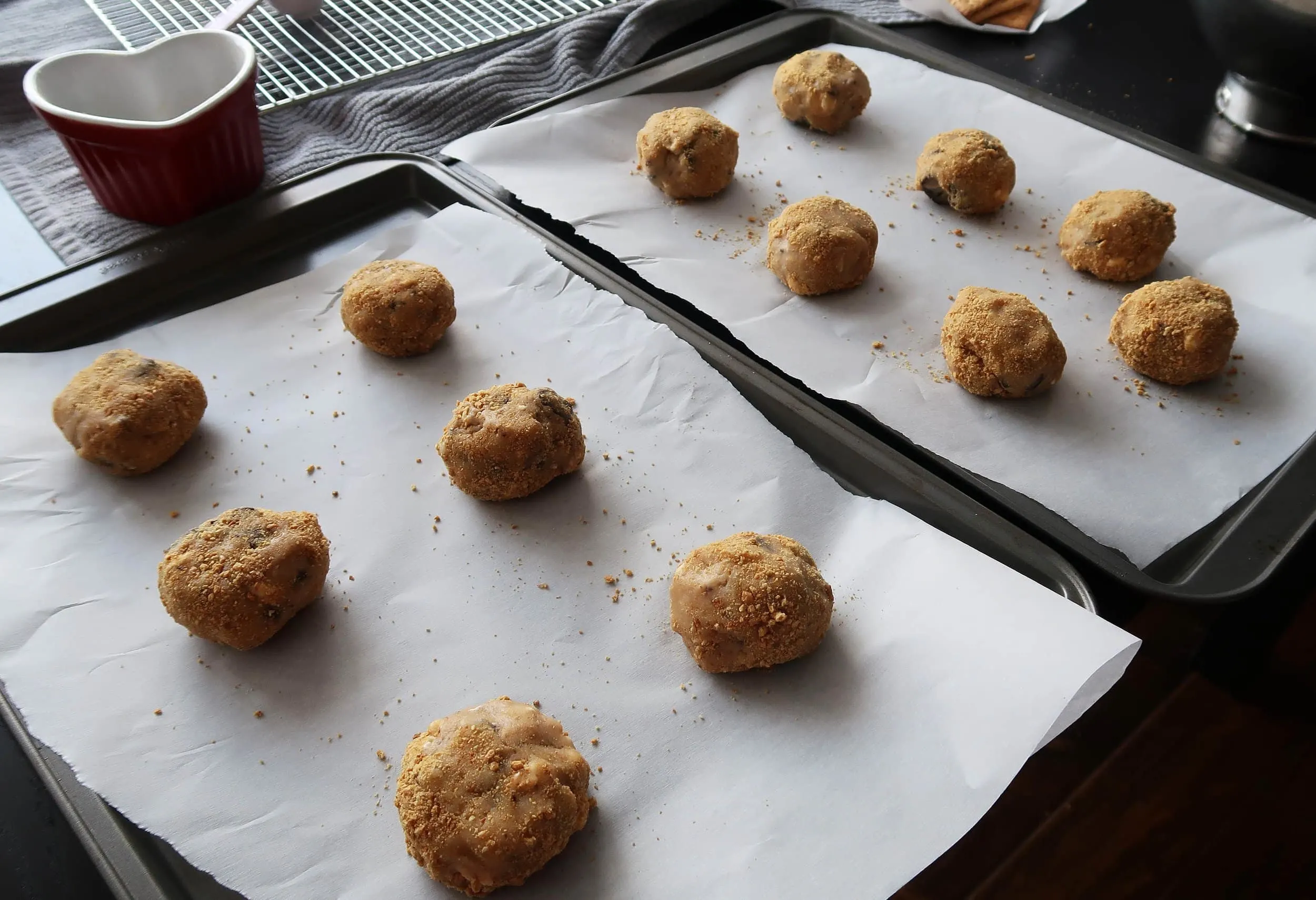 Using an electric mixer, cream together butter, sugars, and 2 tbsp of crushed graham crackers. Add the vanilla extract and egg, and then the sifted dry ingredients. Then, mix in chocolate chunks and marshmallows. Make 13 balls and lightly cover each ball with the remaining crushed graham crackers. Place on lined baking sheets and flatter each ball slightly.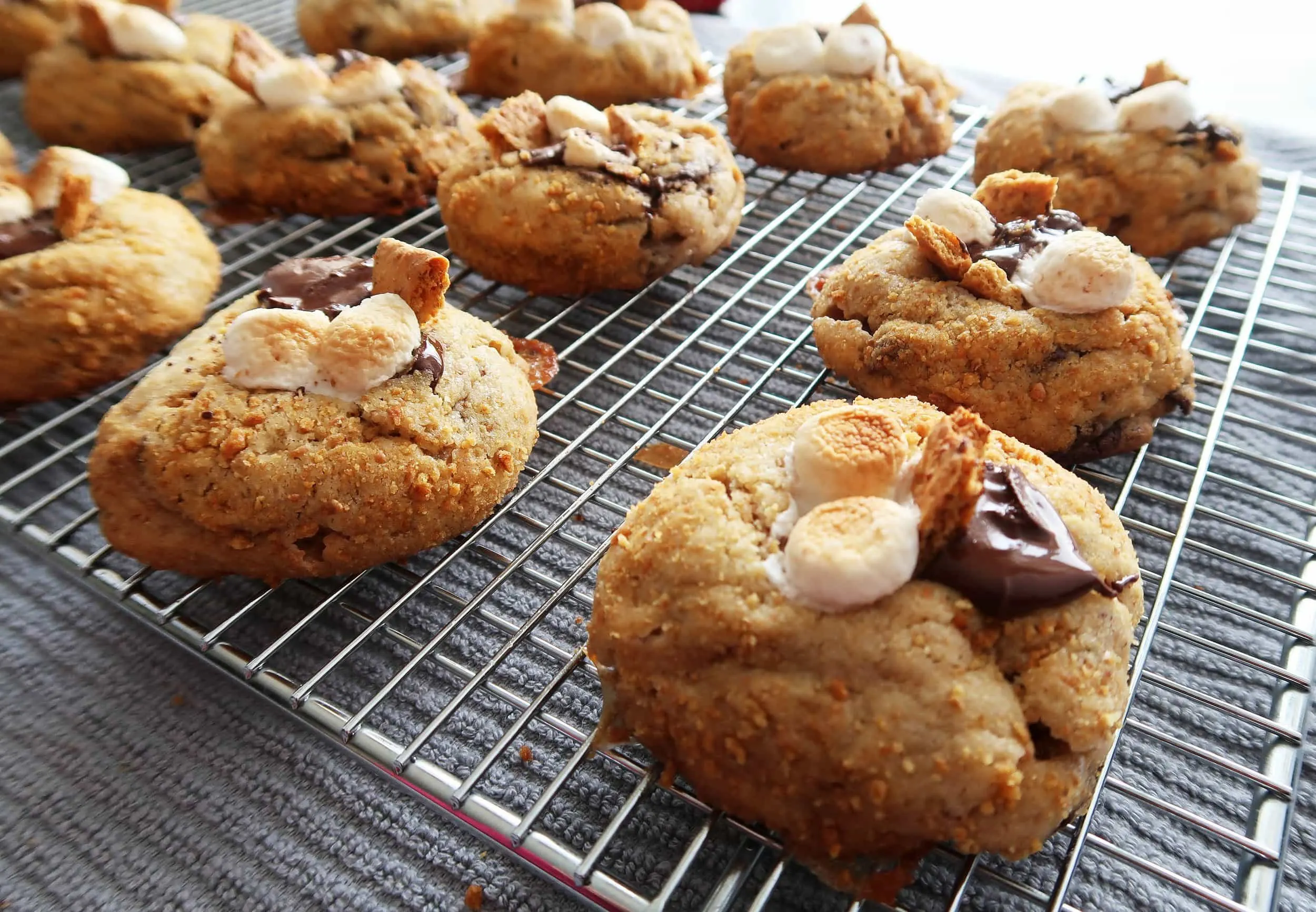 Bake for 10-12 minutes, until bottoms are golden-brown. Turn the oven setting to broil.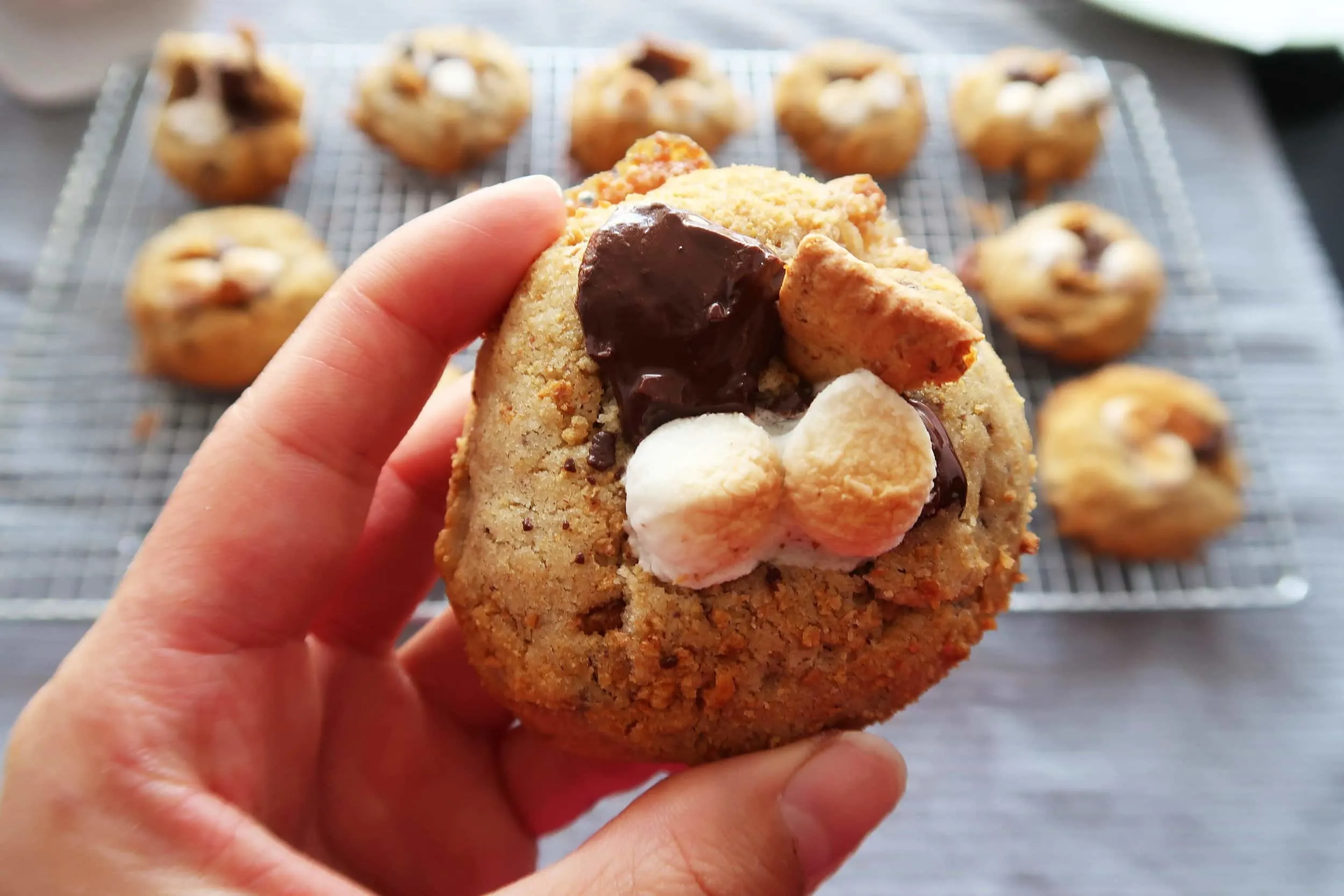 Top each cookie with additional chocolate, marshmallows, and graham cracker pieces. Broil until marshmallows are toasted.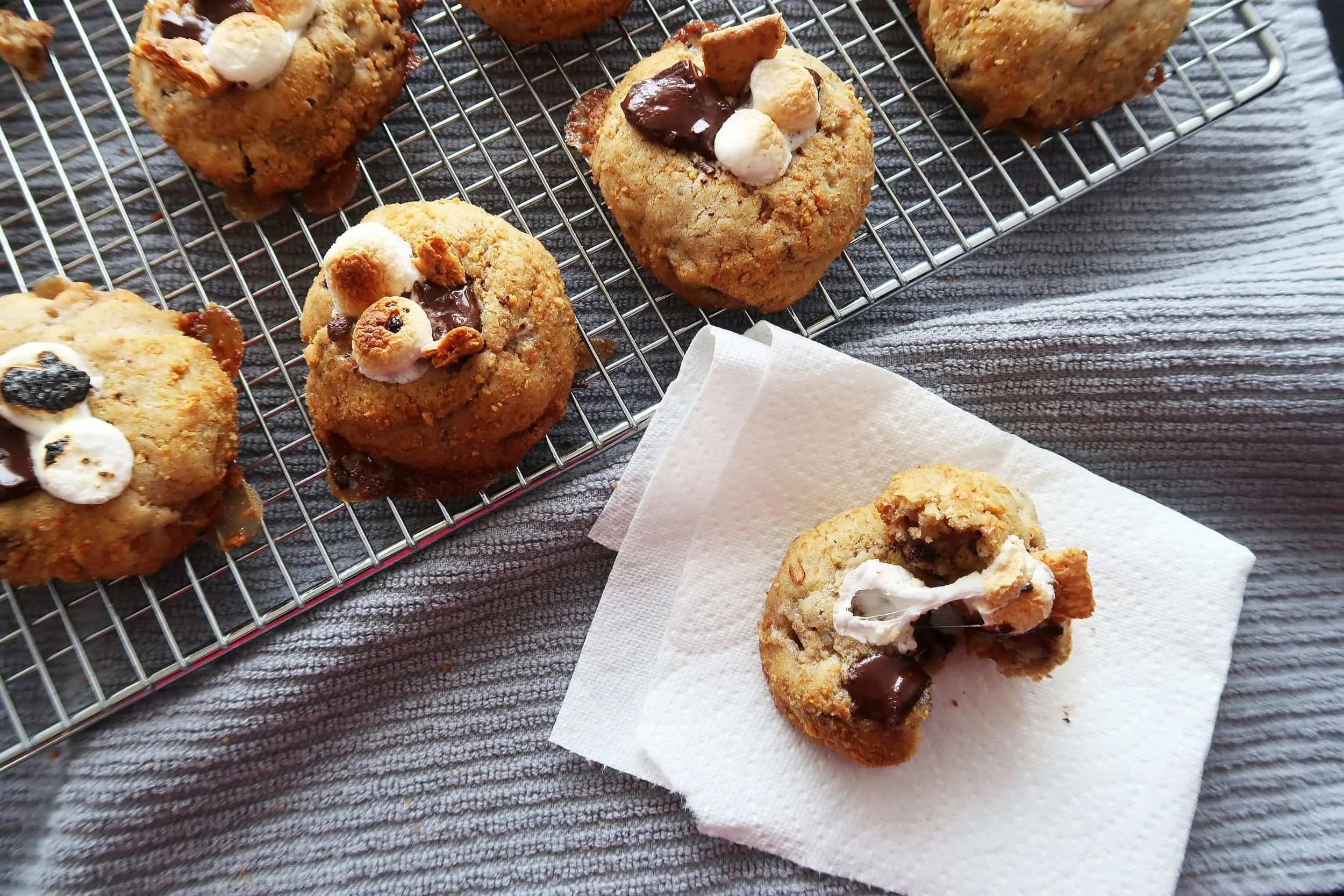 Cool slightly before eating. Enjoy!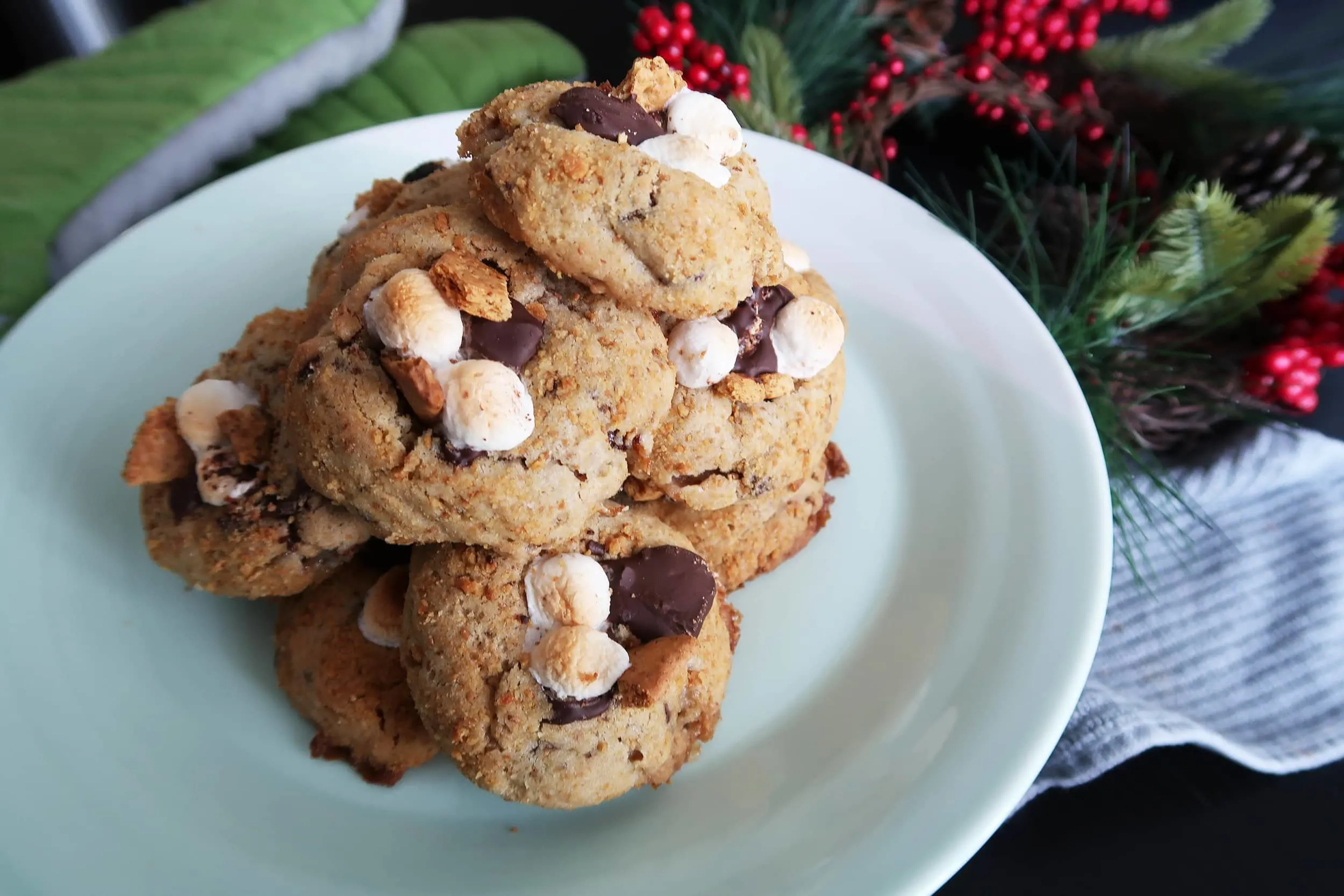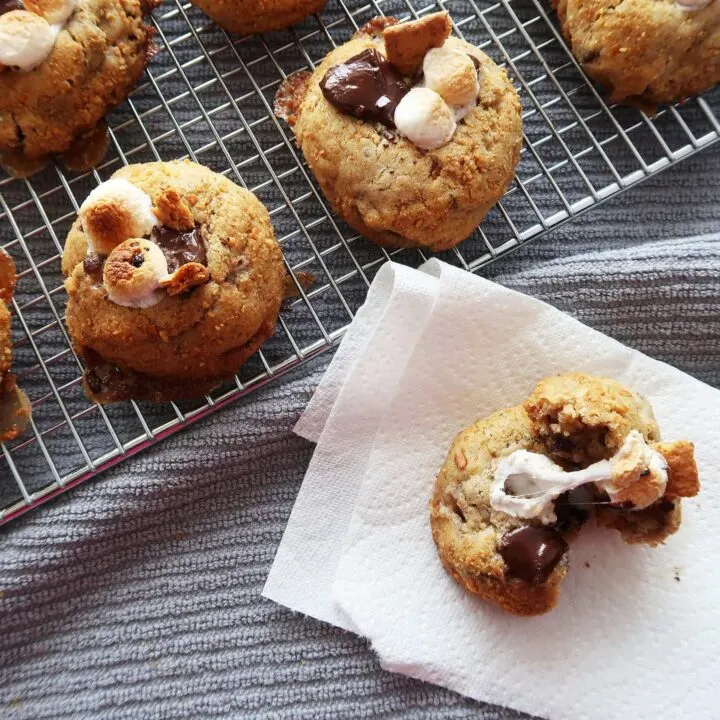 Soft and Chewy S'more Cookies
Yield:
13 cookies (baker's dozen)
Chocolate, marshmallows, and graham crackers! It's a s'more, but in delicious, soft and chewy cookie form!
Ingredients
½ cup (4 oz) unsalted butter, softened
⅓ cup brown sugar
2 tbsp white sugar
½ cup crushed graham crackers, divided
1 tsp vanilla extract
1 large egg
1½ cup all purpose flour
½ tsp baking soda
½ tsp cornstarch
½ tsp salt
⅔ cup small marshmallows, plus more for topping
⅔ cup semi-sweet chocolate chunks, plus more for topping
2 graham crackers, broken into pieces
Instructions
Preheat the oven to 350 degrees F. Line a baking sheet (you may need two) with parchment paper.
Using an electric mixer, combine butter, brown sugar, white sugar, and 2 tablespoons of the crushed graham crackers until creamy. Then add the vanilla extract and egg and mix to combine.
Sift flour, baking soda, cornstarch, and salt into a medium bowl. Slowly add the dry ingredients, mixing as you go, until the ingredients are well-combine. Add in the marshmallows and chocolate chunk until just incorporated.
Scoop out a ¼ cup of the batter (I used a measuring cup) and form it into a ball. Cover each ball with a light coating of crushed graham cracker and flatten slightly onto the lined baking sheet. Repeat the process for the remaining 12 balls. Make sure that the cookies have at least 2 inches of space in between them on the baking sheet(s).
Bake for 10-12 minutes, until the bottoms of the cookies are golden-brown. Remove from the oven and set the oven to broil.
Top each cookie with a chunk of chocolate, 2 marshmallows, and small pieces of graham cracker* before placing them back in the oven. Watching closely, broil until the marshmallows are toasted, about 2 minutes. Let the cookies cool slightly before eating.
Notes
*Obviously, you can top it with as much topping as you would like!
The more you flatten the cookies before you place it in the oven, the more space they will need on the baking sheet as the cookies will spread further as they bake. If you flatten it too much, the texture may be more crumbly than chewy.
Recommended Products
As a participant in the Amazon Services LLC Associates Program, I only link to products that I use and/or highly recommend. As an Amazon Associate, I earn from qualifying purchases if you purchase through these links at no additional cost to you.
Nutrition Information:
Yield:

13
Serving Size:

1
Amount Per Serving:
Calories:

163
Total Fat:

4g
Saturated Fat:

2g
Trans Fat:

0g
Unsaturated Fat:

2g
Cholesterol:

15mg
Sodium:

176mg
Carbohydrates:

30g
Fiber:

1g
Sugar:

14g
Protein:

3g