Happy Friday!
I'm back with another tasty cocktail drink featuring strawberries and whisky!
Or do you prefer it spelled whiskey? Either way you spell it, it's the name of a type of spirit that has been distilled from a mash of fermented grains.
According to TheKitchn.com, this is an easy way to remember how certain countries (or their biggest liquor producers) spell whiskey/whisky:
Countries with E's in their name, like United States and Ireland, usually spell it whiskey (plural: whiskeys).
Countries without E's in their names, such as Canada, Scotland, and Japan write it as whisky (plural whiskies) so without an E.
Cool huh? I'll wait while you go and check to see if this is correct.Since I'm Canadian and am using a Scotch Whisky (use whatever type you like), I'm going E free this time.
But first, have you checked out my last three drink recipes?
Without further ado, I hope you enjoy my recipe for a Mint Strawberry Whisky Smash Cocktail!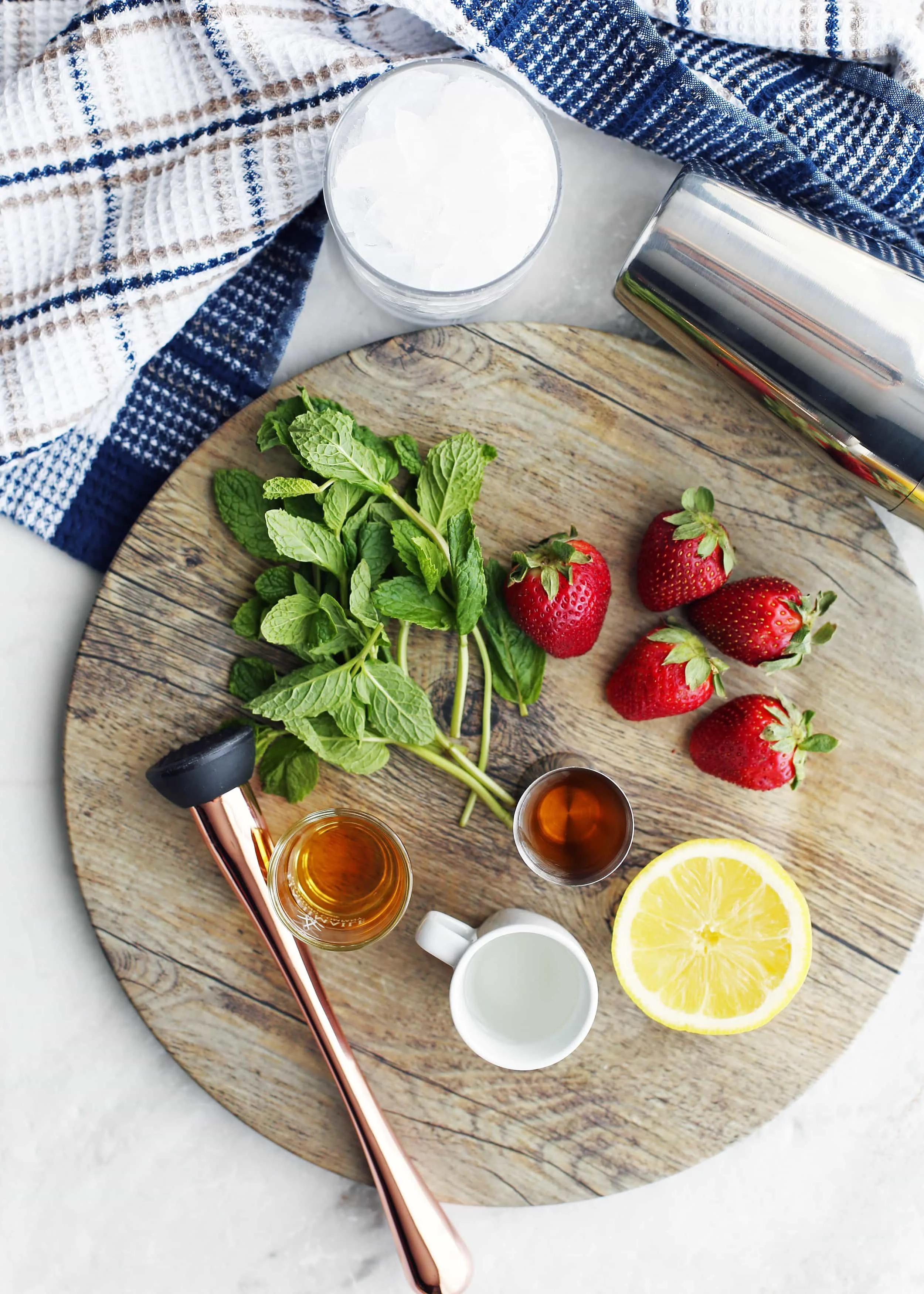 What's in this cocktail?
Fresh strawberries are sweet and tart with citrusy undertones.
Look for firm, plump, bright red strawberries with green leaves. It's such a favourite ingredient for me to use especially during the spring and summer when they are most abundant.
Whisky/Whiskey: There are so many varieties of whiskies with different flavour profiles. I say use the one you like the most.
I used a Scotch whisky in this one. It has a robust, woody, rich flavour that has a bite. It contrasts wonderfully with the sweetness of the other ingredients.
Mint has a fresh, bright flavour that imparts a cooling sensation when eaten. The two most common mints are spearmint and peppermint where spearmint is more likely to found at groceries stores (I used spearmint in this recipe).
How to tell spearmint and peppermint apart? Spearmint has green, spear-shaped leaves while peppermint have deep green and smoother leaves. They also taste slightly different. Spearmint has a lighter, sweet mint flavour while peppermint contains menthol, which gives it an intense, cooling mint flavour.
Choose mint leaves that are fresh-looking and green throughout. Avoid leaves that are wilted with brown or black tinged leaves and stems.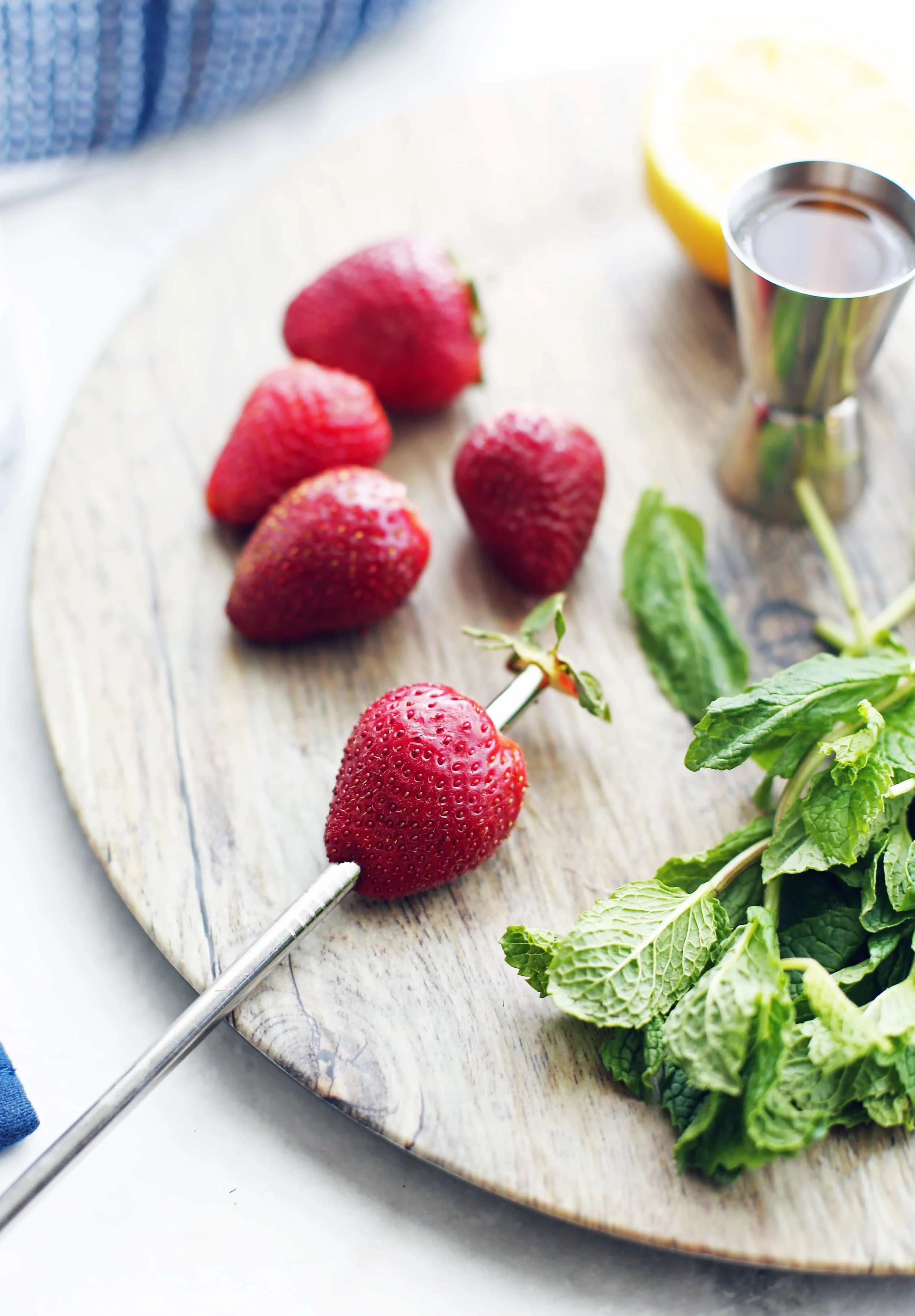 Have you tried the straw trick to remove the leaves from a strawberry (aka hull a strawberry)?
You simply push a sturdy straw through the bottom of the strawberry until you reach the stem where it will pop out cleanly.
Lemons have a bright, zesty, and sour flavour. The perfect complement to strawberries.
I say these tips every time I use lemons (and it's a lot). First zest the lemon (and save it for another recipe) and then roll the lemon on a flat surface to encourage more juices to release. Cut in half and use a citrus juicer to get the most juice out.
Simple syrup is a basic combination of equal parts sugar and water that has been boiled down to form a syrup. It's used to sweeten drinks such as cocktails, lemonade, and iced tea or to sweeten foods like fruit or baked goods.
Check out my recipe for Homemade Raspberry Green Tea Lemonade where I use simple syrup.
You can purchase simple syrup at the store, but it's so easy to make at home.
How do make simple syrup? It's traditionally one-part white sugar and one-part water. In a medium saucepan combine sugar and water. Then bring it to a boil, stirring, until the sugar has dissolved. The mixture should be completely clear (not cloudy). Allow the simple syrup to cool slightly before adding to the drink.
You can store simple syrup in a sterilized container in the refrigerator for up to one month.
Why not just add sugar? Sugar crystal will settle in the bottom of the drink leaving the overall flavour and texture uneven (not so sweet when you first drink and overly sweet at the end).
Crushed ice is a type of ice that has been broken down into fine or coarse pieces. Since it has greater surface area than a regular ice cube, the drink will cool down quickly. It also melts faster too so make sure you drink it as soon as you make it.
How to make it? I like to place ice cubes in a large plastic resealable bag and smash up the ice with a kitchen mallet. I recommend wrapping the bag in a kitchen towel and placing it on a cutting board to avoid damaging the plastic bag or your counter.

By doing that, you'll get various sizes of ice cubes, but I like the appearance for this drink. You can also use a high-powered blender to get finer pieces if you prefer.
Sugar and lemon wedges: Spruce up the drink with a lemon sugar rim. It will add a little extra sweetness to the drink and it looks pretty too.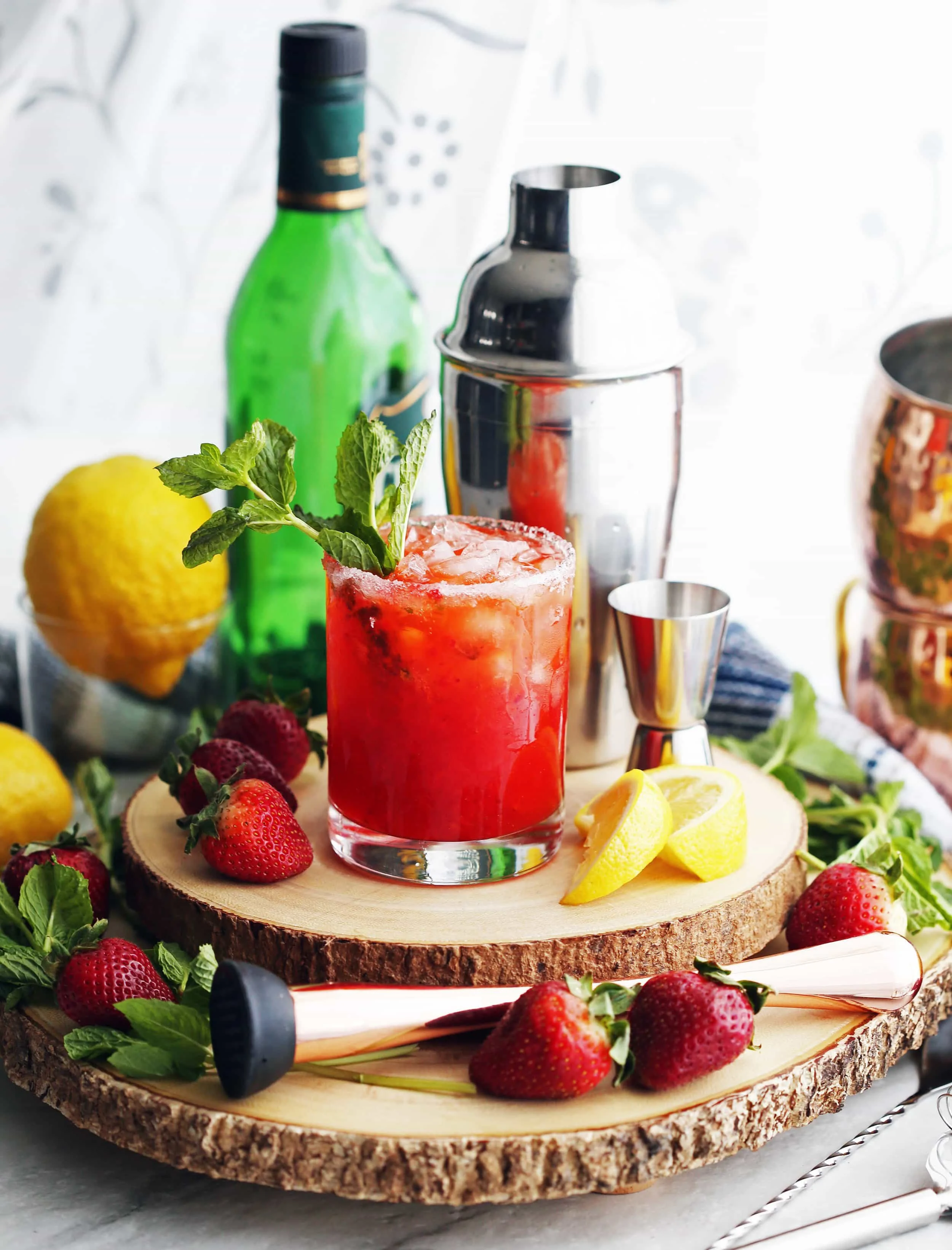 Overall this Strawberry Whisky Smash Cocktail is:
Quick and easy to prepare:This recipe uses a few ingredients. Perfect to make for one! However, once you have your ingredients prepared, it's easy to make many drinks in a short period of time.
So refreshing:This cocktail is super summery and will cool you down on those hot days and nights.
Full of strawberry (and lemon) flavour:It has delicious sweet, bright, and tart flavours from the fresh fruit.
Freshened with mint: Fresh mint and strawberries are a great combination. Overall, they add a cooling effect that's so invigorating.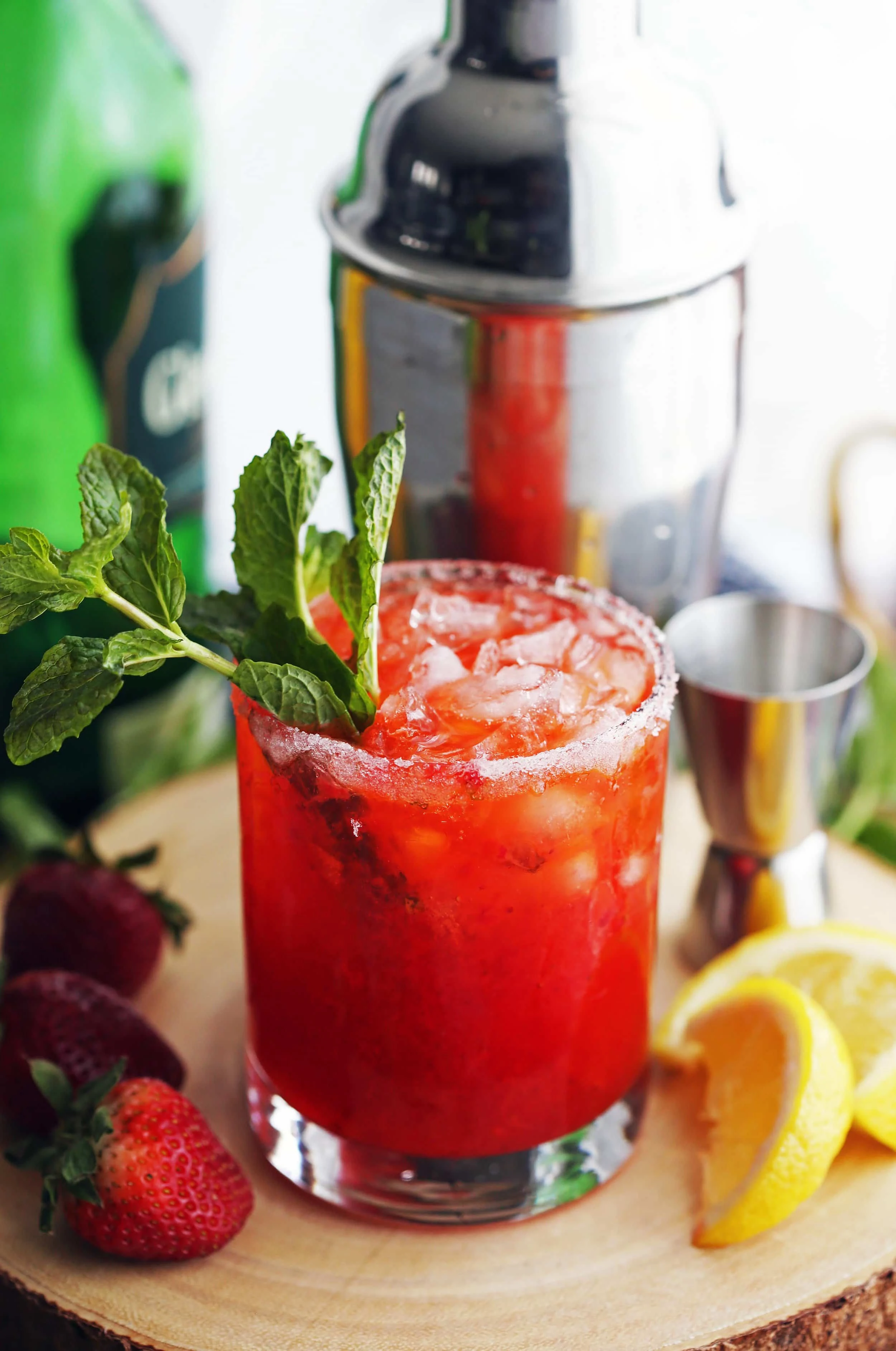 I hope you try this whisky smash cocktail recipe! If you do, please leave me a rating and comment down below, tag me, or use the hashtag #yayforfood on any of my social media. I'm @yay_for_food on Instagram. I'd love a picture.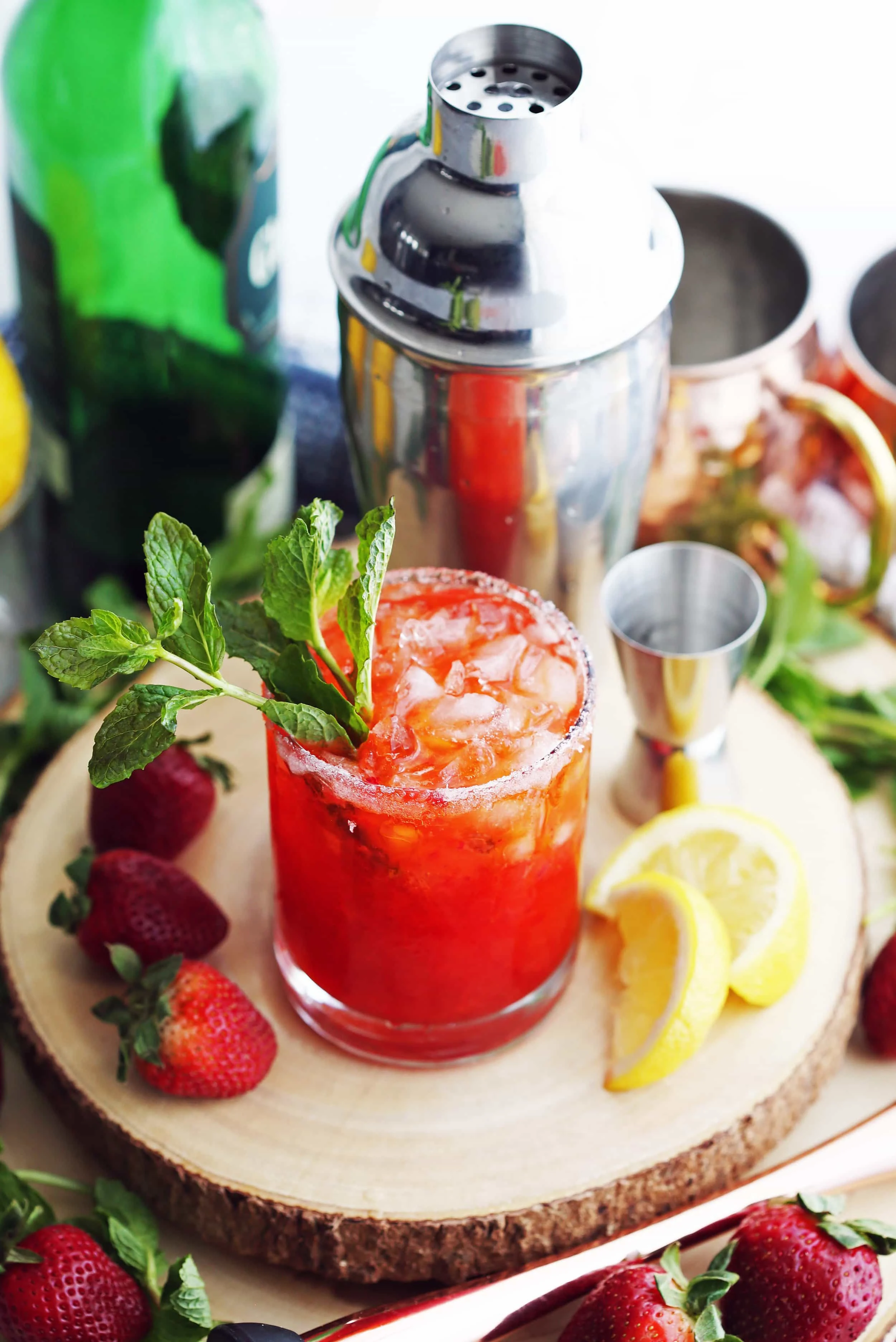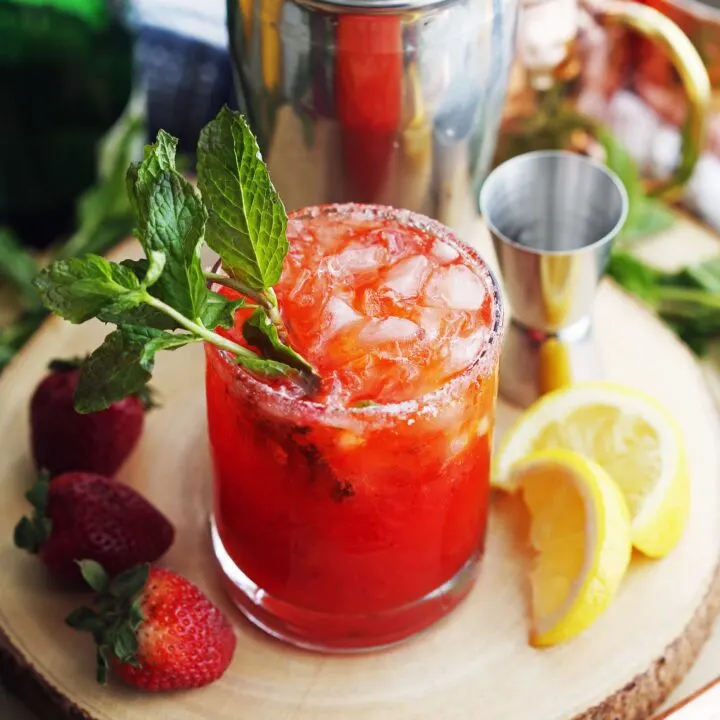 Mint Strawberry Whisky Smash Cocktail
Enjoy this refreshing summer cocktail recipe showcasing sweet strawberries, fresh mint, and whisky! Perfect to drink on a hot day!
Ingredients
3 fresh strawberries, hulled
8 fresh mint leaves
½ lemon, juice
2 oz. whisky (your choice)
1 oz. simple syrup
Crushed ice
2 tsp sugar
Lemon wedge
Instructions
Place the strawberries and mint into a cocktail shaker. Using a muddler (or the back of a wooden spoon), thoroughly mash the two ingredients, allowing the strawberry juices to release.
Then add in the lemon juice, whisky, and simple syrup. Seal the lid onto the cocktail shaker and shake vigorously for 45-60 seconds.
Place sugar on a small plate. Line the rim of a double old-fashioned glass (or similar) with a lemon wedge and then dip into the sugar to coat the rim of the glass.
Fill the glass halfway with crushed ice. Then pour the strawberry mixture over it. Top with additional ice. Garnish with a lemon wedge, mint, and a straw if you like. Serve immediately.
Notes
*When a recipe calls for mint, it's generally spearmint (I used this), which has green, spear-shaped leaves and a sweet mint flavor. Peppermint leaves are darker green and have a stronger flavour.
To make simple syrup: In a medium saucepan combine one-part sugar with one-part water. Then bring it to a boil, stirring, until the sugar has dissolved. The mixture should be completely clear (not cloudy). Allow the simple syrup to cool before adding to the drink.
Recommended Products
As a participant in the Amazon Services LLC Associates Program, I only link to products that I use and/or highly recommend. As an Amazon Associate, I earn from qualifying purchases if you purchase through these links at no additional cost to you.
Nutrition Information:
Yield:

1
Serving Size:

1
Amount Per Serving:
Calories:

293
Total Fat:

1g
Saturated Fat:

0g
Trans Fat:

0g
Unsaturated Fat:

1g
Cholesterol:

0mg
Sodium:

31mg
Carbohydrates:

41g
Fiber:

10g
Sugar:

26g
Protein:

4g