For a long time, I've wanted to write up a blog post on my take for Zucchini Gratin. With summer squash season coming up soon, this seemed like the perfect time to finally share my recipe. Yay! I hope you like this one.
But first, what is a Gratin?
According to Food52, Gratin is derived from the French word "gratiner" or "to broil."
It's a flexible dish, but always baked and/or broiled in a shallow vessel and topped with something that will crisp up and brown in the oven, most often cheese and/or breadcrumbs.
The most popular type of gratin is potatoes gratin (also called pommes dauphinoises), which has layers of sliced potatoes baked in milk and cream and sometimes topped with cheese.
With a broad definition like that, it's easy to just call this a casserole or a bake too. Wait… are all gratin's casseroles, but not all casseroles are gratins?
Anyway, all I'm certain of is that this Zucchini Gratin with Gruyère and Panko Breadcrumbs is wonderfully delicious and packed full of flavour.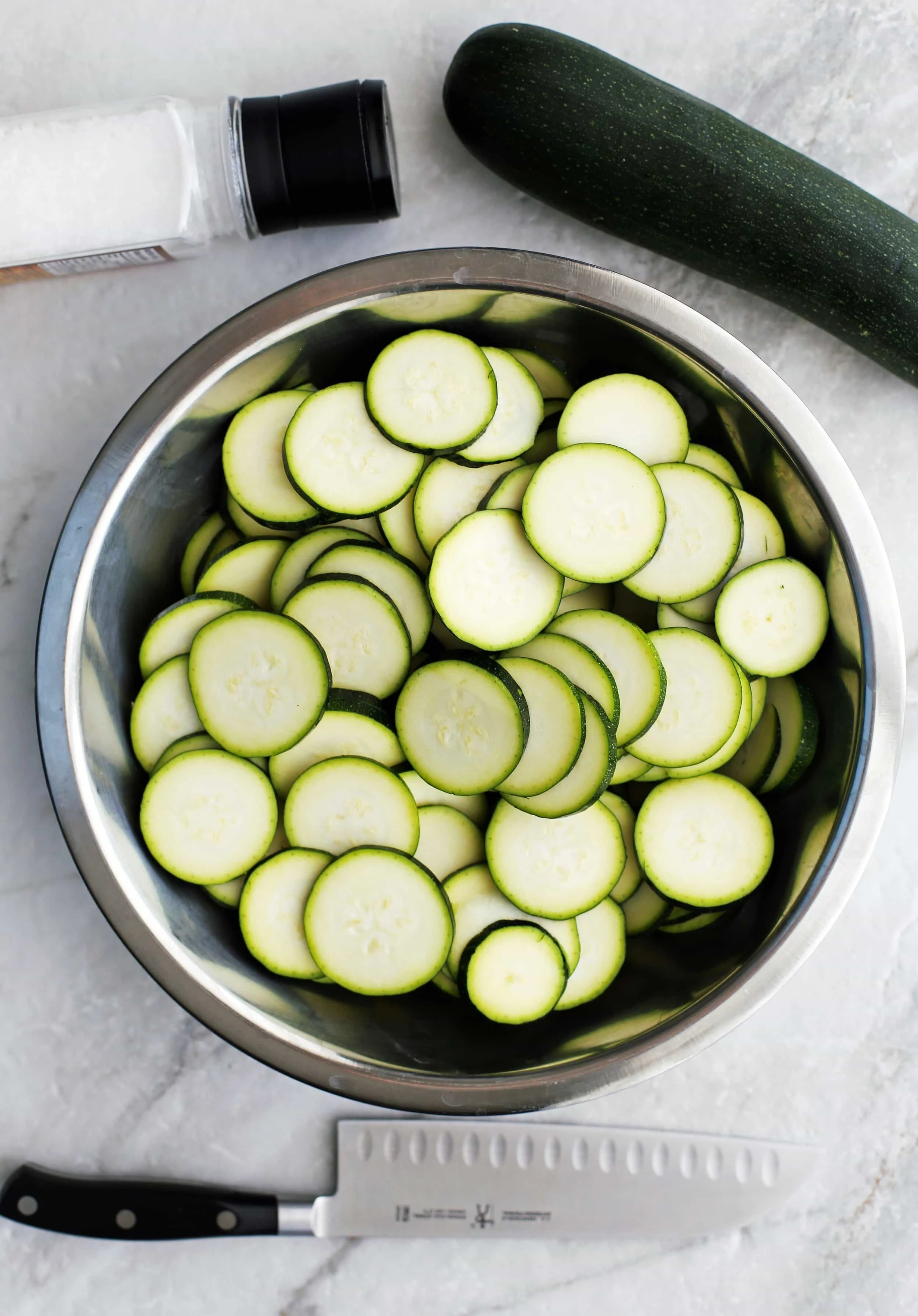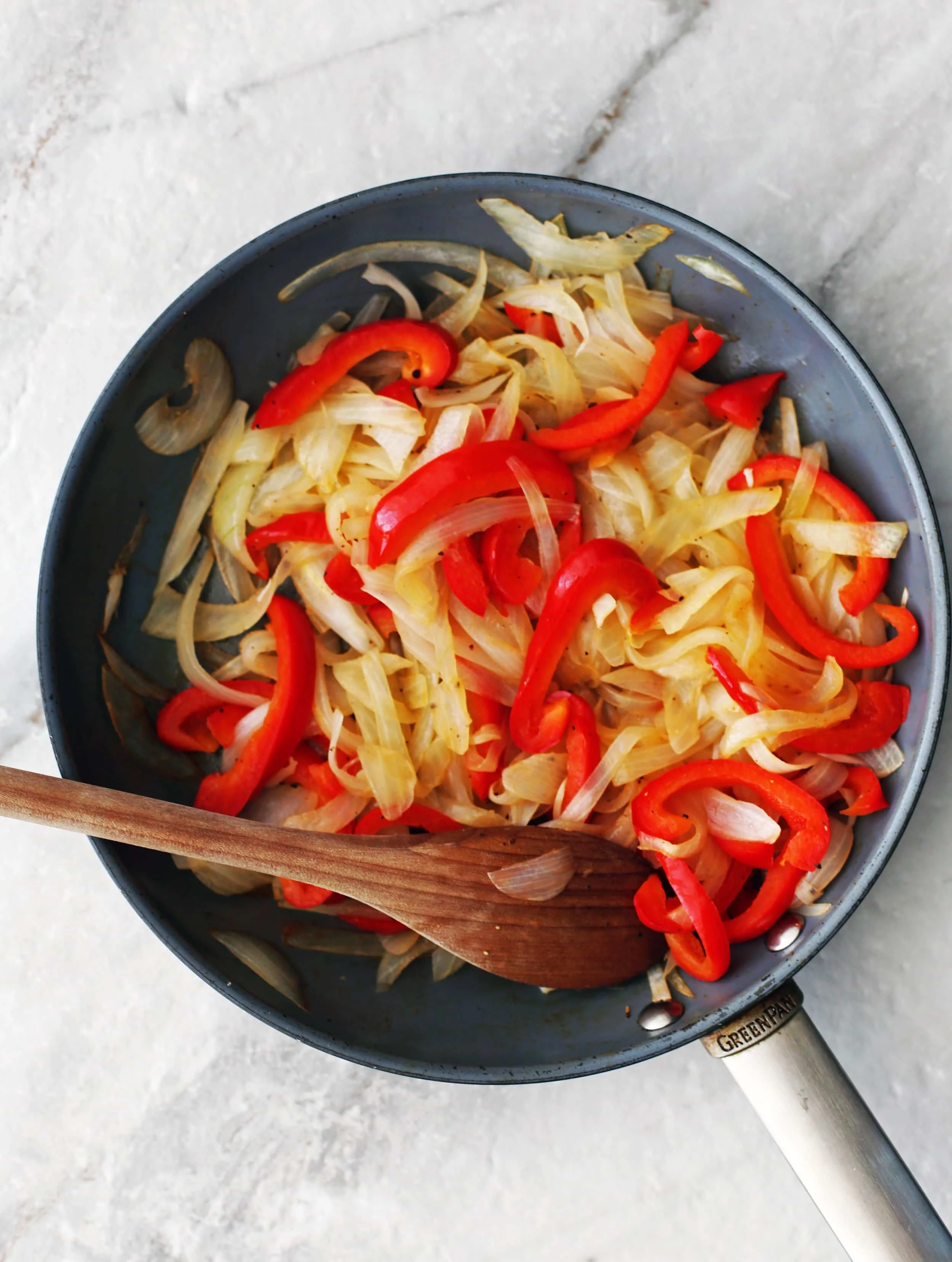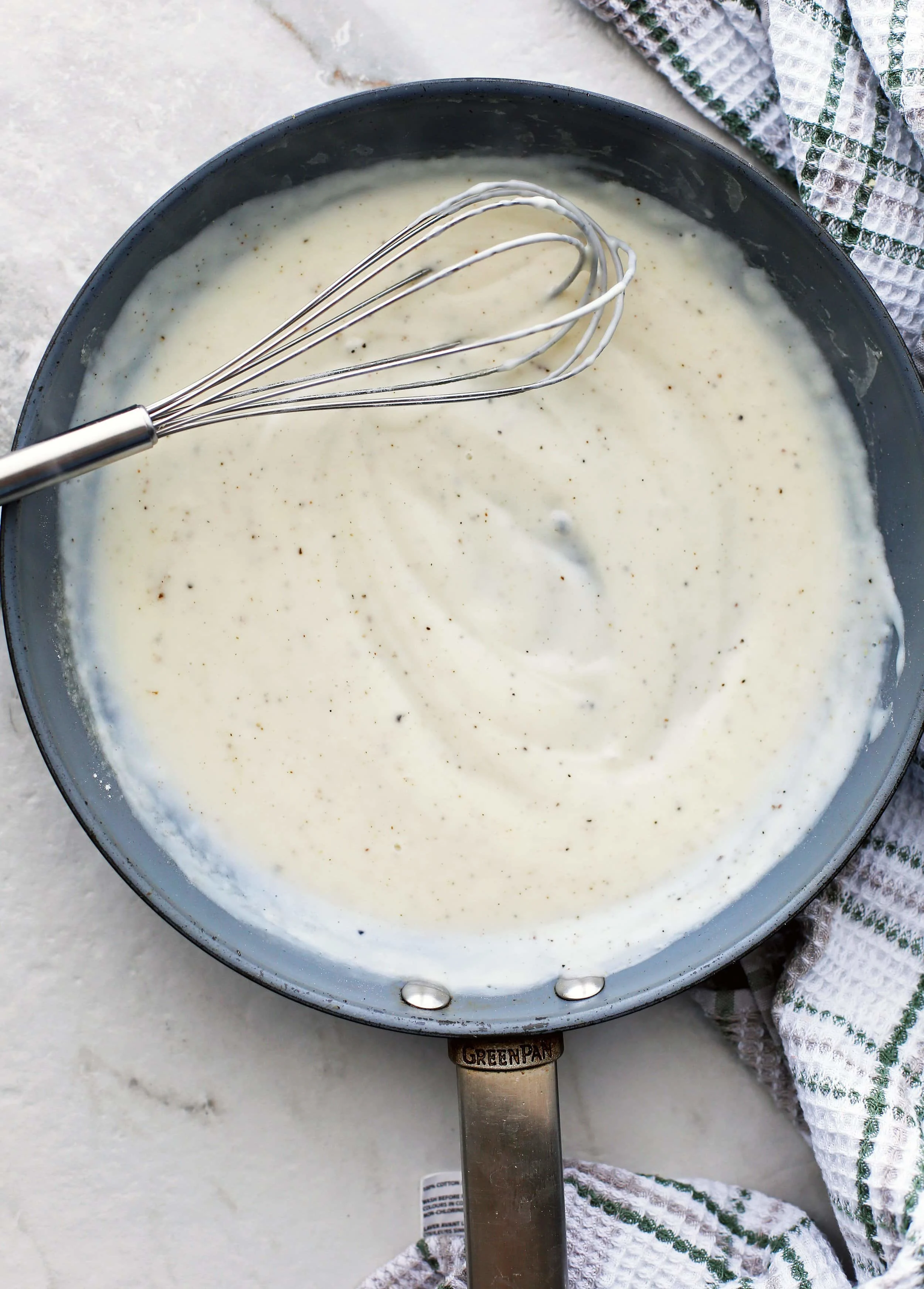 What's in this Zucchini Gratin?
Zucchini, also known as courgette, is a summer squash that has a delicate and lightly sweet flavour. Most common varieties have a thin deep green skin and soft white flesh that can be eaten raw or cooked. There is also a zucchini variety with yellow skin.
I have a tasty recipe for easy Zucchini Carrot Pancakes too if you have extra zucchini on hand!
TIP: use a mandoline slicer to get even slices. If not, a good knife and a steady hand will work too. The thinner the slice, the more tender the zucchini will get. I find that cutting it into quarter inch rounds results in a tender zucchini that still holds it shape as it bakes.
One thing that I don't like about some zucchini gratin recipes is that it usually has so much water on the bottom of the dish. Personally, I find too much water in the bottom of the dish a bit unappealing.
Two solutions to the water situation (aka the days of watery zucchini casseroles are gone): First, by salting the zucchini slices; it helps this vegetable "sweat out" a good amount of liquid. Second, I like to sprinkle Panko breadcrumbs within the layers of the gratin. The breadcrumbs act like a sponge, sucking up excess liquid as well.
The sautéed tender red bell pepper and onion bulks up the recipe, gives it colour and texture, and a delicious sweet vegetable flavour.
You probably know that bell peppers come in different colours, most notably green, yellow, orange, and red, but did you know that all the all the colours come from the same plant?
Green bell peppers are the youngest and most bitter in taste while red bell peppers are the most mature and sweetest. Yellow and orange are in the middle.
The white sauce, aka béchamel sauce, is a versatile sauce that can be used in a variety of dishes and is often the starting base for other sauces. The few ingredients to make this sauce are pantry staples (e.g. butter, milk, and flour) and can be found easily at any supermarket.
In this recipe, I like to add a little ground nutmeg (with salt and pepper) to the sauce. The nutmeg has a lovely complex nutty and sweet flavour that adds a nice note to the sauce and goes so well with the vegetables in this recipe. Overall, the white sauce gives a tasty creamy element to this dish.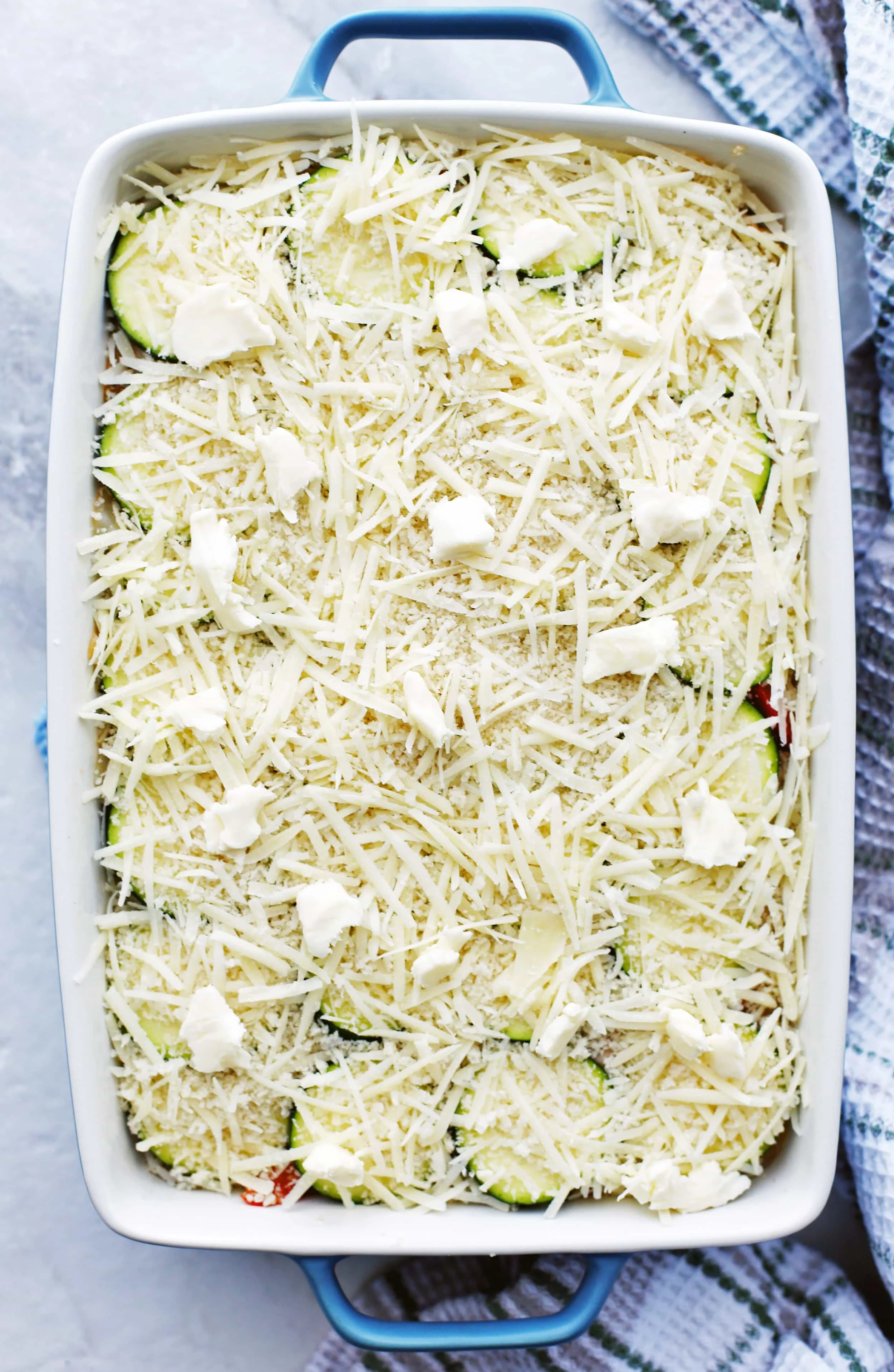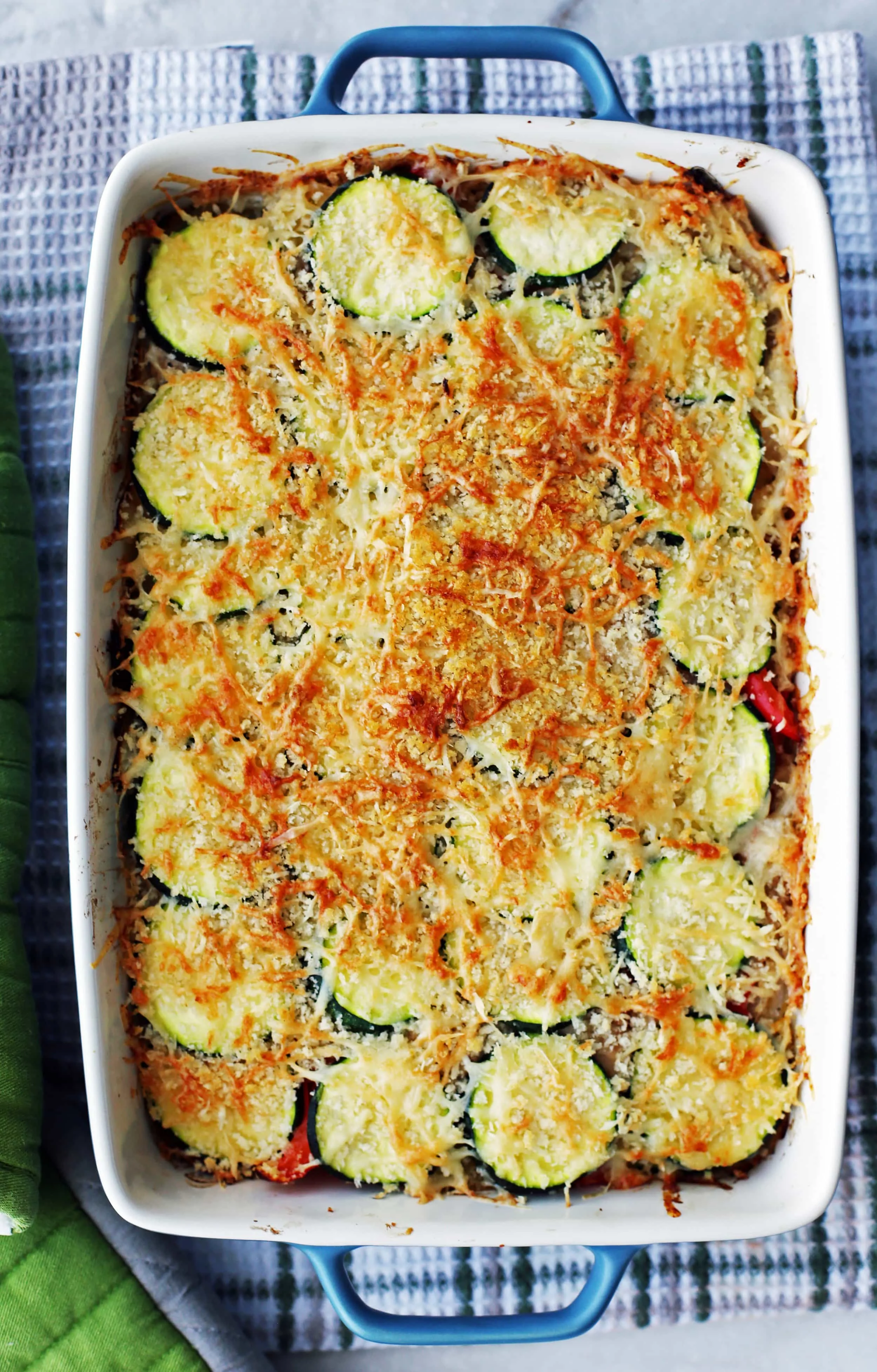 Also, there's Gruyère cheese. It melts wonderfully and has a delicious slightly nutty, salty, and sweet flavour. I like how it forms a crunchy, cheesy topping, which I'll admit, I always save a piece of it to eat last.
I used this cheese in my Creamy Gruyere and Swiss Chard Pastarecipe. Check it out if you want!
Please note that Gruyère is usually made with animal rennet so it's not technically vegetarian (but some vegetarians are okay with eating all cheeses). If this is of concern to you, please substitute with another melty cheese that is made is vegetable rennet or microbial enzymes. Just take a peek at the cheese's ingredients.
Panko breadcrumbs are a favourite ingredient of mines as a topping or breading in the case of my recipes for Crispy Oven Fried Pickles with Cheddar Cheese Dip and Baked Crispy Coconut Chicken Nuggets.
Since Panko is flakier and has a coarser texture than regular breadcrumbs, the overall texture is crunchier, especially after it is baked with cheese to golden-brown perfection. There is something so satisfying about eating crunchy food. Don't you agree?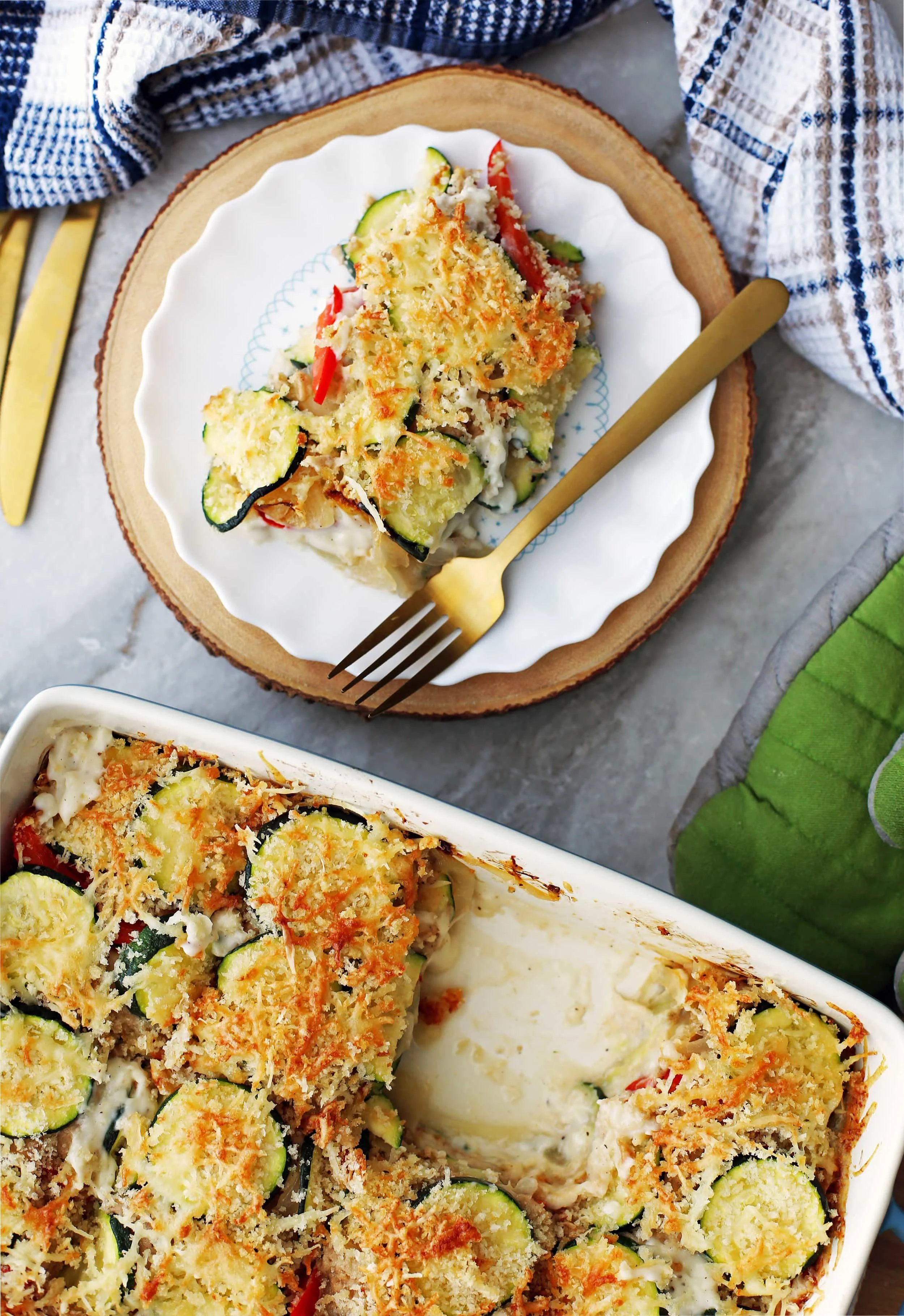 Overall this zucchini gratin:
Is delicious and filling: it's gloriously layered with delicious vegetables, a creamy nutmeg white sauce, and has a cheesy golden-brown topping.
Full of satisfying textures: Tender sliced vegetables, creamy sauce, and crunchy Panko is just so good.
Uses simple ingredients: The casserole recipe uses a lot of pantry staples or can be found easily at most supermarkets.
Is a perfect side dish or meal on its own: This would be fabulous to take to a dinner potluck or to a barbeque get-together.
Is great to serve the family (and/or friends): It has eight medium-sized servings, but can easily be stretched to 10-12 smaller side dish servings.
Can be made ahead of time: Bake this casserole ahead of time and then re-heat the next day or two for a quick meal.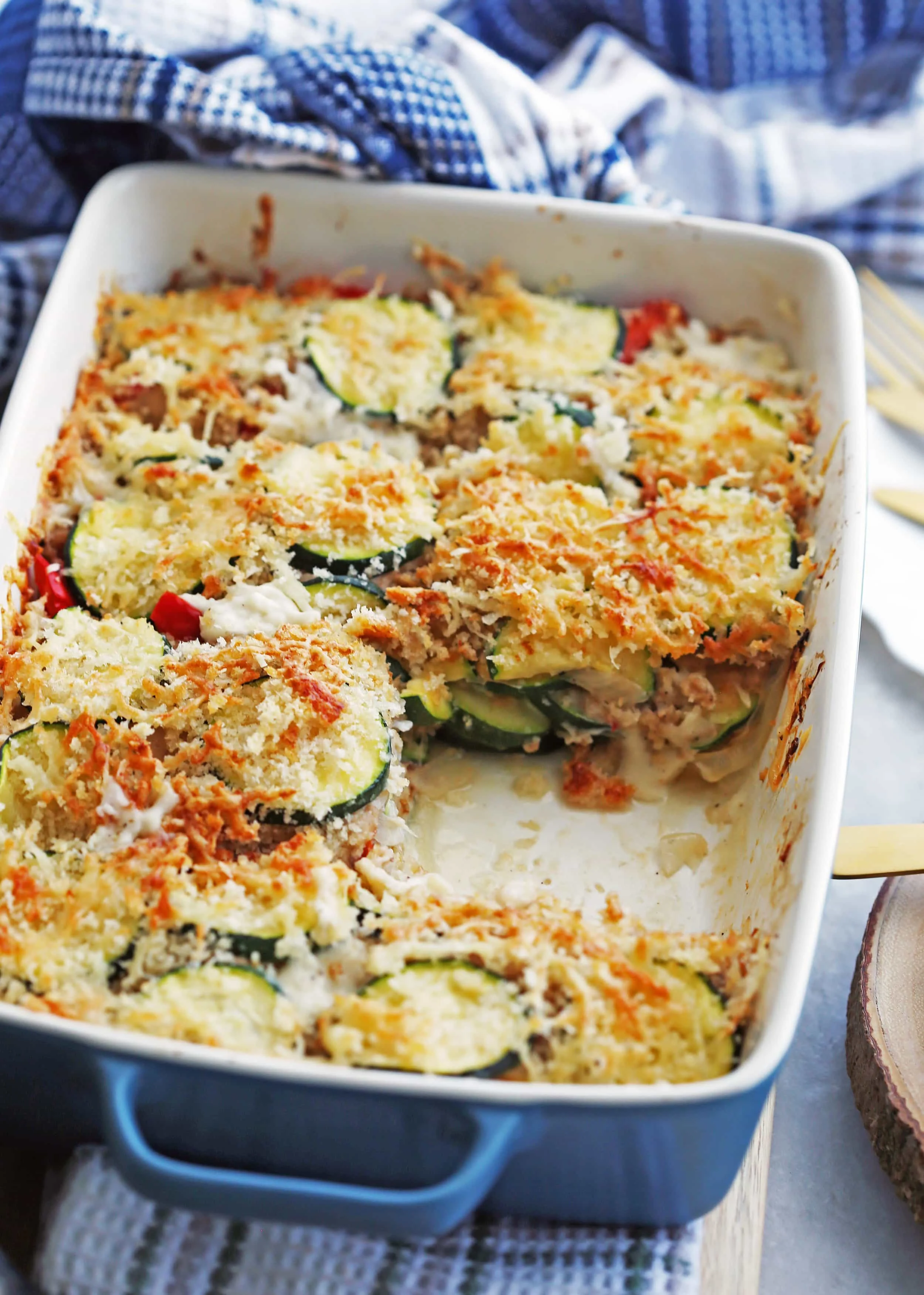 I hope you try this recipe! If you do, please leave me a rating and comment down below, tag me, or use the hashtag #yayforfood on any of my social media. I'm @yay_for_food on Instagram. I'd love a picture.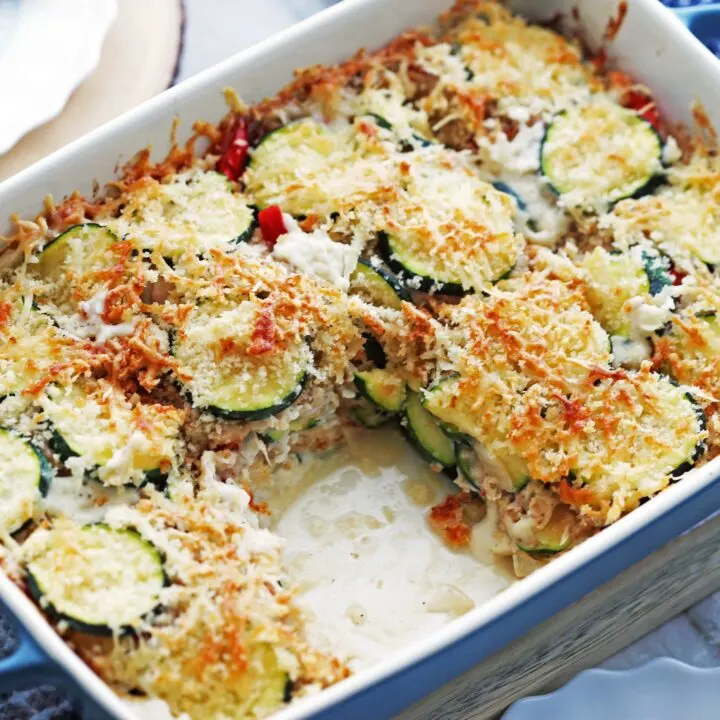 Zucchini Gratin with Gruyère and Panko Breadcrumbs
Loaded with tender sliced vegetables, covered in a creamy béchamel sauce, and topped with crunchy panko breadcrumbs and crispy melted Gruyère cheese, this zucchini casserole recipe makes a delicious entrée or side dish.
Ingredients
For the vegetables:
2 lb. (3-4) zucchini, sliced into ¼ inch pieces
1 large bell pepper, sliced
1 large onion, sliced
1 tbsp (½ oz) unsalted butter
Salt and pepper, to taste
For the white sauce:
4 tbsp (2 oz) unsalted butter
4 tbsp all-purpose flour
2½ cups milk (I used 2%), room temperature
¼ tsp ground nutmeg
Salt and pepper, to taste
For the topping:
1 cup Panko breadcrumbs, divided
1 cup (2 ½ oz) Gruyère cheese, shredded
1 tbsp (½ oz) unsalted butter
Instructions
Preheat the oven to 400 F.
For the vegetables. Part 1: Place the sliced zucchini in a large bowl and generously toss with salt. Set aside to allow the salt to draw out liquid from the zucchini.
Heat a large skillet to medium-high heat, melt the butter and add the onion and bell pepper along with a pinch of salt and pepper. Sautéed until the onions begin to lightly brown and soften, about 6-8 minutes. Remove from heat and set aside.
For the white sauce. In a medium saucepan or skillet, melt the butter over medium heat and then, using a whisk, stir in the flour until it is incorporated into the butter. Reduce the heat to medium-low.
Then slowly add in the milk, whisking vigorously to prevent lumps from forming. Continuously whisk until the sauce thickens into a creamy, smooth sauce *(see first note). Finally, whisk in the nutmeg and a pinch of salt and pepper. Remove from heat.
For the vegetables. Part 2: Place the zucchini slices on a clean kitchen towel (or thick paper towels) and pat to dry.
Assemble the gratin. In an 9x13 casserole dish, start by layering the ingredients in this order: one-third of the zucchini slices, a quarter cup of panko, half of the onion and pepper mixture, and half of the white sauce. Repeat this order again and then top with the remaining one-third of the zucchini slices.
For the topping.Combine together the remaining half cup of panko with the Gruyère and sprinkle evenly over the zucchini casserole. Finish by doting the top with small pieces of butter.
Bake time. Bake for 25-30 minutes or until the cheese is melted and golden-brown. Let it cool slightly before serving.
Best served immediately.
Notes
*If the sauce is too thick, whisk in a bit more milk to thin it out.
Recommended Products
As a participant in the Amazon Services LLC Associates Program, I only link to products that I use and/or highly recommend. As an Amazon Associate, I earn from qualifying purchases if you purchase through these links at no additional cost to you.
Nutrition Information:
Yield:

8
Serving Size:

1
Amount Per Serving:
Calories:

209
Total Fat:

12g
Saturated Fat:

7g
Trans Fat:

0g
Unsaturated Fat:

4g
Cholesterol:

33mg
Sodium:

305mg
Carbohydrates:

19g
Fiber:

1g
Sugar:

2g
Protein:

6g