Yay for strawberry season! Besides snacking on these sweet and slightly tart vitamin A-packed red fruits, I love showcasing them in all types of recipes such as:
Let's just say this recipe was originally supposed to be a biscuit or a scone, but then eventually morphed into a quick bread recipe. I'm so happy that it did, this recipe is a keeper! I've made this bread three times in a week. Part of it was quality assurance, but it's so satisfying to eat.
Check out this delightful Strawberry Lemon Yogurt Quick Bread!
This bread is fluffy, almost cake-like (just a tad bit denser), lemon-y, and loaded with delicious fresh strawberries.
As the strawberries are baked, they soften and parts of it seem to melt into the bread while the rest is sprinkled throughout. The golden-brown top of the bread is slightly more crisp than the rest of the bread and covered with chopped strawberries.
Greek yogurt is a healthier substitute to adding additional butter. Adding plain Greek yogurt ups the protein and calcium and lessens the overall calories and fat. It will also produce a thicker dough, but will bake into a lovely sweet and tangy tender bread.
Finally, the two-ingredient glaze on top adds more citrusy sweetness and a thin sugar crust. The perfect finishing touch to this easy sweet bread.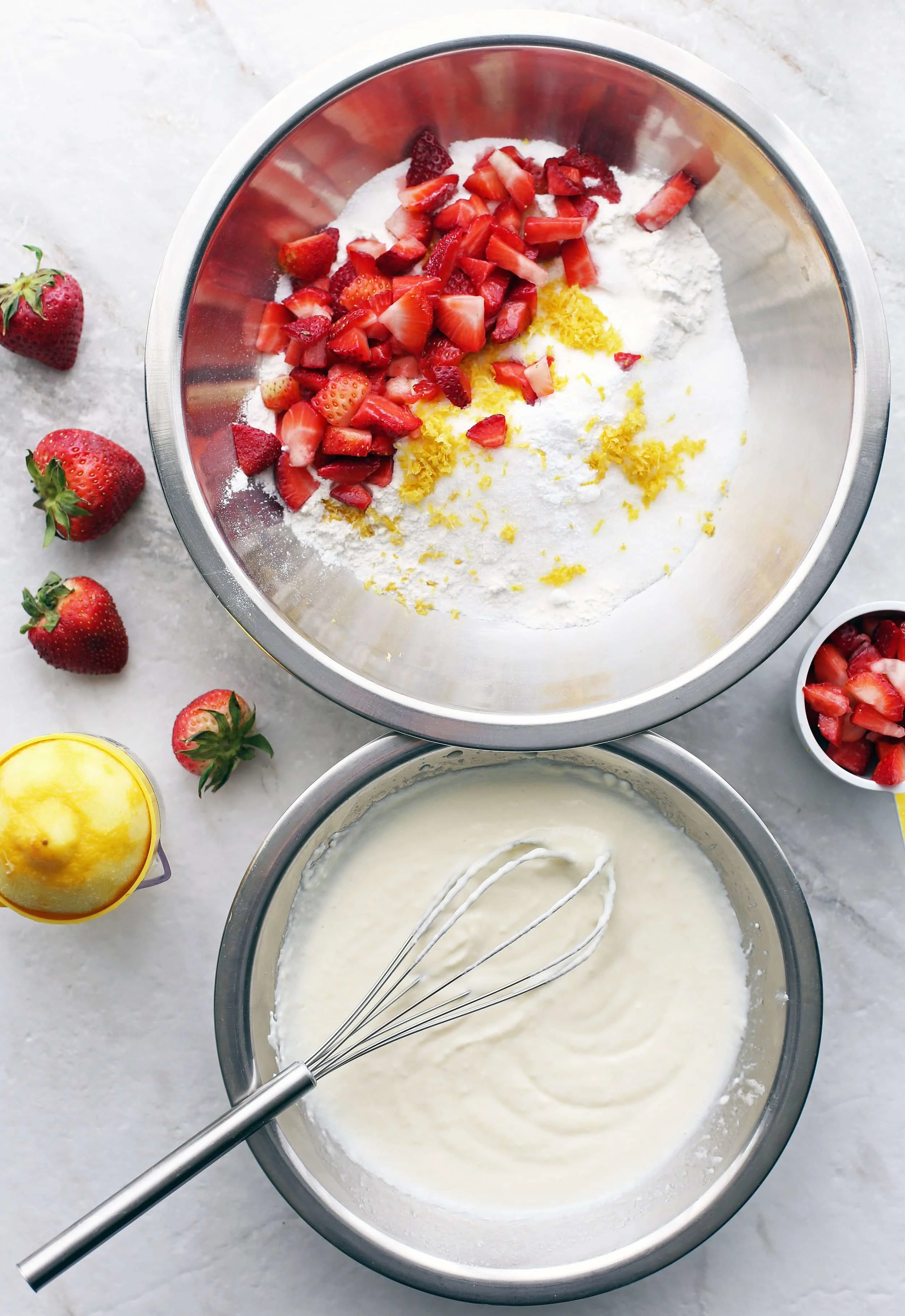 All the recipe ingredients. Get the full ingredient amounts and instructions in the recipe card below.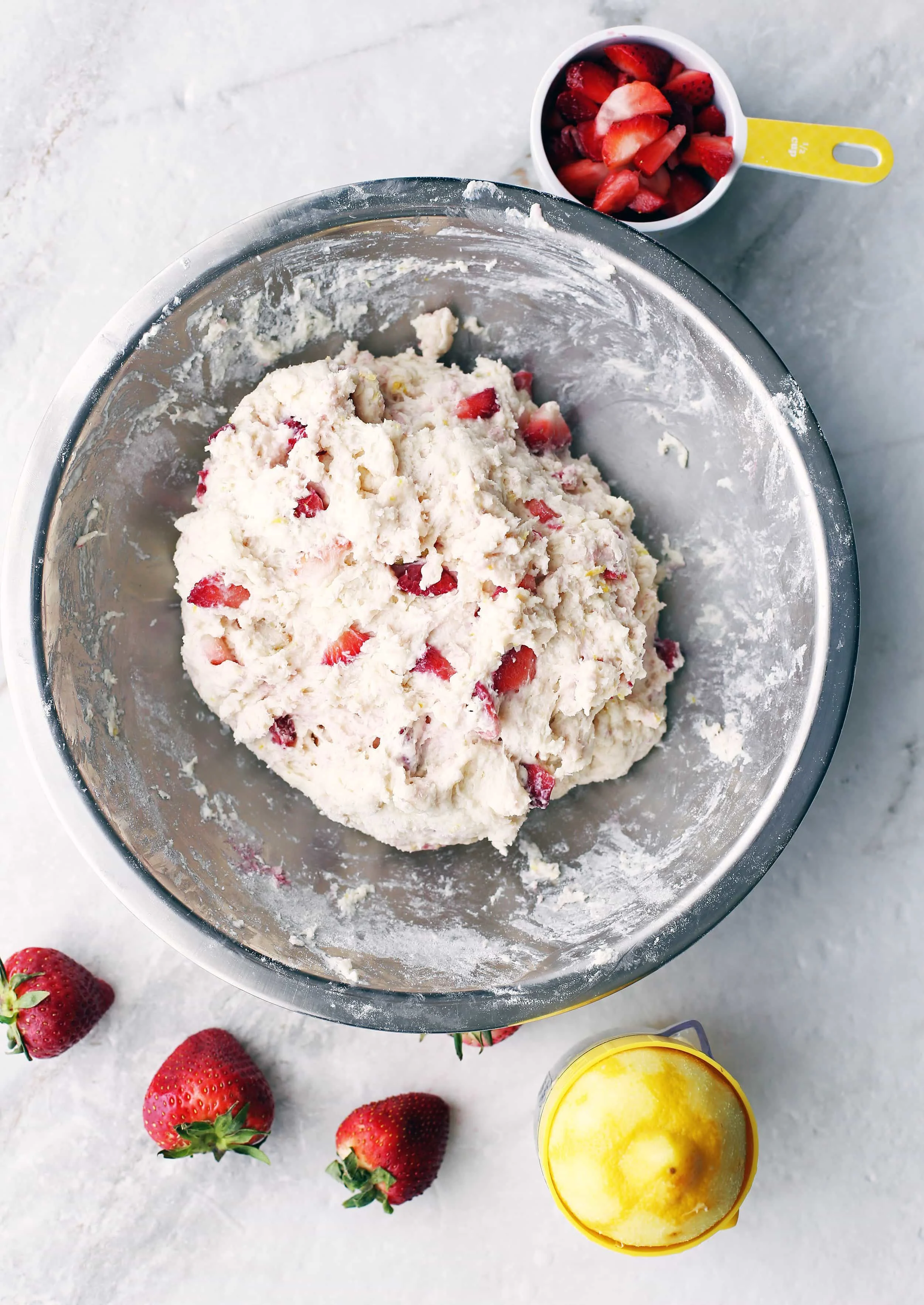 No electric mixer required! Combine the ingredients together using a whisk, spatula, and by hand. The dough is now ready to be placed in the loaf pan.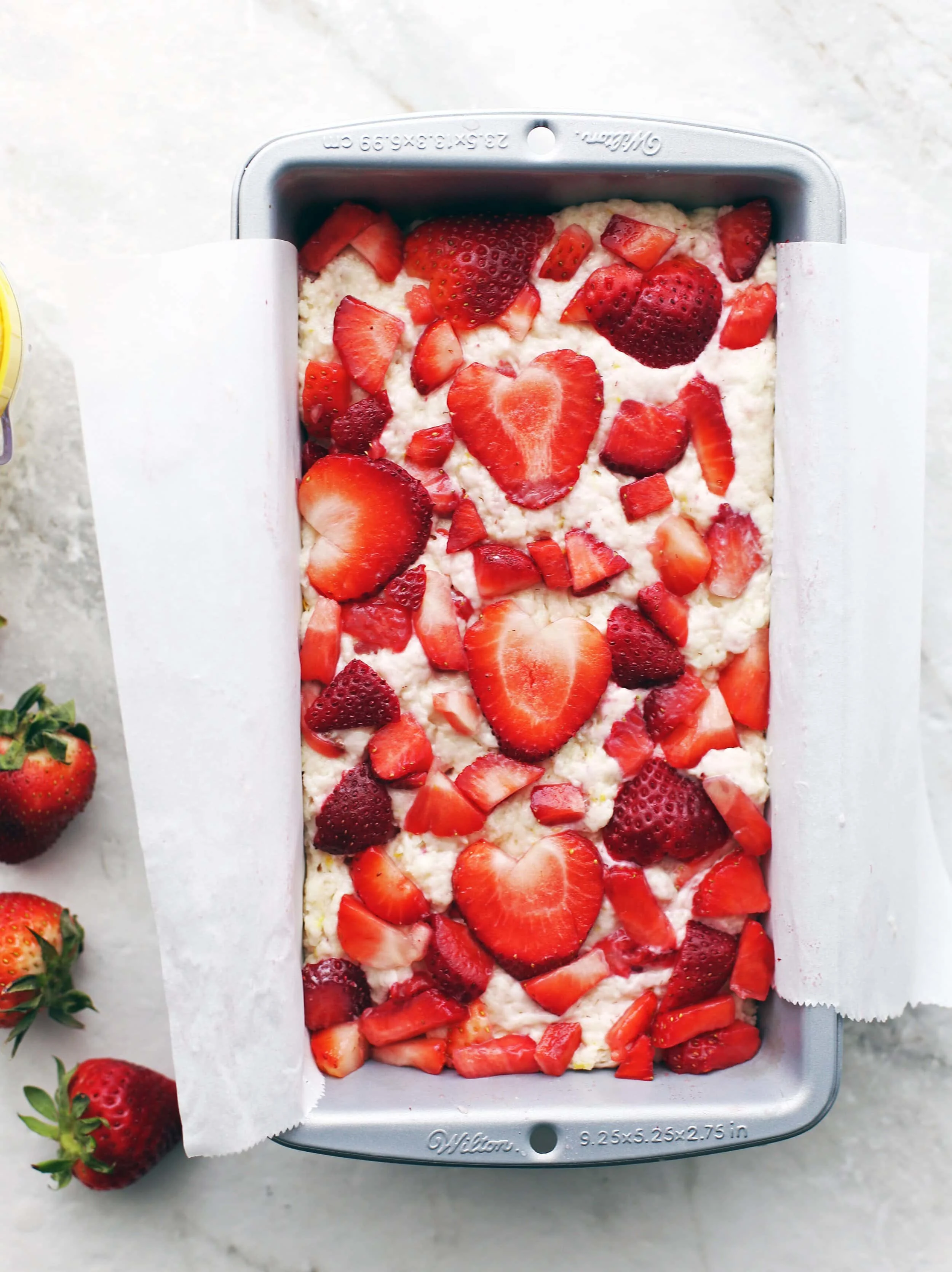 Line the baking loaf pan with parchment paper (it will make it easy to lift the entire loaf out at once), place the dough into it and then top with more strawberries.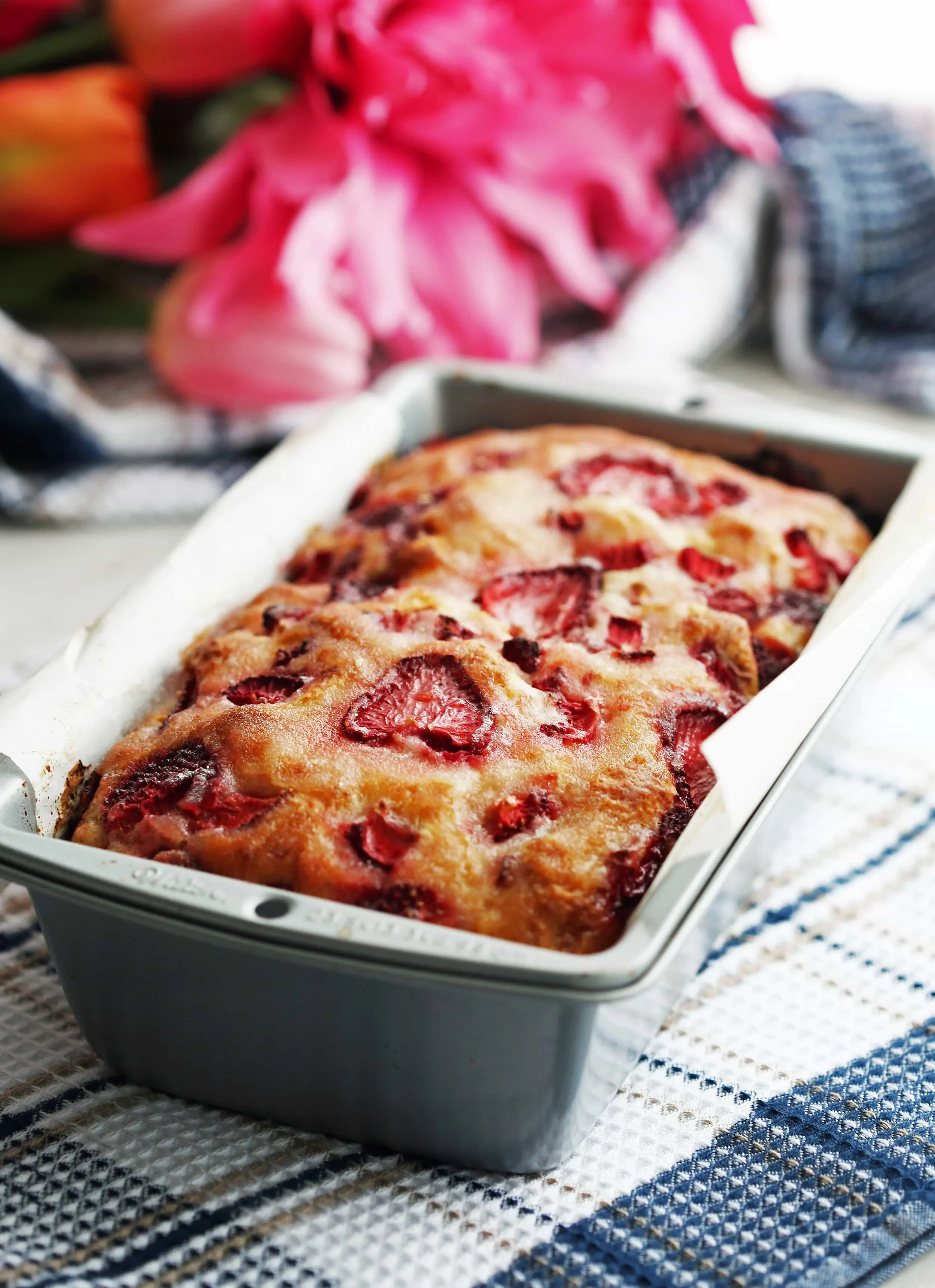 Bake at 350 degrees F for 45-60 minutes or until a wooden skewer come out clean. Poke some holes into the bread and then pour the glaze on top. Let it cool slightly before removing and eating.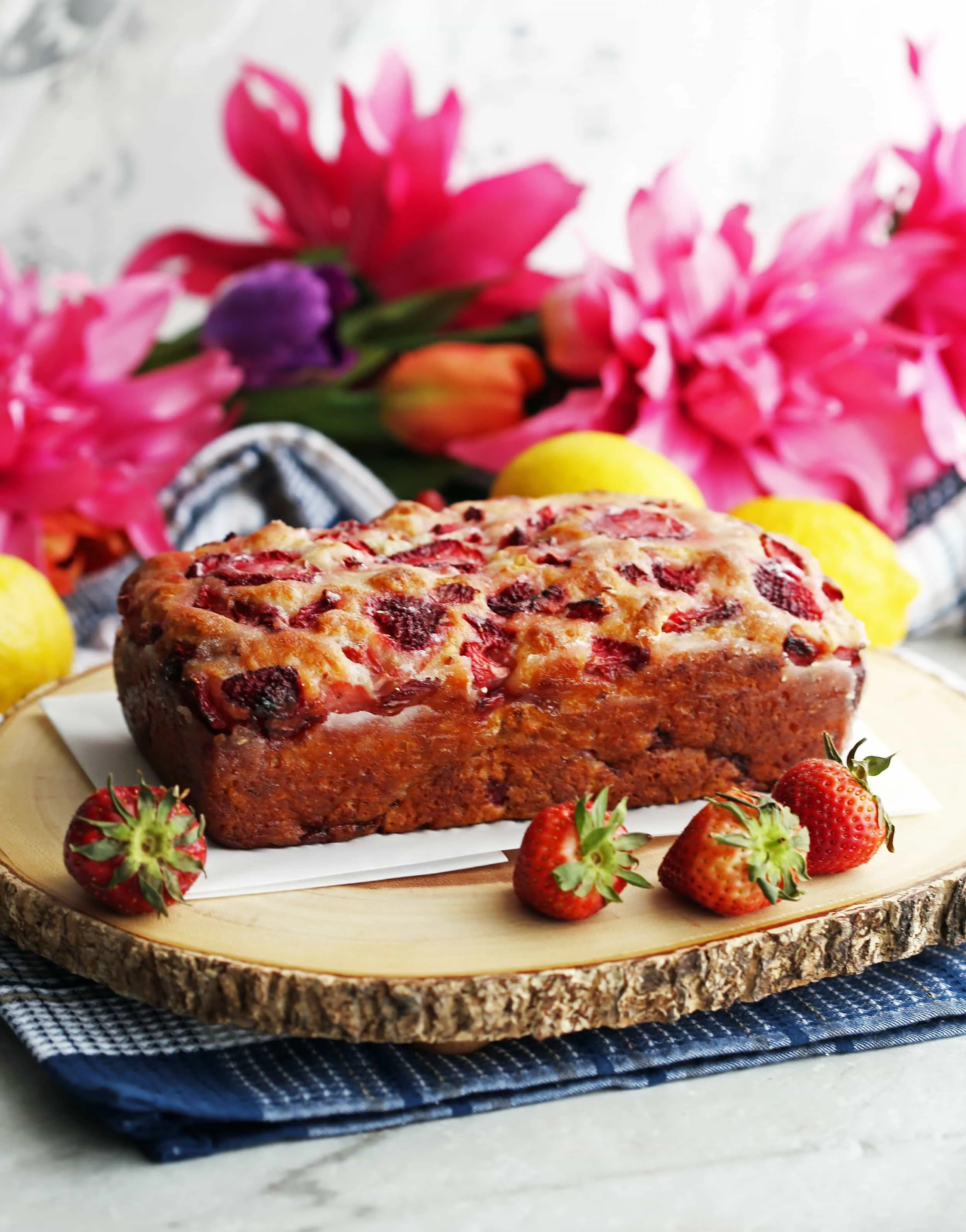 Helpful TIPS for making this strawberry lemon quick bread:
Always zest the lemon before you juice it.
It's much easier. I recommend using a microplane zester for ease, but you can also use the finest holes of a box grater or use a vegetable peel to remove the skin and then finely chop with a knife. Just make sure you only remove the yellow skin and not the bitter white membrane underneath.
To get more juice out the lemon, roll the lemon on a flat surface before slicing and juicing.
I like to use a citrus juicer or reamer rather than squeezing by hand to get the most juice out the lemon.
Whisk together the dry ingredients in one bowl and the wet ingredients in another bowl before combining together to form the dough.
Throwing the ingredients in a bowl all at once and stirring it all together will probably result in a tough, uneven doughy bread that tastes a little off since the individual ingredients will not be uniformly mixed and you'll have a harder time combining it together so it'll be overmixed. Don't do it. Don't say I didn't warn you.
Reserve some strawberries to top the bread before baking.
It will produce a prettier loaf and people will instantly recognize that it's strawberry bread.
If you're feeling fancy, slice the strawberries into different shapes or form a pattern on top. I'm lazy so I usually top it with chopped strawberries.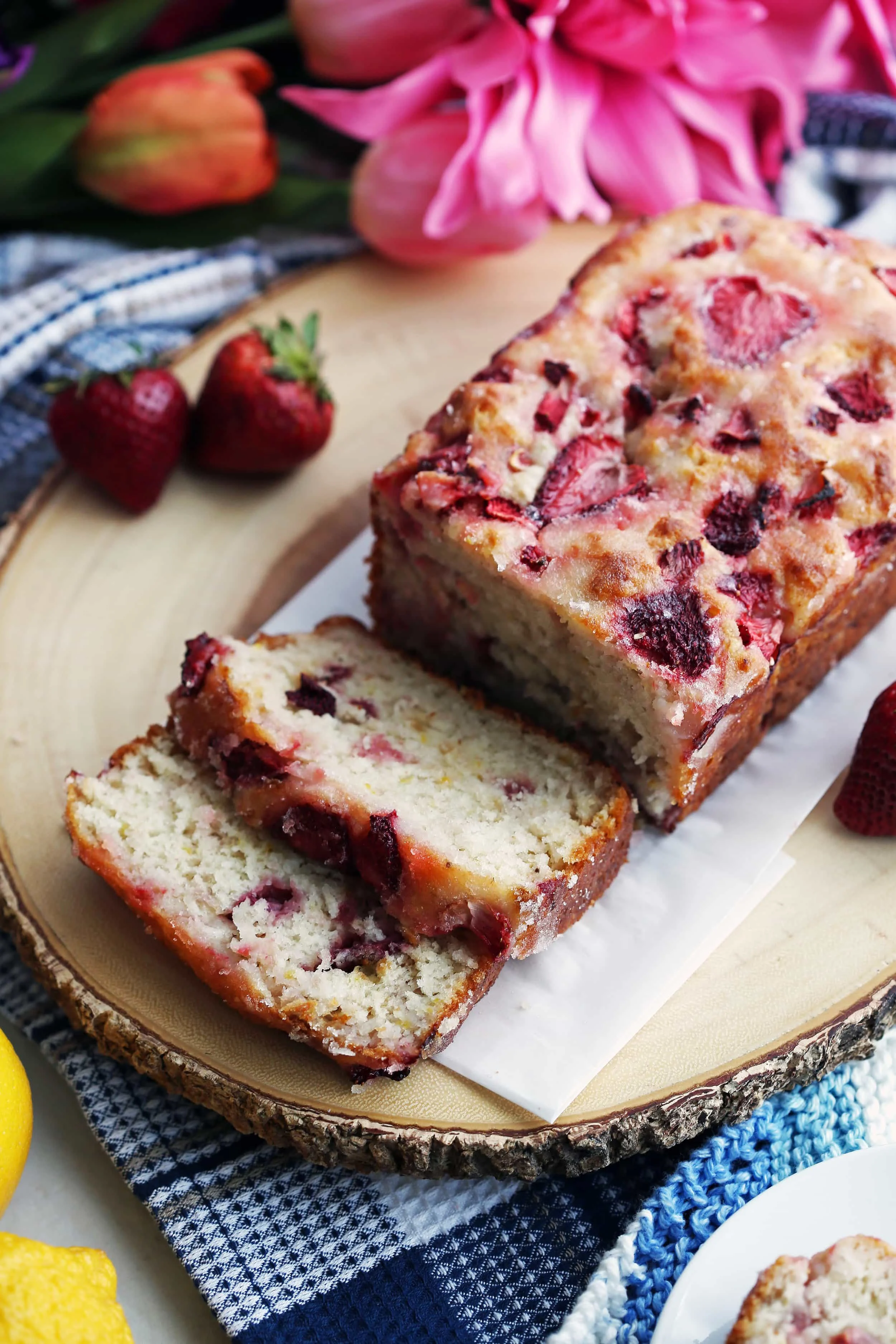 This strawberry lemon quick bread:
Is delicious: it's wonderfully soft and full of sweet, tart, and bright flavours from the fresh strawberries and lemon.
Is yeast-free so no proofing required: You save a little time by not having to let the bread rise first.
Does not require an electric mixer or food processor: everything is mixed in a couple bowls with a spatula and a whisk.
Uses simple ingredients that are easy to find at most grocery stores or are probably already in your baking pantry.
Is easy to put together: It takes very little time (about 15 minutes) to prepare the loaf. Most of the time spent to make this loaf is actually baking the bread in the oven.
Is so shareable: Perfect to bring to a potluck or to work to share with your colleagues.
Is perfect to serve for breakfast, snack, or as a dessert especially with a cup of coffee, tea, or milk.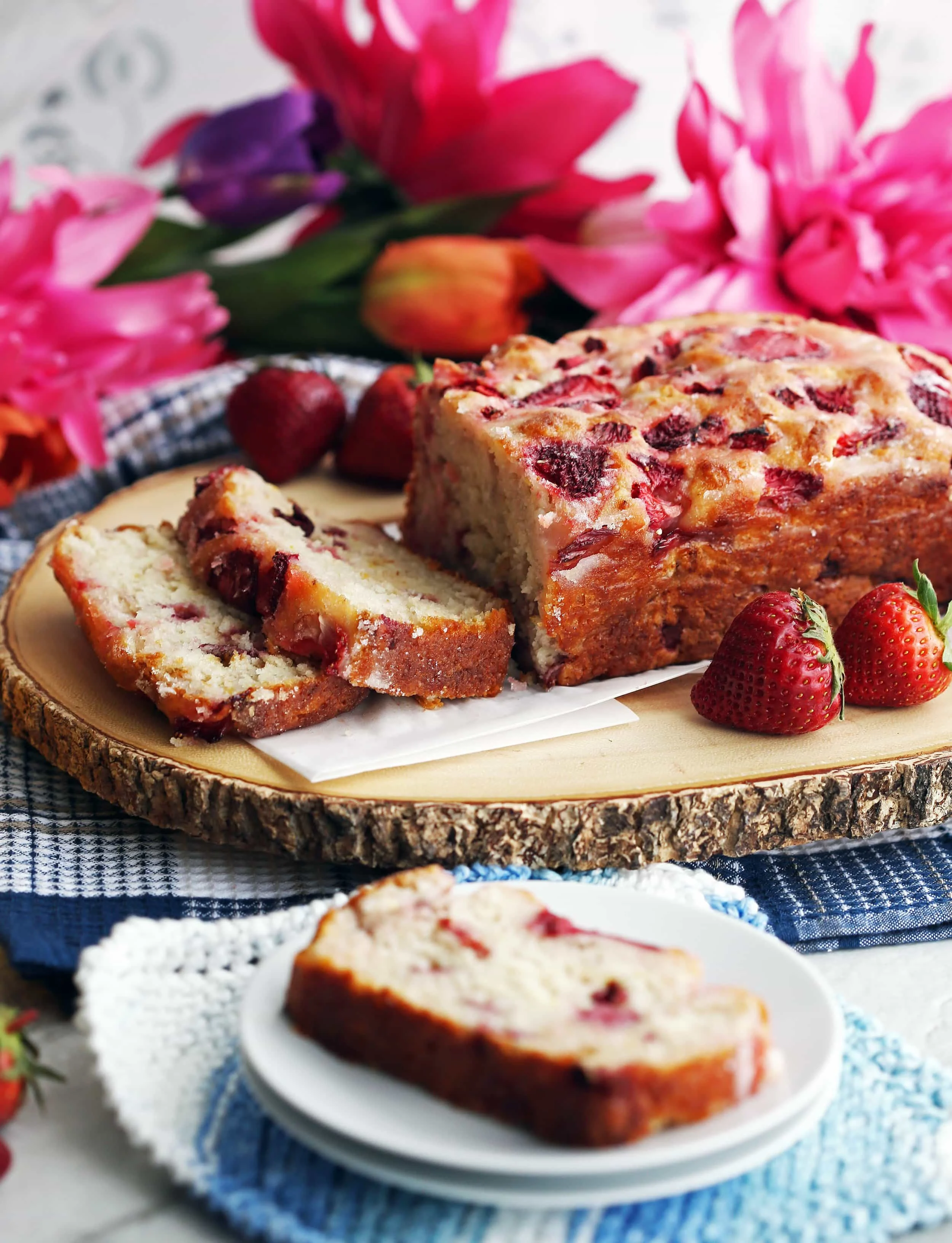 I hope you try this recipe! If you do, please leave me a rating and comment down below, tag me, or use the hashtag #yayforfood on any of my social media. I'm @yay_for_food on Instagram. I'd love a picture.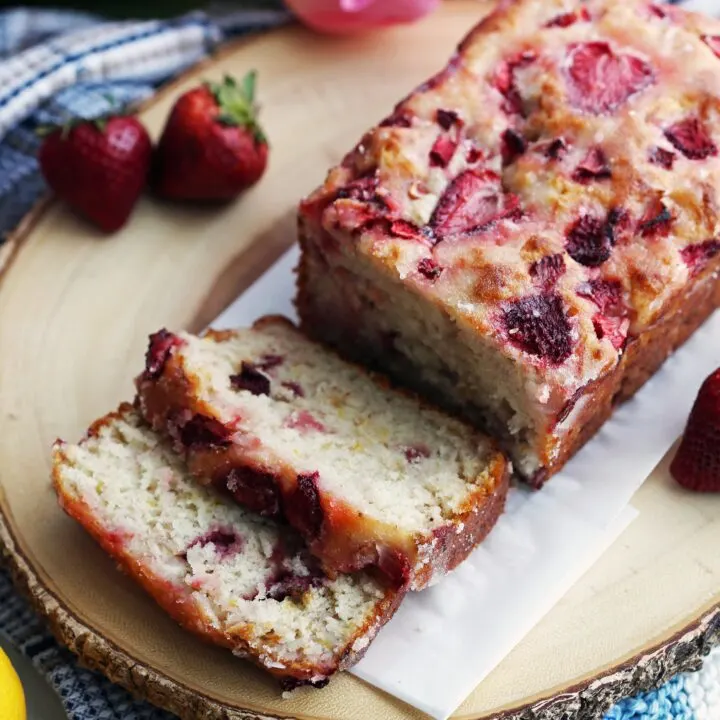 Strawberry Lemon Yogurt Quick Bread
Yield:
12 slices (one loaf)
Total Time:
1 hour
15 minutes
Sweet, fluffy, and easy to make. This quick bread recipe is packed full of strawberry and lemon flavour. Yogurt gives an added tanginess while reducing calories. Ready in just over an hour with no proofing required.
Ingredients
For the bread:
2 cups all-purpose flour
½ cup sugar
1 lemon, zest
1 tsp baking soda
¼ tsp salt
1½ cup (7½ oz) fresh strawberries, hulled and chopped, divided
1 cup plain Greek yogurt (fat free)
½ cup (4 oz.) unsalted butter, melted
½ lemon, juice
1 egg
½ tsp pure vanilla extract
For the glaze:
½ cup sugar
½ lemon, juice
Instructions
For the bread. Preheat the oven to 350 degrees F. Line a 9x5 loaf pan with parchment paper.
In a large bowl, whisk together the flour, sugar, lemon zest, baking soda, and salt until well combined. Then, using a spatula, gently fold in 1 cup of strawberries so that the strawberries are covered with the flour mixture. Set aside.
In another bowl, whisk together the yogurt, butter, lemon juice, egg, and vanilla extract until creamy and uniform in appearance. Then, pour the wet mixture into the dry ingredients.
Using a spatula, fold the mixture together until the batter is just combined (you no longer see dry ingredients and the dough will look a little raggedy, thick, and not completely smooth).
Using clean hands, knead the dough a few times to form a loaf shape. Do not overmix. Pick up the dough and place it in the loaf pan. Top it with the remaining ½ cup of strawberries, pressing the strawberries down gently into the dough.
Bake for 45-65 minutes, or until a wooden skewer (or cake tester) comes out clean in the center.
For the glaze. As the bread bakes, whisk together the lemon juice and sugar until well combined. After the cake is ready and still hot, poke holes using a wooden or metal skewer or the tip of a knife into the top of the bread and pour the glaze over it.
Let the bread cool slightly in the loaf pan before eating. Best enjoyed the same day it's baked.
Notes
To store, allow the bread to cool completely and tightly wrap several times with plastic wrap or place in an airtight container for up to 3 days.
Recommended Products
As a participant in the Amazon Services LLC Associates Program, I only link to products that I use and/or highly recommend. As an Amazon Associate, I earn from qualifying purchases if you purchase through these links at no additional cost to you.
Nutrition Information:
Yield:

12
Serving Size:

1
Amount Per Serving:
Calories:

163
Total Fat:

1g
Saturated Fat:

0g
Trans Fat:

0g
Unsaturated Fat:

1g
Cholesterol:

18mg
Sodium:

171mg
Carbohydrates:

34g
Fiber:

1g
Sugar:

17g
Protein:

5g