You know that I like a good smoothie and this one is perfect to have on a hot spring or summer day.
The sun is shining, flowers are beginning to bloom, there are so many new neighbourhood bunnies (cute, but they eat the flowers and strawberries… boo!) and I've finally busted out some of my light casual dresses and workout pants to wear (sometimes to workout, mostly to lounge in – so embarrassing).
In the winter, my "uniform" was pretty much a loose, thick sweater and jeans or thick leggings.
Anyway, this smoothie is healthy and refreshingly delicious too. It has a pleasant sweetness from the fruit and the cooling hint of fresh mint. Plus, hidden spinach for extra nutrition…. If I'm not sticking kale in all my food, it's spinach.
Check out this healthy Cucumber Mint Pineapple Smoothie!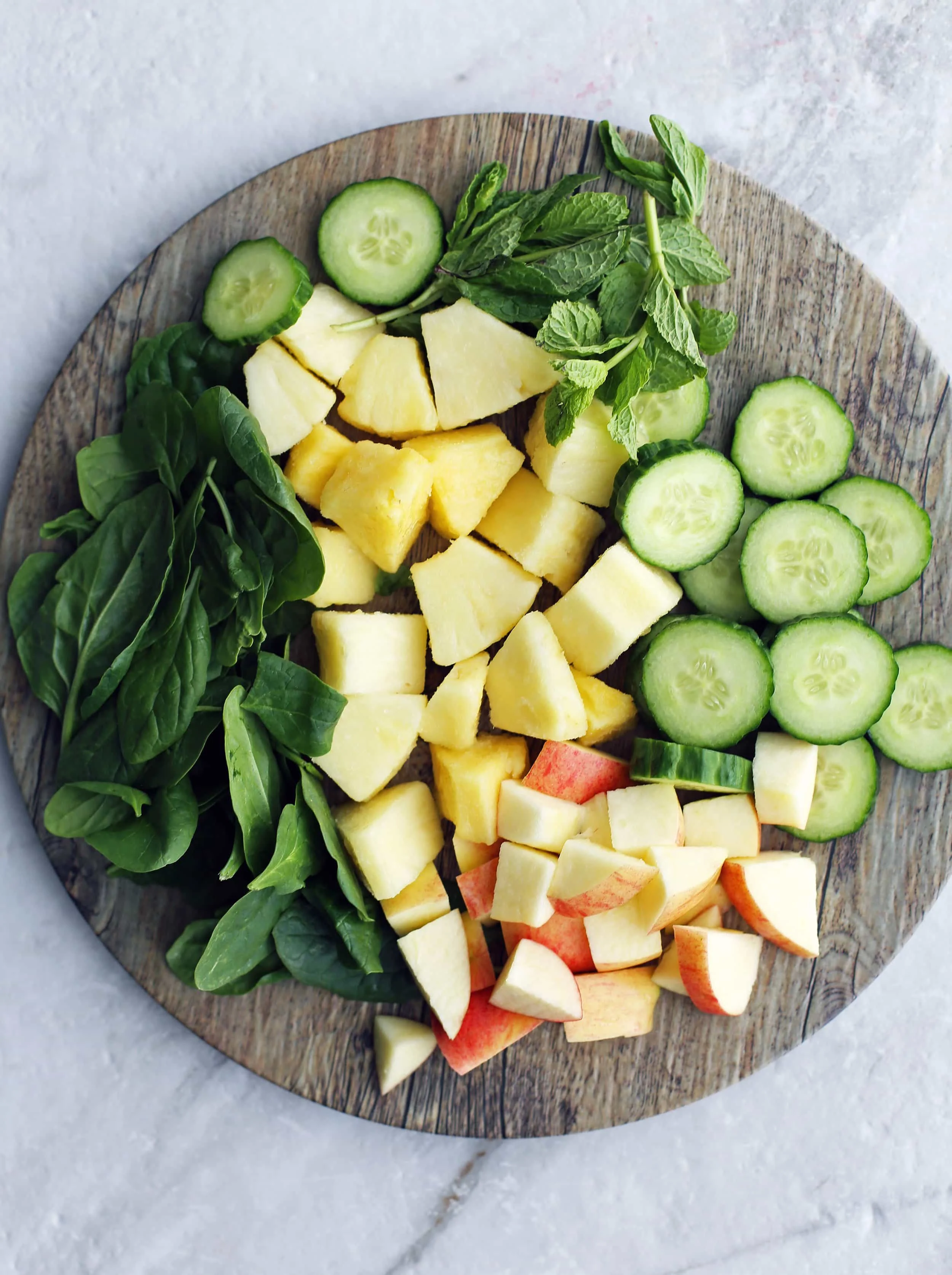 What's in this refreshing smoothie recipe?
This recipe only has six healthy ingredients (including the water!)
Pineapple – A lovely balance of sweet and tart tropical flavours.
Health Benefits: Pineapple is an excellent source of vitamin C and manganese, and a good source of copper, vitamins B1 and B6, and dietary fiber.
Fresh or frozen? I like to pick up a bag of frozen sweet pineapple. It's pre-chopped and ready for smoothies. If you are using frozen, you don't need to add ice to the smoothie.

If you opt to use fresh pineapple (it's so good when it's in season!), look for pineapples that are heavy for their size, firm, and smell sweet at the stem end. Avoid pineapples that have soft spots, bruises, and smell sour or fermented.
English Cucumber – They have a light flavour that's generally sweeter than other regular cucumbers. They are long, have thin dark green skin, and very tiny edible seeds. Therefore, you don't need to peel or de-seed it. Just chop it up a little and add it to your smoothies to blend. They're great for salads too.
Health Benefits: It's low calorie, 95 percent water, and has antioxidant, anti-inflammatory and anti-cancer benefits.
How to pick it? Choose firm, medium to dark green cucumbers. Avoid cucumbers that are mushy, have sunken water-soaked parts, wrinkled, or are yellow.
Did you know? Cucumbers, scientific name Cucumis Sativus, belong to the same botanical family as melons and squashes. So they are related to fruits and vegetables such as watermelons, cantaloupes, zucchinis, and pumpkins.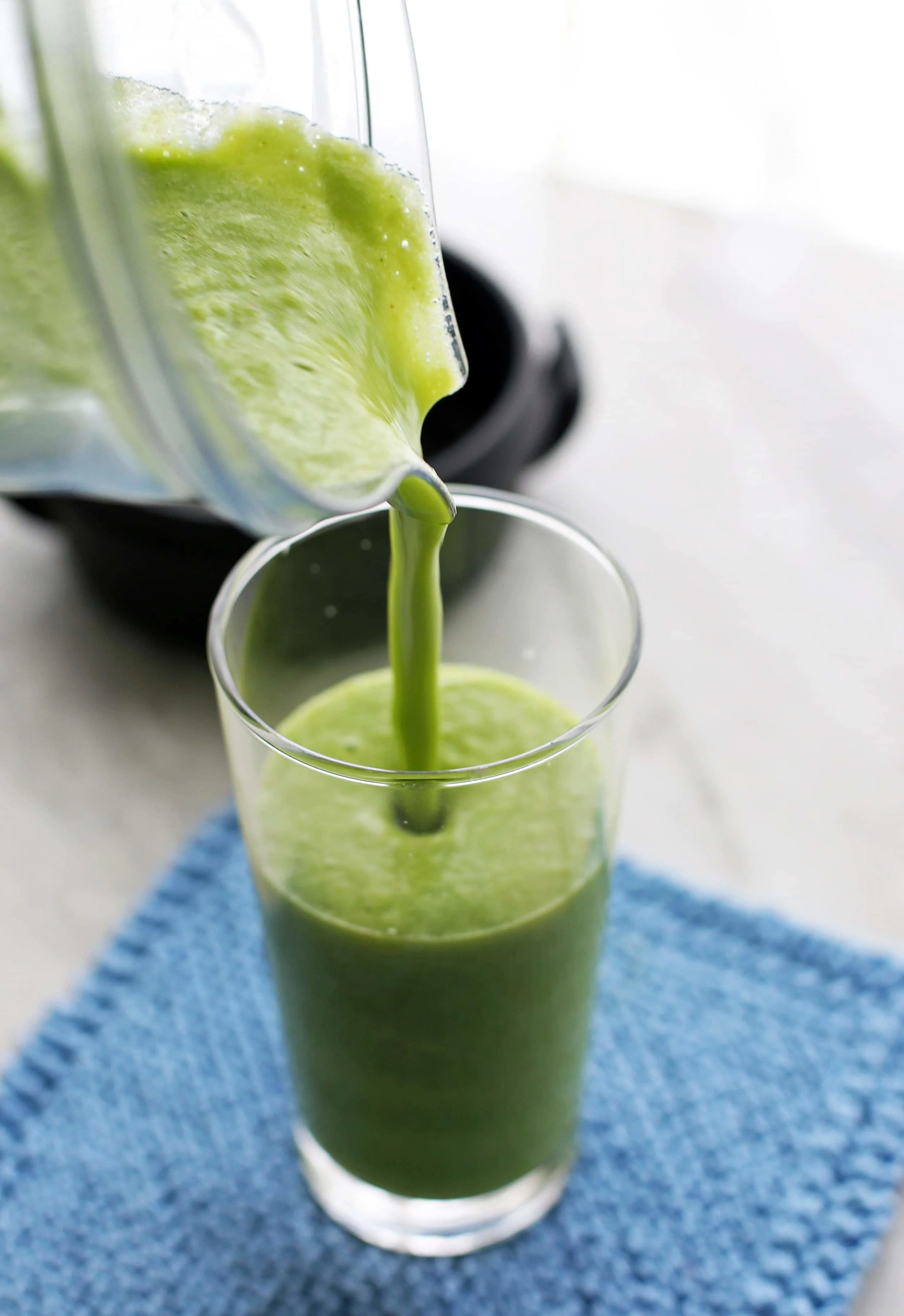 Mint – Has a distinctive fresh, bright, and cooling flavour. The two most common and available mint varieties at grocery stores are spearmint and peppermint. Generally, when a recipe has mint as an ingredient they are most likely referring to spearmint. That is what I used in this recipe.
What's the difference between spearmint and peppermint? Spearmint has green, spear-shaped leaves, and a sweet, mint flavour. Peppermint leaves are deep green and smoother in texture than spearmint. The big difference between the two is that peppermint contains menthol, which gives it a more potent and cooling mint flavour.
Health Benefits: Mint is said to promote digestion and soothes the body when it's experiencing ingestion or inflammation.
How to pick it? Choose mint leaves that are fresh looking, perky, and even-coloured. Avoid wilted, brown or black tinged leaves and stems.
Did you know about these other varieties of mint? For example, there is chocolate mint, which is a peppermint that has a subtle mint-chocolate aroma, pineapple mint that has leaves that are variegated green and white and lightly smells like fruit, as well as lemon mint, which has smooth leaves, and is citrus-scented.
Baby spinach – Baby spinach is a staple vegetable in my home. It's mild in flavour and slightly sweet (you won't notice that it's in the smoothie), blends up smoothly, and adds beneficial vitamins and nutrients to your drink.
Health Benefits: It's an excellent source of magnesium and iron, as well as a good source of vitamins B2 and B6, folate, vitamin K, E, potassium, and calcium.
How to pick it? Look for spinach leaves that appear fresh and tender, not wilted or have a slimy coating (that means it's decaying). It should have deep green leaves and no yellowing.
Apple – I like to use Gala apples for the mild and sweet flavour with a little bit of tartness, but use whatever sweet apple you prefer such as Red Delicious or Ambrosia.
Health Benefits: Gala apples are low in calories, high in dietary fiber and water content, and contain vitamins such as A, C, and B. The dietary fiber is known as pectin, which assists in lowering cholesterol levels.
How to pick it? Select apples that are firm, have smooth-skin and look glossy. Ripe Galas have a general reddish blush tone with golden yellow or pinkish orange strips.
Cold Water/Ice: Helps thins out the smoothie and keep it cool.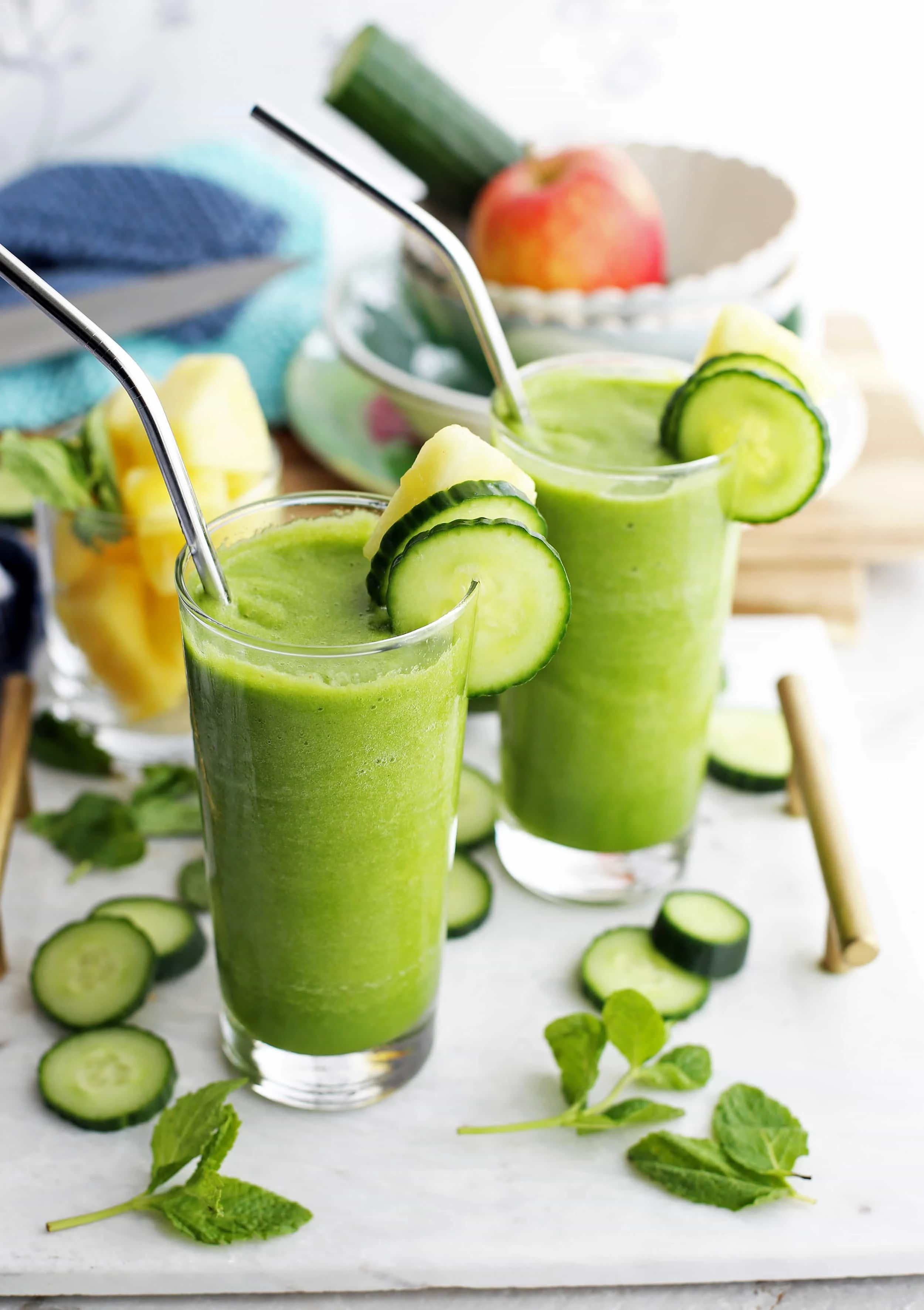 HERE ARE SOME MORE SMOOTHIE TIPS:
If you let the smoothie sit for a while (i.e. make it ahead of time), you may notice that layers may start to form with the liquid sitting on the bottom and a foam on top.
This is due to the different density of ingredients in this pineapple smoothie, where the heavier dense foods settle on the bottom. Give it a good stir with a spoon or straw, a good shake (lid on of course), or re-blend if this happens.
If you are not a fan of the foam that may occur, substitute the apple with a banana for a more consistent creamy texture.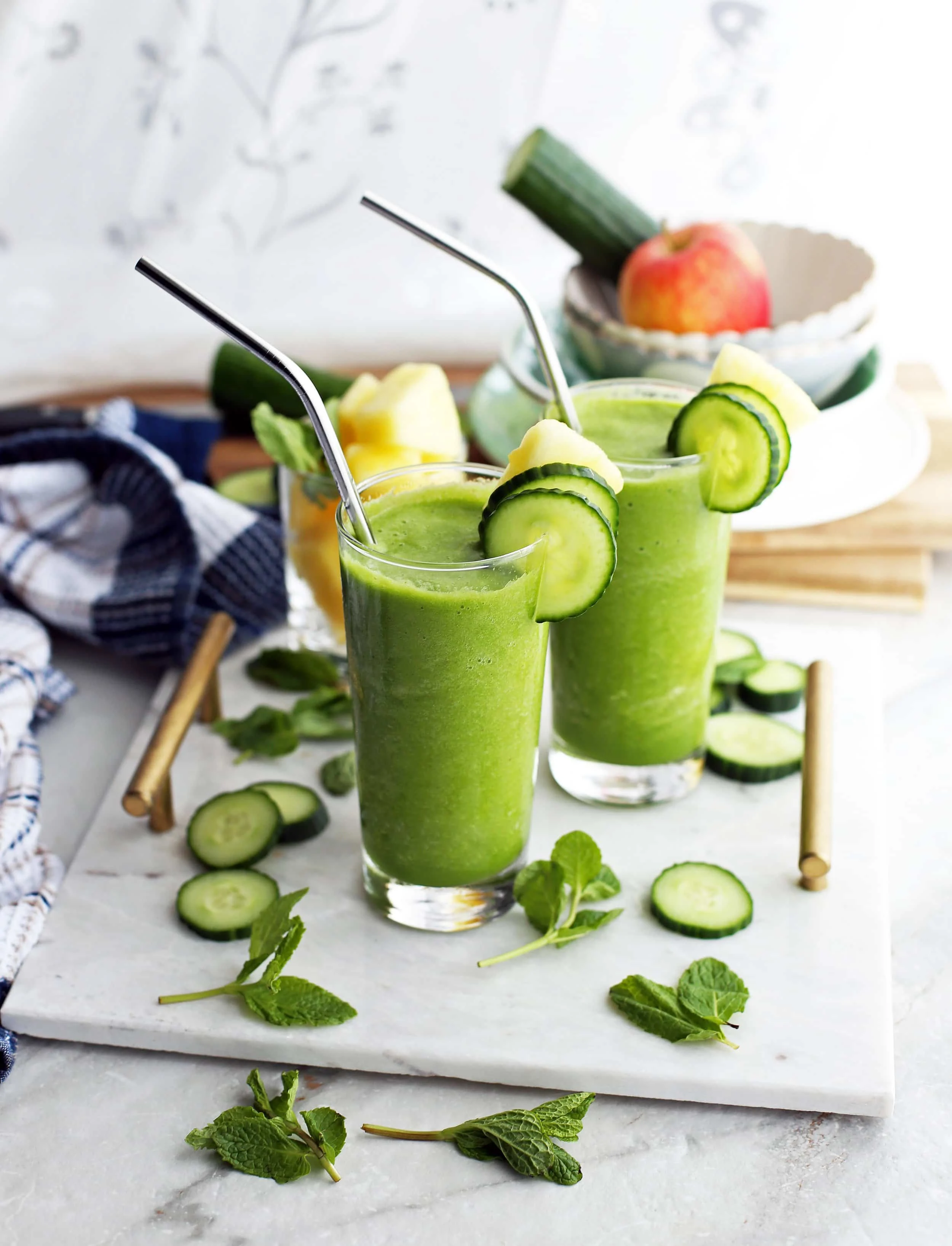 This cucumber mint pineapple smoothie is:
Super refreshing
Delicious
Healthy
Refined sugar-free
Vegan and gluten-free
Quick and easy to make
Perfect for a quick breakfast or mid-day snack
Portable: Pour it into your travel mug to take it on-the-go
I hope you try this cucumber mint pineapple smoothie recipe! If you do, please leave me a rating and comment down below, tag me, or use the hashtag #yayforfood on any of my social media. I'm @yay_for_food on Instagram. I'd love a picture.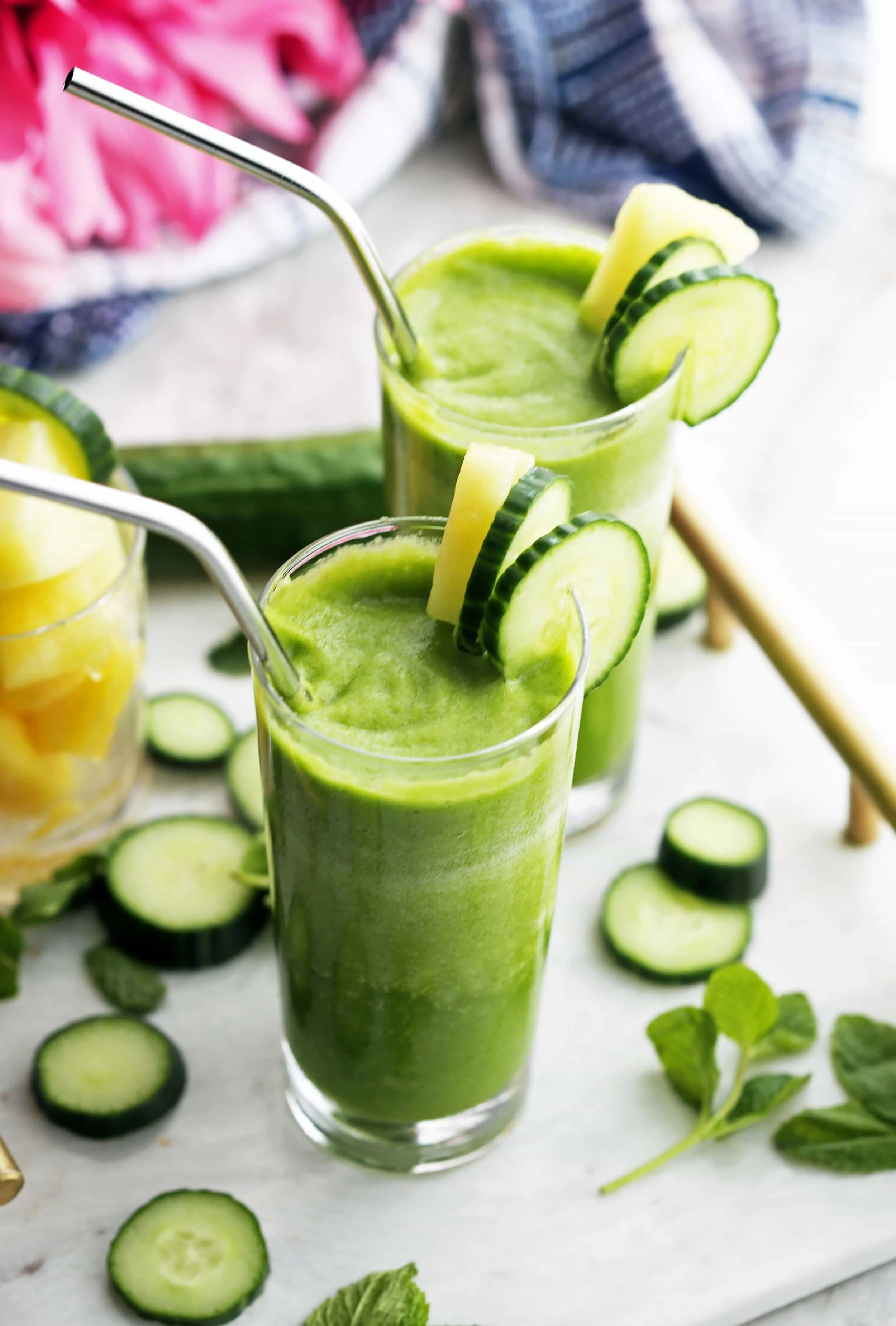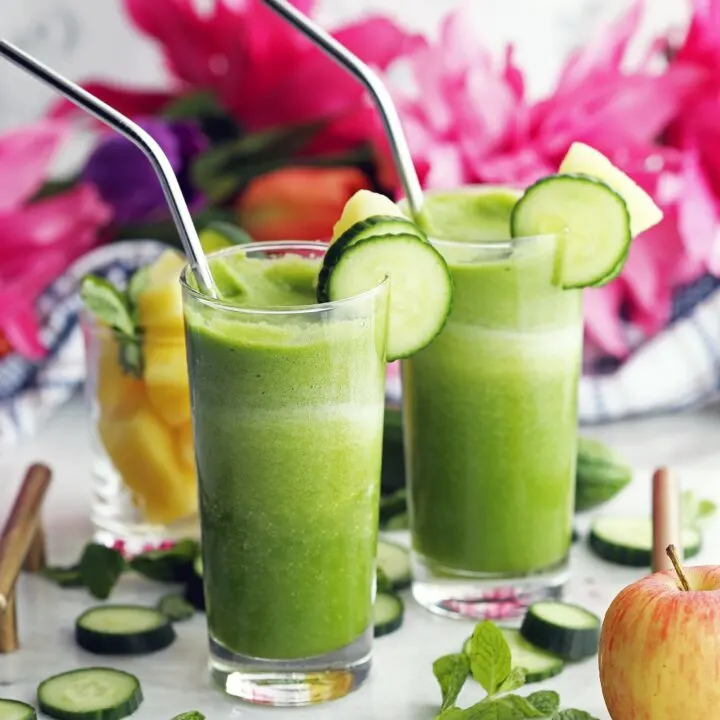 Cucumber Mint Pineapple Smoothie
Yield:
2-3 (makes 5 cups)
Sweet, tart, and fresh flavours collide in this refreshing healthy smoothie recipe. Pineapple, cucumber, and mint (plus more) blend together to make a quick breakfast or snack with no added sugar.
Ingredients
2 heaping cups (10 oz) pineapple, frozen or fresh
1 heaping cup (7 oz) English cucumber, sliced
1 cup (packed) fresh baby spinach
1 small sweet apple (like Gala), cored and chopped
10-15 mint leaves (and stems), depending on leaf size and preferred mintiness *(see first note)
1 cup cold water
4-6 ice cubes, if using fresh pineapple
Instructions
Place all the ingredients in a high-powered blender and blend until smooth.
Once blended, taste and adjust according to preferences such as adding more mint for a stronger mint flavour or pineapple and/or apple for additional sweetness.
Best served immediately.
Notes
*When a recipe calls for mint, it's generally spearmint, which has green, spear-shaped leaves and a sweet mint flavor. This is what I used. Peppermint leaves are darker green and have a stronger flavour.
Nutritional calories represent one serving with three servings total.
Recommended Products
As a participant in the Amazon Services LLC Associates Program, I only link to products that I use and/or highly recommend. As an Amazon Associate, I earn from qualifying purchases if you purchase through these links at no additional cost to you.
Nutrition Information:
Yield:

3
Serving Size:

1
Amount Per Serving:
Calories:

116
Total Fat:

1g
Saturated Fat:

0g
Trans Fat:

0g
Unsaturated Fat:

0g
Cholesterol:

0mg
Sodium:

46mg
Carbohydrates:

27g
Fiber:

9g
Sugar:

14g
Protein:

4g