Happy Friday! I hope you all a great week. I don't know about you, but I think that pasta (and noodles) is one of the world's greatest foods. It is so so good and can be adapted in so many ways! I can eat pasta once a week and be quite happy.
Making it in the Instant Pot is so easy too. No need to boil the pasta separately in one pot and cook the vegetables, meat, or sauce in another pot or two or three. Instead everything is made in the Instant Pot for a quick and easy one-pot meal!
Check out this Instant Pot recipe for Mushroom Pasta with Creamy Cheese Sauce.
How do you make Instant Pot Mushroom Pasta?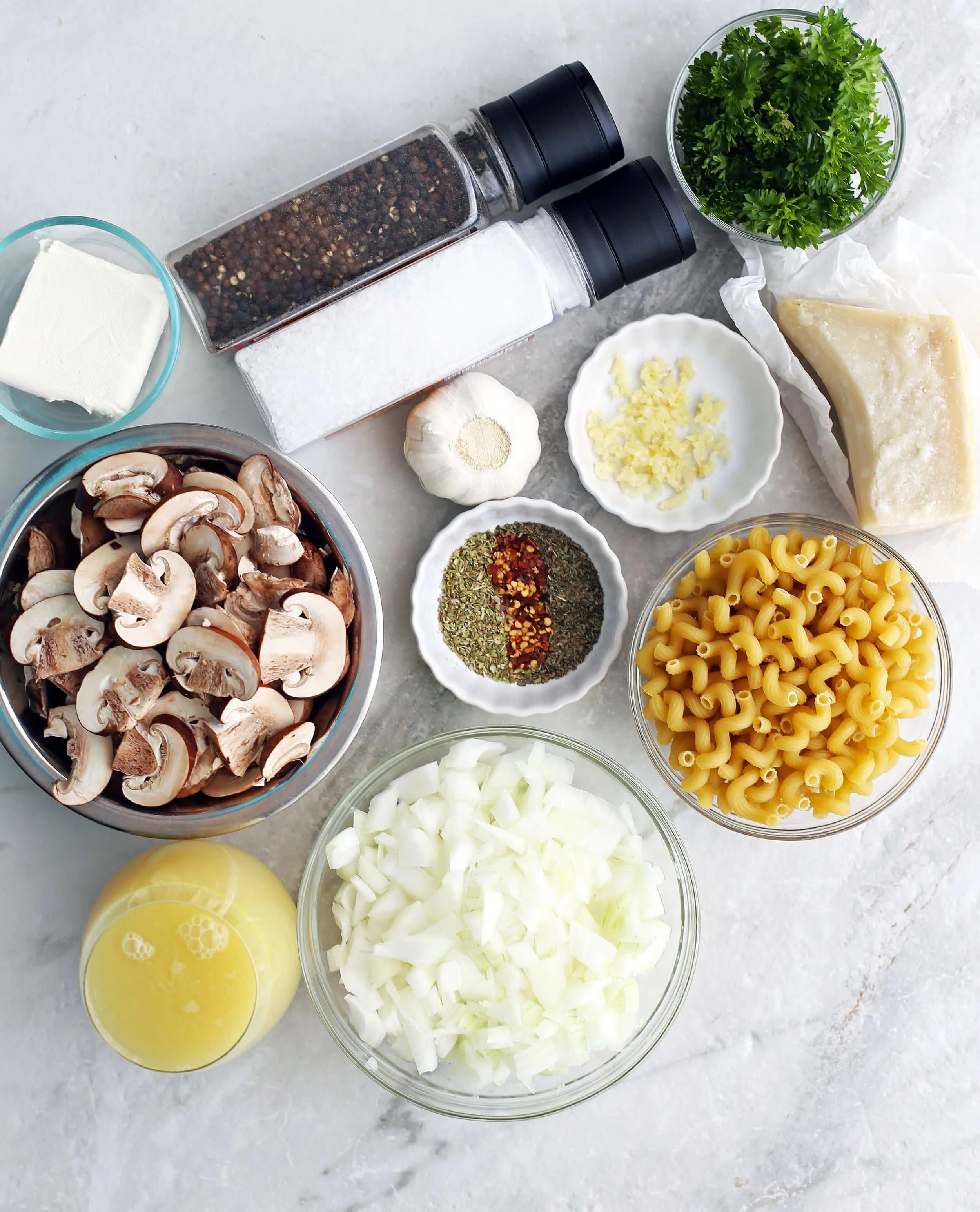 Simple ingredients are used to make this comforting and filling pasta dish! Full ingredient amounts and instructions listed in the recipe card down below.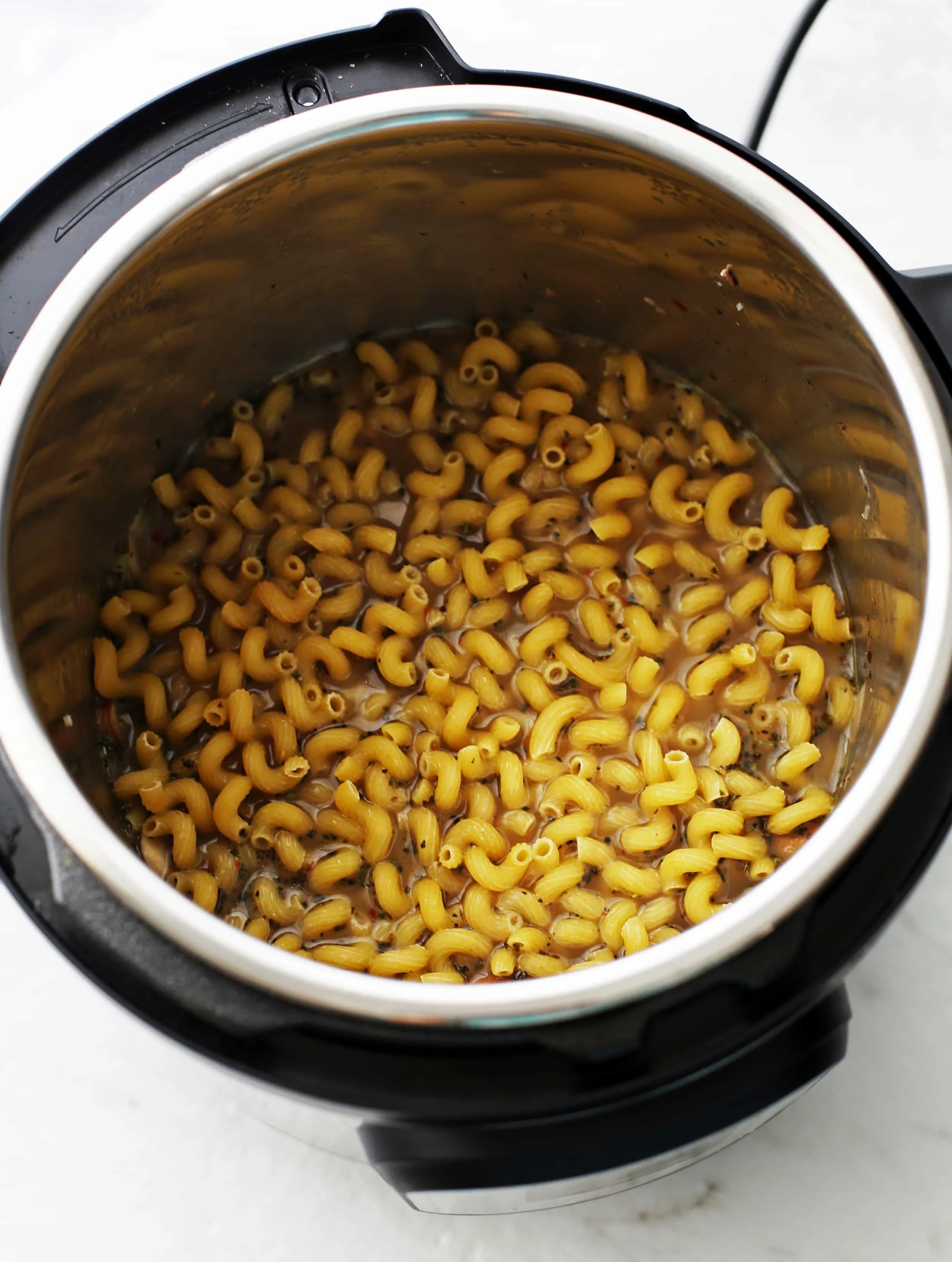 Sauté the mushrooms, onion, and garlic, stir in herbs, spices, and chicken broth, and then place the pasta on top. Seal the lid and cook at high pressure for 8 minutes before applying a quick release.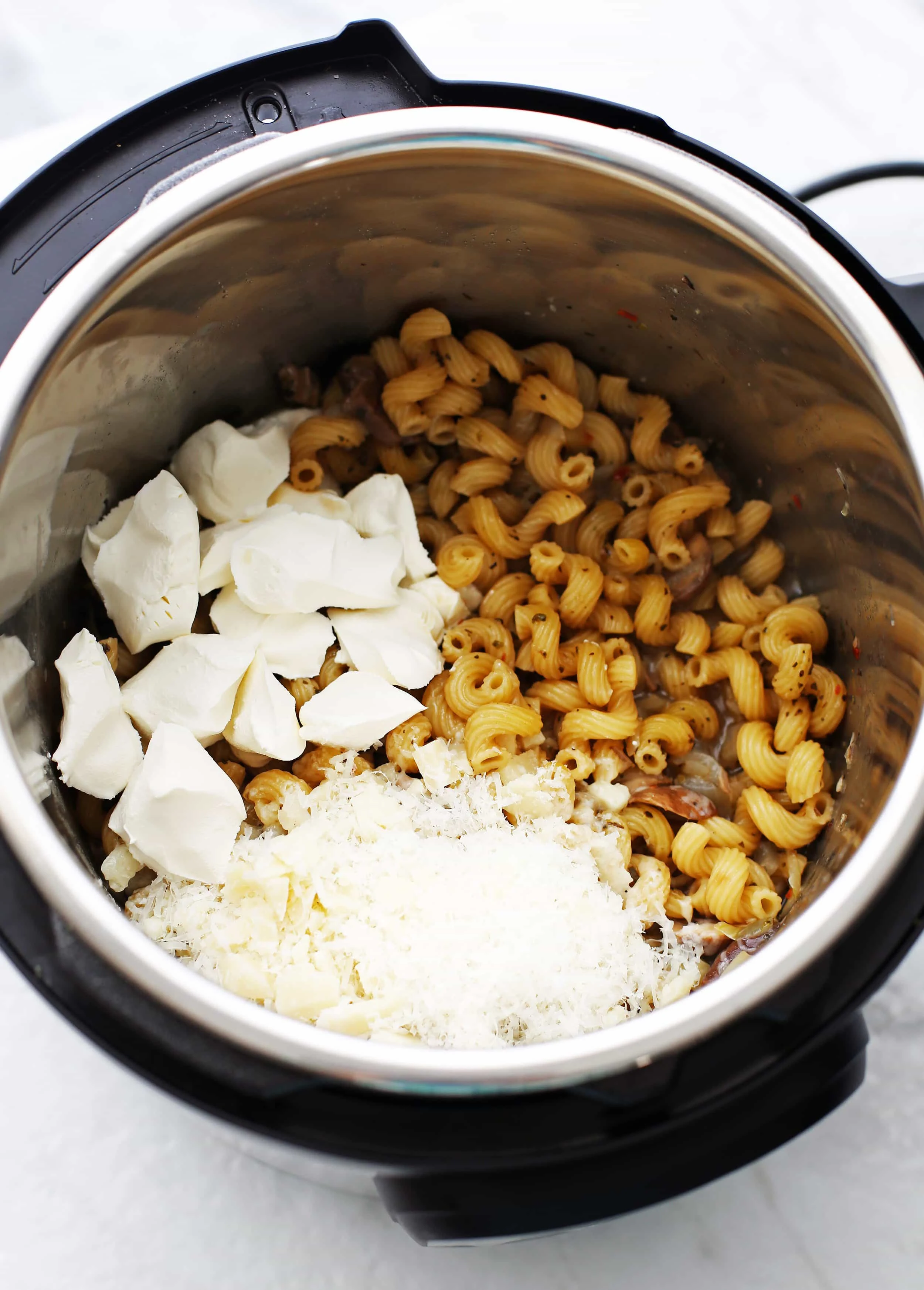 Stir in the cheese until it is melted and forms a thin, creamy sauce.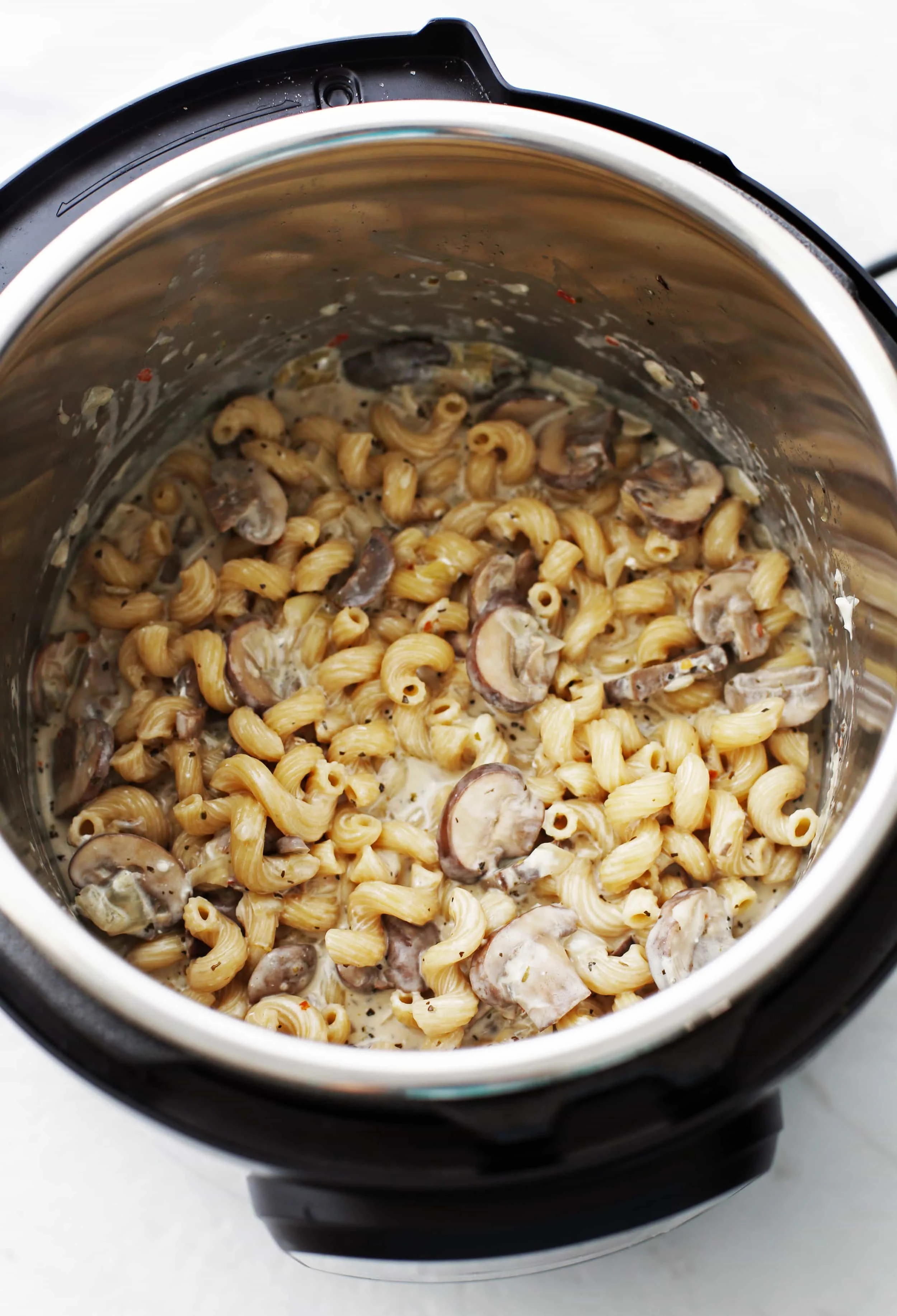 Delish! This mushroom pasta just needs a little parsley and then it is ready to eat! The sauce is initially thin, but will thicken up more as it cools down a little.
What's in this easy pasta recipe?
Cavatappi pasta (aka scoobi do, cellentani, or amori pasta) is a type of macaroni that has spiral tube shape (like a corkscrew) with ridges or lines on its surface. It's such a fun shape and probably my favourite pasta.
If you want, take a look at my stove-top recipe using cavatappi: Creamy Gruyere and Swiss Chard Pasta with Toasted Panko Breadcrumbs.
Of course, you can substitute this pasta with macaroni, rigatoni, or another pasta that has crevices or ridges for the sauce to stick to. If you're like me, you've got a pantry full of different kinds of dry pastas that need to be used up. Use them for this recipe!
Cremini Mushrooms (aka crimini or mini (baby) bellas) have a lovely earthy flavour and meaty texture. Along with putting them in pastas, they are also amazing in soups and stews. I used these mushrooms in another Instant Pot recipe for easy and hearty Beef Barley and Mushroom Soup.
Did you know that white button, cremini, and portobello are all the same mushroom variety (Agaricus bisporus)? The difference is just age with the white button being the youngest and the Portobello being the most mature.
Garlic and onions: These two ingredients are the flavour base for so many recipes. Why? Because they are complementary aromatics that give dishes a rich umami flavor and a subtle sweetness. A lovely match for the earthy mushrooms.
The herbs and spices, which include dried oregano, basil, and red pepper flakes, are added to enhance the overall flavours giving the final dish a more complex and slightly spicy pasta.
A simple way to make a quick sauce with cream cheese, parmesan cheese, and remaining chicken broth. The sauce will be thin when initially stirred together, but will thicken further as it cools slightly.
Cheese and pasta are a match made in heaven. The parmigiano reggiano has a rich, sharp, nutty, and fruity flavour. The cream cheese is mild in flavour and helps the sauce get creamier.
Then add parsley for that fresh and bright finishing touch.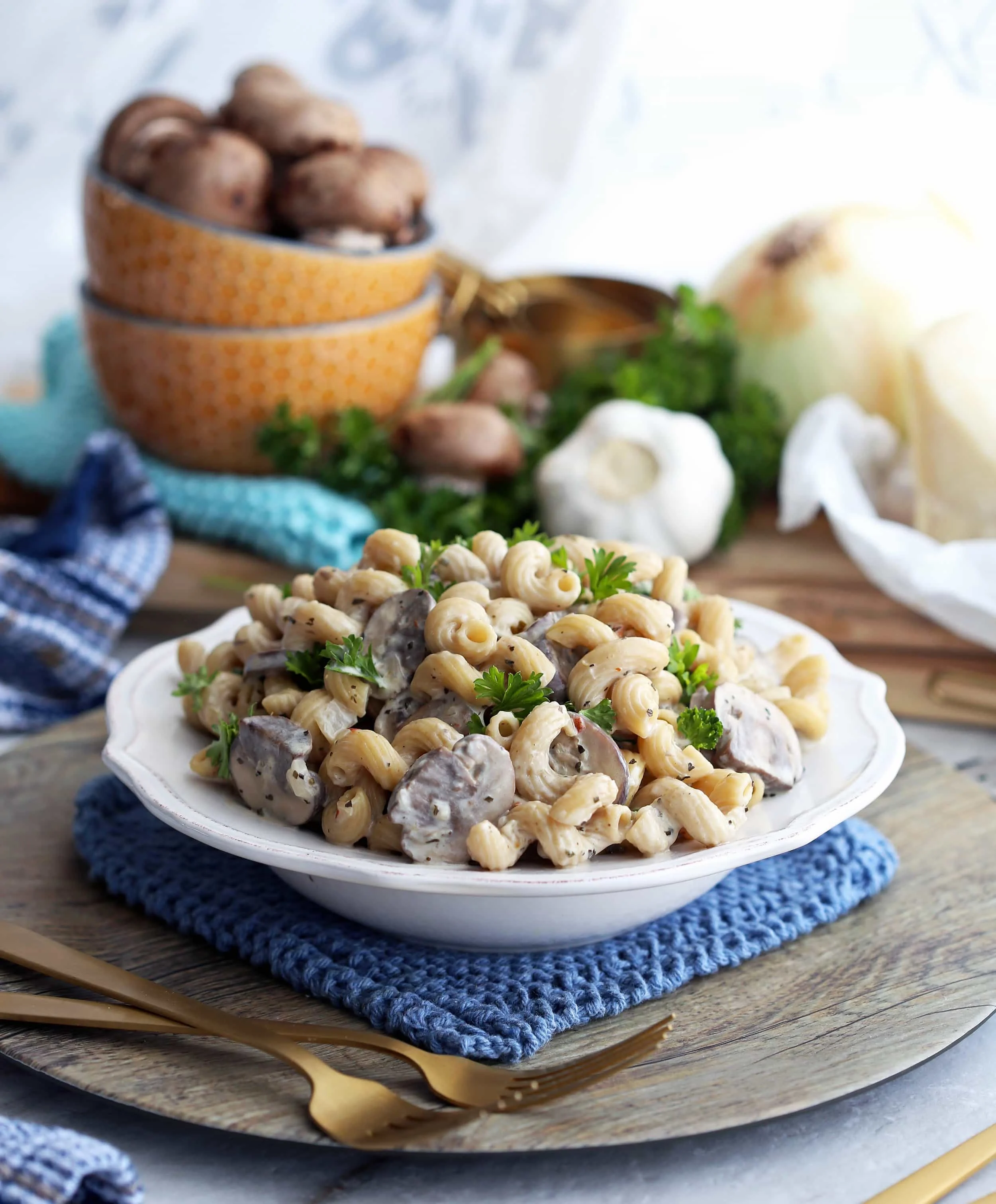 HERE ARE SOME RECIPE TIPS FOR THIS PASTA DISH:
Use brown mushrooms like cremini (or other robust wild mushrooms) over white mushrooms as it has more complex, earthy flavours and a firmer texture that's perfect for this recipe.
Scatter the pasta in a single layer on top of the other ingredients. Then press down gently so that most of the pasta is touching the broth. By leaving the pasta on top and not mixing it, the pasta gets tender (just a little more than al dente), but not mushy.
As it cooks in the Instant Pot, it will absorb the chicken broth (you can use vegetable too) giving the noodles and other ingredients a richer, savoury flavour as opposed to using water.
Use freshly grated parmesan (I highly recommend parmigiano reggiano) from a block (the hard-dry type). This cheese will melt completely and give a sauce a smooth texture when combined with the chicken broth and cream cheese.
If you use a pre-grated or shredded parmesan cheese, the cheese may not melt completely and clump up or remain stringy as many prepared cheeses use a stabilizer to allow the cheese to stay looking fresh longer and not stick together, but also makes it hard to melt when mixed into hot foods.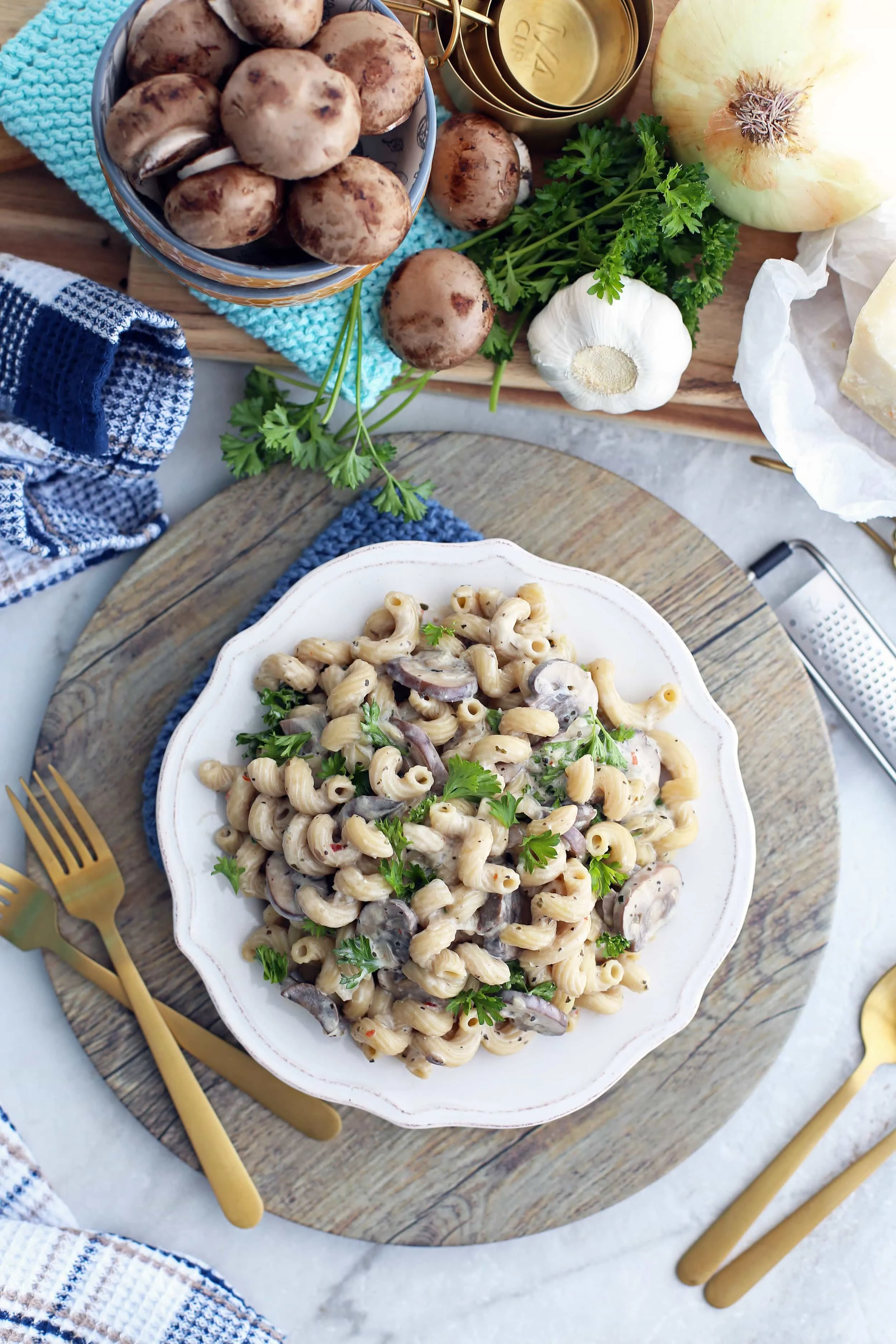 Overall, this Instant Pot Mushroom Pasta:
Is pure comfort food.
Is full of delicious savoury flavours.
Has ingredients that are likely easy to find at your local supermarket.
Is simple to prepare as it has no complicated steps.
Is great to make for a quick weekday meal or lazy day meal.
Makes four hearty servings that's perfect to serve the family.
Made in one-pot (Instant Pot that is) so cleanup is quick.
If you try this recipe, please rate and leave a comment down below. You can also connect with me on my social media by tagging me (I'm @yay_for_food on Instagram).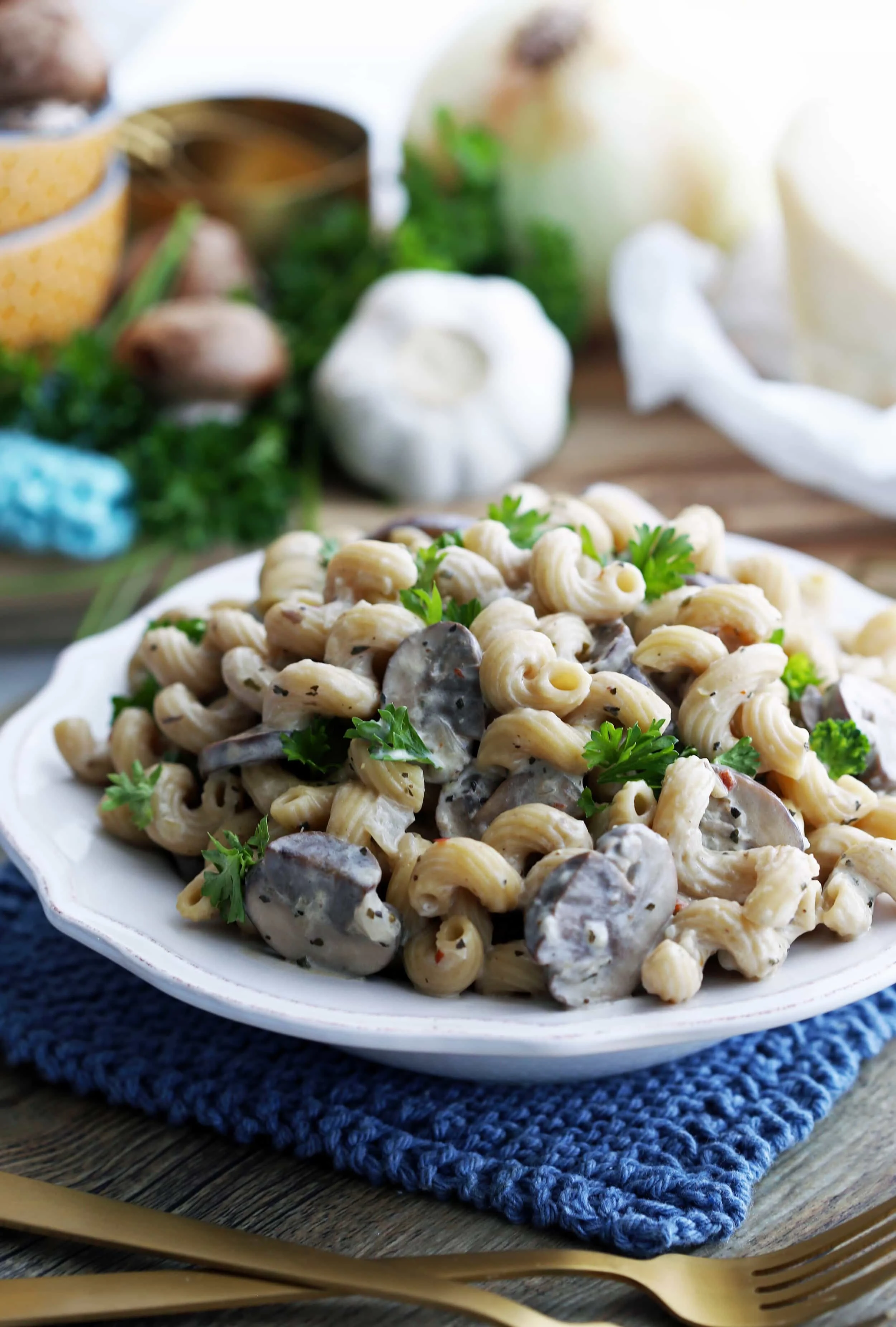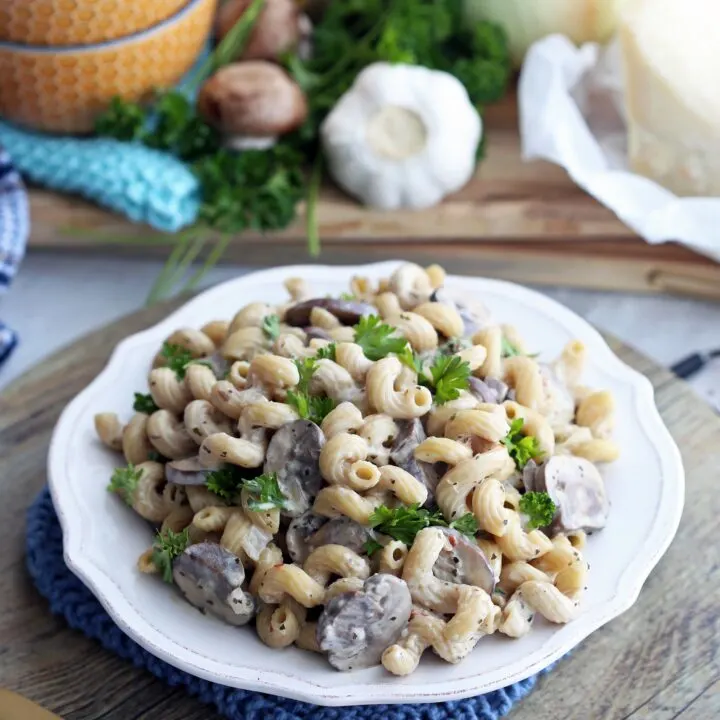 Instant Pot Mushroom Pasta with Creamy Cheese Sauce
With rich cream cheese and earthy mushrooms, this Instant Pot pasta recipe features a creamy sauce, is easy to prepare, and makes for a great family meal.
Ingredients
1 tbsp olive oil
12 oz cremini mushrooms (or mini portabellas), cleaned and sliced
1 onion, chopped
2 garlic cloves, minced
1 tsp dried oregano
1 tsp dried basil
½ tsp red pepper flakes (optional)
Salt and pepper, to taste
2 cups low sodium chicken broth (or vegetable broth)
8 oz. cavatappi pasta (or elbow pasta)
4½ oz (½ cup) plain cream cheese, room temperature
2 oz. (½ cup) parmesan cheese (parmigiano reggiano) *see first note
½ cup fresh parsley, chopped
Instructions
Set the Instant Pot to "sauté". Pour in a tablespoon of olive oil and then add mushrooms, onions, and garlic along with a pinch of salt and pepper into the pot. Stir occasionally to allow the mushrooms to release their juices and continue stirring until the liquid is evaporated, about 6-8 minutes.
Add the oregano, basil, red pepper flakes, and another pinch of salt and pepper and stir for 30 seconds. Press "cancel" to turn off the Instant Pot.
Pour the chicken broth into the mushroom mixture and stir to incorporate the ingredients. Next, place the pasta in a single layer on top of the other ingredients (do not stir in). Press the pasta down slightly so that most of it touches the broth (it's okay if some of it sticks out).
Seal the Instant Pot and cook at high pressure ("manual"/"pressure cook" function) for 8 minutes. After the pasta is ready, apply a quick pressure release to completely depressurize (until floating valve drops).
Open the Instant Pot and stir in the cream cheese and parmesan cheese until the cheese melts to form a creamy sauce.
Top with (or stir in) fresh parsley. Taste for additional salt and pepper. Best served immediately.
Notes
*Use parmesan cheese (parmigiano reggiano) from a block (the hard dry type) to ensure that it melts and creates a smooth texture. Using pre-grated/shredded parmesan cheese may result in a stringy sauce.
Recommended Products
As a participant in the Amazon Services LLC Associates Program, I only link to products that I use and/or highly recommend. As an Amazon Associate, I earn from qualifying purchases if you purchase through these links at no additional cost to you.
Nutrition Information:
Yield:

4
Serving Size:

1
Amount Per Serving:
Calories:

346
Total Fat:

21g
Saturated Fat:

10g
Trans Fat:

0g
Unsaturated Fat:

9g
Cholesterol:

47mg
Sodium:

315mg
Carbohydrates:

29g
Fiber:

2g
Sugar:

4g
Protein:

14g