My mom loves a good bargain especially when it comes to food. Here's what happened recently:
Mom: "Marie, these sweet potatoes were 33 cents per pound. They are so cheap. Did you buy any?"
Me: "No, I didn't need any this week."
Mom: "You want any?"
Me: "Well, I don't really…"
Mom then proceeds to fill up a bag for me to take home. I mean, she couldn't have just bought one or two. She had to buy eight because "it's such a good price." I accept it and take it home. She is convinced that somehow I don't have enough food at home even though I run a food blog, but I get it, even though I'm an adult, my mom still tries to take care of me.
Luckily, I love the delicious natural sweet taste and texture of sweet potatoes.
Here is a delicious quick-to-prepare favourite of mine that's perfect as a side dish for breakfast, lunch, or dinner: Roasted Maple Cinnamon Sweet Potatoes!
How do you make this sweet potato recipe?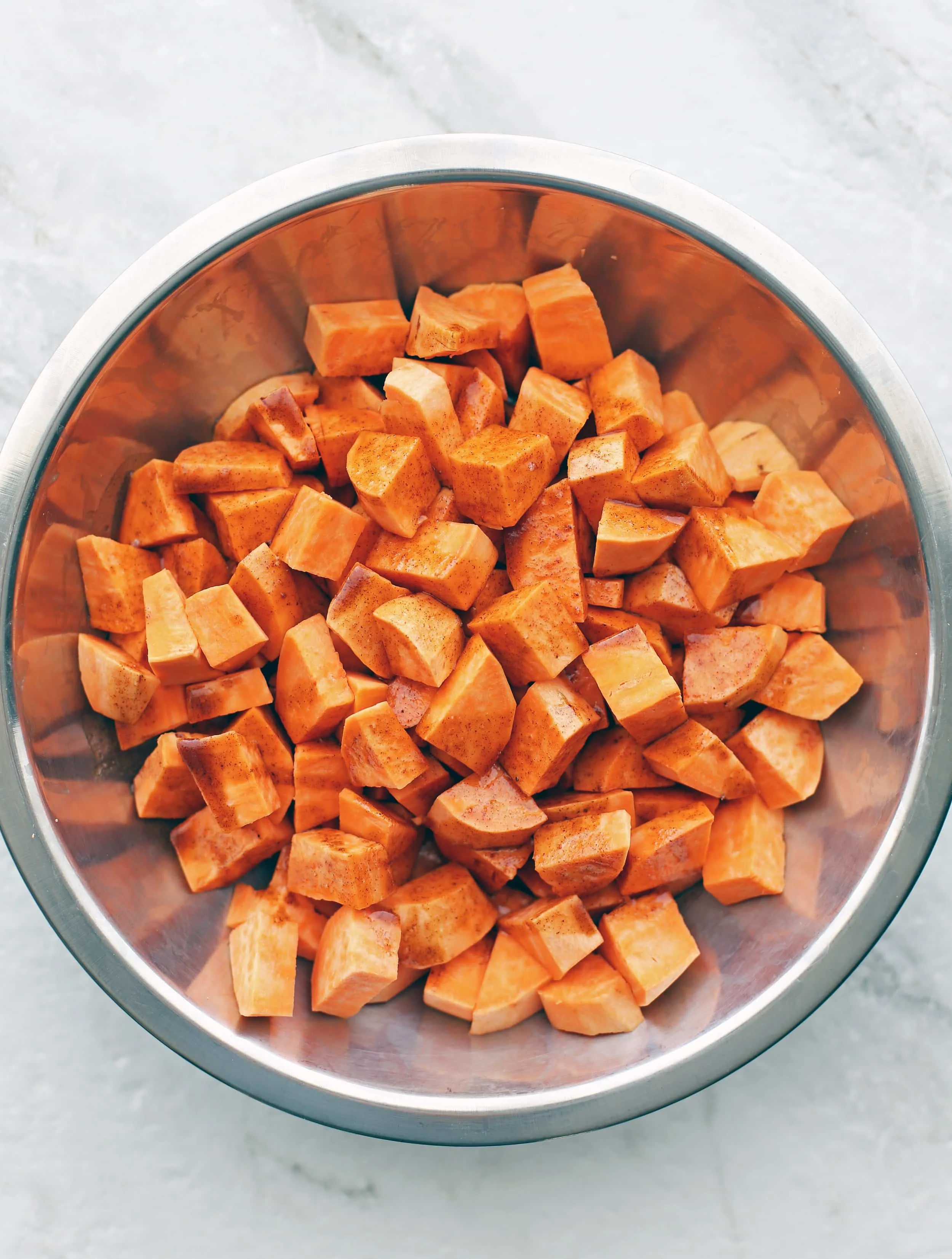 Peel and chop the sweet potatoes into 1-inch chunks and combine with the remaining ingredients. See complete ingredients and instructions in the recipe card below.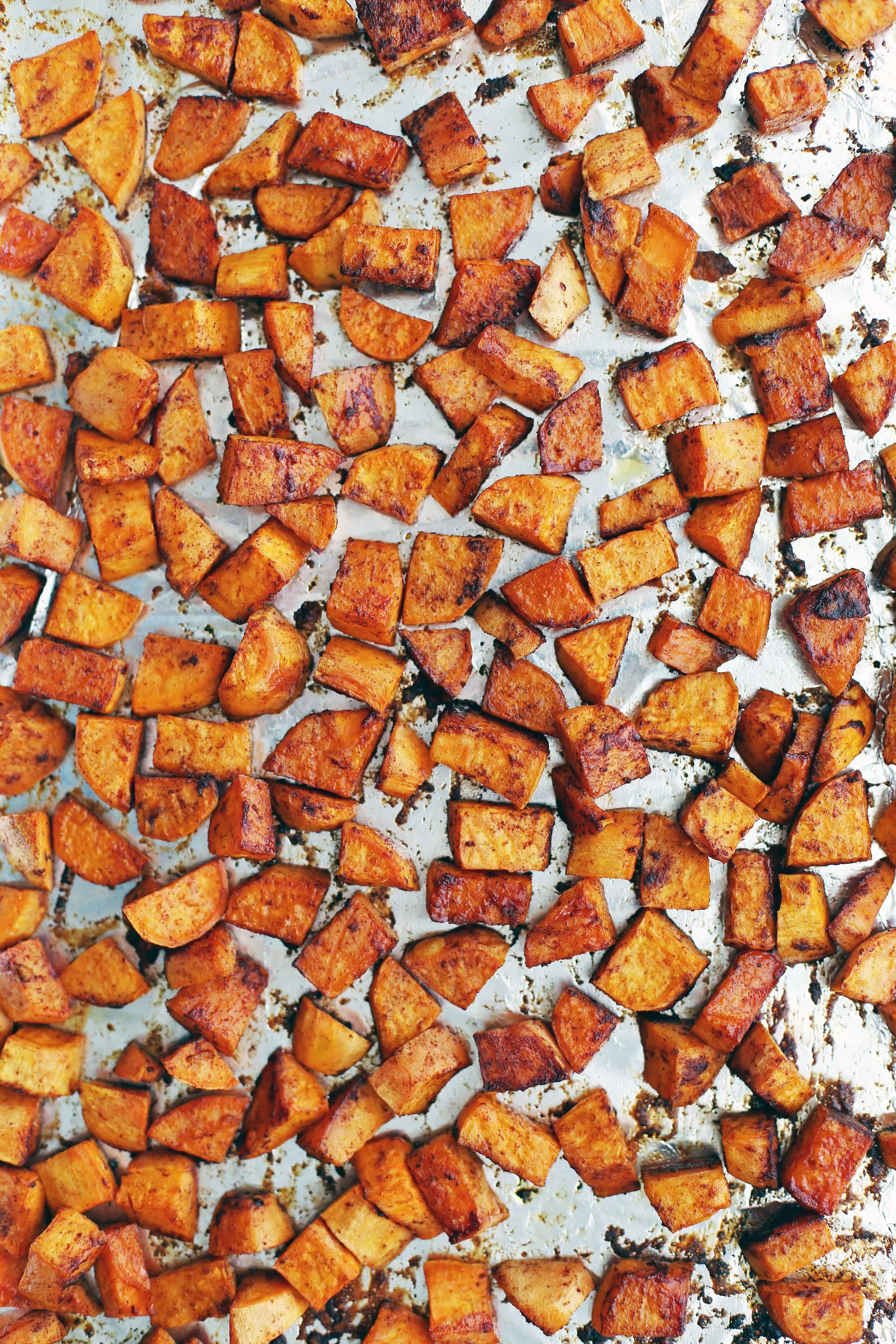 Spread the sweet potatoes into a single layer on a large baking sheet and roast at 400 degrees F, flipping once.
What's in these roasted sweet potatoes?
Of course, there are sweet potatoes.
These roasted sweet potatoes are delicious and flavourful: Tender bites of goodness!
Roasting the sweet potatoes allows each sweet potato piece to form a caramelized crust that's just so scrumptious.
I like to use the orange-fleshed ones the most (they are the most common too), but other varieties have white, purple or yellow insides.
Plus sweet potatoes are nutritious. For example, they are an excellent source of vitamin A (especially the orange-fleshed ones), high in vitamin C, manganese, and potassium.
Two Quick tips:
Choose sweet potatoes with firm, smooth, even-looking skin. Avoid ones with cracks, bruises or discolouration.
Store raw sweet potatoes in a cool, dry place. Don't keep these starchy tubers in the refrigerator.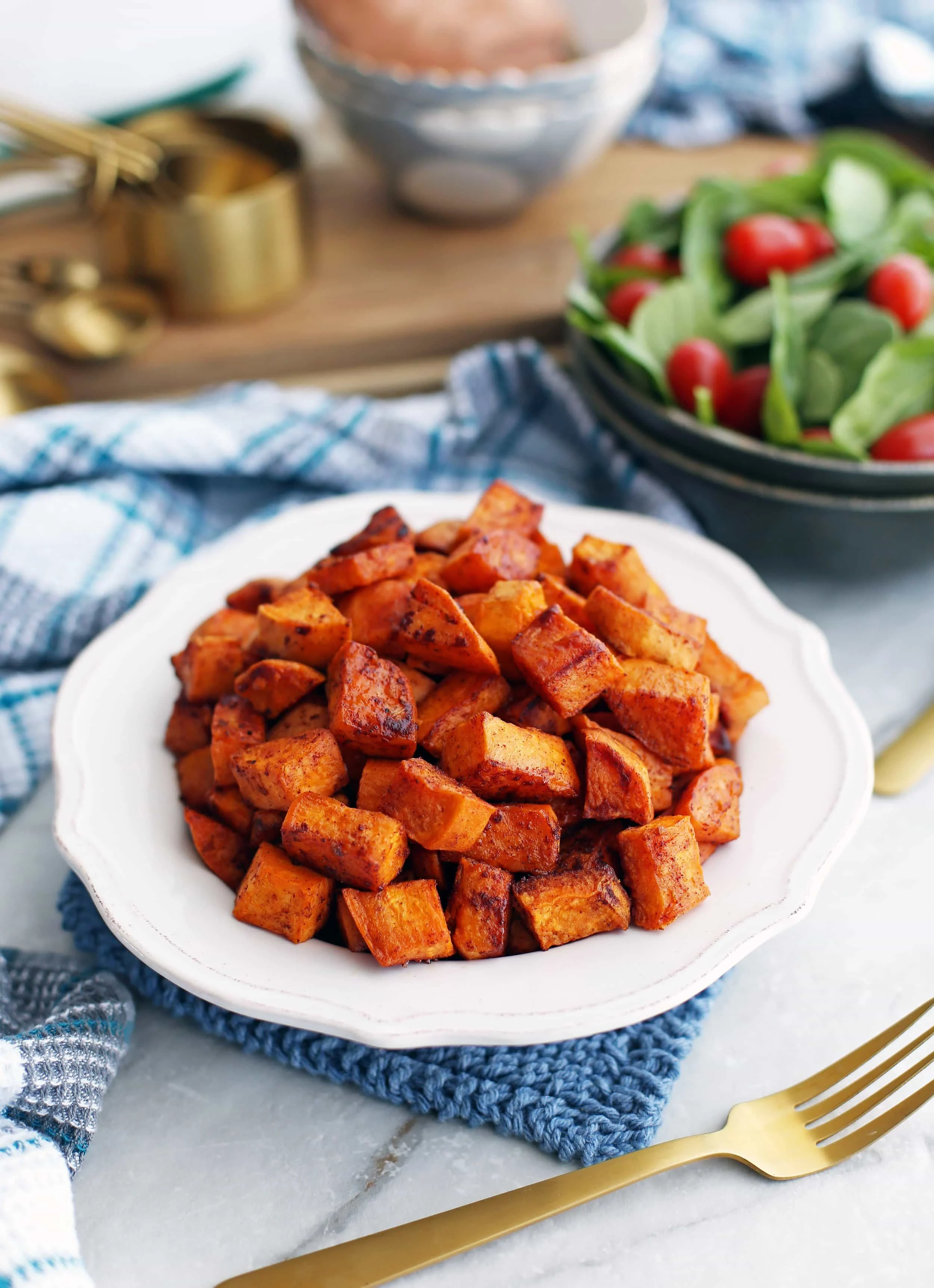 The rich flavours of pure maple syrup enhances the natural sweetness of the root vegetable. Maple syrup has sweet, woody, warm, caramel, and floral notes that vary depending grade of maple syrup.
In addition, the spicy, nutty, and sweet flavours of cinnamon, nutmeg, and vanilla warms up the palate.
Coconut oil gives it a hint of coconut flavour and fits well with the other ingredients, but you can also use olive oil if you have that on hand instead. Finally, sea salt enhances all the flavours. It's a pleasant contrast to the dominant sweet flavours present in this dish.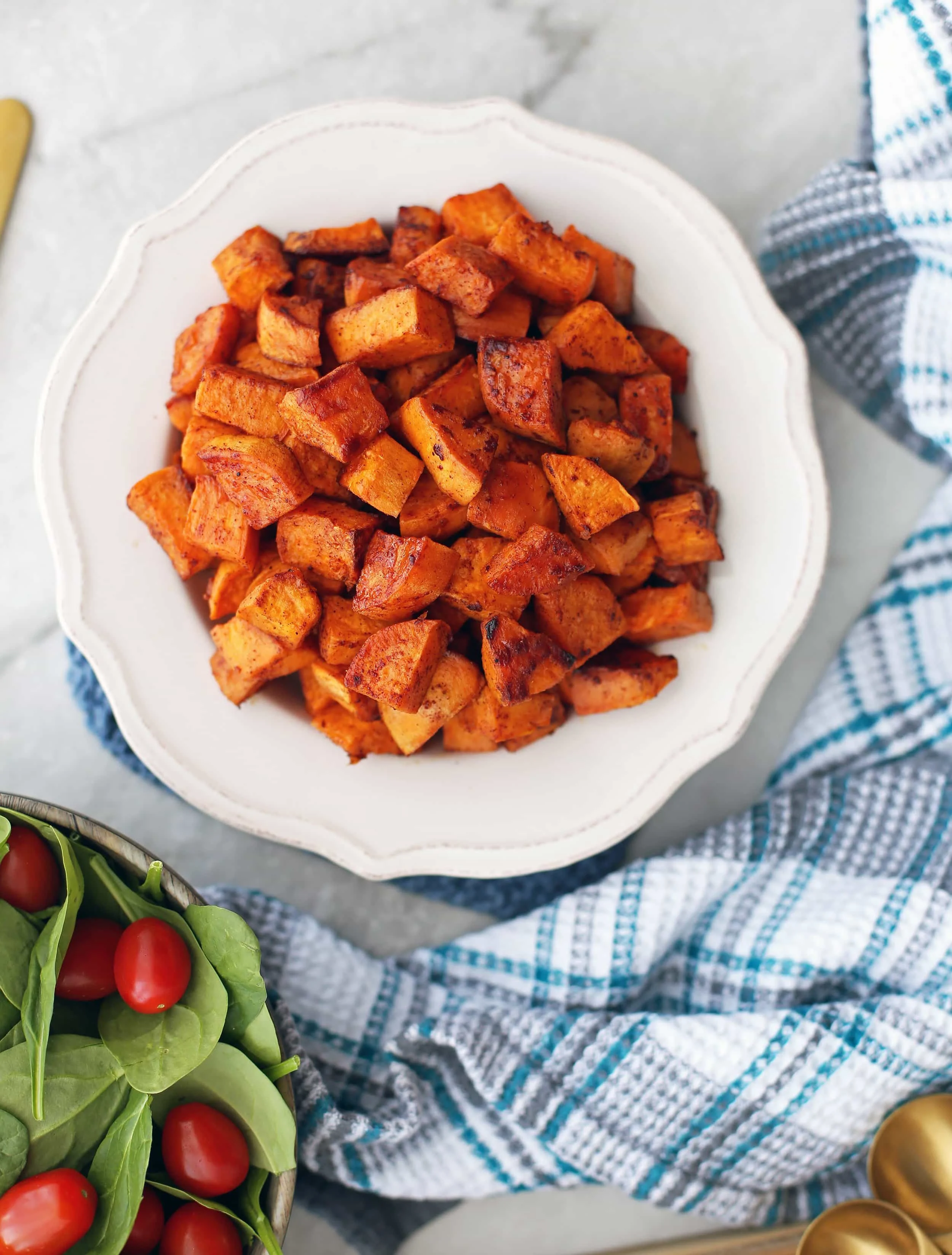 In addition to its tasty flavour, these sweet potatoes:
Are perfect as a side dish for breakfast, brunch, lunch, or dinner.
Are easy and fast to prepare: Simply peel and chop the sweet potatoes, combine with the remaining ingredients, and roast on a baking sheet, flipping once, until done.
Require very few ingredients: Only seven ingredients and can be found easily in most supermarkets year-round.
Are vegan and gluten-free: Perfect for those with these dietary restrictions.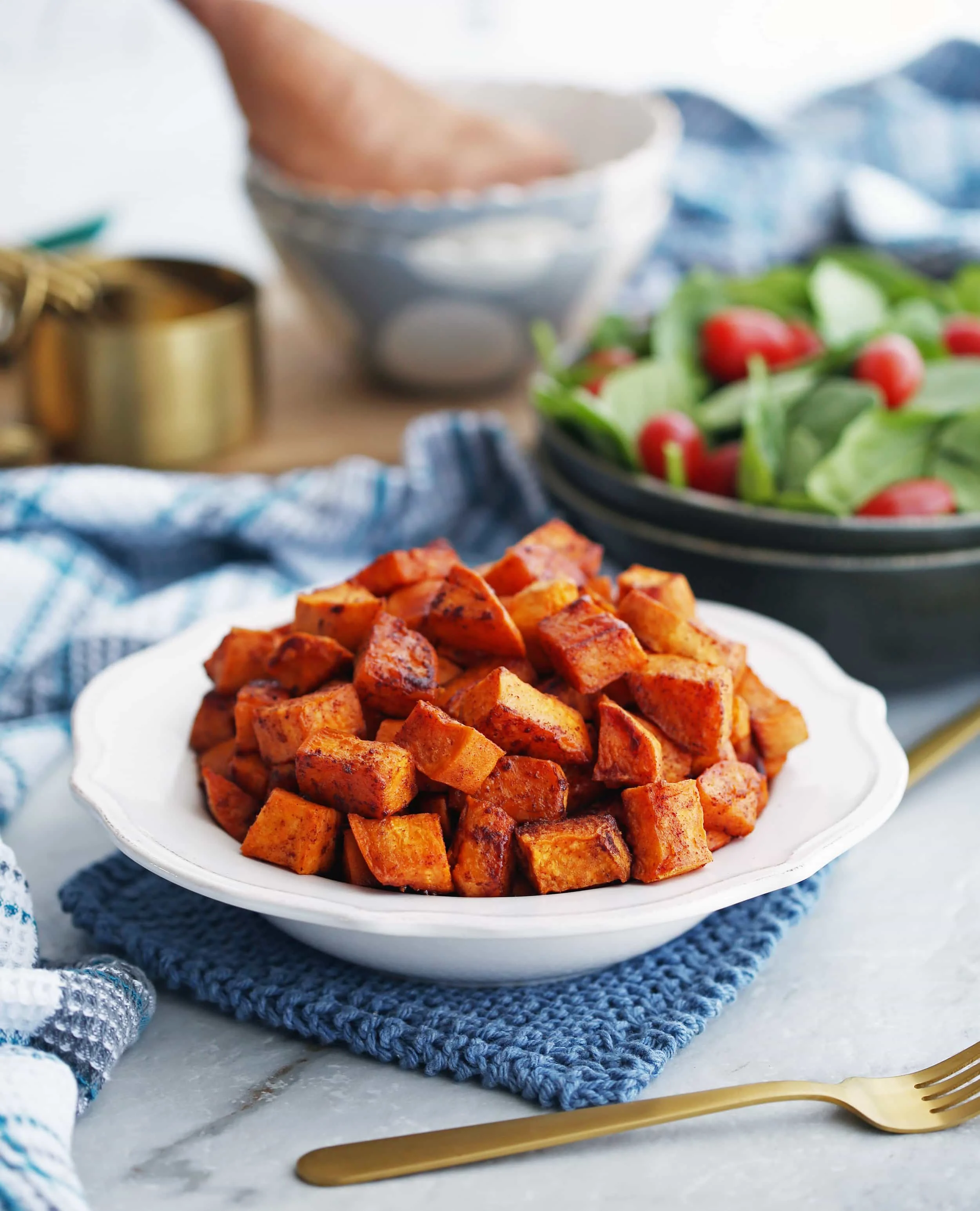 Check out these four recipe featuring sweet potatoes!
I hope you try this recipe! If you do, please rate and leave a comment down below. You can also connect with me on my social media by tagging me (I'm @yay_for_food on Instagram). I love pictures of food!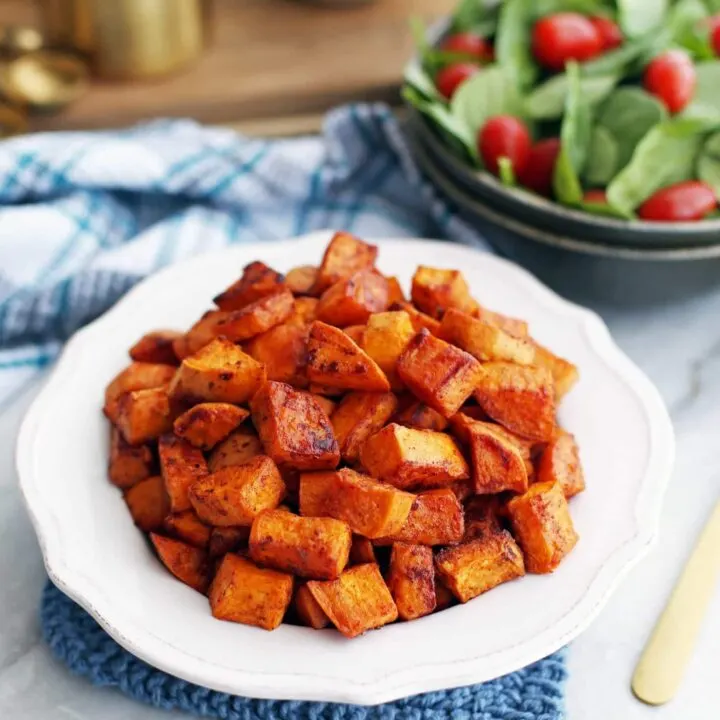 Roasted Maple Cinnamon Sweet Potatoes
Yield:
4-6 as a side dish
Rich maple syrup and warm cinnamon compliment the natural goodness of sweet potatoes in this roasted root vegetable recipe. A vegan and gluten-free side dish that's simple and easy to make.
Ingredients
2.5-3 lb. sweet potatoes (about 3-4), peeled and cut into 1-inch chunks *(see first note)
3 tbsp pure maple syrup
3 tbsp virgin coconut oil, melted (or olive oil)
2 tsp ground cinnamon
1 tsp pure vanilla extract
½ tsp sea salt
¼ tsp ground nutmeg
Instructions
Preheat the oven to 400 F. Line a large baking sheet with aluminum foil or parchment paper.
In a large bowl, combine all the ingredients together making sure that the sweet potatoes are well coated.
Using your hands or a slotted spoon, scoop the potatoes onto the baking sheet, spreading them into a single layer. Reserve the excess maple syrup mixture in the bowl.
Roast for 20 minutes before flipping and (optionally) brushing the excess maple syrup mixture onto the sweet potatoes.
Then roast for an additional 10-15 minutes, until caramelized and tender. Check frequently to make sure the sweet potatoes don't burn.
After the potatoes are roasted, remove from the baking sheet while it is still hot onto a serving dish (if you allow it to cool, the sugars will stick to the foil making it harder to remove without breaking).
Best served immediately.
Notes
*Orange or white fleshed sweet potatoes work for this recipe.
Nutritional calories represents one serving for a total of 6 servings.
Recommended Products
As a participant in the Amazon Services LLC Associates Program, I only link to products that I use and/or highly recommend. As an Amazon Associate, I earn from qualifying purchases if you purchase through these links at no additional cost to you.
Nutrition Information:
Yield:

6
Serving Size:

1
Amount Per Serving:
Calories:

286
Total Fat:

7.1g
Carbohydrates:

53.3g
Protein:

3.6g