Hello there! Today's recipe is a super simple Four-Ingredient Baked Flatbread!
This a wonderful recipe to whip up for those times when you just want some crispy bread to snack on (I love dipping it in a balsamic and olive oil or with marinara or a garlic sauce) or to use as the crust for homemade flatbread pizza.
For example, I like to use up leftover rotisserie chicken, greens like baby spinach and broccoli, that open jar of marinara sauce, and any cheese that I somehow haven't devoured yet (I love cheese).
Speaking of pizza, I like making this flatbread near the end of the week as it's great for using up any leftovers that I have in my refrigerator or pantry.
I have three basic topping ideas in the Notes section of my recipe if you want to take a peek at some of my favourite flatbread pizza combinations.
I hope you enjoy this one!
How do you make this easy flatbread?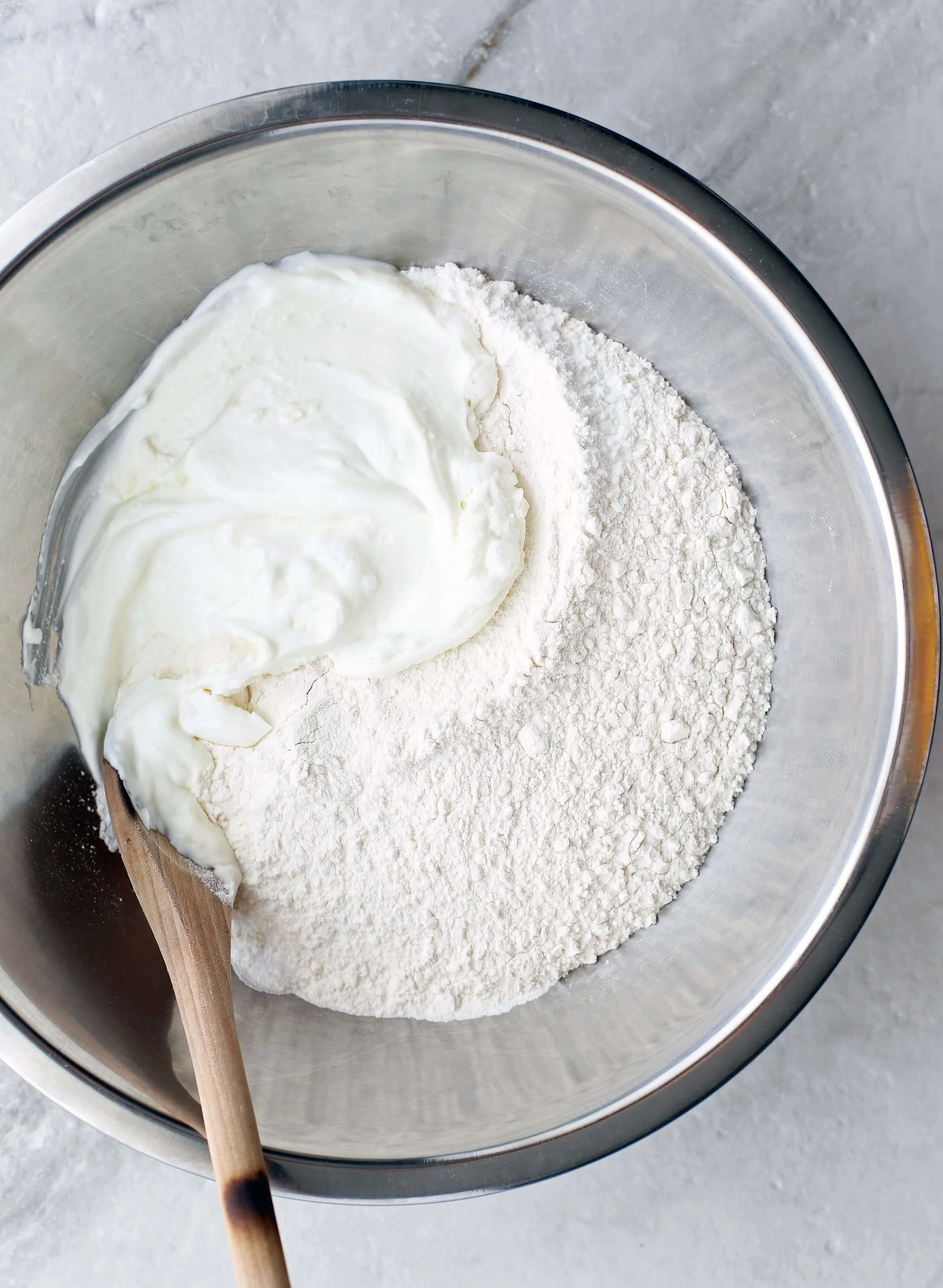 It's a one bowl recipe, where you combine together three ingredients (Greek yogurt, all-purpose flour, and baking powder – all staple ingredients in my house) until dough forms (no need for a stand mixer). Full ingredient amounts and instructions in the recipe card below.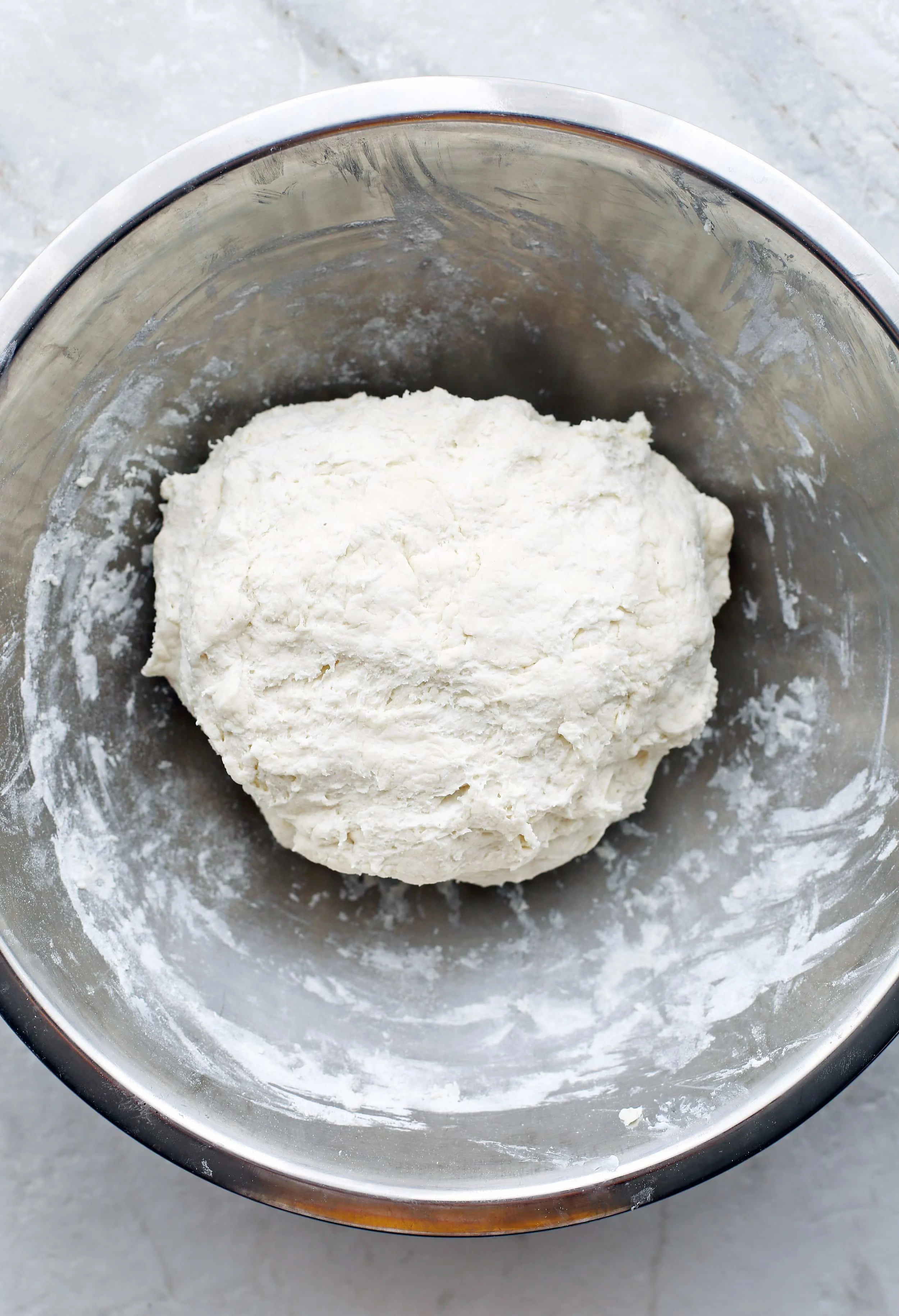 You'll see it come together in no time at all. The dough will be slightly sticky so use floured hands to knead it into an uniform dough ball.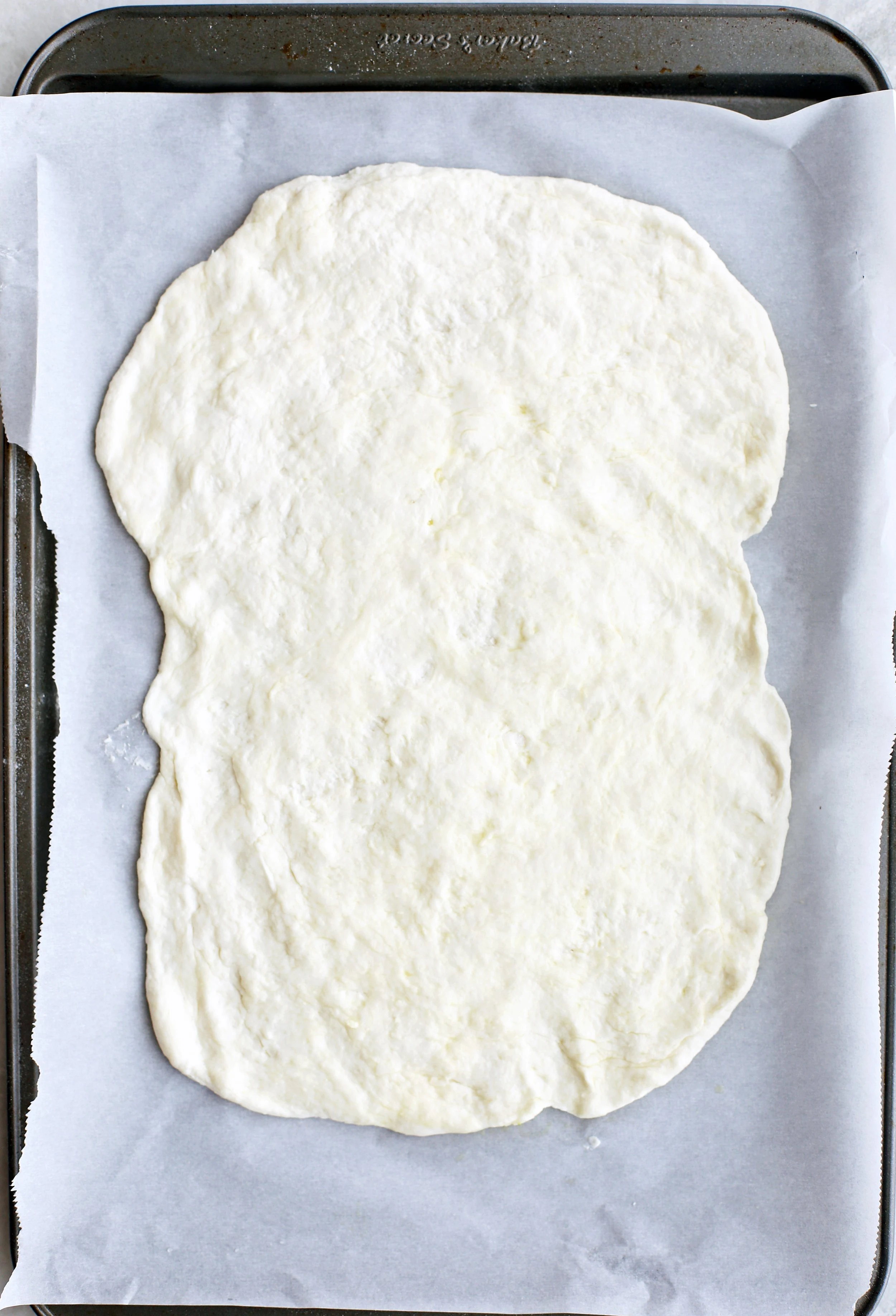 Place it on a baking sheet to shape into a flatbread (pat it down using your hands), and brush it with a little bit of olive oil (ingredient number four).
I somehow don't have picture with olive oil on top, but you get the point.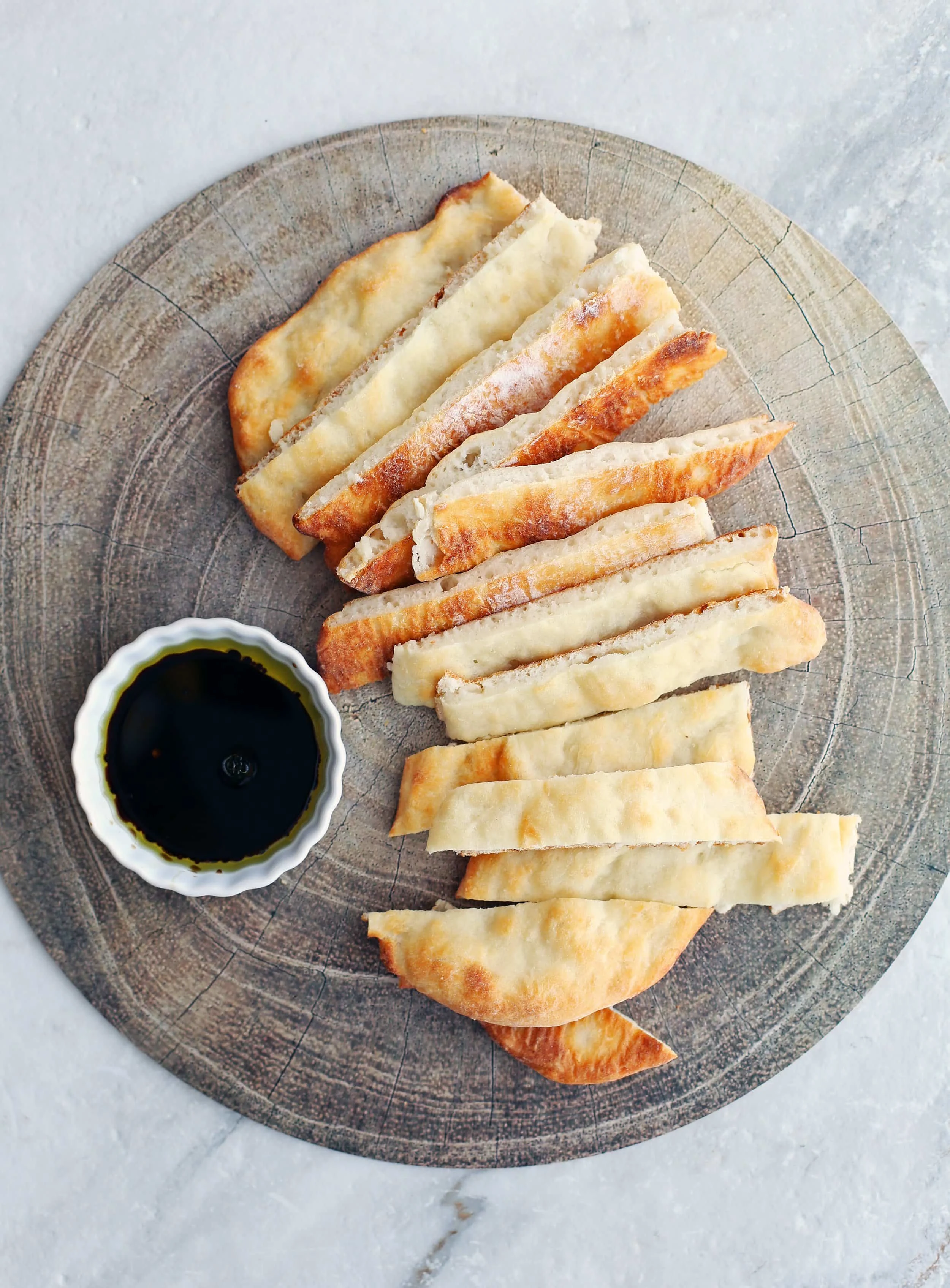 Bake at 375 degrees F for 20-25 minutes until it's golden-brown on the outside.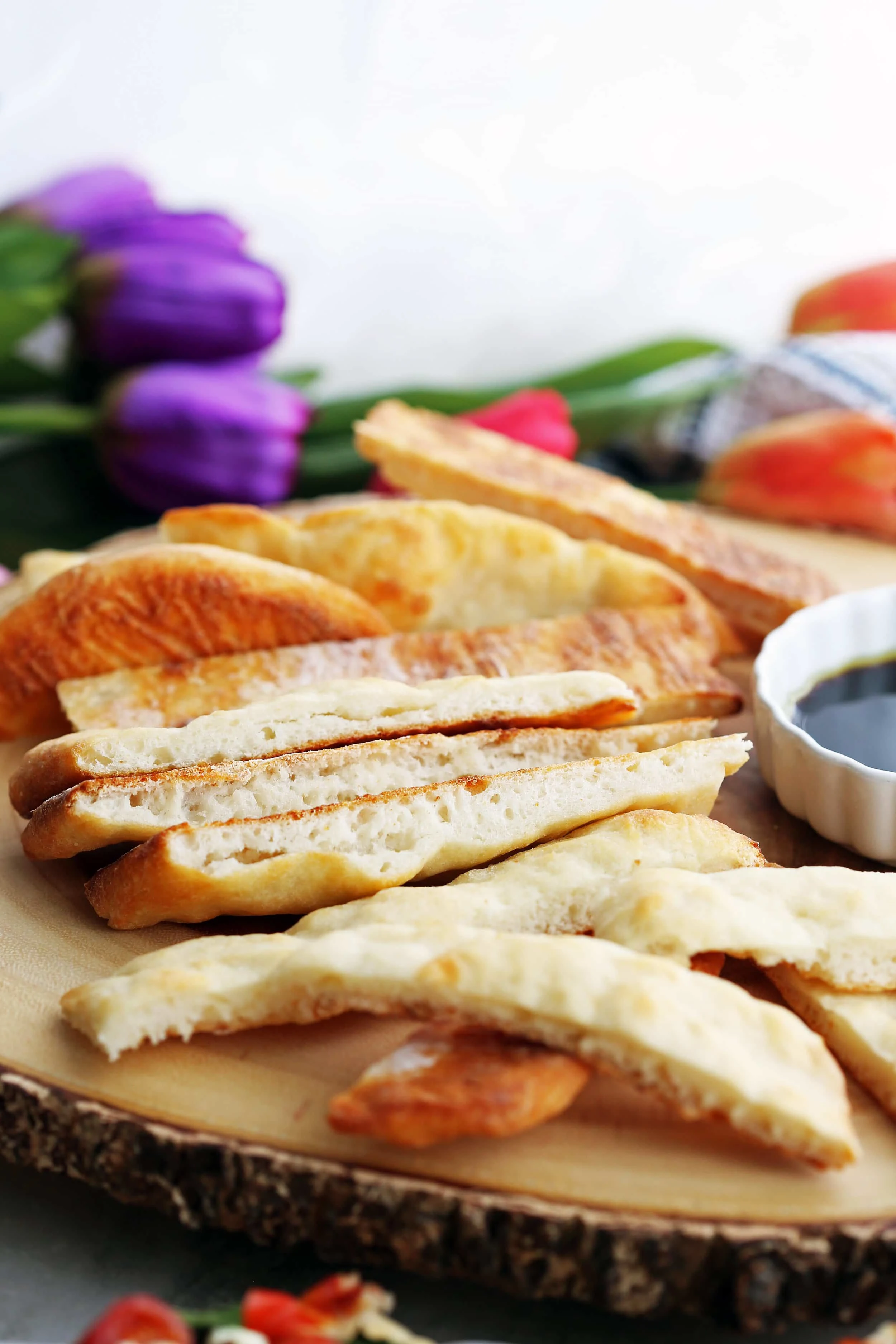 Yep, it's that easy. To note, of course, when making the dough, you can also add in some dried herbs and spices to complement the overall flavour of the bread. I like to keep it simple myself.
I also like that it's yeast-free so you don't have to wait for it to proof before baking.
When the flatbread is ready, it's slightly puffed up, golden-brown and crispy on the outside, and chewy and tender on the inside. This bread also has slight tangy flavour from the protein-rich Greek yogurt.
But what if you wanted to add some toppings on top?
Add the toppings (meats should be pre-cooked) on top of the baked flatbread and reduce the temperature to 325 degrees F.
Cook for an additional 8-12 minutes until the ingredients are soften and heated through.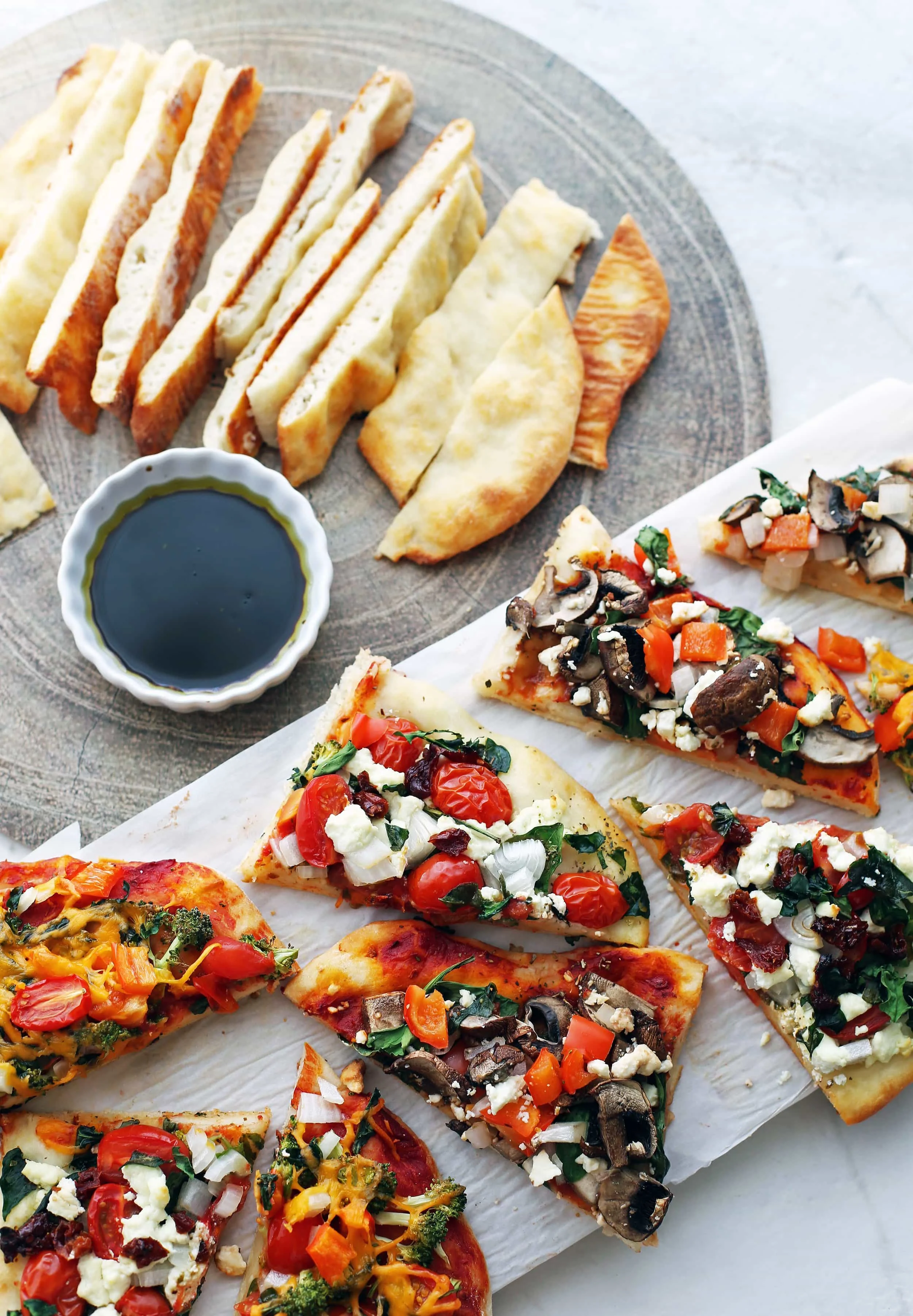 Looking for more savory quick bread recipes? Check out these three!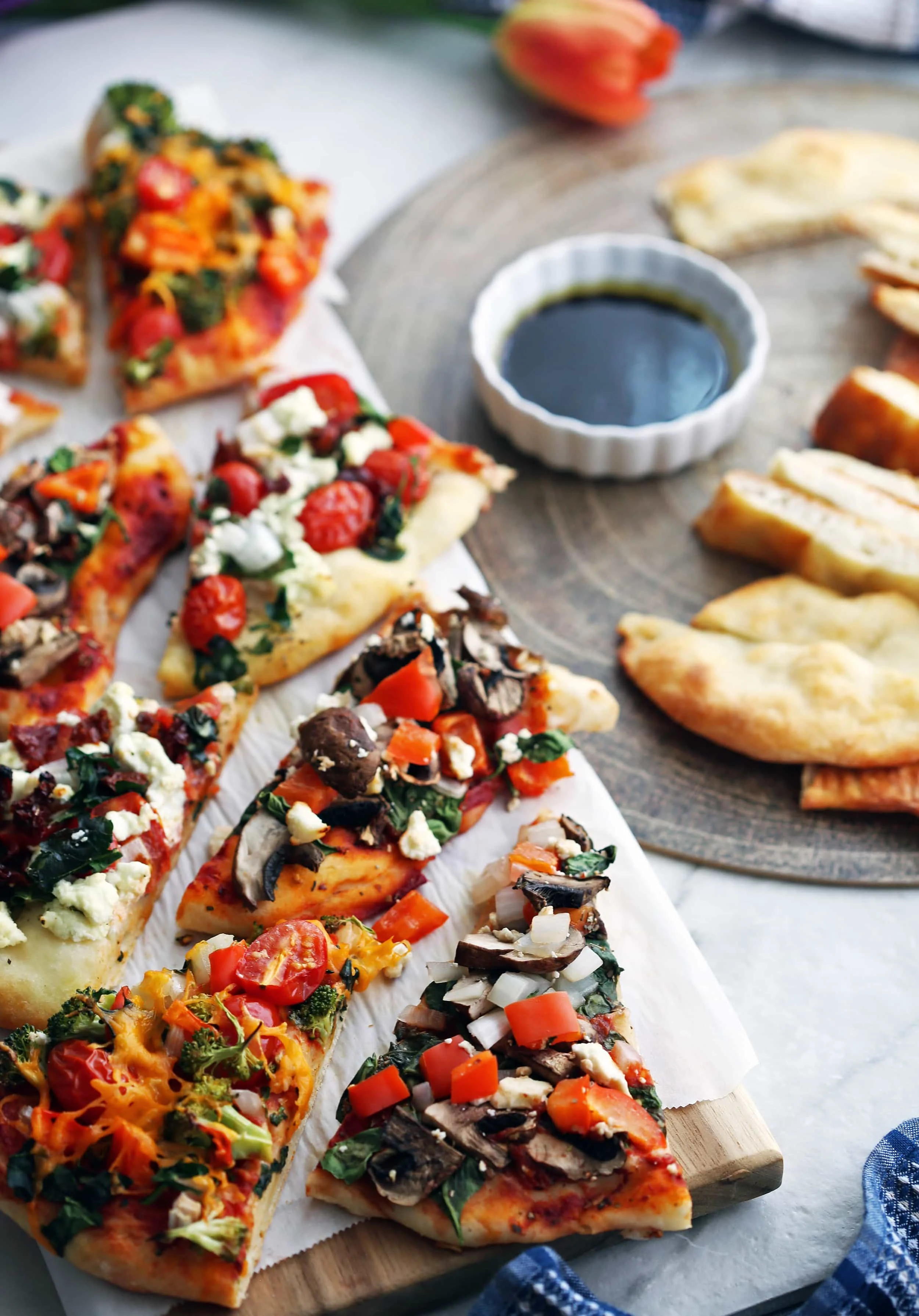 In summary, this baked flatbread recipe is:
Delicious.
Easy and quick to prepare.
Made with simple ingredients.
Perfect to be served as an appetizer or snack (bread and dip) or as main dish (use the bread as a base for pizza).
Adaptable: add different spices or herbs to give this bread even more flavour.
Easily scaled up to make more: I often double this recipe especially when making flatbread pizzas.
I hope you try this recipe! If you do, please leave me a rating and comment down below or tag me on any of my social media. I'm @yay_for_food on Instagram. I'll love a picture!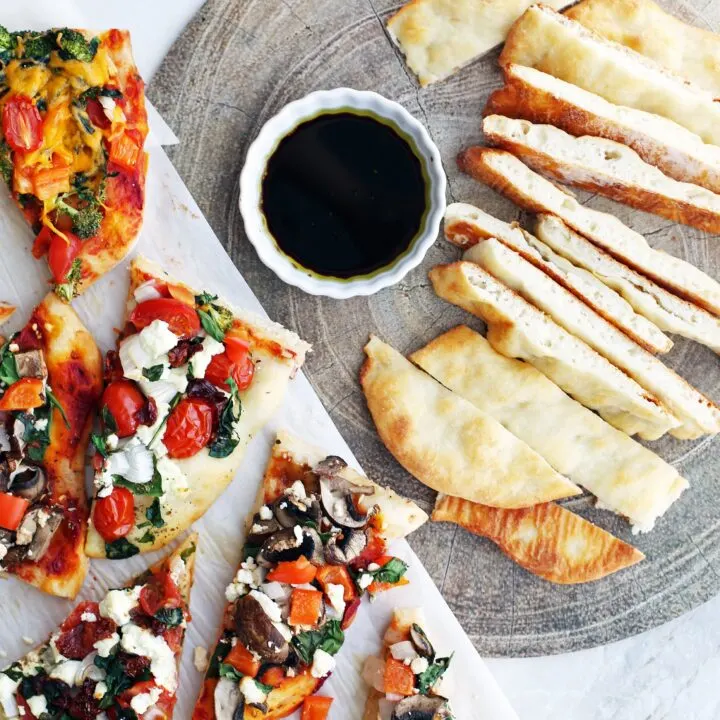 4-Ingredient Baked Flatbread (Plus Topping Ideas)
Yield:
8 (1 - 8x12 inch flatbread)
A simple and delicious flatbread recipe made in one bowl using only four ingredients. Enjoy it on it's own or use it as a crust for your favourite flatbread toppings.
Ingredients
1 cup plain Greek yogurt (I used zero fat), stirred well
1 cup all-purpose flour
2 tsp baking powder
1 tbsp extra virgin olive oil
Instructions
Preheat the oven to 375 degrees F and line a baking sheet with parchment paper. Set aside.
In a large bowl, using a wooden spoon, combine together the yogurt, flour, and baking powder until uniform and a dough ball forms.
Flour your hands and knead until the dough is smooth (I knead right in the bowl). The dough will go from having ragged texture to a smoother, softer texture. Place the dough onto the center of the baking sheet.
Using your hands, evenly flatten the dough until the dough is ¼ inch thick (8x12 inch flatbread). Brush olive oil over the top of the flatbread.
Bake for 20-25 minutes until the flatbread is golden-brown and cooked through.
If adding toppings: Decrease the oven to 325 degrees F. Top the baked flatbread with desired toppings *(see first note) and bake for 8-12 minutes until the ingredients are softened and heated through.
Notes
*Meat topping ingredients should be precooked.
Topping Idea One: Goat Cheese and Sundried Tomato Flatbread (layer from bottom to top) - Extra virgin olive oil, baby spinach, sun-dried tomatoes, grape tomatoes, soft goat cheese, and Italian seasoning.
Topping Idea Two: Broccoli Cheddar Flatbread (layer from bottom to top) - Pizza sauce, broccoli, bell pepper, sweet onions, cheddar cheese.
Topping Idea Three: Mushroom Feta Spinach Flatbread (layer from bottom to top) - Extra virgin olive oil, red pepper flakes, dried oregano, spinach, bell peppers, mushrooms, and feta cheese.
Recommended Products
As a participant in the Amazon Services LLC Associates Program, I only link to products that I use and/or highly recommend. As an Amazon Associate, I earn from qualifying purchases if you purchase through these links at no additional cost to you.
Nutrition Information:
Yield:

8
Serving Size:

1
Amount Per Serving:
Calories:

89
Total Fat:

2g
Saturated Fat:

0g
Trans Fat:

0g
Unsaturated Fat:

2g
Cholesterol:

1mg
Sodium:

132mg
Carbohydrates:

13g
Fiber:

0g
Sugar:

1g
Protein:

5g