Hey there! Can you believe that it's already October? We woke up to snow… and lots of it. Excuse me while I go back to bed where I'm safe under a warm blanket.
Where did Fall go (and all of its amazing autumnal weather?) I hope it comes back. In the meantime, I'm going to indulge in a fall favourite: pumpkin muffins!
In particular, a pumpkin muffin recipe flavoured with warming and aromatic pumpkin pie spice (I make my own with a mix of ground cinnamon, nutmeg, ginger, and cloves) and topped with a glorious layer of lightly sweetened cream cheese.
I hope you enjoy this easy recipe for Pumpkin Spice Cream Cheese Muffins!
How do you make these pumpkin muffins?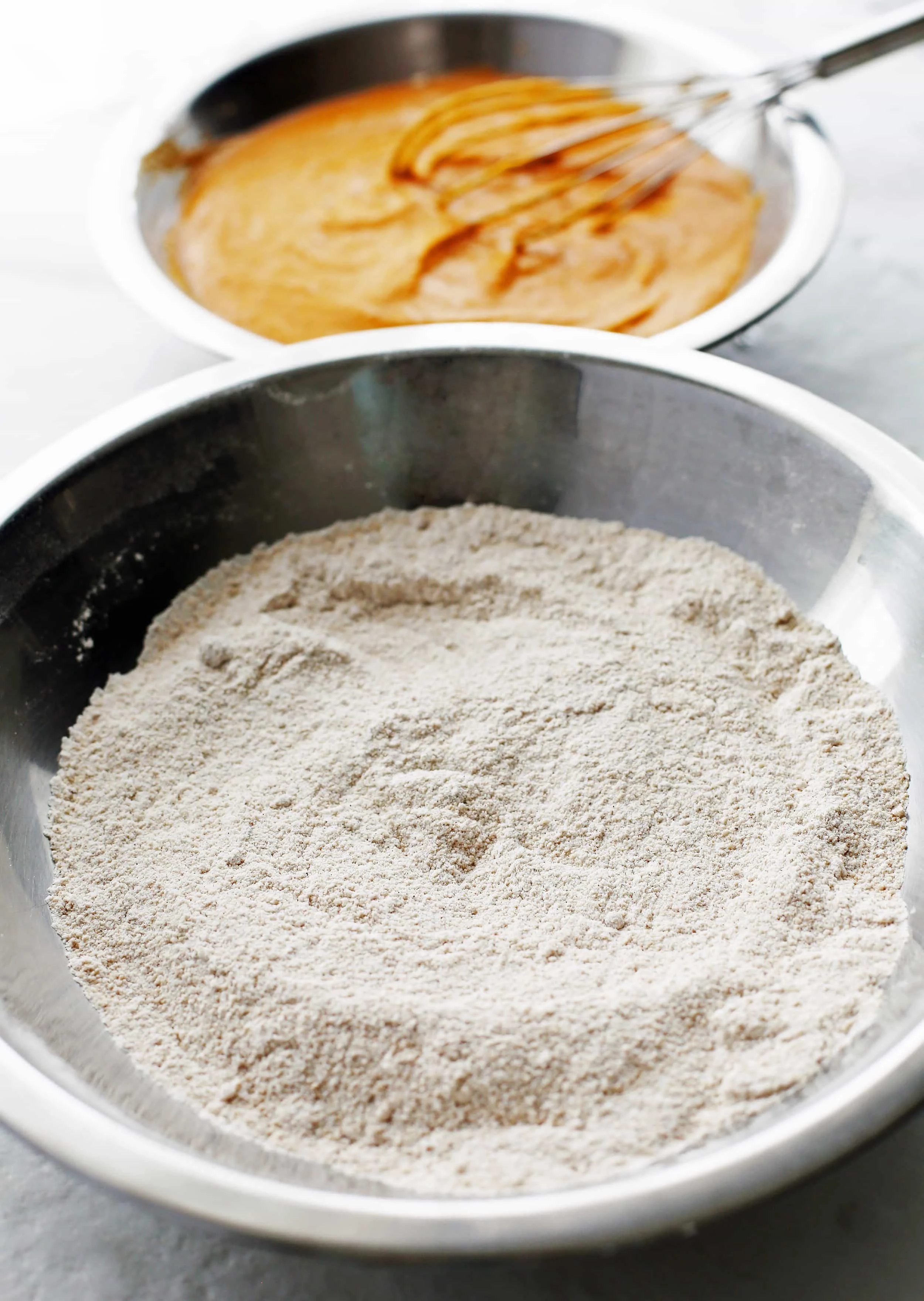 Whisk together the dry ingredients until well-combined. Scroll down below for the full recipe.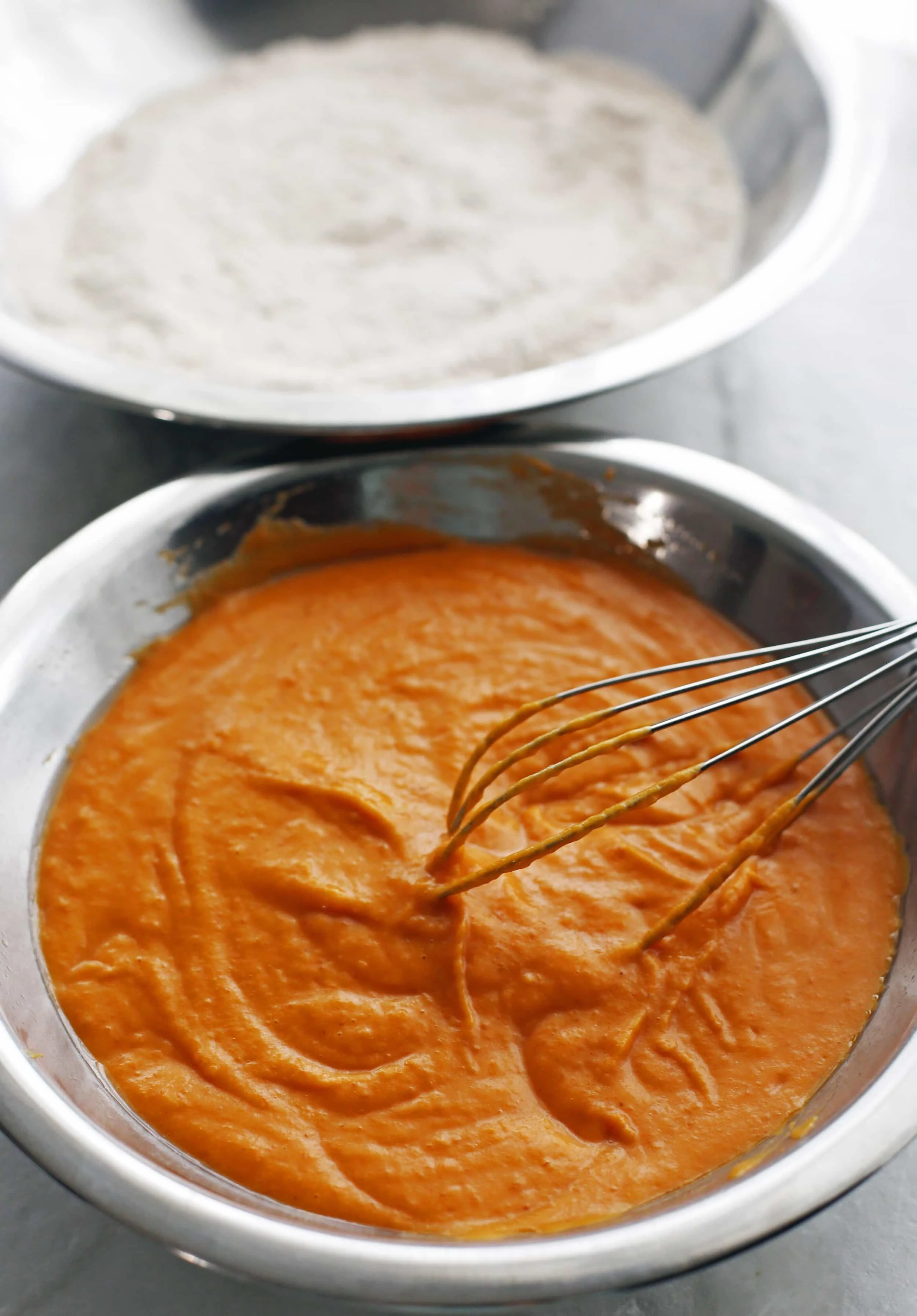 Whisk the pumpkin puree, vegetable oil, and eggs until combined.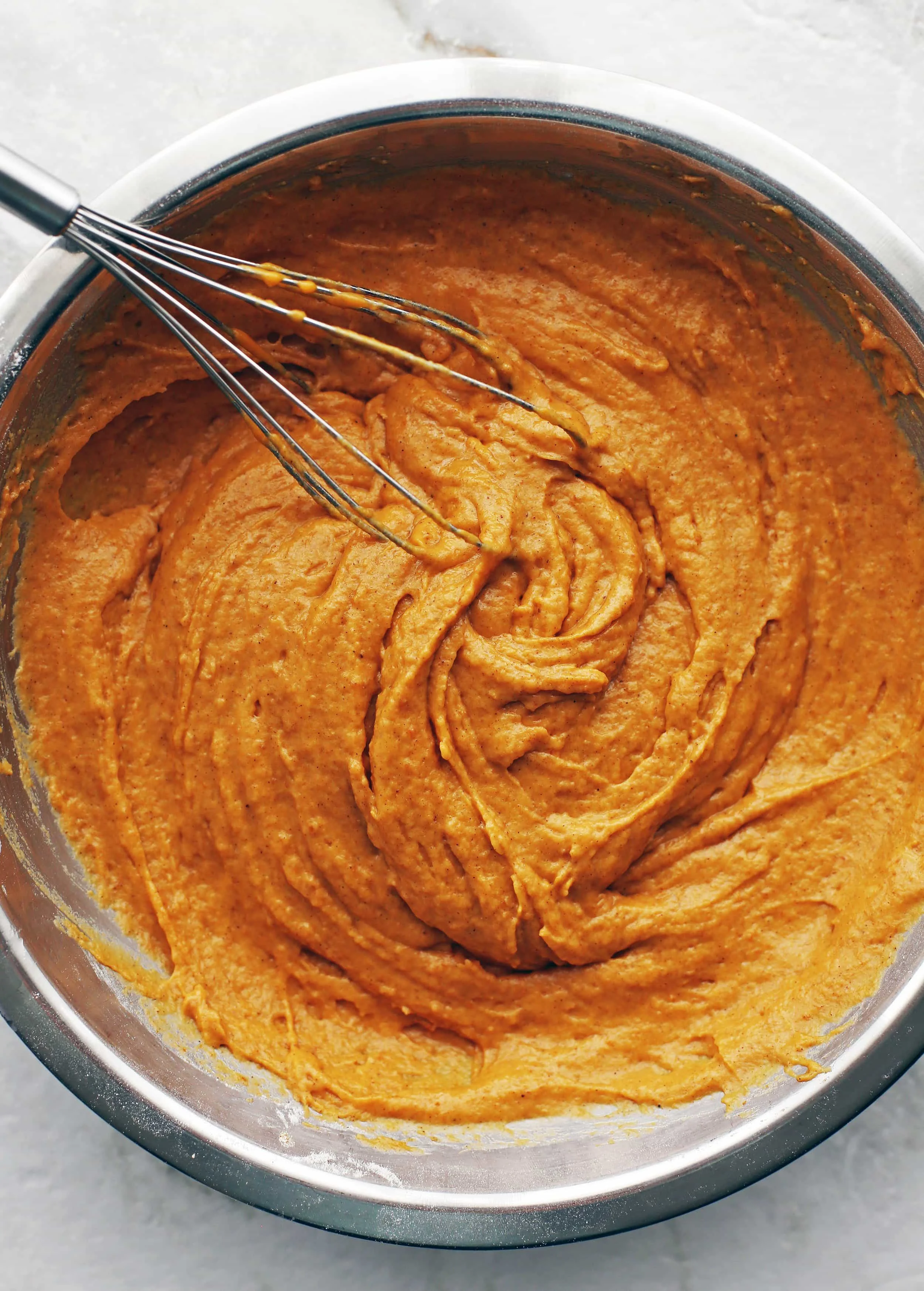 Then add the wet ingredients into the dry ingredients and whisk until combined.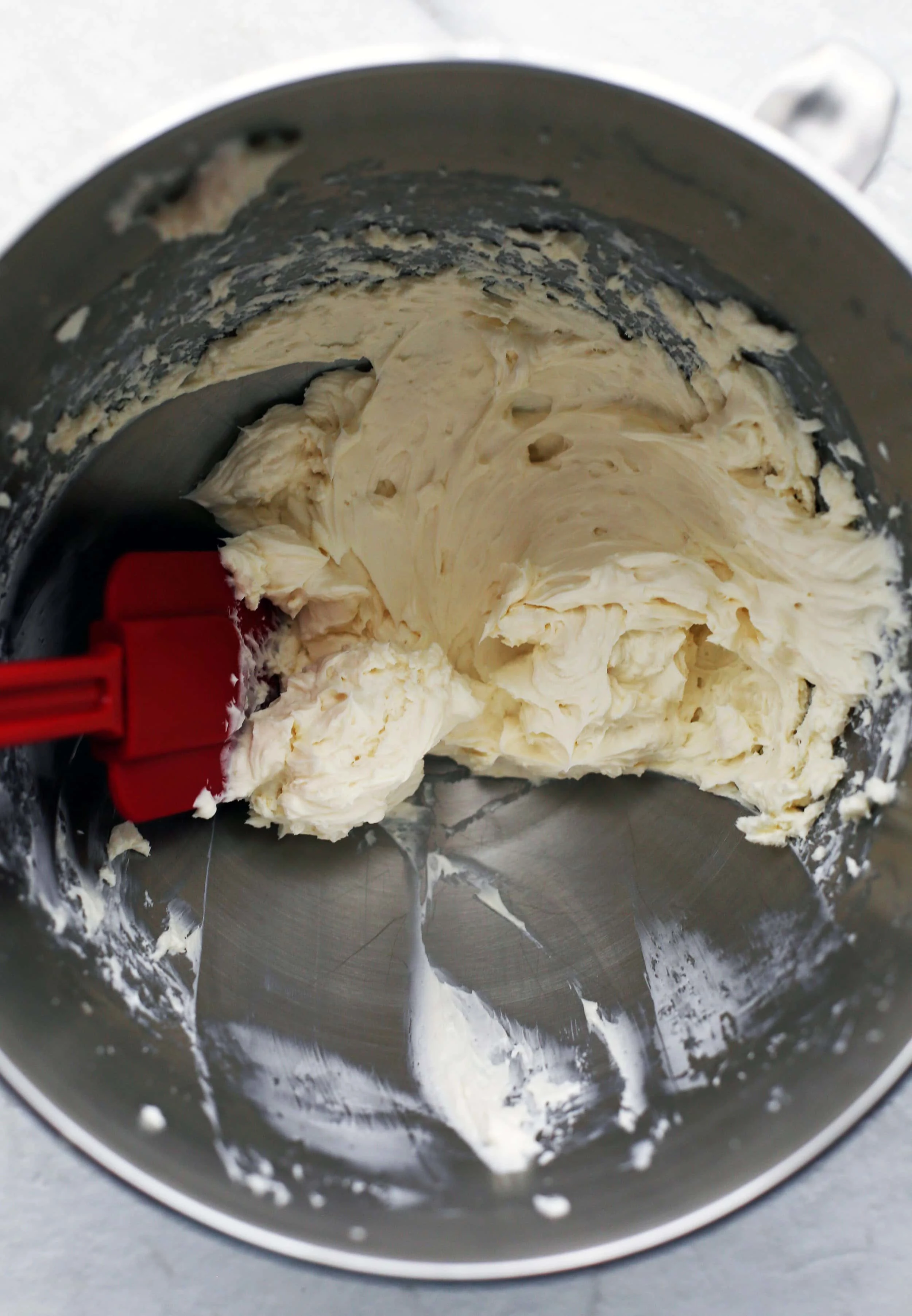 Make the topping by mixing together the cream cheese with vanilla extract and a little bit of sugar.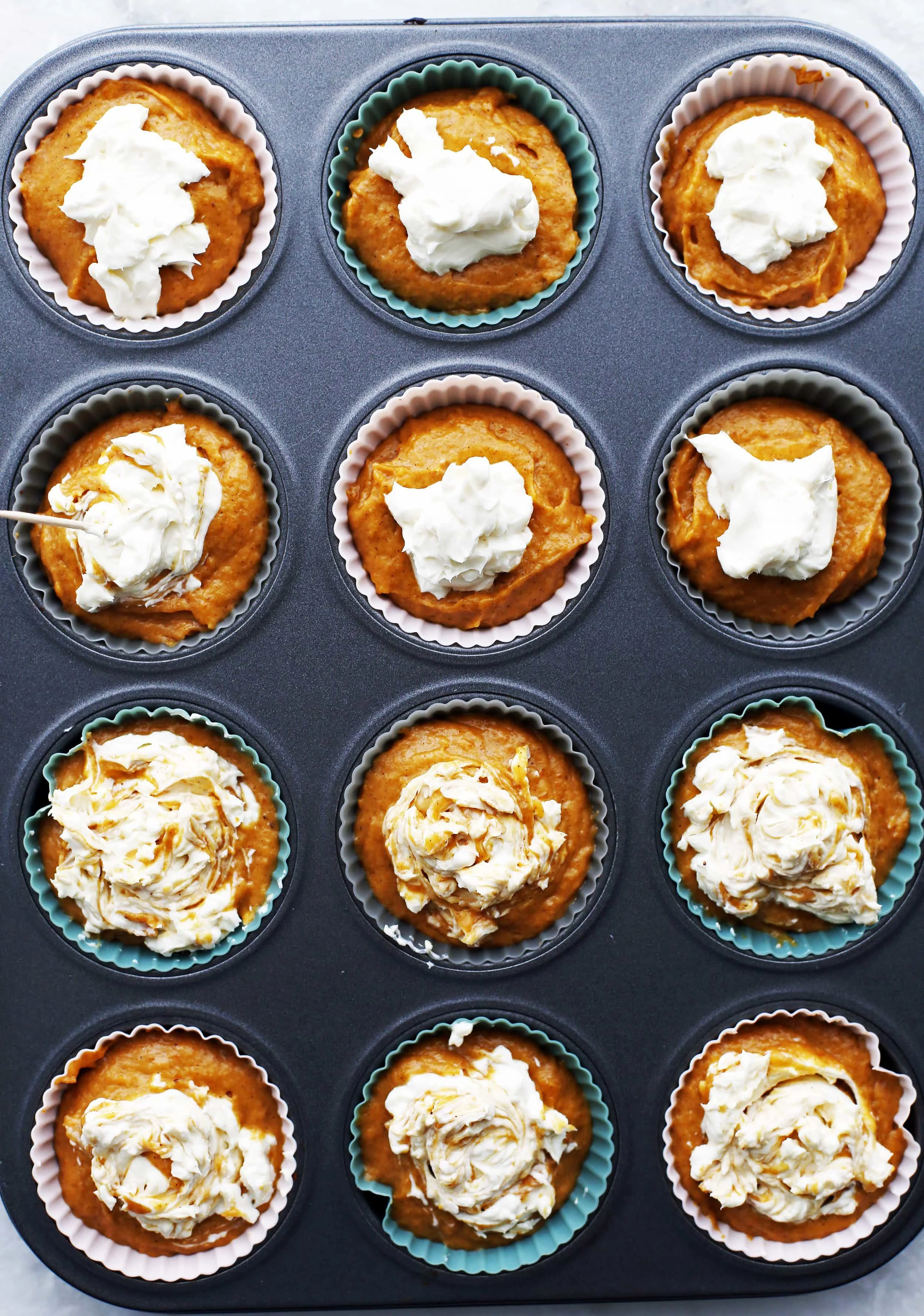 Scoop the pumpkin muffin batter into a muffin tin and dollop the cream cheese mixture on top of the batter. Then take a toothpick to swirl the cream cheese on top.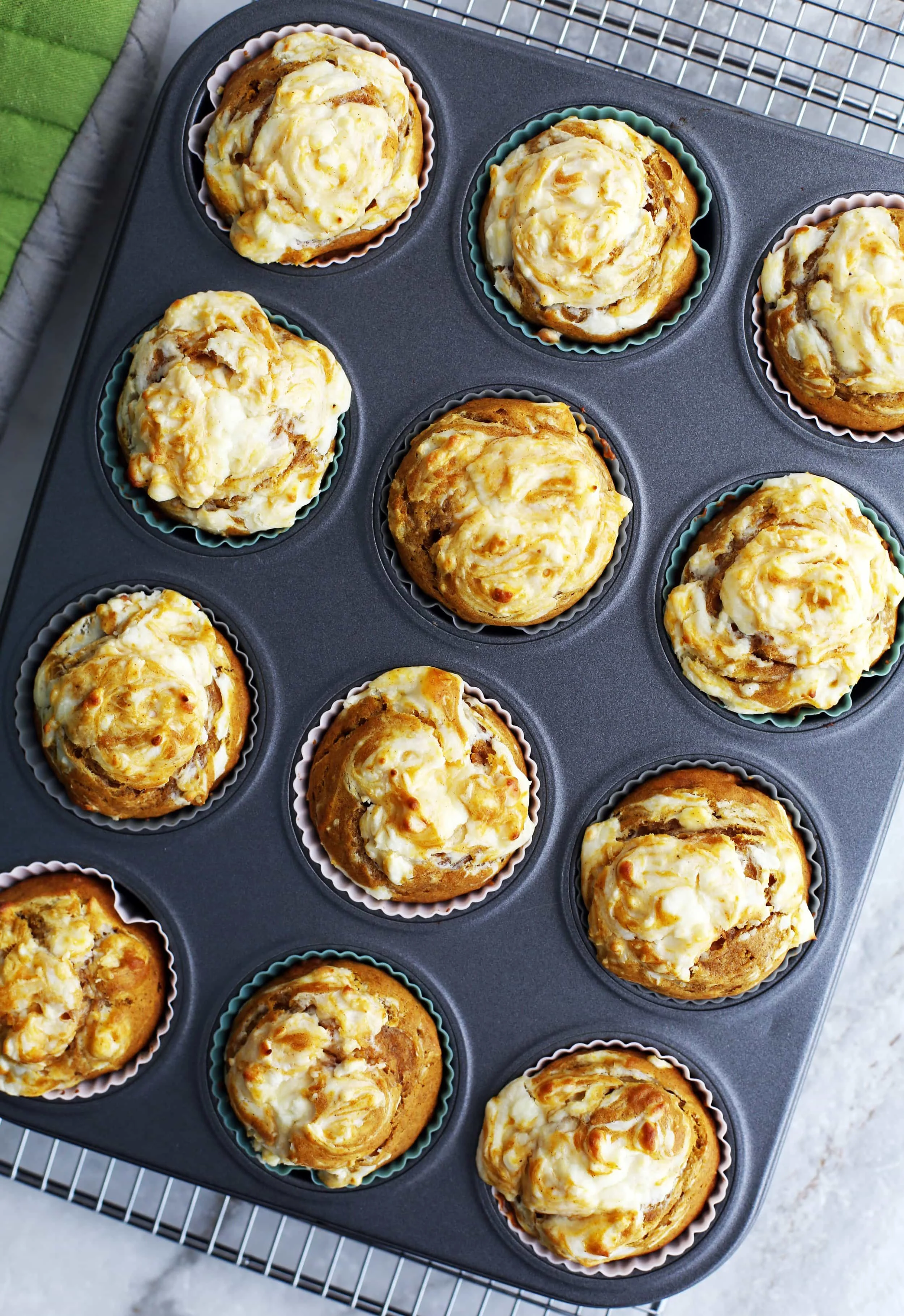 Bake the muffins for 14-18 minutes until a wooden skewer comes out clean in the center.
Tip: You may need to poke the muffin from the side to prevent the skewer from pulling up the cream cheese topping.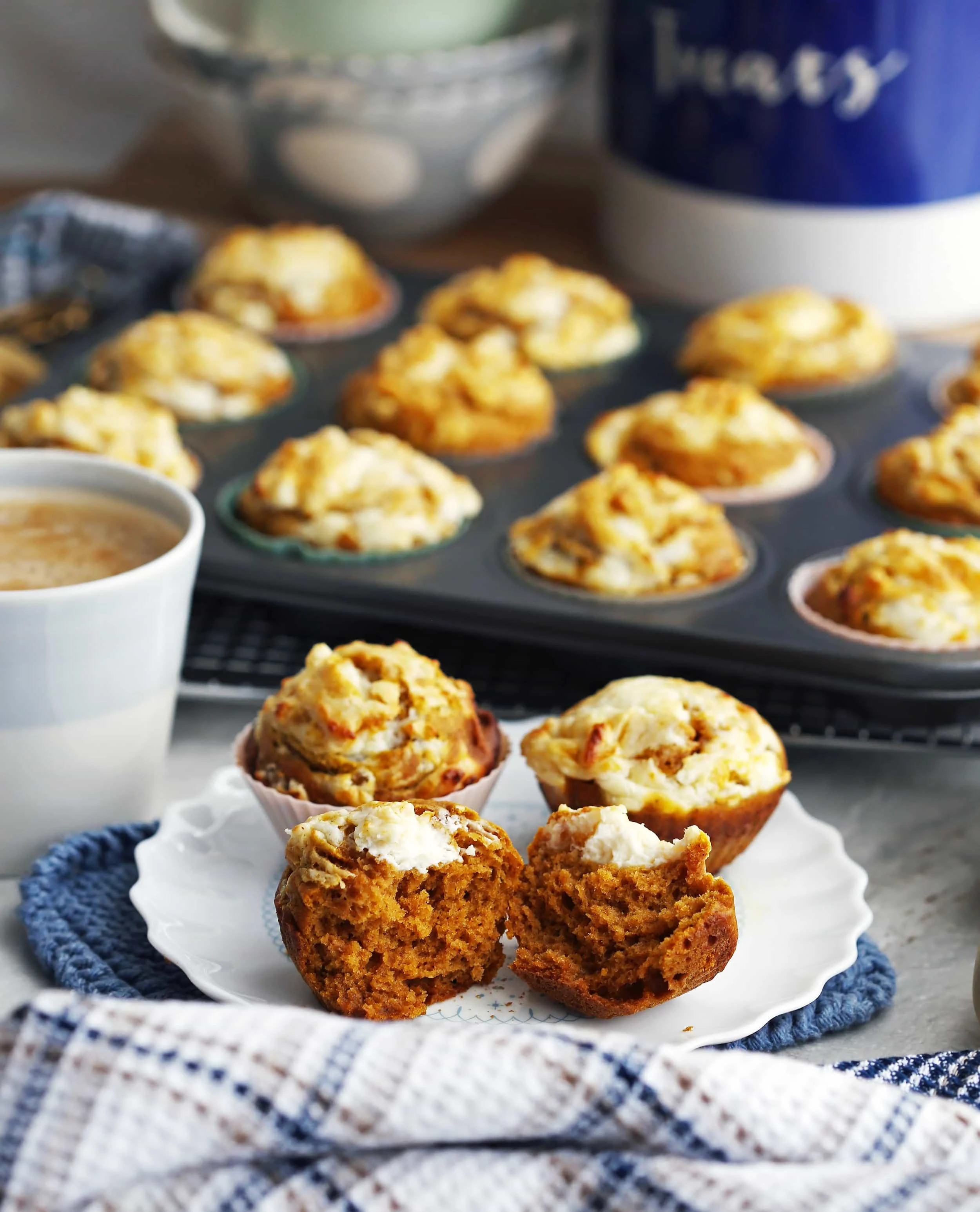 The pumpkin puree gives the muffin a lovely deep orange colour and the texture is so satisfying – fluffy muffins with a creamy topping. When you bite into all of it at once, it's the best.
It's not overly sweet either. Plus, it's great to eat warm, at room temperature, or chilled (from storing in the refrigerator).
Remember to pick up pure pumpkin puree and not pumpkin pie filling as the filling is often sweetened and spiced. You want regular, mild squash flavour of pumpkin puree where you can sweeten and spice it to your liking.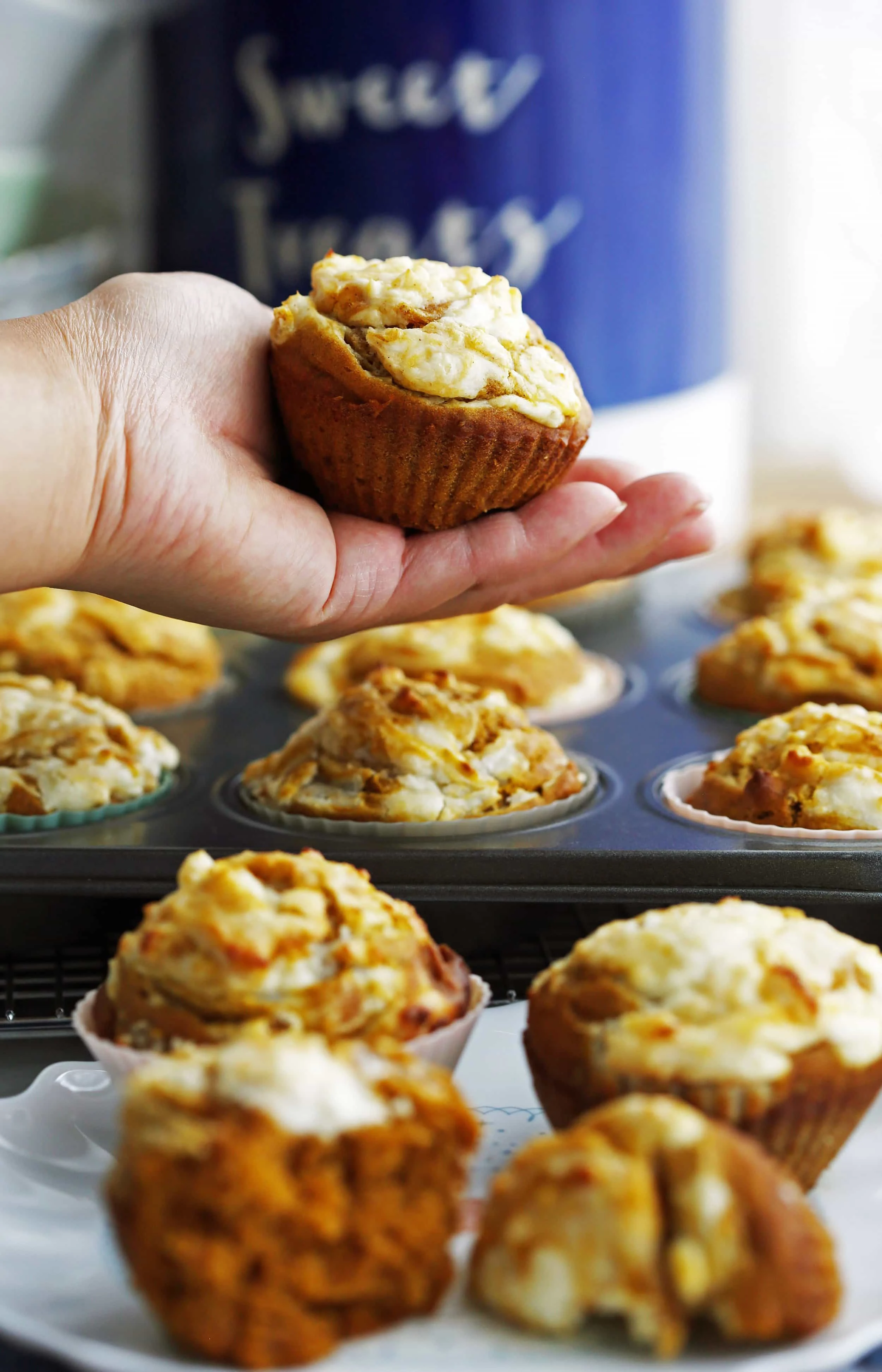 Looking for more muffin recipes? Click on these ones!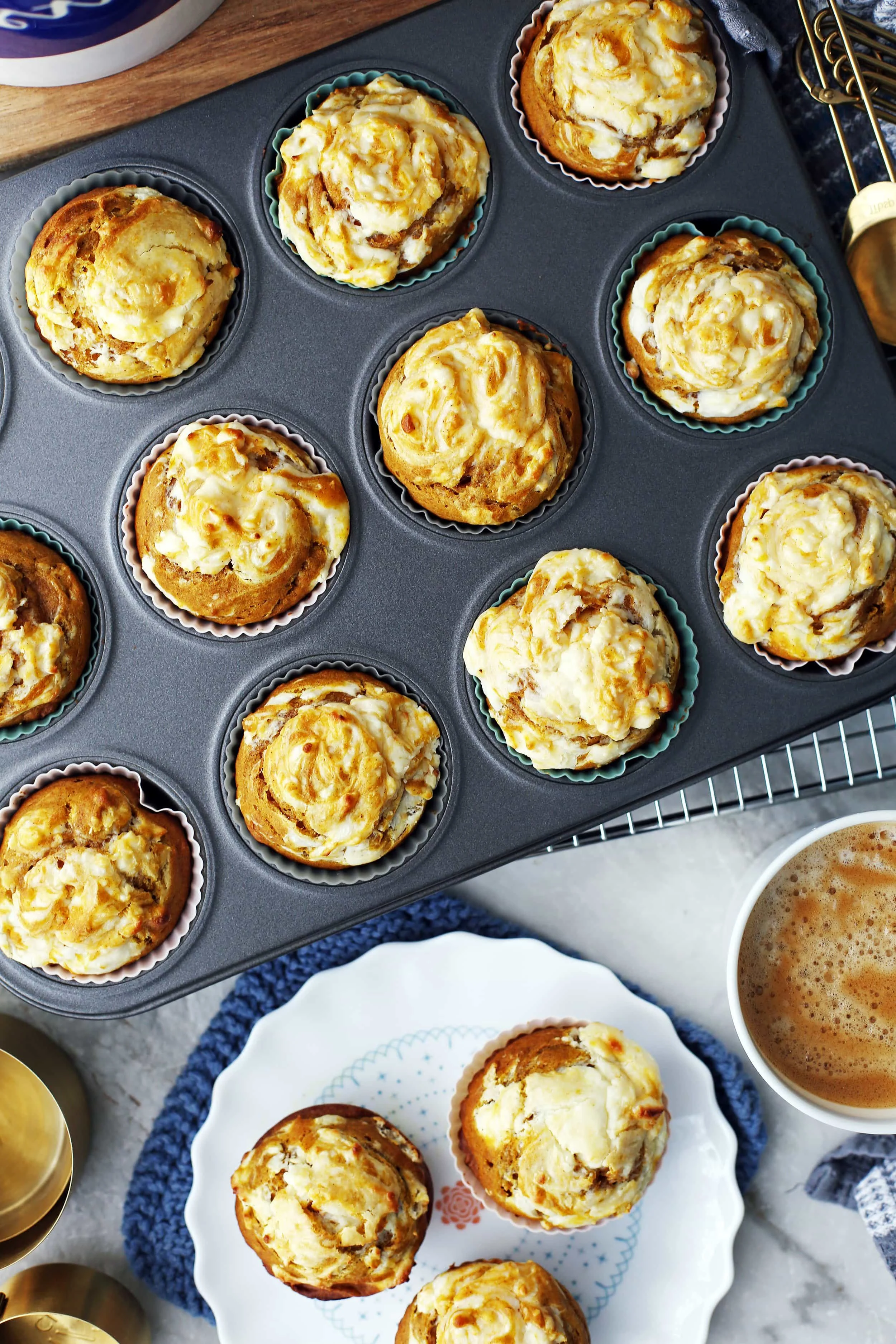 Overall, these cream cheese pumpkin muffins:
Are delicious: It has lovely warming spices, light pumpkin flavour, and delicious cream cheese on top.
Have great texture that's wonderfully fluffy and easy to eat.
Are perfect to have for breakfast, as a snack, or dessert. It's great to pair it with a cup of coffee, tea, or milk.
Uses simple ingredients that are easy to find at most grocery stores or probably in your kitchen pantry already.
Are easy to put together: It takes very little time (about 15 minutes) to prepare these muffins. Then you simply just bake them until done.
Are so shareable: Perfect to bring to a potluck, serve at a party, or bring into the office.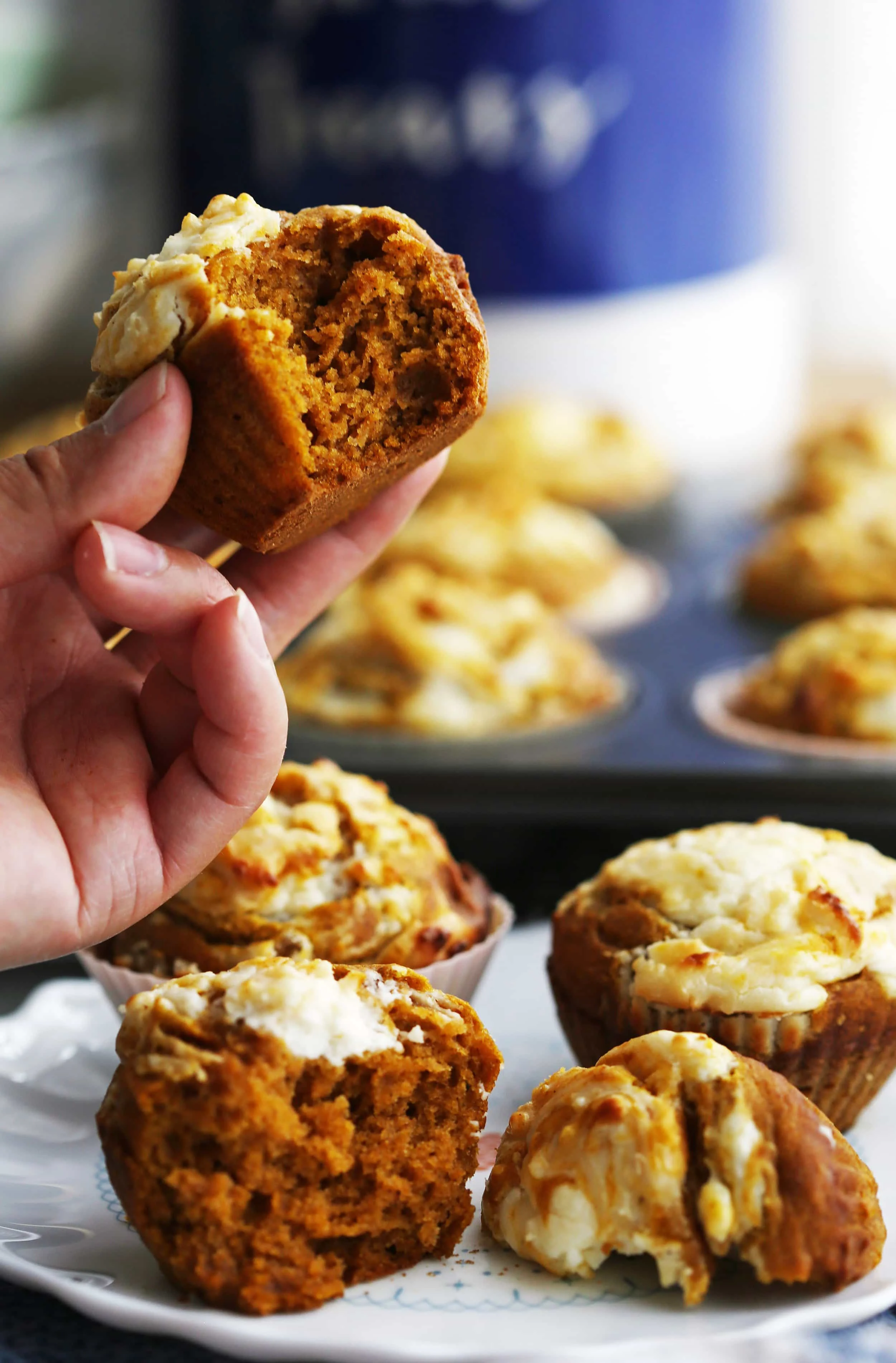 I hope you try this recipe! If you do, please leave me a rating and comment down below or tag me on any of my social media. I'm @yay_for_food on Instagram. I'll love a picture!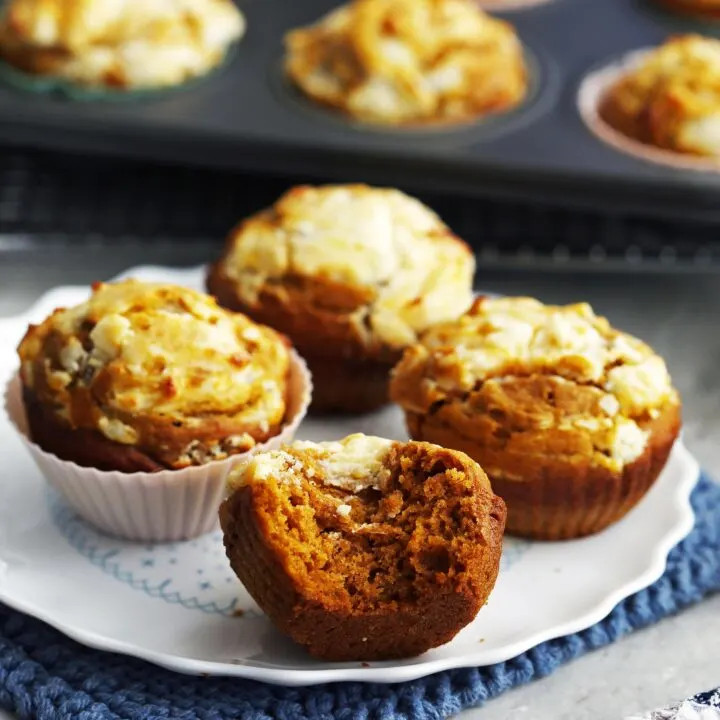 Pumpkin Cream Cheese Muffins
A quick and easy pumpkin muffin recipe that's soft and fluffy on the inside with a delicious cream cheese topping. Perfect to eat for breakfast or as a snack.
Ingredients
For the muffins:
1½ cup all-purpose flour
¾ cup (packed) brown sugar
2 tsp pumpkin pie spice *(see first note)
1 tsp baking soda
1 tsp baking powder
1/4 tsp salt
1½ cup pure pumpkin puree
¾ cup vegetable oil
2 large eggs
For the topping:
1 package (250 g/8.8 oz) plain cream cheese, room temperature
2 tbsp white sugar
½ tsp pure vanilla extract
Instructions
For the muffins: Preheat the oven to 400 degrees F. Line a large muffin pan with baking cups (liners) or coat with cooking spray.
In a large bowl, using a wired whisk, mix together the flour, brown sugar, baking soda, baking powder, pumpkin pie spice, and salt until well combined. Set aside.
In another bowl, whisk together the pumpkin puree, oil, and eggs until well incorporated. Then, pour the pumpkin puree mixture into the flour mixture and stir until combined and the batter is smooth.
Scoop the batter into each muffin pan cup about ⅔ full. Set aside while you prepare the topping.
For the topping: Using a stand mixer (or electric mixer), combine together the cream cheese, white sugar, and vanilla extract until well-combined.
Put it together: Dollop even amounts of the cream cheese mixture on top of each muffin. Then, take a wooden skewer (or toothpick) and swirl the mixture on top of each muffin.
Bake for 14-18 minutes until a wooden skewer comes out clean in the center. Let cool slightly before eating.
Notes
*I used homemade pumpkin pie spice with 1 tsp ground cinnamon, ½ tsp ground nutmeg, ¼ tsp ground ginger, and ¼ tsp ground cloves.
Recommended Products
As a participant in the Amazon Services LLC Associates Program, I only link to products that I use and/or highly recommend. As an Amazon Associate, I earn from qualifying purchases if you purchase through these links at no additional cost to you.
Nutrition Information:
Yield:

16
Serving Size:

1
Amount Per Serving:
Calories:

164
Total Fat:

12g
Saturated Fat:

1g
Trans Fat:

0g
Unsaturated Fat:

10g
Cholesterol:

25mg
Sodium:

162mg
Carbohydrates:

13g
Fiber:

1g
Sugar:

3g
Protein:

2g