Hello there!
Today's recipe is a quick and easy side dish that comes together in 15 minutes or less. It's a tasty recipe for: Garlic Ginger Green Beans!
There's only eight ingredients (including salt, pepper, and vegetable oil!). The main ingredient in this recipe is (of course) French green beans (aka haricot vert).
What's the difference between French Green beans and "regular" green beans (most American varieties)?
French green beans are typically thinner, longer, sweeter, and more tender than regular green beans.
They also cook up faster since they are thinner too. You can also use regular green beans in this recipe, just make sure you boil them for a few additional minutes to get them to your desired texture.
How to choose green beans?
Seek out fresh looking, vibrant green (not yellow or brown) coloured beans with skin that is smooth and firm.
Avoid ones that are too thick or large in size as they can be tough and stringy. The pod should also make a snapping sound when bent in half.
How do you make this green bean recipe?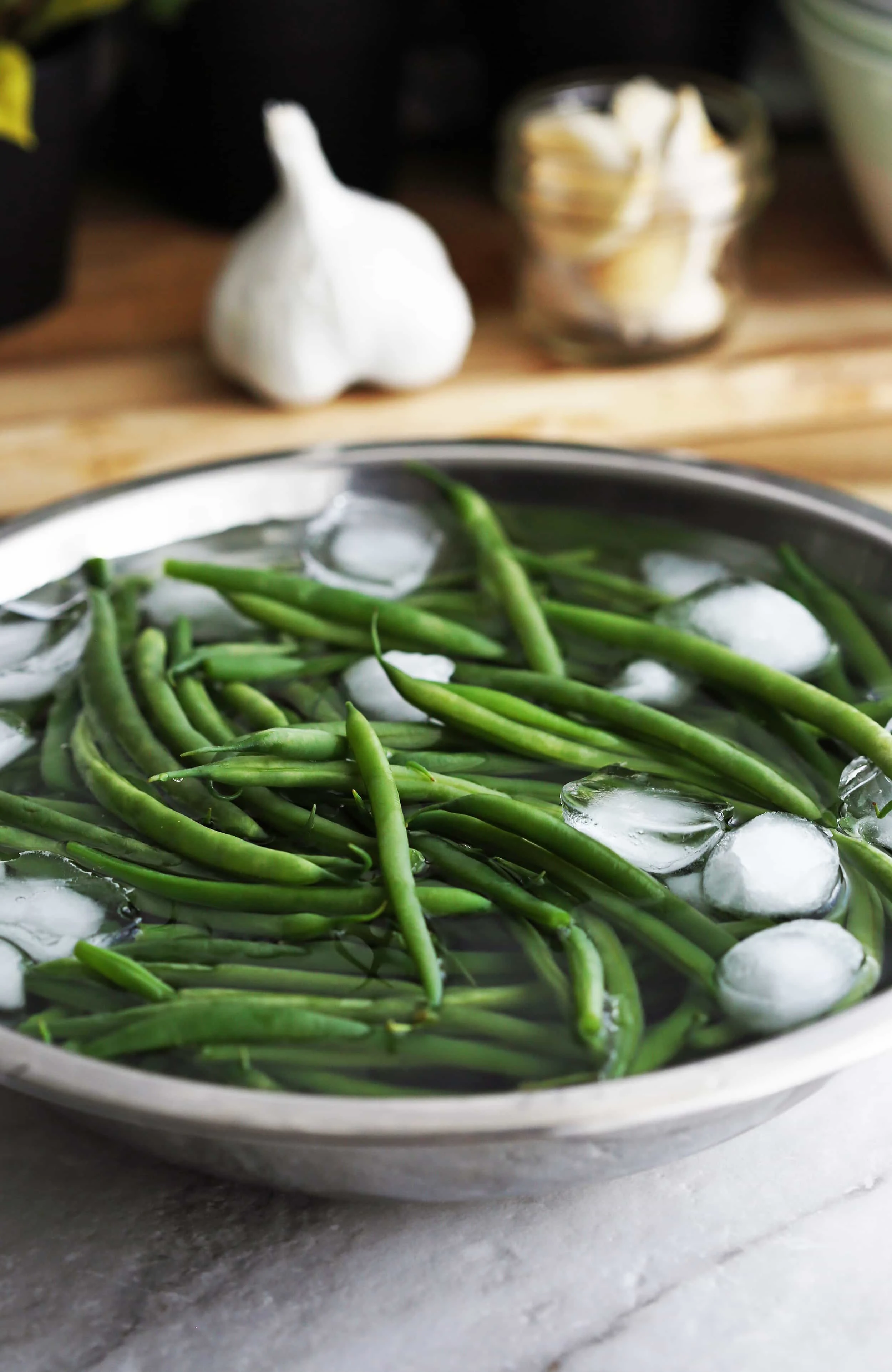 Blanched French green beans in an ice bath.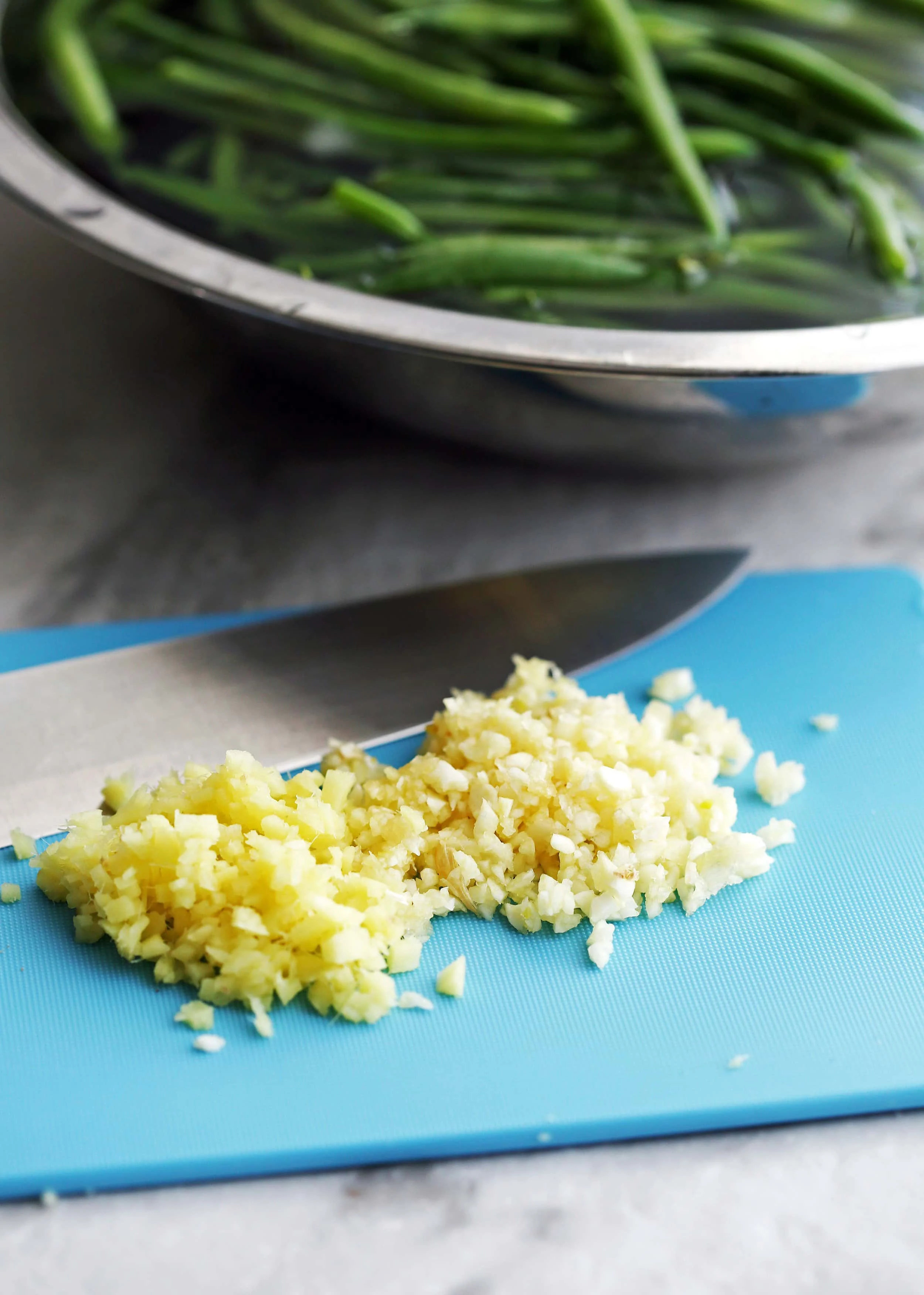 Minced garlic and ginger. I like lots of it.
The French green beans are cooked until tender-crisp and then placed in an ice bath (a large bowl full of cold water and ice).
This process is called shocking, which rapidly cools down the vegetable and stops the cooking process. It also helps the green beans retain their texture and lovely deep green colour as well.
As the green beans sit in the ice bath, heat up a large skillet (I used a deep sided cast-iron skillet) and then add the garlic and ginger.
Sauté them in the hot oil for one to two minutes, allowing it to get aromatic and slightly browned before adding the drained green beans to the skillet.
Then add in the soy sauce, sliced almonds, salt and pepper into the skillet and toss to combine, until the green beans are heated through.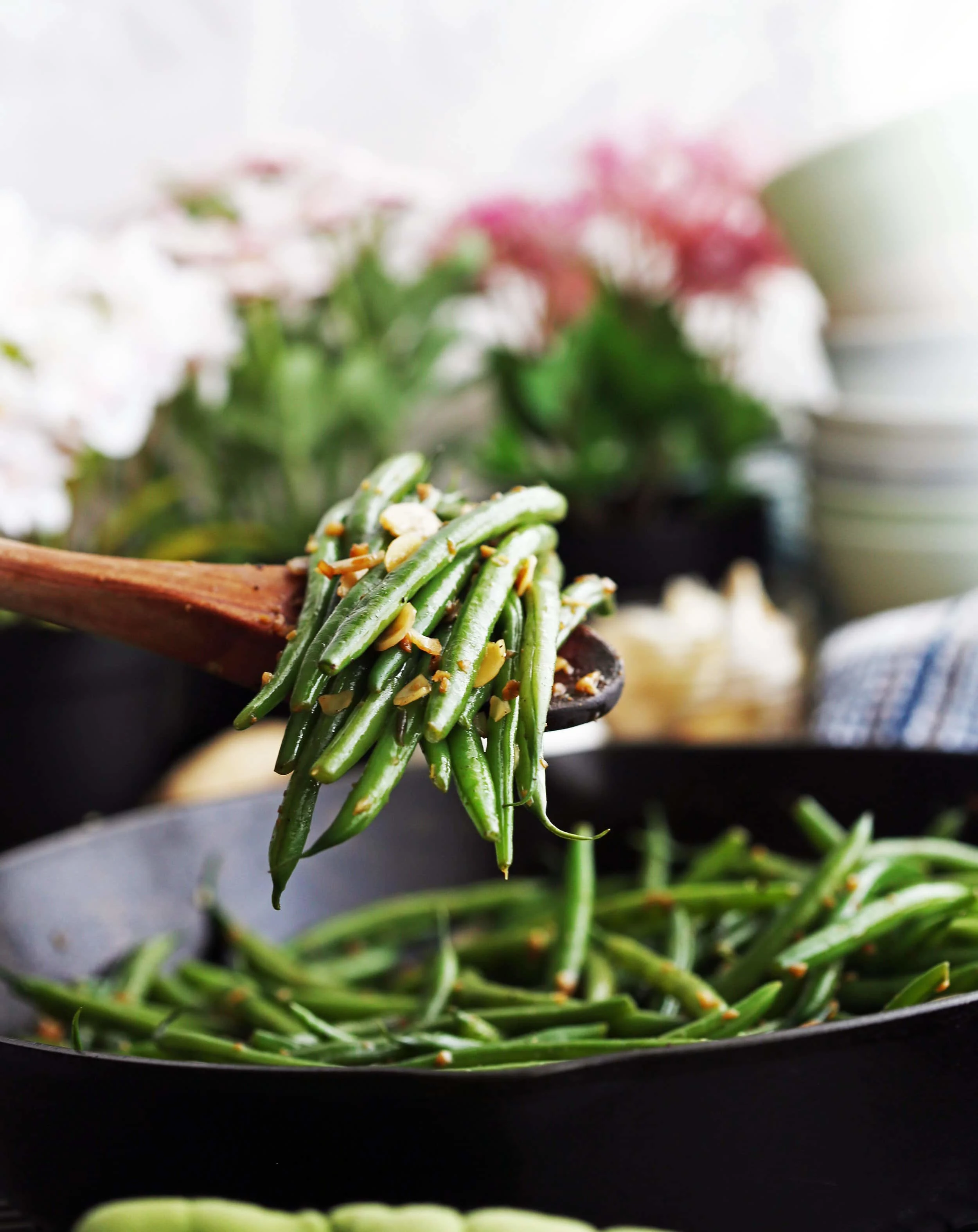 These few ingredients heighten this simple dish by adding aromatic notes of spicy, pungent, and salty flavours to the natural vegetal sweetness of the green beans. The sliced almonds give this side dish a mild nutty flavour and additional crunch.
In all, this green bean side dish:
Is simple and flavourful
Fresh and healthy
Is quick and easy to make
Uses few ingredients
Is made with simple ingredients
Is vegan too. (Also gluten-free if you make sure you get a gluten-free soy sauce).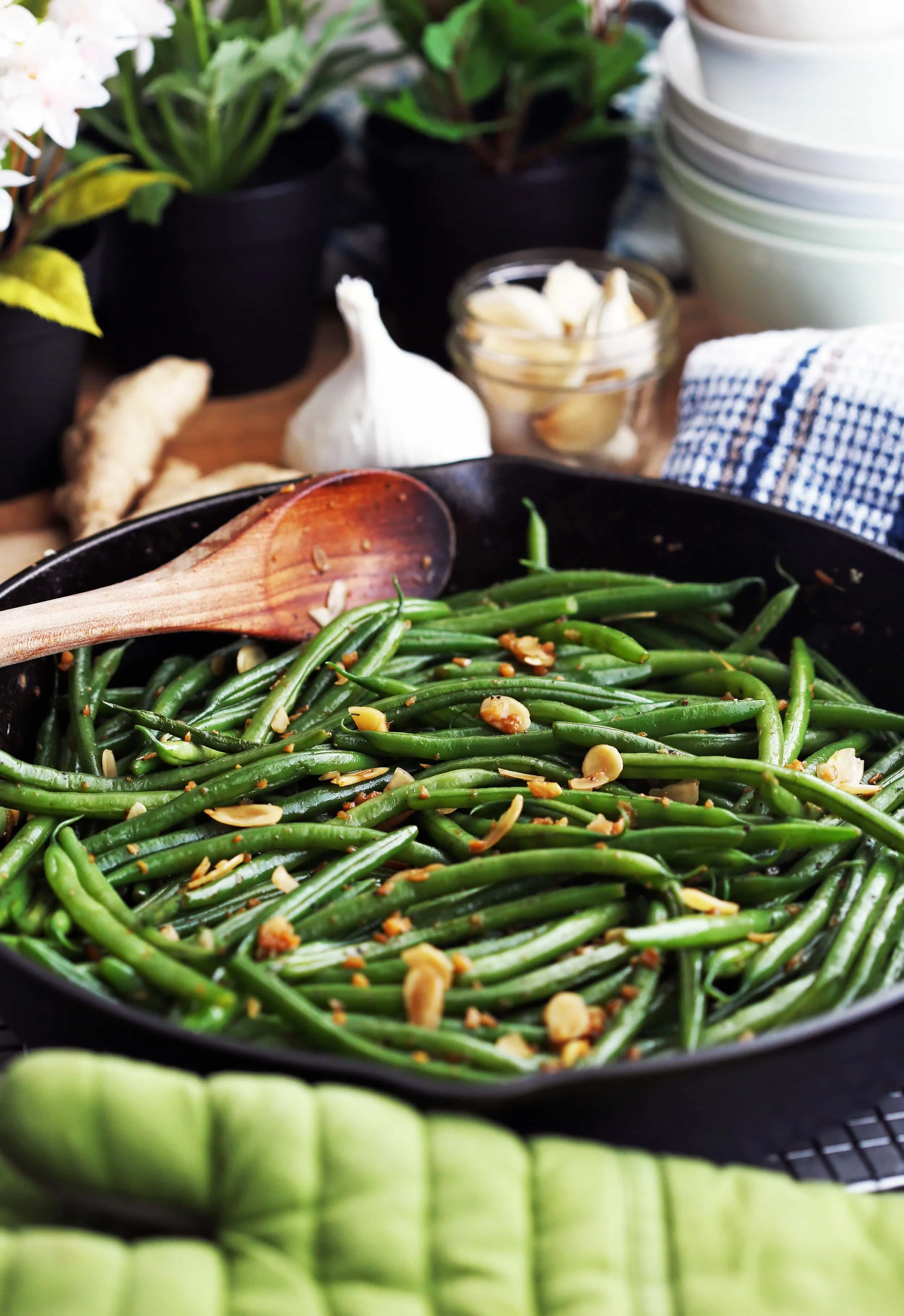 Interested in more vegetable-based side dish recipes?
I hope you try this recipe! If you do, please leave me a rating and comment down below or tag me on any of my social media. I'm @yay_for_food on Instagram. I'd love a picture!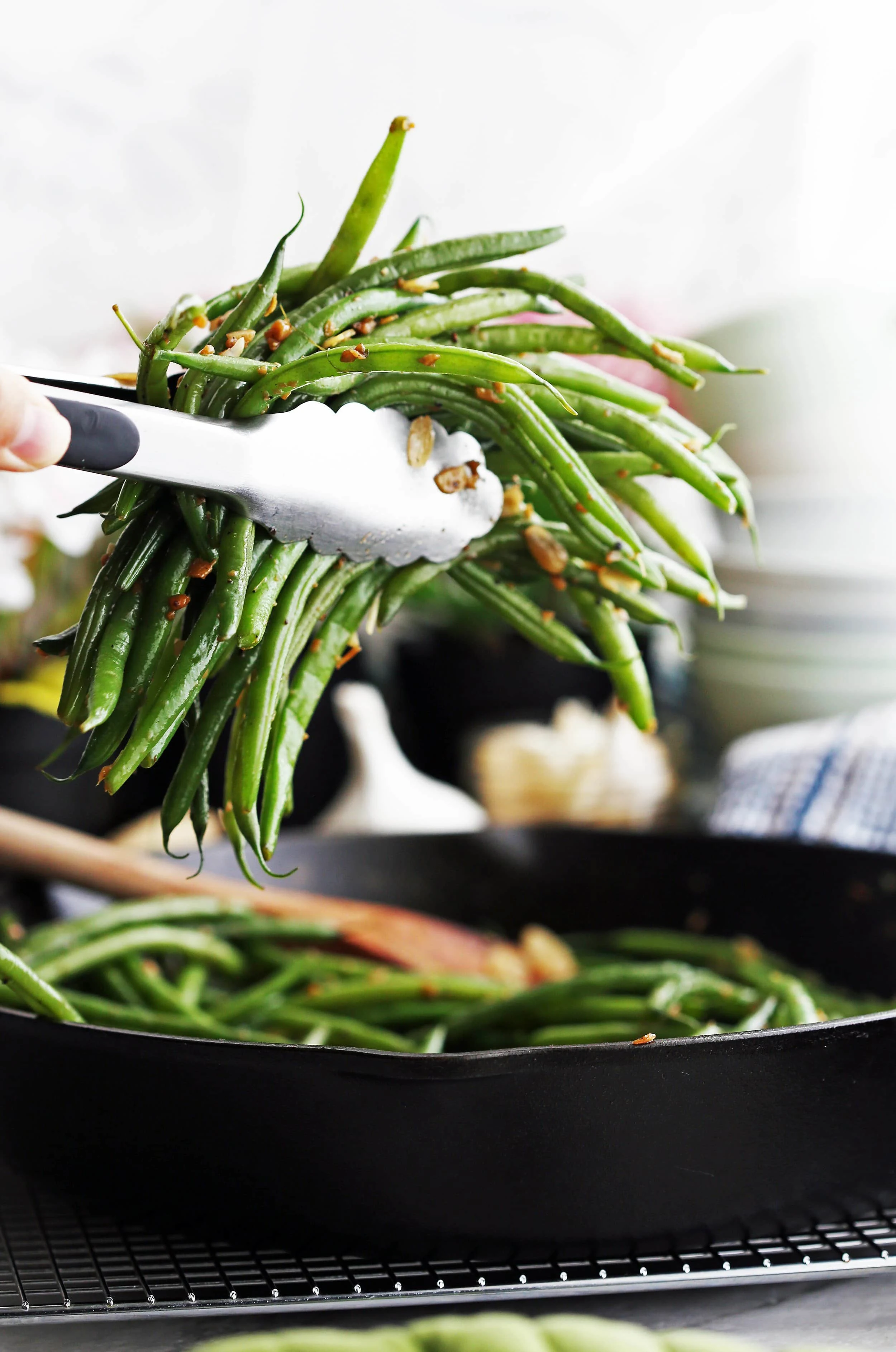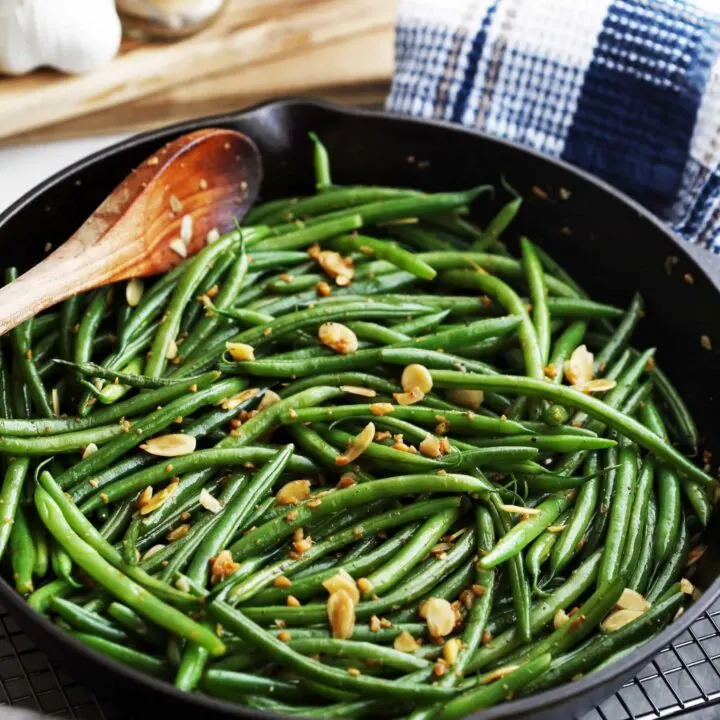 Garlic Ginger Green Beans
Yield:
4-6 as a side dish
A quick and delicious vegetable side dish recipe. Tender, crisp, colourful French green beans get a flavour boost from the addition of garlic and ginger.
Ingredients
1½ lb. French green beans, trimmed *(see first note)
1 tbsp vegetable oil
4 garlic cloves, minced
2-inch fresh ginger, minced
2 tbsp sliced almonds
1 tbsp soy sauce
Salt and pepper, to taste
Instructions
In a large pot, boil the green beans for 3-4 minutes, until tender-crisp. Then immediately place the green beans into a large bowl with ice and cold water (ice bath). Set aside.
Heat a large skillet at medium-high heat and add the oil, garlic, and ginger to the skillet. Sauté for 1-2 minutes until the garlic just begins to brown.
Remove the green beans from the ice bath using a slotted spoon and place them into the skillet. Top with soy sauce, almonds, salt and pepper, and then toss to combine all the ingredients.
After the green beans are heated through, remove from heat. Taste for additional salt and pepper. Best served immediately.
Notes
*You can also use regular green beans in this recipe, just boil them for a few more minutes until they get tender-crisp.
Nutritional information represents one serving for a total of six servings.
Recommended Products
As a participant in the Amazon Services LLC Associates Program, I only link to products that I use and/or highly recommend. As an Amazon Associate, I earn from qualifying purchases if you purchase through these links at no additional cost to you.
Nutrition Information:
Yield:

6
Serving Size:

1
Amount Per Serving:
Calories:

117
Total Fat:

6g
Saturated Fat:

0g
Trans Fat:

0g
Unsaturated Fat:

5g
Cholesterol:

0mg
Sodium:

296mg
Carbohydrates:

15g
Fiber:

6g
Sugar:

6g
Protein:

4g