Hello there! I've been a bit MIA from this little food blog. No excuses, just a little tired, but I'm back testing out recipes and hoping to get back into the swing of things as the holidays come up.
Anyway, these tender Brussels sprouts have a crunchy cheese and breadcrumb crust that's easy to prepare and baked (not fried)!
Serve these yummy bites with a simple zippy dip and you've got one delicious snack, appetizer, or even an unexpected side dish.
I hope you enjoy this recipe for Parmesan Brussels Sprouts with Sour Cream Herb Dip!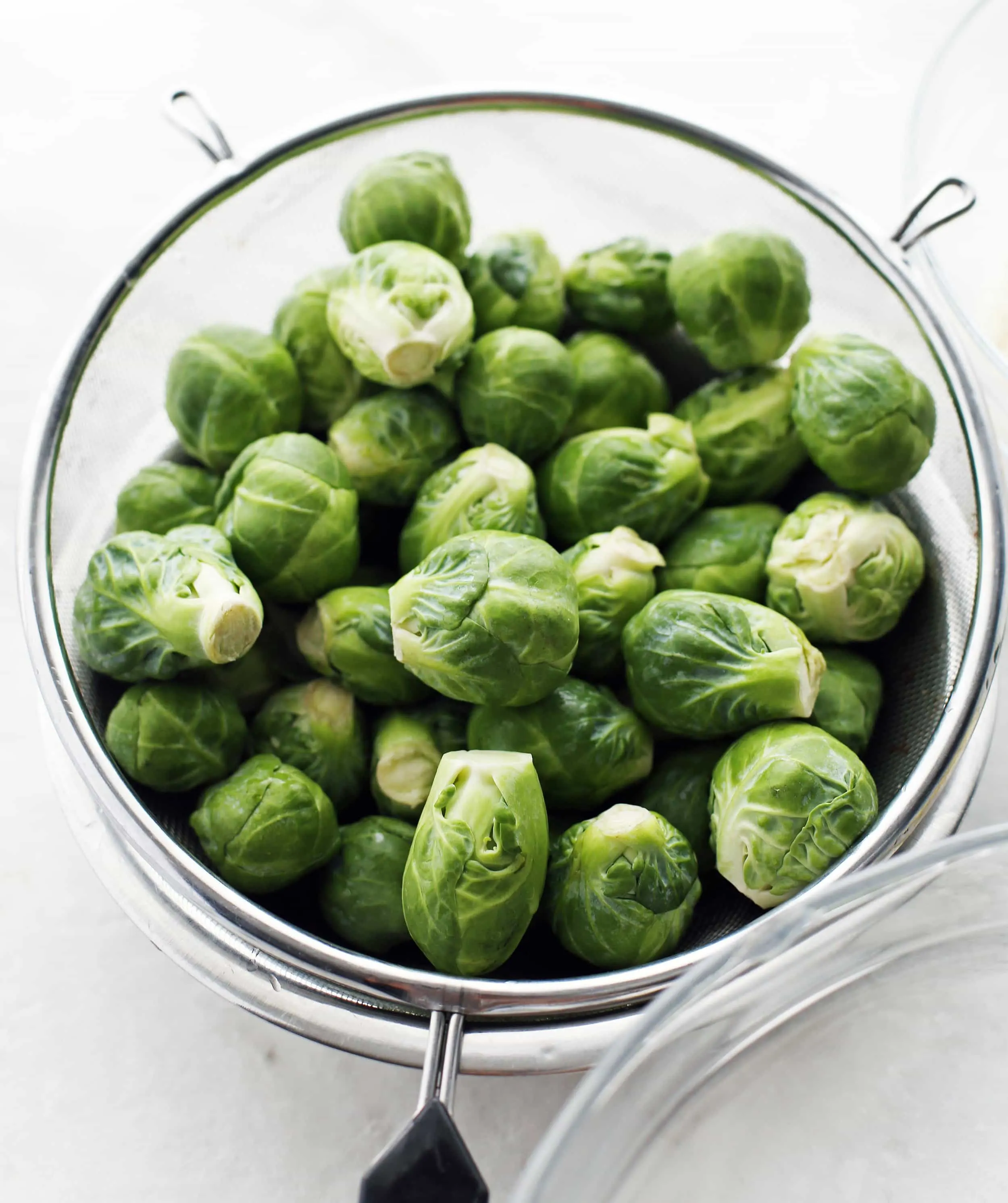 Brussels sprouts taste somewhat similar to cabbage. Raw ones have a nice crunch with a slight bitter note, but also take on a slightly sweet and nutty flavour when baked or roasted.
They are also good-for-you being high in vitamins C, K, and folate.
How to choose Brussels sprouts? Pick smaller, firm, tightly compacted and bright green sprouts. Smaller ones are usually sweeter and less bitter than larger ones.
Important Tip: You've probably noticed from the pictures that I didn't cut the Brussels sprouts in half or quartered.
I used small Brussels sprouts that were about the size of a walnut (3-4 cm long), any larger should be sliced lengthwise or more to ensure that the sprouts are baked tender (or tender-crisp if you prefer) and not crunchy raw.
How do you make these Parmesan Brussels Sprouts?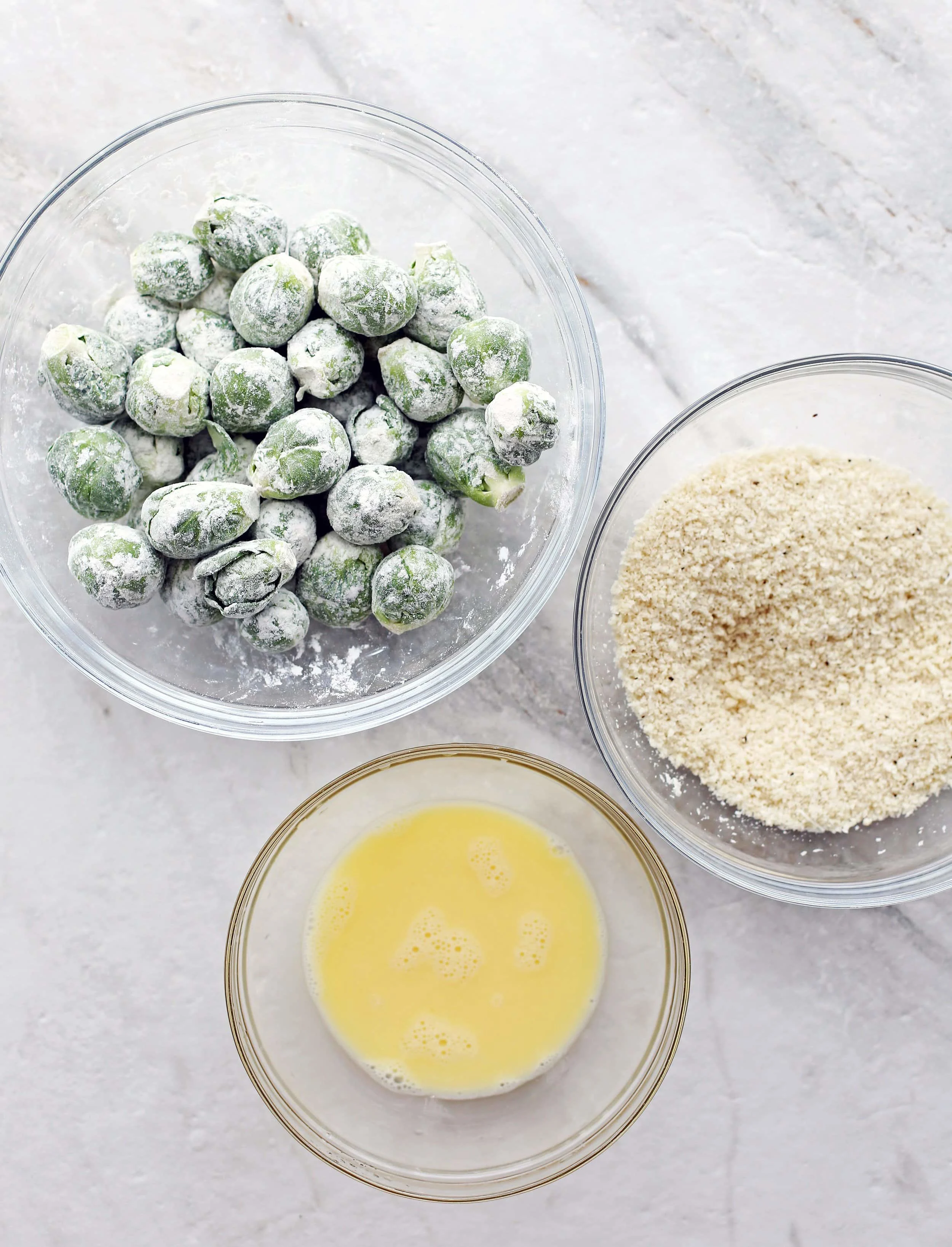 Prepare your Brussels sprouts by coating them in flour, beating eggs with water in a bowl, and combining breadcrumbs and parmesan in another bowl. Full ingredients and instructions listed in the recipe card down below.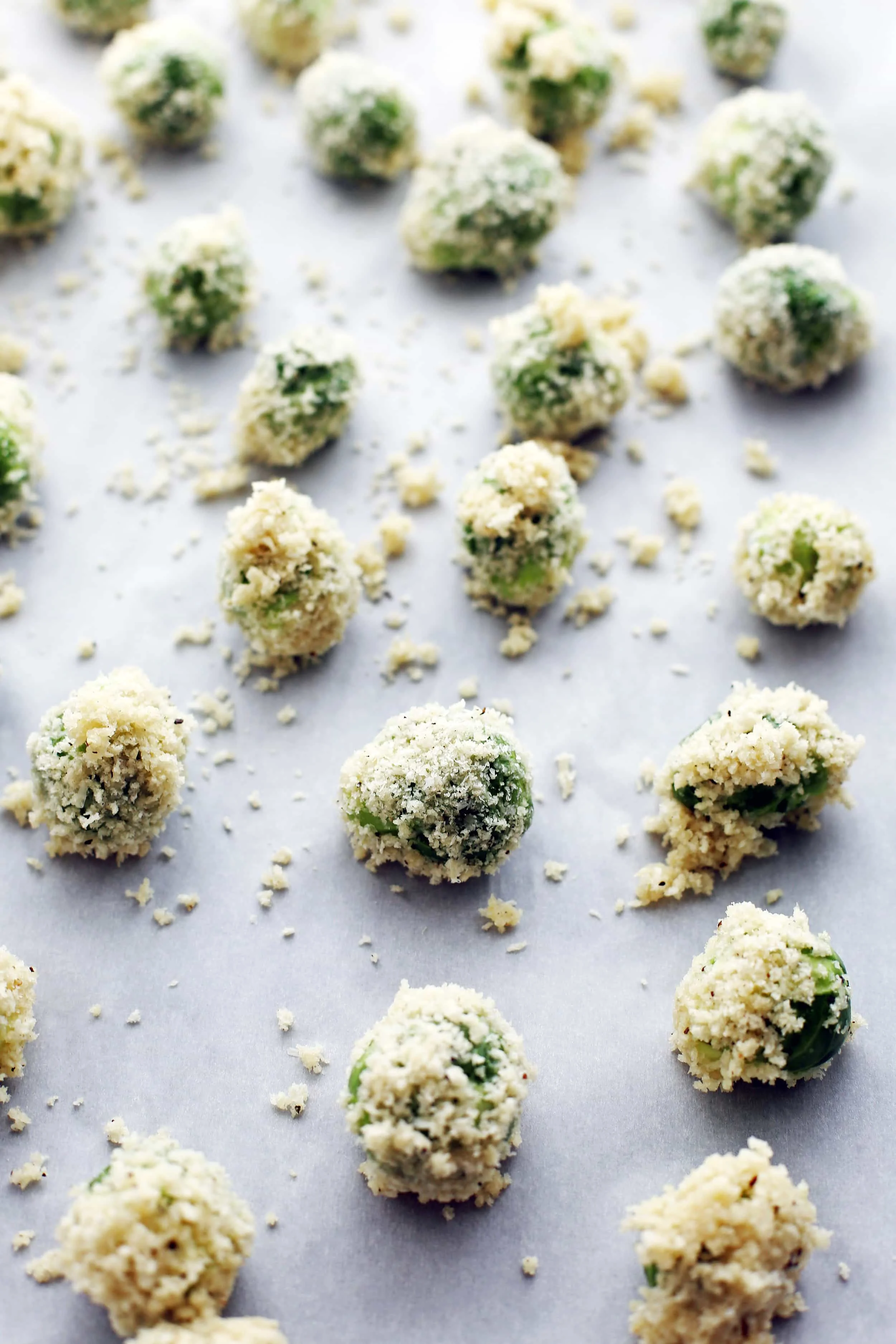 This recipe uses a basic dredging process – coating the sprouts in flour, eggs, and then a breadcrumb mixture in that order. Place the Brussels sprouts in a single layer on a parchment paper lined baking sheet.
For the breading, I used Panko breadcrumbs (mixed with freshly grated parmesan cheese) because Panko has a coarser and flakier texture than regular breadcrumbs. The larger, airier breadcrumbs result in a bigger crunch when baked or fried.
I also use these breadcrumbs in these two delicious snacks: Crispy Oven Fried Pickles with Cheddar Cheese Dip and Baked Crispy Coconut Chicken Nuggets.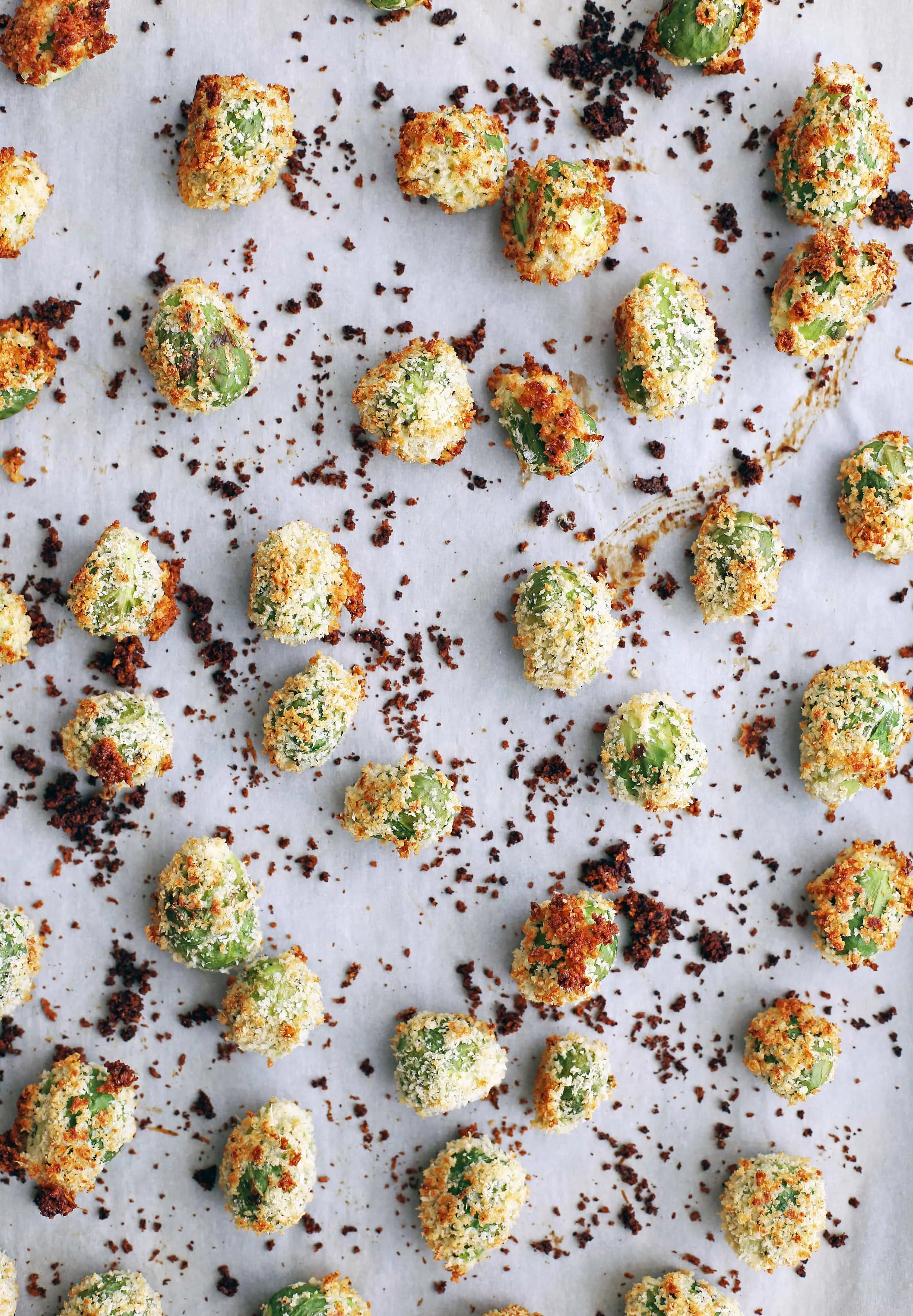 Bake at 425 degrees F for 20-25 minutes, flipping once. Baking means no need to heat up oil to a certain temperature and no risk of oil splatter either.
After they are ready, sprinkle with lemon zest, more parmesan, and salt and pepper.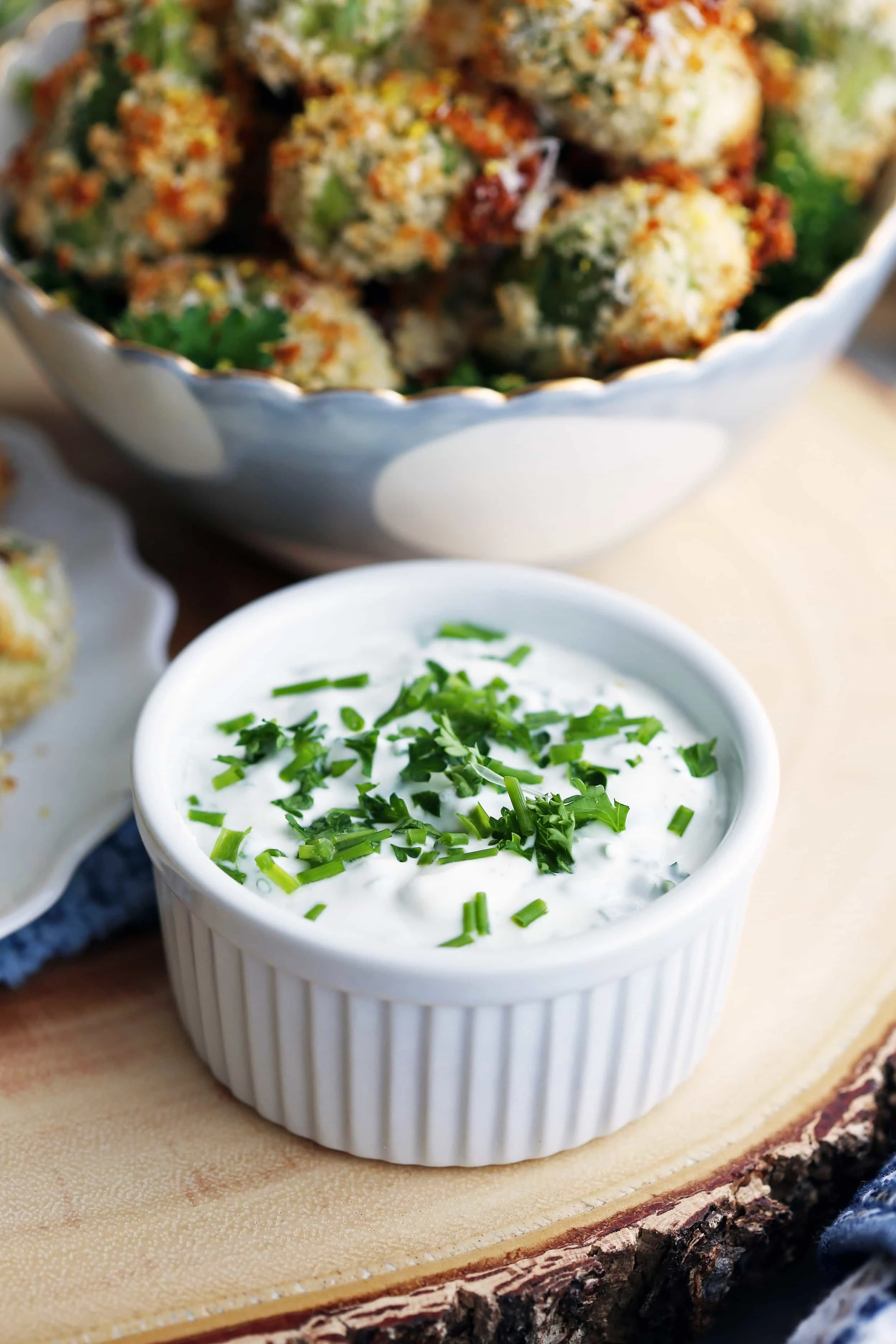 As the Brussels sprouts bake, prepare the easy dip. Serve with warm Brussels sprouts.
The dip is creamy, tangy, zesty, and herby!
The base is sour cream (rich and tangy) and then it is mixed with fresh lemon juice (bright and zesty), fresh chives (a mild onion with a hint of garlic flavour), fresh parsley, and salt and pepper (enhances all the flavours) to make one flavourful dip.
Plus, it's fast to make – simply chop up the fresh herbs and then stir together all the ingredients to make the dip. The perfect accompaniment to the baked Brussels sprouts.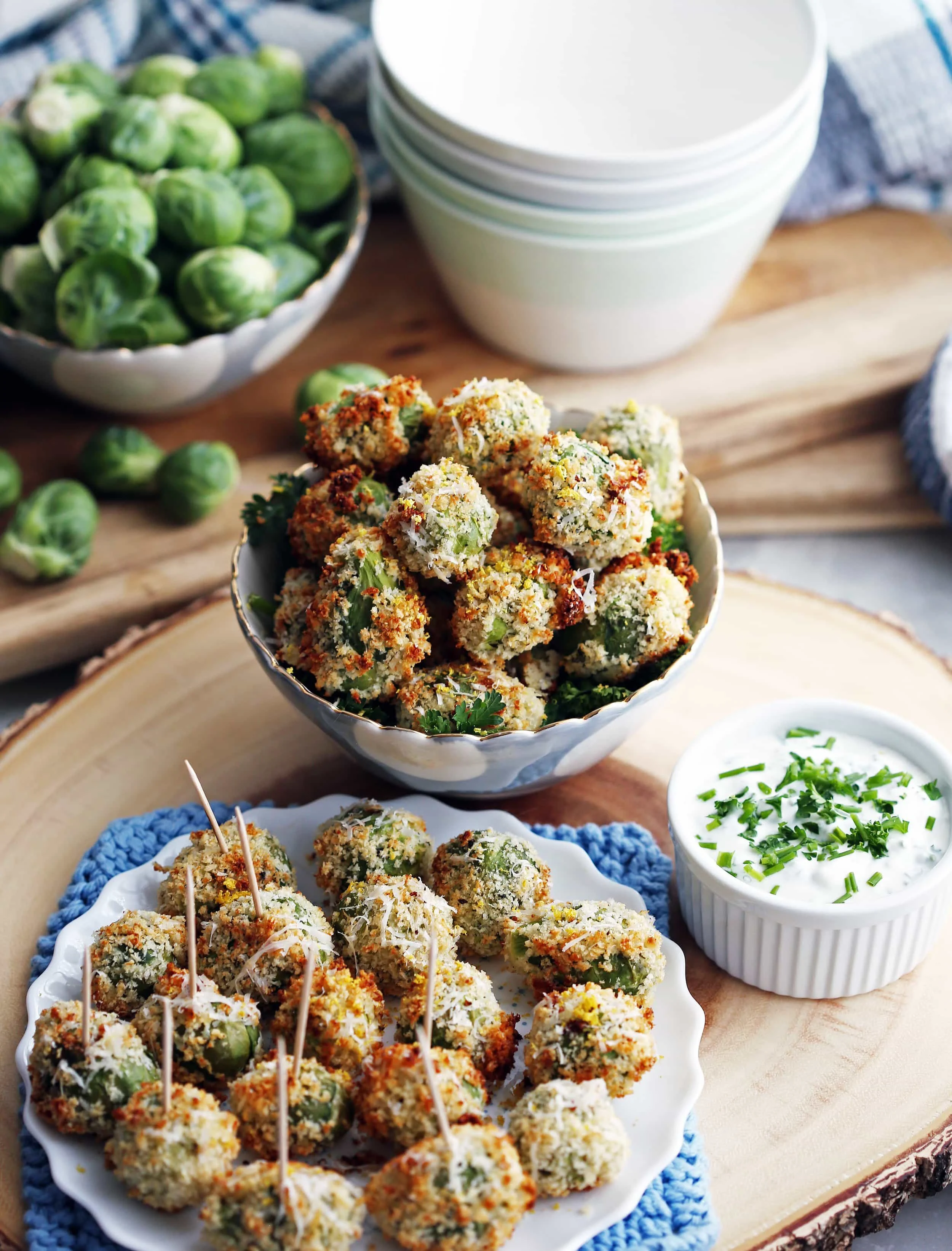 Looking for more Brussels Sprouts recipes? Check out these ones!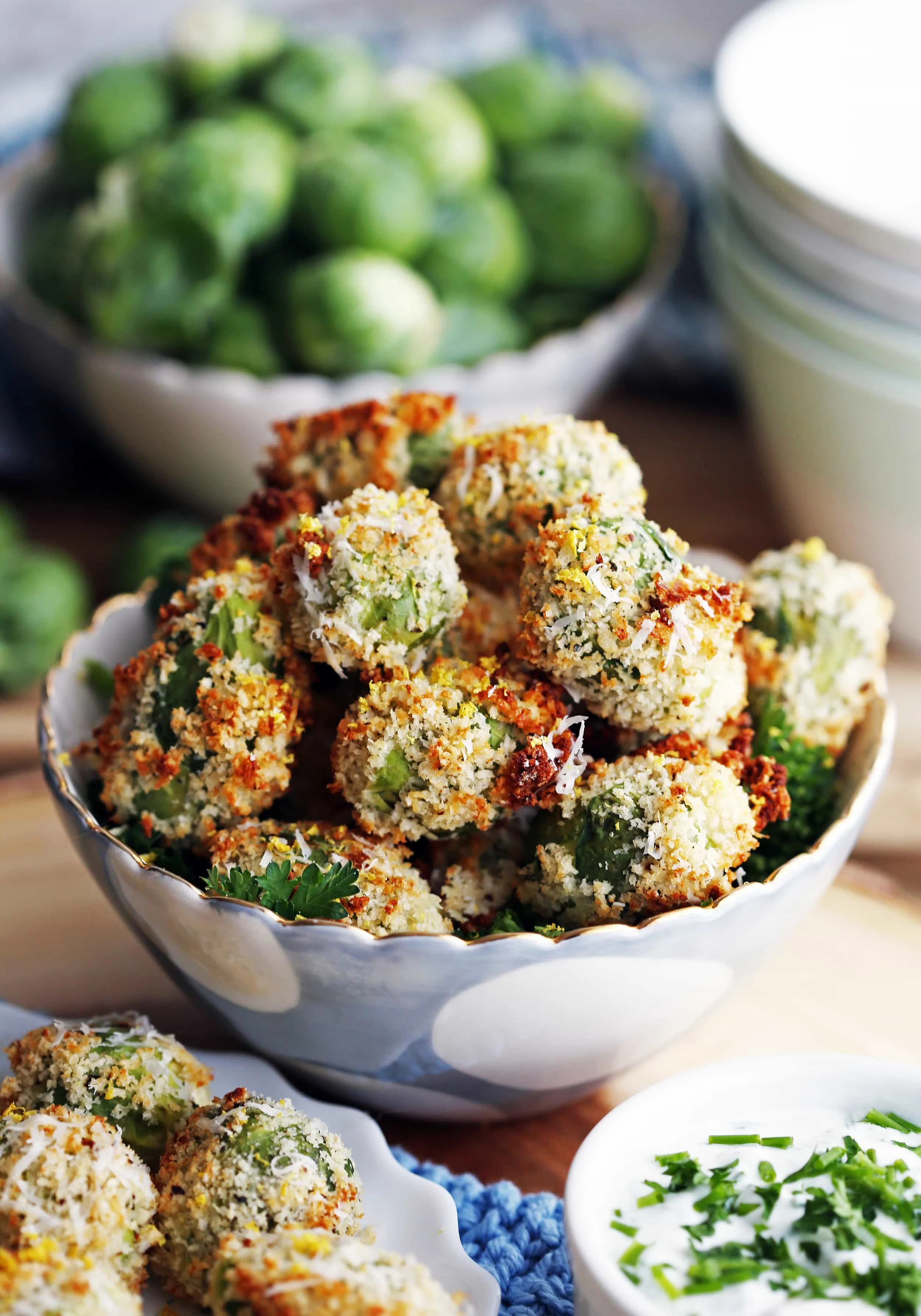 To sum up, this Baked Brussels Sprouts and Dip recipe is:
Delicious
Full of texture
Easy and quick to prepare
Perfect to be served as an appetizer, snack, or side dish.
I hope you try this recipe! If you do, please leave me a rating and comment down below or tag me on any of my social media. I'm @yay_for_food on Instagram. Please share your recipe pictures!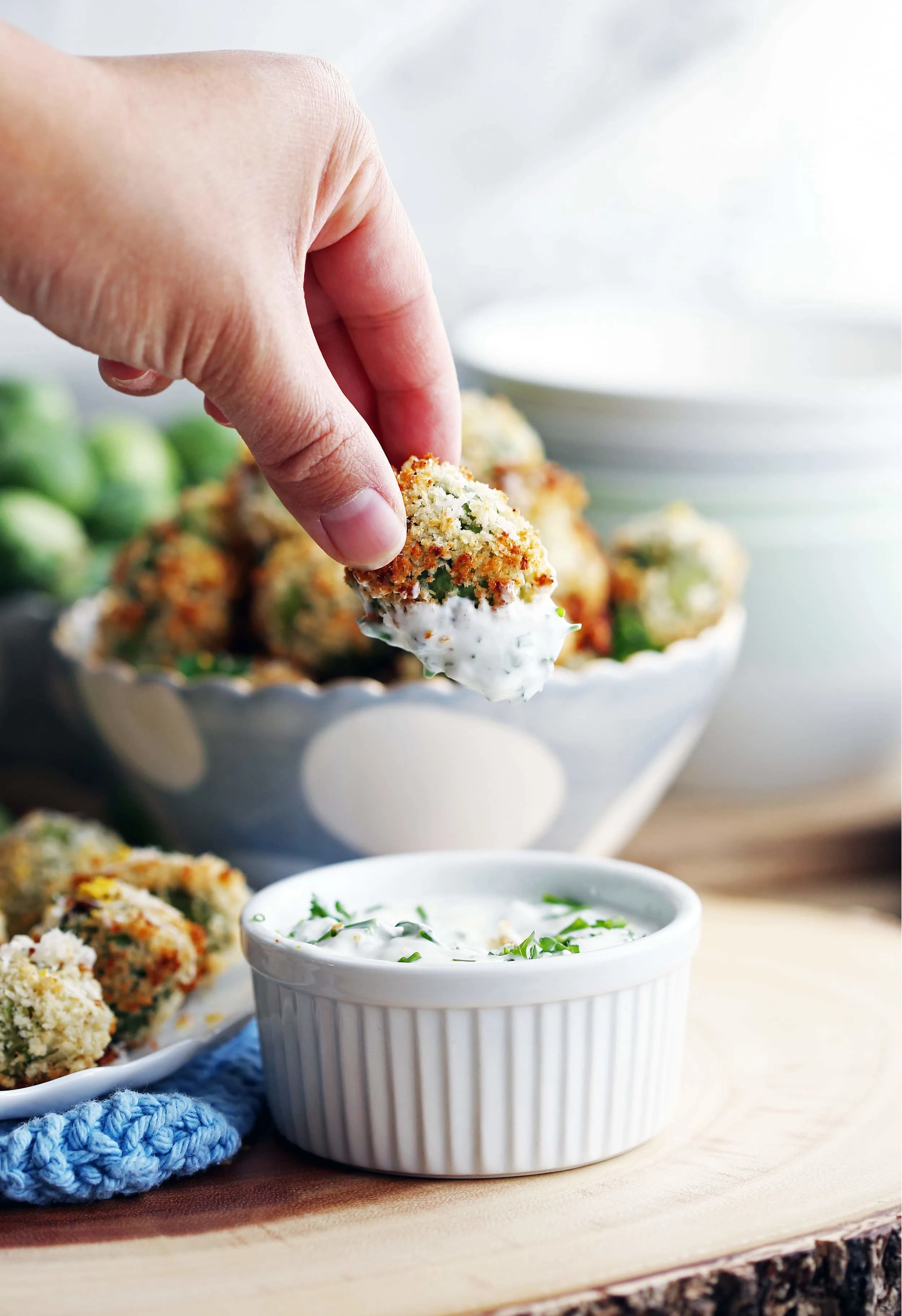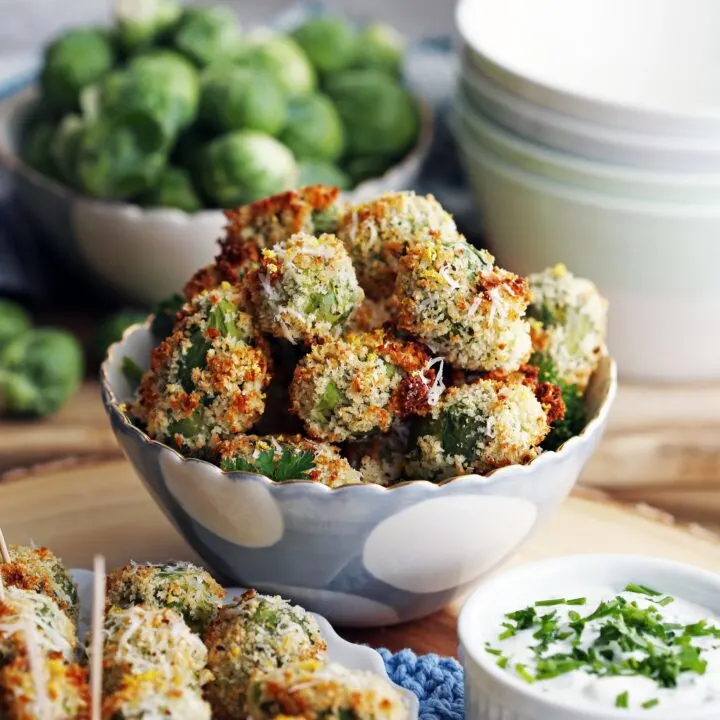 Parmesan Brussels Sprouts with Sour Cream Herb Dip
Yield:
4-6 as an appetizer
Brussels sprouts get coated with breadcrumbs and delicious parmesan cheese before being baked to perfection in this quick and easy appetizer recipe that comes with a simple sour cream and herb dip.
Ingredients
For the Brussels sprouts:
1 lb. Brussels sprouts, rinsed, trim ends, and remove bruised outer leaves *(see first note)
3 tbsp all-purpose flour
½ tsp each of salt and pepper
2 eggs, beaten
1 cup Panko breadcrumbs
½ cup parmesan cheese (Reggiano-parmigiano), freshly grated (plus more for topping)
1 tbsp lemon zest (for topping)
For the dip:
½ cup sour cream
1 tbsp lemon juice
2 tbsp fresh chives, chopped
1 tbsp fresh parsley, chopped
Salt and pepper, to taste
Instructions
Preheat the oven to 425 degrees F. Line a baking sheet with parchment paper (or aluminum foil).
In three wide rim bowls (or plates), place flour, salt, and pepper in one bowl, beaten eggs mixed with a tablespoon of water in the second bowl, and Panko breadcrumbs and parmesan cheese in the third bowl.
Take the Brussels sprouts and place them into the flour mixture. Using your hands, toss the Brussels sprout with the flour mixture until evenly coated.
Take a floured Brussels sprout (shake off excess flour), place it in the eggs, and then coat it with the parmesan breadcrumb mixture before transferring to the baking sheet. Repeat for the rest of the Brussels sprouts.
Bake for 10 minutes before flipping and baking for an additional 10-15 minutes, until lightly browned and crispy on the outside and fork tender on the inside.
While the Brussels sprouts bake, stir the dip ingredients until well combined. Set aside.
After the Brussels sprouts are ready, sprinkle with the lemon zest, more freshly grated parmesan cheese, and additional salt and pepper. Best served immediately with the dip.
Notes
*I used small Brussels sprouts (about the size of a walnut). If using larger Brussels sprouts, cut in half lengthwise so that it will be tender when baked (not crunchy).
Nutritional information represents one serving for a total of six servings.
Recommended Products
As a participant in the Amazon Services LLC Associates Program, I only link to products that I use and/or highly recommend. As an Amazon Associate, I earn from qualifying purchases if you purchase through these links at no additional cost to you.
Nutrition Information:
Yield:

6
Serving Size:

1
Amount Per Serving:
Calories:

295
Total Fat:

13g
Saturated Fat:

6g
Trans Fat:

0g
Unsaturated Fat:

5g
Cholesterol:

121mg
Sodium:

714mg
Carbohydrates:

31g
Fiber:

4g
Sugar:

5g
Protein:

14g