I've made this recipe three times in the last two and a half weeks and they disappeared in a hurry. I may have helped… a few times.
The filling is so flavourful. Tart granny-smith apples pieces are coated with cinnamon, sugar, vanilla extract, and apple cider vinegar, which gives the apple filling a wonderful, slightly acidic flavour, enhancing the overall apple flavour of the rolls. The rolls are soft, moist, and pulls apart wonderfully. The delicious cream cheese frosting uses pure maple syrup, which goes amazingly well with the apple cinnamon rolls. So good.
Now onto the recipe.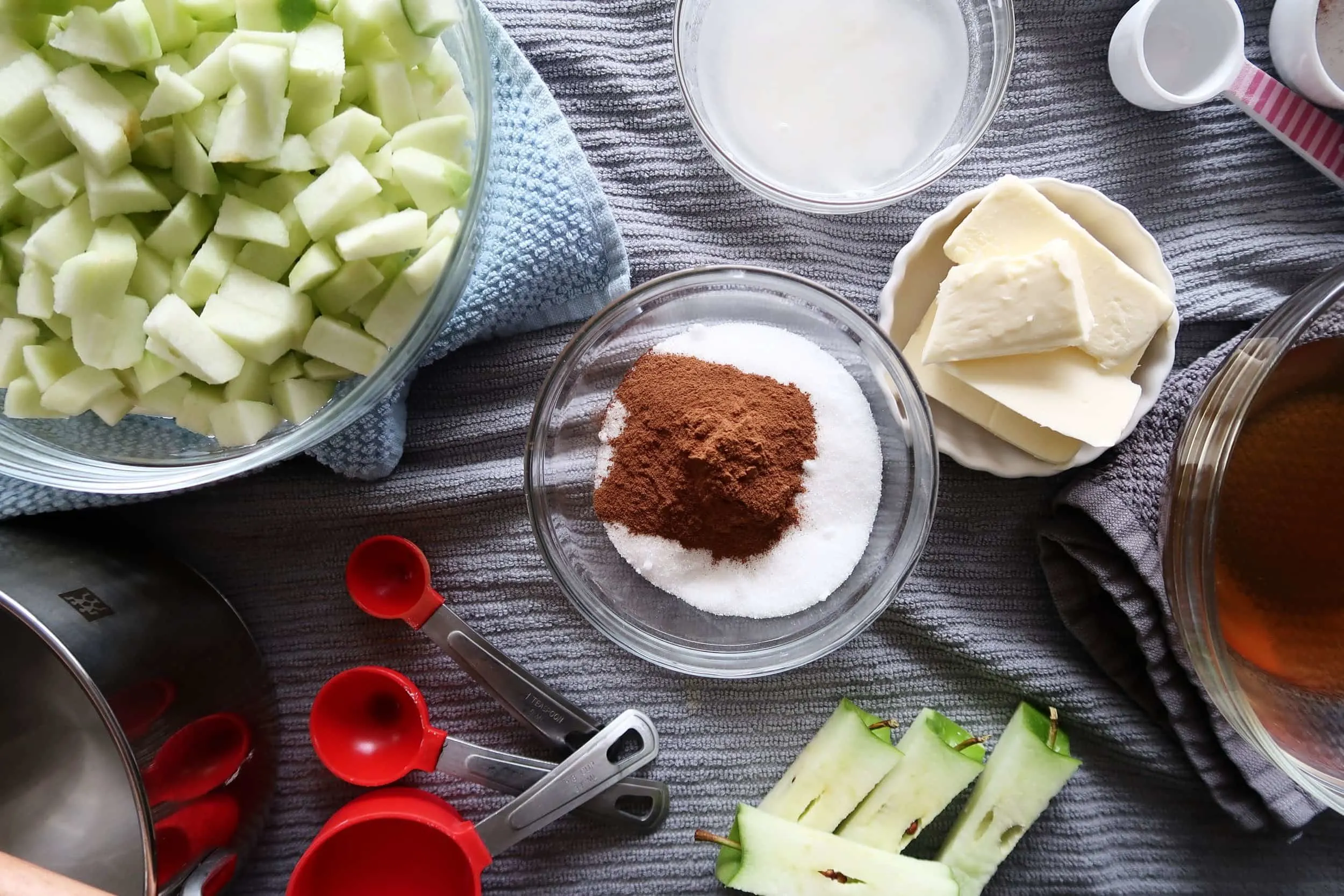 Under medium-high heat, place diced apples, cinnamon, sugar, vanilla extract, butter, and apple cider vinegar in a medium stockpot. Stir occasionally and allow the apples to soften and the sauce to thicken. Reduce heat to a simmer and add flour and water mixture and thicken sauce further.
Remove apple filling and using a sieve, separate the apples from the sauce. Let it cool.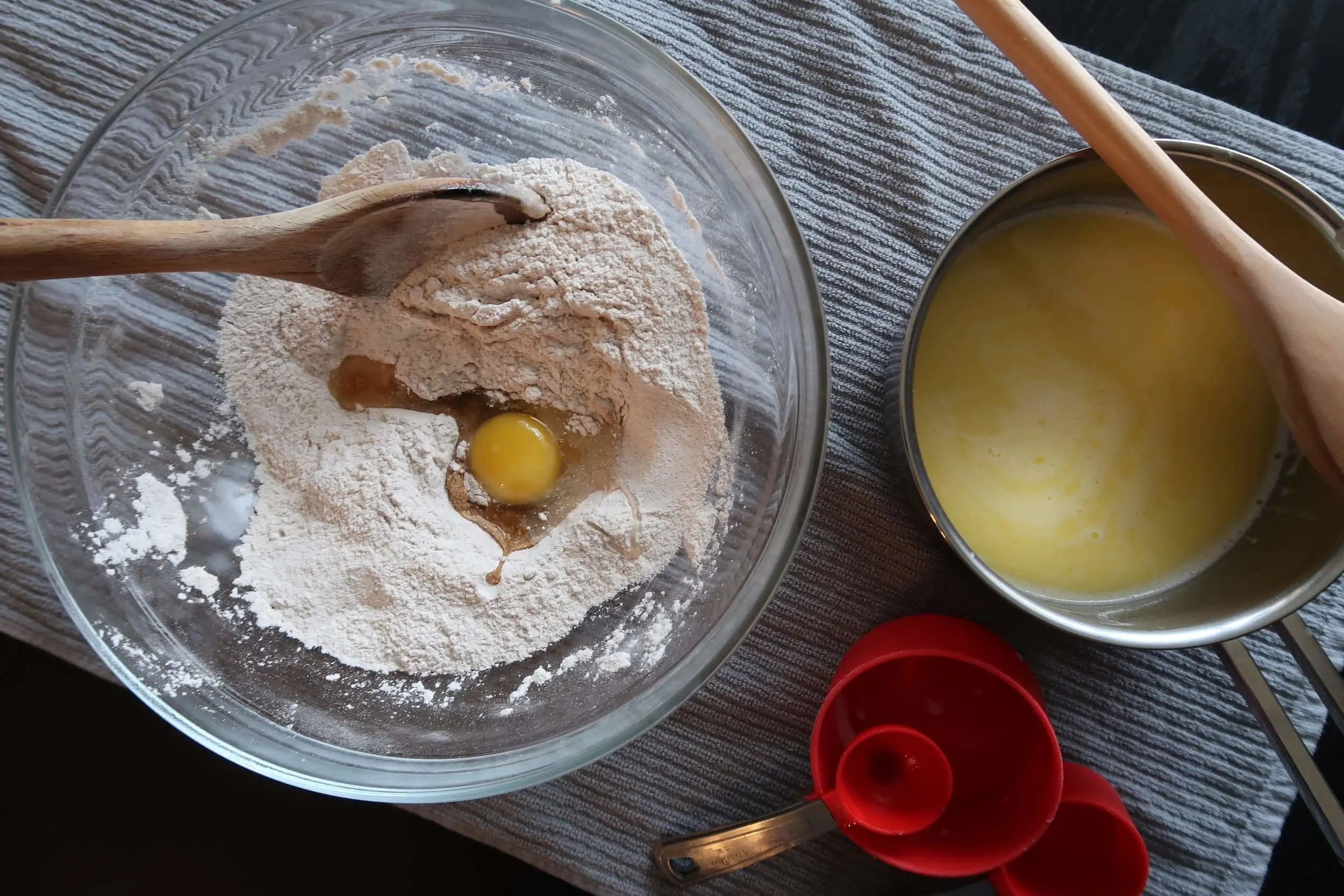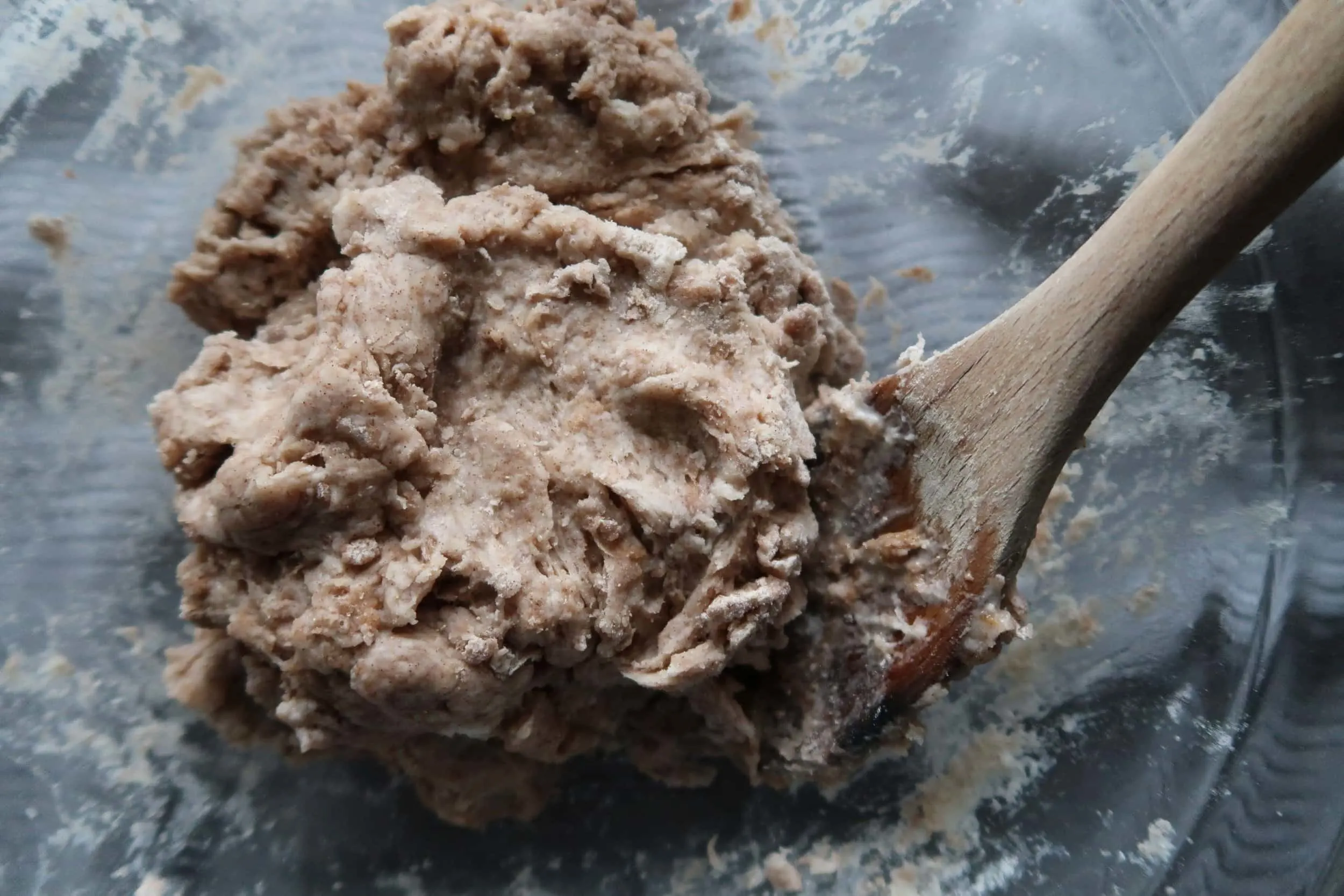 Heat milk in a small pot until it begins to bubble, add butter and stir to melt. Remove from heat and let it cool to lukewarm.
Combine dough ingredients using a wooden spoon until just combined.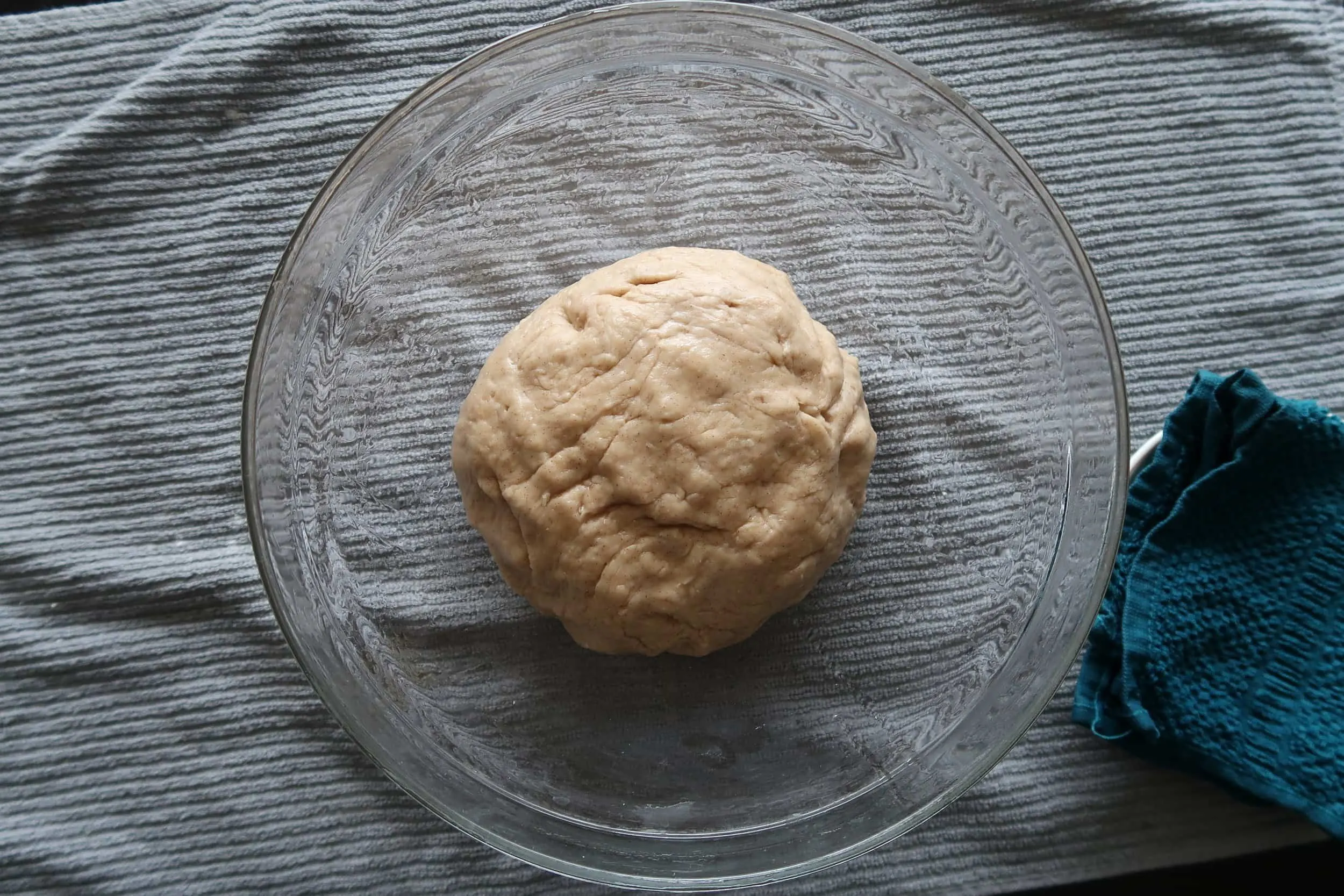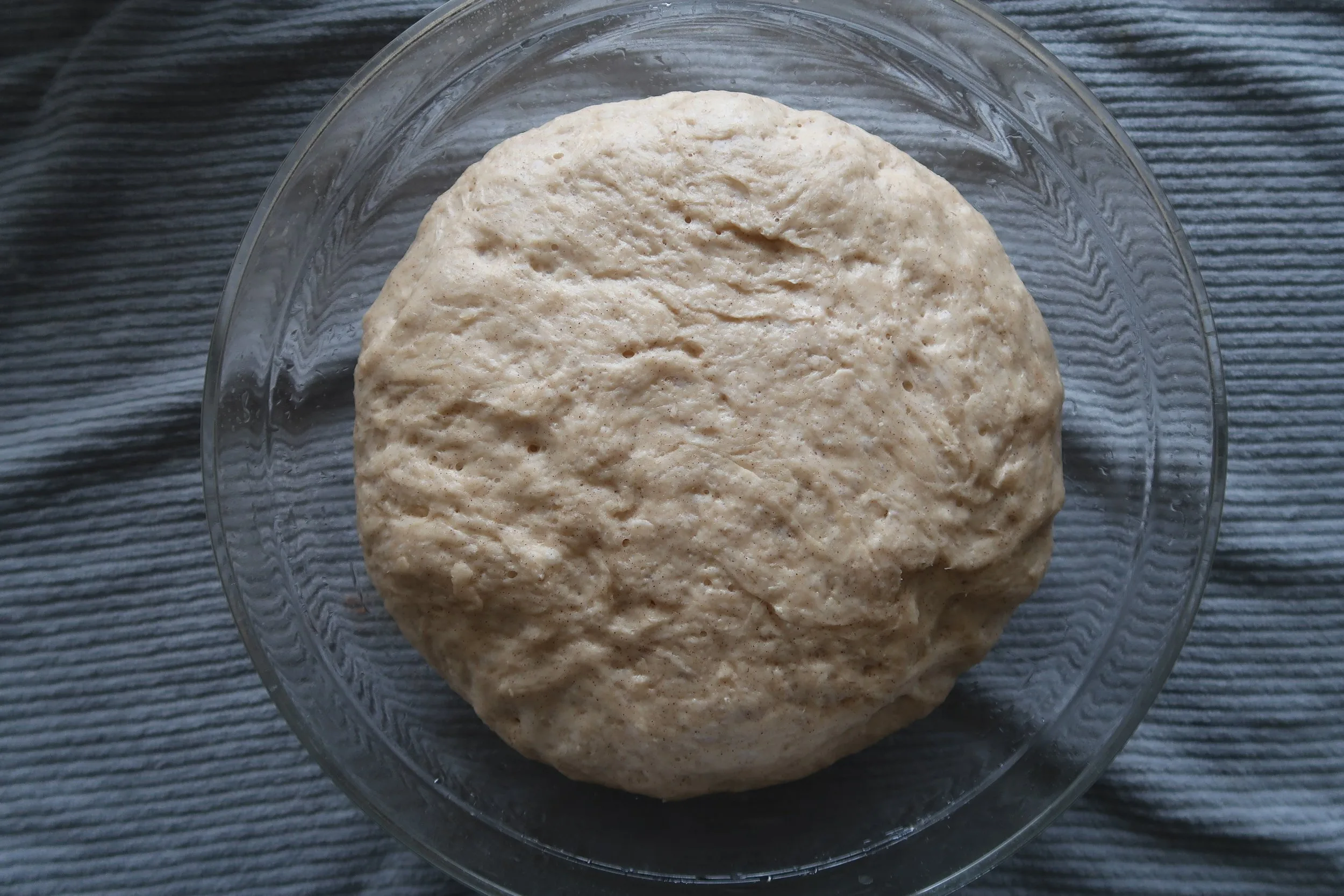 Knead the dough on a floured surface for 5 minutes until the dough is smooth. Place it a medium bowl lightly coated with canola oil.
Place a clean, slightly damp towel over top of the bowl and place in a warm place, allowing it to proof for 30 minutes or until doubled in size.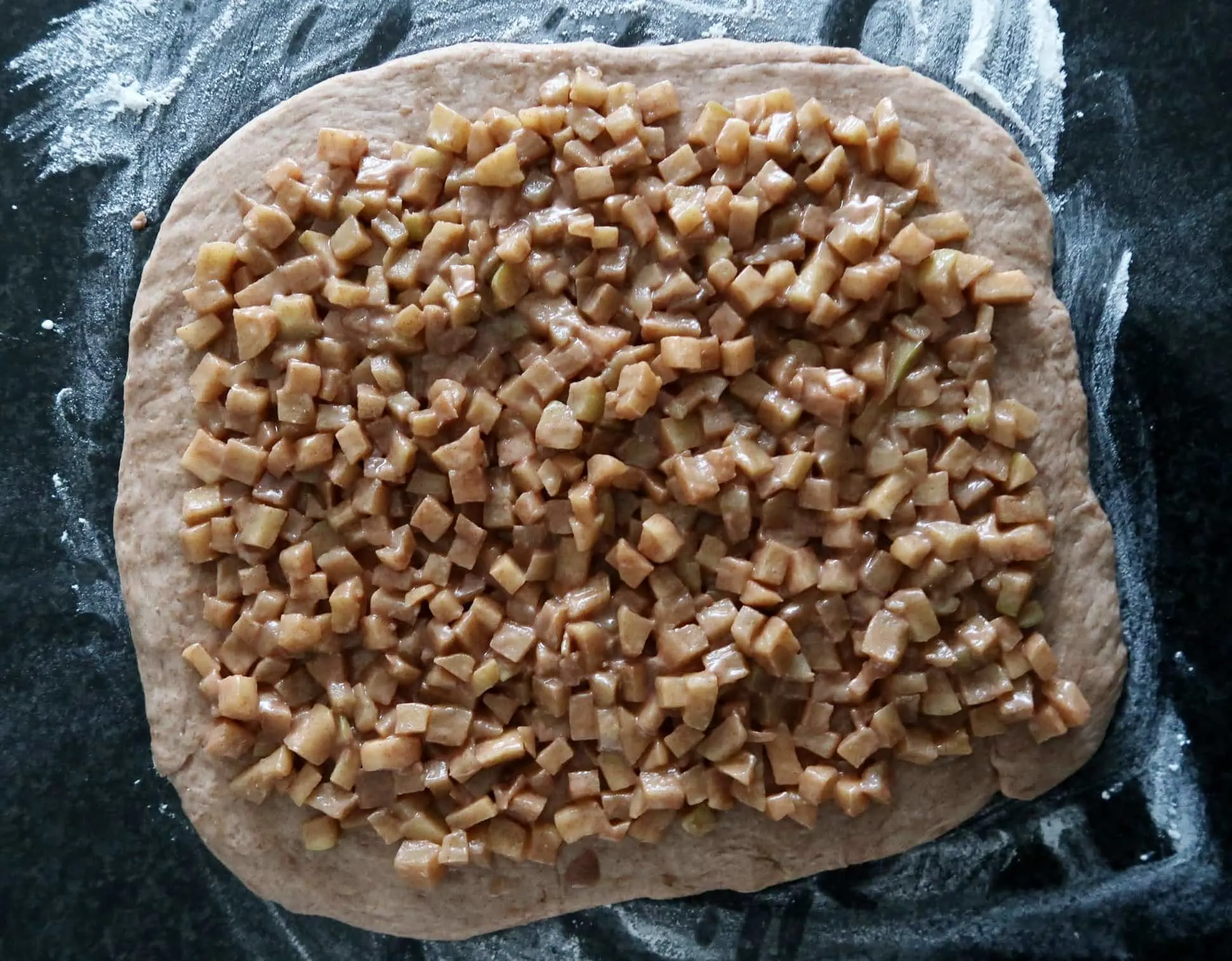 On a clean, floured surface, roll out the dough into a 9 x 12 rectangle. Place the apple filling on top (not the sauce), reserving 1/2 cup of apple filling and roll the dough tightly making a long tube. Cut into 12 even rolls.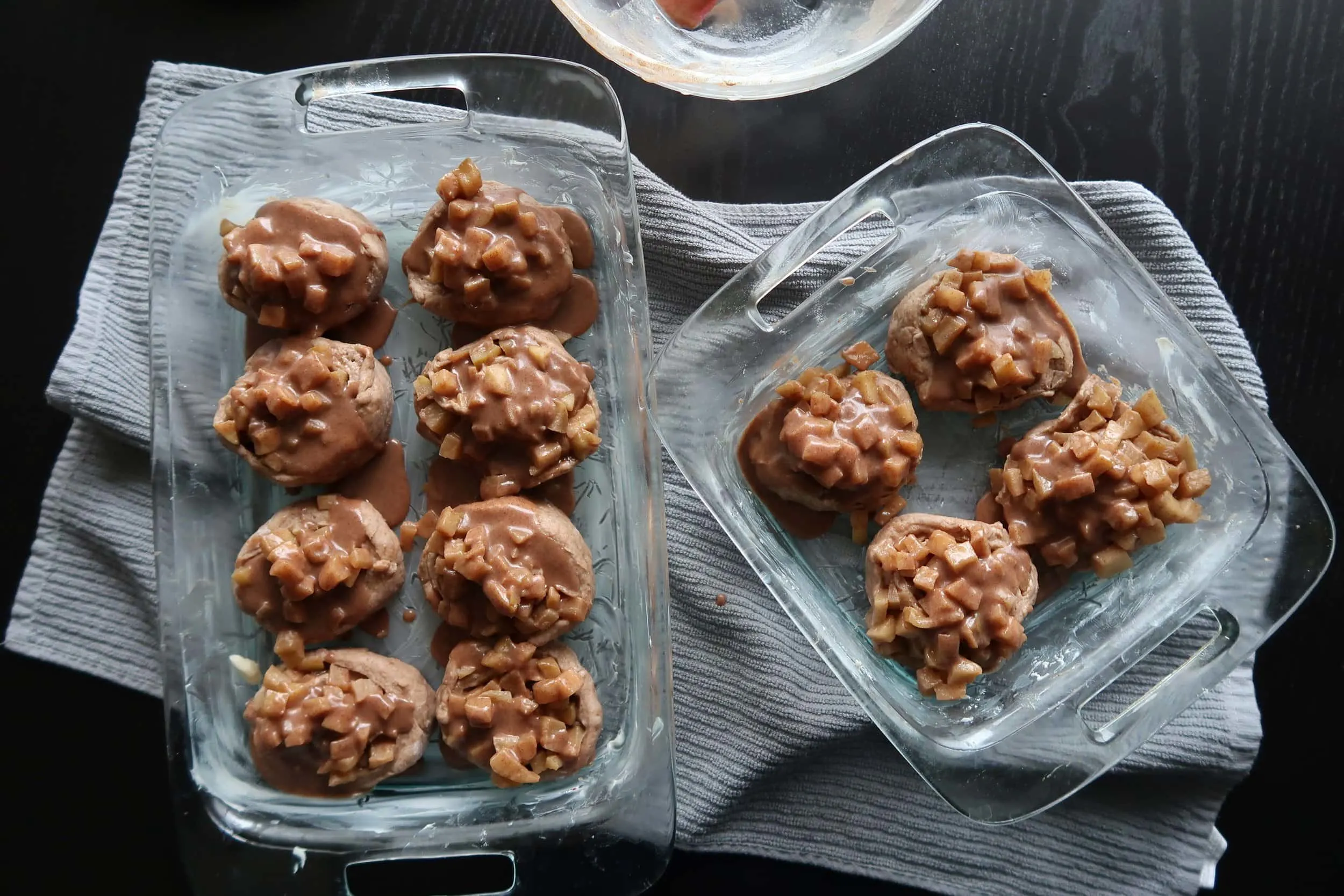 Place 8 rolls slightly apart in a 9 x 13 baking pan. Place the other 4 rolls slightly apart in a 9 x 9 baking pan. Top with the remaining apple filling and sauce.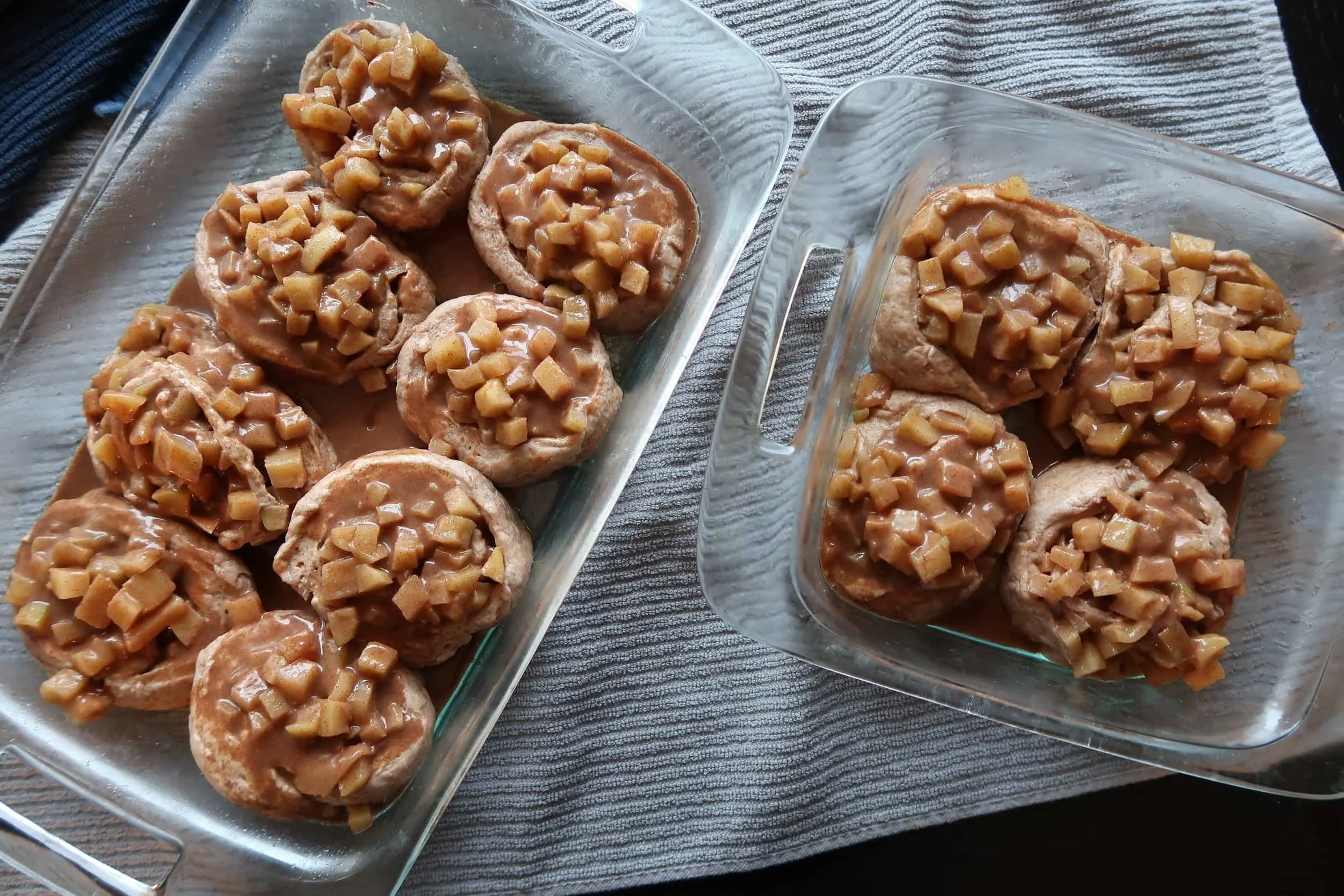 Place damp towels over the top of each baking pan and proof for another 30 minutes, letting the rolls increase in size.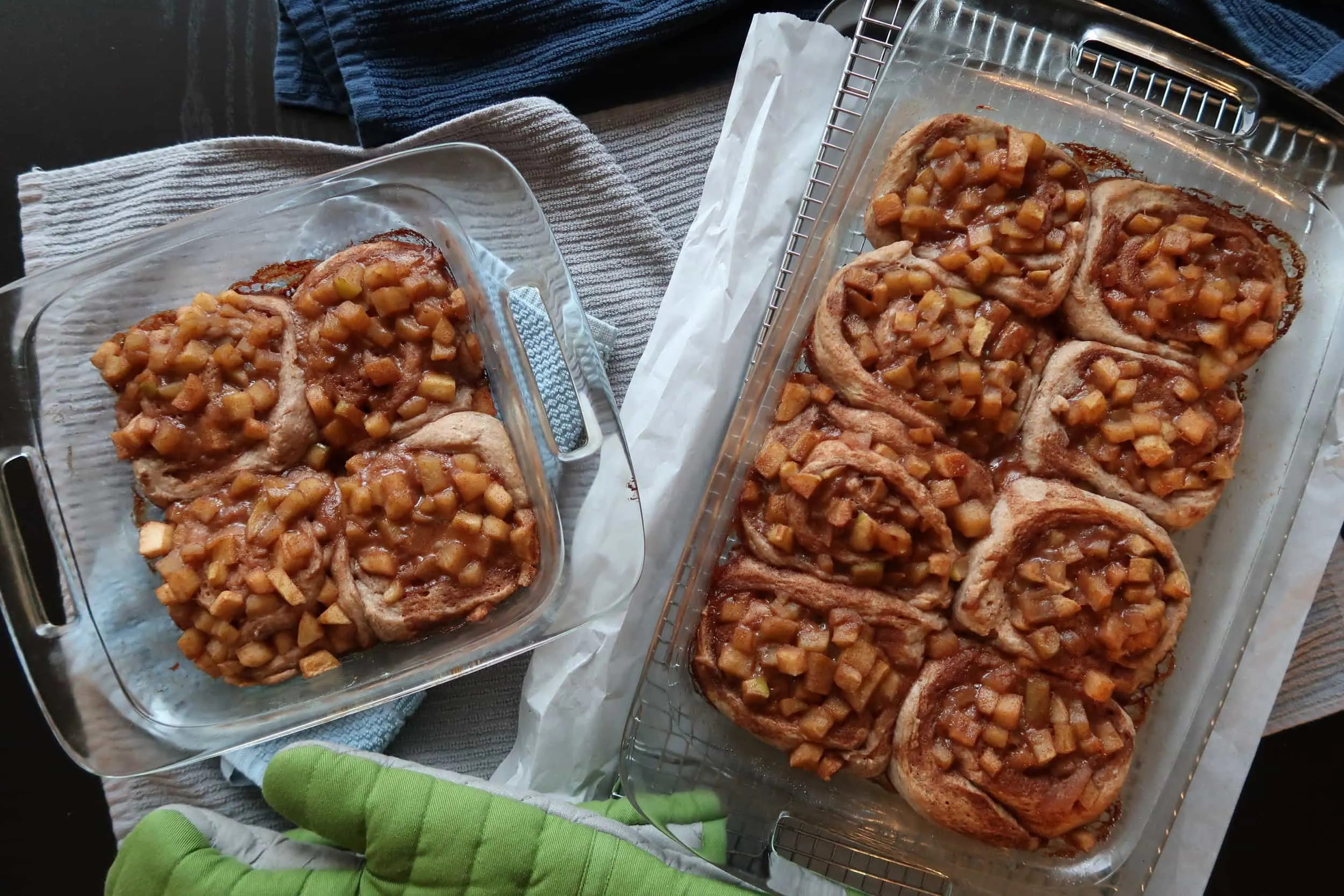 Preheat oven to 375 degrees F. Bake for 20-25 minutes until golden-brown.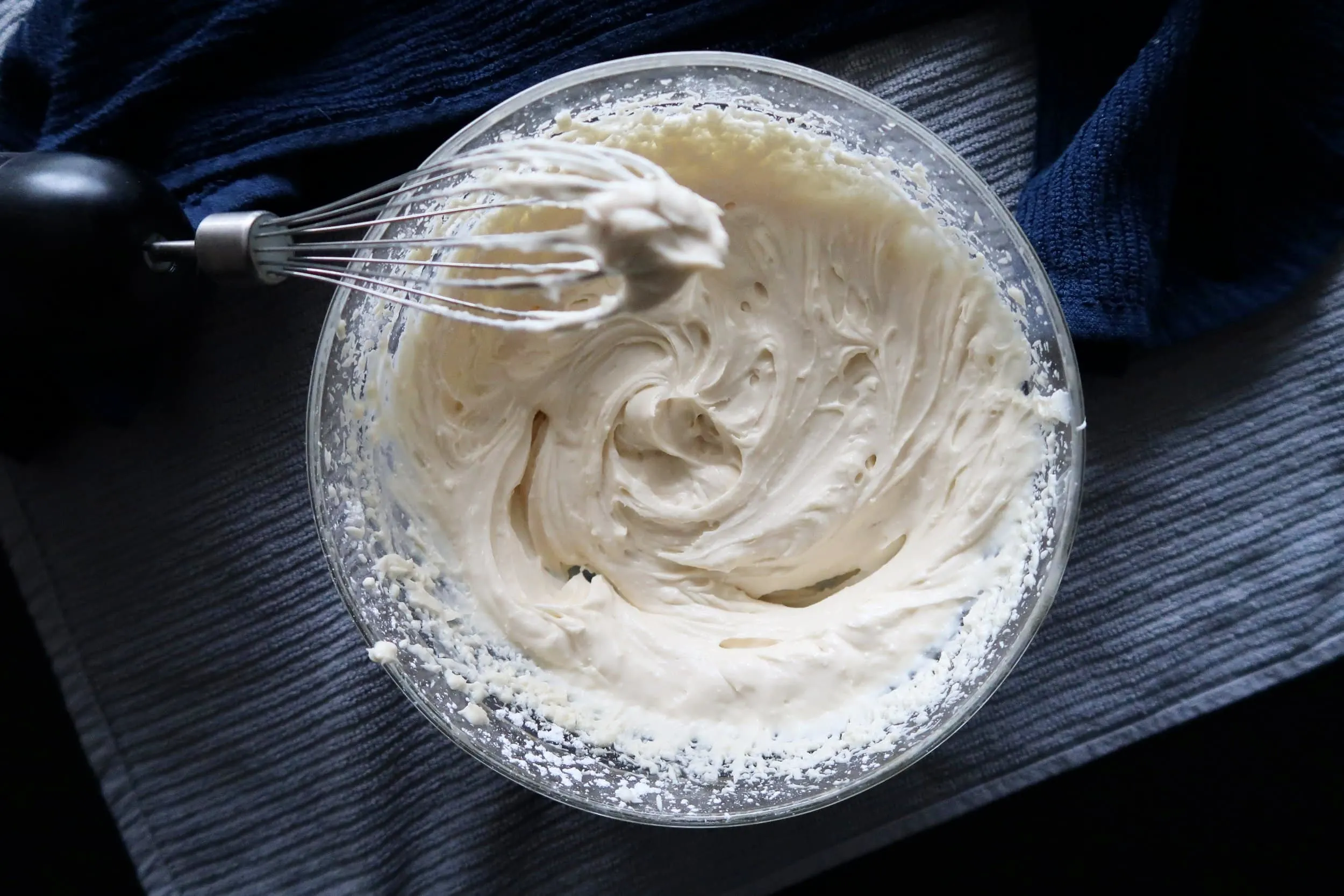 Whisk together cream cheese frosting ingredients until smooth.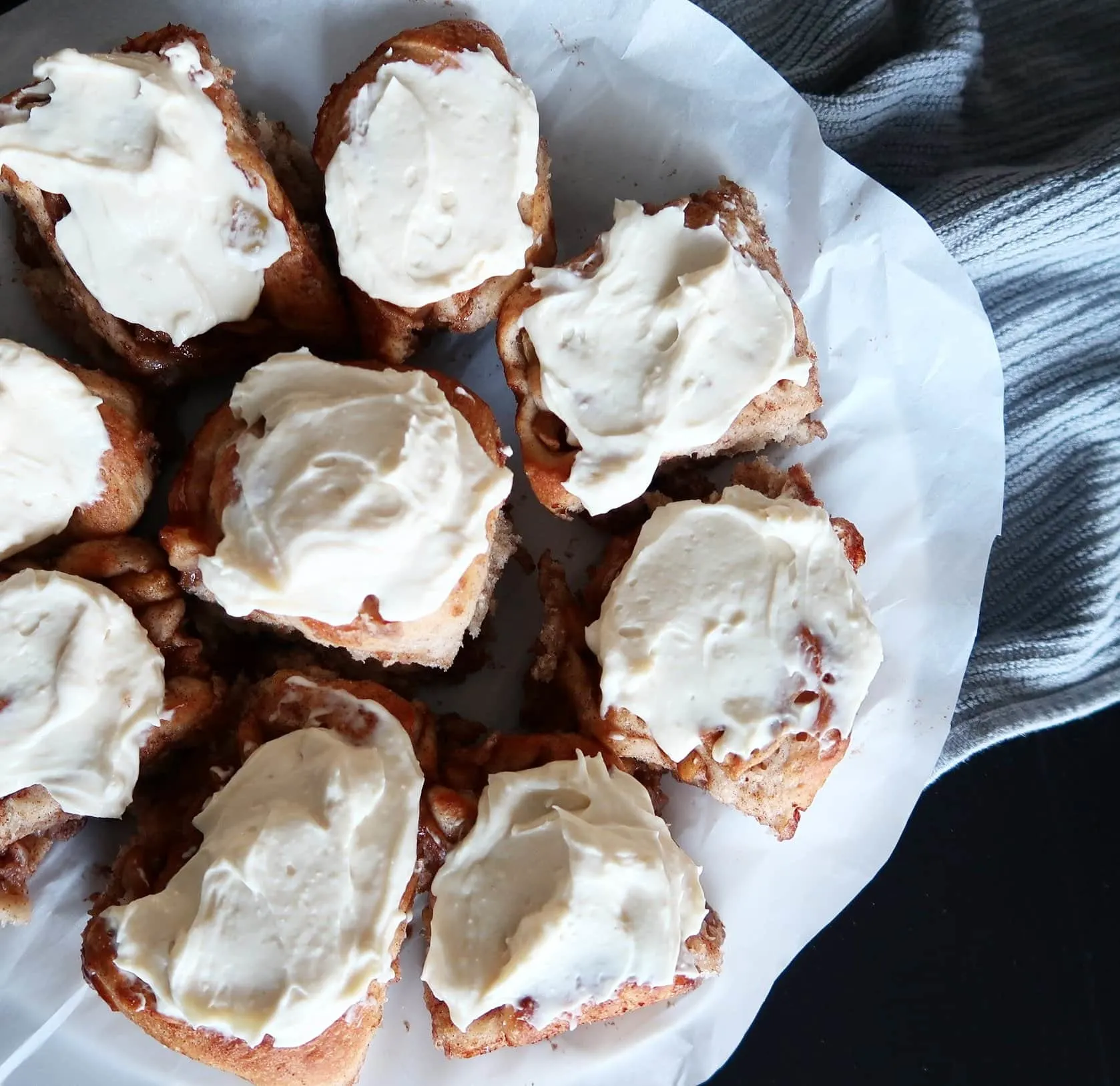 Top each apple cinnamon roll with maple cream cheese filling. Serve warm. Enjoy!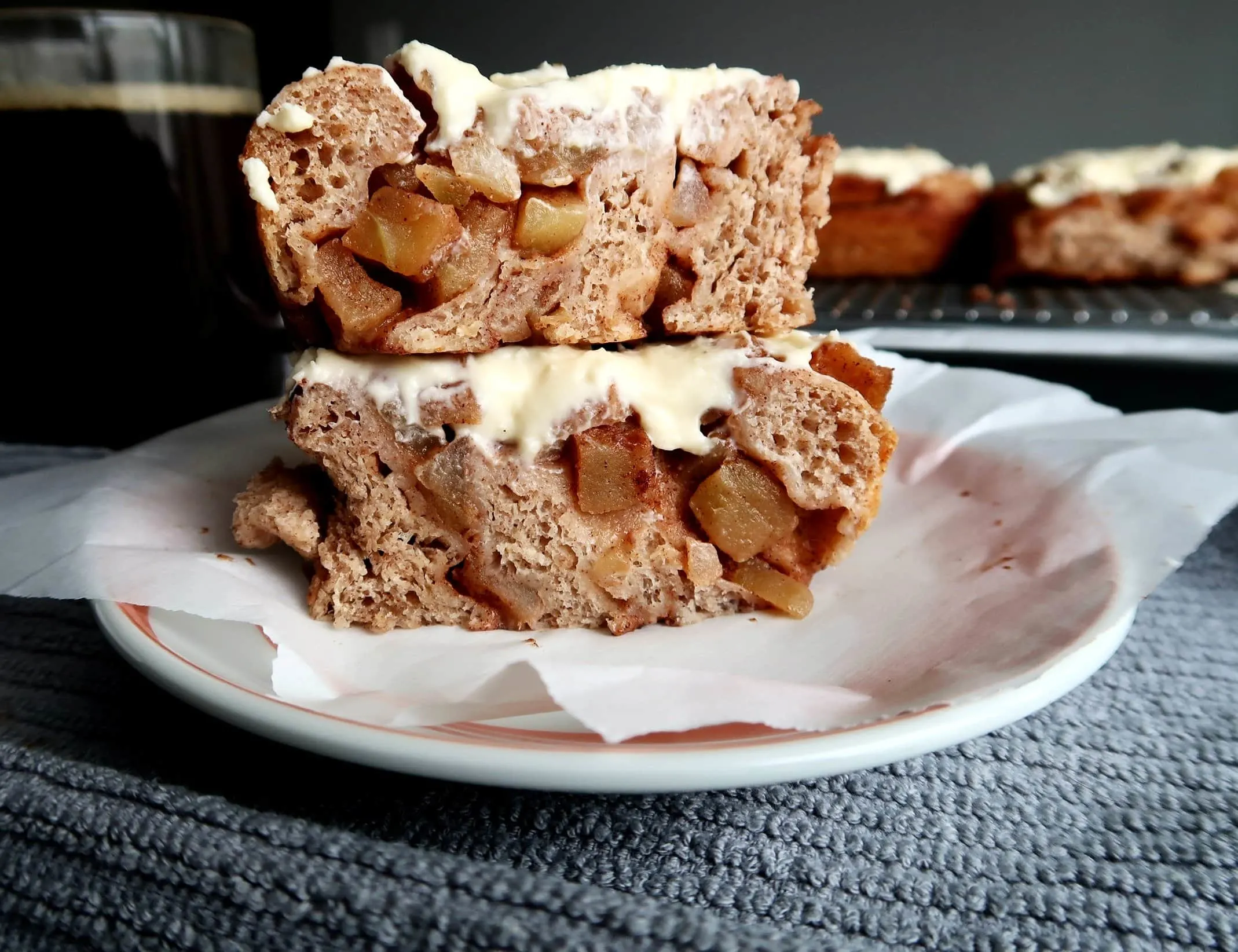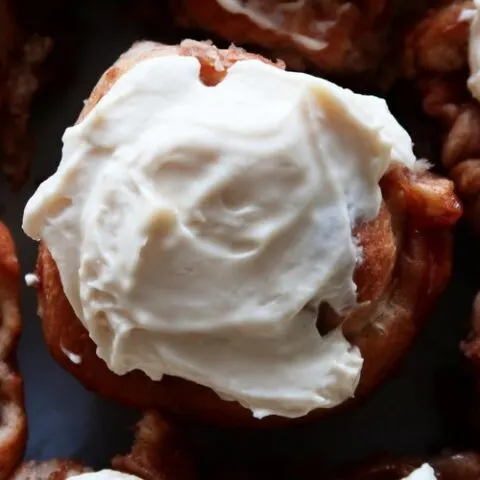 Apple Cinnamon Rolls with Maple Cream Cheese Frosting
These soft, sweet cinnamon rolls are easy-to-make and loaded with cinnamon spiced Granny Smith apples then topped with real maple cream cheese frosting.
Ingredients
For the apple filling:
4 granny smith apples, cored, peeled, and diced
6 tbsp (3 ounces) unsalted butter
1 tbsp cinnamon
⅓ cup sugar
1 tsp vanilla extract
½ cup apple cider vinegar
1 tbsp of all-purpose flour
¼ cup water
For the dough:
1 cup regular milk
⅓ cup unsalted butter, plus more to grease baking pan
2 ½ tsp active dry yeast
¼ cup white sugar
1 tbsp cinnamon
1 tsp salt
3 cups all-purpose flour, plus more for kneading
1 tbsp vanilla extract
1 large egg
1 tsp canola oil
For the frosting:
1 cup cream cheese, room temperature
⅓ cup pure maple syrup
¼ cup confectioner's sugar
¼ cup unsalted butter, room temperature
Instructions
Make the apple filling. In the medium stockpot under medium-high heat, mix all the filling ingredients together except flour and water; stir occasionally, until the apples begin to soften and the sauce begin to thicken, about 3-5 minutes. Reduce heat to a simmer. Stir in 1 tablespoon of flour with a ¼ cup of water and add to the sauce then allow the sauce to thicken further, 3-5 minutes. Remove from heat and let cool slightly. Using a sieve, separate the apple from the sauce.
Make the dough. In a small saucepan, heat the milk until bubbles begin to form and then remove from heat. Melt ⅓ cup of butter into milk and set aside to allow mixture to cool until lukewarm.
In a large bowl, using a wooden spoon or spatula, mix together yeast, sugar, cinnamon, salt and 1 ½ cup of flour until the ingredients are combined. Then add vanilla extract, egg, and milk mixture and incorporate it well. Then add the remaining 1½ cup flour, a little at a time, stirring well, until a dough ball begins to form.
Turn it out in a lightly floured surface and knead until dough is smooth, about 5 minutes.
Place it into a medium bowl brushed with canola oil and cover with a clean damp cloth. Place it in a warm area to proof for 30 minutes.
After the dough is proofed, remove from the bowl and place it on a flat, floured surface. Using a floured rolling pin, roll out the dough into a 9 x 12 inch rectangle. Place completely cooled down apples on top (not the sauce), reserving ½ cup of apples, spreading it evenly across the dough.
Starting from the longer, 12 inch edge, tightly roll the dough, forming a rolled up tube. Pinch the seam to seal the roll. Take a serrated knife or unwaxed dental floss and cut through the dough to make even 12 rolls.
Place eight rolls slightly apart on a lightly buttered 9 x 13 baking pan. Place the other four rolls in a lightly buttered 9 x 9 baking pan slightly apart. Note: If you have a large enough baking pan, you do not need to separate the rolls.
Place the reserved apples on top of each roll and pour the apple sauce over top the rolls. Cover with a damp cloth over each baking pan and let the rolls rise. The rolls should almost double in size, about 30 minutes.
Preheat oven to 375 degrees F. Bake for 20-25 minutes, until rolls are cooked through and golden-brown on top. Let it cool while you prepare the frosting.
Make the frosting. Place all the frosting ingredients in a medium bowl and whisk until well combined. Top each bun with cream cheese frosting. Serve warm.
Notes
These rolls are best eaten warm. Eat right away or store covered with plastic wrap in room temperature for up to 3 days.
Recommended Products
As a participant in the Amazon Services LLC Associates Program, I only link to products that I use and/or highly recommend. As an Amazon Associate, I earn from qualifying purchases if you purchase through these links at no additional cost to you.
Nutrition Information:
Yield:

12
Serving Size:

1
Amount Per Serving:
Calories:

436
Total Fat:

23g
Saturated Fat:

14g
Trans Fat:

0g
Unsaturated Fat:

8g
Cholesterol:

76mg
Sodium:

322mg
Carbohydrates:

51g
Fiber:

3g
Sugar:

22g
Protein:

6g