Autumn is almost here! My favourite season!
In Alberta, we get chillier weather, beautiful, crunchy rust, bronze, and golden coloured leaves that fall everywhere, cozy knitted sweaters, chic patterned thick scarves, warm soups, and of course, pumpkin spice (and everything nice).Very stereotypical, but still, some of my favourite Autumnal things!
What are things that remind you of Fall?
A salad may not scream fall-time, but it has slices of fresh seasonal Bartlett pear and sweet Gala apple that taste so wonderful this time of year. The green, red, and brown colours in this salad remind me of the season.
This colourful salad is filled with tasty sweet and salty flavours that go so well together. Crispy, sweet Gala apple, soft, juicy Bartlett pear, creamy, salty feta cheese, and crunchy pecans. I have a tough time describing the flavour of pecans, but people have described it as rich, buttery, nutty and almost maple in flavour.
Everything is mixed with nutrient-rich and mild tasting baby spinach, which makes up the bulk of the salad, but the spinach takes a backseat to the other flavourful ingredients in this salad.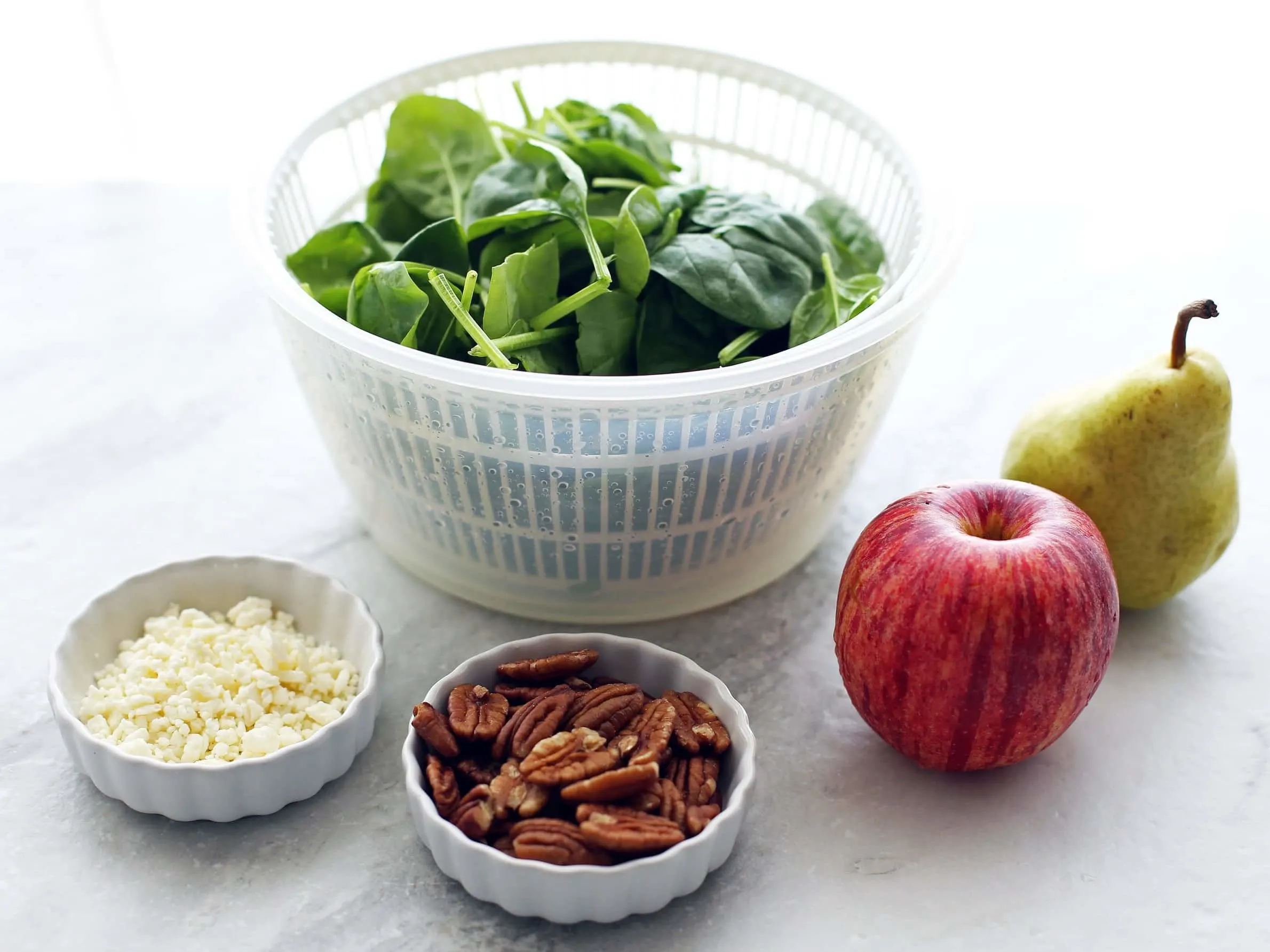 The salad ingredients! Amounts listed in the "Ingredients" section below.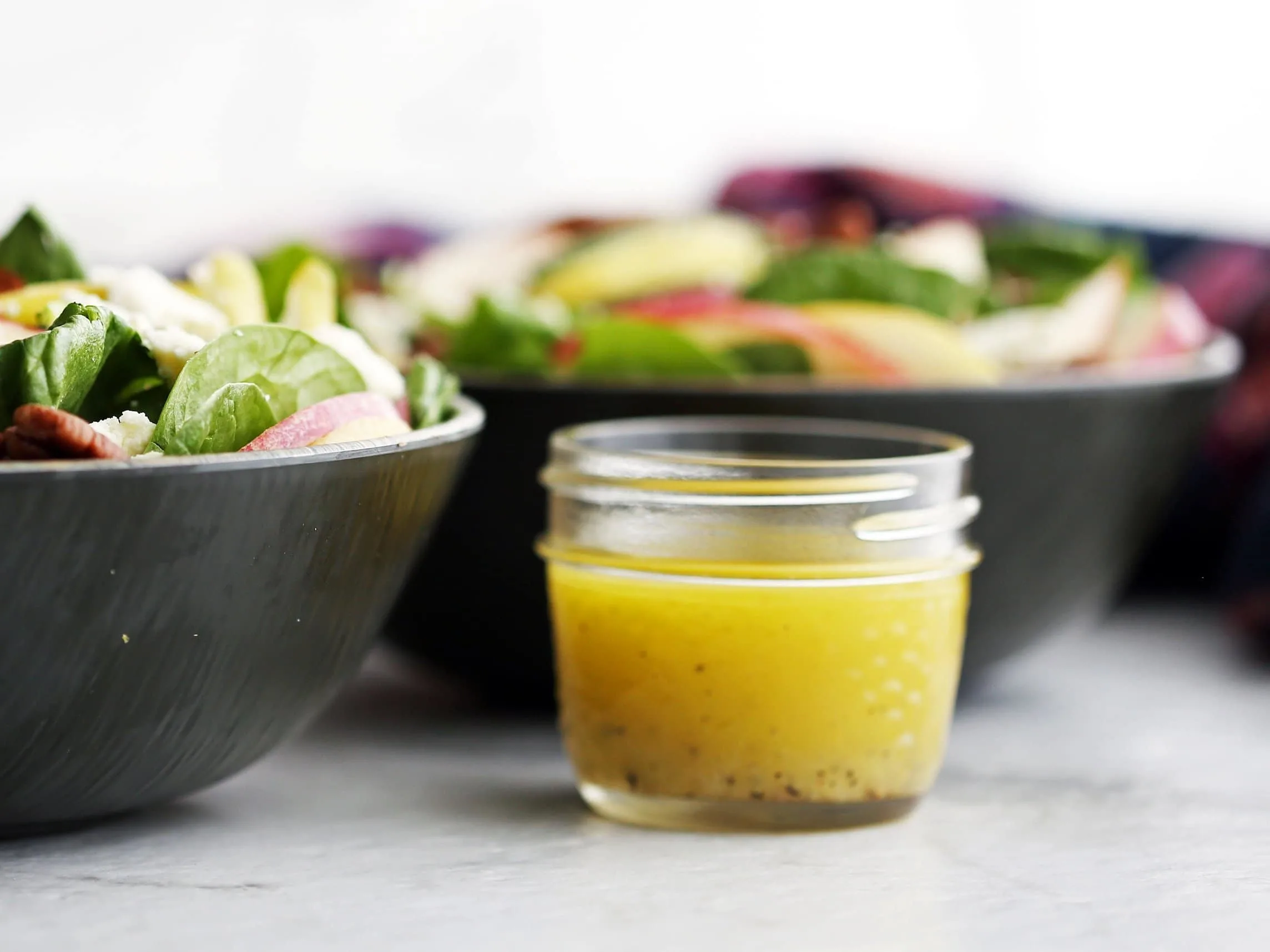 Whisk together all the dressing ingredients or place in a small mason jar with a tightly-secured lid and shake until well-combined.
Toss the apple and pear with lemon juice (to prevent browning)in a large bowl and then add in the rest of the salad ingredients. Pour vinaigrette on top and toss to coat. Eat it as light meal or serve it as a side dish.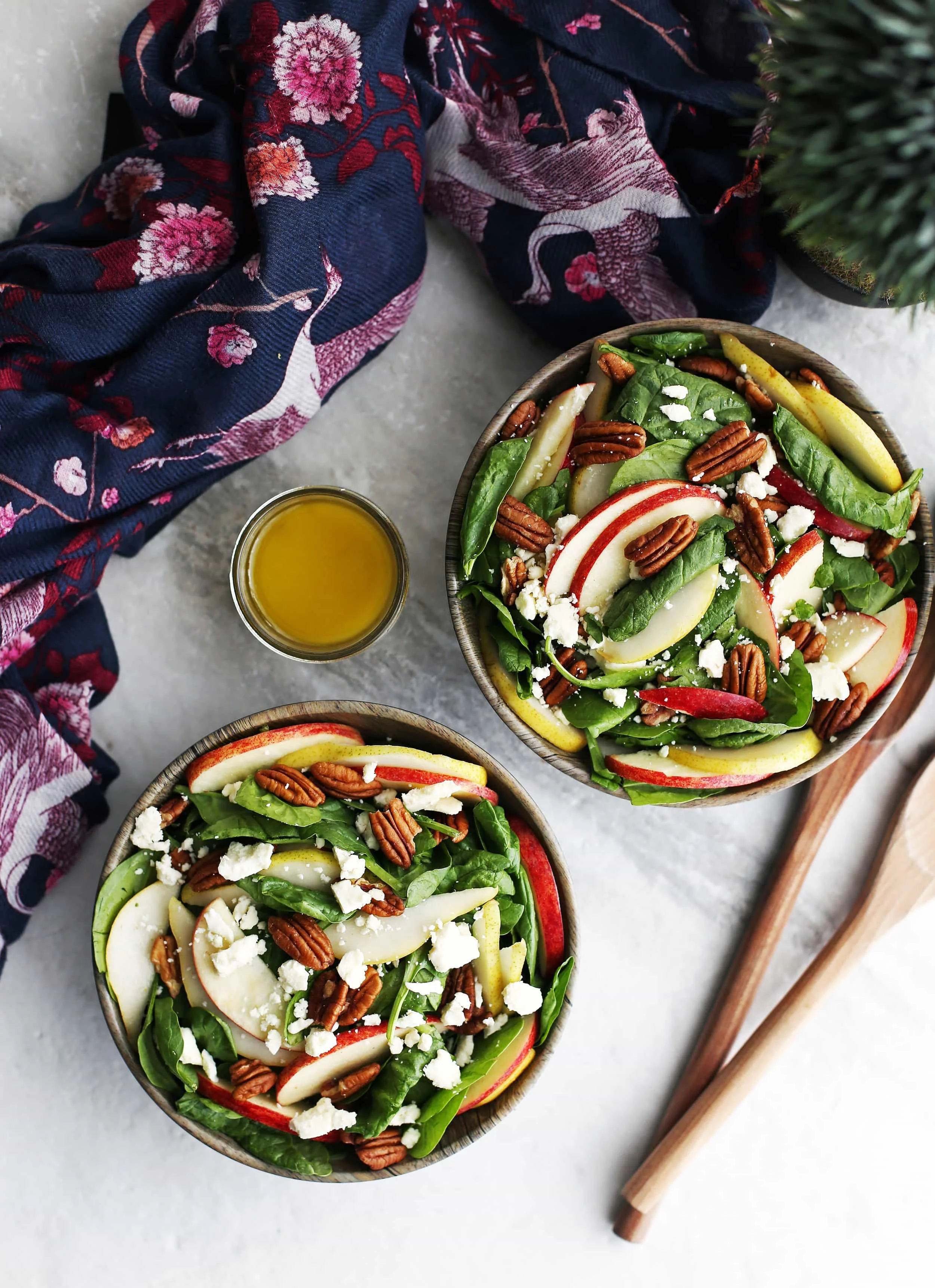 Of course, since this is a salad, it's easily customizable. You can always add more or less ingredients to this salad.
Like the saltiness and flavour of feta cheese a lot? Mix in more. Want to add a bit more protein? Add some sliced baked chicken on top. Don't have pecans on hand, but walnuts in the cabinet; substitute the nuts used. Just don't go too crazy because it will change the overall flavour and texture of the salad. That being said, I trust your salad-making abilities so I know that what you make will be amazing! 🙂
Then there's the easy vinaigrette. The lemony tart and lightly honey-sweetened olive oil-based dressing has a wonderful zing from the fresh ginger that is whisked into this simple vinaigrette. When tossed in this fresh salad, the light dressing doesn't overpower the other ingredients, but rather enhances the flavours.
I hope you enjoy this recipe! If you make it, I'd love to hear what you think.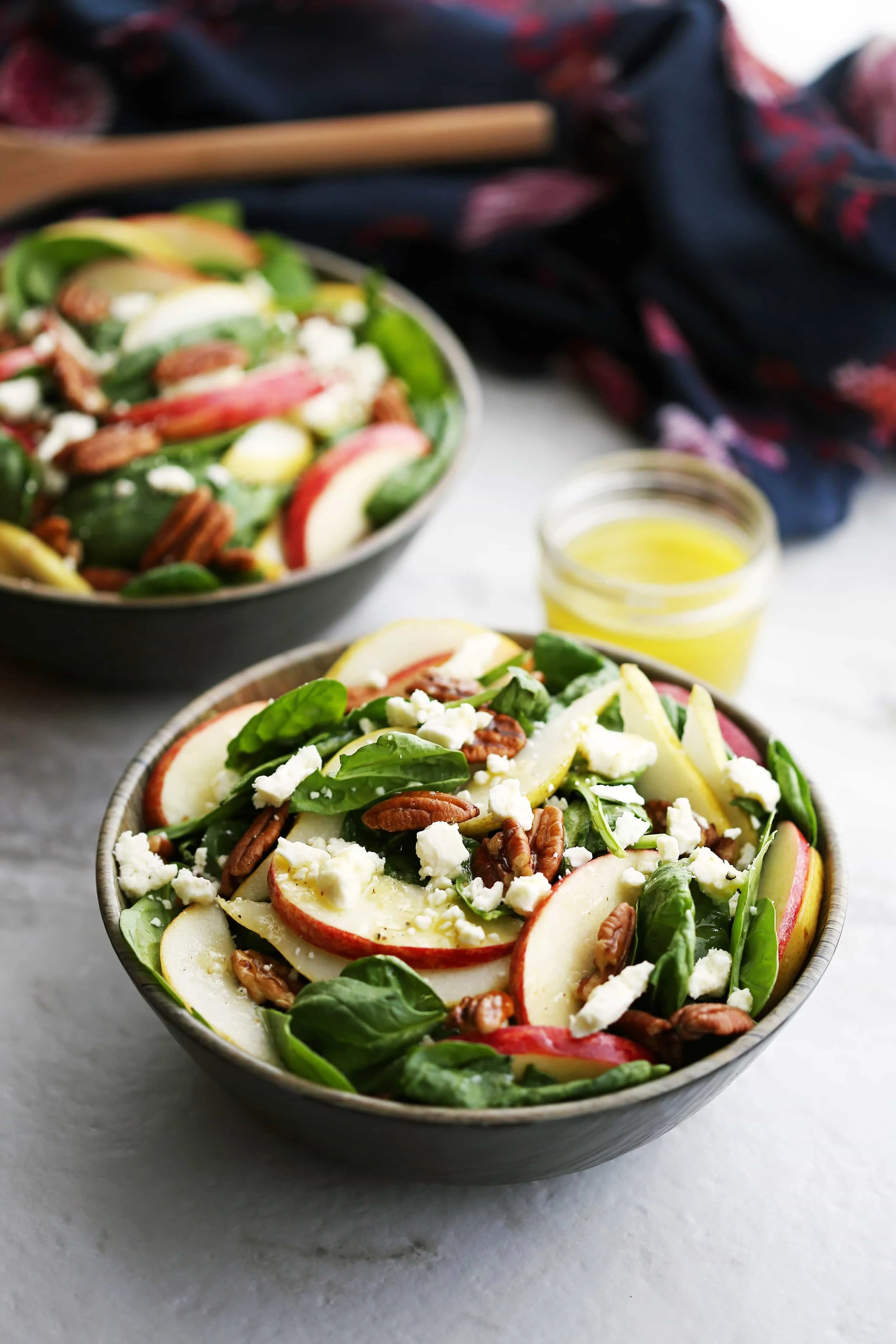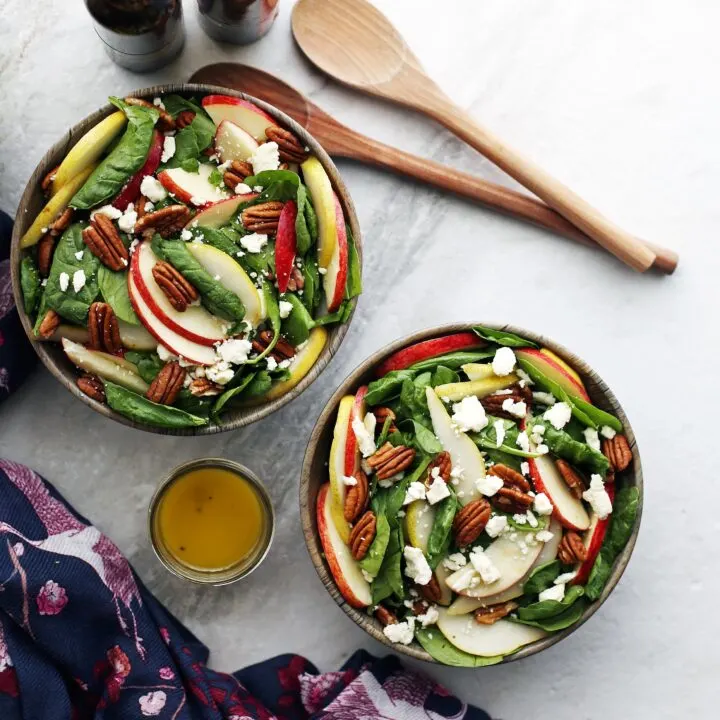 Apple and Pear Spinach Salad with Honey Lemon Ginger Vinaigrette
Yield:
2 as a meal, 4 as a side dish
A healthy and delicious fall salad featuring crisp sweet apple and pear, creamy and salty feta cheese, and crunchy pecans! A homemade dressing perfectly compliments this quick-to-make salad.
Ingredients
For the salad:
6 packed cups baby spinach
1 sweet apple, cored and sliced
1 ripe pear, cored and sliced
¾ cup feta cheese, crumbled
½ cup pecans
1 tbsp lemon juice
For the vinaigrette:
¼ cup extra virgin olive oil
2 tbsp lemon juice
1 tbsp pure honey
1 tsp fresh ginger, peeled and grated
Salt and pepper, to taste
Instructions
Place the fruit in a large bowl and gently toss it with a tablespoon of lemon juice to prevent browning. Then assemble the salad by combining the rest of the salad ingredients together.
In a small bowl, whisk together the vinaigrette ingredients until well combined. Taste and adjust the dressing to your preference.
Drizzle the desired amount of vinaigrette on top of the salad and toss to combine. Serve immediately.
Notes
I used a Gala apple and Bartlett (Williams) pear in this recipe.
If you are planning to have leftovers, keep the salad separate from the vinaigrette and cover both in the refrigerator for up to 2 days. Re-whisk the vinaigrette and drizzle just before serving.
Store remaining dressing in an airtight container in the refrigerator for up to one week.
Nutritional calories represent one serving with four servings total.
Recommended Products
As a participant in the Amazon Services LLC Associates Program, I only link to products that I use and/or highly recommend. As an Amazon Associate, I earn from qualifying purchases if you purchase through these links at no additional cost to you.
Nutrition Information:
Yield:

4
Serving Size:

1
Amount Per Serving:
Calories:

353
Total Fat:

29g
Saturated Fat:

7g
Trans Fat:

0g
Unsaturated Fat:

21g
Cholesterol:

25mg
Sodium:

342mg
Carbohydrates:

21g
Fiber:

4g
Sugar:

15g
Protein:

6g