When I think of potstickers, I think of an appetizer that quickly becomes a meal after you've eaten so many of them. I also think of versatility; there is almost no end to the combination of flavours you can choose for your filling.
Pork is of course an old time favourite, but when I'm in the mood for a vegetarian option, I like to fill my potstickers with earthy sweet potato and smooth cream cheese. I can't get over the crispy (and slightly chewy)outside and the creamy flavourful filling on the inside.
The sweetness of the sweet potato matches really well with the sweet (with a little bite) red onion, mildly salty plain cream cheese and fresh chives. The chives can be described as tasting like a mild onion with a hint of garlic.
So delicious. It's hard to eat just one.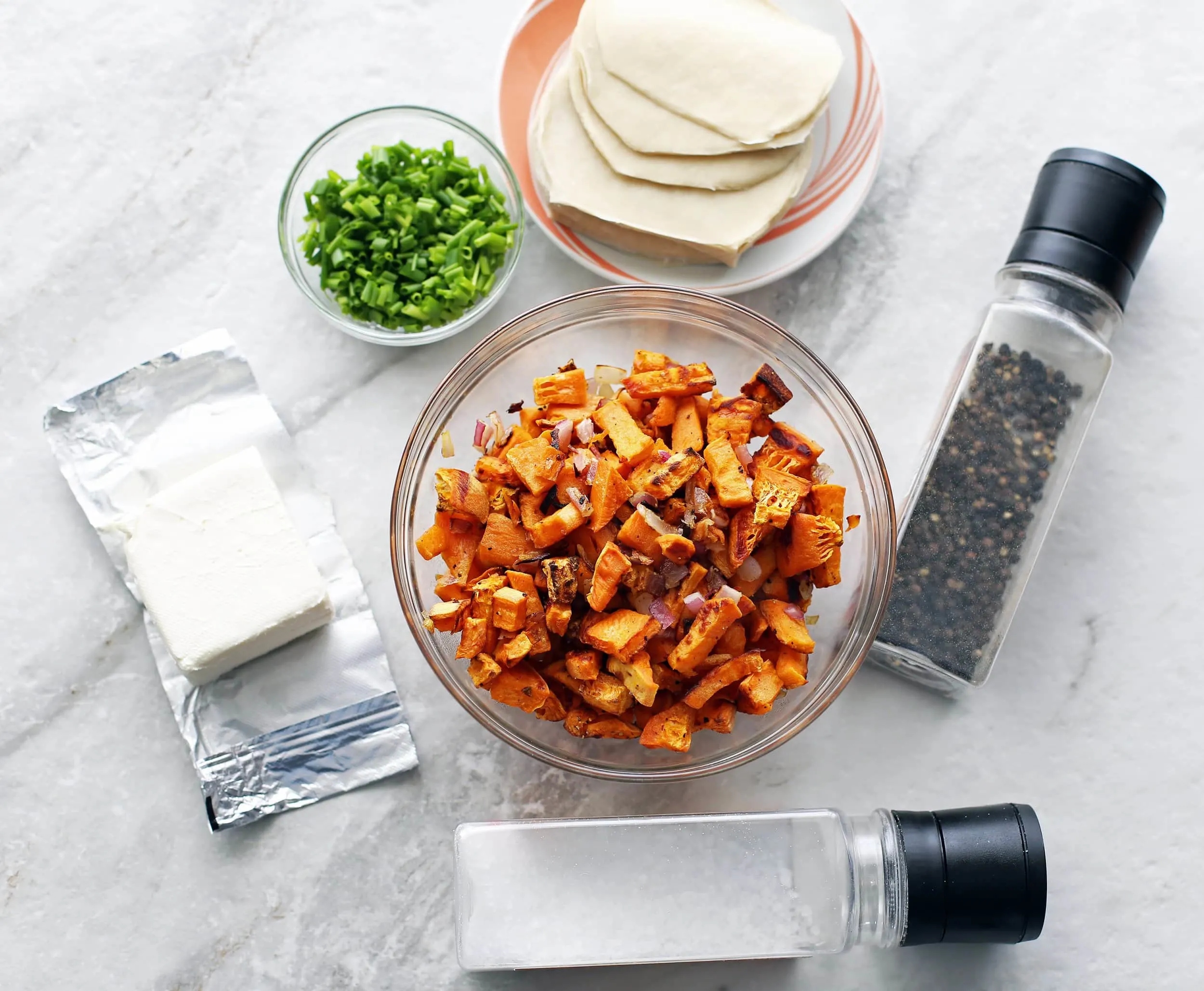 All the ingredients! Amounts listed in the "Ingredients" list below.
The sweet potato is roasted with red onions (added halfway through)at 425 degrees F for 25 minutes. Then mashed up and mixed with the other ingredients.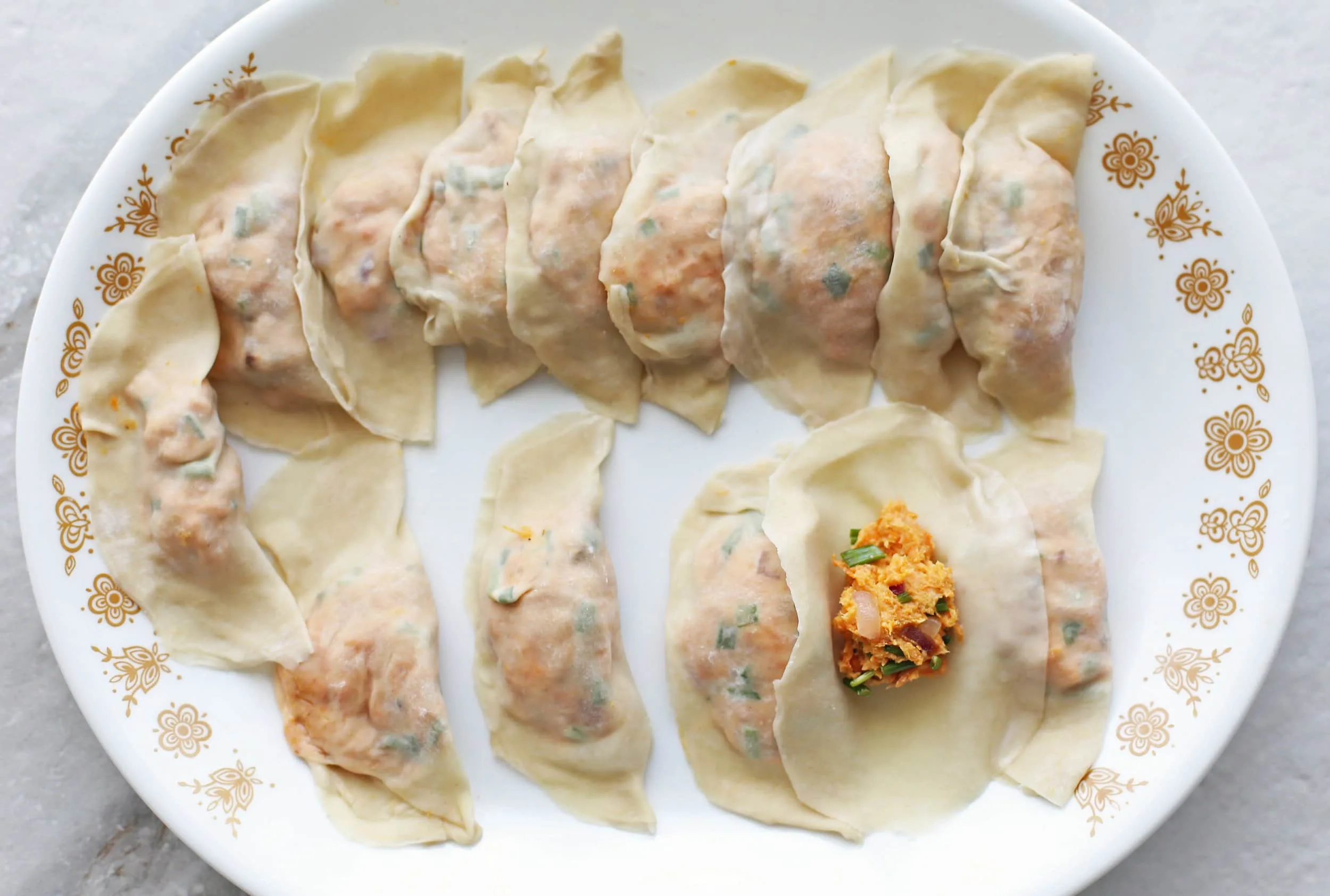 A small spoonful of filling is placed in each dumpling wrapper and sealed in half with water. The dumplings are then pan-fried, steamed, and pan-fried again until done.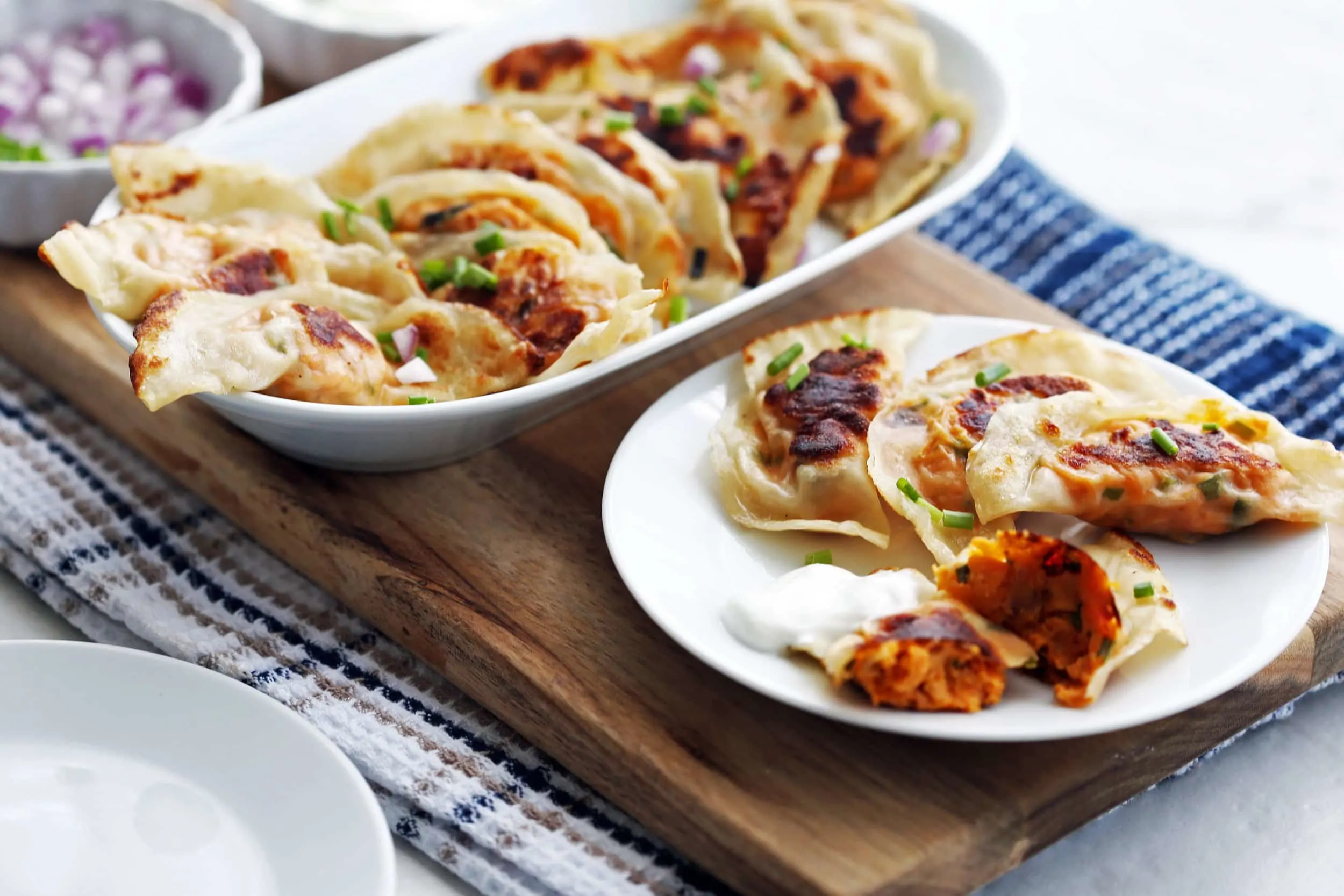 The assembly is easy-peasy. Although it takes a little bit of time if you are making them by yourself, it's definitely worth it. I got a little help from my husband so it went pretty quickly.
For this recipe, I decided to simply fold the dumpling wrapper in half and seal it with a little water. I wanted to make the folding process easy since Scott was helping me and he's the first to admit that fancy folding is not his strong suit; he's definitely someone who would benefit from a dumpling press. This process also goes a lot faster than pleating the edges to form a more classic crescent shape potsticker shape.
There are many ways to fry and steam the potstickers/dumplings to get the crispy exterior while making sure that wrappers are cooked through.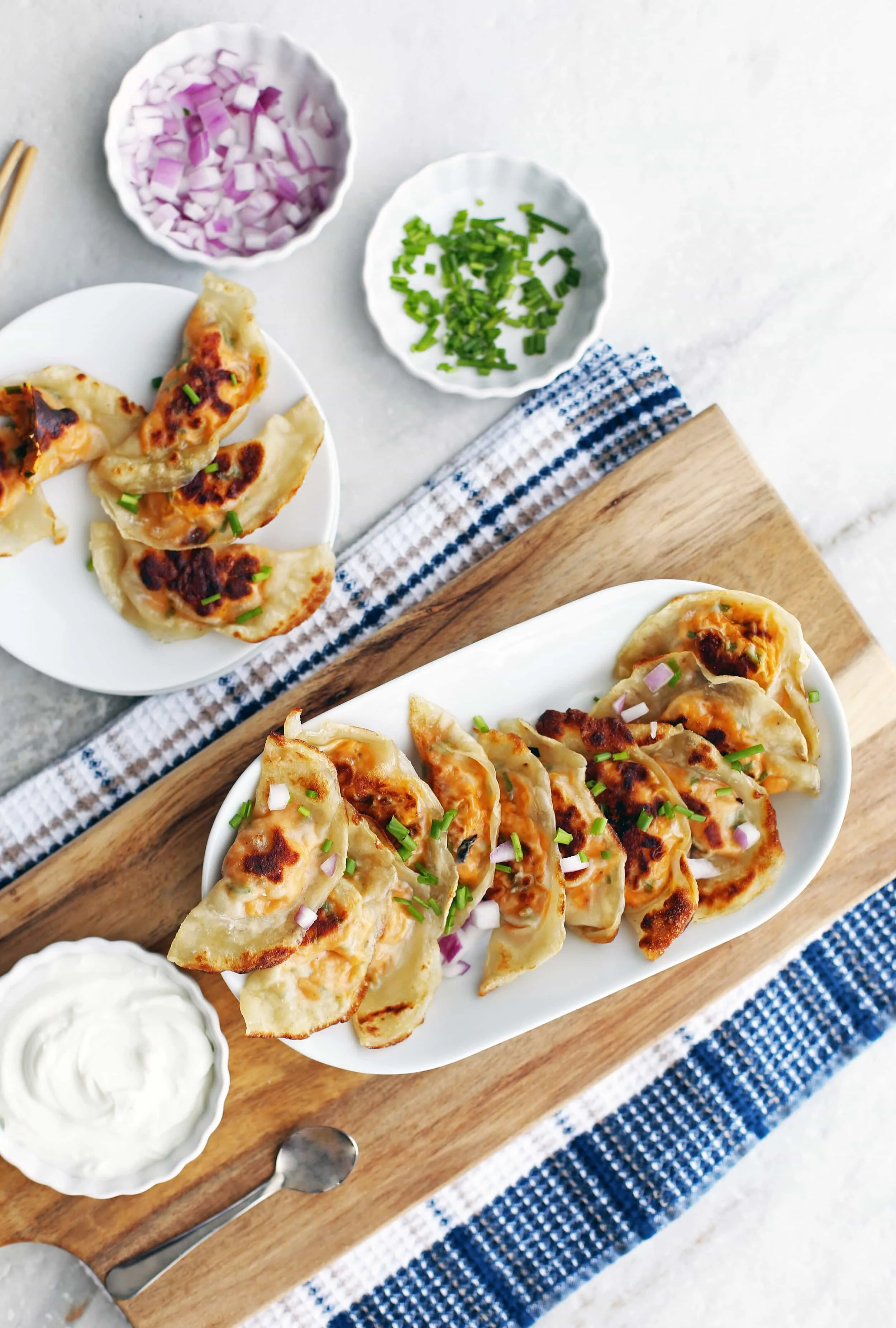 I like to use a large frying pan and follow the fry, steam, fry method, which involves pan-frying the potstickers in a small amount of oil, then adding water to the pan in order to steam the dumplings, and waiting until the water evaporated to finish off a quick fry giving the outsides a crispy texture.
An alternative approach uses a frying pan and steamer. You pan-fry the potstickers for a few minutes to make them crispy, then finish them off in the steam. One advantage of this method is that it can result in less splattering since the oil and water are not being mixed in the same pan.
There is some double tasking going on, but I found that by the time I am finished frying the dumplings, the ones in the steamer are ready to be removed and ready to eat.
Check out my "Notes" in the recipe down below for a more detailed description on the alternative method to cook the potstickers and go for the method that you like the most.
Top it off with fresh chives and more diced red onions and serve it with sour cream for dipping! Enjoy the recipe!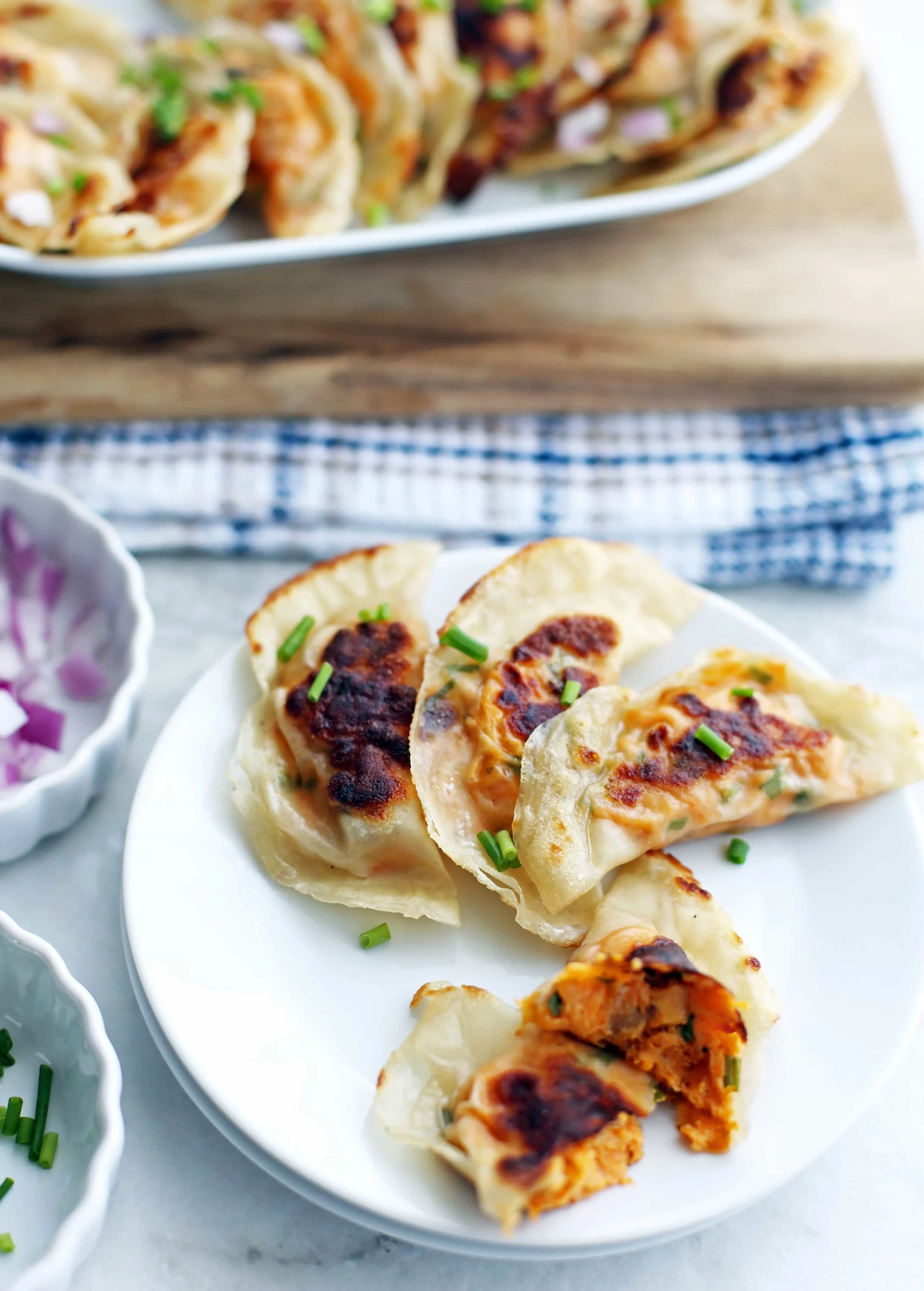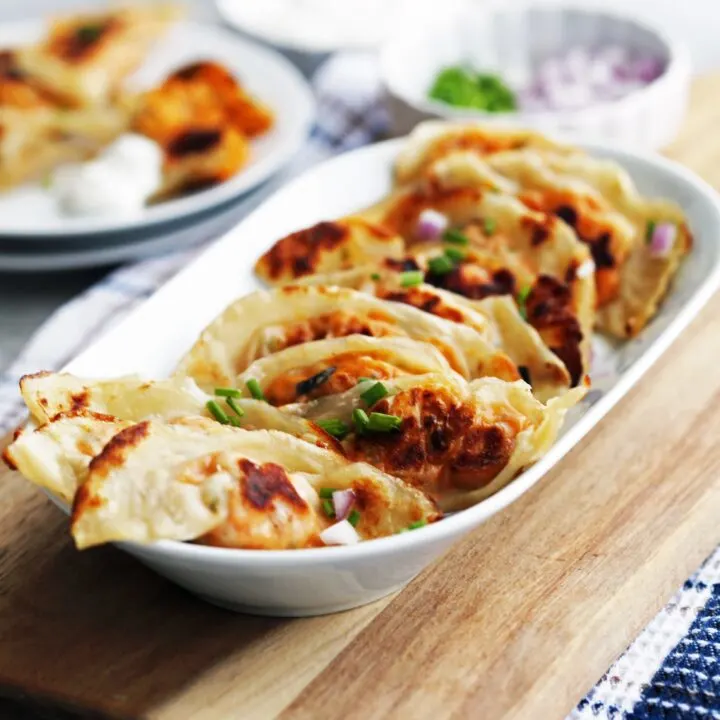 Roasted Sweet Potato Cream Cheese Potstickers (Dumplings)
Delicious, crispy pan-fried potstickers filled with roasted sweet potato, red onions, cream cheese, and chives. Perfect as an appetizer, snack, or light meal.
Ingredients
1 large sweet potato*, peeled and chopped into 1/2 inch chunks
½ cup red onion, diced
½ cup plain cream cheese, room temperature
¼ cup chives, sliced, plus more for garnish
1 package of dumpling wrappers
salt and pepper, to taste
small bowl of water
vegetable oil, for roasting and frying
Optional: sour cream for dipping
Instructions
Preheat oven to 425 degrees F. On a baking sheet, toss the sweet potato with a tablespoon of oil, salt, and pepper and roast for 15 minutes before adding the red onions. Flip the sweet potatoes and roast for an additional 10 minutes, until the sweet potato is completely soft.
Place the roasted vegetables into a large bowl and, using a potato masher or fork, mash the sweet potato until completely mashed. Add the cream cheese and chives and mix together well. Taste for additional salt and pepper.
Take a dumpling wrapper and lay it flat on a clean surface. Place a small spoonful of the sweet potato mixture in the centre of the wrapper. With your finger, dab water around the edge of one half of the wrapper, and then fold over to seal the wrapper. Repeat the process until all the sweet potato filling is gone. Makes about 36 potstickers.
On medium-high heat, add a teaspoon of vegetable oil to a non-stick frying pan. Have a plate ready nearby to place your cooked dumplings on.
Place dumplings in the frying pan so that they are not touching. Pan fry until golden brown on each side, around 1-2 minutes per side. Add a shallow layer (2 - 4 tablespoons) of water to the frying pan, cover the pan with a lid, and continue cooking the potstickers until all the water has evaporated. Once the water has evaporated, give the potstickers another 30 seconds in the frying pan to develop a crispy exterior. Transfer the potstickers to a plate and repeat the process until all potstickers are cooked.
Garnish with additional chopped chives and red onions. Serve warm with sour cream for dipping, if desired.
Notes
*I bought a sweet potato weighing around 740 g (1 lb 10 oz) and it produced a little over 2 cups of cooked sweet potato. It really doesn't matter the size of the sweet potato you get, you can always taste and adjust depending on your flavour preferences.
OTHER METHOD: You can fry your potstickers and finish them in a steamer to avoid some of the splatter involved in the fry-steam-fry method. Begin by adding one teaspoon of oil to a frying pan over medium-high heat. Add the potstickers and pan fry for 1-2 minutes per side. Transfer the potstickers to a steamer with a lid and steam for and an additional 1-2 minutes.
If you are not cooking the dumplings right away, you can freeze the dumplings on a baking sheet before transferring to a freezer-proof container or freezer bags (squeeze out the air). Frozen dumplings can be cooked right away. I like to steam first then fry if cooking from frozen. The process will take longer as steam time will be longer.
Calories per serving represent one potsticker.
Recommended Products
As a participant in the Amazon Services LLC Associates Program, I only link to products that I use and/or highly recommend. As an Amazon Associate, I earn from qualifying purchases if you purchase through these links at no additional cost to you.
Nutrition Information:
Yield:

36
Serving Size:

1
Amount Per Serving:
Calories:

81
Total Fat:

4.3g
Carbohydrates:

8.7g
Protein:

2.6g