It's Monday and that calls for a donut! I'm continuing with my lemon and seasonal berries obsession with delectable lemon raspberry donuts!
This recipe is another one of those easy ones where you just need (beside the donuts' ingredients) a couple of bowls, a whisk, a donut pan (or two), and a heated oven to make some delicious, fresh homemade baked donuts.
No frying oil or electric mixer needed so cleanup is easier. Plus a lot of the ingredients are baking staples that I bet you already have in your pantry, especially if you enjoy baking.
Since the donuts are baked, they are a little healthier than their fried counterparts so that means you can eat three at a time instead of one you can eat one donut fresh from the oven guilt-free and then pack the rest and bring it into work to share with your peers. Or something like that.
This recipe is a little unconventional from a regular baked donut recipe. The donut batter will not be as thick as a regular donut batter and the bake time is a little bit longer (but not that much) due to the thin consistency of the batter. On the other hand, this recipe is yeast-free (no rising time) and no-knead so that saves time making donuts!
The end result is wonderful: the donuts will rise nicely and bake to a lovely golden-brown colour while staying soft and flavourful for days.
These donuts are fluffy, almost muffin-like in texture, but in a cute donut form. The flavours of the fresh lemons and raspberries bring a natural sweetness and tartness to the donut, which enhances the overall taste of this yummy baked good. The lemony-sweet glaze is the perfect finishing touch to the donut.
Also, let me know if you prefer to spell it "donut" or "doughnut." I do-nut know which one is the most popular spelling. I hope you enjoy the recipe!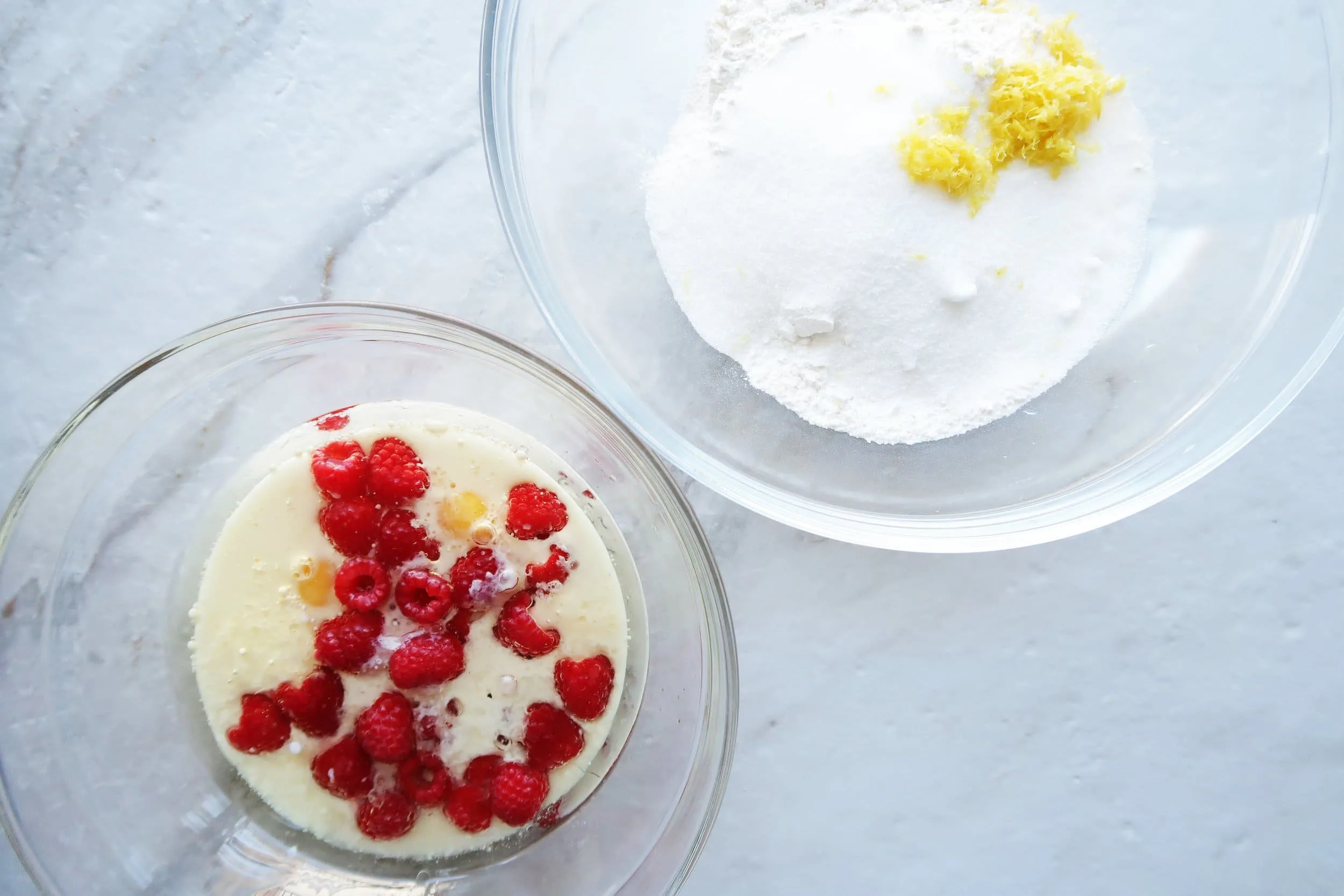 The dry and wet ingredients each in separate bowls! They just need to be whisked and then combined!The ingredients and amounts listed in the "Ingredients" list below.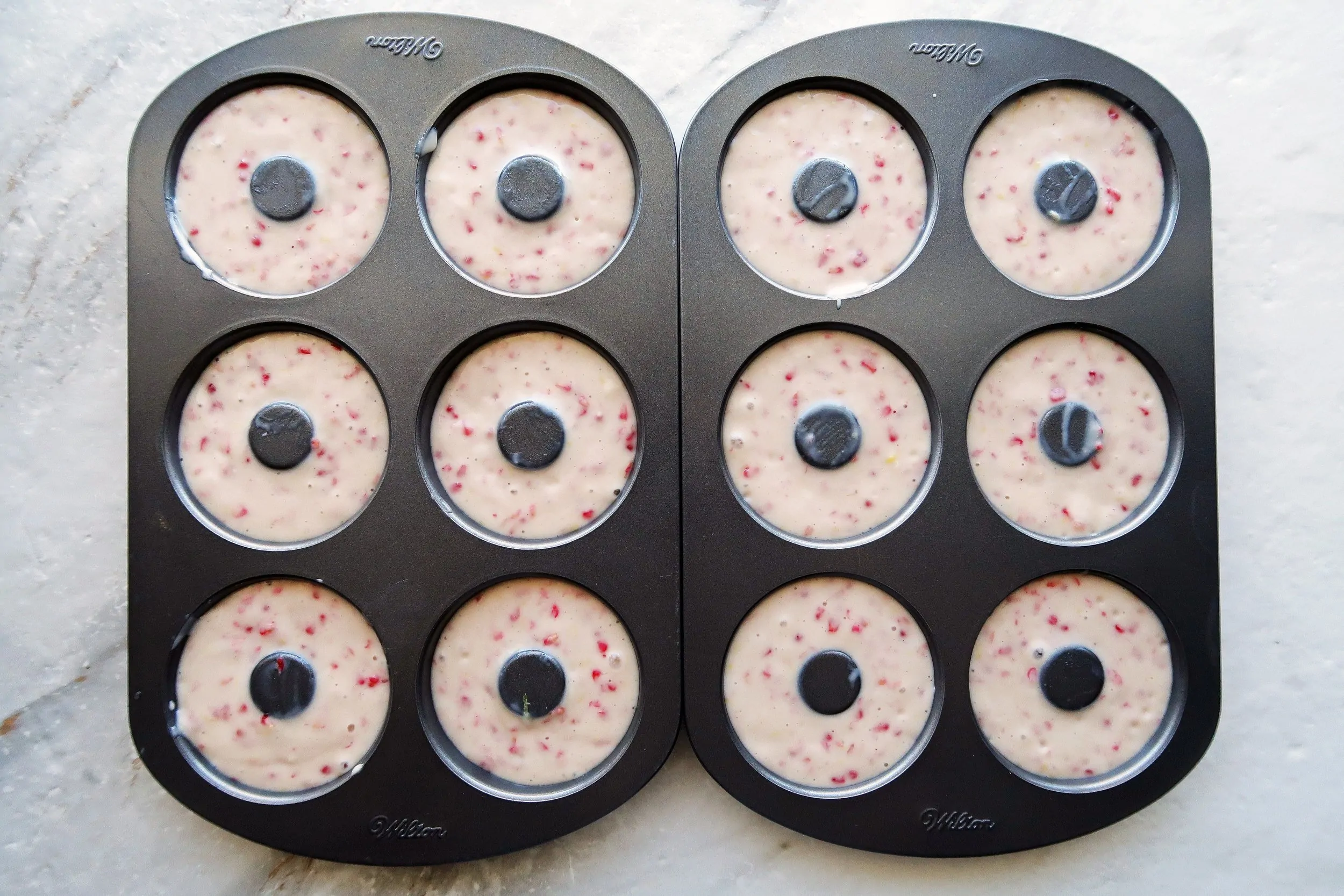 Once the wet ingredients are combined with the dry ingredients, fill each greased donut cavity two-thirds full.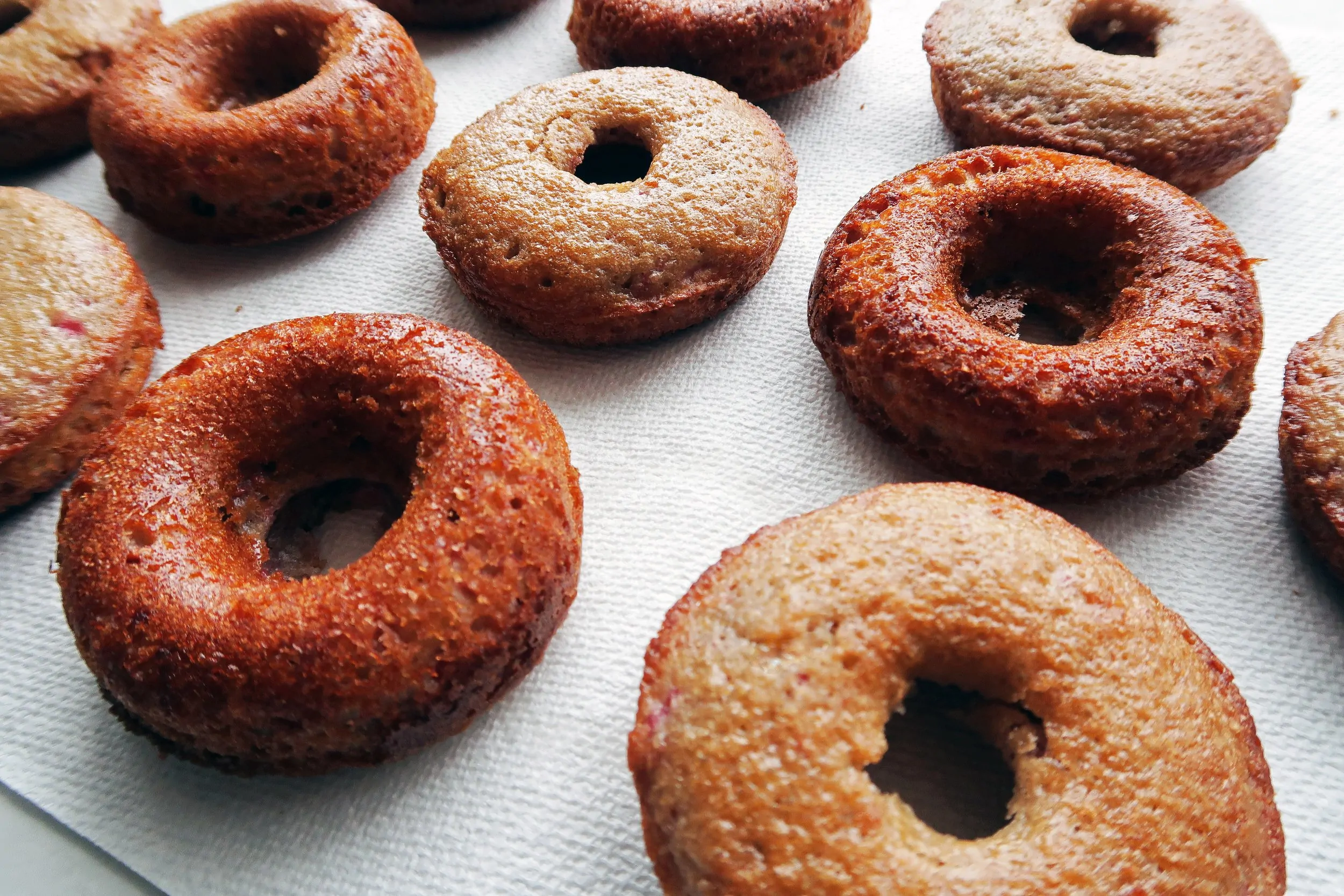 Freshly baked donuts! The donut top will be a lighter golden-brown than the bottom of the donut.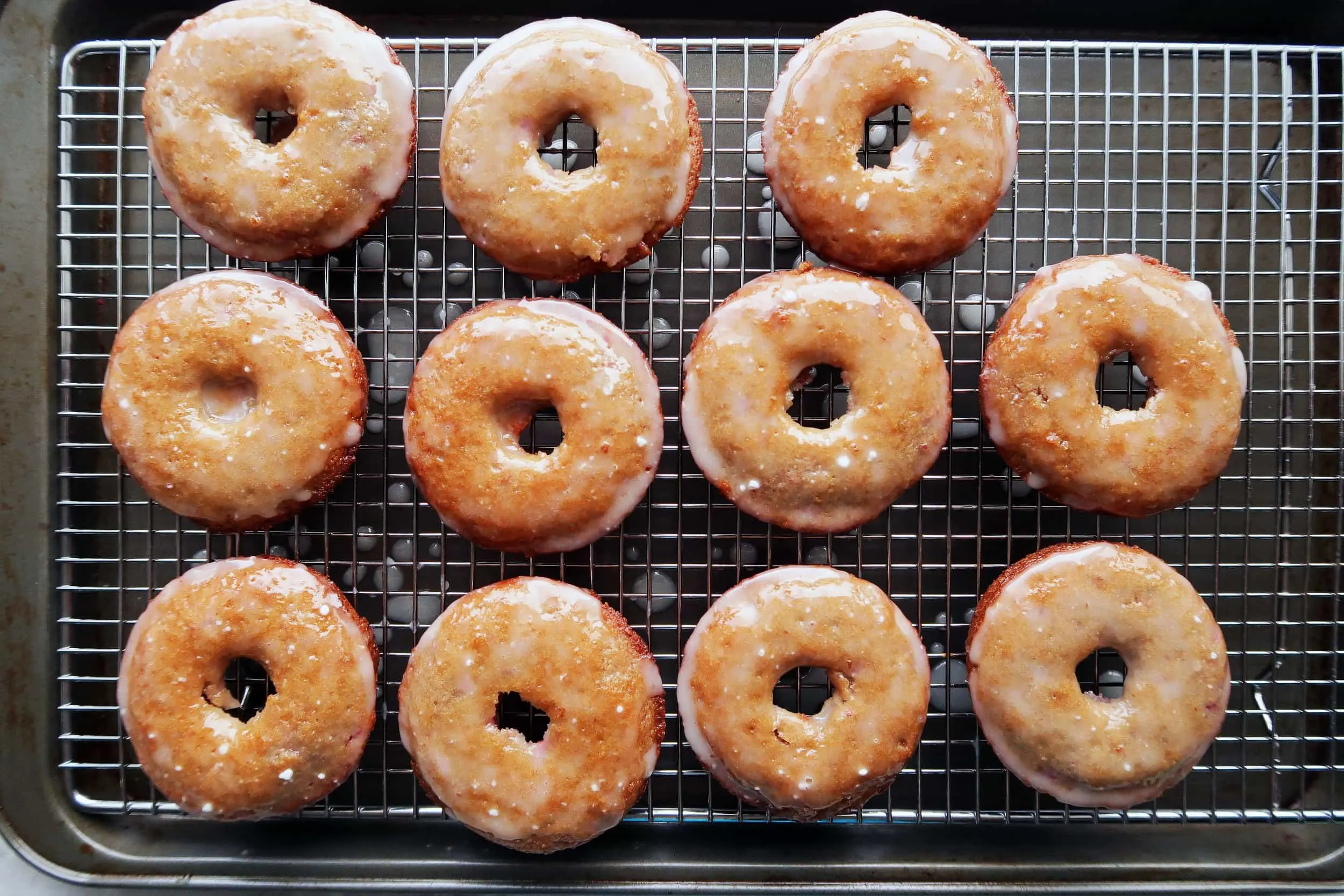 The easy 2-ingredient lemon glaze adds a bit more lemony sweetness to the donuts.
So delicious and summery in flavour!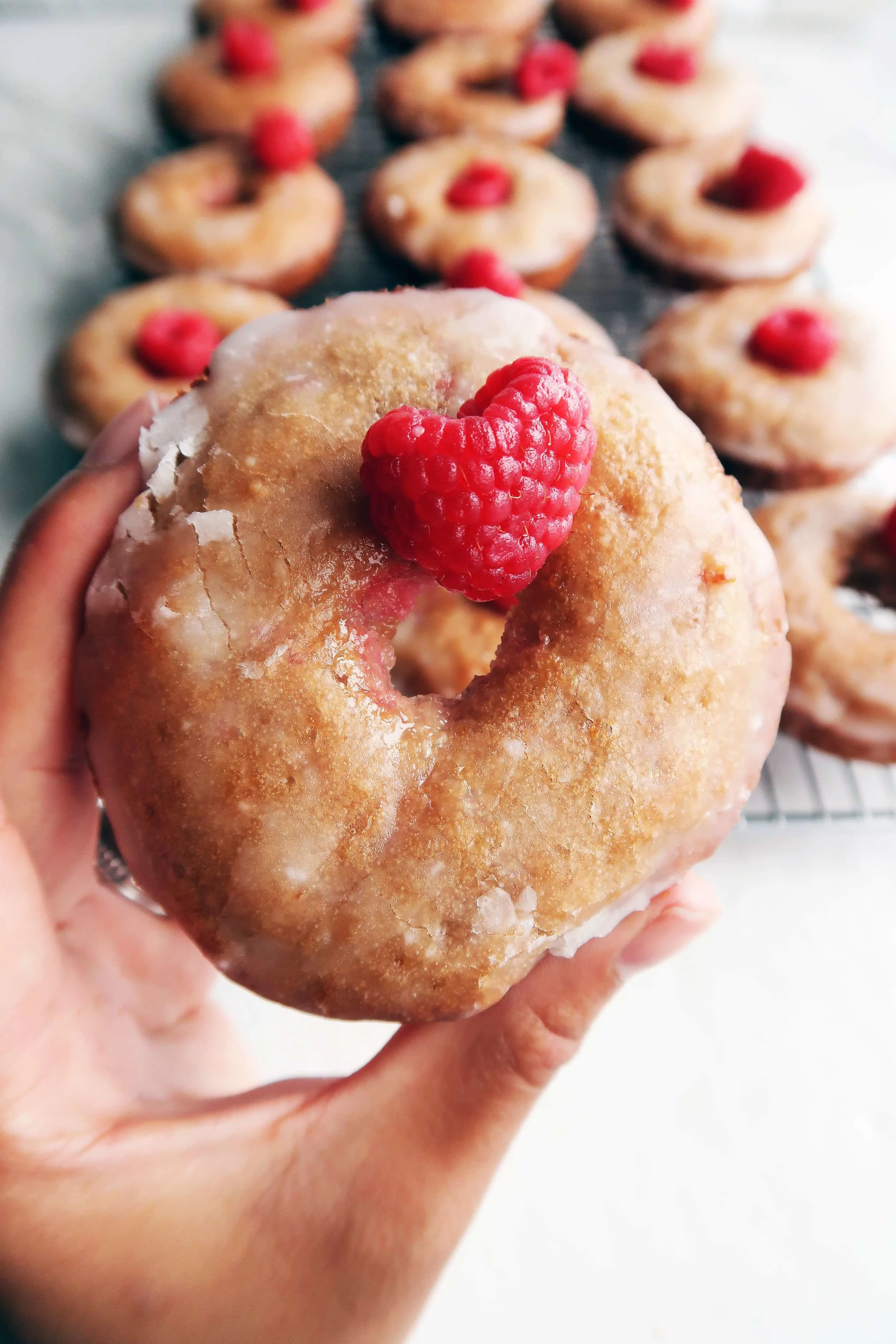 A tasty snack to have with your morning coffee, tea, or with a glass of milk! Enjoy!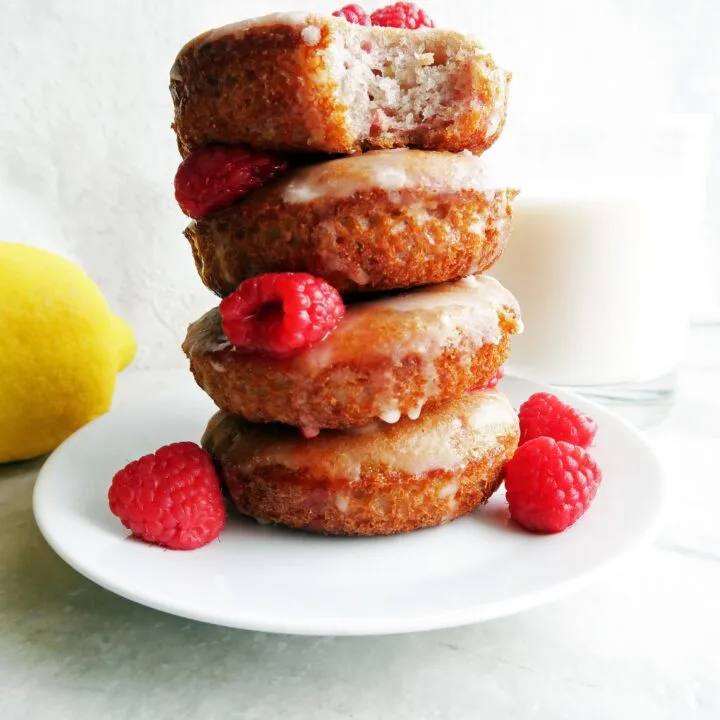 Baked Raspberry Lemon Glazed Donuts
Enjoy fresh, light, and fluffy lemon raspberry donuts covered with a lemon glaze! These baked homemade treats are easy and made from scratch!
Ingredients
Non-stick cooking spray (I used canola oil)
For the donuts:
1½ cup all purpose flour
¾ cup sugar
1 lemon, juice and zest
1 tsp baking soda
¼ tsp salt
1 cup (5 oz.) fresh raspberries
2 eggs
½ cup vegetable oil
½ cup milk
½ tsp vanilla extract
For the glaze:
1 lemon (about ¼ cup), juice - more or less depending on flavour preference
1 cup confectioners' sugar
Instructions
Preheat the oven to 350 degrees F. Grease donut pans with cooking spray.
In a large bowl, whisk together the dry ingredients: flour, sugar, lemon zest, baking soda, and salt. Set aside.
In another bowl, whisk together the wet ingredients: raspberries, eggs, vegetable oil, milk, lemon juice, and vanilla extract. The raspberries should be gently smashed and broken down into smaller pieces.
Then add the wet ingredients into the dry ingredients. Stir together until combined (batter is uniform and you no longer see the dry ingredients).
Scoop the batter into the donut cavity ⅔ full*. Bake for 22-25 minutes, until the donuts are golden-brown and the donuts spring back when lightly pressed. Let cool for 5 minutes before removing from the pans and placing on a cooling rack.
As the donuts cool, make the glaze by combining the lemon juice with confectioners' sugar until smooth. Then dip the top of each donut with glaze before returning them to the cooling rack to allow the excess glaze to drip off.
Serve as soon as possible.
Notes
* If you fill more than that, your donuts won't have a hole.
Donuts are best eaten the day they are made. If there are leftovers, store in an airtight container in the refrigerator for up to 3 days.
Recommended Products
As a participant in the Amazon Services LLC Associates Program, I only link to products that I use and/or highly recommend. As an Amazon Associate, I earn from qualifying purchases if you purchase through these links at no additional cost to you.
Nutrition Information:
Yield:

18
Serving Size:

1
Amount Per Serving:
Calories:

160
Total Fat:

7g
Saturated Fat:

1g
Trans Fat:

0g
Unsaturated Fat:

6g
Cholesterol:

21mg
Sodium:

114mg
Carbohydrates:

23g
Fiber:

0g
Sugar:

14g
Protein:

2g