Hi Everyone! I hope you all have a wonderful weekend!
Scott and I are celebrating our second wedding anniversary by taking a mini road-trip across British Columbia (we live in Alberta). We're hoping to take in some golfing, hiking, a wine tour, and unabashed food eating (probably my favourite part).
We like to go to this small town golf course because the clubhouse has super delicious pies made in-house. We have already strategized the time in which we should go to ensure that the pies will be cooled and ready for us to eat by the time we finish 9 Holes. Strawberry Rhubarb Pie (with a scoop of ice cream, of course) here we come!
Anyway, this blog post is not about pies. Ha ha. It is about a yummy pasta salad.
This pasta salad is so tasty, colourful, and flavourful! It features bow-tie pasta, broccoli, red bell peppers, red onions, cheddar cheese, and a simple version of Italian dressing.
How to make this pasta salad?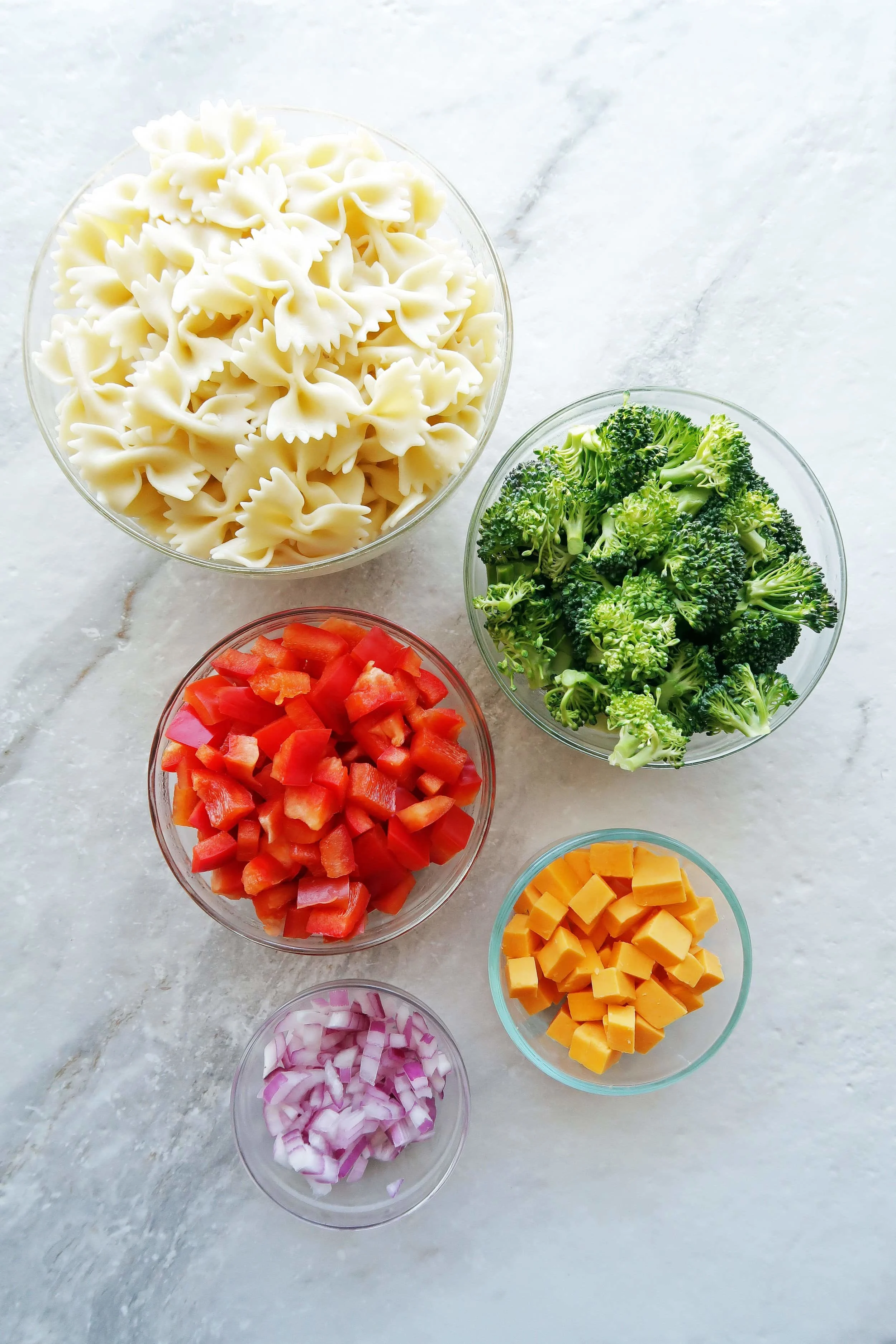 The pasta salad ingredients: Bow Tie (Farfalle) pasta, broccoli, red bell pepper, and red onions are prepared by boiling the pasta until it is ready and chopping up the vegetables and cheese.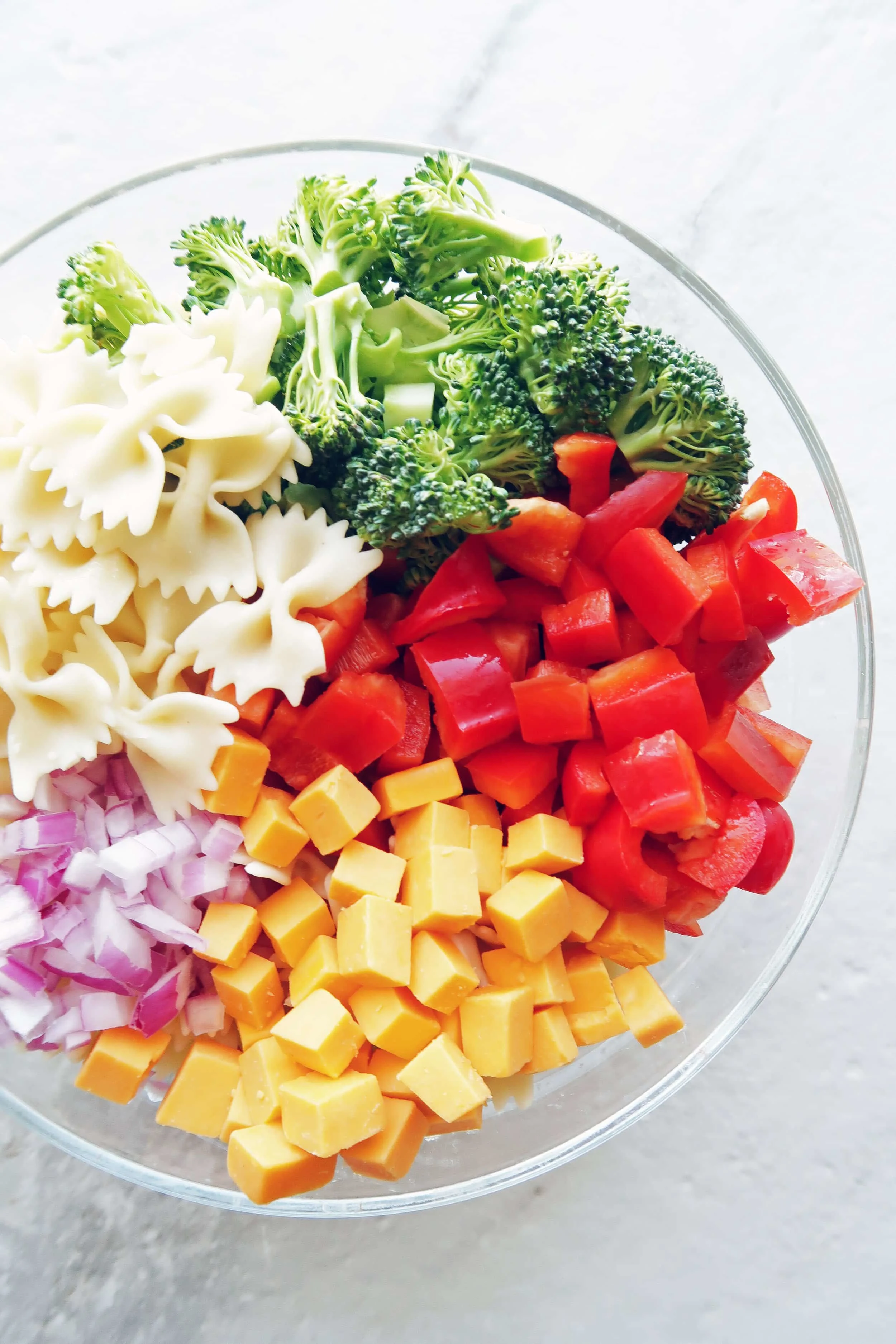 Make sure the pasta is cool before combining the pasta ingredients together in a large bowl.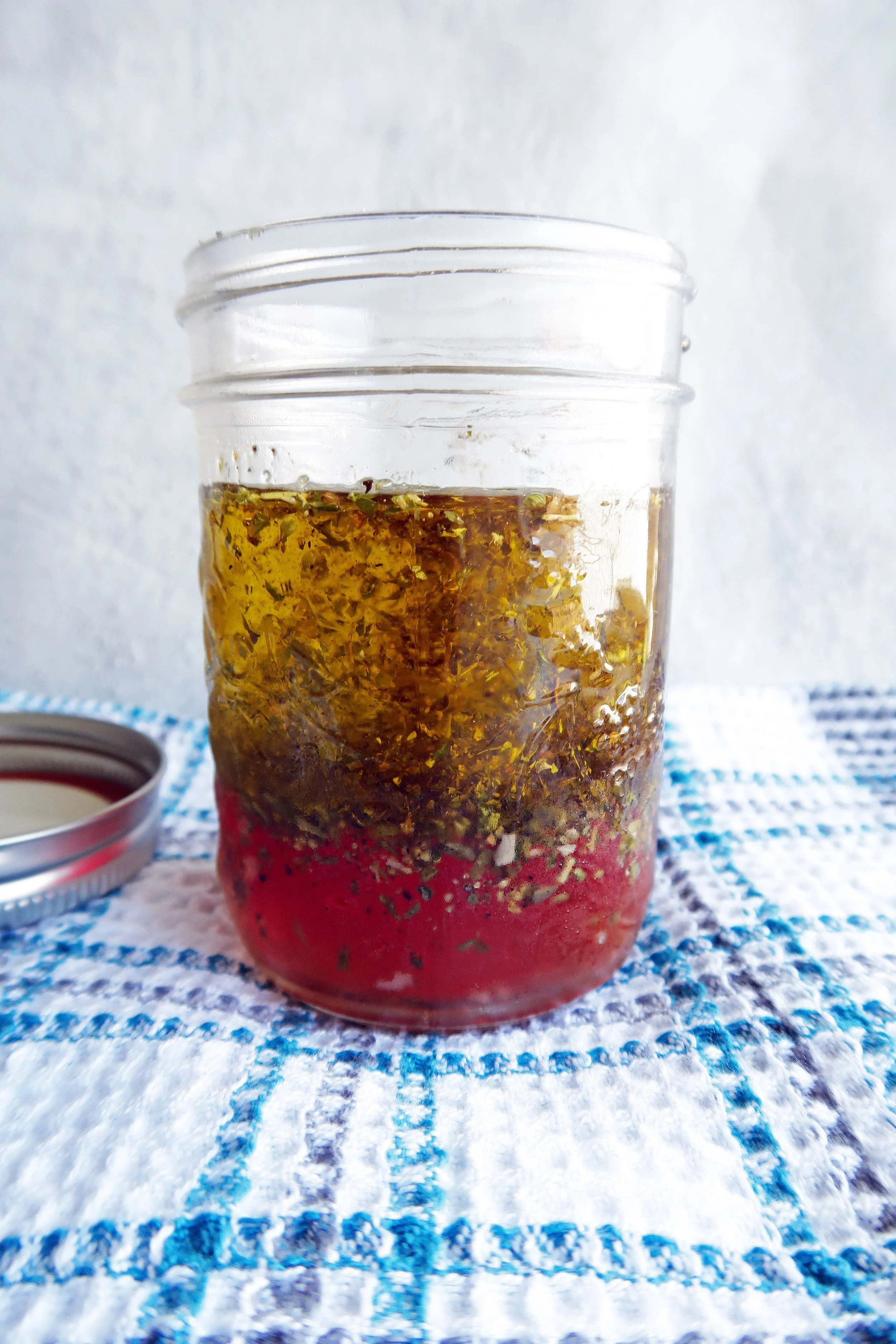 In a mason jar or a bowl, add all the vinaigrette ingredients.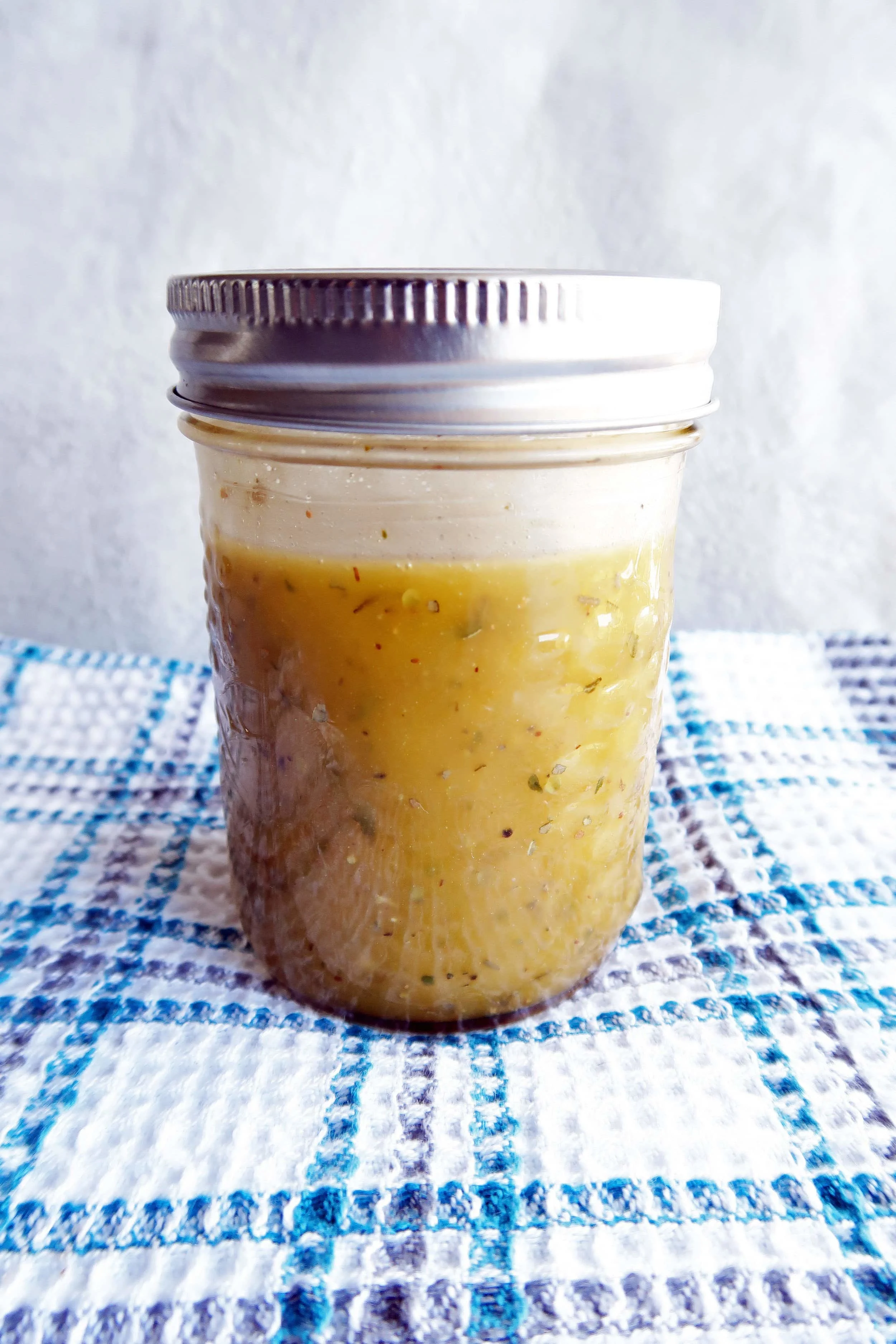 Combined the ingredients by whisking it together or by shaking the ingredients in a jar for 30 seconds.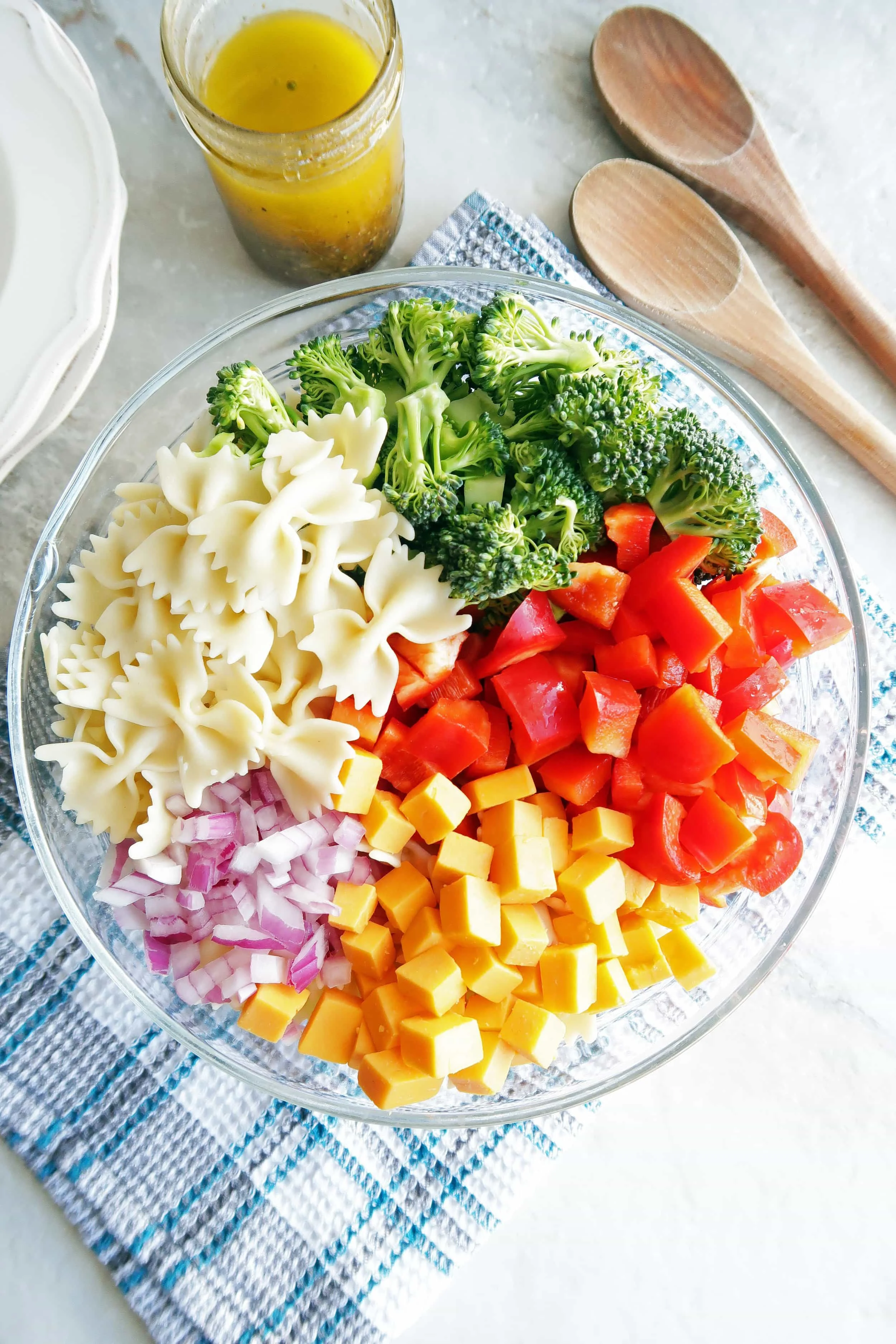 Then add the vinaigrette to the pasta salad and give it a toss. Make sure the dressing coats all the ingredients.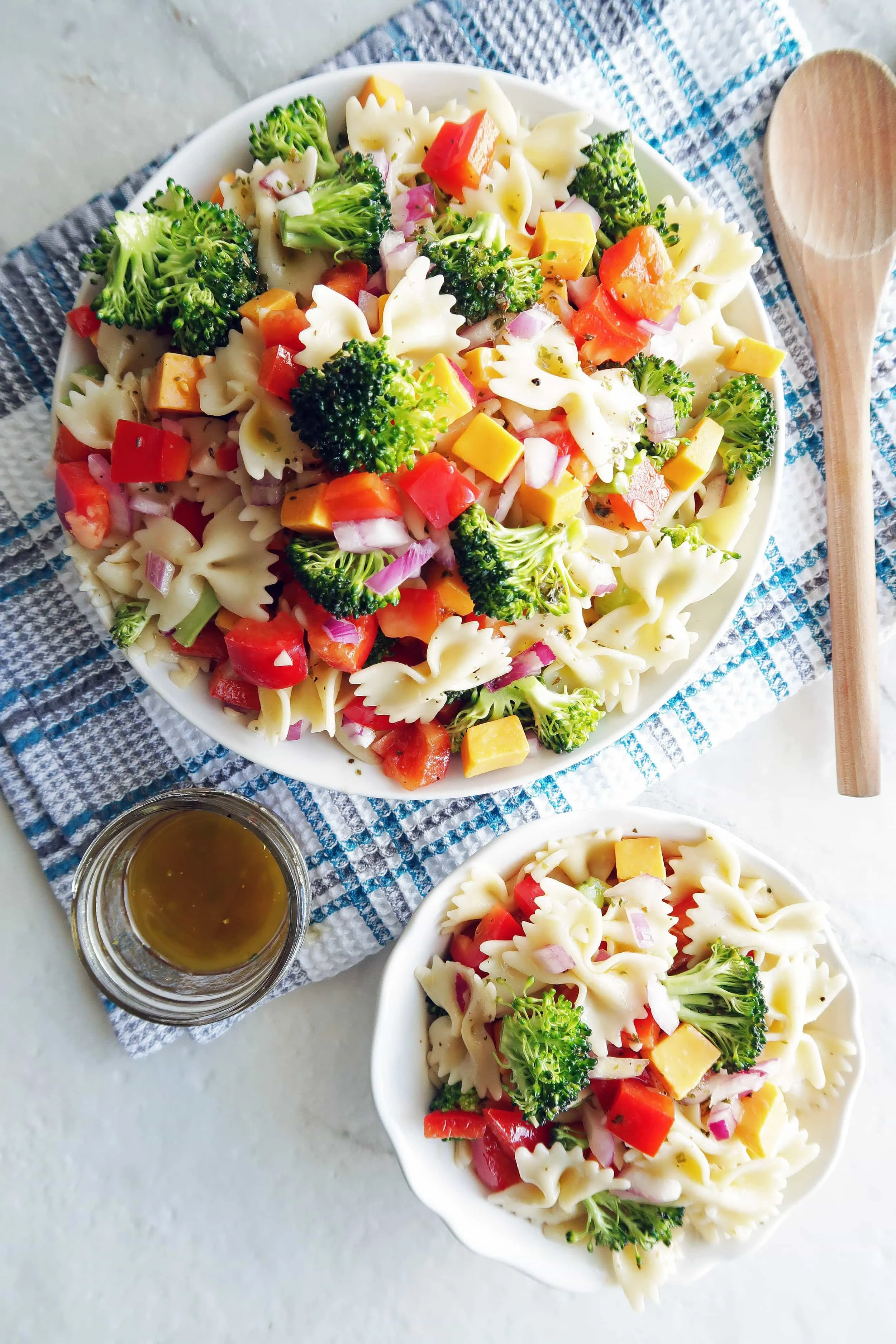 Plate and serve immediately or cover and chill in the refrigerator until ready to serve. If chilling, save a little bit of dressing and toss just prior to serving as the pasta tends to absorb the vinaigrette. Enjoy!
Here is a quick list of why you should try this salad!
Easy to put together: You don't need to know any fancy techniques for this recipe.
Quick to make: It takes less than 30 minutes.
Adaptable: You can basically add more or less ingredients and as much as you like!
Can be made ahead of time: I like to chill the pasta salad for at least 30 minutes to allow the flavours to meld together.
Two recipes in one: Pasta salad + a vinaigrette would go so well in other salads or as a marinade for vegetables and meats!
It's a no-mayo pasta salad: Using a vinaigrette means cutting down the bad fats, carbs, and sugar content compared to the mayo'd up pasta salads.
Vegetarian: If you're into that. Also, it cuts down the overall cost since meat tends be pricier than most vegetables.
Perfect for get-togethers: This recipe makes enough to serve six to eight people as a side dish, but can easily be scaled up to feed a larger crowd.
It's just plain delicious: Crunchy savoury broccoli, sweet red peppers, mild spicy red onions, creamy sharp cheddar, and tender pasta is combined together with the tangy herb dressing to make one satisfying salad!
Yay! I hope you enjoy this recipe.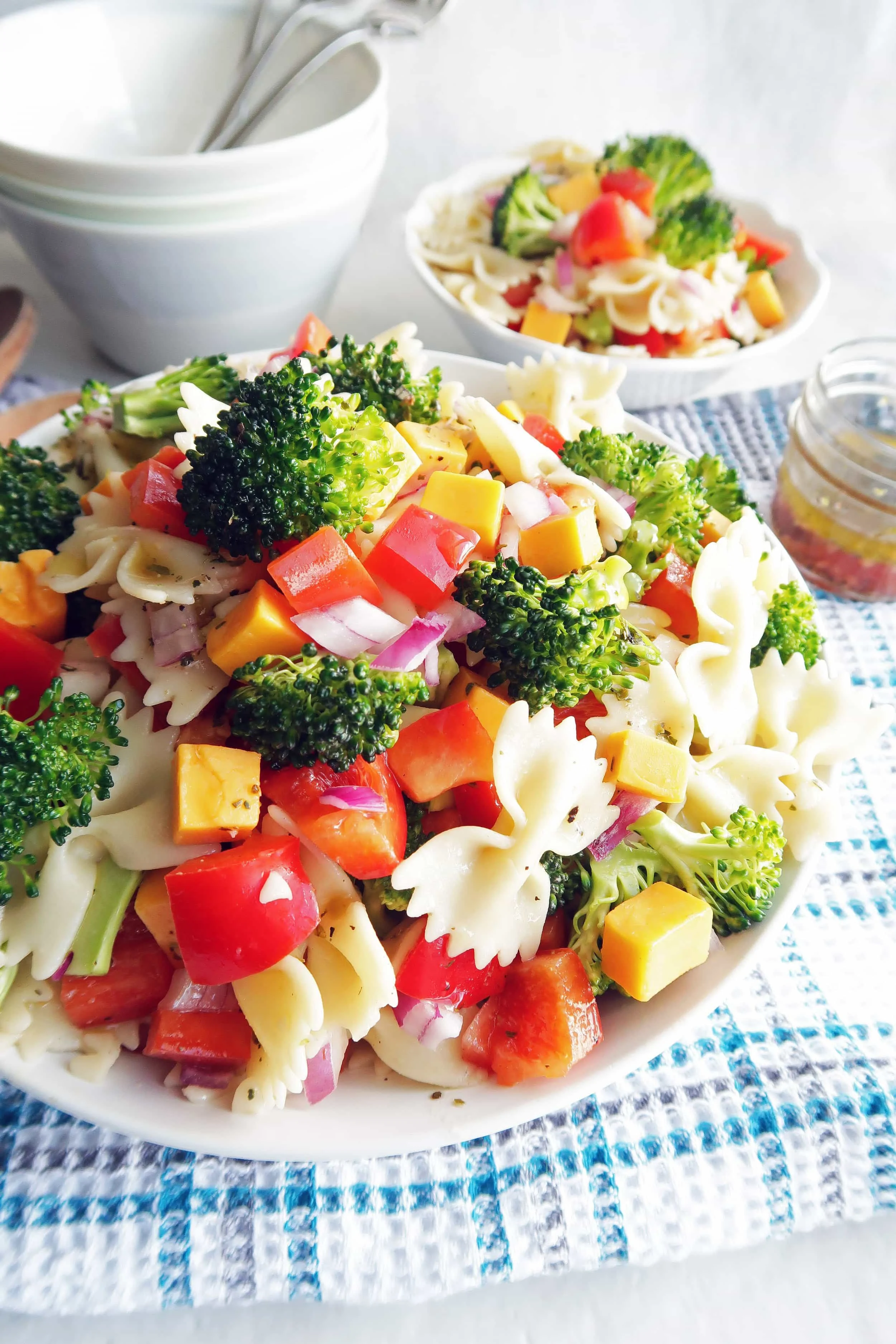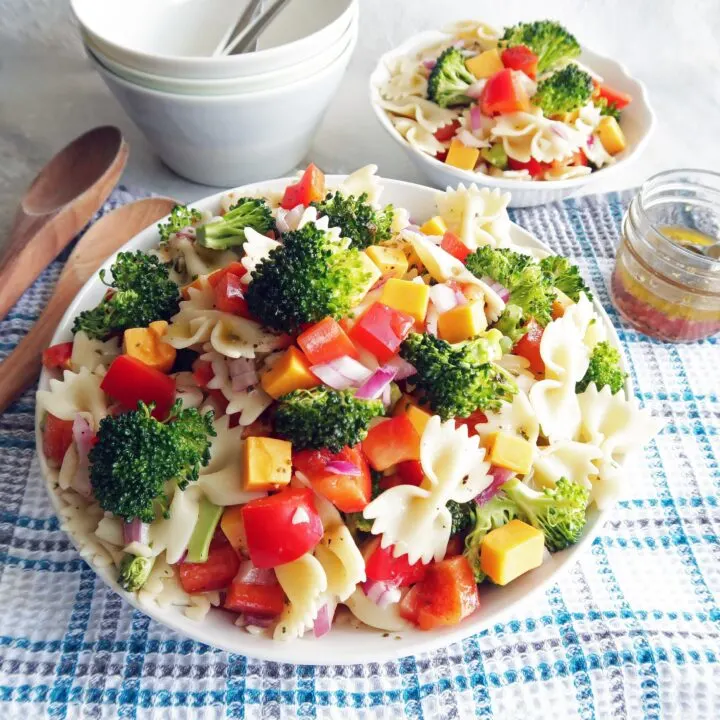 Broccoli Cheddar Pasta Salad with Tangy Italian Vinaigrette
A delicious and colourful vegetable and cheese pasta salad with a simple homemade Italian Vinaigrette. Serve it at your next barbecue, picnic, or get-together!
Ingredients
For the pasta salad:
4 cups (8 oz.) bow tie (Farfalle) pasta
2 cups broccoli, cut into small pieces
1 large red bell peppers (about 1 ½ cups), chopped
½ cup (3 oz.) cheddar cheese, cut into ½ - ¼ inch cubes
½ cup red onions, finely diced
For the Italian Vinaigrette:
½ cup extra virgin olive oil
¼ cup red wine vinegar
1 garlic clove, finely minced
2 tsp honey
1 tsp dried oregano
½ tsp dried parsley
Salt and pepper, to taste
Instructions
Cook the pasta according to package directions. Drain and rinse with cold water, until pasta is cooled*. Set aside.
As the pasta is cooking, prepare the vegetables and cheese. Combine the vinaigrette ingredients in a bowl and whisk until it well combined.** Taste and adjust the dressing to your preference.
Assemble the salad by combining the salad ingredients and vinaigrette together. Toss to combine. Serve immediately or chill in the refrigerator until ready to serve***.
Notes
*After draining the hot water from the pasta, run the pasta under cold water to remove residual starch and to stop the cooking process. I like to cook the pasta al dente (firm to the bite yet cooked through).
**Alternately, you can place the vinaigrette ingredients in an empty food safe jar, secure the lid back on, and shake the jar for 30 seconds to allow for the ingredients to mix together well.
***As the pasta salad chills, the pasta tends to absorb quite a bit of the vinaigrette; reserve a small amount of dressing and toss the pasta salad with the vinaigrette just prior to serving.
Recommended Products
As a participant in the Amazon Services LLC Associates Program, I only link to products that I use and/or highly recommend. As an Amazon Associate, I earn from qualifying purchases if you purchase through these links at no additional cost to you.
Nutrition Information:
Yield:

8
Serving Size:

1
Amount Per Serving:
Calories:

311