Energy balls, bites,or bars have been around for years and I've only now got on the bandwagon. So quick, easy, and adaptable! There are many different ingredients and flavour combinations you can use! They're also a healthier alternative to other snacks and desserts that are not so good for you.
I'm not sure why I waited so long to make my own treats, but better late than never!
Date energy balls are so delicious and really keep you energized! The fibre-rich Medjool dates are creamy and sweet (almost caramel in flavour), the dried peaches gives it a fruity touch, while protein-rich pecans and rolled oats add additional flavour and a nice crunch!
The chai spices are mildly spicy, fragrant, and warms up the body a little as you eat it; perking you up when you feel the midday lulls.
I love how portable these snacks are; perfect for a road trip or just to have around for a little snack at work or when you're out running errands for the day;or let's face it, when you're bored sitting at home and just want to eat a snack.
This recipe is also vegan and is naturally sweetened (no added refined sugar).
Make sure you check out the quick video (it's right above the "Ingredients" list)to see how wonderfully easy it is to make.I hope you enjoy this recipe!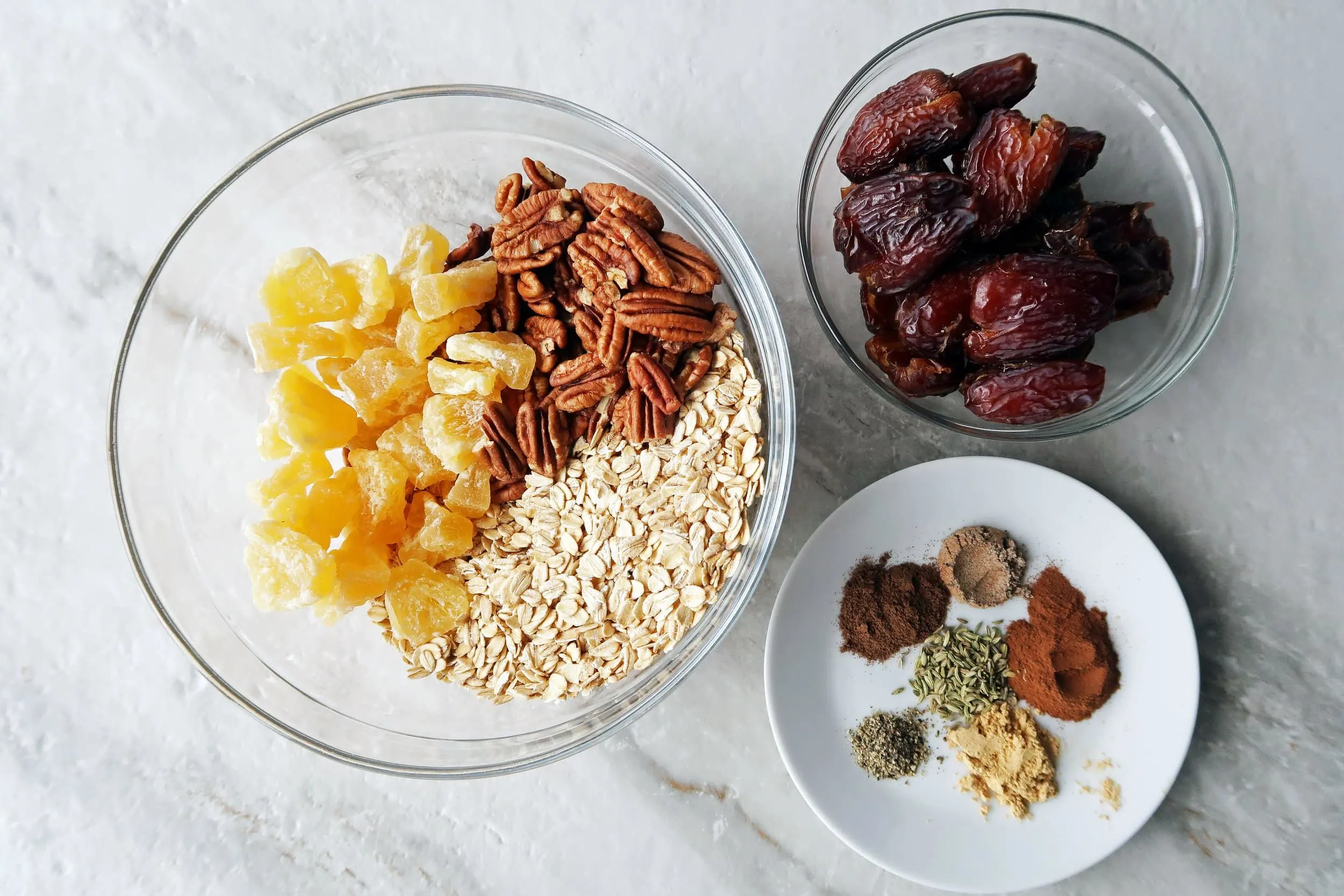 All the ingredients.Amounts in the "Ingredients" list below.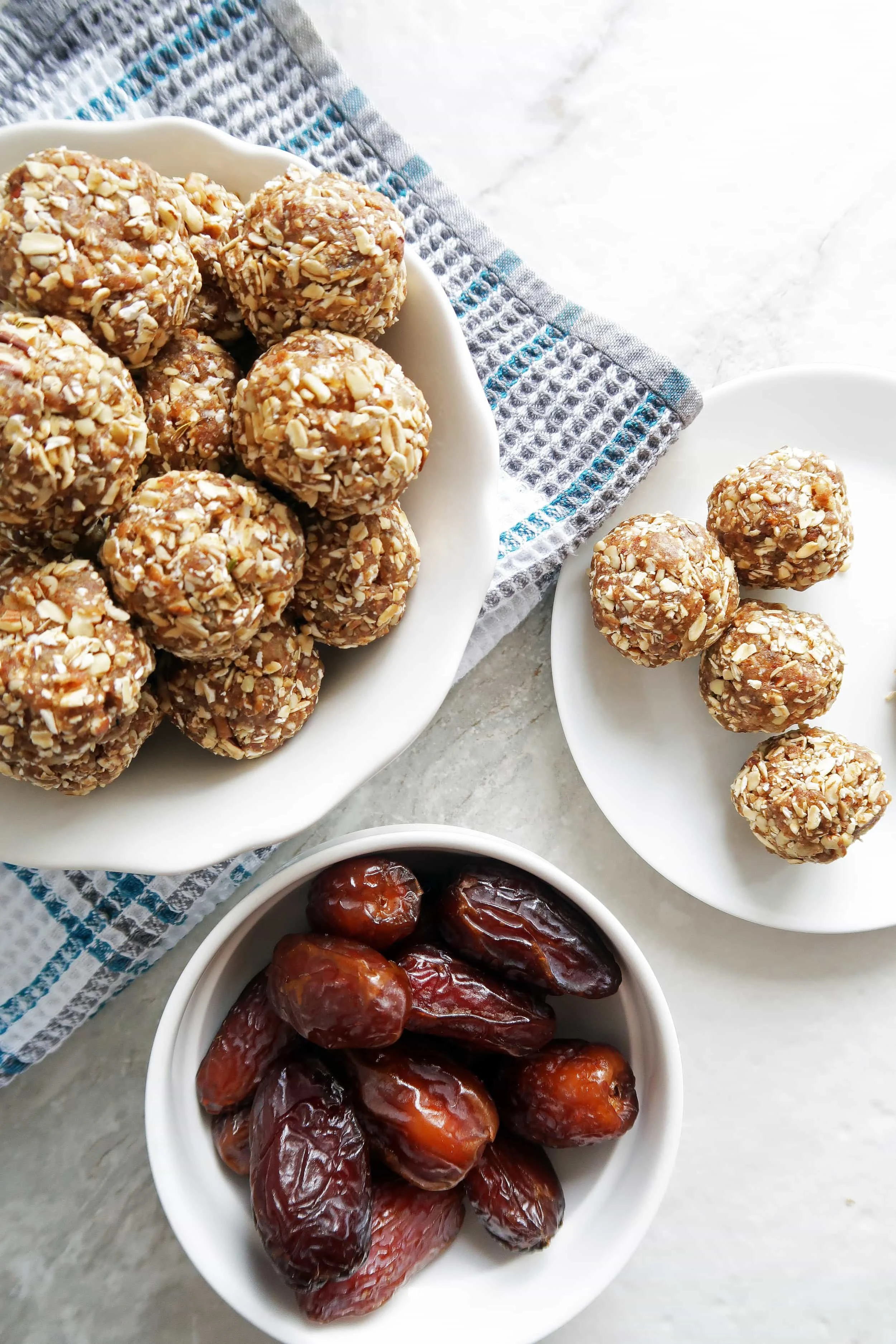 The ingredients are quickly blitz in a food processor and then balls are formed by hand.So fast and simple to do!Perfect snacking food! Enjoy!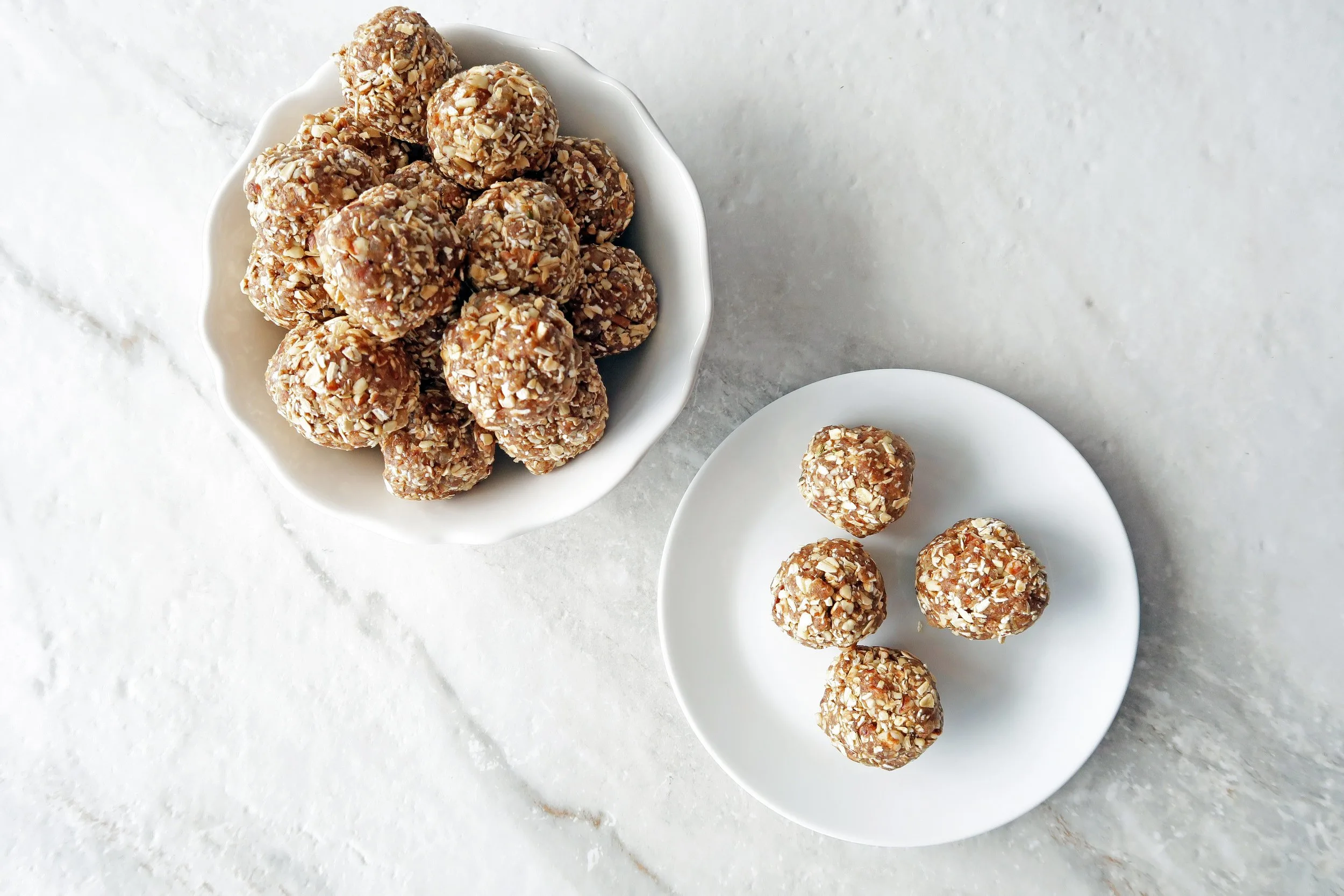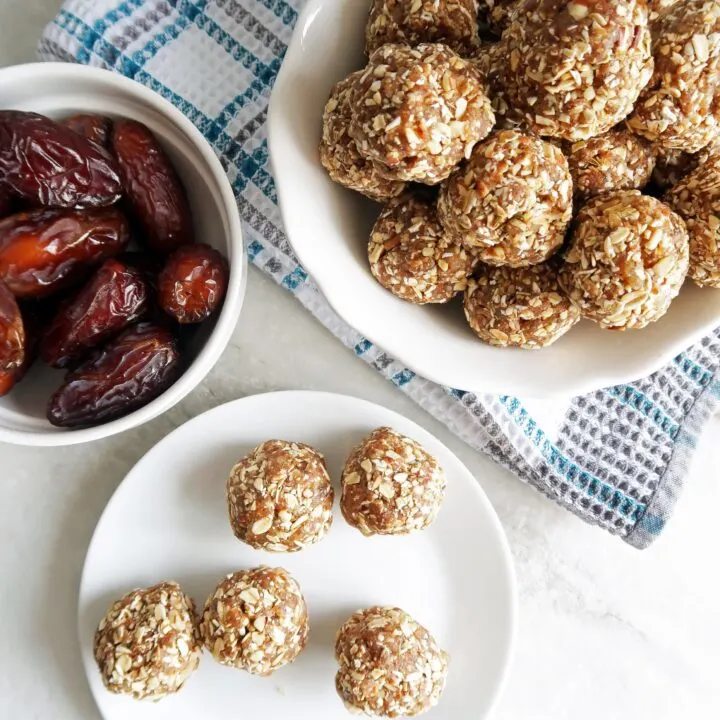 No-Bake Chai Spiced Date Energy Balls
Snack on these tasty, portable chai-spiced Medjool date energy balls with dried peaches, pecans, and rolled oats! No baking required, takes only 15 minutes!
Ingredients
1½ cup soft Medjool dates (pitted, about 15-18 dates)
1½ cup rolled oats
1 cup toasted pecans
1 cup dried peaches (or dried fruit of your choice)
1 tsp ground cinnamon
½ tsp ground ginger
½ tsp ground cardamom
½ tsp ground allspice
½ tsp fennel seeds
¼ tsp ground black pepper
¼ tsp salt
Instructions
In a large food processor with the S-Blade attachment on, pulse the dates until it forms a sticky ball.
Add in the remaining ingredients and pulse until the pecans, rolled oats, and dried peaches are broken down into small pieces and combined together well.
Using your hands, roll approximately 1-inch balls making sure that the balls are firmly held together. Makes about 25 balls.
Enjoy immediately or store in an airtight container in the refrigerator for up to a week* or freeze for up to a month.
Notes
If you eat it right away, you'll notice that the energy balls are quite soft. If you prefer a more firm energy ball, refrigerate for at least 15 minutes prior to eating.
Recommended Products
As a participant in the Amazon Services LLC Associates Program, I only link to products that I use and/or highly recommend. As an Amazon Associate, I earn from qualifying purchases if you purchase through these links at no additional cost to you.
Nutrition Information:
Yield:

25
Serving Size:

1
Amount Per Serving:
Calories:

101
Total Fat:

3g
Saturated Fat:

0g
Trans Fat:

0g
Unsaturated Fat:

3g
Cholesterol:

0mg
Sodium:

24mg
Carbohydrates:

18g
Fiber:

2g
Sugar:

12g
Protein:

2g