Along with all the fresh berries, watermelon is one of my favourite summertime fruits being so tasty, sweet, and juicy.
It's fat-free, only has around 50 calories per cup (it's 90% water), and contains vitamins and nutrients such as vitamins A, B6, C as well as lycopene, which not only gives watermelon it's pretty pink-red colour, but may also help fight cancer.
I love pairing watermelon with cucumber since it adds a nice contrast in texture; the crunchy cucumbers with the juicy, soft watermelon is a wonderful combination. Plus cucumber contains a good amount of fibre and water, which aids in healthy digestion.
A sprinkling of a whole diced jalapeño gives it a nice subtle heat. The spiciness of the jalapeño is not overpowering and the sweet and spicy flavours are balanced well together.
However, if you are worried about the added heat, especially when serving spice-sensitive individuals, feel free to add just a little or omit it completely.
Finish it off with fresh lime for acidity and brightness along with sweet, aromatic basil, and a little sea salt and you've got a lovely, light fruit salad!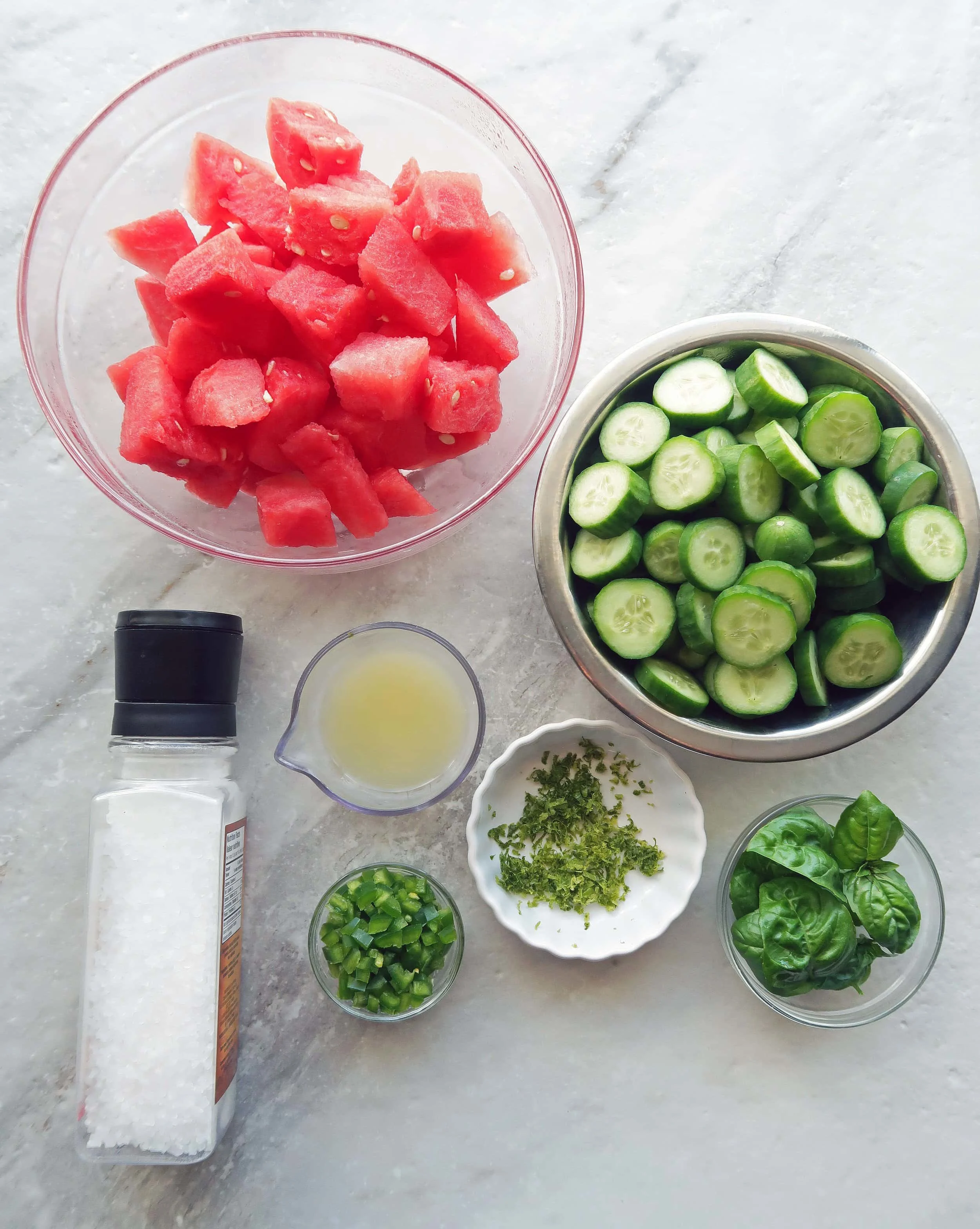 There are only six ingredients in this recipe: watermelon, jalapeño, English cucumber, lime (juice and zest), basil, and sea salt!Amounts listed in the "Ingredients" list below.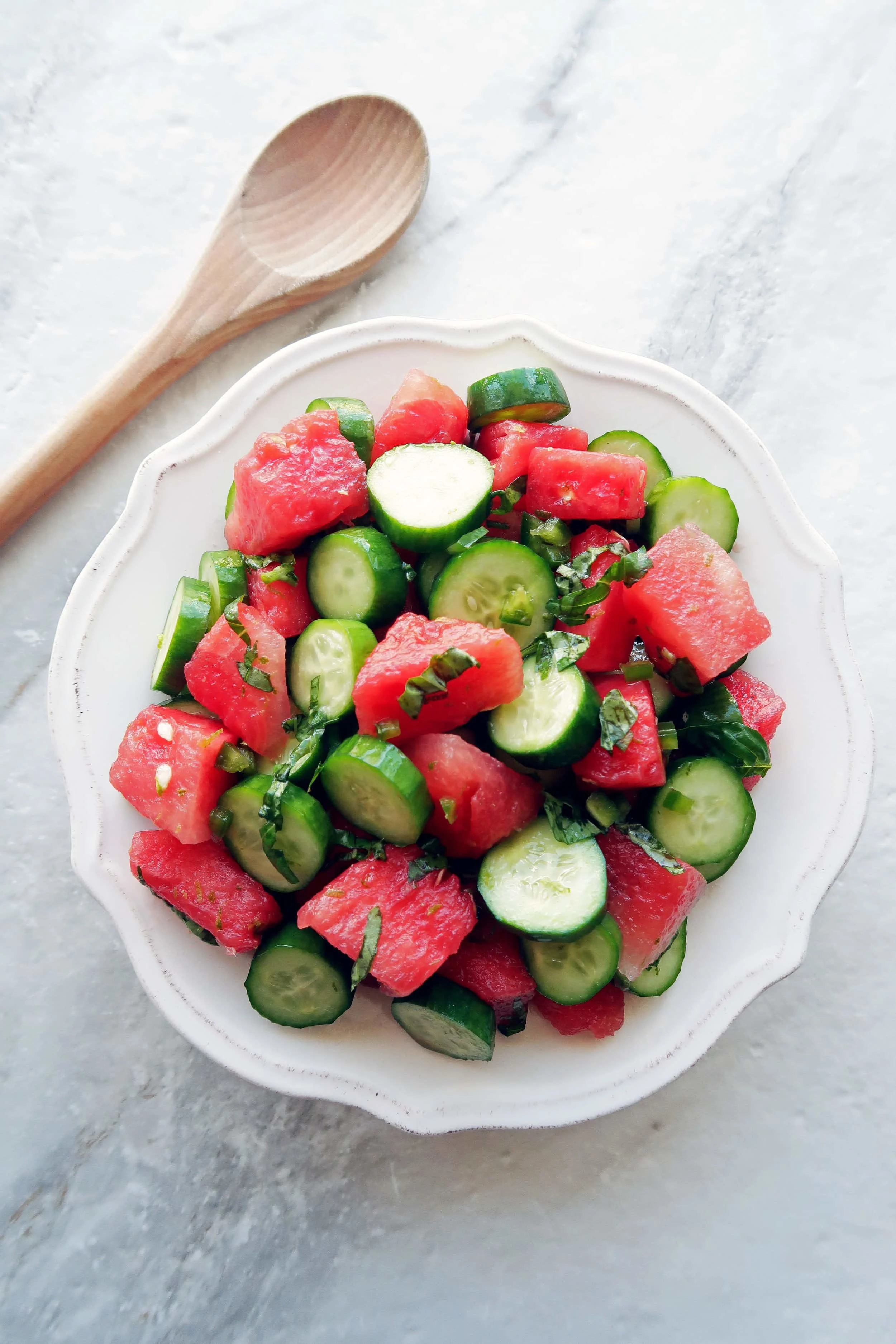 This recipe is made in almost no time at all; about 10 minutes. It can be eaten right away, but I highly suggest that you let it sit in the refrigerator to allow the flavours to marry together. There is a noticeable difference between eating it right away and letting the ingredients chill together. It is tasty either way though!
As a result, this recipe can be made up to a night before serving! Giving you time to concentrate on the other yummy foods that you may be preparing the day of.
In addition, this healthy recipe is naturally vegan and gluten-free too!
Beautiful colours and so delish too! Enjoy as a side dish, appetizer, or as a light meal.I hope you enjoy this recipe!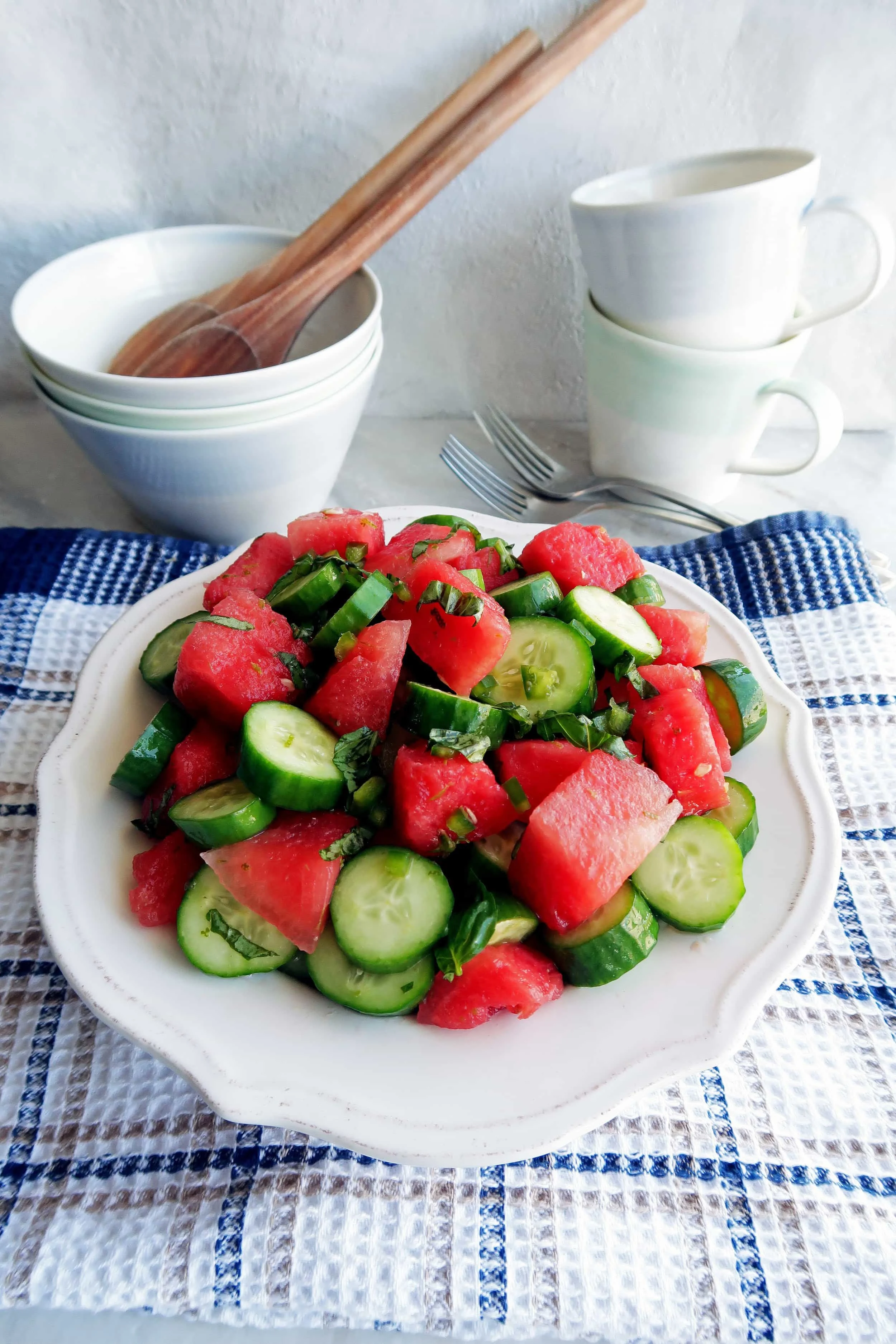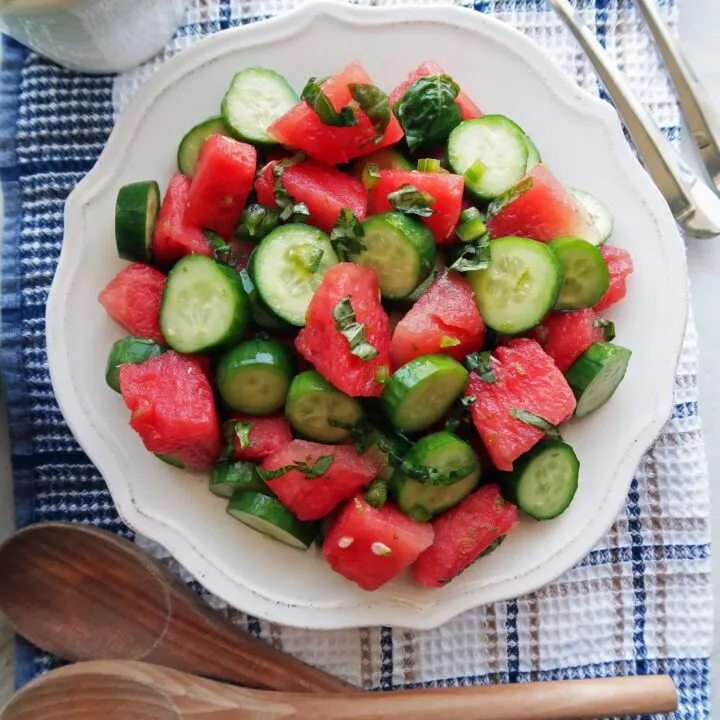 Watermelon Cucumber Jalapeño Salad
Yield:
4-6 as a side dish
Refreshing with a little heat! This healthy fresh salad uses few ingredients, but is full of delicious, summer flavours and is so easy and quick to make!
Ingredients
4 cups seedless watermelon, rind removed and sliced in cubes
3 cups English cucumbers (I used the mini variety), sliced
1 jalapeño pepper, de-seeded and diced
1 lime, juice and zest
2 tbsp fresh basil (or mint), sliced
Small pinch of sea salt
Instructions
Prepare your ingredients. Place all the ingredients in a large bowl and gently toss to combine.
Cover with plastic wrap and refrigerate for at least an hour prior to serving to allow the flavours to meld together. Best served cold.
Recommended Products
As a participant in the Amazon Services LLC Associates Program, I only link to products that I use and/or highly recommend. As an Amazon Associate, I earn from qualifying purchases if you purchase through these links at no additional cost to you.
Nutrition Information:
Yield:

4
Serving Size:

1
Amount Per Serving:
Calories:

62
Total Fat:

0g
Saturated Fat:

0g
Trans Fat:

0g
Unsaturated Fat:

0g
Cholesterol:

0mg
Sodium:

37mg
Carbohydrates:

16g
Fiber:

1g
Sugar:

11g
Protein:

2g