How is your week going? I've been up, down, and in-between; yet the list of things to do never seems to get smaller. I've been experimenting in the kitchen; however, a lot of the recipes have not been working out. Oh well, back to the drawing board!
Anyway, I've been eating a ton of strawberries. During the summer time,the seasonal berries look so plump and fresh! They have a wonderful natural sweetness and juiciness that is so satisfying to snack on.
It's not quite berry picking season at our local farms yet, so to the grocery store I go for my strawberry fix. This week there was an excellent selection. They had a bunch of beautiful, vibrant red organic strawberries that I just had to pick up.
A recipe that works out fabulously with these delicious berries is Strawberry Mint Yogurt Popsicles! Making homemade popsicles is so easy and you get to control what ingredients to use. A lot of store bought popsicles are loaded with artificial flavours and colours and high-fructose corn syrup that's often tasty, but not so good for you.
For this recipe, I slice up the strawberries and fresh mint, mash it together with some sugar, fold in some yogurt, scoop it into popsicle molds, freeze, and voila, a super yummy dessert! You don't even need to use a blender or food processor, so less cleanup!
I love the light pink colour,the fresh strawberry pieces, and tiny flecks of mint in this popsicle! The sweet strawberries will be the predominant flavour while the fresh mint will be mild.
Greek yogurt is great for the protein and probiotics. The mild tangy flavour contrasts well with the sweet strawberries and the smooth, thick consistency of the yogurt allows the popsicle to maintain a creamy texture. I like to use plain, 0% fat yogurt; keeping not only the fat content low, but also allowing the star ingredient to shine.
Now for the sugar. I do use good ol' regular white sugar, but you can definitely use whatever sweetener you want such as honey, maple syrup, or agave.
Scott grows mint in his Aerogarden, so I decided to add it to these popsicles since it goes so well with strawberries and adds another fresh, aromatic element. Besides, Scott and I need to find another reason to use the mint instead of putting it in our Moscow Mules all the time.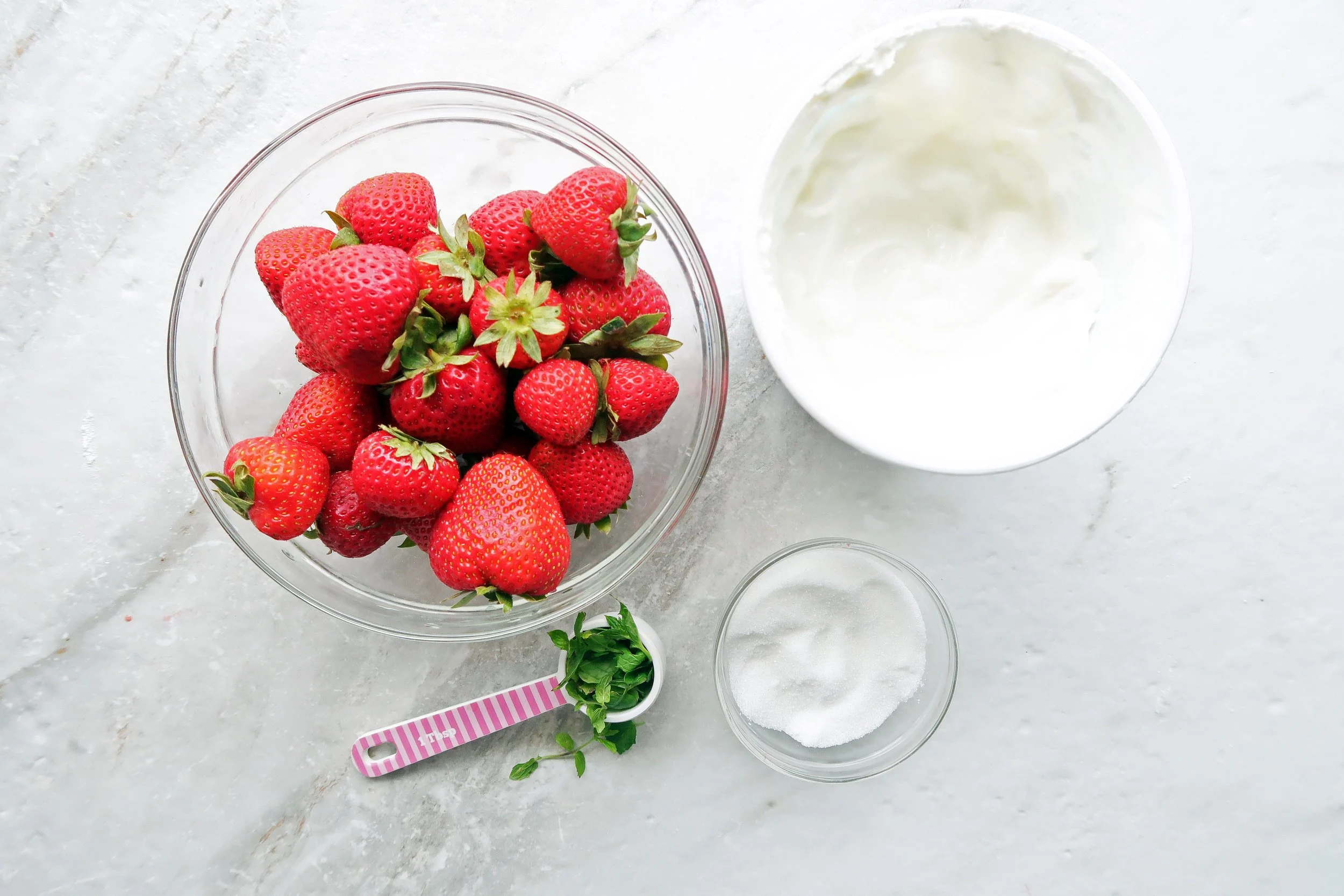 4 Ingredients: strawberries, greek yogurt, sugar, and mint.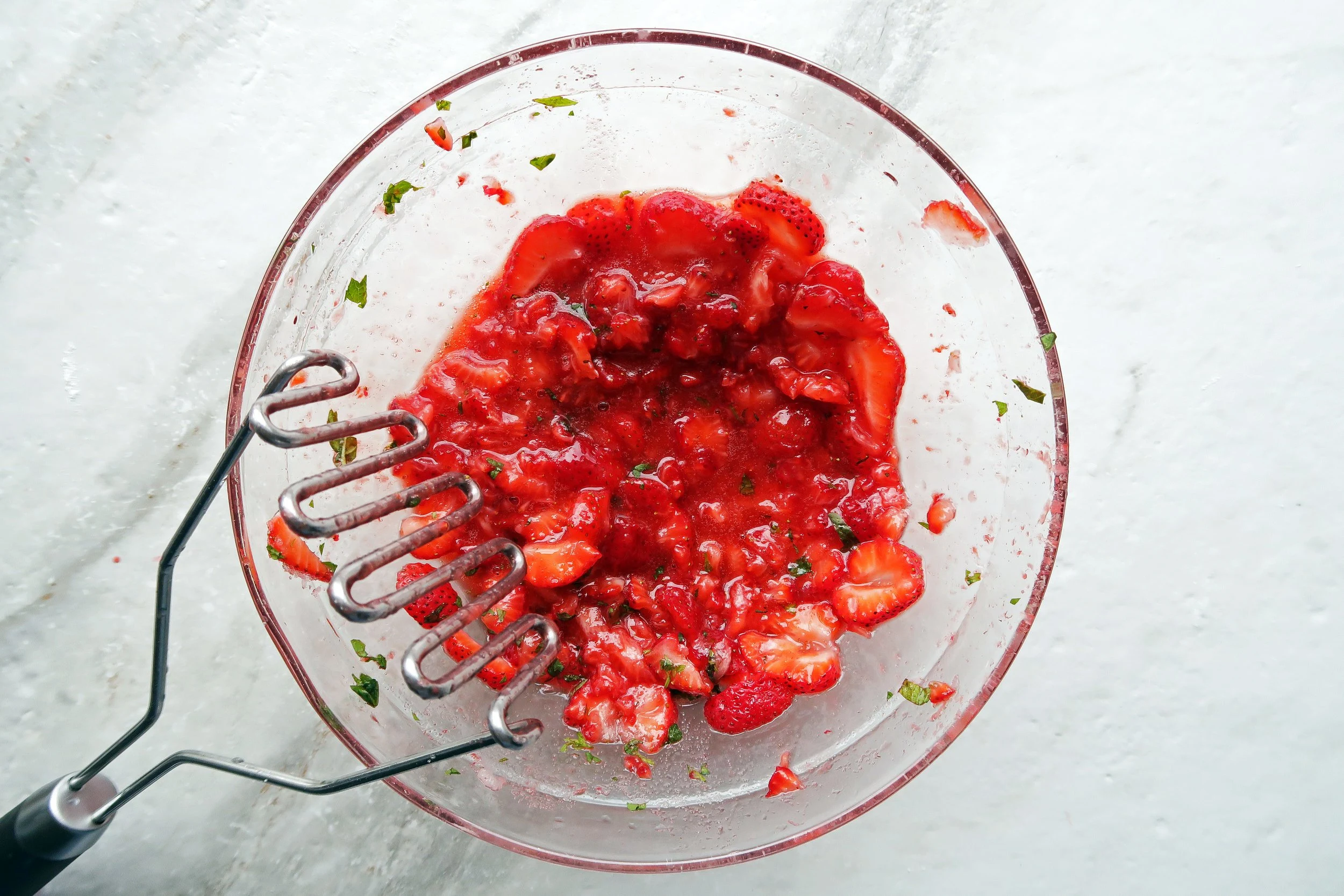 Mash up the strawberries, sugar, and mint.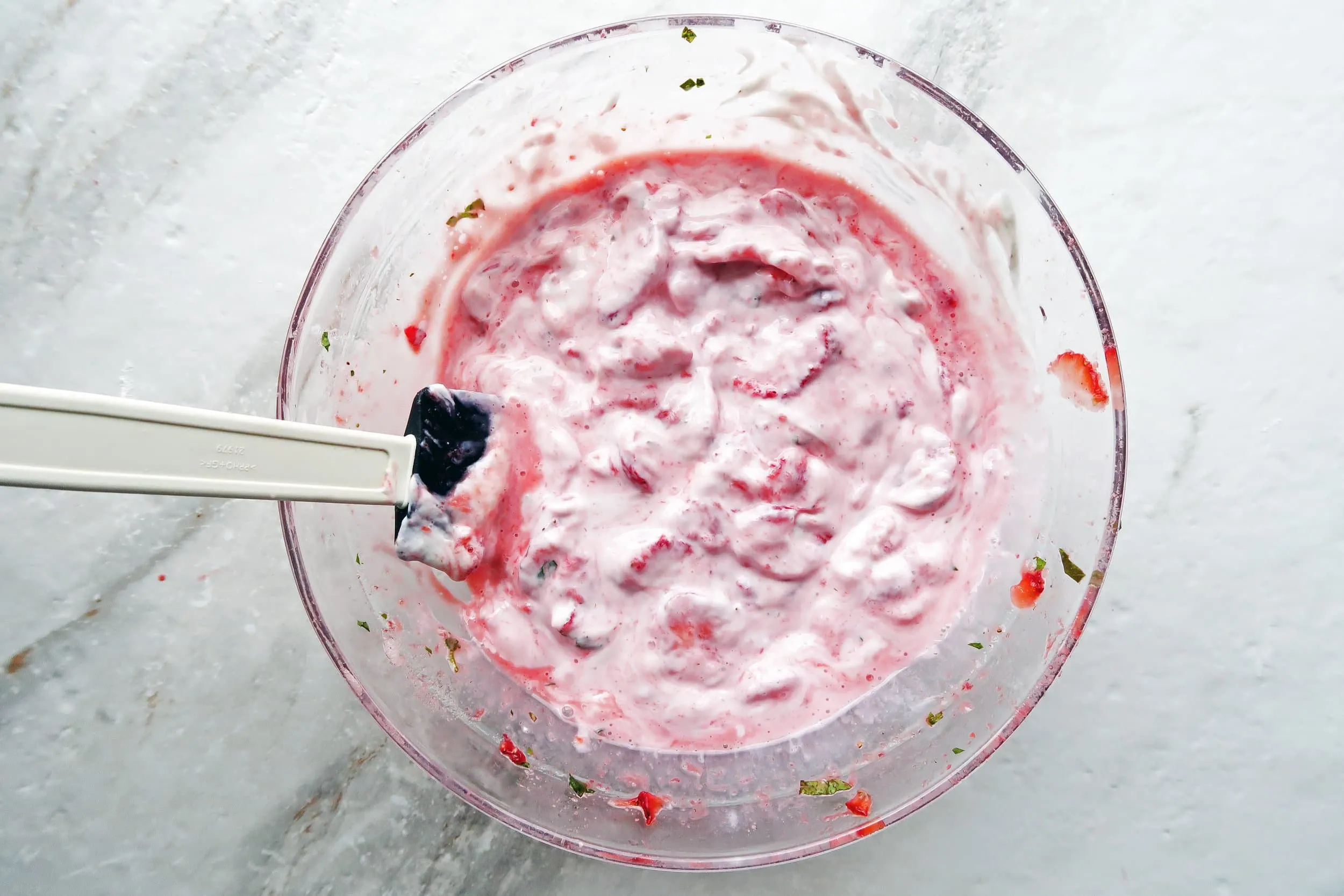 Fold in the yogurt.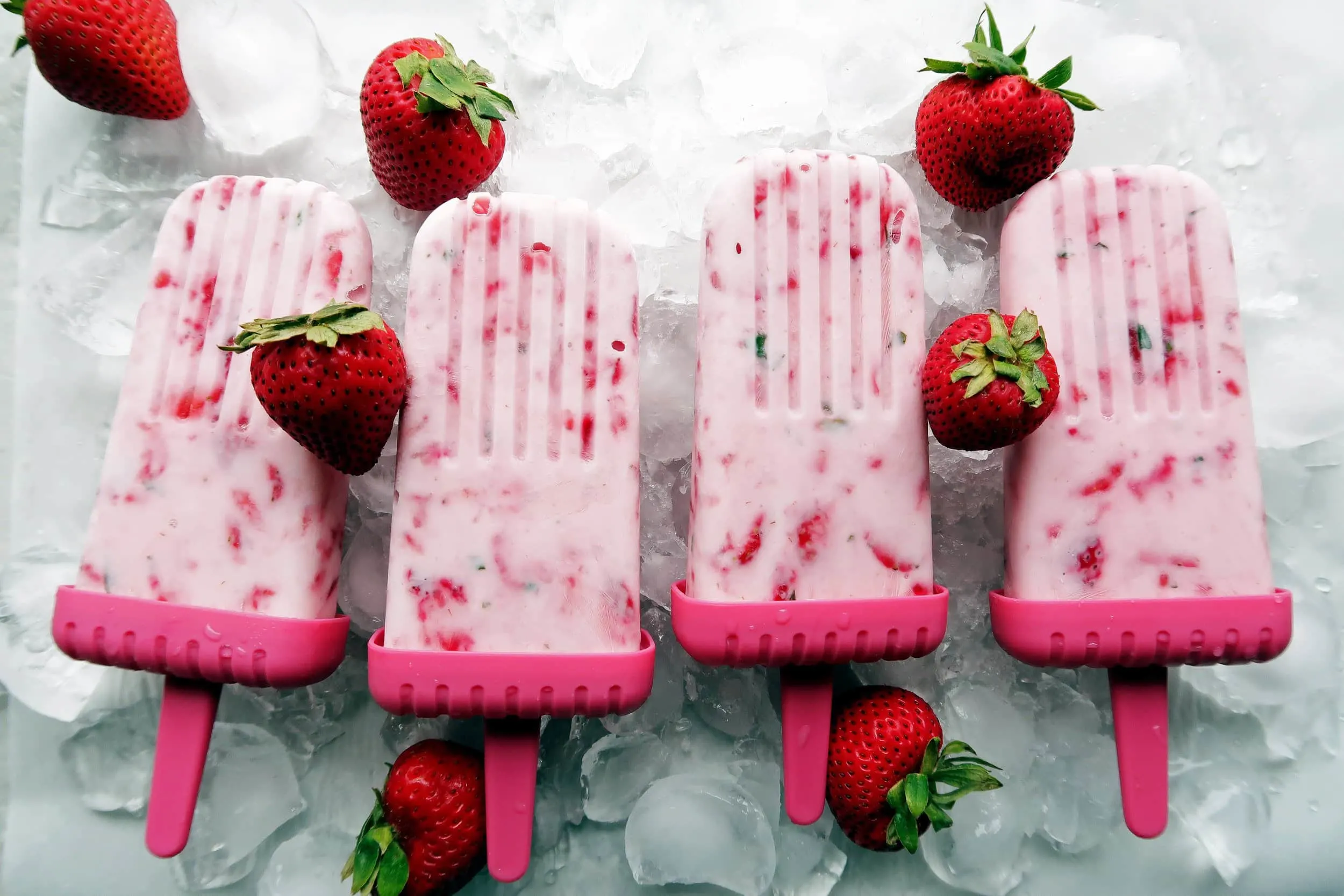 Place in popsicles molds and freeze.
So pretty with visible pieces of sweet strawberries and flecks of green mint! Enjoy!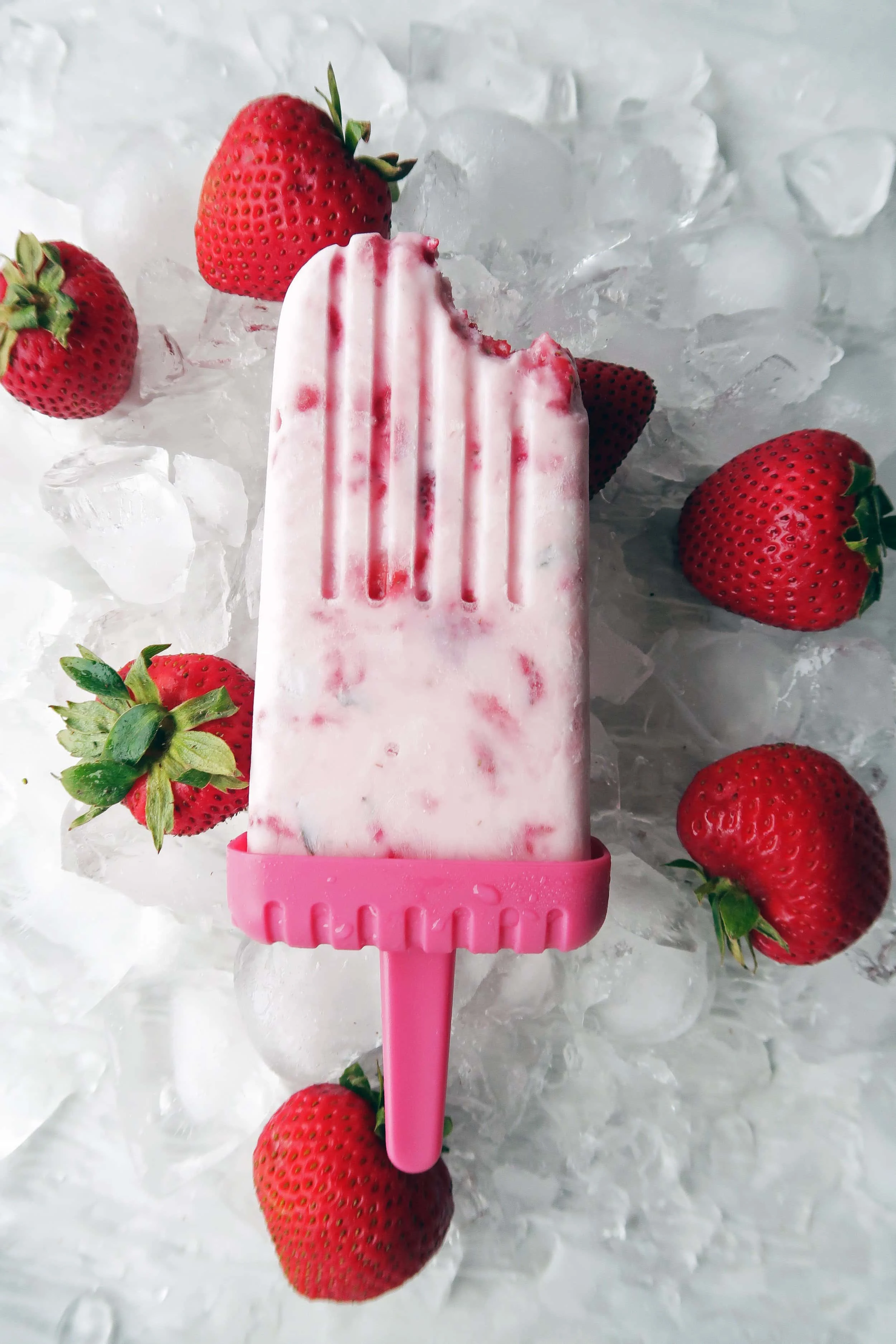 Creamy and delicious!I hope you enjoy this recipe!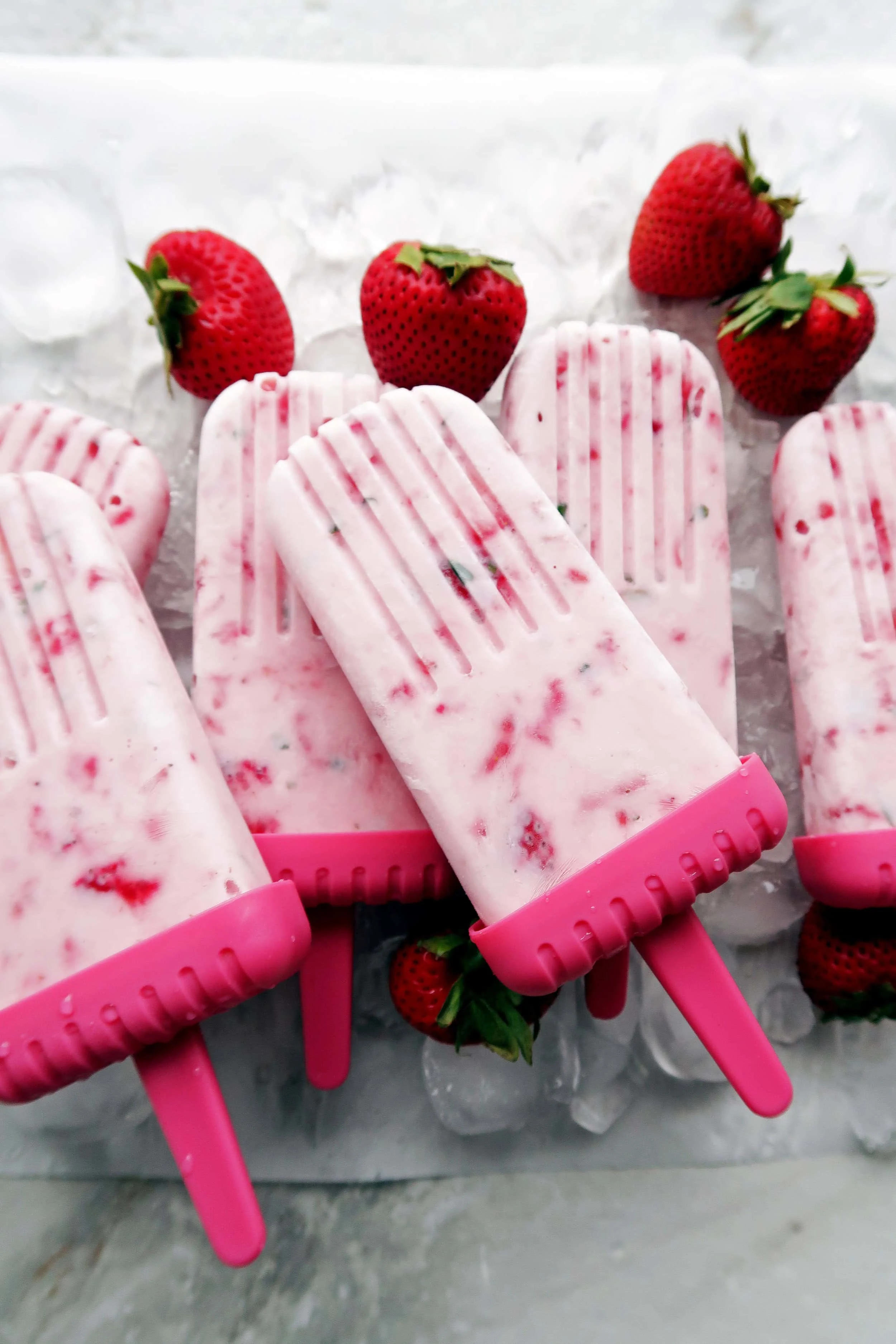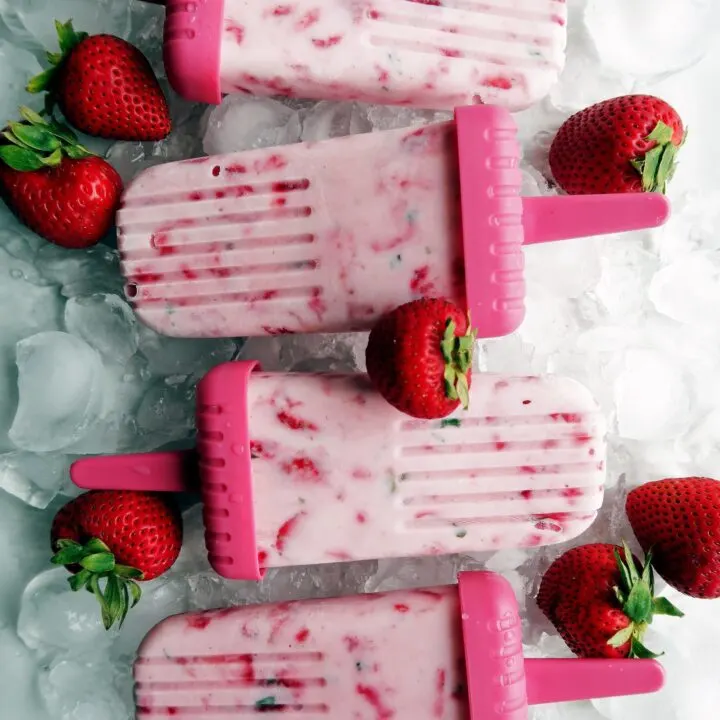 Fresh Strawberry Mint Yogurt Popsicles
Total Time:
5 hours
10 minutes
Stay cool in the hot weather with refreshing Strawberry Mint Yogurt Popsicles! Super easy to prepare and only 4 ingredients. It's low-fat and gluten-free too!
Ingredients
1 lb. fresh strawberries, hulled and sliced
2 cups plain Greek yogurt (prefer 0% fat)
¼ cup sugar (or sweetener of your choice), use more or less to taste*
1 tbsp (lightly packed) fresh mint, finely chopped
Instructions
In a large bowl, add strawberries, sugar, and mint. Using a potato masher or fork, mash together the ingredients, until strawberries are small pieces, juices are released, and sugar is dissolved.
Add the yogurt to the strawberries. Using a spatula, fold the ingredients together.
Scoop into popsicle molds and freeze until solid. Prior to serving, run the molds under warm water to release the popsicles.
Notes
*Strawberries vary in sweetness from pint to pint so the amount of sugar you choose to add will vary depending on your personal taste preferences. If it is too sweet, you can add a little lemon juice.
If you prefer a more smooth texture, puree the ingredients in a blender or food processor before freezing in the popsicle molds.
Recommended Products
As a participant in the Amazon Services LLC Associates Program, I only link to products that I use and/or highly recommend. As an Amazon Associate, I earn from qualifying purchases if you purchase through these links at no additional cost to you.
Nutrition Information:
Yield:

6
Serving Size:

1
Amount Per Serving:
Calories:

102
Total Fat:

1g
Saturated Fat:

0g
Trans Fat:

0g
Unsaturated Fat:

0g
Cholesterol:

4mg
Sodium:

28mg
Carbohydrates:

17g
Fiber:

2g
Sugar:

15g
Protein:

8g