It's been awhile since I have made a stuffed bell pepper and posted it on the blog. Since bell peppers are coming back into peak season, I have been seeing so many fresh, beautiful peppers at my local grocery store and they've been on sale too. A big plus for people like me who try to stick to a budget.
Did you know that green bell peppers are unripened red bell peppers? As green bell peppers ripen, they gradually turn yellow, orange, and then red in colour. The mature red bell peppers are generally the sweetest and more nutrient-rich than the less ripen versions. We used a combo of red and orange bell peppers in this dish.
Stuffed bell peppers are such a versatile meal because you can fill them up with so many different ingredients, and they can be easily adapted to fit dietary restrictions.
From the classic American ground beef, white rice, and cheddar cheese to orzo, black bean, and corn for a vegetarian option; stuffed peppers can be changed up to suit your flavour and diet preferences.
For these stuffed peppers, Scott requested that they have a zesty and bright cilantro-lime flavour.
I chose to use protein and fibre-rich quinoa and lean ground turkey to fill the peppers. These two ingredients are not only super filling and healthy for you, but they are well-suited to take on the lime, cilantro, and spices used in this recipe. The spicy jalapeño monterey jack cheese gives it an extra flavour boost too!
I hope you enjoy this recipe!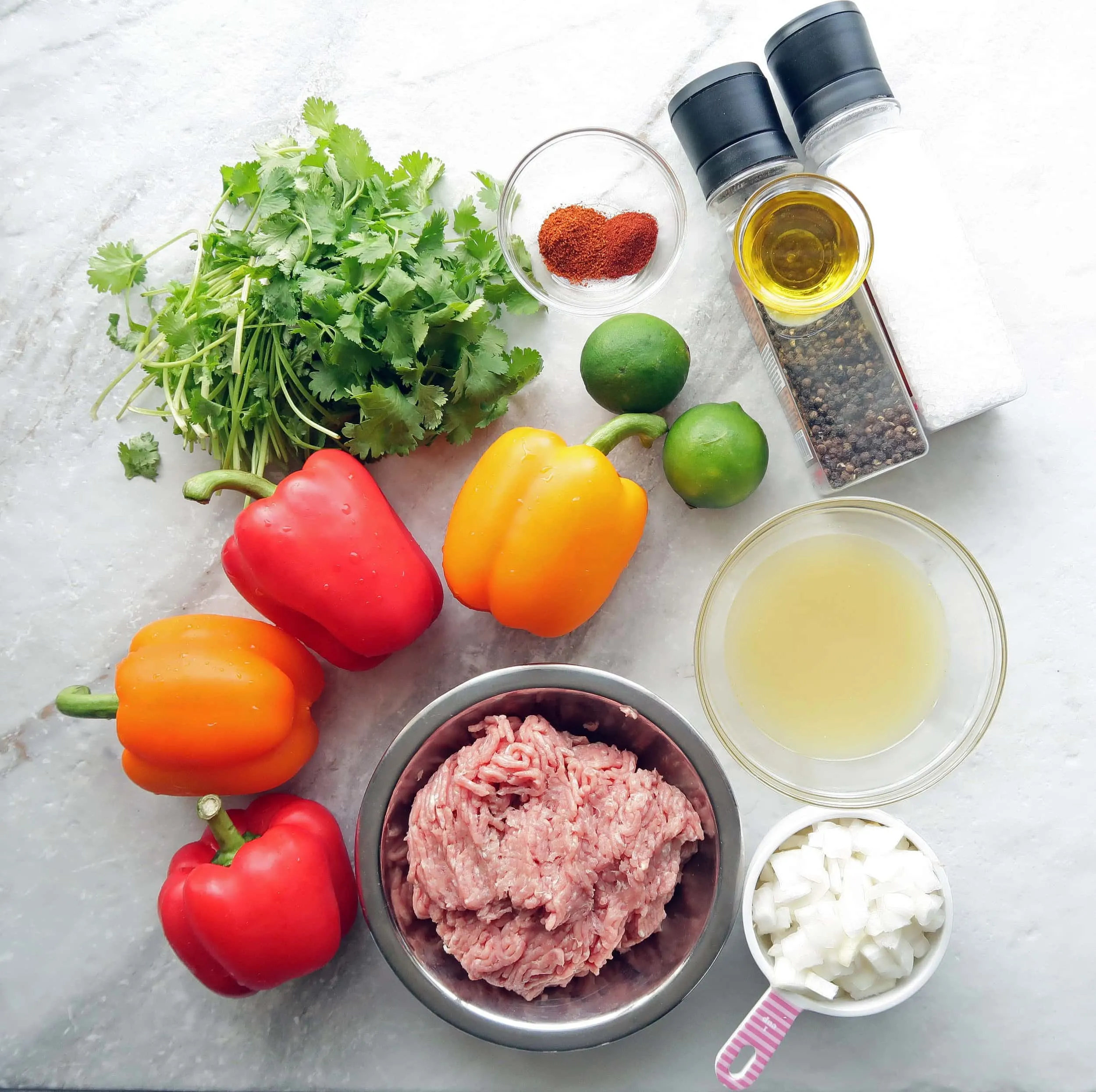 The ingredients for the stuffed peppers (minus the cheese! I forgot to add it before I took the picture!). The amounts are listed in the "Ingredients" list below.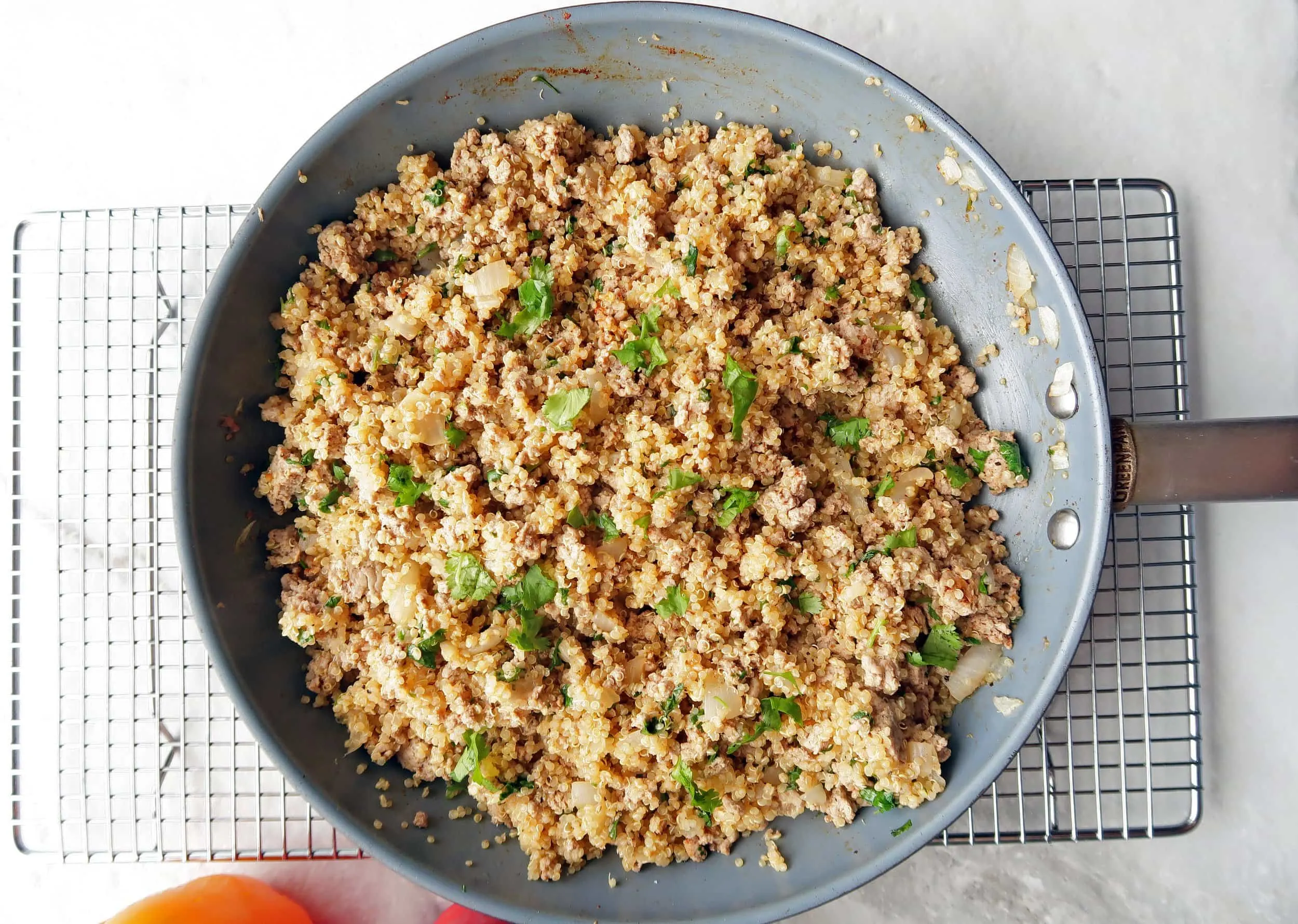 The ground turkey-quinoa mixture is ready to fill the peppers!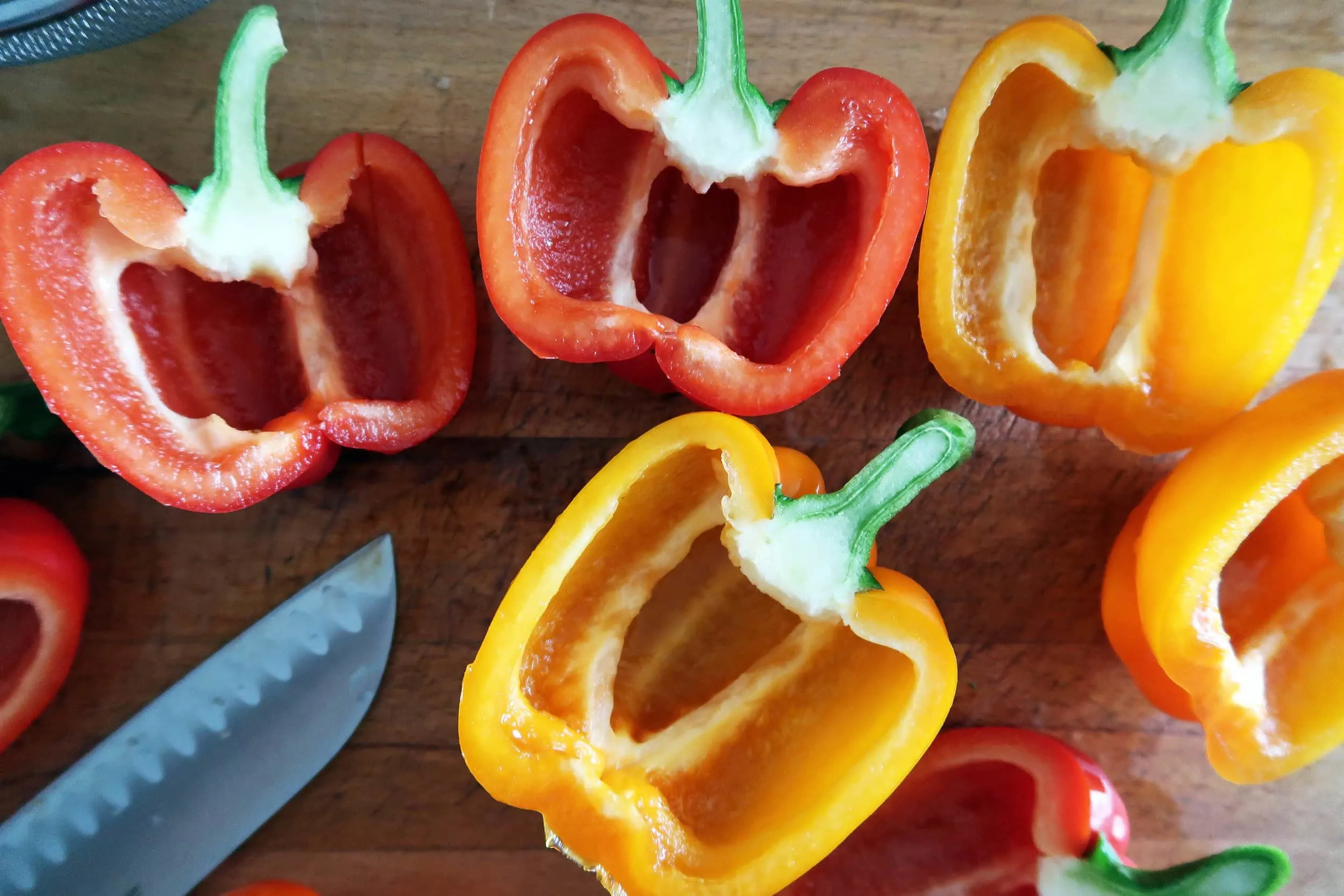 I like to cut the peppers lengthwise and then remove the seeds and white membranes. The stems are inedible, but I like the appearance so I leave them on.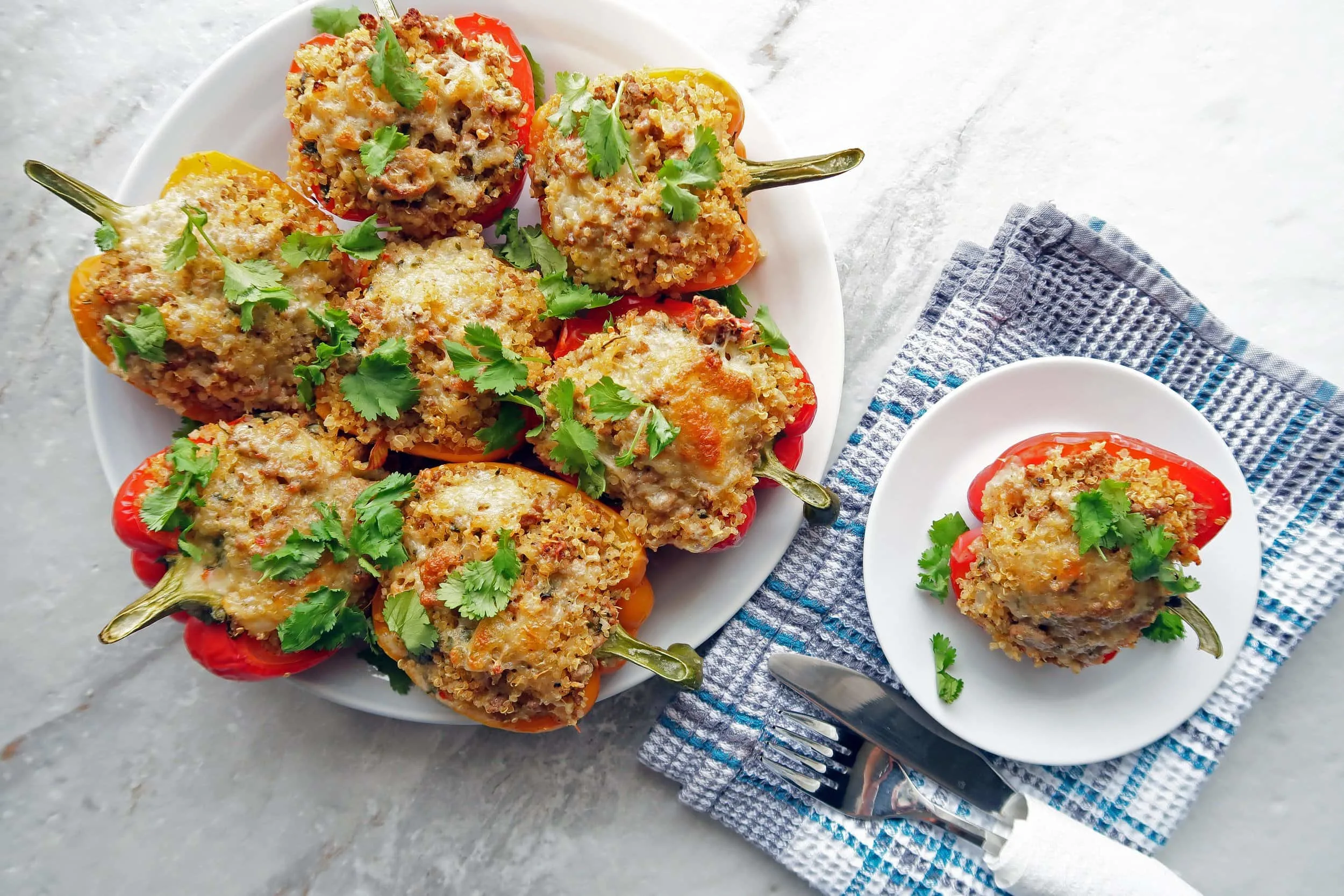 The stuffed bell peppers are placed in a large casserole dish (or roasting pan) on a shallow layer of water, covered with aluminum foil, and baked at 400 degrees F for 30 minutes. Then, more cheese is added to the top of the peppers and it is baked, uncovered, for another 10 minutes.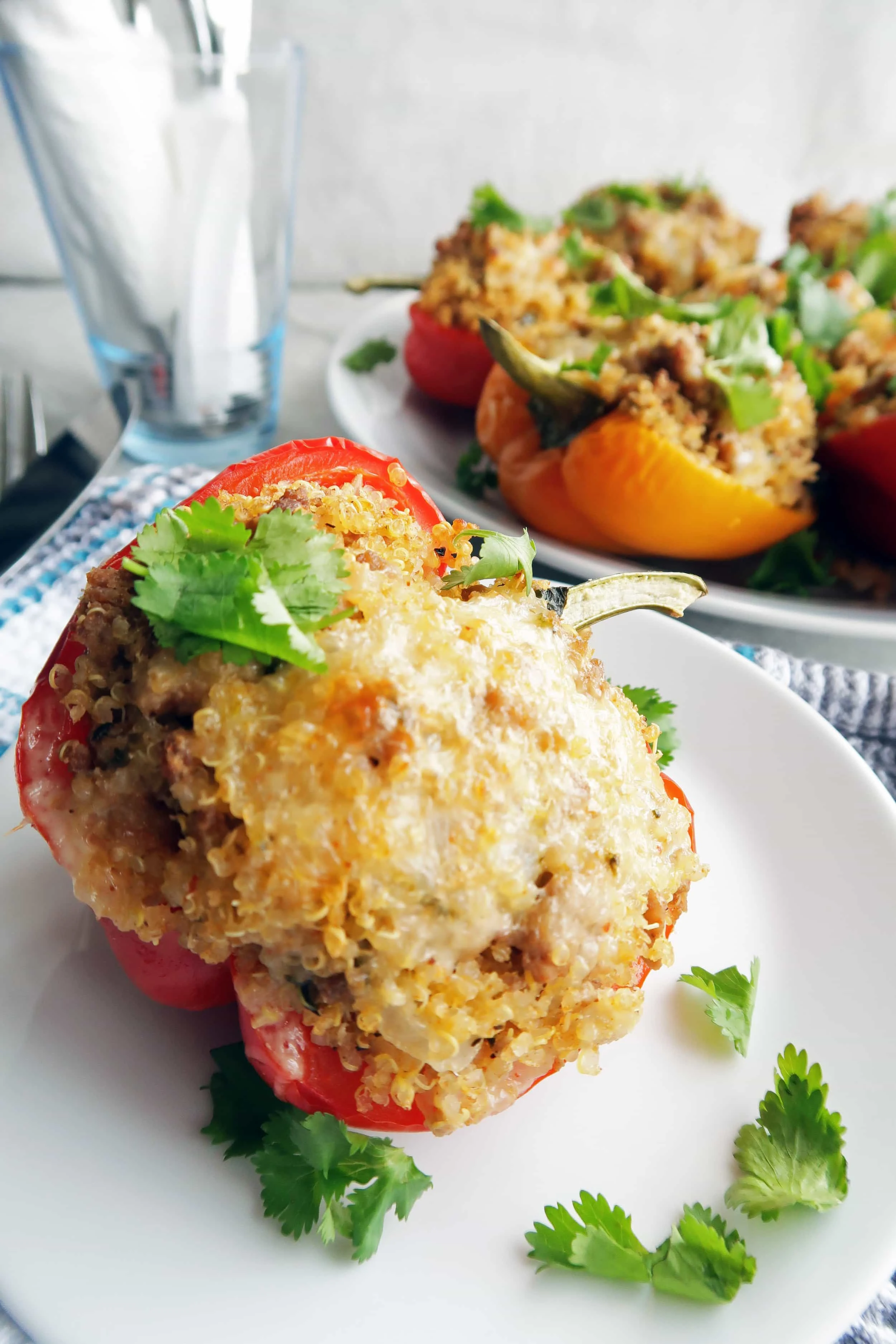 I like to top the stuffed peppers with fresh cilantro right before serving. Enjoy!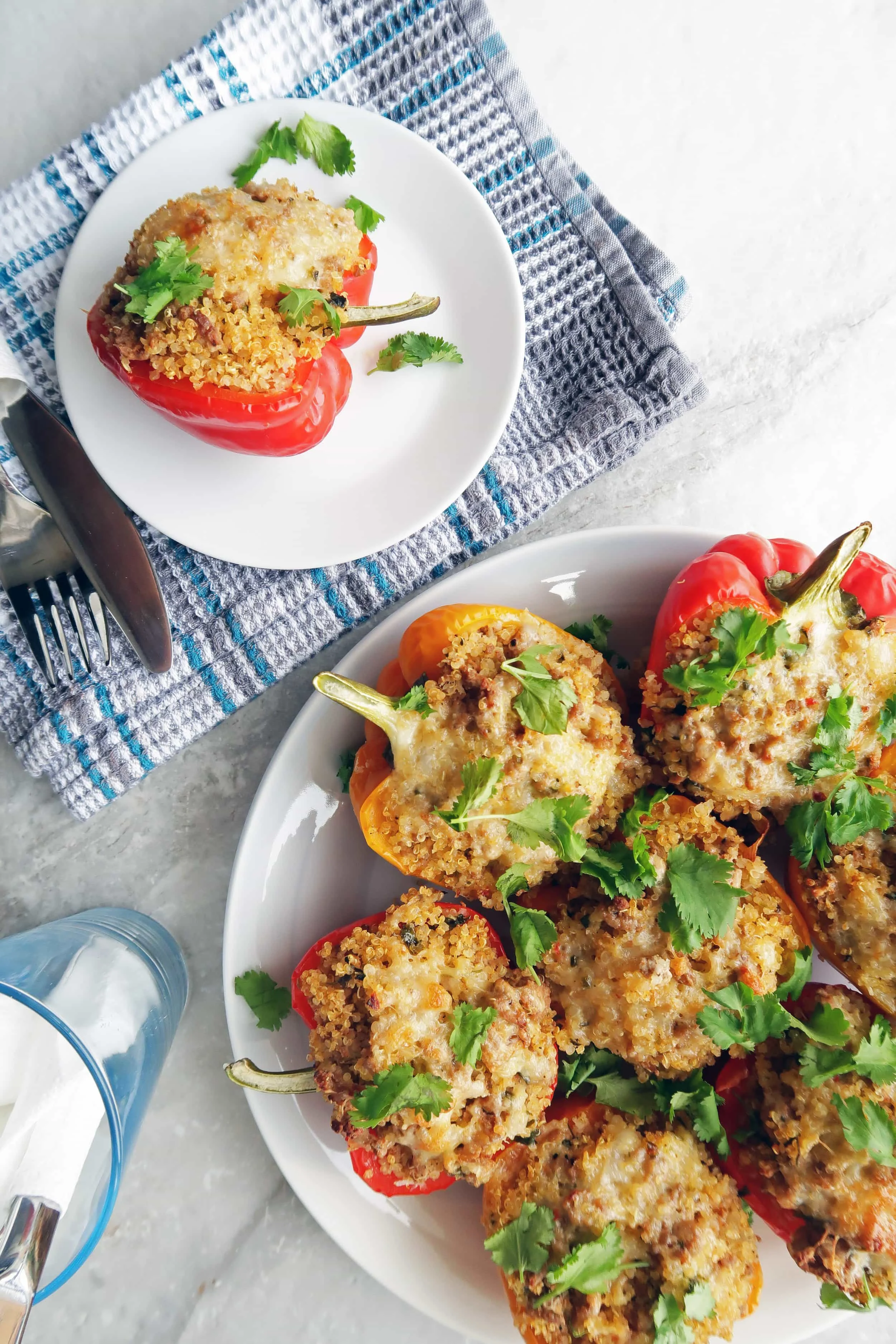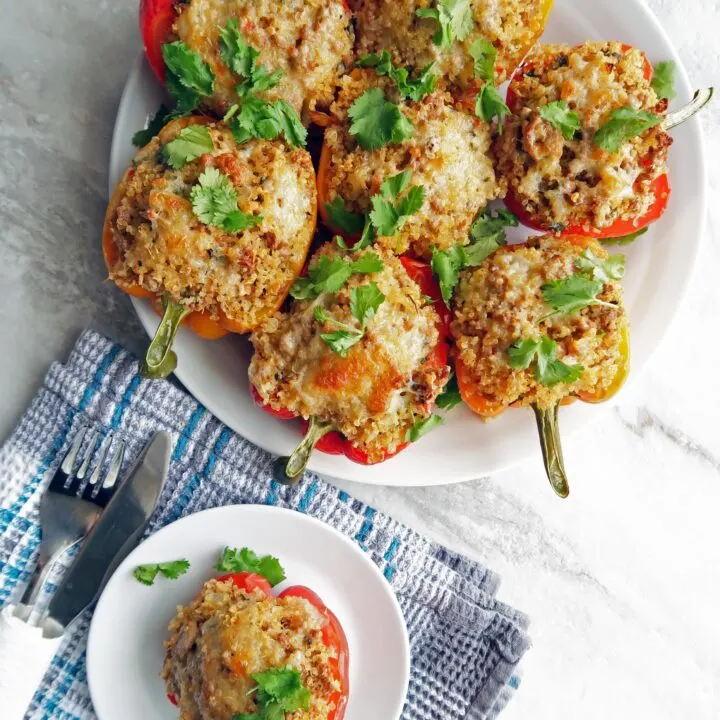 Cilantro Lime Turkey Quinoa Stuffed Bell Peppers
Total Time:
1 hour
5 minutes
Try these delicious stuffed bell peppers filled with cilantro lime turkey and quinoa! Filling, healthy, and full of protein too!
Ingredients
4 large bell peppers, cut in half lengthwise and de-seeded
3 cups cooked quinoa
1 tbsp olive oil
½ cup onions, diced
1 lb. lean ground turkey
1 tsp chili powder
1 tsp paprika
2 limes, juice and zest of one lime
1 cup (loosely packed) fresh cilantro, coarsely chopped
2 cups grated jalapeño monterey jack cheese, divided*
½ cup turkey broth (or chicken broth)
Salt and pepper to taste
Instructions
Preheat the oven to 400 degrees F. Cook quinoa according to package directions.**
As the quinoa cooks, heat a large skillet on medium-high heat. Add the olive oil and onions, stirring occasionally until the onions begin to brown, about 2-3 minutes.
Add in the ground turkey with the chili powder, paprika, salt, and pepper, breaking down the meat into small pieces with a heatproof spatula, until the turkey is cooked through, about 6-8 minutes.
Combine the turkey with the cooked quinoa. Stir in the lime juice and zest, cilantro, broth, and 1 cup of cheese, allowing the cheese to melt. Taste for additional salt, pepper, or spices. Remove from heat and allow it to cool slightly while you slice each bell pepper in half lengthwise and remove the seeds and membranes.***
Fill a large casserole dish (or roasting pan) with a shallow layer of water. Generously fill each pepper with the turkey-quinoa mixture before placing them in the dish. Cover with aluminum foil and bake for 30 minutes.
Remove from the oven and top the stuffed peppers with the remaining cheese. Place back in the oven, uncovered, for an additional 10 minutes, until the cheese is completely melted.
Top with additional fresh cilantro if you like. Plate and serve immediately.
Notes
*If you are gluten-sensitive, make sure that the cheese and broth you are using is gluten-free.
**One cup of uncooked quinoa usually yields 3 cups of cooked quinoa. If you are buying quinoa in bulk or would like general directions: bring one cup of quinoa with 2 cups of water or broth to a boil and then reduce to a simmer until the liquid is absorbed. Fluff quinoa with a fork and let it sit for another 5 minutes. Total time should take around 20 minutes.
*** The membranes are the white ribs attached to the seeds. I left the inedible stems on the peppers for aesthetic reasons, but you can remove it as well if you like.
Recommended Products
As a participant in the Amazon Services LLC Associates Program, I only link to products that I use and/or highly recommend. As an Amazon Associate, I earn from qualifying purchases if you purchase through these links at no additional cost to you.
Nutrition Information:
Yield:

4
Serving Size:

1
Amount Per Serving:
Calories:

575
Total Fat:

22g
Saturated Fat:

6g
Trans Fat:

0g
Unsaturated Fat:

15g
Cholesterol:

125mg
Sodium:

406mg
Carbohydrates:

57g
Fiber:

9g
Sugar:

16g
Protein:

41g