Sometimes the simplest recipes are the tastiest as it allows the main ingredient to be showcased.
To admit, I've been sitting on this recipe for a while since there are already a ton of roasted asparagus recipes out there, but hey! Why not add one more? There is a reason why roasted asparagus is so popular; it's just so delicious and flavourful without much effort at all!
This is a very easy and fast side dish that uses just a few ingredients and only requires about five minutes of prep time. Plus, this recipe is vegan and gluten-free too, for those with dietary restrictions.
TIP: I like to break off the woody, hard stem by snapping it at its natural breaking point. You can also peel or cut the woody end off with a knife if you prefer a neater appearance, leaving the soft, edible asparagus buds and stems behind to roast. Remember to save the woody stem ends for a stock or composting.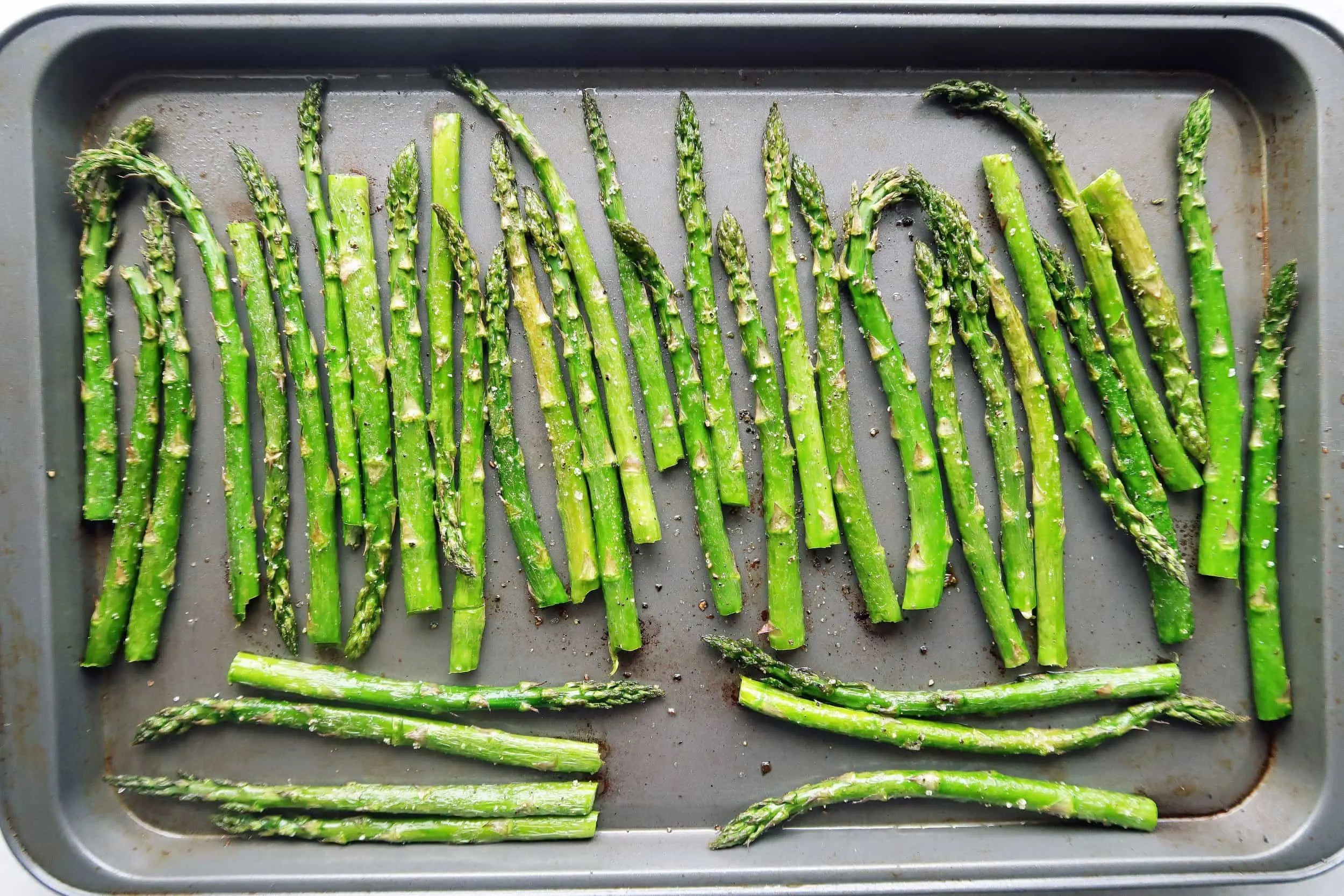 The asparagus is tossed with olive oil, salt, and pepper right in the baking sheet and then roasted until it's tender-crisp.
The asparagus is roasted at a high temperature for a short amount of time, bringing out the natural mild sweetness of the asparagus. The addition of lemon and basil adds bright, zesty and aromatic flavours that compliment the asparagus so well!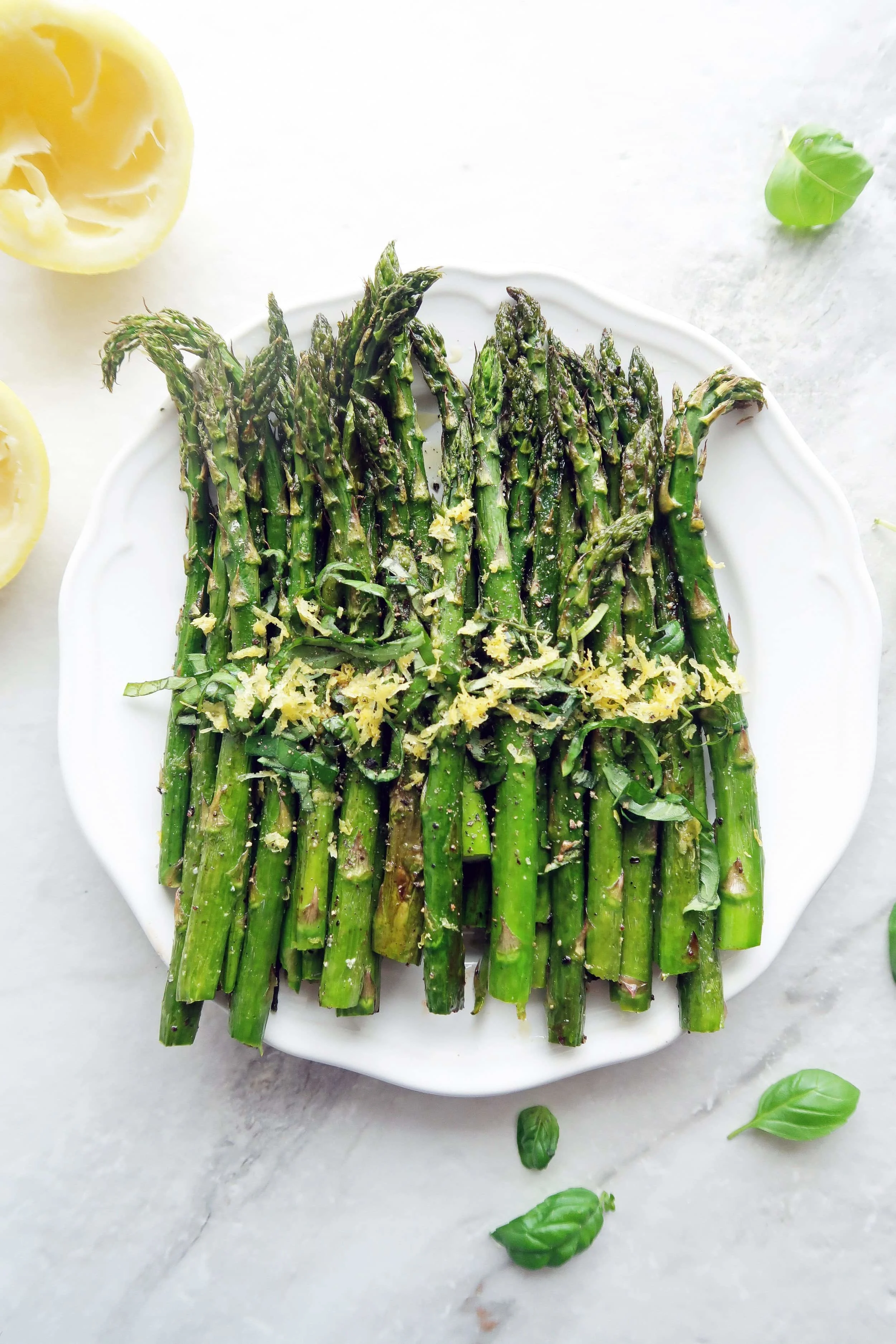 Squeeze some fresh lemon juice on top with zest and finely sliced basil! Enjoy!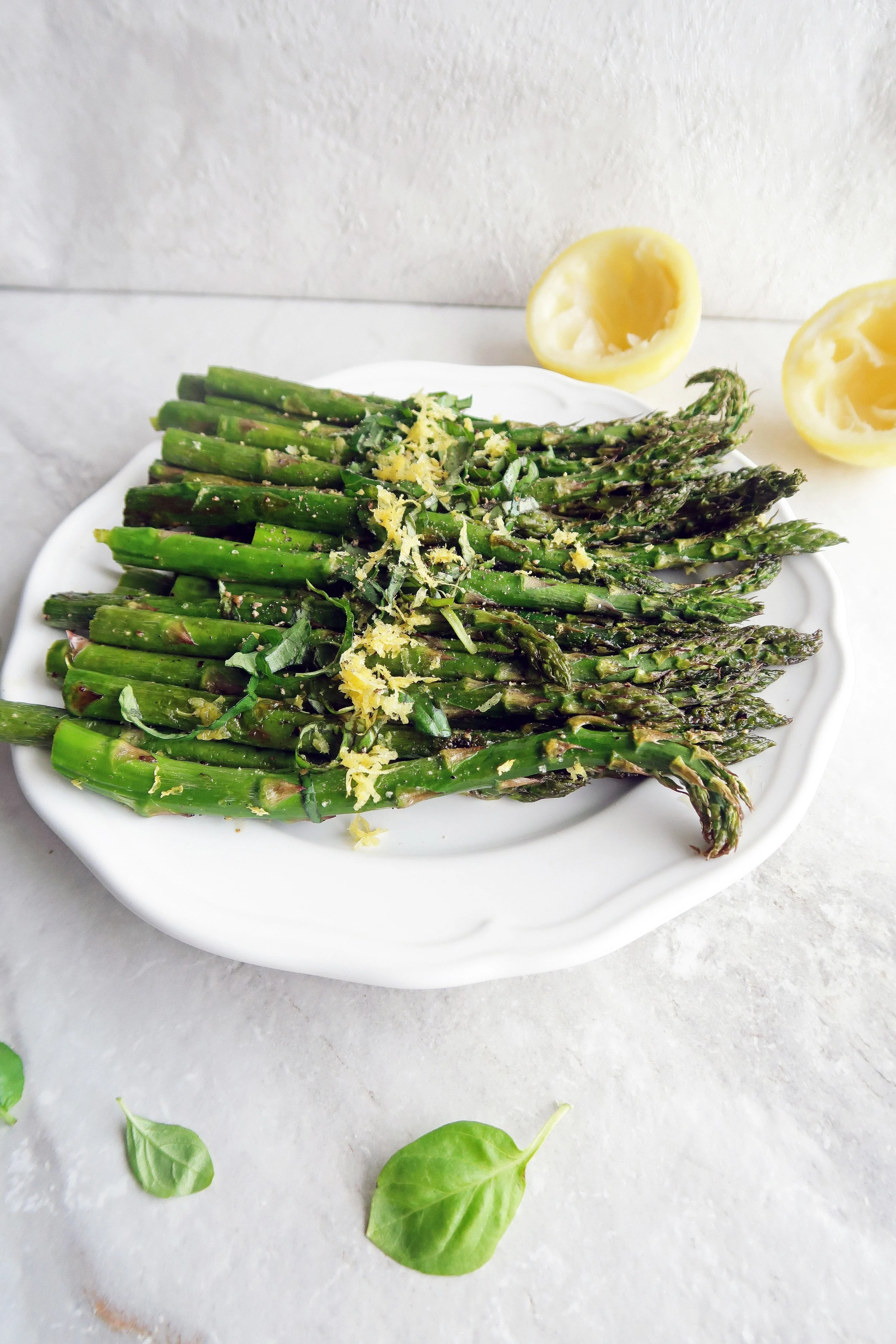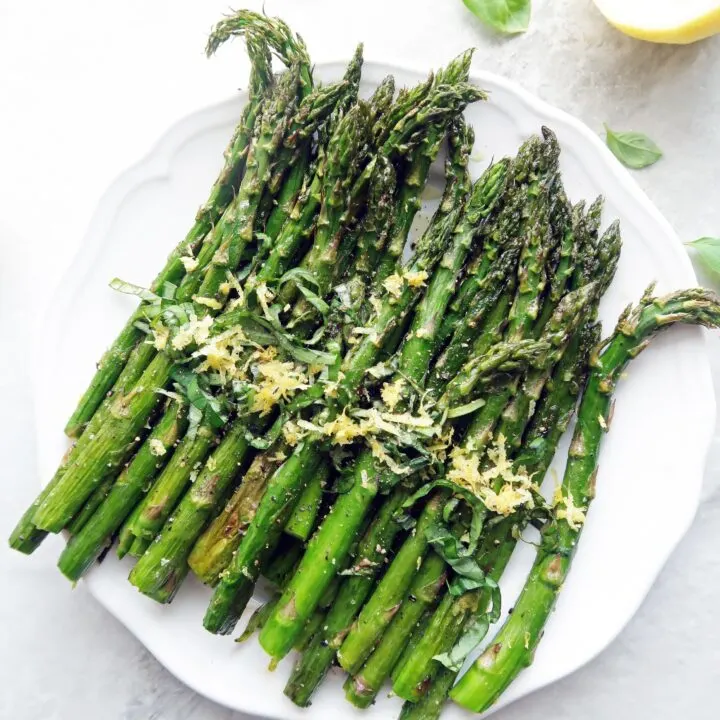 Quick Roasted Asparagus with Lemon and Basil
This roasted asparagus dish with fresh lemon and basil is full of fresh, bright flavours! A healthy side dish that's fast and easy!
Ingredients
1 lb. fresh asparagus, woody stems removed
½ lemon, juice and zest
1-2 tbsp fresh basil, sliced
2 tbsp olive oil
Salt and pepper
Instructions
Preheat the oven to 400 degrees F.
On a baking sheet, toss together the asparagus, olive oil, salt and pepper so that the asparagus is evenly coated. Spread out the asparagus in a single layer.
Roast until tender-crisp and lightly-browned, about 12-15 minutes. Roast time is dependent on the thickness of the asparagus.
Plate and squeeze fresh lemon juice over the warm asparagus. Top with lemon zest and basil. Sprinkle additional salt and pepper to taste. Serve immediately.
Recommended Products
As a participant in the Amazon Services LLC Associates Program, I only link to products that I use and/or highly recommend. As an Amazon Associate, I earn from qualifying purchases if you purchase through these links at no additional cost to you.
Nutrition Information:
Yield:

4
Serving Size:

1
Amount Per Serving:
Calories:

85
Total Fat:

7g
Saturated Fat:

1g
Trans Fat:

0g
Unsaturated Fat:

6g
Cholesterol:

0mg
Sodium:

90mg
Carbohydrates:

5g
Fiber:

2g
Sugar:

1g
Protein:

3g