Yay! We're in blueberry season now! Sweet, plump, and full of flavour; these little berries are one of my favourite fruits.
I have been using blueberries in many recipes all summer long as well as eating them by the handful as a healthier snack. These berries are full of antioxidants as well as vitamins C and K, but mostly they are just plain tasty.
I think that blueberries are even tastier when scattered in a yummy coffee cake. Yes, it is not really healthy in cake form, but everything in moderation, I say.
Plus, it's so shareable and easy to put together and most ingredients are likely already in your pantry; if not, they can be easily found at any grocery store.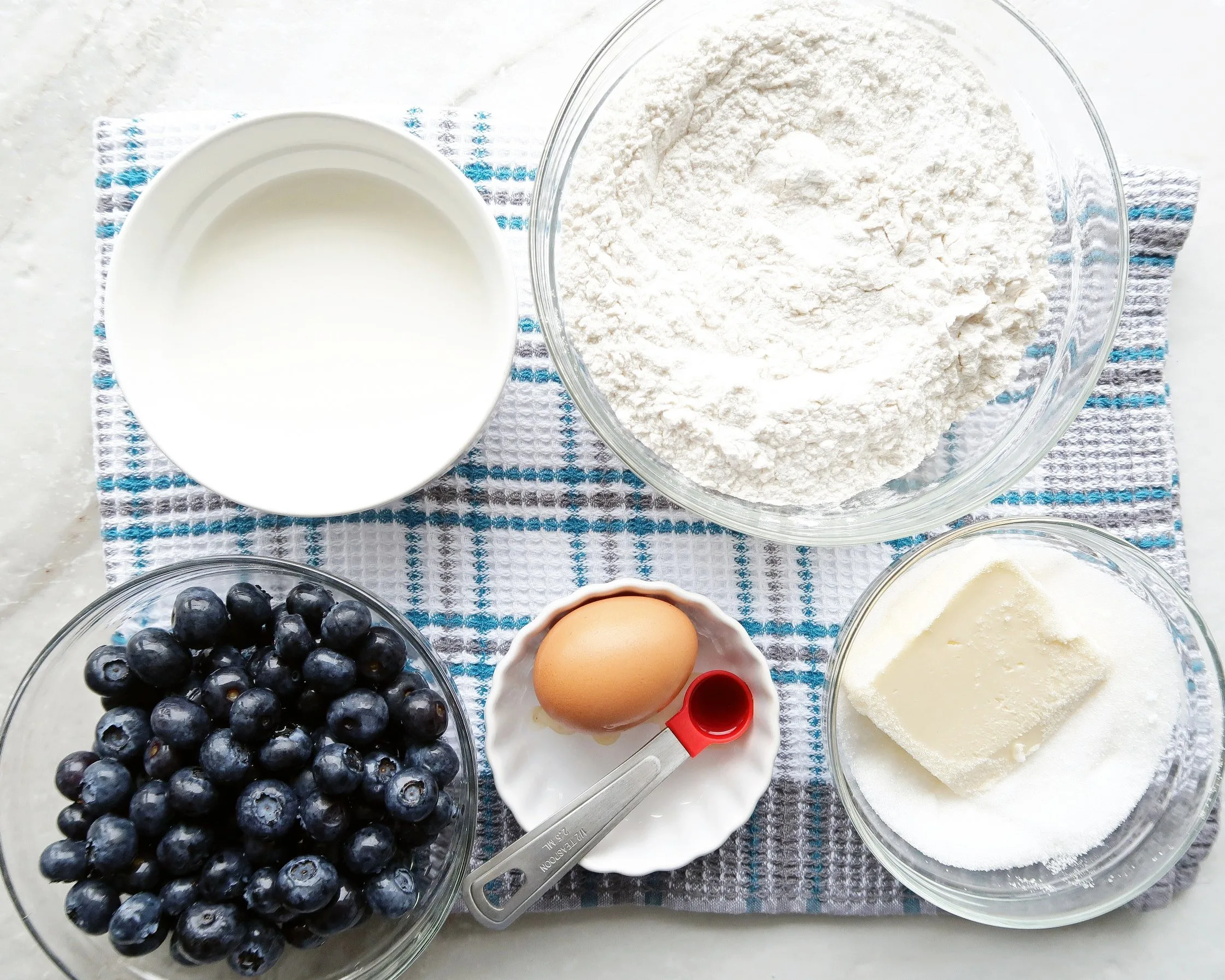 All the ingredients for the cake! Amounts listed in the "Ingredients" list below. The crumble ingredients are not shown.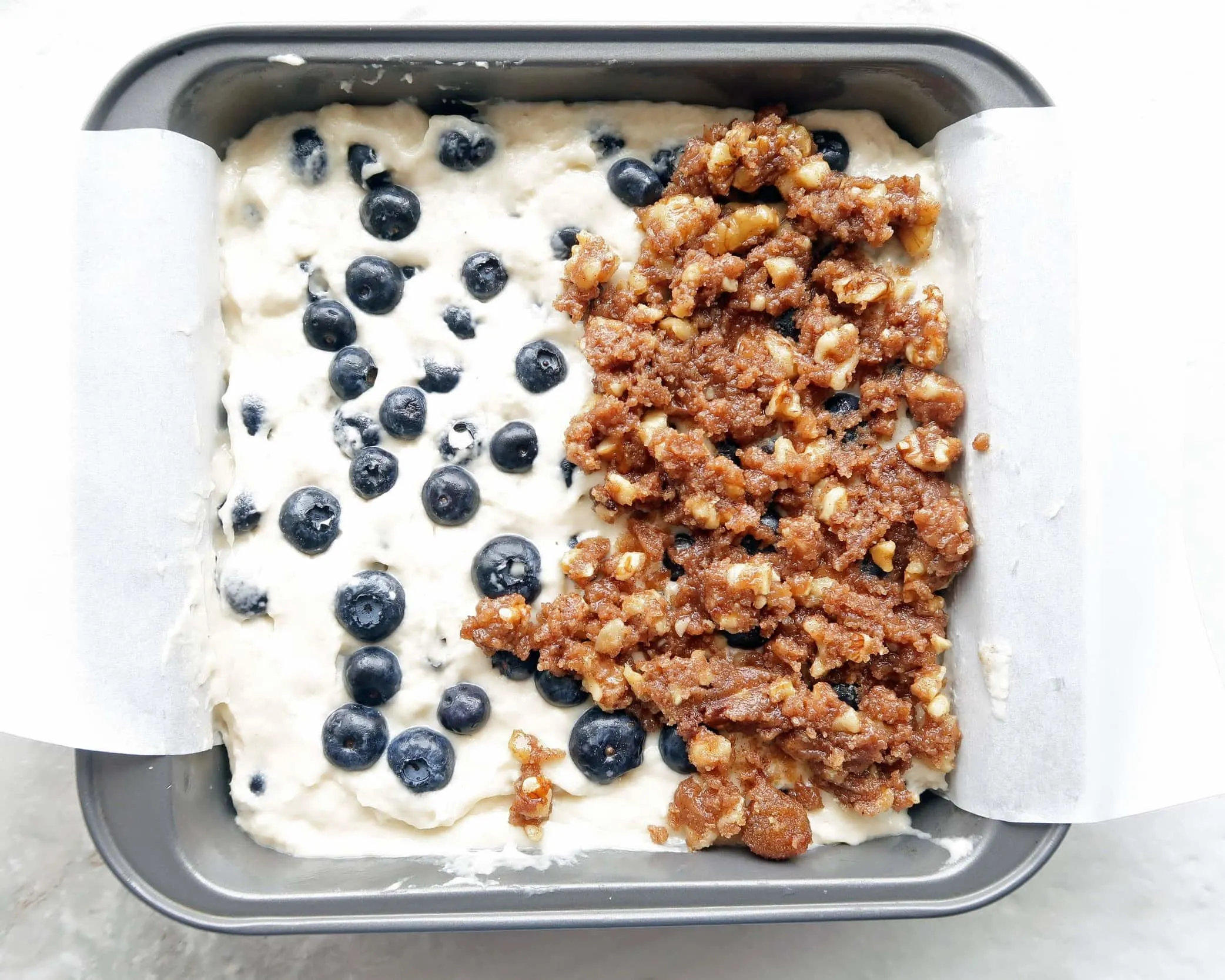 Once the batter is prepared, pour it into a baking pan greased and lined with parchment paper (it's easier to take out the cake whole that way). Top with more blueberries and then with crumble (I'm halfway there in the picture).
Bake at 375 degrees F for 35-40 minutes. Look at that crunchy sweet crumble with blueberries peaking out on top!
Let it cool before removing from the pan.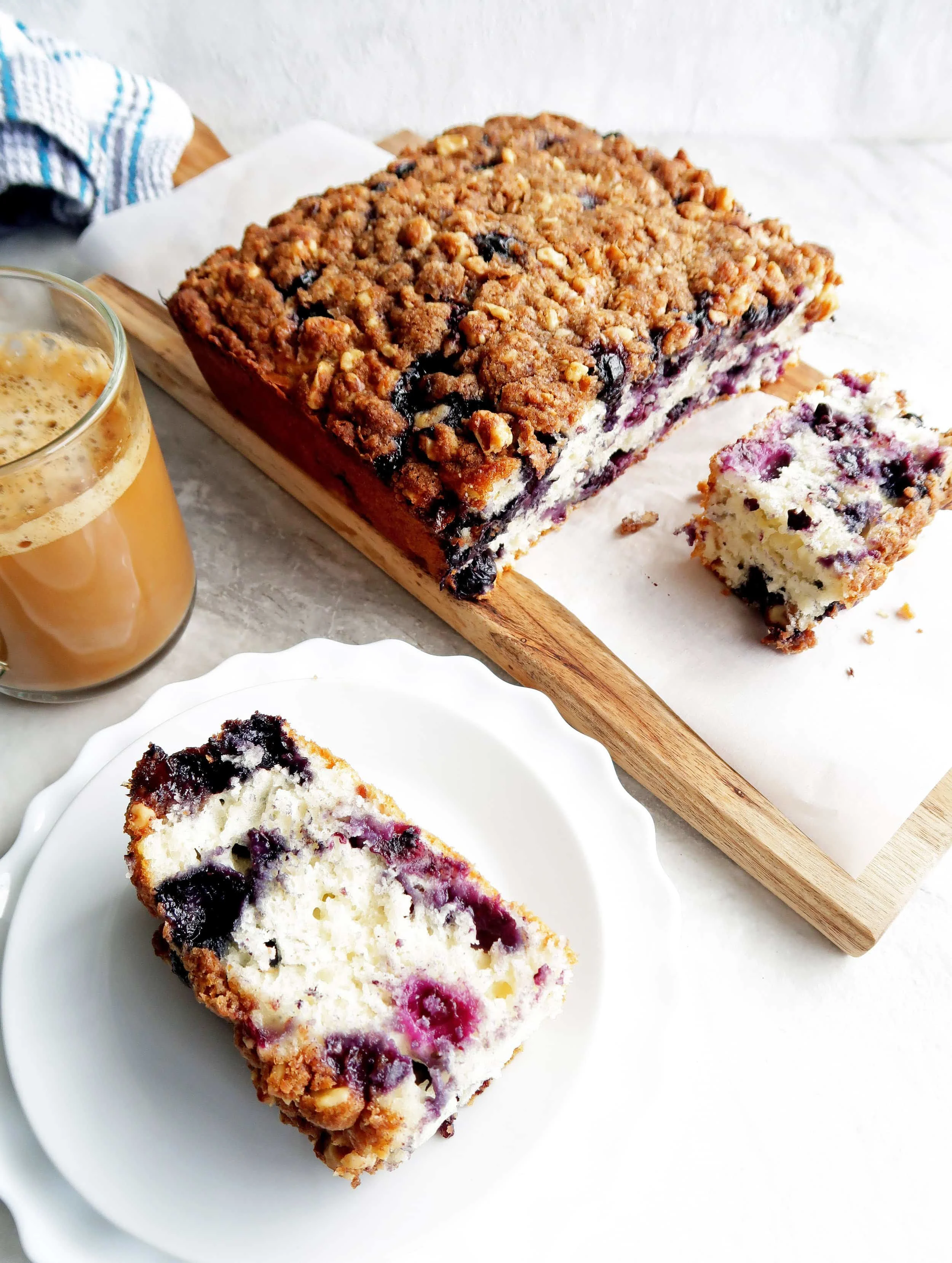 This cake is is soft, fluffy, and loaded with delicious fresh blueberries. As the blueberries are baked, they soften and juices release. There are bursts of wonderful blueberry flavour throughout the cake. The pretty blue colour is swirled in different patterns with each piece cut.
The crumble (or crumb topping)on top of the cake is sweet from the brown sugar and crunchy from the chopped up walnuts. If you have pecans on hand, they will work just as well. There is a mild hint of cinnamon flavour that goes so well with the flavours of the cake and crumble.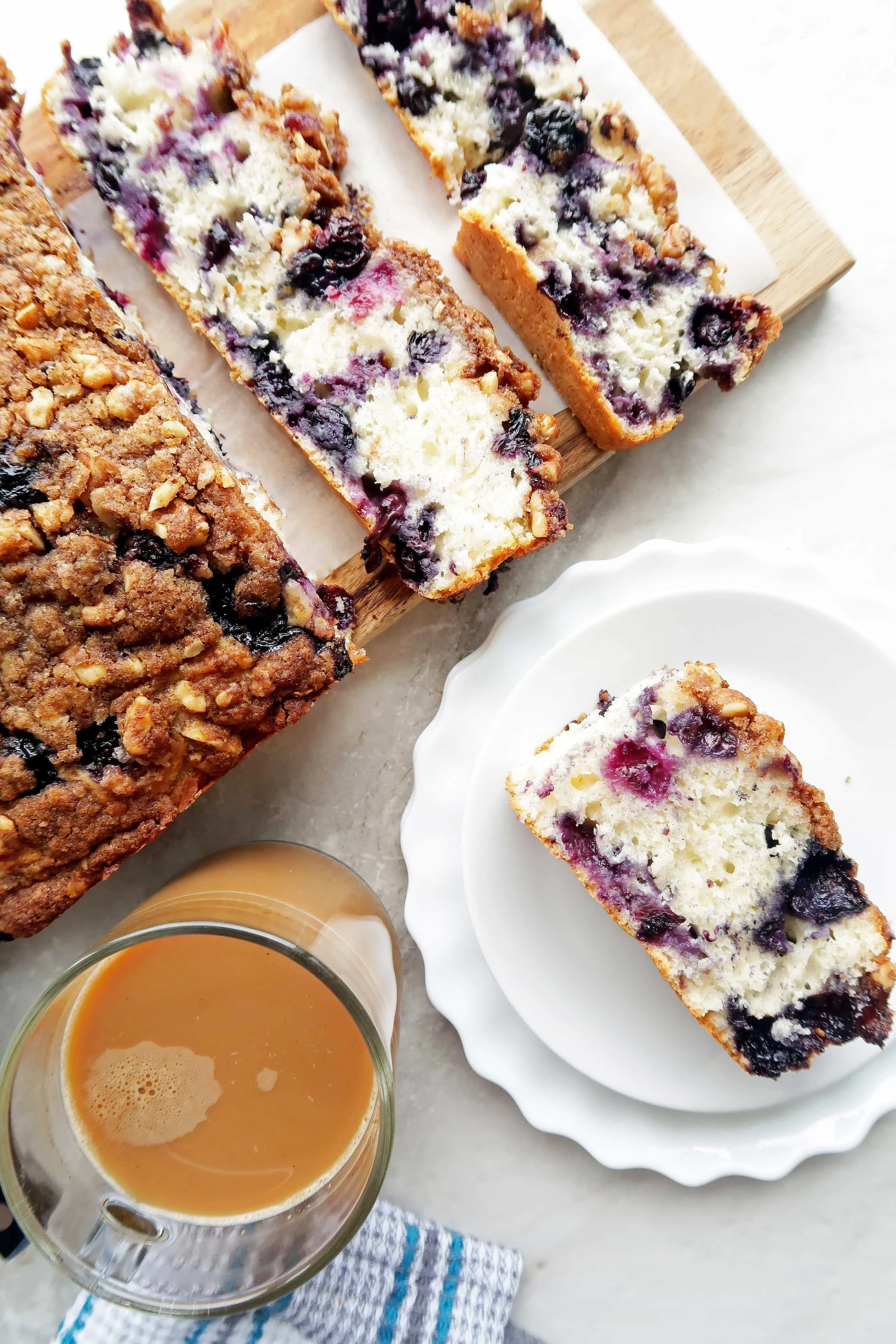 Once cooled, slice the cake into as many pieces as you want and serve. It goes perfectly with a fresh cup of hot coffee, or if you prefer, a cup of tea or a glass of milk for breakfast. It's also great as an after-dinner dessert or as a snack.
I hope you enjoy this recipe!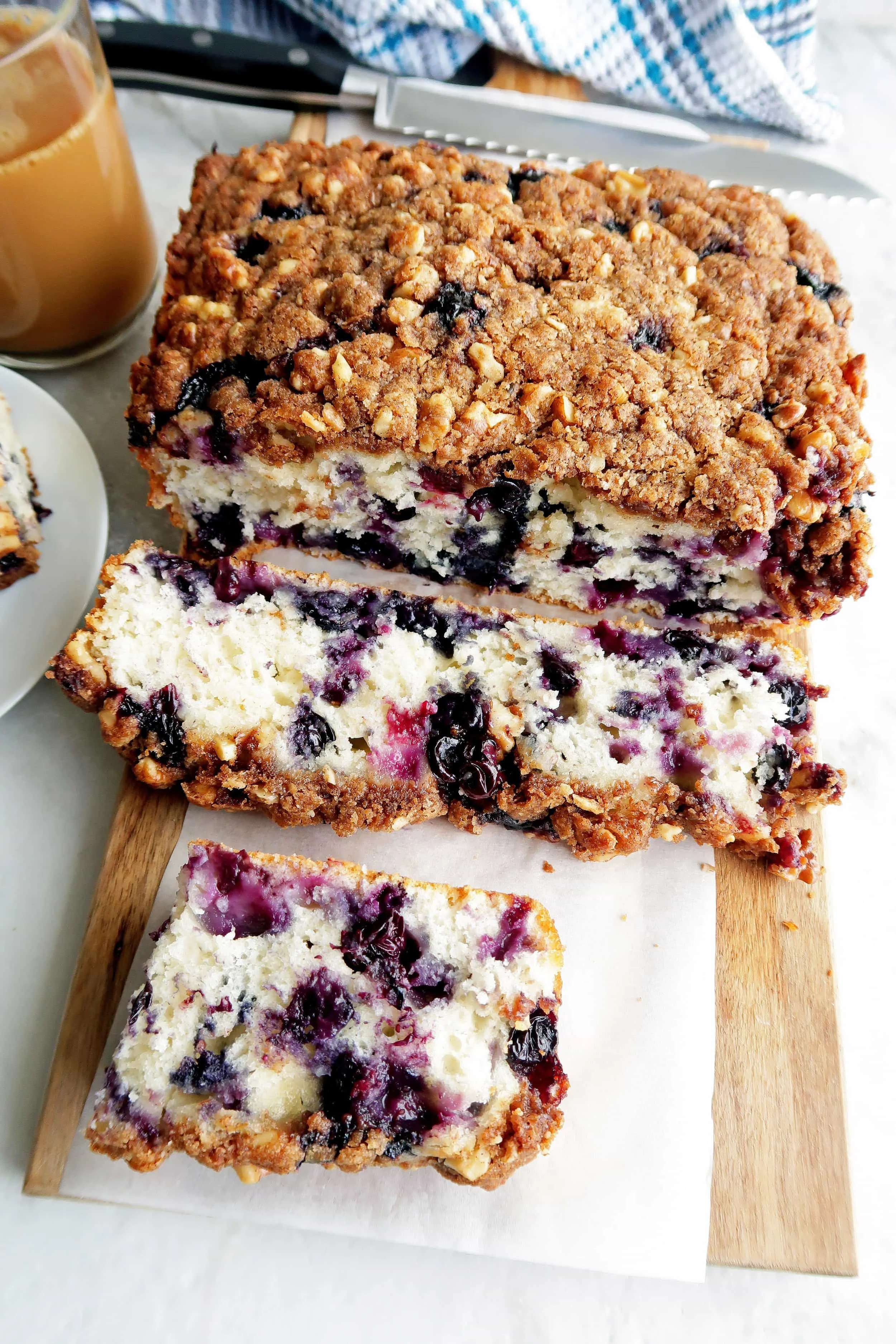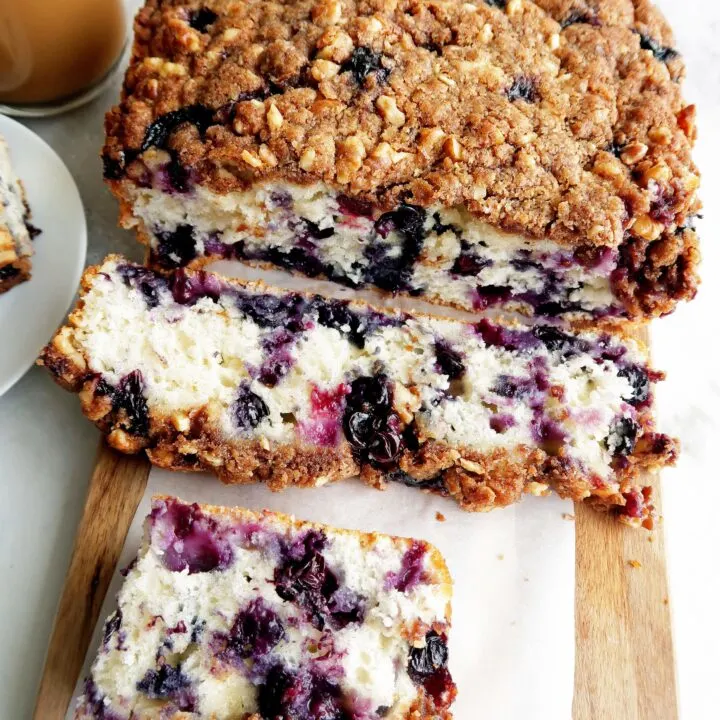 Blueberry Coffee Cake with Brown Sugar-Walnut Crumble
Yield:
12 slices (1 - 8-inch square cake)
Try this delightful coffee cake loaded with fresh blueberries and topped with a crunchy and sweet walnut and brown sugar crumb topping! Serve it for breakfast, dessert, or as a snack!
Ingredients
For the cake:
½ cup sugar
¼ cup (2 oz.) unsalted butter, softened
1 egg
1 cup milk
½ tsp vanilla extract
2 cups all-purpose flour
2 tsp baking powder
¼ tsp salt
2 cups fresh blueberries
For the crumble:
½ cup walnuts, chopped
½ cup brown sugar
¼ cup all-purpose flour
¼ cup (2 oz.) unsalted butter, melted
1 tsp ground cinnamon
Instructions
Preheat the oven to 375 degrees F. Grease and line a 8-inch square baking pan with parchment paper.
In a medium bowl, mix together the crumble ingredients well. Set aside.
Using a whisk or electric mixer, cream together the butter and sugar. Add the milk, egg, and vanilla extract, then mix until combined.
Mix together the flour, baking powder, and salt. Slowly add to the batter in batches, whisking in between, until the batter is smooth, scraping down the sides if necessary. The batter will be thick.
Using a spatula, gently fold in most of the blueberries, reserving a handful of blueberries.
Pour the batter into the loaf pan and sprinkle the remaining blueberries on top. Spread the crumble evenly over the top of the batter.
Bake for 35-40 minutes, until a wooden skewer (or cake tester) comes out clean in the centre of the cake. Let it cool before removing from the pan. Slice and serve.
Notes
To store, let the cake cool down completely before wrapping several times with plastic wrap. It can be kept up to four days at room temperature.
Recommended Products
As a participant in the Amazon Services LLC Associates Program, I only link to products that I use and/or highly recommend. As an Amazon Associate, I earn from qualifying purchases if you purchase through these links at no additional cost to you.
Nutrition Information:
Yield:

12
Serving Size:

1
Amount Per Serving:
Calories:

215
Total Fat:

5g
Saturated Fat:

1g
Trans Fat:

0g
Unsaturated Fat:

3g
Cholesterol:

18mg
Sodium:

153mg
Carbohydrates:

39g
Fiber:

2g
Sugar:

18g
Protein:

5g