I'm still eating all the fresh summer fruits!
Have you checked out my cherry drink recipe for 4-Ingredient Watermelon Cherry Slushiesor my other blueberry recipessuch as Classic Lemon Blueberry Loaf Cake?The loaf cake is one of my most popular recipes!
One tried and true dessert is a good ol' fruit crisp; a lovely way to showcase the seasonal sweet and tart red cherries and plump blueberries that are readily available this time of the year.
This delicious crisp feeds a small crowd without much effort (it can be scaled-up easily) and has very few, simple steps. It can also be served for breakfast or as a dessert with extra whipped cream, ice cream, or even a creamy yogurt. My favourite kind of recipe! 🙂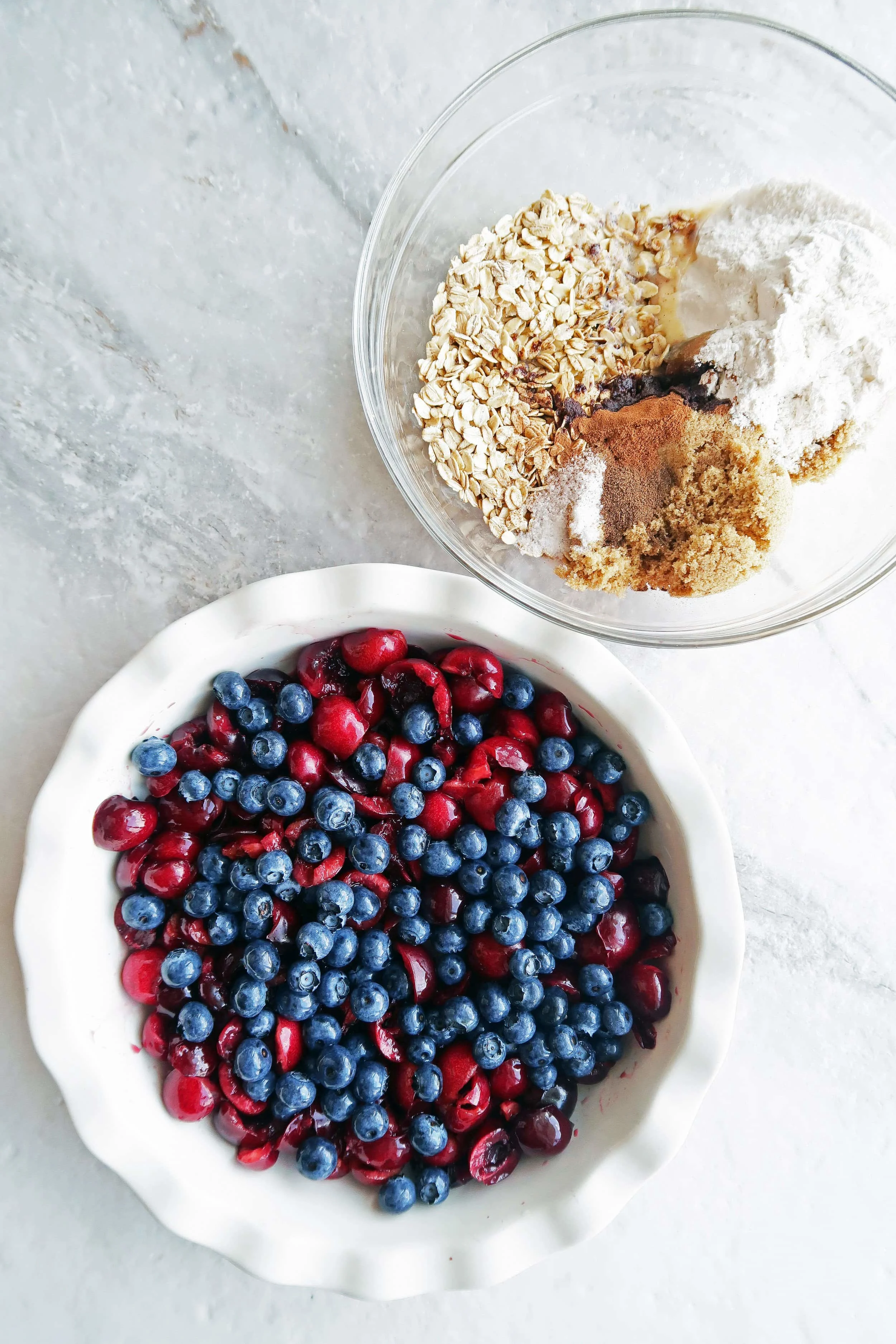 All the ingredients! Amount in the "Ingredients" list below.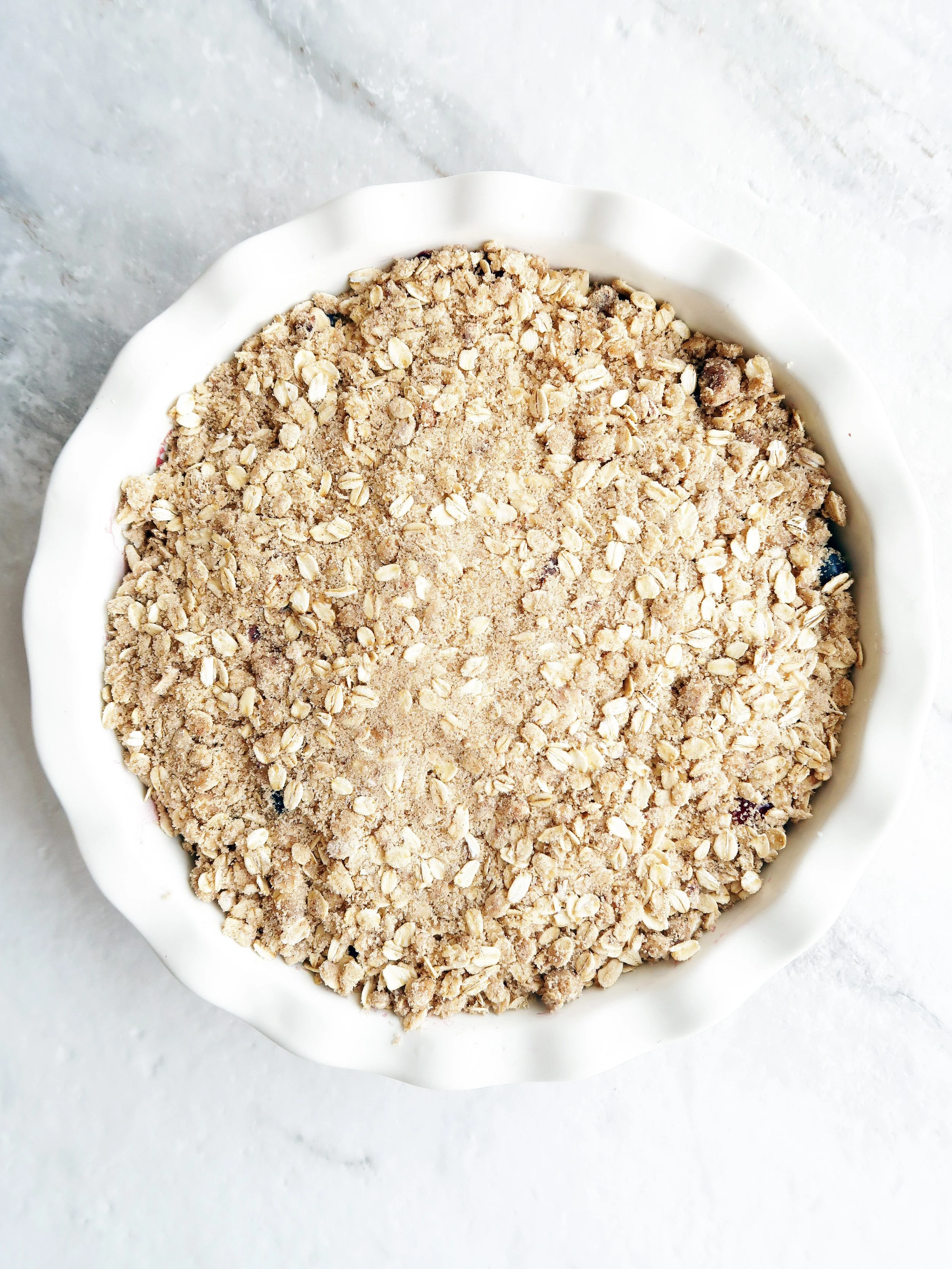 Blueberries and cherries on the bottom and the rolled oat topping spread on top.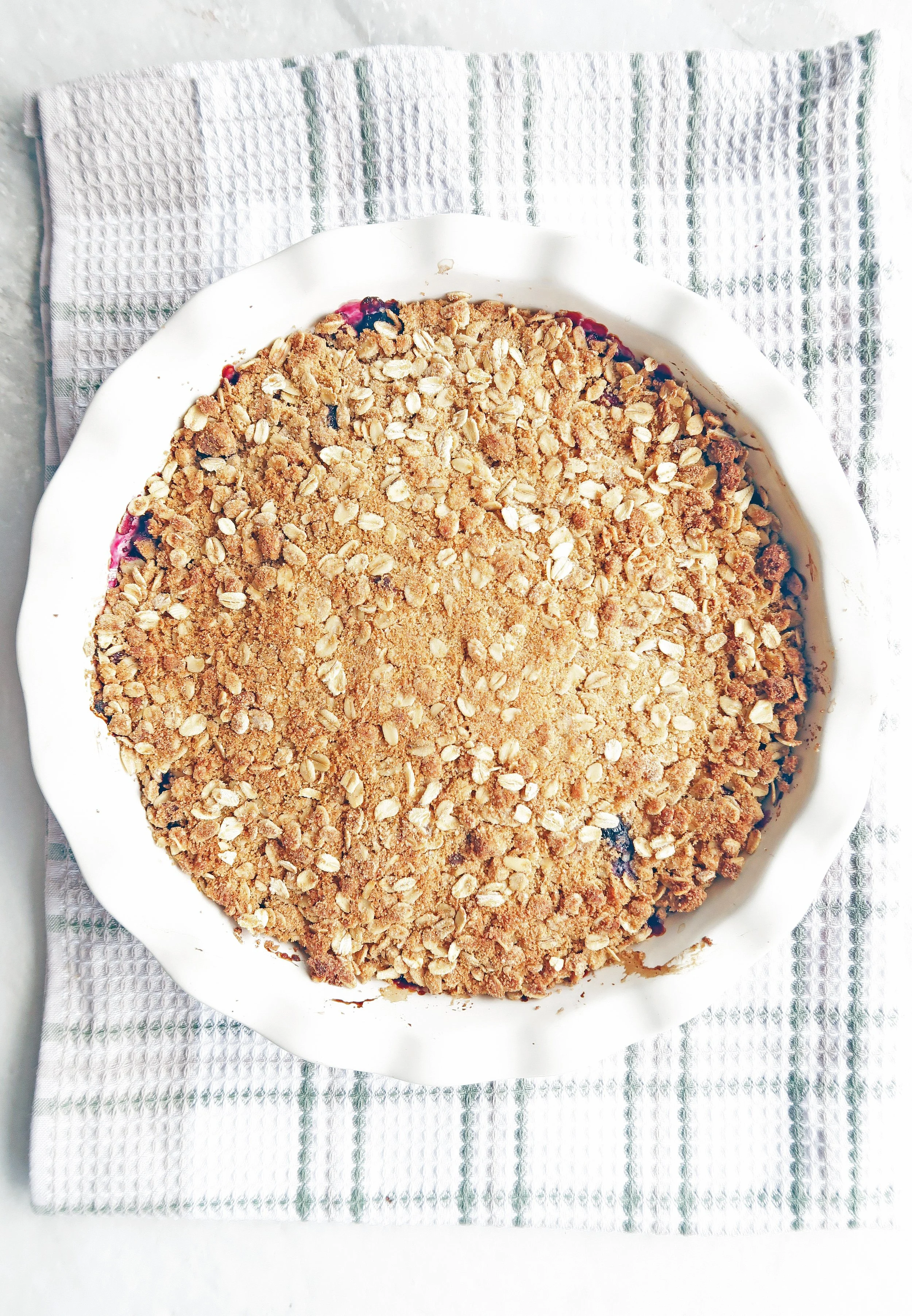 Bake at 400 degrees until golden on top, about 22-25 minutes.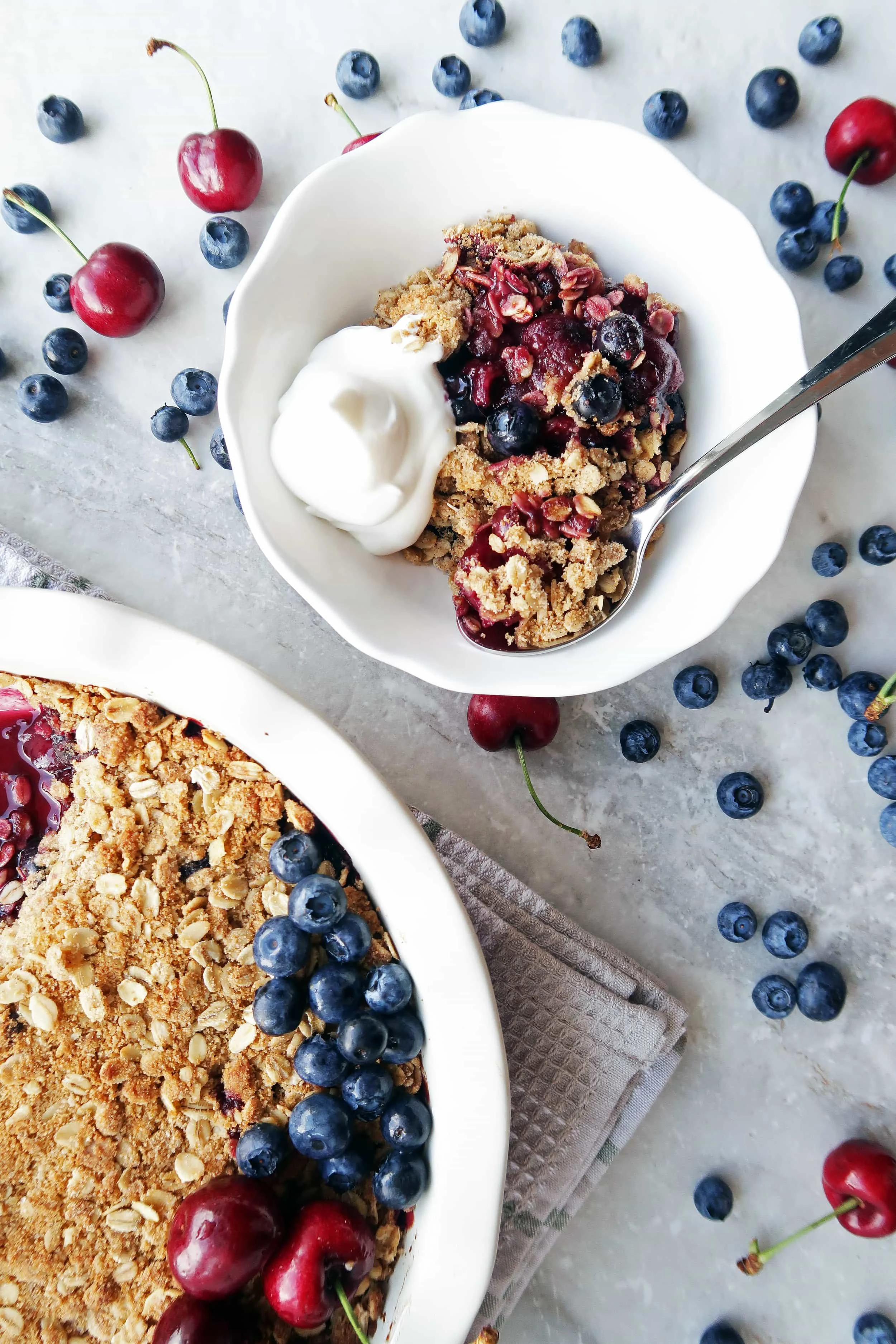 Of course, this recipe is super versatile. Change up the fruit for other berries, peaches, apples, or pears. Did I mention that you can use frozen fruit too? Thaw the fruit and you're ready to go.
Experiment with the amounts and ingredients for the crisp topping like adding sliced almonds or crushed pecans or more butter (cold or melted) for well… more buttery goodness and texture differences or even a mixture of white and brown sugar.
This fruit crisp variation is heavy on the oat crisp. The brown sugar and rolled oat topping is combined with butter, flour, and warming spices to form a crumbly, slightly crunchy (almost chewy), sweet topping.
I like melting the butter rather than cutting in cubes to form a slightly wet mixture since I find it easier, faster, and the crumble is less clumpy when it bakes (or is it just me?). Either way works and it will be just as tasty, just a little different texturally.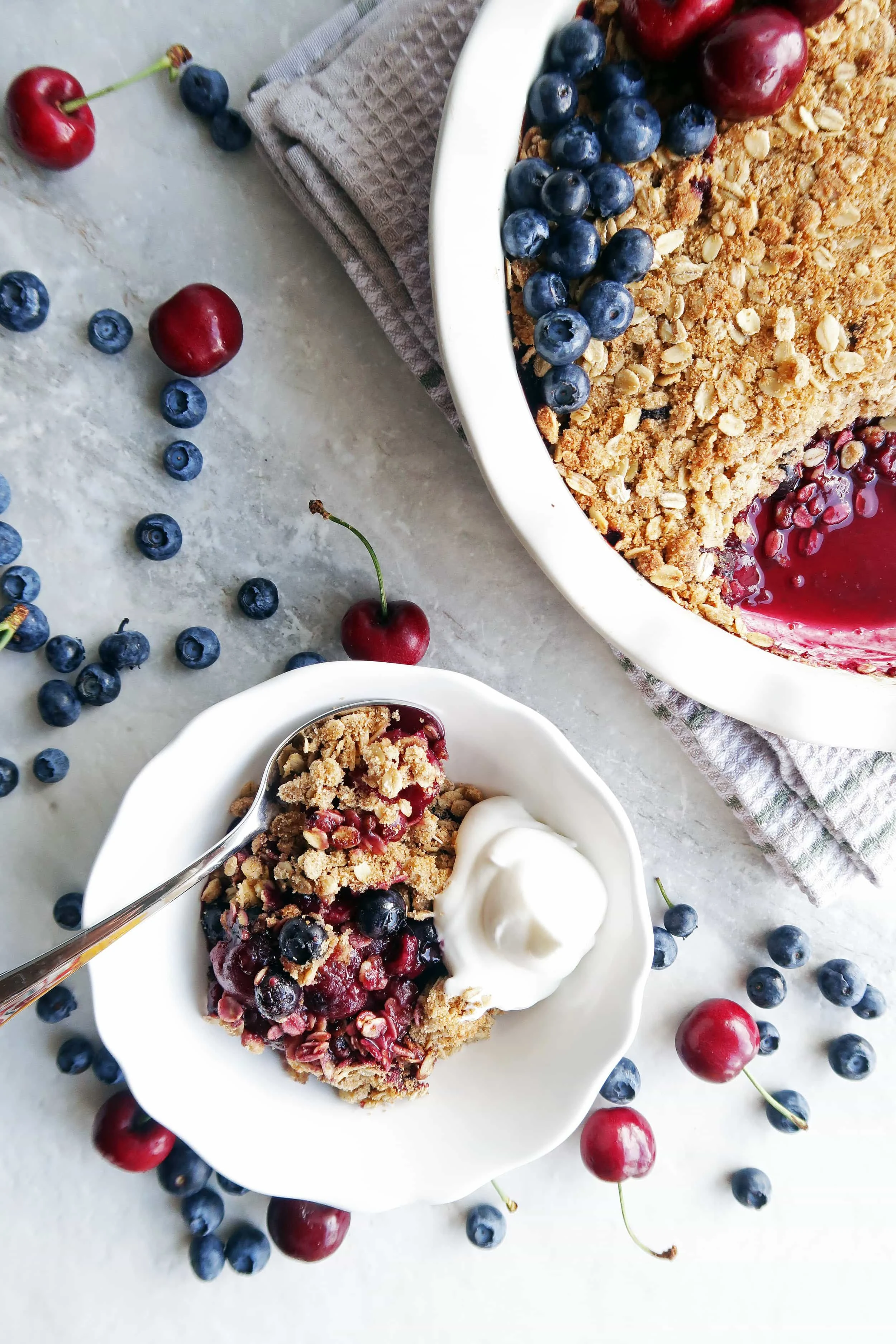 While the crisp bakes, the cherries and blueberries soften, juices are released, and it becomes tender and warm and scrumptious… drools…
As a tip, if you find that your baking dish is really full, place a baking sheet lined with aluminum foil under the dish. It will catch any fruit juices that may bubble over as it bakes; the clean-up is easy that way.
Overall, the blueberries and cherries make an awesome and flavourful combination along with the sweet, lightly spiced rolled oat topping! Adding the final touch of a generous scoop of whipped cream or ice cream is just perfect.
I like mixing everything together before taking a bite, which creates a wonderful mixture of flavours and textures all at once. It's super satisfying! I hope you enjoy this recipe!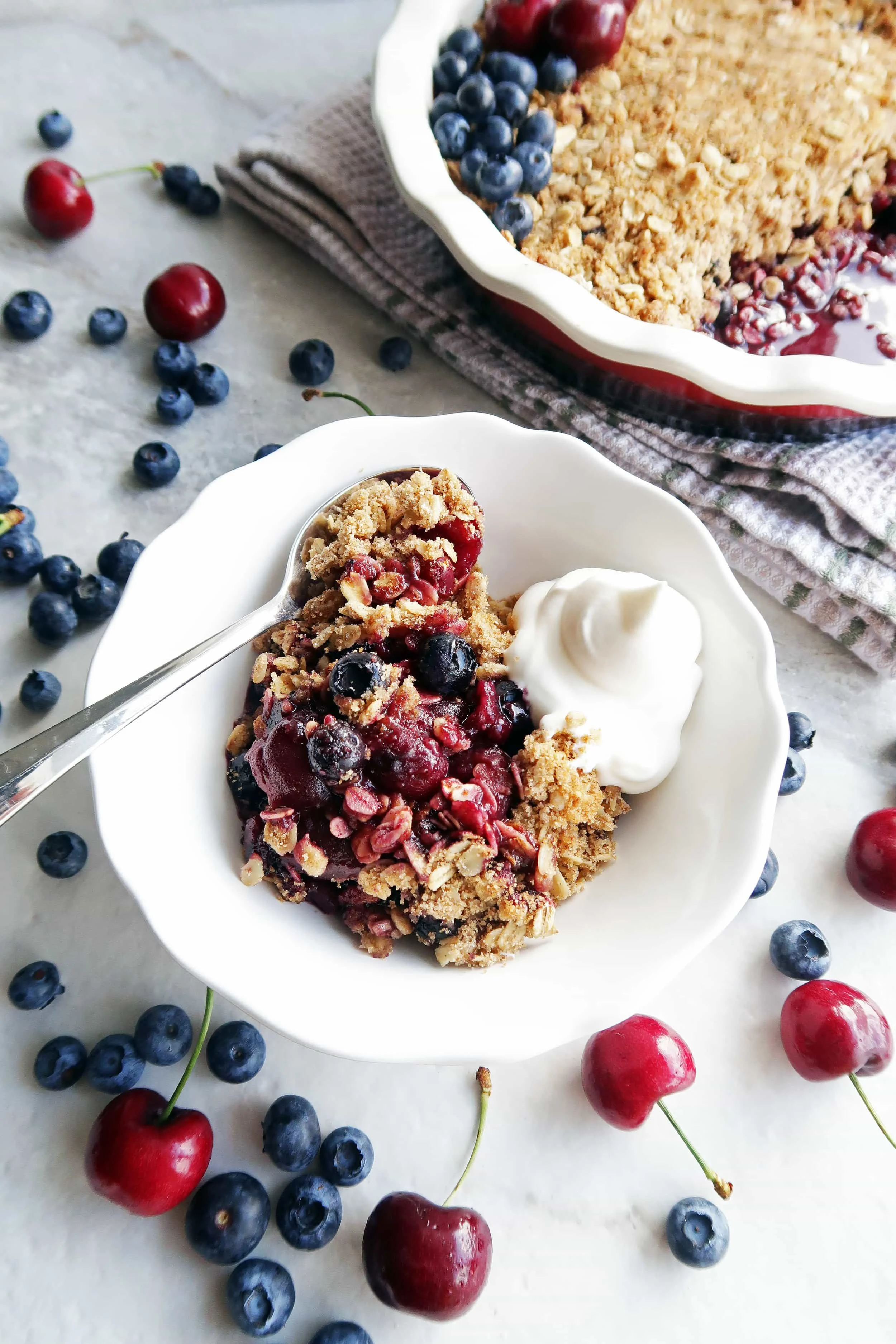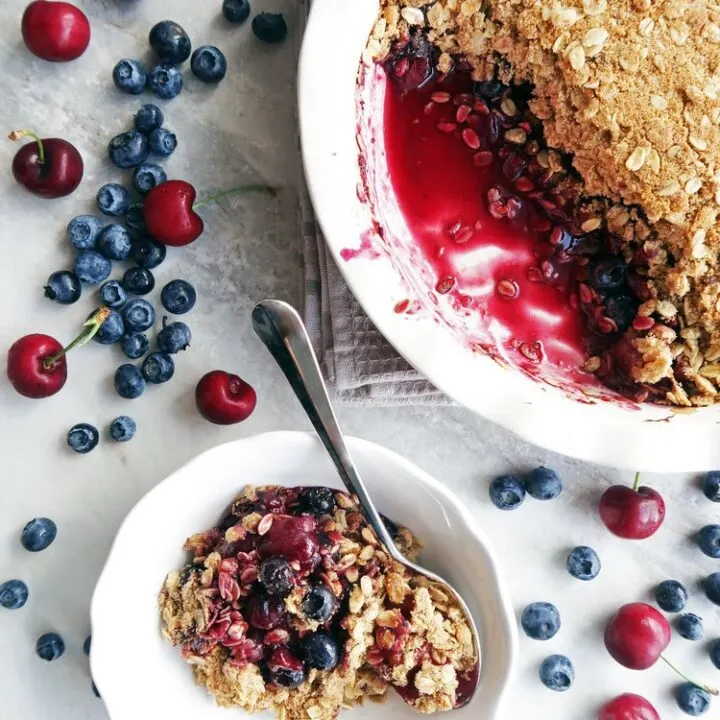 Quick Cherry Blueberry Oat Crisp
Easy, fast, and made from scratch. Make this delicious summer dessert featuring sweet cherries and blueberries with a crunchy, sweet oat topping. This is sure to be a crowd-pleaser!
Ingredients
3 cups sweet cherries, pitted and halved
1 cup blueberries
1 tbsp lemon juice
1 cup old fashioned rolled oats (or quick oats)
½ cup brown sugar
½ cup all purpose flour
½ cup unsalted butter, melted
½ tsp ground cinnamon
¼ tsp ground allspice
¼ tsp salt
Instructions
Preheat the oven to 400 degrees F.
In a bowl, gently toss the cherries and blueberries with lemon juice. Place in a 9-inch deep pie dish (or an equivalent square baking dish).
Combine the remaining ingredients in a separate bowl. Then evenly sprinkle the oat mixture over the fruit.
Bake for 22-25 minutes until the topping is golden. Serve warm with whipped cream or vanilla ice cream.
Notes
This recipe uses fresh fruit, but feel free to use frozen fruit that has been thawed.
Recommended Products
As a participant in the Amazon Services LLC Associates Program, I only link to products that I use and/or highly recommend. As an Amazon Associate, I earn from qualifying purchases if you purchase through these links at no additional cost to you.
Nutrition Information:
Yield:

8
Serving Size:

1
Amount Per Serving:
Calories:

430
Total Fat:

12.4g
Carbohydrates:

76.5g
Protein:

3.9g