Updated with new pictures and additional text (originally posted November 7, 2016).
Last year (and my first month of food blogging ever! Ahhhh 😉 ) I was on a big pumpkin kick. A big pumpkin puree kick to be precise.
Many of my desserts have been made with pumpkin puree including Baked Pumpkin Cheesecake, Mini Chocolate Cups with Pumpkin Whipped Cream, and my favourite of the fall season, Pumpkin Sour Cream Coffee Cake. So much rich, tasty, sweet, spiced goodness.
So I thought to myself, why not make a savoury dish using a sauce with a pumpkin puree base? An easy, filling pasta that can be done in 25 minutes or less… especially if you're not liking pictures of cute dogs on Instagram at the same time like I am.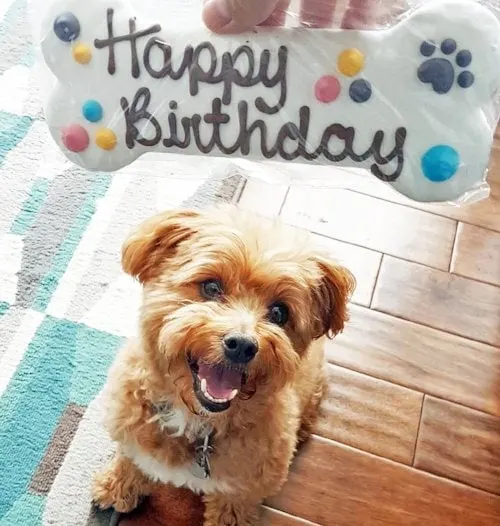 By the way, my little cutie pie dog, Teddy, turned 7 recently! 🙂
"I am a treat monster!"-Teddy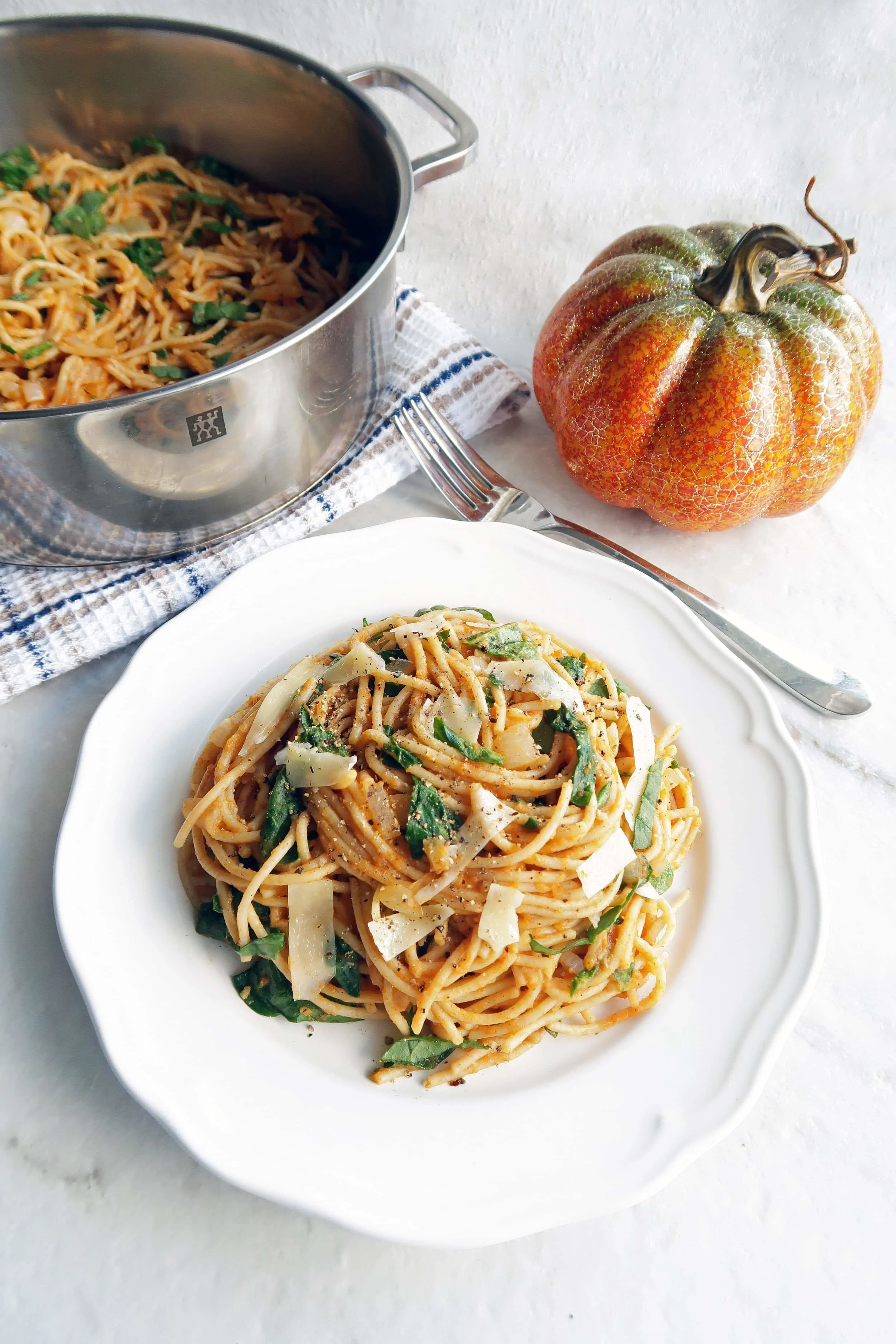 The pumpkin sauce with sautéed onions and garlic is spiced with nutmeg and paprika to give the sauce a rich and nutty flavour.The coconut milk and vegetable broth add more flavour and creaminess while the vitamin-rich spinach provides the dish with a little more colour and texture.
It's finished off with a healthy sprinkling of salty, delicious parmesan cheese. Did you know that not all parmesan cheese is vegetarian?If you are on a vegetarian diet, look for parmesan that lists vegetable rennet or microbial enzymes and not animal rennet.
You can also use vegan cheese to keep the recipe vegan if you would like.
The ingredients used are also inexpensive and can be found at any supermarket. Finally, since it's all done in one-pot there is minimal clean-up. Wins all around!
I hope you enjoy this recipe!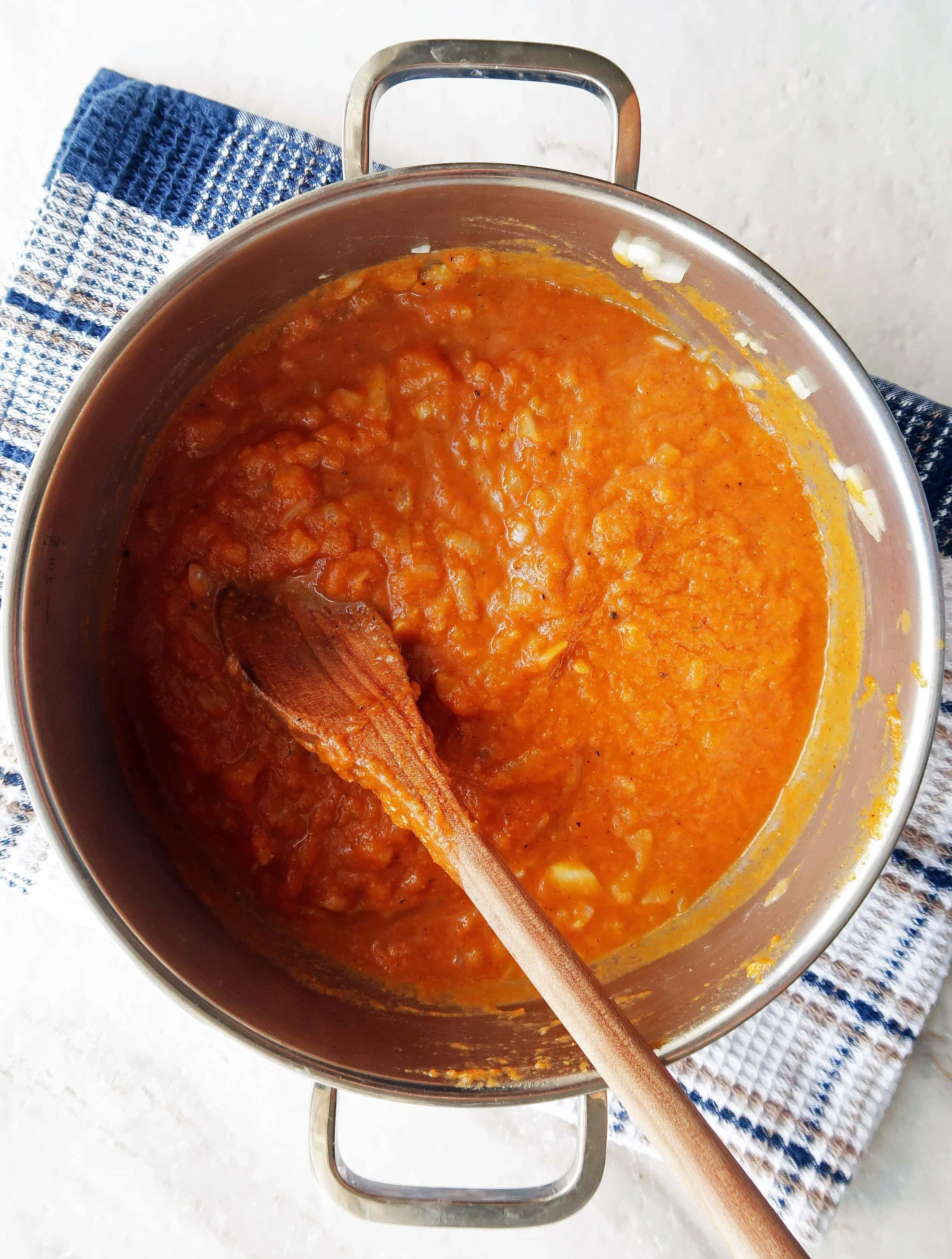 Boil salted water and cook spaghetti until al dente, about 7-9 minutes. Drain and set aside (not shown).
Brown the onions and garlic and then add the sauce ingredients. Mix well and bring to a simmer.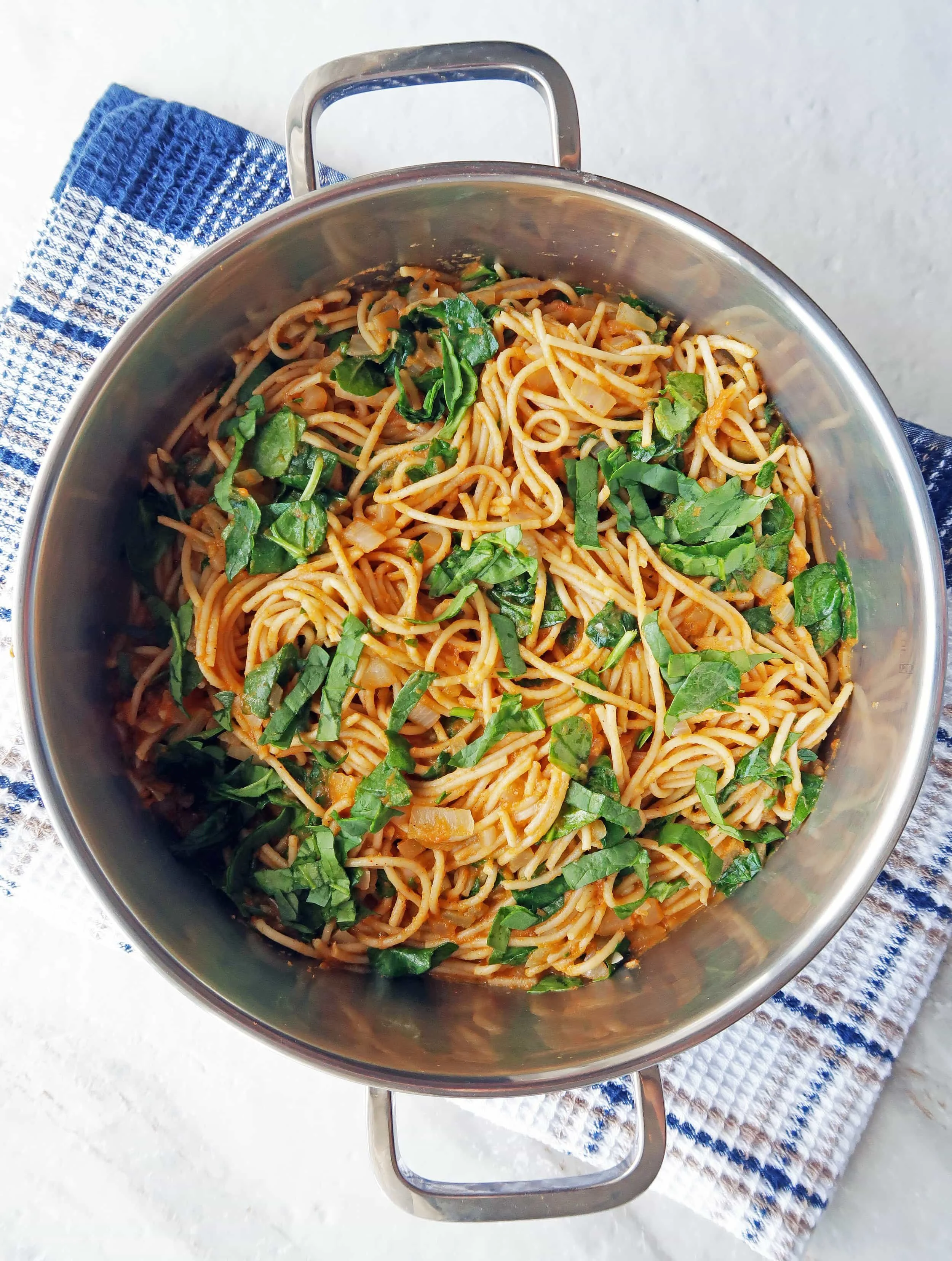 Add the pasta and spinach to the warm sauce and toss together using tongs until the pasta is coated.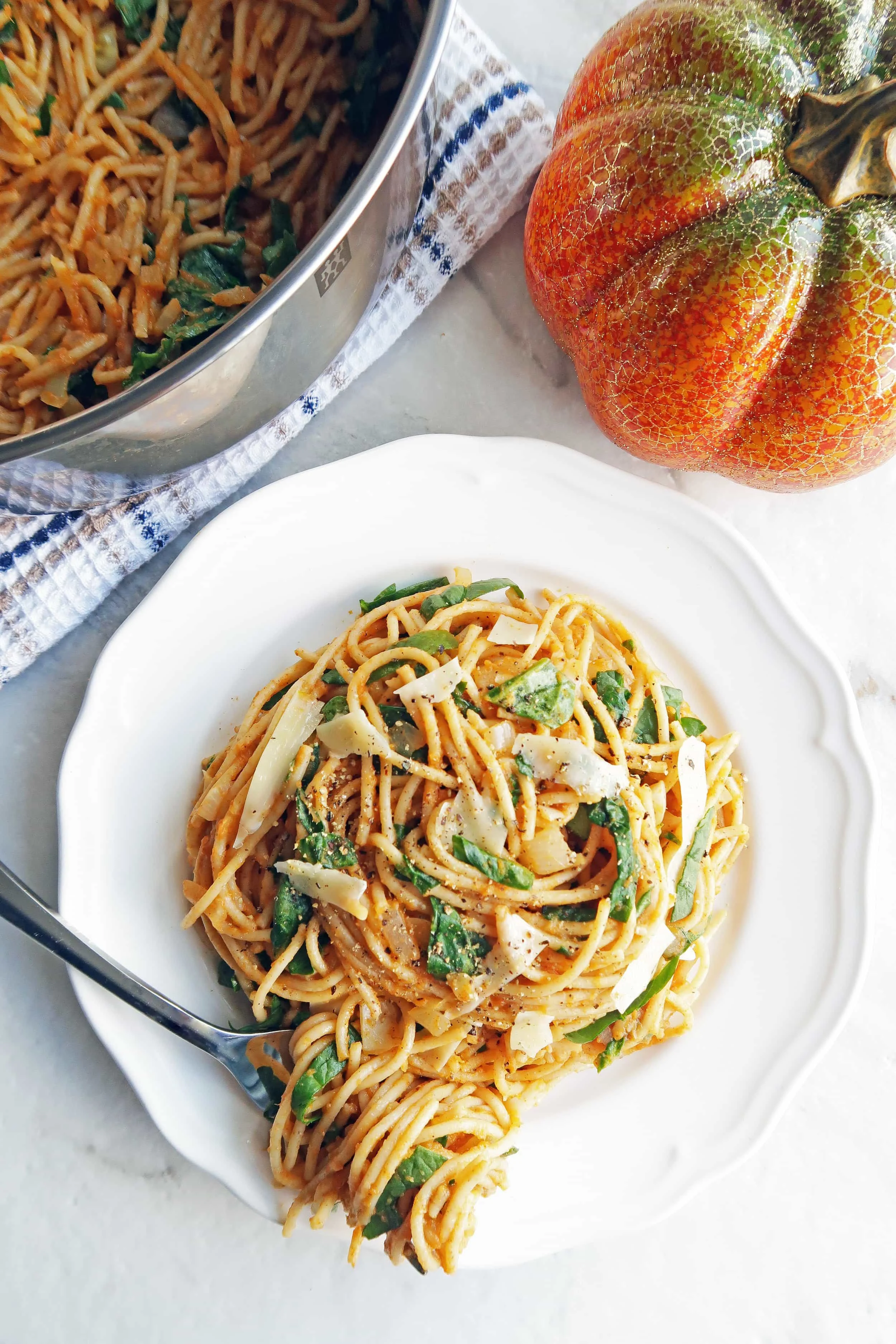 Salt and pepper to taste. Top with freshly shaved parmesan (or grated parmesan) and serve immediately.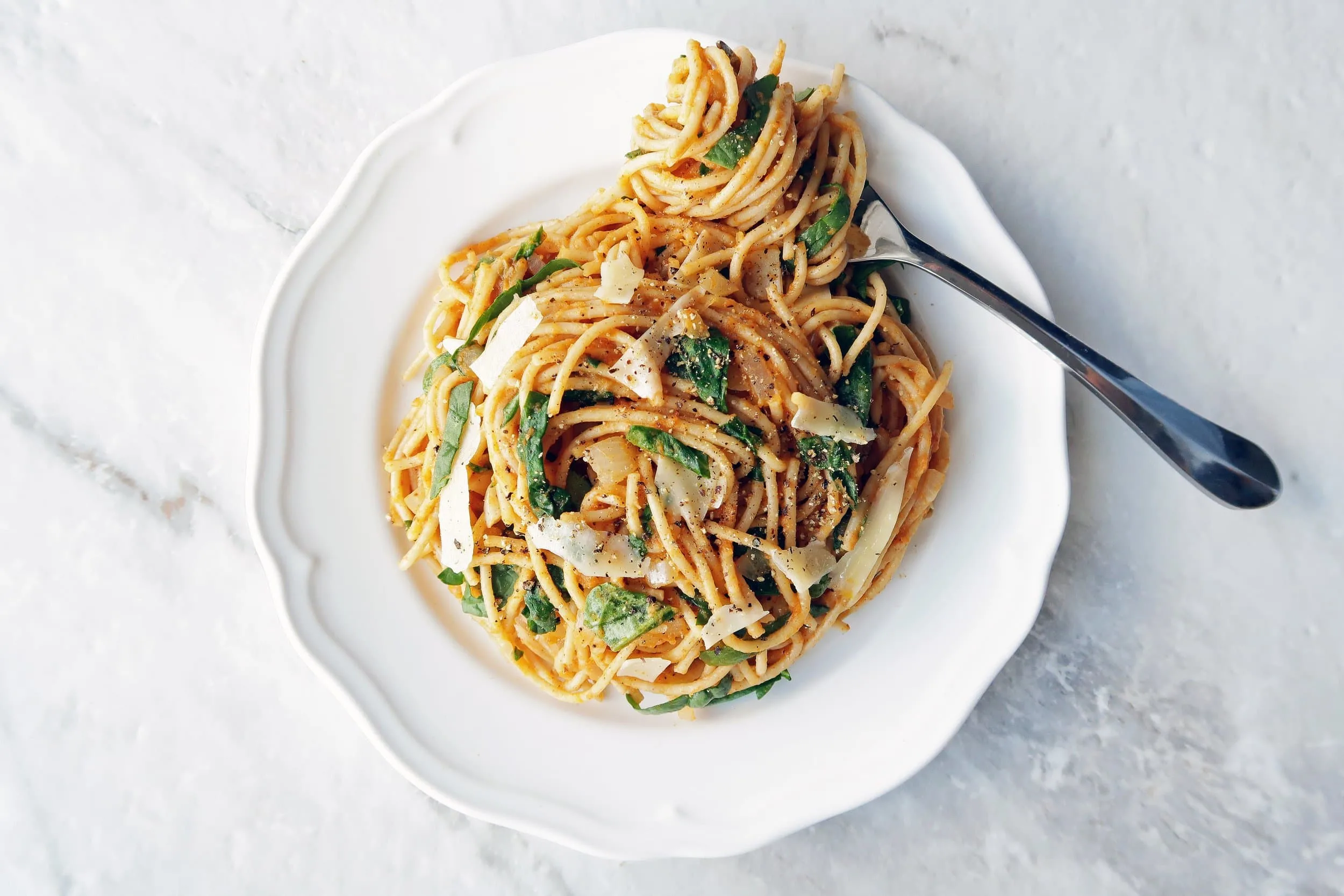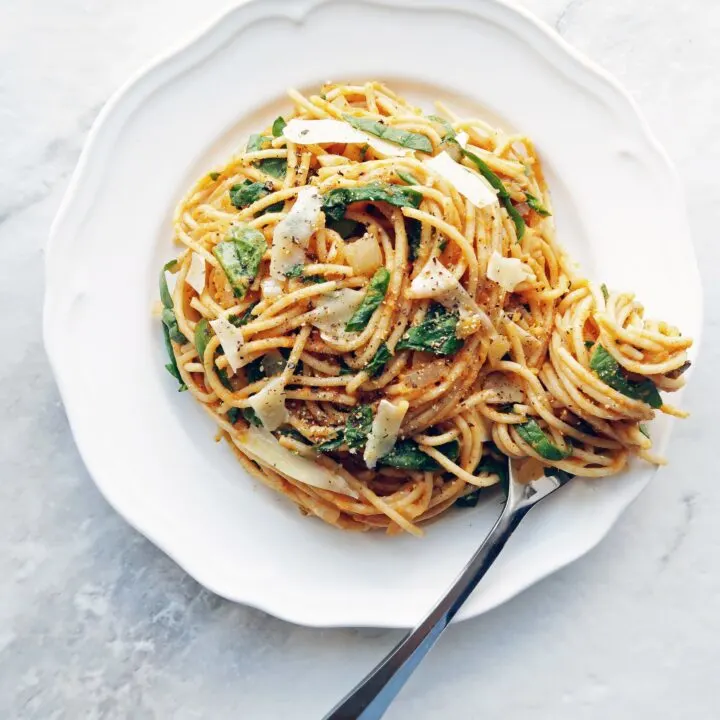 One Pot Spaghetti with Creamy Pumpkin Sauce
Pasta with creamy pumpkin sauce is ready in 25 minutes and made in one-pot. This savoury meal is perfect for a quick weekday dinner or a lazy weekend meal.
Ingredients
8 ounce uncooked whole wheat spaghetti (or pasta of your choice)
1 tbsp extra virgin olive oil
2 garlic cloves, minced
1 small onion, diced
1 cup (canned) pumpkin puree
½ cup coconut milk
½ cup vegetable broth
1 tsp ground paprika
½ tsp ground nutmeg
1 packed cup baby spinach, coarsely chopped
Parmesan cheese (shaved or grated) for topping
Salt and pepper, to taste
Instructions
In a large pot or a straight sided sauté pan, boil the pasta in salted water until al dente, about 7-9 minutes. Drain water and place pasta in a separate bowl.
In the same pot the pasta was boiled in, at medium high heat, add olive oil and brown the onion and garlic, stirring occasionally, about 2-3 minutes.
Reduce the heat to medium, add the sauce ingredients (pumpkin puree, coconut milk, vegetable broth, paprika, nutmeg, salt, and pepper) to the pot and stir until all ingredients are mixed together to form a uniform, creamy sauce that is heated through, about 3-4 minutes.
Add the pasta and spinach to the sauce. Using tongs, gently toss the pasta until it is well-coated with sauce. Use additional vegetable broth to thin the sauce if needed.
Taste for additional salt and pepper. Top with a generous amount of parmesan cheese. Serve immediately.
Notes
Okay with dairy? You can substitute coconut milk with heavy cream or half-and-half.
Not vegetarian? You can substitute the vegetable broth with chicken broth.
Recipe adapted from Nealy Dozier on "The Kitchn" website.
To keep this recipe vegetarian, make sure that the parmesan you choose is made without animal rennet; look at the cheeses' ingredient list for vegetable rennet or microbial enzymes.
Recommended Products
As a participant in the Amazon Services LLC Associates Program, I only link to products that I use and/or highly recommend. As an Amazon Associate, I earn from qualifying purchases if you purchase through these links at no additional cost to you.
Nutrition Information:
Yield:

4
Serving Size:

1
Amount Per Serving:
Calories:

304
Total Fat:

9.8g
Carbohydrates:

47.5g
Protein:

9.5g