"It's Friday! It's Friday! Best day of the week! Best day of the week!" You have to sing that part. I learned it from my husband who learned it from his mom. It's has a catchy tune. I would add an audio sound bite, but you really don't want to hear me sing.
It's been a long week for me… a lot of recipe testing, broken dishes, family stuff, annoying allergies, and furniture shopping where my relationship with Scott was tested… ha ha… Although we found that we both have a love of mid-century modern couches and soft, plush rugs.. who knew?
All of that has taken me to the point of sleepy tiredness that even coffee can't fix. Don't tell coffee that. I love you, coffee.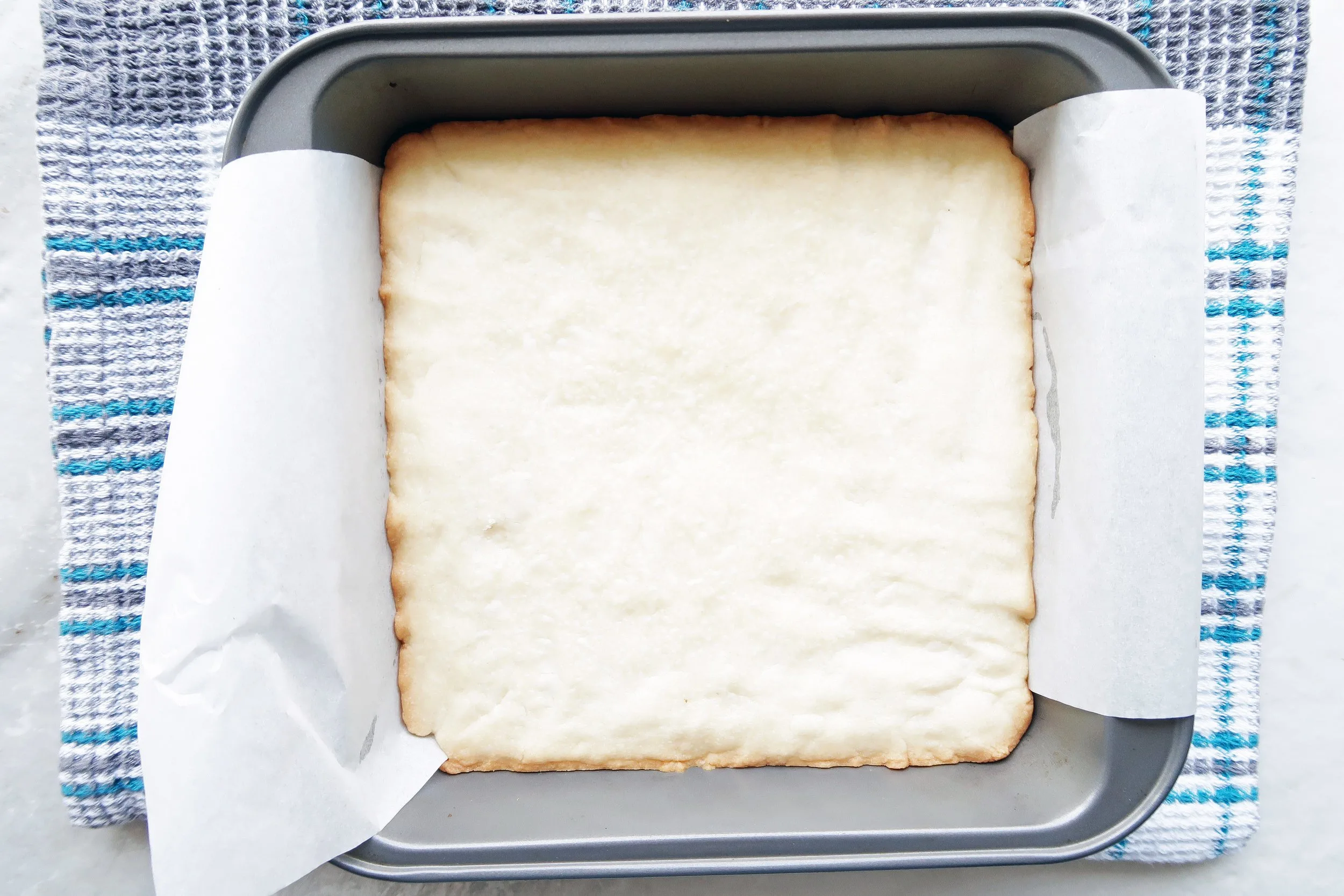 This is the baked bottom shortbread layer.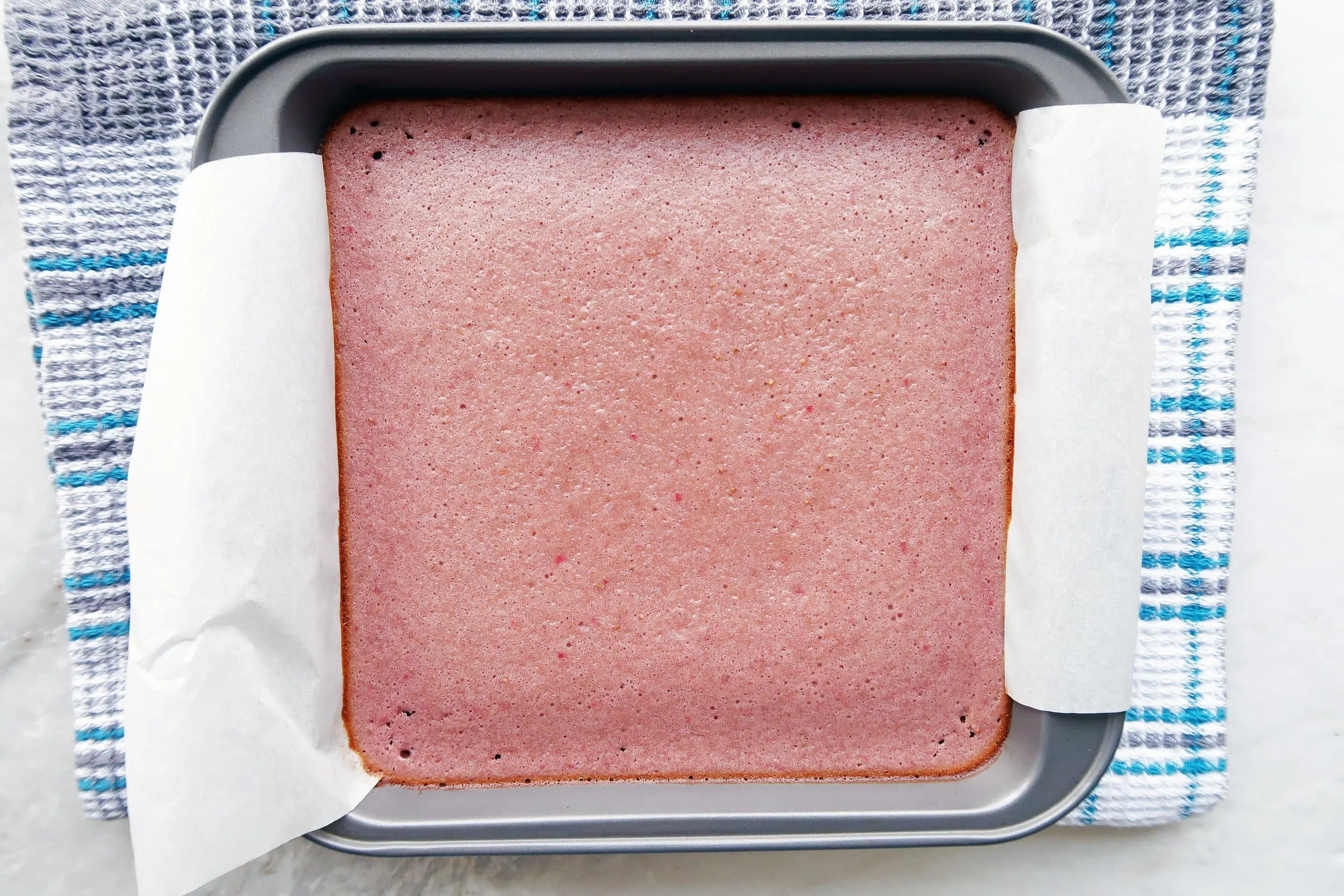 This is the baked strawberry layer.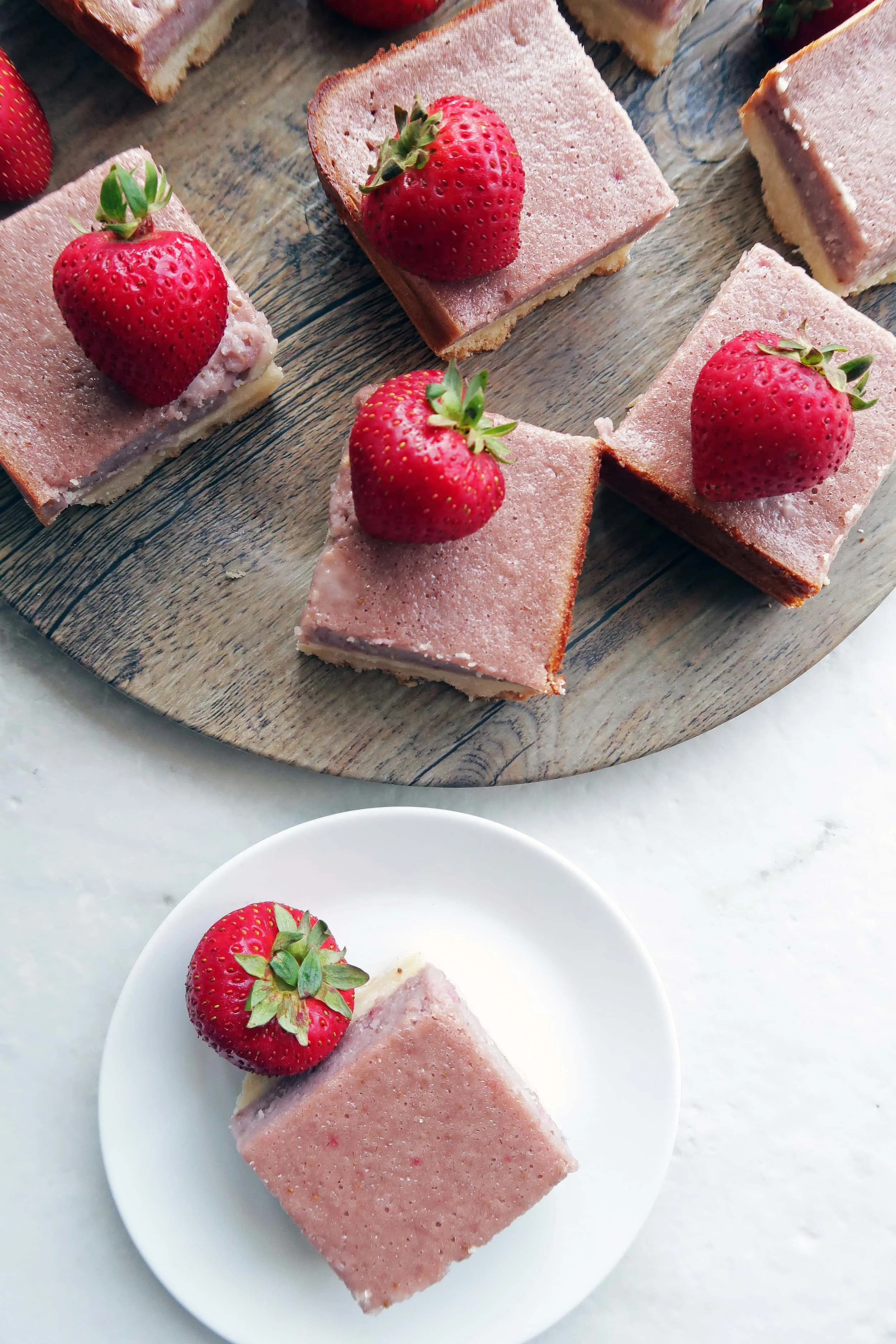 These strawberry shortbread bars are the perfect dessert to end the week.
First of all, it's very easy to make and contains few ingredients. These bars uses pantry baking ingredients that are already likely in your cabinet or easily obtainable at the supermarket.
The strawberry layer, which uses a fresh strawberry puree, is spongy and soft and since it is heavy on eggs, it is almost like a custard, but holds its shape.
The simple four-ingredient shortbread is crunchy, buttery, and melts-in-your-mouth. It's great on it's own, but even better with that strawberry layer on top. The layers are relatively even in thickness (my favourite) so you get a mix of both flavours and textures with each bite.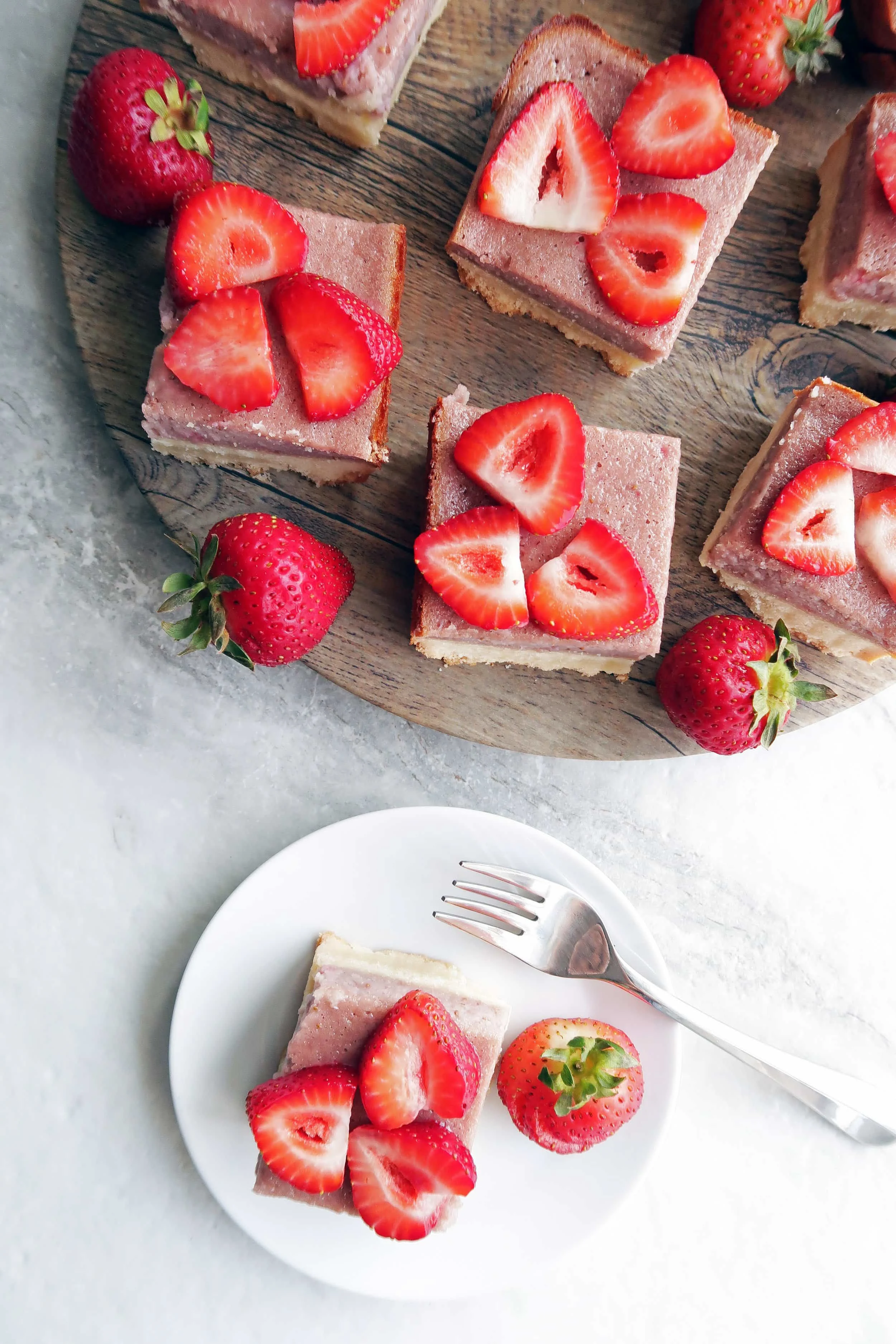 Just prior to serving, I like to add slices of strawberries to up the strawberry flavour (sigh… obviously), which gives it a little more colour and let's people know what's in the bars if you are serving it to family and friends.
Cut it up into as many pieces as you want. The hardest thing about this recipe is to wait for it cool down before eating.
Have a great weekend everyone!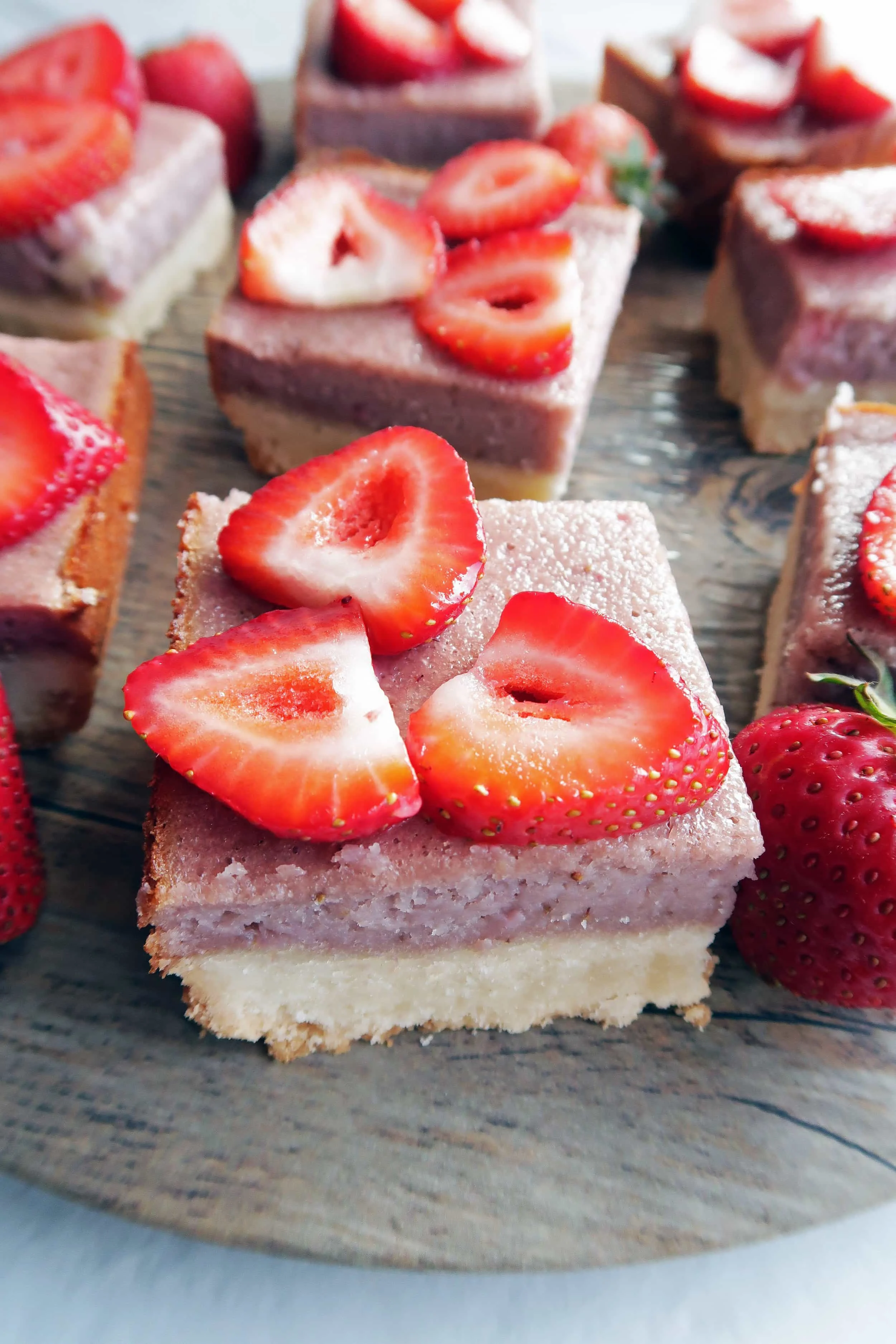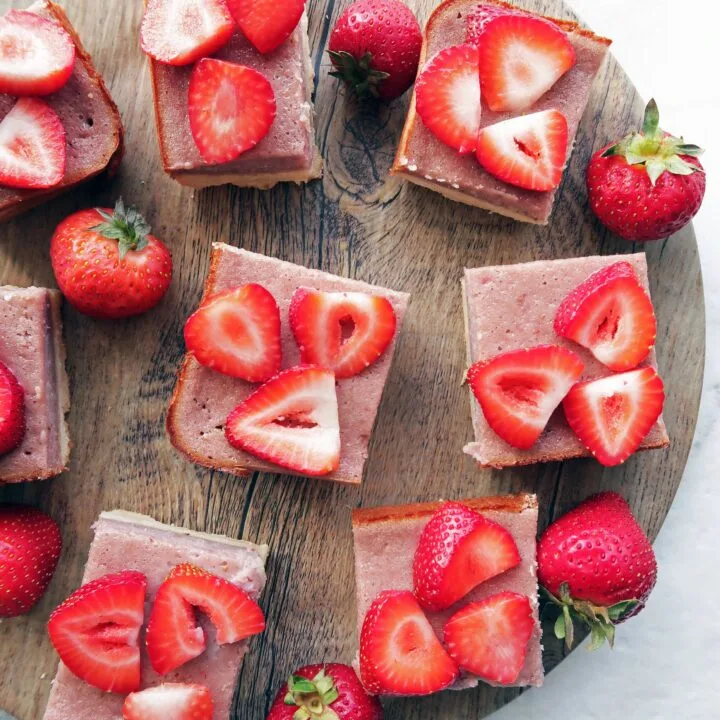 Easy Strawberry Shortbread Bars
Check out this delicious strawberry layered dessert with a smooth, buttery shortbread crust! It's made from scratch with only seven ingredients and four easy steps!
Ingredients
For the crust:
1½ cup all-purpose flour
¾ cup (6 oz.) unsalted butter, softened
½ cup confectioner's sugar
½ tsp salt
For the strawberry layer:
1 cup fresh strawberry puree* (about 2 cups strawberries, hulled)
3 large eggs
½ cup all-purpose flour
½ cup sugar
Optional:
Strawberry slices for topping
Instructions
Preheat the oven to 350 degrees F. Grease and line a 8-inch square baking pan with parchment paper.
Using an electric mixer, combine together the crust ingredients until a smooth, soft dough forms. Press the dough evenly into a single layer in the baking pan. Bake for 17-20 minutes until puffed and lightly browned on the edges.
As the crust is baking, prepare the strawberry layer. Using a clean electric mixer, whisk the strawberry layer ingredients together until uniform. Pour over the crust and bake for an additional 22-25 minutes, until firm to the touch.
Let cool on a rack before refrigerating for at least two hours (better overnight). Cut into pieces and garnish with fresh strawberries slices before serving.
Notes
About 2 cups (4 ounces) of fresh, hulled strawberries was used to make the puree. I used a blender to break down the strawberries into a smooth liquid.
Recommended Products
As a participant in the Amazon Services LLC Associates Program, I only link to products that I use and/or highly recommend. As an Amazon Associate, I earn from qualifying purchases if you purchase through these links at no additional cost to you.
Nutrition Information:
Yield:

12
Serving Size:

1
Amount Per Serving:
Calories:

250
Total Fat:

13.5g
Carbohydrates:

29.6g
Protein:

3.9g
Nutritional values are estimated based on the ingredients used by the author; your ingredients may differ. These values are calculated using Nutritionix.