Updated with new pictures, new instructions, and additional text (originally posted October 21, 2016).
Yay! This is an older recipe from when I first started food blogging back in October 2016.I have since changed up the recipe to make it even easier and faster and, I think, even more scrumptious!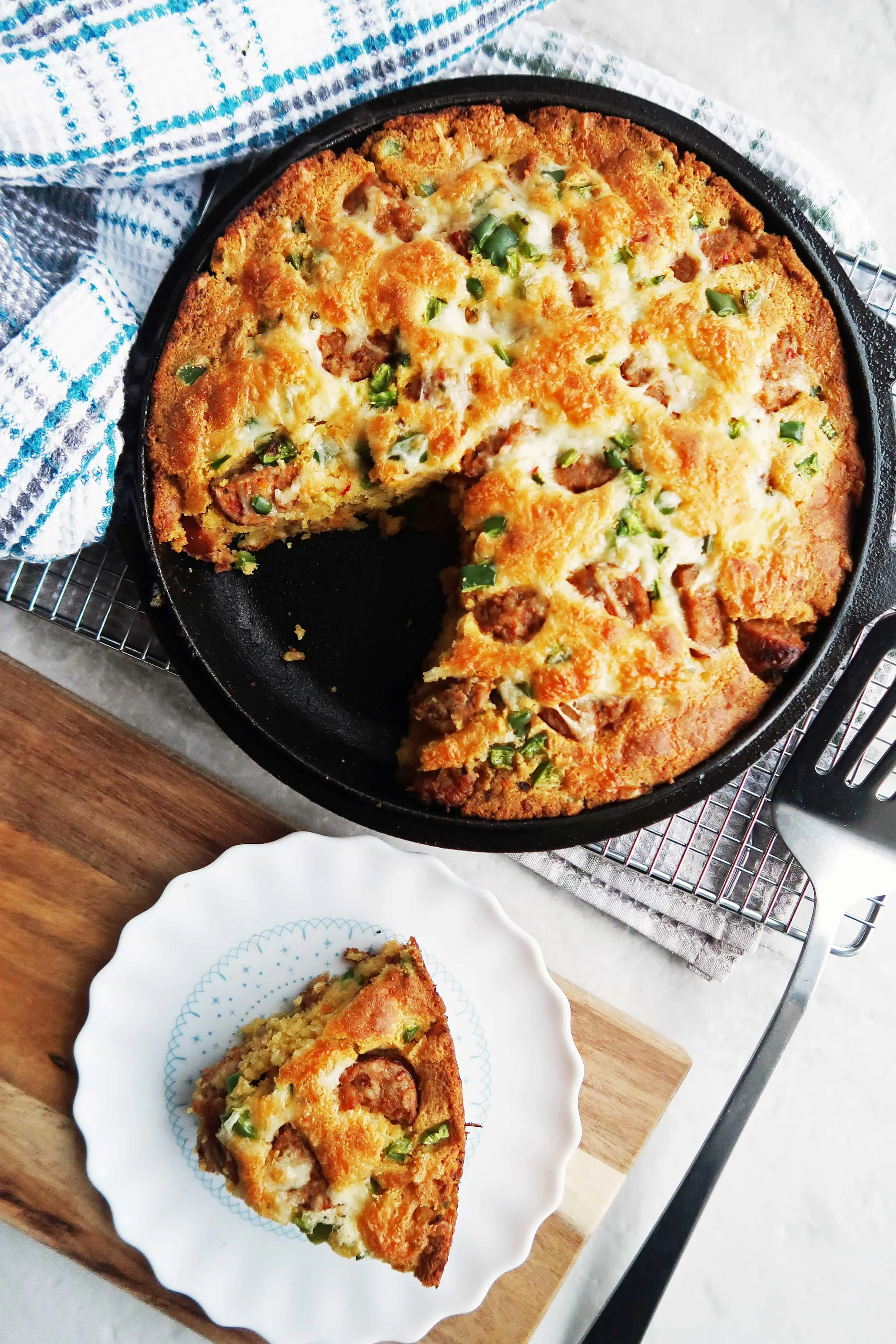 My husband, Scott, likes spicy food. I do too, but not to the same extent as him. He likes hot foods where your sinuses clear, your tongue begins to feel numb, and you begin to sweat.
I like a more mild heat where my body begins to feel warm, but the heat goes away a few seconds later.This recipe has the latter kind of heat – at least for me! 🙂
Scott has requested that I make this cornbread on numerous occasions and then promptly devours a large slice as soon as he gets the chance! I don't blame him; it's full of hot Italian sausage, jalapeño peppers, and melted jalapeño Monterey Jack cheese.
Then there is the maple syrup. Pure maple syrup is the best. I pretty much would drink the stuff if I could. The sweetness of the maple syrup (along with the cornmeal) contrasts wonderfully with the heat and savoury flavours of the other ingredients.
The fabulous thing about this cornbread is that you can always adapt the recipe by adding more or less of the spicy ingredients to suit your personal taste!
Like it little spicier? Switch up the peppers to a Habanero or Serrano,or sprinkle a little bit of red pepper flakes into the batter.
Like a little less spice? Use a milder melty cheese such as cheddar or gouda, sweet bell peppers, or use a more mild sausage instead.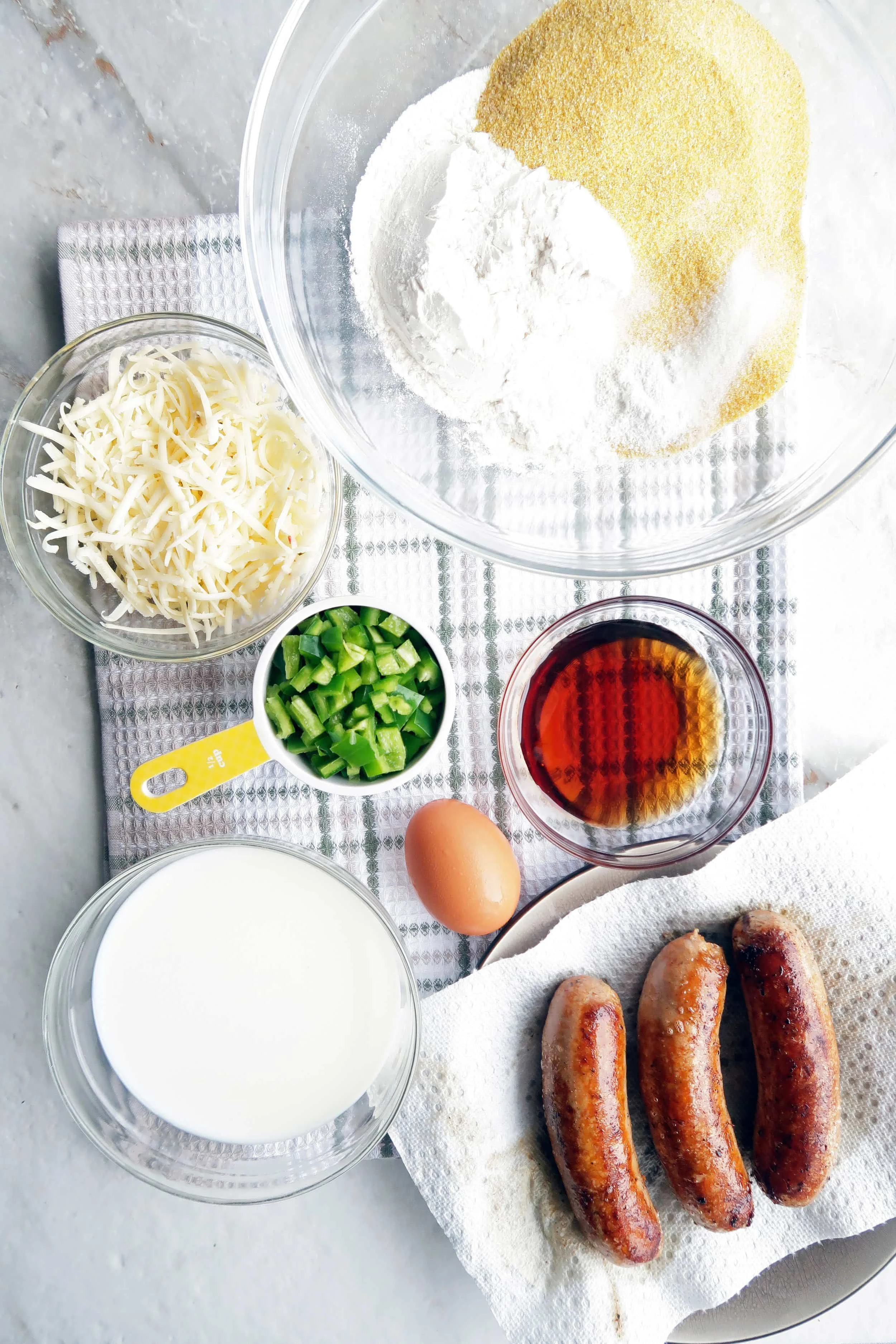 All the ingredients for the cornbread. Amounts listed in the "Ingredients" section below.
In a cast iron skillet, melt a little butter and cook the sausages. Cool and then slice into pieces. The picture above shows cooked sausages ready to be sliced up.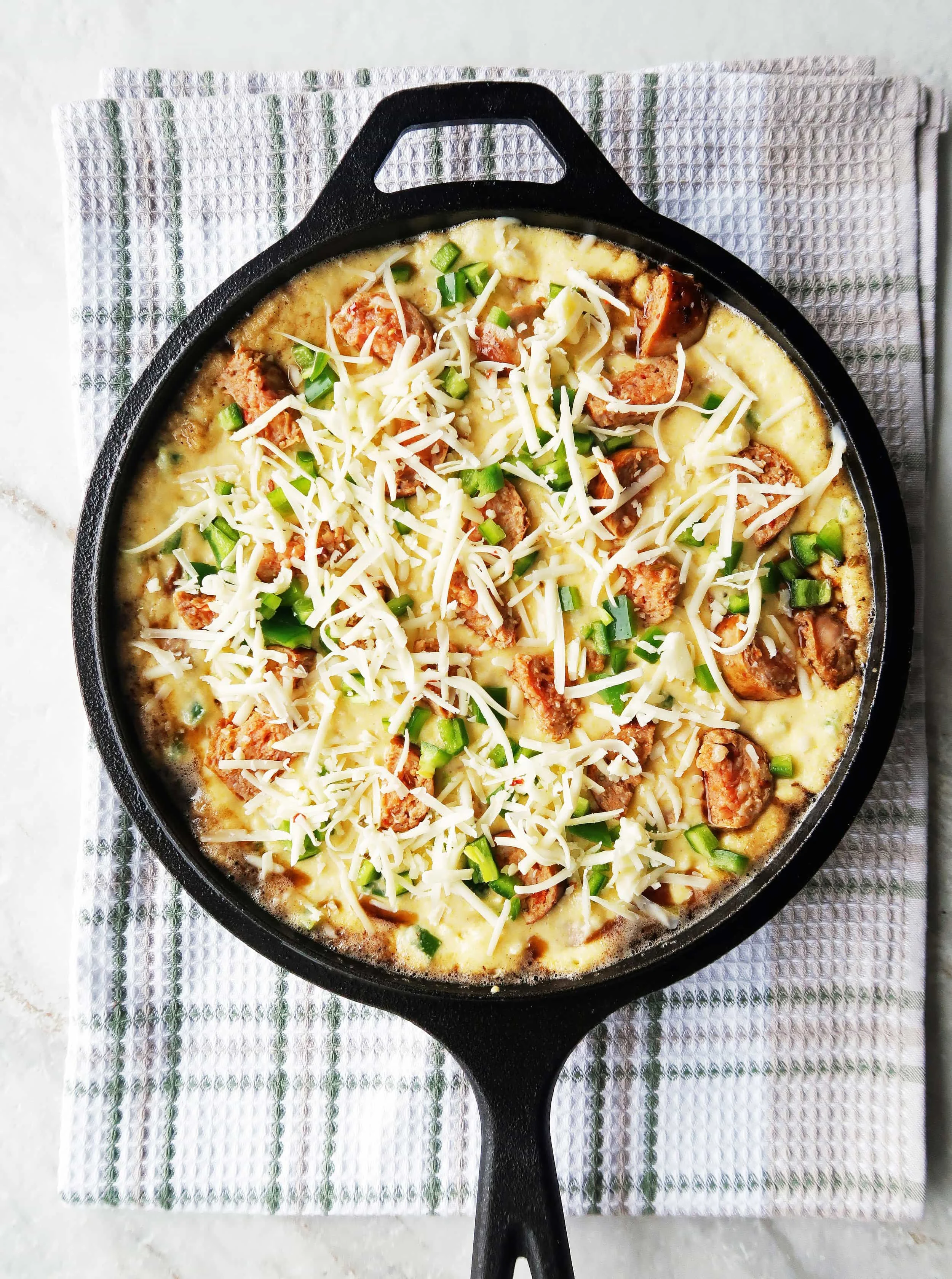 In another bowl,whisk together the dry ingredients and add in the wet ingredients. Mix to form to a thick batter.
Fold in sausage, pepper, and cheese into the batter, reserving a little of each.
Spread batter into a buttered cast iron skillet. Scatter reserved sausage, pepper, and cheese on top.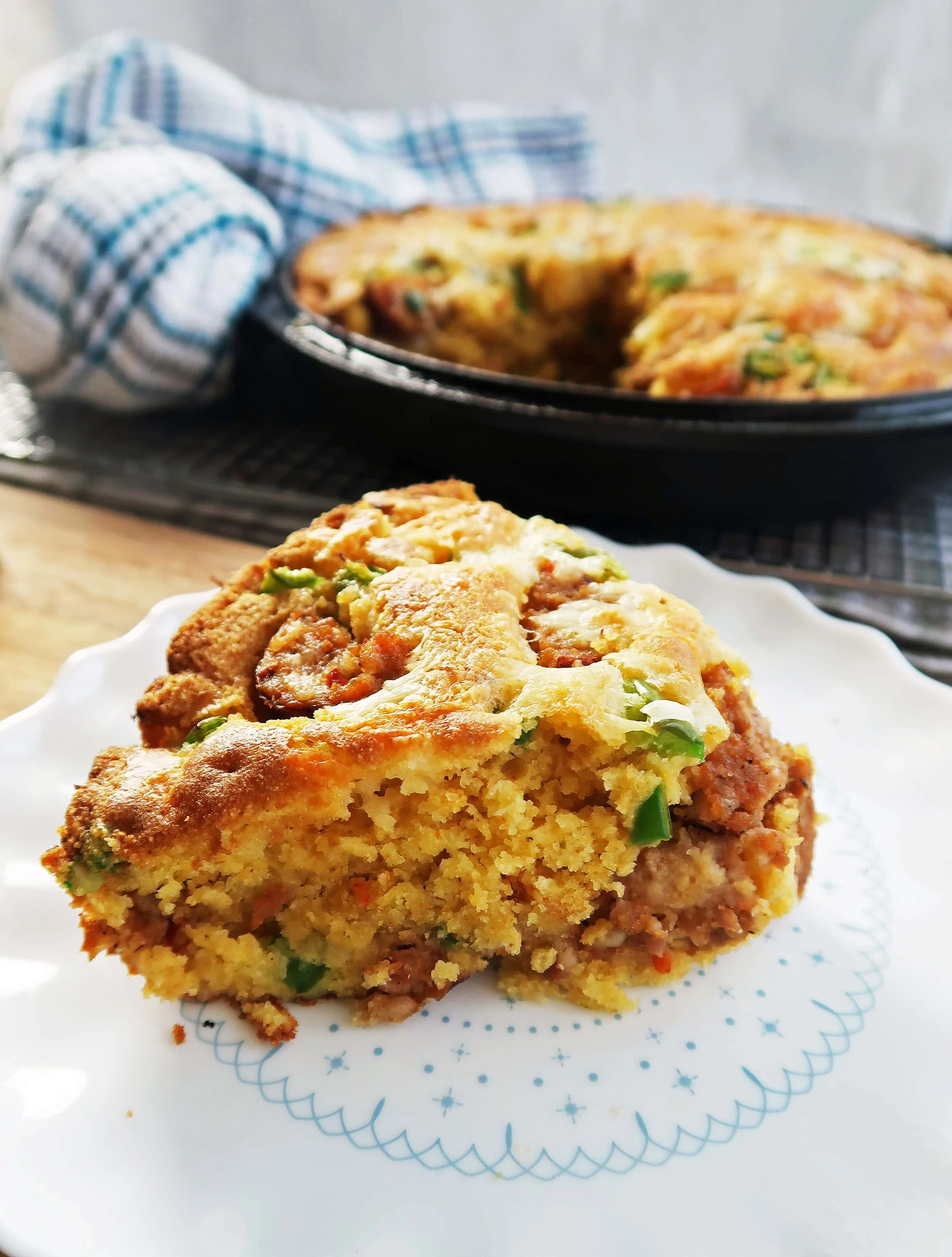 Baking the cornbread in a cast iron skillet is my favourite way to make this recipe.Bake at 400 degrees F for 20-25 minutes and then let it cool for 10 minutes before slicing up.
It results in crispy sides, a melty cheese crust, and the most soft, fluffy cornbread on the inside. The peppers and sausage throughout the bread is ridiculously tasty.
We like to eat this for breakfast, as a snack, or as a side dish! Serve it with a hearty bowl of chilli!
I hope you enjoy this recipe!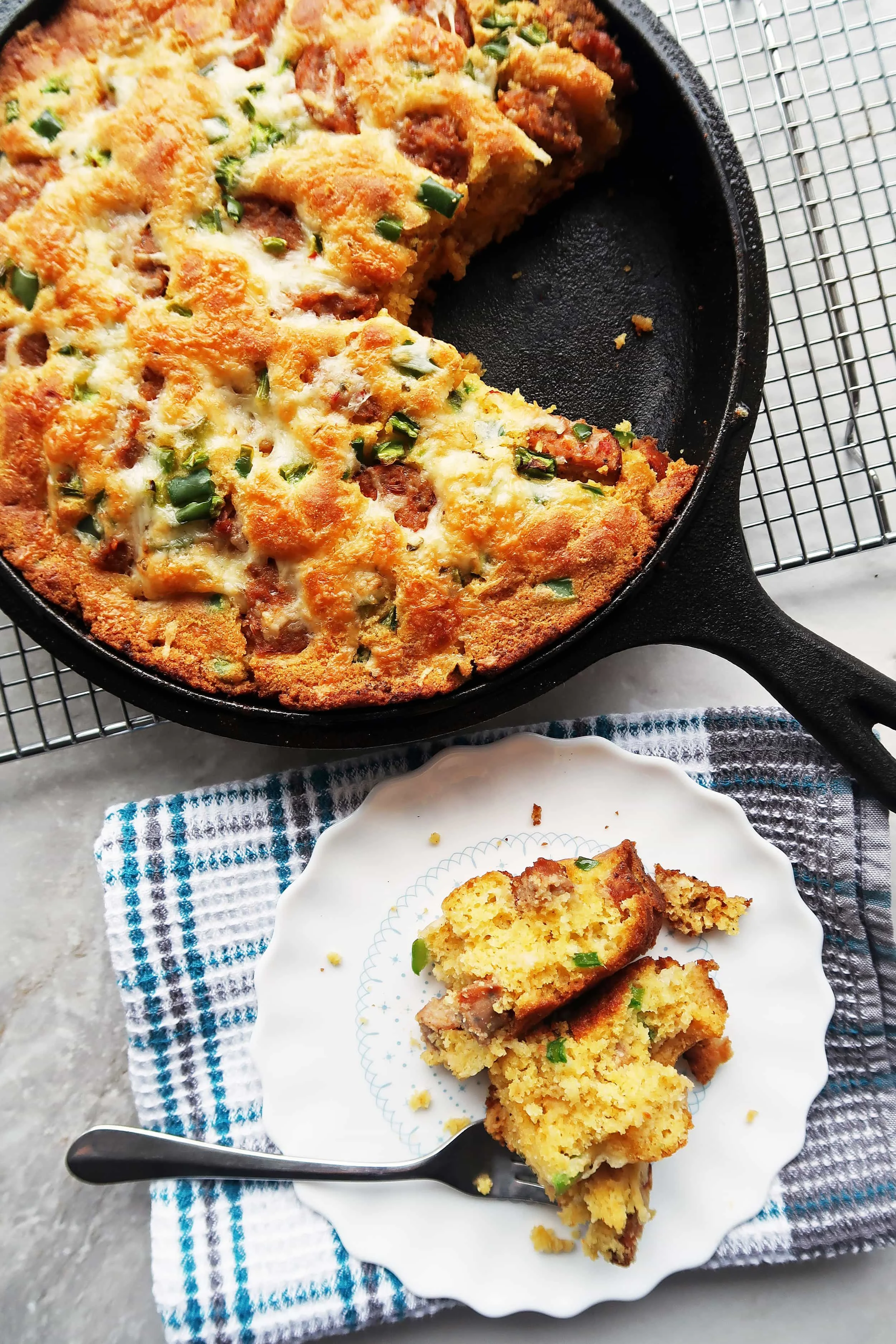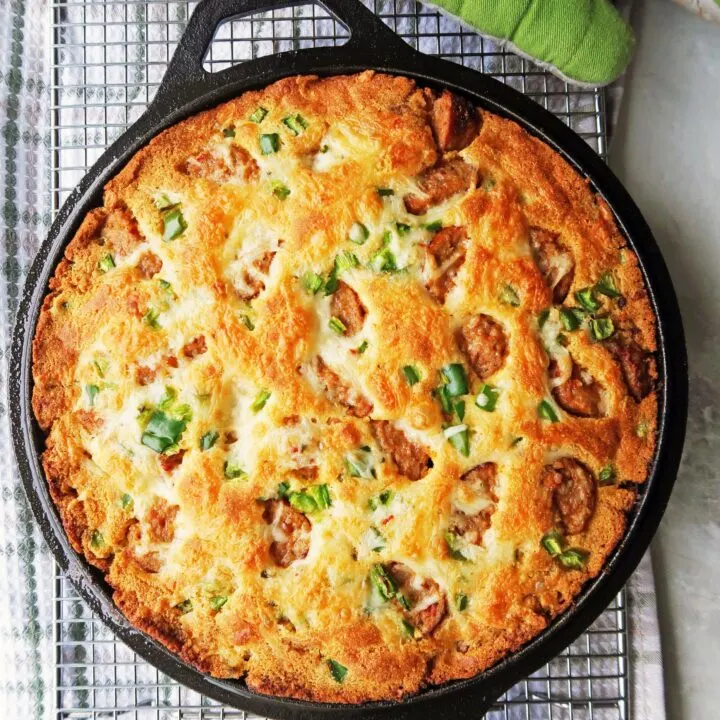 Jalapeño Maple and Sausage Skillet Cornbread
Check out this deliciously soft and fluffy skillet cornbread! A combination of hot Italian sausages, jalapeño pepper, Monterey Jack cheese, and maple syrup gives the cornbread a spicy kick with a hint of sweetness.
Ingredients
3 Hot Italian sausages (about 1½ cups), cooked and diced
2 jalapeño peppers (about ½ cup), de-seeded and diced
1 cup jalapeño Monterey Jack cheese, shredded
1 cup yellow cornmeal
1 cup all-purpose flour
1 tsp baking soda
1 tsp baking powder
½ tsp salt
1 cup milk
¼ cup maple syrup
1 large egg
2 tbsp butter
Instructions
Preheat the oven to 400 degrees F.
Using a 10-inch cast iron skillet, add a tablespoon of butter and fry the sausages until cooked through. Place the cooked sausage on a plate with a paper towel to help soak up excess fat. Once cooled, dice the sausage into pieces.
Meanwhile, in a large bowl, whisk together the flour, cornmeal, baking soda, baking powder, and salt. Then mix in the milk, maple syrup, and egg until the ingredients are just combined.
Fold in most of the cheese, pepper, and sausage, reserving a small handful of each ingredient. The batter will be thick.
Using the same cast iron skillet, at medium-high heat, swirl a tablespoon of butter into the pan, allowing the skillet to heat up and the butter to melt before removing from the heat. Make sure the butter coats the entire pan.
Pour the batter into the hot skillet. Top with the reserved sausage, pepper, and cheese. Bake for 20-25 minutes, until the cornbread is golden-brown on top and a wooden skewer comes out clean.
Let the cornbread cool for 10 minutes. Cut into pieces and serve warm.
Notes
If you do not like too much heat, use less jalapeño pepper or replace with sweet bell peppers, switch out the hot Italian sausage with regular Italian sausage or sausage of your choice, or change up the type of melty cheese.
If you like a lot of heat, add more hot stuff such as such spicier peppers (e.g. Habanero or Serrano).
Recommended Products
As a participant in the Amazon Services LLC Associates Program, I only link to products that I use and/or highly recommend. As an Amazon Associate, I earn from qualifying purchases if you purchase through these links at no additional cost to you.
Nutrition Information:
Yield:

8
Serving Size:

1
Amount Per Serving:
Calories:

303
Total Fat:

14g
Saturated Fat:

6g
Trans Fat:

0g
Unsaturated Fat:

8g
Cholesterol:

53mg
Sodium:

649mg
Carbohydrates:

34g
Fiber:

2g
Sugar:

7g
Protein:

11g