This is definitely a fall-time favourite dessert recipe to make as the weather cools down and the leaves begin to change colour. I can't wait because autumn is my favourite season. One more month… I like summer, but the heat and me don't always agree.
These muffins are perfect for fall or autumn (what do you like to call this season?) where all things pumpkin are in season! This includes my One-Pot Spaghetti with Creamy Pumpkin Sauce!
This recipe features pumpkin puree, cinnamon, and sweet chocolate chips giving them a wonderful combination of flavours.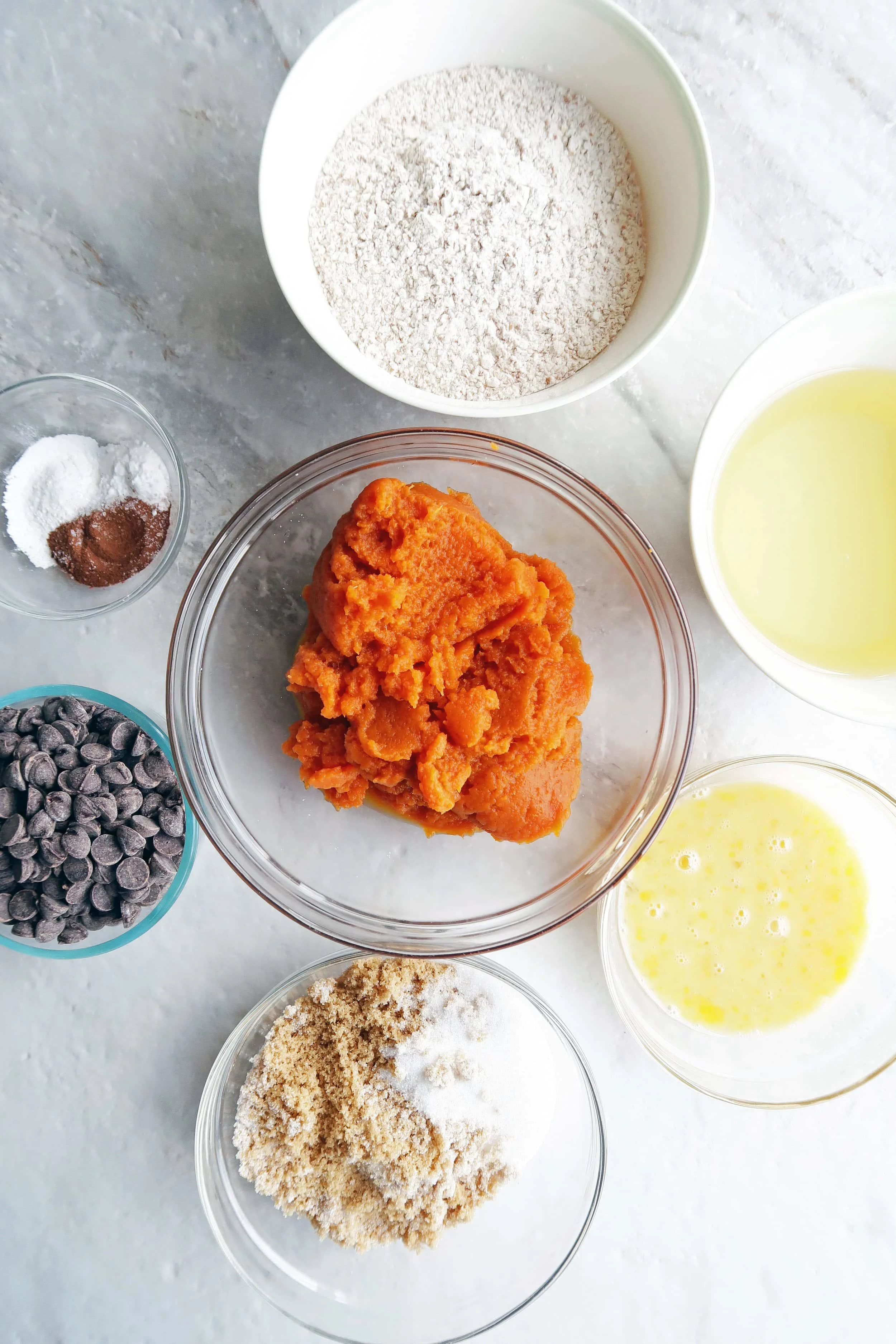 All the ingredients are measured out and ready to be combined.Amounts can be found in the "Ingredients" list below.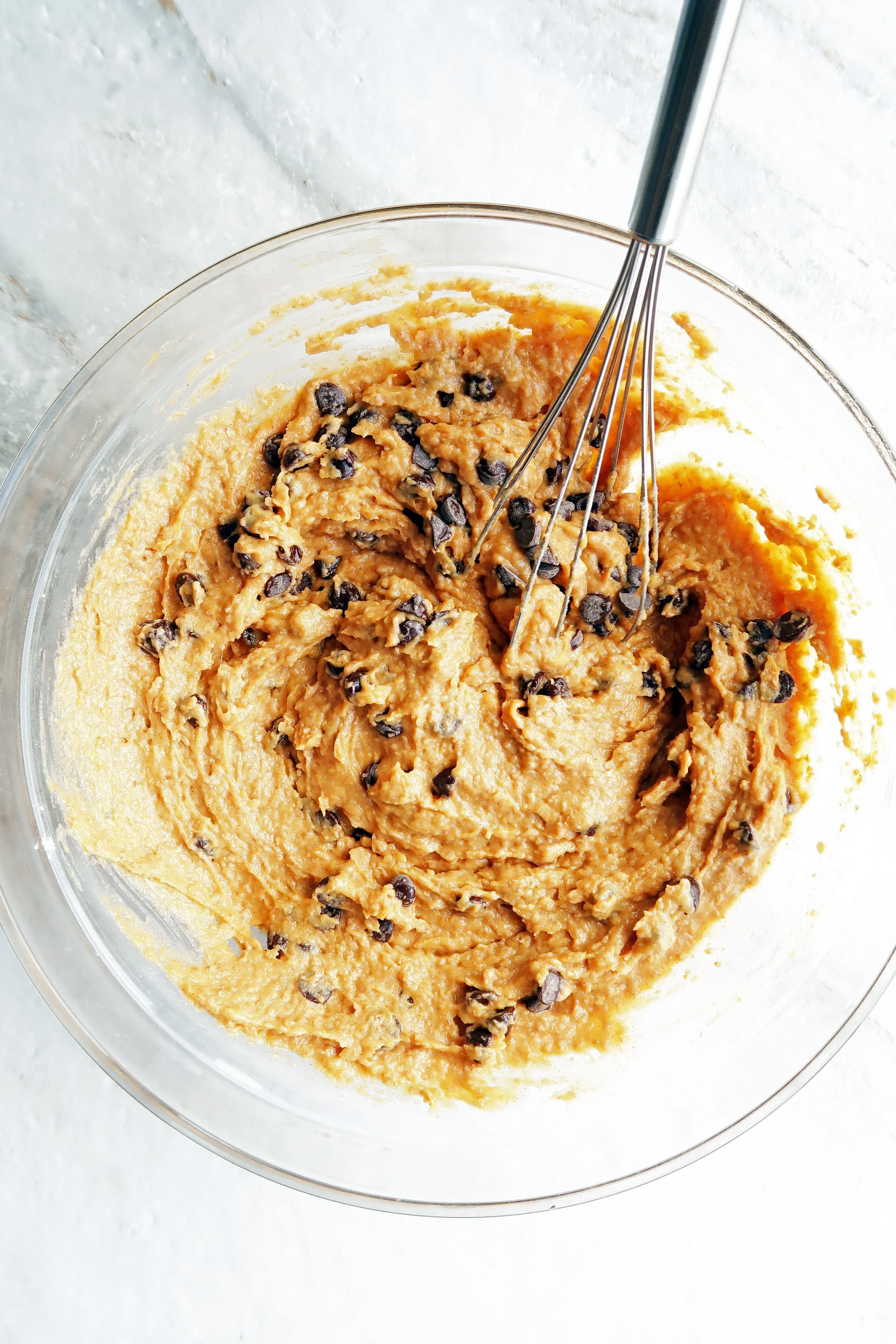 The batter is mixed up and ready to placed in the muffin pan.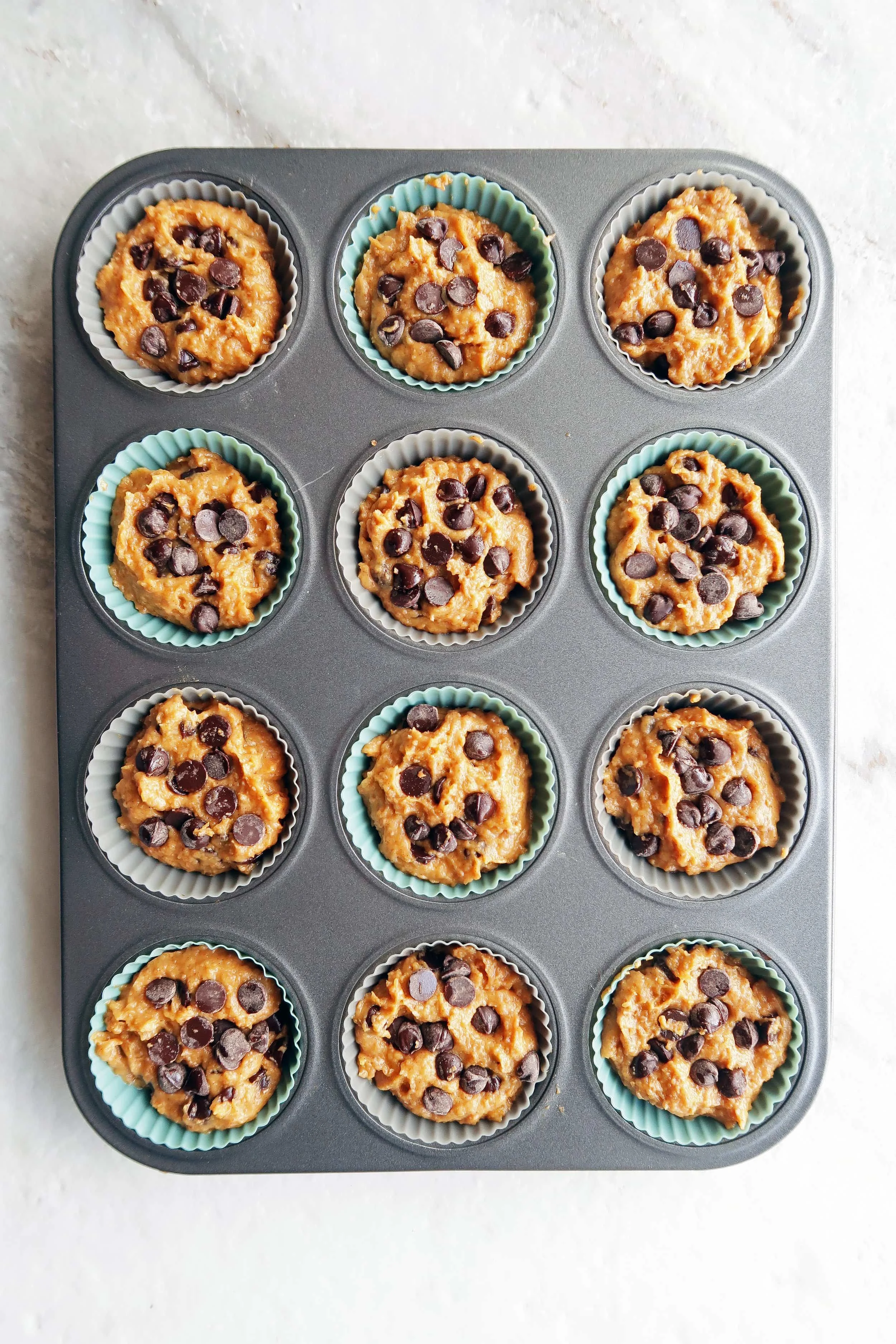 Bake at 400 degrees F for 12-15 minutes and you've got some scrumptious muffins!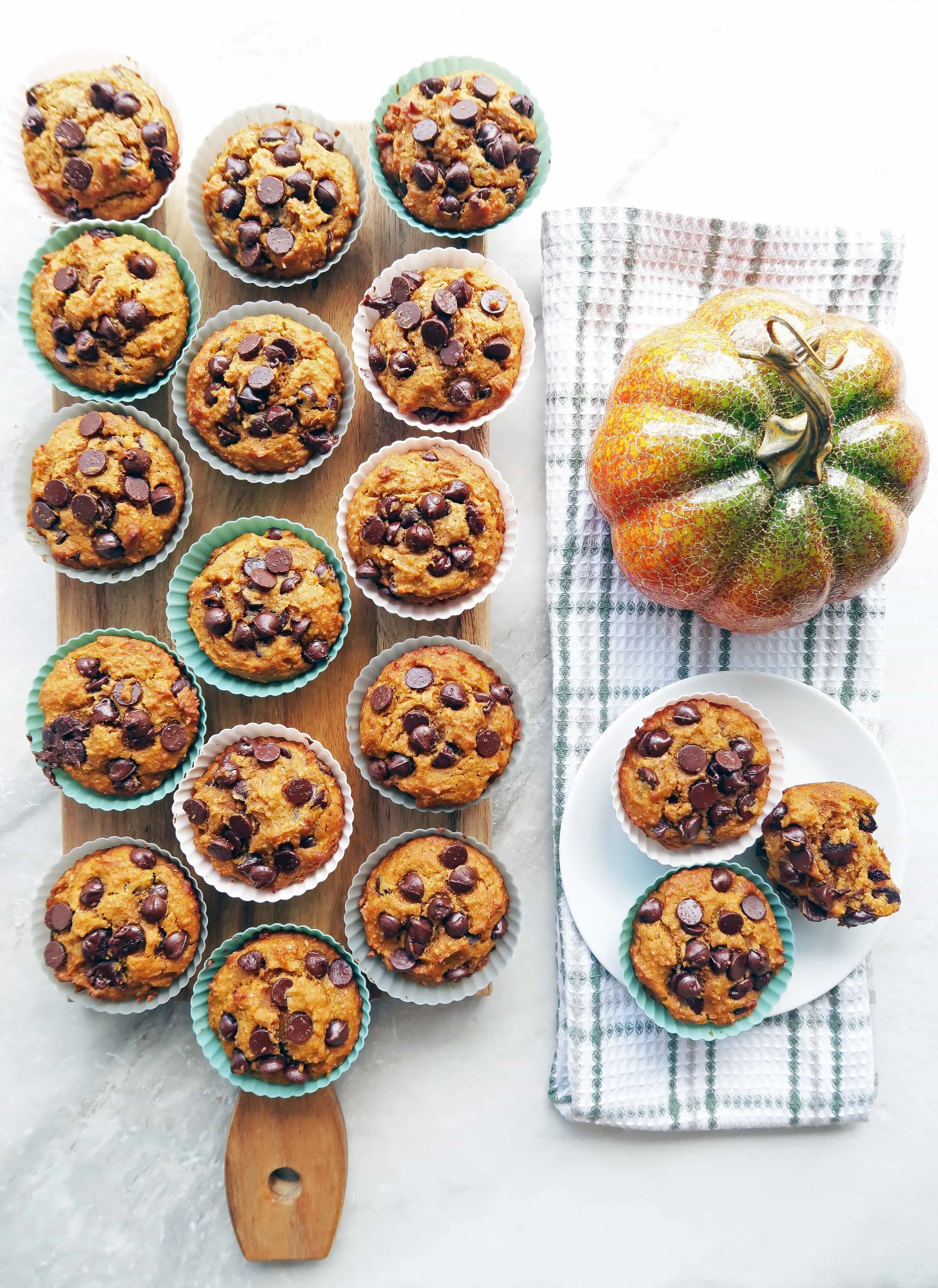 I love baking with pumpkin puree because not only it gives the muffins a mild pumpkin flavour and a nice orange colour, but it also helps keep the muffins soft and moist.
Also,remember that pumpkin puree is made from pure pumpkin and is not the same as pumpkin pie filling.
Pumpkin pie filling is usually already spiced and sweetened and you don't want a muffin that's too sweet and overly spiced. Using puree, you can play around with different spices and sweetness levels to suit your own tastes.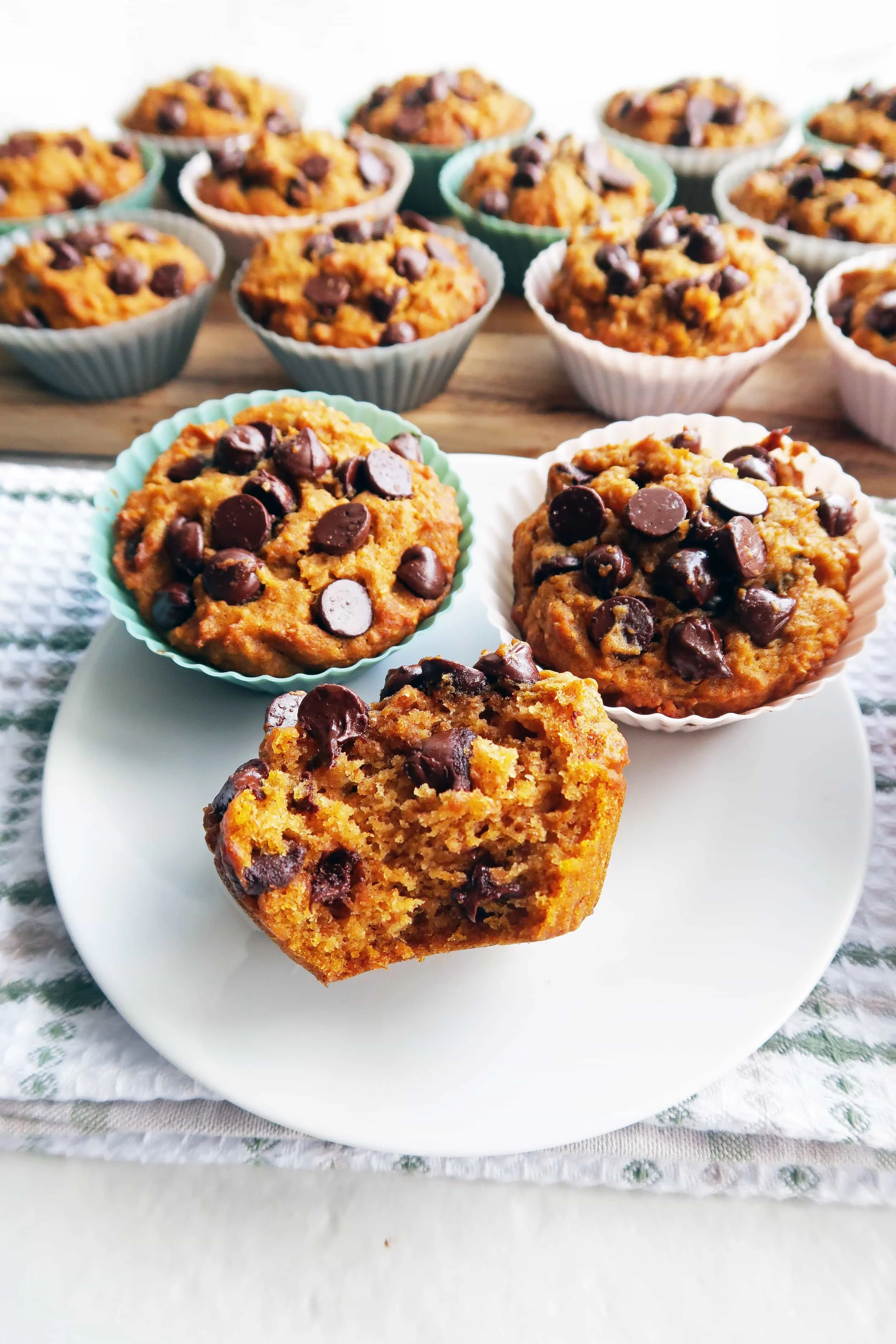 I decided to switch out regular all-purpose flour for whole wheat flour to give the muffins a slight wheat flavour, a little more texture and bulk, but fortunately, the end result will not be dense. The muffins will turn out fluffy and tender.
Also, whole wheat flour has more fiber, protein, iron, calcium, and other nutrients than white flour, which is a plus in my books.
Finally, the chocolate chips bring it all together. I tend to gravitate towards using semi-sweet chocolate chips for baking (and occasional snacking) since they have a rich, dark chocolatey flavour compared to milk chocolate. If you prefer a more sweeter and milky flavour, you can always go with milk chocolate chips.
No electric mixer is required for this one. Just a whisk or a spatula and a couple of bowls will do the trick before baking them up in a muffin pan. Easy to assemble and the clean-up is pretty minimal too.
I hope you enjoy this recipe!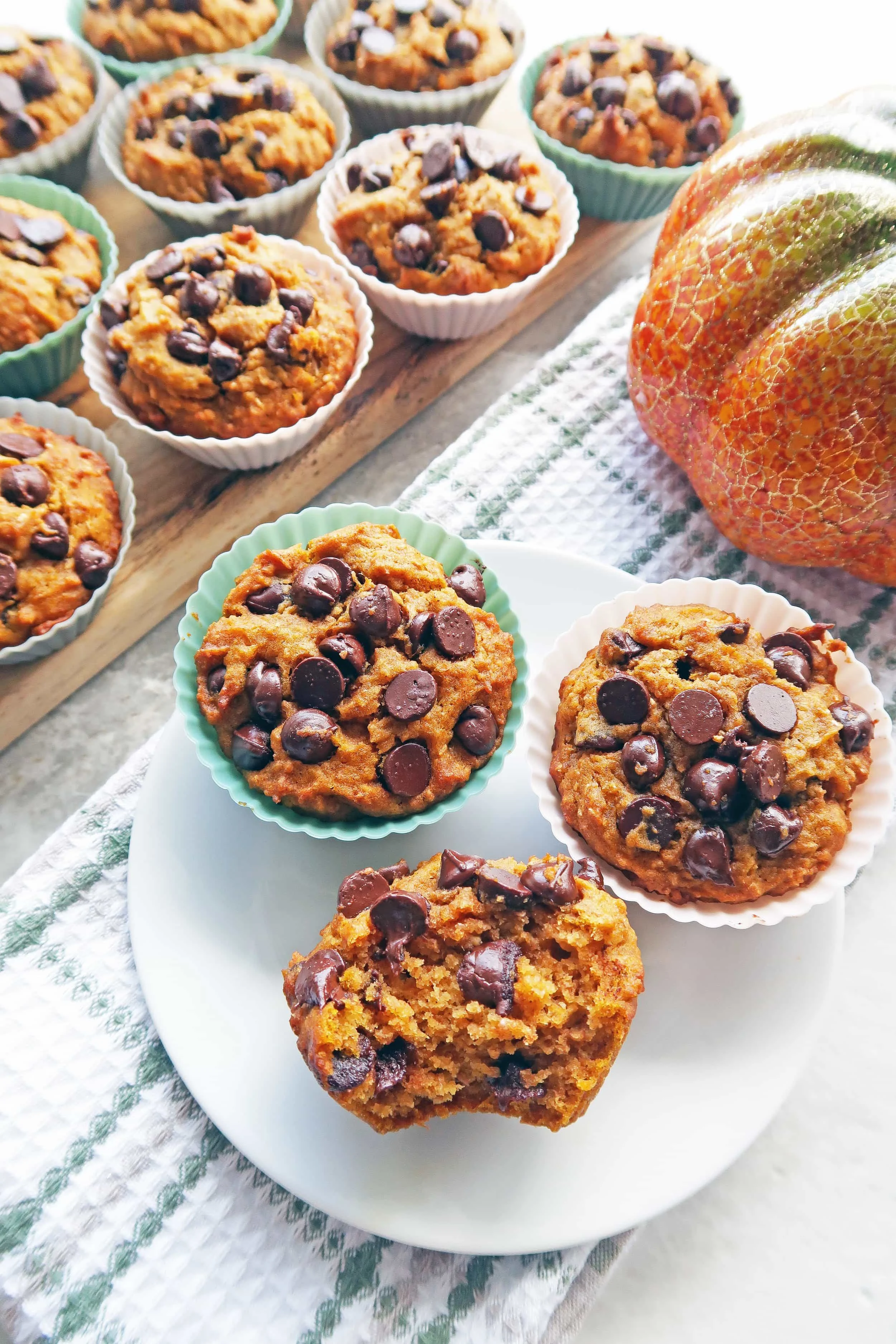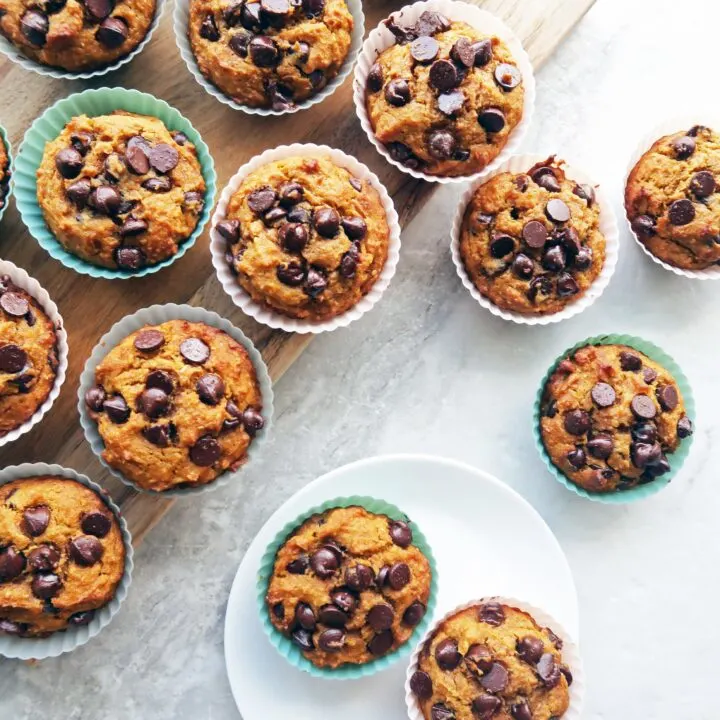 Pumpkin Chocolate Chip Whole Wheat Muffins
A tasty dessert that's perfect for fall! Delicious, soft, and full of chocolate chips, these pumpkin muffins are easy to make and ready in 30 minutes!
Ingredients
1½ cups whole wheat flour
1 tsp baking soda
1 tsp baking powder
1 tsp ground cinnamon
¼ tsp salt
1½ cups pumpkin puree
1 cup vegetable (cooking) oil
½ cup brown sugar, packed
¼ cup white sugar
2 eggs
1 ¼ cup chocolate chips (I used semi-sweet)
Instructions
Preheat the oven to 400 degrees F. Line a large muffin pan with baking cups (liners).
In a large bowl, whisk together the flour, baking soda, baking powder, cinnamon, and salt until well combined. Set aside.
In another bowl, whisk together the pumpkin puree, oil, sugars, and eggs until well incorporated. Then, pour the pumpkin puree mixture into the flour mixture and stir until combined and the batter is smooth.
Then, gently fold 1 cup of chocolate chips into the batter, reserving ¼ cup of chocolate chips. Scoop the batter into each muffin pan cup about ⅔ full. Top each muffin with the reserved chocolate chips.
Bake for 12-15 minutes until a wooden skewer (or cake tester) comes out clean in the center. Let cool slightly before eating.
Notes
To store muffins 2-4 days: Completely cool the muffins, line an airtight storage container or a large Ziploc bag with a paper towel, place the muffins in a single layer, and then top with another paper towel before sealing. Store the bag at room temperature.
To store muffins for longer than 4 days: Completely cool the muffins, wrap each muffin with plastic wrap or aluminum foil, and place in a freezer bag before freezing. Thaw at room temperature or reheat in the microwave before eating.
Recommended Products
As a participant in the Amazon Services LLC Associates Program, I only link to products that I use and/or highly recommend. As an Amazon Associate, I earn from qualifying purchases if you purchase through these links at no additional cost to you.
Nutrition Information:
Yield:

18
Serving Size:

1
Amount Per Serving:
Calories:

234
Total Fat:

16g
Carbohydrates:

23.8g
Protein:

2.6g