It's already August! This year feels like it flying by;does it feel the same way to you? Anyway, it is still a hot like a sauna where I live so I've been avoiding using the oven as much as I can and spending more time in the sun.
These peanut butter chocolate chip energy balls are the perfect no-bake treat that takes almost no-time to make. I enjoy using Medjool dates because they are fibre-rich, naturally sweet, and act as the perfect glue to hold the energy balls together with.Check out my other energy ball recipe: No-Bake Chai Spiced Date Energy Balls
Four ingredients is all you need to make these scrumptious snacks: Medjool dates, peanuts, chocolate chips, and sea salt.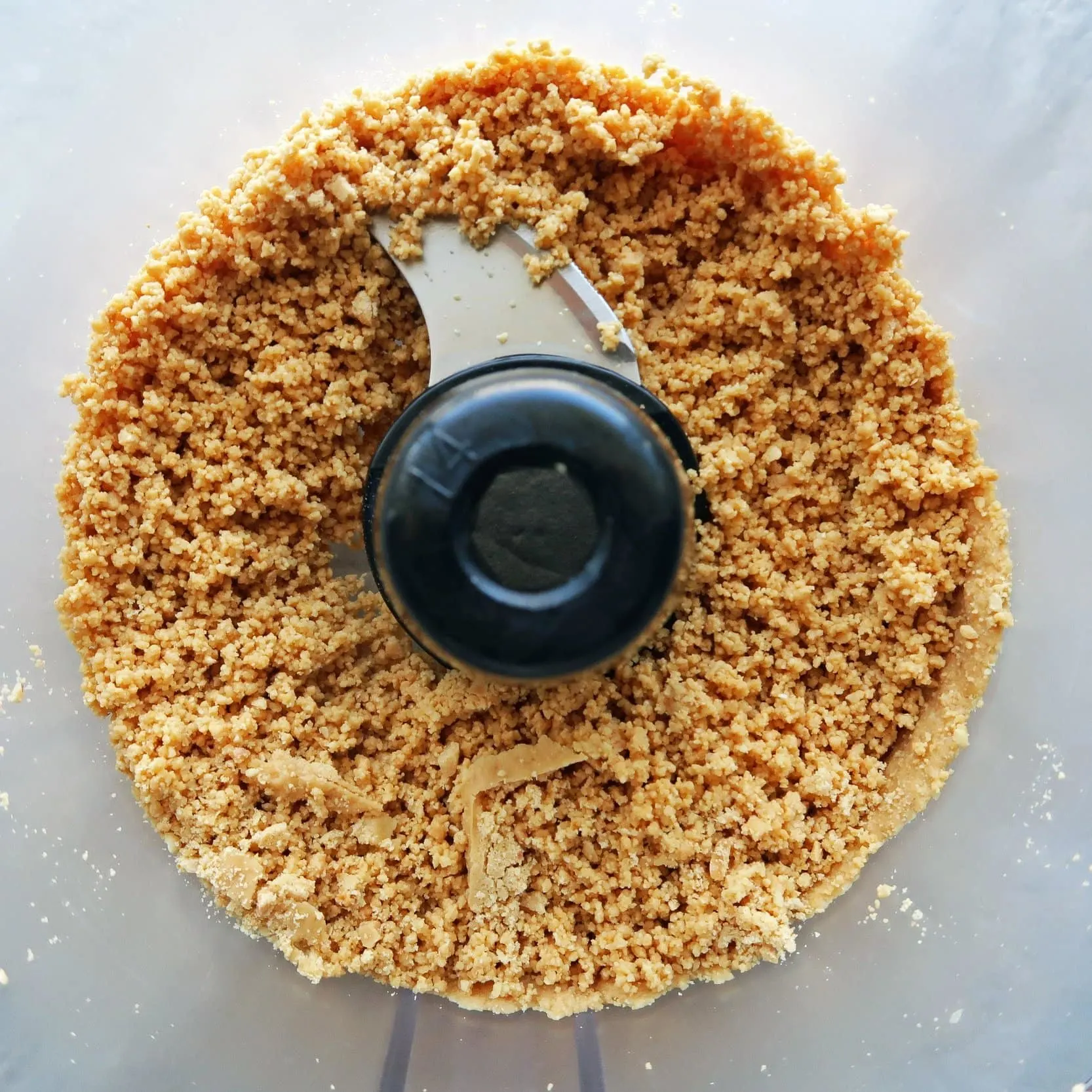 Pulse the peanuts until they are fine and powdery.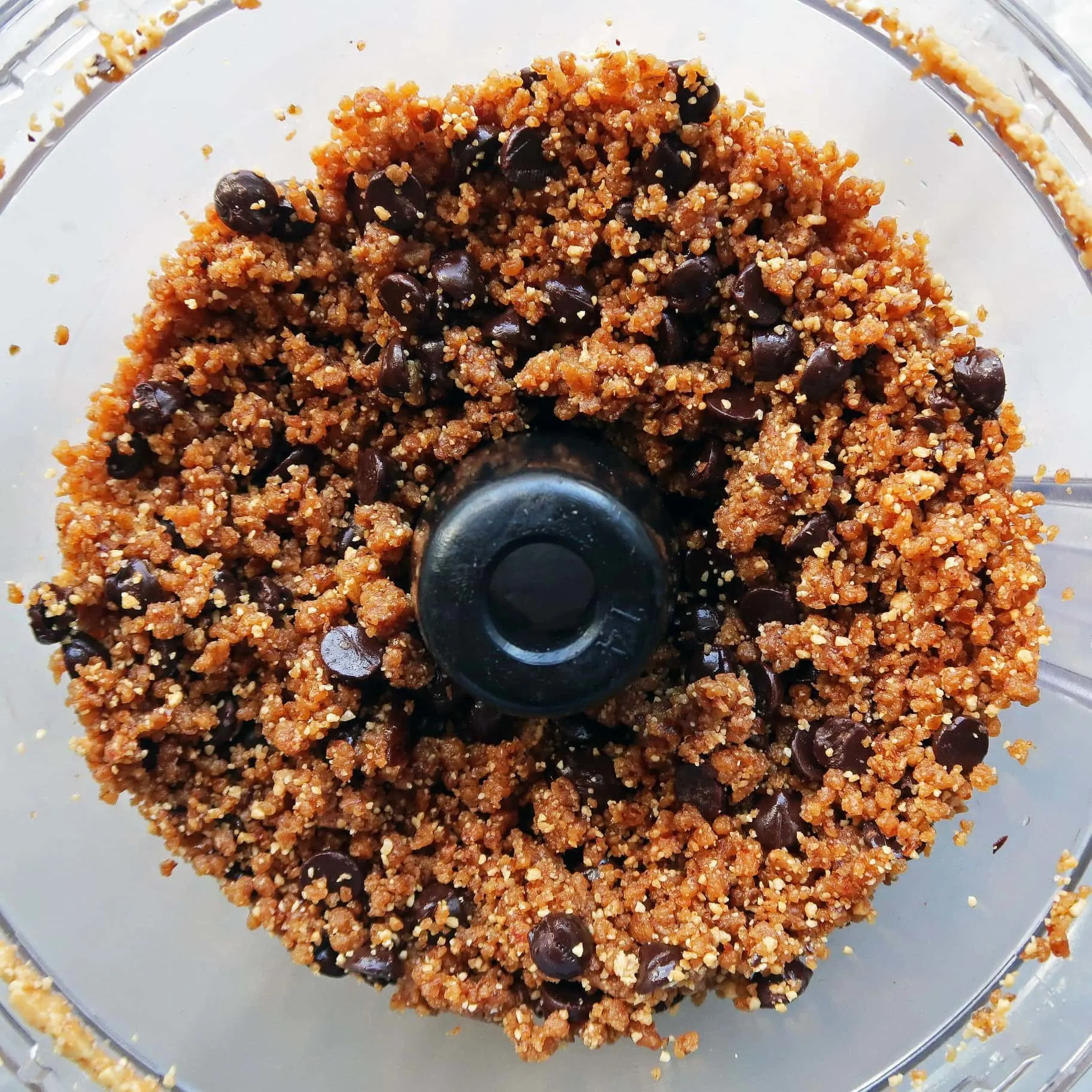 Then add in the dates and sea salt, mixing well with the peanuts before adding in the chocolate chips.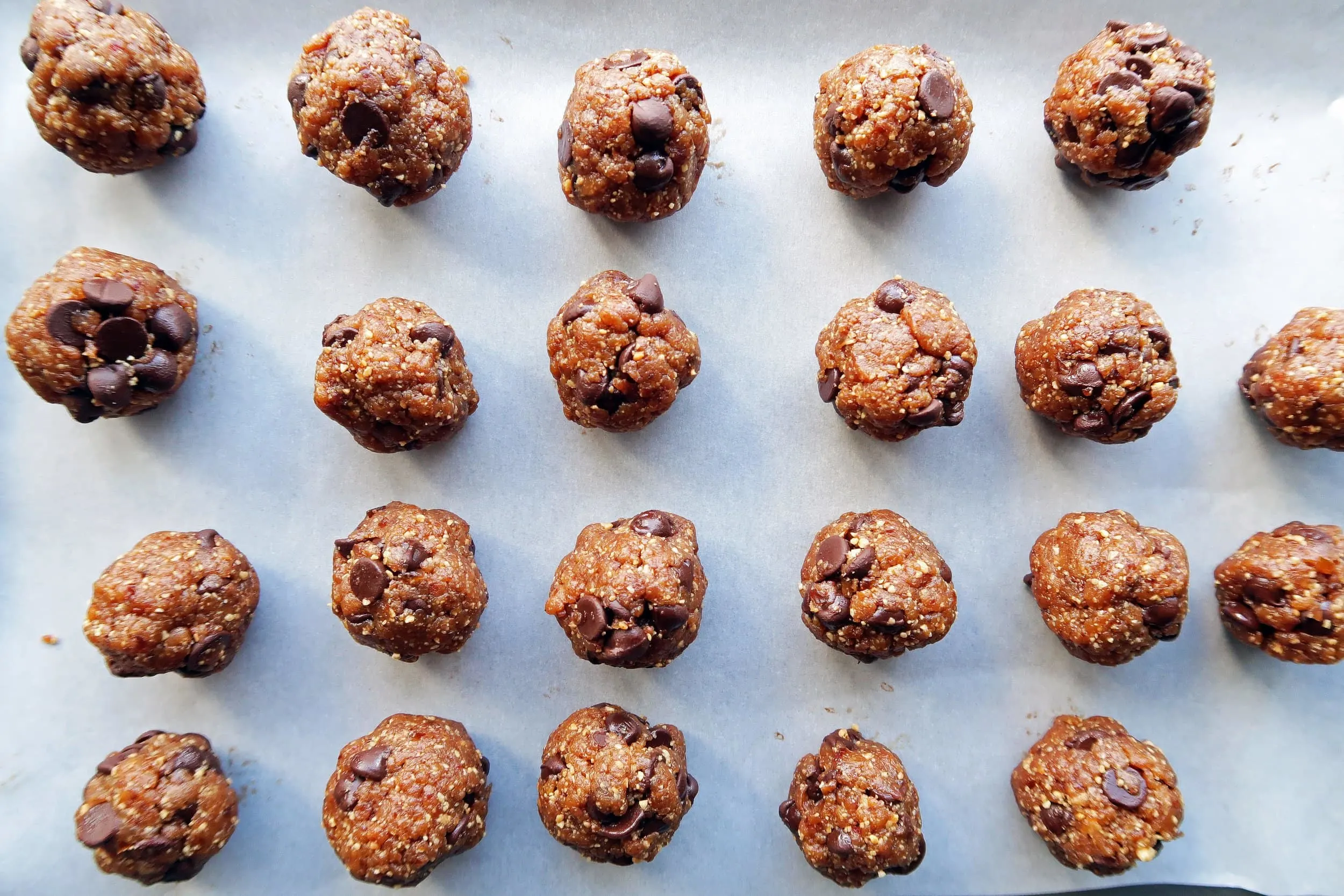 Make the energy balls! I like to freeze them after for a firmer texture.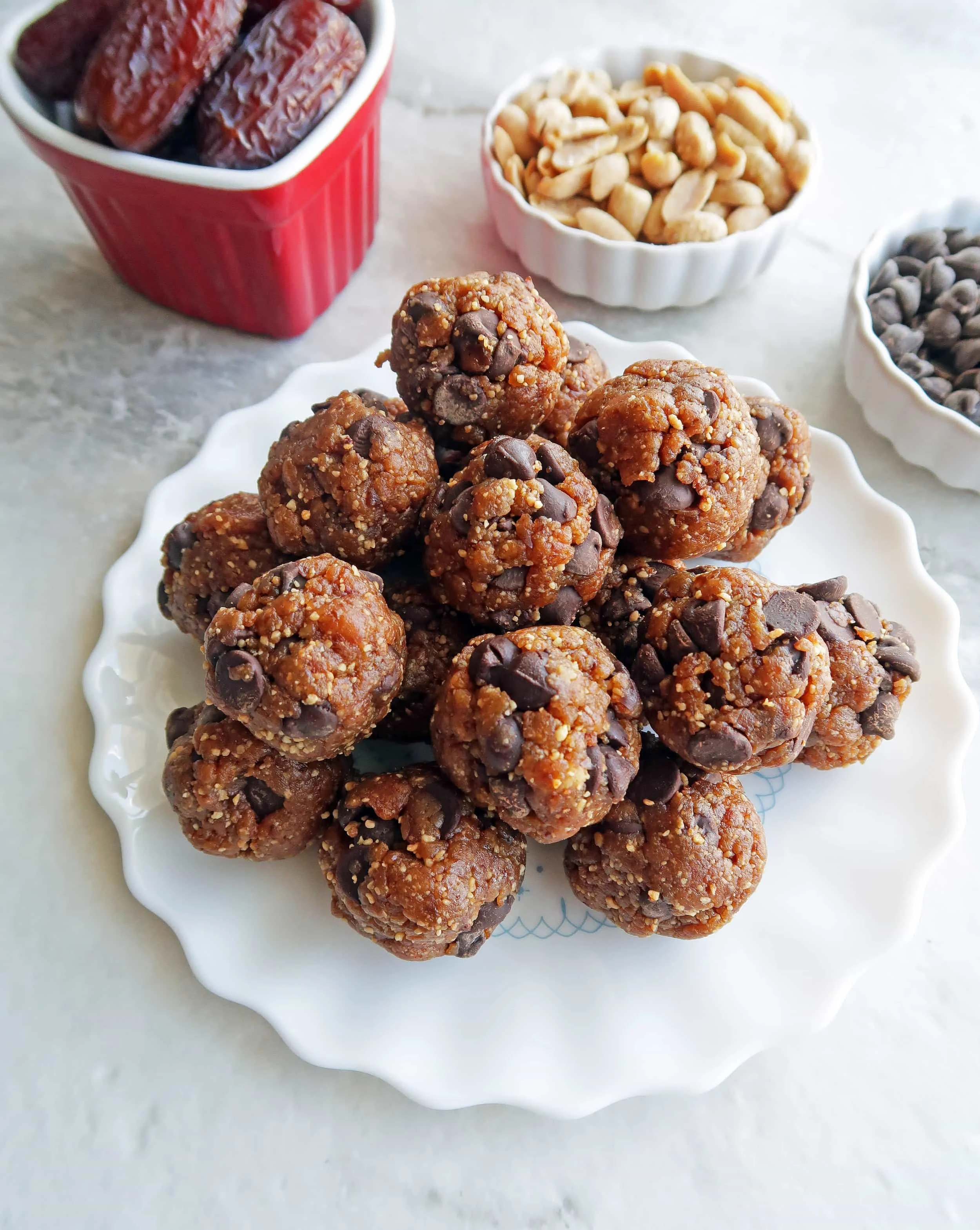 Here is a short breakdown on these energy balls:
So tasty: The awesome combination of peanuts and chocolate – mostly sweet and a little salty, 100% yummy (I'm so cheesy, I know). I love the soft texture of the dates and the crunch from the chocolate chips.
Quick and easy:This is a recipe that requires no baking, four ingredients that can be found at most grocery stores, and takes about 15 minutes to make. Get some helpers and it goes even faster!
Great snack-on-the-go:They are small and portable. If it's a super hot day, make sure you put them in an insulated food bag that can keep the energy balls cool; if you don't the chocolate will melt.
Gluten-free and vegan: Perfect for those that have have certain dietary restrictions. Make sure that the chocolate chips are dairy-free to keep it vegan.
Adaptable: It's easy to change up the quantity of ingredients or you can change up the nuts or type of chips. You can also make the balls as large or small as you want or even press down the mixture into a pan, freeze it, and then cut into bars.
I hope you enjoy this recipe!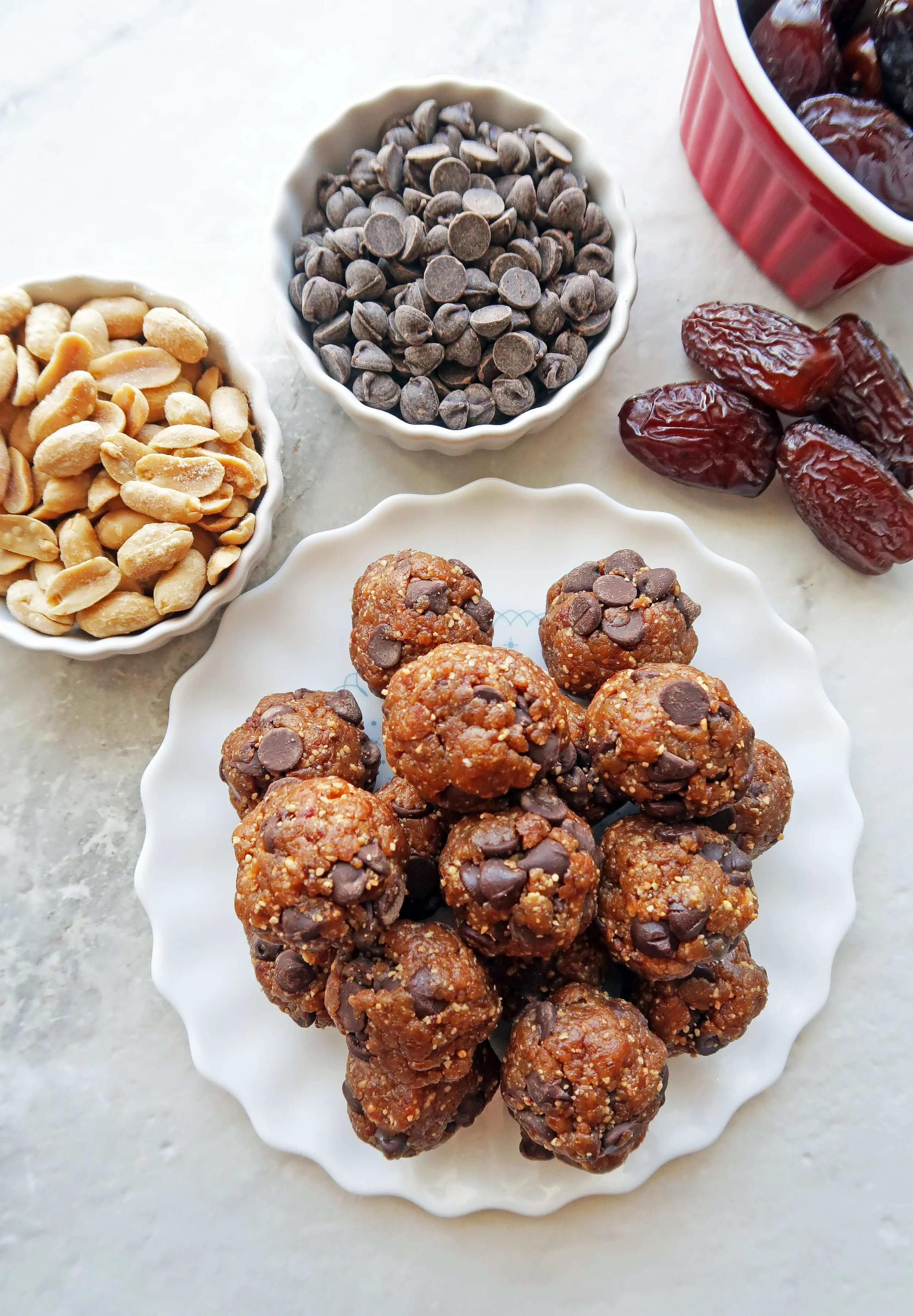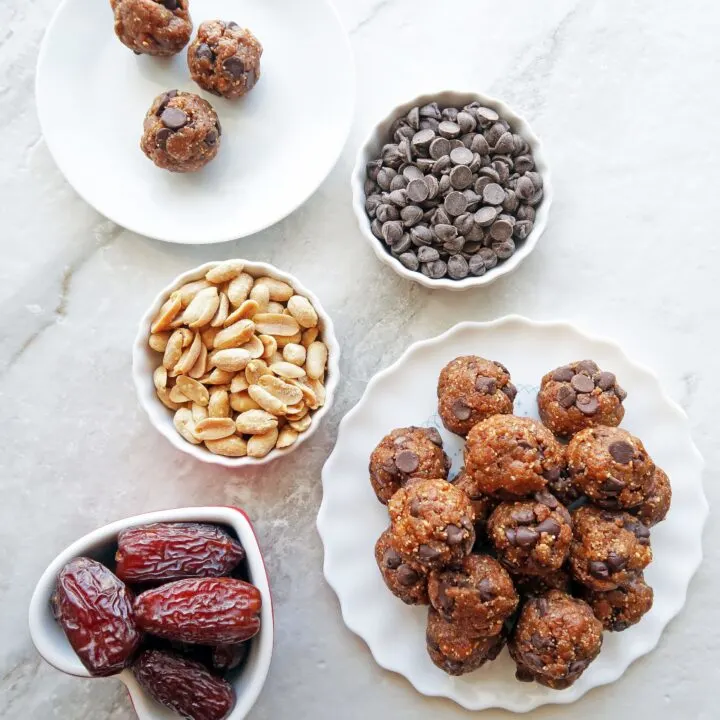 4-Ingredient Peanut Chocolate Chip Energy Balls
Try out these delicious bite-size sweet Medjool date balls that will give you a quick burst of energy during those busy days! No-bake and ready in 15 minutes!
Ingredients
1½ cup soft Medjool dates (pitted, about 15-18 dates)
1½ cup peanuts, salted and roasted
¾ cup semi-sweet chocolate chips
1 tsp sea salt
Instructions
In a large food processor with the S-Blade attachment, pulse the peanuts until they are fine and powdery in texture.
Add the Medjool dates and sea salt and run the food processor until the dates are sticky and mixed well with the peanuts.
Then add the chocolate chips and pulse a few times to mix in the chips without breaking them down.
Using your hands, roll approximately 1-inch balls making sure that the balls are firmly held together. Makes about 22 balls.
Enjoy immediately or store in an airtight container in the refrigerator for up to a week* or freeze for up to a month.
Notes
If you eat it right away, you'll notice that the energy balls are quite soft. If you prefer a more firm energy ball, refrigerate or freeze for at least 15 minutes prior to eating.
Recommended Products
As a participant in the Amazon Services LLC Associates Program, I only link to products that I use and/or highly recommend. As an Amazon Associate, I earn from qualifying purchases if you purchase through these links at no additional cost to you.
Nutrition Information:
Yield:

22
Serving Size:

1
Amount Per Serving:
Calories:

130
Total Fat:

7g
Saturated Fat:

2g
Trans Fat:

0g
Unsaturated Fat:

4g
Cholesterol:

0mg
Sodium:

147mg
Carbohydrates:

18g
Fiber:

2g
Sugar:

14g
Protein:

3g